Wall Mounted Furnace FAQs
Q&A on Install or Repair of gas-fired wall heaters
InspectAPedia tolerates no conflicts of interest. We have no relationship with advertisers, products, or services discussed at this website.
Wall mounted direct-venting gas-fired heating furnace questions and answers:
Troubleshoot, repair or install gas wall furnaces or get gas wall furnace manuals, parts, technical support.
This article series describes wall mounted furnaces used for home heating. Usually these are gas-fired direct-vent units such as the gas furnaces described in the text below.
Green links show where you are. © Copyright 2017 InspectApedia.com, All Rights Reserved.
Wall-Mounted Gas Furnace Q&A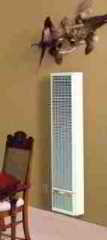 Shown at page top and at left are examples of gas-fired wall furnaces used for heating residential homes or in some cases mobile homes. These example furnaces are Williams wall furnaces. Shown at left: Williams Furnace Corporation 22K/30K BTUh direct vent furnace.
[Click to enlarge any image]
Questions and answers posted originally at WALL-MOUNTED FURNACES appear below.
Akita

An example manual for your unit is available at
EMPIRE HEATING SYTEMS - Empire Comfort Systems Furnace Manuals, Empire Heating Systems, Empire Comfort Systems, Inc., 918 Freeburg Ave., Belleville IL 62220, USA, Website: www.empirecomfort.com, Tel: 1-800-851-3153 or Tel: 618-233-7420
John A. Hart is president and CEO but you don't need to bug him, instead give them a call, ask to speak to a technical support engineer and note that you have a safety and operation question about your heating system (and that your installer wasn't able to satisfy you).
I think that all companies who make heating equipment have a great interest and expend considerable effort in keeping the ultimate users of their product safe and in assuring that their equipment is properly-installed.

Keep us posted. What you learn may help others.

I have a model GWT 50w - 2. Empire gravity vented wall furnace. The pilot is loud I hear it. And the gas flex line is underneath the unit which I don't feel comfortable with it passed inspection the gas shut off valve is red

Dog

I want to help but don't have objective data on what's "loud" or not. Give me the brand and model of heater and I can research specifics.

I would want to know first that the system is safe to use, that there are no gas leaks, and that the gas pressure is correct and that there has bee no LP vs Natural Gas set-up mixup.

Gas appliance noise can be due to a vibration problem or from other causes -GAS BURNER FLAME & NOISE DEFECTS https://inspectapedia.com/plumbing/Gas_Flame_Noise_Defects.php
and also at NOISE, WATER HEATER WHISTLE - https://inspectapedia.com/plumbing/Tankless-Gas-Water-Heater-Screaming.php
Researchers have reported other sources of gas heating appliance noise:
Joyce, John V. "Gas-fired heaters with burners having a substantially sealed combustion chamber." U.S. Patent 5,435,716, issued July 25, 1995.
Rodgers, Ian M. "Water heater with low emission gas burner." U.S. Patent 5,791,298, issued August 11, 1998. - addresses pulse vibration noises
Farahan, Ebrahim. Residential electric and gas water heaters. No. ANL/CES/TE--77-2. ANL (Argonne National Laboratory (ANL), Argonne, IL (United States)), 1977.
"Hard pipe" gas lines are in my OPINION safer than flexible lines where the piping may be exposed to physical damage. Both types of piping are, properly selected and installed, approved for use in most jurisdictions. "Properly installed" flexible gas piping can require additional protection in some locations such as outdoors where exposed to damage.

See GAS PIPING, FLEXIBLE CSST https://inspectapedia.com/plumbing/CSST_Gas_Piping.php for more details on that material.

Is it better to hard pipe in instead of using a gas flex line 4 double wall sided gas wall heater

Just had a double sided gas wall heater installed just simply the pilot light on is very loud the plumber turned it down as low as possible he said is this normal for it to be just loud with the pilot light on as well as they have the gas flex line underneath the unit
it did pass inspection in a green tag but this unit just simply on with the pilot is loud and then when it fires up it sounds like the house is going to take off in space is this normal as well

Most likely, yes. But the correct answer depends on where you live since code enforcement regulations vary

However in any case I recommend that you got a permit and all of the recommended inspections from your local building department since all of that work will make you safer. An imroperly installed wall heater could be dangerous

D0 one a permit to install a wall heater

Usually louvers face down, as you will see on the cover page of the manual for this Williams Model 2509612 top vent gas fired wall furnace.

If you don't have the manual or need to contact the manufacturer, see

WILLIAMS GAS FURNACE MANUALS
at https://inspectapedia.com/heat/HVAC-Manuals-Air-Conditioners-Boiler-Furnaces-T-Z.php#WilliamsGas

Do the louvers on the heat shield face downwards on a Williams model 2509612. They were removed for cleaning, however, I am not sure which direction the louvers should be reinstalled, slanted downwards - same as the face panel

The flame on my gas wall heater is over flowing out of burner... and it is concerning. Any thoughts on why or what we need to do to adjust?

The Williams furnace is the exact one shown above on this home page and is set up per "Wall Mount Furnace Installation Specifications" supplied by Williams. Not sure I can make any changes in shape and size of the vent opening. Guess I'll just have to check for small gaps or something which may cause a whistle on ignition. Thanks for your reply.

Tom,

I worked with two Bosch-trained service technicians in Guanajuato who were addressing a similar problem - see WATER HEATER WHISTLE NOISE - screaming tankless water heater diagnosis - at /plumbing/Tankless-Gas-Water-Heater-Screaming.php

The techs examined the system, noted that the whistling screeching sound from that gas fired heater developed when the gas burner rate increased from its lower settings. By feeling around and experimenting with partial blockage of an air intake at the top of the heater (around the exhaust flue connector) they decided that a small change in the shape and size of that opening would stop the noise.

That worked.

Beware that fooling with combustion air or exhaust on any gas appliance risks causing dangerous, even fatal carbon monoxide gas production, so take care, consult with the manufacturer for advice, and be sure you have a properly-installed, working CO and smoke detector where needed.

I have a Williams Direct vent propane wall heater that makes a rather loud whistling noise when the main burner ignites. I'm thinking it may be the exterior vent cap that's causing the issue due to the rapid exchange of air during ignition. Otherwise it works fine. Any ideas before I start taking it apart?

A manual FAN-ON switch could be set at the thermostat or at the limit switch in the air handler/furnace itself, or wires could be shorted together in the thermostat wiring, or there could be a bad fan controller itself.

See FAN WONT STOP - LIMIT SWITCH https://inspectapedia.com/heat/Furnace_Fan_Wont_Stop.php for detailed diagnostic suggestions

Also see FAN LIMIT SWITCH at https://inspectapedia.com/heat/Fan_Limit_Switch_Guide.php


Have a wall mounted gas heater. The thermostat has been off all summer, but the fan is turning. What could be the problem?

Ken

Sounds as if you've got all the right parts.

I've sometimes found that when a heater has been off for months it can take several minutes of holding down a pilot gas valve to get the air out.

Typically if you loosened a connection near the pilot and air then gas hissed out, you've purged air. If you then smell gas at the pilot probably you've got gas there.

I'd suspect that even with the wrong orifice there would be enough gas flow to at least see some flame at the pilot even if it won't stay lit.

BUT (guessing as I don't know your specific unit) IF there is a thermocouple that is defective or if the end of a thermocouple that screws into a gas valve isn't making good connection, or if the flame sensing end of the thermocouple is not in the flame, THEN while holding down a pilot in ignite position you still should see a flame, (light it with a match or independent sparker igniter) even if the flame then goes out when you release the ignition position of the pilot ignite control.

At this point I'd call the company to ask for help.
At WILLIAMS GAS FURNACE MANUALS https://inspectapedia.com/heat/HVAC-Manuals-Air-Conditioners-Boiler-Furnaces-T-Z.php#WilliamsGas
we give the company's contact information - call back and ask for technical support.

Do let me know what you're told as doubtless that will help other readers.

...typo, it should say : I tried for a half an hour to light it....

Yes, I installed the other regulator that came with the conversion kit, and it all went well with the installation... just can't get the pilot to light...
it seems to be not getting any propane...I know there is flow to the heater as I loosened a flare nut a little at the heater and sprayed with a soap solution and got bubbles...I tried for a half an hour to look hot to allow air to evacuate the line... I somehow feel that it's the new pilot valve/orifice that was in the kit, but have no way of verifying...

Ken: the conversion instructions would typically have also said something about converting the regulator, such as I show in our article on fuel conversion.

In the kit, there was an orifice for the main burner, an orifice or a valve for the pilot and a regulator with a diaphragm/ gasket...

Ken:

Also see "how to I light my Pilot" a video on Williams Furnace's faqs page at https://www.williamscomfortprod.com/faq/

Yes, it was a Williams conversion kit for that model number...

Ken:

What does your Williams gas furnace I&O Manual say about installation and troubleshooting? The copy I found online notes that some models are Natural Gas only and other models are Propane Only. I worry that the model was not intended for conversion.

Williams DOES provide conversion kits to change between LP and Propane gas. If you spoke with Williams and gave your model ID and they agreed on the conversion kit then it should be correct.

Typically changing fuels requires changing one or more gas orifices AND the appliance gas regulator. Often the regulator is convertible, that is a part is flipped over or changed in the regulator, rather than a wholesale replacement.

When we know that the unit is fully set up for the right fuel, next we confirm fuel delivery.

Also see GAS APPLIANCE CONVERT LP-NATURAL GAS https://inspectapedia.com/plumbing/Gas_Conversion_LP_NG.php where we describe typical gas conversion procedures and include typical warnings from the manufacturers about the fire and explosion hazards, so do take care.

If you can do this without causing a fire or explosion by disconnecting something that might be useful. I would not work alone and I'd take great care in any test procedure not to risk fire or explosion. Normally even if the wrong regulator or orifice were installed you'd still get gas at the burner and at the pilot but the flame would be improper, too weak or too strong.

Often when a gas hookup is new it takes some time to get air out of the gas line, though I note that yours is pretty short.

I just bought a new Williams 14000 but direct vent wall furnace that was set up for natural gas. I installed the propane replacement kit and it all went well.
I hooked it up to propane on a dedicated 3/8 OD line of ten feet. No leaks. I can't get the pilot lit for the very first try. I loosened the pilot control screw and tried continuously for 30 minutes trying to manually light it through the observation port as suggested in the manual... what next? I live off the grid st the end of the road... a gas tech is not easy...

I have a 7 year old nat gas wall heater with a theromstate that takes batteries, in 110 degree heat the heater fan came on & wont go off. it is not putting off heat just has the fan running

Nay

If your wall mounted heater is putting out heat when "not in use" then it is unsafe because a control that should turn it off is not doing so. I would un-plug or turn off power to the unit if it is connected to electricity and turn off fuel (presumably gas), then call a repair person.

Hi,
I have a question about the tall white one in the first picture. This is putting out heat when not in use. More so towards the top of the unit. Now with it being the summer time...it's adding extra heat in an otherwise already warm space. Does anyone know why this is? and if there are any suggestions to cool it down?

Fan stays on

Trevor, the best information I have, and where I'll also post your question and our reply, is at

SCHWANK Gas Heaters at http://inspectapedia.com/heat/HVAC-Manuals-Air-Conditioners-Boiler-Furnaces-P-S.php#SchwankHeaters

I just bought a 1995 Perfection Schwank Fashionaire-elite FAE38N natural gas direct vent wall furnace. Any idea where I can get a manual and parts for it? There is absolutely no info online about it.

Anon:

Regarding the question beginning "My heater is not even 5 years old" = I don't understand the question. If you mean a gas fired heating appliance is making a popping noise that sounds dangerous, risking a gas explosion. The problem could be a bad valve or control.
Watch out: That is unsafe. I suggest turning off the gas supply and heater, then calling your service technician for repair.

My heater is not even 5 yrs old an it pop like the gas pops to top of wall heater its a empire beand its cleaned out and everything the thermal cup was change 2 weeks ago an then it started doing that i need help

Ted.. Mine was doing that also after many years of being old. Betsy.. If it is younger than 25 years get it cleaned! Service it! I am getting a new wall heater next week as mine is really got to go..

My furnace make a poping noise like alot of gas an it pops an flames come out on top like a explosion it a wall heater empire brand

How do I know which one it is? What can I look for?

In the second case a safety limit control should turn the heater off.

I don't know. Some heaters operate in 2 modes, convection and fan driven forced circulation (to increase heat output).

If your unit is one thar requires the fan to run always, if you operate it without the fan it could become damaged or unsafe

I have a wonderful 50 year old vented long style gas wall heater. The fan motor is out. Can I use the heater?

The heater you describe is unsafe risking a dangerous gas leak fire or possibly even explosion in extreme cases. Problem may be an improperly adjusted air shelter, or a damaged burner, or a gas leak. The system needs to be inspected and repaired by a trained technician.

On a wall gas heater When it is lit the middle brick flame is to high but the second brick is normal. What's going on

Craig,

It could be just a pilot adjustment or a failing thermocouple, but because the loss of pilot could men loss of heat or dangerous conditions you ought to ask foe service by a trained heating service technician.

when the heater cycles the pilot gose out
...
Continue reading at WALL-MOUNTED FURNACES - home, select a topic from closely-related articles below, or see our complete INDEX to RELATED ARTICLES below.
Or see DIRECT VENTS / SIDE WALL VENTS
Or see CARBON MONOXIDE WARNING
Or see FURNACE DIAGNOSTIC CHECKS, GAS
Or see MANUALS & PARTS GUIDES - HVAC - home
Or see NO HEAT - FURNACE
Suggested citation for this web page
WALL MOUNTED GAS FURNACE FAQs at InspectApedia.com - online encyclopedia of building & environmental inspection, testing, diagnosis, repair, & problem prevention advice.
Or use the SEARCH BOX found below to Ask a Question or Search InspectApedia
...
Frequently Asked Questions (FAQs)
Try the search box below or CONTACT US by email if you cannot find the answer you need at InspectApedia.

...
Ask a Question or Search InspectApedia
Use the "Click to Show or Hide FAQs" link just above to see recently-posted questions, comments, replies, try the search box just below, or if you prefer, post a question or comment in the Comments box below and we will respond promptly.
Search the InspectApedia website
Technical Reviewers & References
Click to Show or Hide Citations & References
McWilliams, Jennifer, and Max Sherman. "Review of literature related to residential ventilation requirements." Lawrence Berkeley National Laboratory (2005).
Nagda, Niren L., Michael D. Koontz, Irwin H. Billick, Neil P. Leslie, and David W. Behrens. "Causes and consequences of backdrafting of vented gas appliances." Journal of the Air & Waste Management Association 46, no. 9 (1996): 838-846.
Amana HVAC, "GUI / GCI Gas-Fired Warm Air Furnace Installation Instructions", Maytag Corporation, Licensed to Goodman Company L.P., - retrieved 12/8/2014, original source: http://amanafurnace.dnmech.com/lit/10759826.pdf This appliance uses a Honeywell Model VR-8205, or White Rodgers Model 36E22 / 36E36 or Robertshaw Model 7222 gas control. The document includes a gas heater troubleshooting checklist. This is not a direct vent gas furnace.
Beers, Jonathan. "Condensing Furnaces: Lessons from a Utility." Home Energy Magazine Online (1994).
Brand, L. "Measure Guideline: Combustion Safety for Natural Draft Appliances Using Indoor Air." (2014).
Casey, Michael & Hansen, Douglas, Robinson, Roger, "Wall Furnaces", CREIA Inspector (1999).
Nagda, Niren L., Michael D. Koontz, Irwin H. Billick, Neil P. Leslie, and David W. Behrens. "Causes and consequences of backdrafting of vented gas appliances." Journal of the Air & Waste Management Association 46, no. 9 (1996): 838-846.
Rapp, Vi H. "Assessment of literature related to combustion appliance venting systems." (2014).
Roth, Dalene. "Gas Safety Information Bulletins." (2007).
Sears Corporation, "Sears Gas Furnace Service Hints", (1993), provided courtesy Jim Jagger, ASHI, Buckeye Home Inspections, Cleveland OH, Tel: 216-486-4663. Sears Gas-Fired "Space Saver"Furnace Models: 867.765030 - 867.775260.
Trane Corporation, "Upflow/Horizontal Left Downflow/Horizontal Right Condensing Direct Vent Gas-Fired Furnace" XR90 TUX040 - TUX120C Single-Stage Fan Assisted Combustion System, TUXC-D2, American Standard, Inc., (2003), Website: www.trane.com, Louisville Kentucky. Furnaces certified by AGA and CSA.
Empire Heating Systems, "Direct Vent Wall Furnace Installation Instructions & Owners Manual" (2004). [PDF] Empire Comfort Systems, Inc., 918 Freeburg Ave., Belleville IL 62220, USA, Website: www.empirecomfort.com, Tel: 1-800-851-3153 - retrieved 12/8/2014, original source: http://www.empirezoneheat.com/assets/EHS/ manuals/Direct-VentWallFurnace/DV25-35T-1.pdf
Williams Furnace Company, "Direct-Vent Furnaces", (2012) Williams Furnace Corporation, 250 West Laurel St., Colton CA 92324, USA, Tel: 909-825-0993, Consumers: 888-256-6465, Homeowners: 909-426-0978, Website: www.e-wfc.com
Books & Articles on Building & Environmental Inspection, Testing, Diagnosis, & Repair
Our recommended books about building & mechanical systems design, inspection, problem diagnosis, and repair, and about indoor environment and IAQ testing, diagnosis, and cleanup are at the InspectAPedia Bookstore. Also see our Book Reviews - InspectAPedia.
...