Fix Cold Steam Heating Radiators & Convectors
COLD STEAM HEAT RADIATORS - CONTENTS: How to Troubleshoot & Fix Cold Steam Radiators in 5 Steps - a complete diagnosis & repair guide & checklist for cold steam radiators. Diagnose & fix radiators that are too cold or too hot.
POST a QUESTION or READ FAQs about how to troubleshoot cold steam radiators, baseboards, or convector heaters
InspectAPedia tolerates no conflicts of interest. We have no relationship with advertisers, products, or services discussed at this website.
How to diagnose & fix a too-cold steam radiator?
No steam system heat in some or all building areas? What to check first. Troubleshooting cold steam radiators: this article describes the diagnosis & repair of cold steam heating convectors or steam radiators.
We also describe how to fix a steam radiator that is too hot and we include warnings about other radiator or baseboard types that are too hot or that overheat.
And we list less common causes of cold steam radiators in buildings and we describe how to fix these conditions.
Green links show where you are. © Copyright 2017 InspectApedia.com, All Rights Reserved.
How to Troubleshoot & Fix Cold Steam Radiators in 5 Steps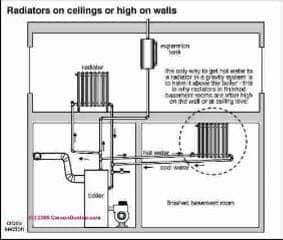 Our page top heating system illustration and the sketch at left were provided compliments of Carson Dunlop Associates.
Article Contents
Cold Steam Radiator Diagnosis Step 1: Check the thermostat & the steam boiler
Make sure that your room thermostat is set to a temperature higher than the temperature in the room - so that it is calling for heat.
Make sure that your heating boiler is working, that is that the heating boiler turns on and off normally. A steam boiler will usually turn on right away in response to the thermostat being turned up or on a call for heat.
Step 2: Check the radiator control valve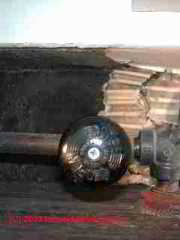 Make sure that the control valve at the heating radiator is "open" or "on" as we describe just below.
First check the radiator valve itself. At COLD HOT WATER BASEBOARD / RADIATOR we illustrated different types of heating radiator control valves and explained their operation.
Details are at RADIATOR VALVES & HEAT CONTROLS.
It's standard to ask first "is the radiator valve turned on or "open" (fully counter-clockwise)?
Experts warn that a radiator slow to heat could have a supply valve that is too small (the problem would always have been observed since date of installation) or a supply valve that is partly closed (the problem would have originated when the valve was closed and would go away when the valve is fully opened, provided the valve is undamaged and really opens internally when its handle is turned.)
We also see both radiators and other forms of steam or hot water heat that are not hot enough if the supply piping is undersized, a valve is partly closed, piping is clogged or blocked, or the hot water flow rate or for steam heat the rise of steam is too slow.
Other problems can cause a steam heat radiator to stay cold when you want heat as we explain next where after the above digression we continue our diagnostic and repair advice for cold radiators or convectors in steam heating systems.
Step 3: check the steam vent on the radiator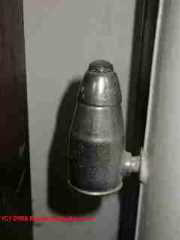 If some of your steam heat radiators are not getting hot, the steam vent may not be working, may not be venting at all (radiator stays cold) or may be venting too slowly (radiator heats to proper temperature but too slowly)[2]
If a steam radiator valve is open but the radiator is still cold, the steam vent may not be working.
Our photo at left shows a typical steam radiator vent.
When steam is first rising in the heating system, the steam heating radiator will be cool as will be the steam vent. The vent opens, allowing rising steam to enter the radiator by pushing air out through the vent.
When the steam radiator and steam vent are warm or hot, the vent closes. If a steam vent stops working, rising steam cannot enter the radiator and it will be slow to heat or may not heat at all.
See STEAM VENTS and
also STEAM HEATING SYSTEMS for details about the choice, installation, diagnosis & repair of steam radiator vents - a common source of cold steam radiators, slow to heat steam radiators, even overheating steam radiators and that incessant hissssssss or spitting condensate when a steam vent doesn't close as it should.
Step 4: Check which radiators are not getting hot - check radiator slope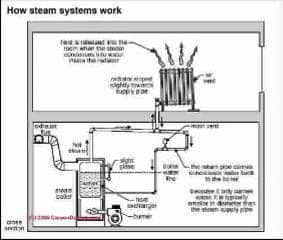 Steam radiator sloped the wrong way - steam condensate blockage
As our Carson Dunlop sketch shows (above, left), steam radiators can be sensitive to exactly how they are installed and pitched or sloped.
You'll want to learn if your steam heating system is a "one pipe" or a "two pipe" design, but in either case, if the steam supply or condensate return piping have been moved or settled so as to have lost the proper slope, correcting those conditions may be needed.
That's because condensate, produced by cooling steam in the radiator, has to be able to drain back out of the radiator.
A steam radiator that is sloped the wrong way, perhaps due to building floor settlement or a change made by an inexperienced re modeler, will become partly or even completely blocked by accumulated condensate, leading to loss of heat.
Steam heating system controls, inspection, diagnosis, and repair are discussed beginning at STEAM HEATING SYSTEMS.
Step 5: Check these other causes of cold steam radiators
Internal leaks in the steam boiler can cause cold radiators - diagnosis:
Small boiler leaks can be hidden from view: As reader Robert discovered and kindly explained in our FAQs section below, several clues can point to an internal leak in the steam boiler.

A relatively small leak in the steam boiler may never show up as water on the floor around the boiler - the leaking water may just evaporate on boiler internal surfaces. A larger steam boiler leak will probably show up as water on the floor, boiler running continuously, or if the leak is fast enough, a low-water cutoff switch will shut down the boiler.

Watch out: as Robert points out below, leaks in the condensate return system increase the rate of water feeding into the steam boiler. Abnormally high water feed rates into the boiler can in turn speed up corrosion within the boiler leading to costly or even ruinous leaks in the steam boiler itself.

The rate of corrosion will vary depending on not just the water feed rate but also other factors such as the water chemistry and the overall boiler on-time.
Check boiler steam pressure - lower than normal steam pressure can result in heat being delivered too slowly to all radiators, slower heat or even no delivery of heat to radiators on upper floors. If all of the lower floor radiators in a building heat up but none of the upper floor radiators do so, or if no radiators near the end of the steam risers get hot, low steam pressure could be the problem.

Don't rush to "fix" this by changing the steam pressure control switch - that's treating the symptom not the illness.
Check the steam boiler water usage rate - an increase in water usage at the boiler can be due to a leak somewhere - in the condensate line, or in the case of cold radiators, in the boiler itself.
Steam boiler operating problems that can lead to inadequate heat - radiators not hot enough or distant radiators not heating up - diagnostic checks.
Steam boiler problems: An oil or gas fired steam boiler may fail to deliver enough heat for a number of reasons pointed out by ITT [2], including:

Inadequate draft
Poor fuel quality
Improper attention or firing (lack of maintenance, burner not firing properly)
Boiler is undersized - if this is the case the heat inadequacy would always have been present but may not be noticed until very cold windy weather
Improper steam piping - as above, if this is the case the heat inadequacy would always have been present or present ever since steam piping has been changed or modified.
Improper arrangement of boiler sections
Lack of boiler cleaning/maintenance, leaving soot in the boiler. Soot acts as an insulator, slowing heat transfer from the fire into the boiler water
Improper firing rate of oil (nozzle size, fuel unit pressure) or gas
See STEAM HEATING SYSTEMS for details

One pipe steam system radiators fail to heat - check these

Radiator vent problems: The radiator vent is improperly sized or not working.
See RADIATOR STEAM VENTS
and
also RADIATOR STEAM VENTS, AUTOMATIC.
Steam pipe problems: The steam pipe feeding the radiator is under-sized or is not properly sloped (steam supply pipes in a one pipe system also return the condensate and must slope away from the radiator and down towards the boiler - always) - (the problem will have always been present but may not be noticed until very cold weather)
Air vent problems: The drainage tongue on the air vent has become damaged or lost or corroded away

Two pipe steam system radiators fail to heat - check these

Radiator pitch problems: doesn't slope towards the steam trap - the radiator should slope away from the steam supply valve and towards the steam trap
The radiator steam trap is clogged, damaged, or stuck closed
The steam pipe feeding the radiator is undersized or the condensate return not pitched properly, leading to blockage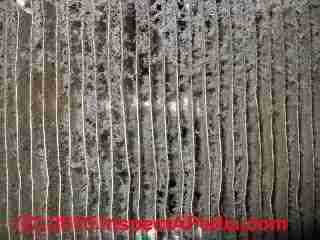 Steam convectors or "unit heaters" are not putting out enough heat

Dirty heater coils - check for dust or debris blocking the fins on the heater coil - see our photo at left
Dead unit heater fan - if the unit heater such as a ceiling-mounted garage heater is driven by a blower fan (not just a convector (driven by gravity), check that the fan operates normally
Blocked steam piping feeding the unit or within the heating coil - due to air or water blockage in the piping
Also check these more technical problems with unit heater heat output:
Design mistakes: the unit is too small for the heated space (the problem will not be new), or the unit has been improperly located - too far from exterior walls can leave cold areas between the heater and the exterior wall;
Improper installation: the steam pipe supplying the unit may be inadequately insulated, improperly sloped, or routed through a cold area where it loses too much heat
Abnormal or too-low steam pressure in the system (there may be hidden leaks in the system)
Maintenance problems: oil and debris in the steam, coating the heat transfer surfaces of the interior surfaces of the heating coil itself

Steam system design or building heat loss rate problems
If the steam radiators get hot but the building does not get warm enough, check these

The number of radiators is inadequate, or some radiators are turned off or not heating for other reasons - the remaining radiators can't keep up with the building heat loss rate. You'll notice this more in colder windier weather
The building is losing heat too rapidly for the heating system to keep up. If this is a new problem look for a new draft - a window left open, an attic door or pull down stair left open, etc.
The steam pressure is set too low - steam doesn't rise to upper floors or rises too slowly. Check with your service technician as other problems such as a boiler leak or condensate return leak can result in low steam pressure.
Building design, such as many open stairwells, high ceilings, can make it hard to heat - this problem will have always been present.
Troubleshooting Radiators that are too HOT
If your steam radiator is too hot in a two-pipe steam system, according to the U.S. DOE, check the steam traps:
In two-pipe systems, older steam traps often stick in either the open or closed position, throwing off the balance in the system. If you seem to have problems with some radiators providing too much heat and others providing too little, this might be the cause.
The best approach is often to simply replace all the steam traps in the system.
If your electric heater is too hot or is not shutting off when you think it should
see ELECTRIC BASEBOARD HEAT INSPECTION
Watch out: an overheating electric heater is a fire hazard.
Also see HEAT WON'T TURN OFF for complete diagnosis of too much heat or heat that won't turn off.
...
Continue reading at RADIATOR STEAM VENTS or select a topic from closely-related articles below, or see our complete INDEX to RELATED ARTICLES below.
Or see STEAM RADIATOR PIPING CONNECTIONS
Or see COLD HOT WATER BASEBOARD / RADIATOR if your heat is by hot water baseboard or radiator or convector rather than steam heat.
Suggested citation for this web page
COLD STEAM HEAT RADIATORS at InspectApedia.com - online encyclopedia of building & environmental inspection, testing, diagnosis, repair, & problem prevention advice.
Or use the SEARCH BOX found below to Ask a Question or Search InspectApedia
...
Frequently Asked Questions (FAQs)
Try the search box below or CONTACT US by email if you cannot find the answer you need at InspectApedia.
Please see COLD STEAM RADIATOR FAQs for questions and answers about diagnosing and fixing cold steam radiators or convectors.
...
Ask a Question or Search InspectApedia
Questions & answers or comments about how to troubleshoot cold steam radiators, baseboards, or convector heaters.
Use the "Click to Show or Hide FAQs" link just above to see recently-posted questions, comments, replies, try the search box just below, or if you prefer, post a question or comment in the Comments box below and we will respond promptly.
Search the InspectApedia website
Technical Reviewers & References
Click to Show or Hide Citations & References
[2] The Steam Book, 1984, Training and Education Department, Fluid Handling Division, ITT [probably out of print, possibly available from several home inspection supply companies] Fuel Oil and Oil Heat Magazine, October 1990, offers an update,
[3] Principles of Steam Heating, $13.25 includes postage. Fuel oil & Oil Heat Magazine, 389 Passaic Ave., Fairfield, NJ 07004.
[4] The Lost Art of Steam Heating, Dan Holohan, 516-579-3046 FAX
[5] Principles of Steam Heating, Dan Holohan, technical editor of Fuel Oil and Oil Heat magazine, 389 Passaic Ave., Fairfield, NJ 07004 ($12.+1.25 postage/handling).
[6] "Residential Steam Heating Systems", Instructional Technologies Institute, Inc., 145 "D" Grassy Plain St., Bethel, CT 06801 800/227-1663 [home inspection training material] 1987
[7] "Steam Boiler Operations" (Program 4, booklet & video), Weil-McLain H.E.A.T. (Hydronics Education and Training), Blain St., Michigan City Indiana 46360 Tel: 219-879-6561
Books & Articles on Building & Environmental Inspection, Testing, Diagnosis, & Repair
Our recommended books about building & mechanical systems design, inspection, problem diagnosis, and repair, and about indoor environment and IAQ testing, diagnosis, and cleanup are at the InspectAPedia Bookstore. Also see our Book Reviews - InspectAPedia.
Fuel Oil & Oil Heating Magazine, 3621 Hill Rd., Parsippany, NJ 07054, 973-331-9545
Domestic and Commercial Oil Burners, Charles H. Burkhardt, McGraw Hill Book Company, New York 3rd Ed 1969.
National Fuel Gas Code (Z223.1) $16.00 and National Fuel Gas Code Handbook (Z223.2) $47.00 American Gas Association (A.G.A.), 1515 Wilson Boulevard, Arlington, VA 22209 also available from National Fire Protection Association, Batterymarch Park, Quincy, MA 02269. Fundamentals of Gas Appliance Venting and Ventilation, 1985, American Gas Association Laboratories, Engineering Services Department. American Gas Association, 1515 Wilson Boulevard, Arlington, VA 22209. Catalog #XHO585. Reprinted 1989.
"Residential Hydronic (circulating hot water) Heating Systems", Instructional Technologies Institute, Inc., 145 "D" Grassy Plain St., Bethel, CT 06801 800/227-1663 [home inspection training material] 1987
"Warm Air Heating Systems". Instructional Technologies Institute, Inc., 145 "D" Grassy Plain St., Bethel, CT 06801 800/227-1663 [home inspection training material] 1987
Heating, Ventilating, and Air Conditioning Volume I, Heating Fundamentals,
Boilers, Boiler Conversions, James E. Brumbaugh, ISBN 0-672-23389-4 (v. 1) Volume II, Oil, Gas, and Coal Burners, Controls, Ducts, Piping, Valves, James E. Brumbaugh, ISBN 0-672-23390-7 (v. 2) Volume III, Radiant Heating, Water Heaters, Ventilation, Air Conditioning, Heat Pumps, Air Cleaners, James E. Brumbaugh, ISBN 0-672-23383-5 (v. 3) or ISBN 0-672-23380-0 (set) Special Sales Director, Macmillan Publishing Co., 866 Third Ave., New York, NY 10022. Macmillan Publishing Co., NY
Installation Guide for Residential Hydronic Heating Systems
Installation Guide #200, The Hydronics Institute, 35 Russo Place, Berkeley Heights, NJ 07922
The ABC's of Retention Head Oil Burners, National Association of Oil Heat Service Managers, TM 115, National Old Timers' Association of the Energy Industry, PO Box 168, Mineola, NY 11501. (Excellent tips on spotting problems on oil-fired heating equipment. Booklet.)
...