Blower Fan Won't Stop - FAQs

Q&A on a Blower Fan that Will Not Stop
InspectAPedia tolerates no conflicts of interest. We have no relationship with advertisers, products, or services discussed at this website.
FAQs on why the forced air heating or cooling air handler troubleshooting: blower fan won't shut off:
Frequently-asked questions about what to do when the furnace blower or air conditioning blower fan won't stop running when it should.
This article series describes what to check if the furnace or forced air blower fan does not stop when you expect it to do so
. These same diagnostics also aid in air conditioning blower assembly diagnosis when an A/C blower continues running. We explain what switches or controls may be set improperly or what else, such as a shorted wire, can cause continuous HVAC fan operation.
Green links show where you are. © Copyright 2017 InspectApedia.com, All Rights Reserved.
Questions & answers on why the furnace fan won't stop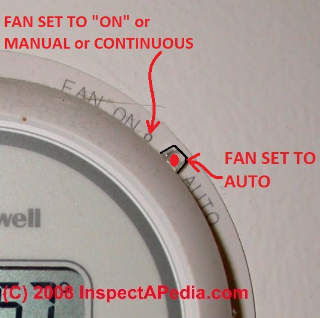 Questions & answers about why a furnace blower fan does not stop when you think it should are discussed here. These questions and answers were posted originally at FURNACE FAN WONT STOP - be sure that you check that article for help in diagnosing a furnace fan or blower that doesn't stop running.
Remember to check that the FAN ON switch is not set to ON at your thermostat and that the FAN ON switch is not set to ON at the fan limit control in your heating furnace or air conditioner (if your control there includes that feature).
CJ

If those heater problems have happened since the installation of the new thermostat I suspect
- mis-wiring
or
- thermostat wires accidentally shorted together

Saul:

Reasons that a blower won't turn off when the thermostat-set-temperature has been reached are given in the article above starting at http://inspectapedia.com/heat/Furnace_Fan_Wont_Stop.php


Recently upgraded thermostat to digital. Now fan continually runs and heat is warm then turns cool
And can won't stop blowing. What did I do wrong?

Why blower won't turn off when hot tempetur is reach


Can't find limit switch

my furnace fan wont stop running if i tap the side of furnace it some times will shut off what can i do

silver dial on fan control switch sticks. Blower doesn't shut off on its own but if I tap silver dial it pops and stops blower. Can it be rusty or dirty behind silver dial. can i do anything to stop it from sticking.

@ken,


oil furnace will come on fan will come on bu it will keep burning and not shut off even when desired temperature is reached

Tim

Check first that there is not a manual fan ON switch set at the thermostat or at a fan limit switch if your fan also is incorporated in a heater (furnace). Did you try going through the diagnostics in the article above?

If there is no switch problem it's possible that a control board for the fan or blower assembly was damaged.

during power outage of hurricane irma i had my portable ginnie feeding power to the house.the havac system pulled to heavy of a load so threw the braker on it.
after power restored the a/c unit works fine but squrill cage will not shut off.replaced thermostat still runs continousley.

C

This doesn't sound right to me. I'm not aware of any situation in which a kitchen exhaust vent fan would have the slightest thing to do with the central heating system furnace.

However, if during work on the vent fan you drove a nail or screw that shorted the furnace thermostat wires together, that'd keep it running.

See FAN WONT STOP - LIMIT SWITCH -http://inspectapedia.com/heat/Furnace_Fan_Wont_Stop.php for more diagnostic help

Recently I replaced my hoodfan in my kitchen. It is tied to the furnace but now the furnace won't turn off even though I have the thermostat switched to off

Fan blower motor running none stop for the past week. The only way to stop it is pull out main fuse or unplug the blow fan wire. please help and advise.

I have AC blower that will not stop . The thermostat I replaced with my spare ( digital ) . Still some issue . Have the unit shut down to see if the limit switch is able to reset . If not where can I get a part number for the limit switch ?

The system isn't cooling. Use the search box above to find our article on LOST COOLING to see a diagnostic list of causes to investigate.

I have my thermostat set at 76 degrees but it will not go less than 79. Unless it reaches 76 degrees,the blower won't shut off. What can it be?

Replaced thermostat. Replaced fan switch/limiter. All brand new. The blower will not stop running unless I flip the circuit breaker switch. HELP!
Literally, the moment I close the circuit breaker switch for the indoor furnace. the blower immediately starts and runs FOREVER. The ONLY way to stop it is via the circuit breaker.
Everything else works fine, such as the outdoor compressor. I removed the green wire from the G terminal at the furnace, yet the blower keeps running! This is a 15+ year-old system. Is there anything else I can check? I cannot afford an entirely new system at this point.

Well with my indoor vertical unit the blower fan turns itself on and off and regardless of what temp it's set at. I'll come home from work and it's been turned off all day, I turn it on to cool set at 76 degrees and the system turns on, outside unit runs perfectly but after a few minutes the inside blower turns itself off while the outside unit keeps running.
The blower continues to turn itself on and off for awhile even if I switch the thermostat off, what's going on with this thing? I really wanna fix this myself so Any help/advice is appreciated ! Thanks

Ed,

If you have been through the diagnostic suggestions in this article, and don't see a fix for your system, then it sounds to me as if there's a control failure or shorted wires.

Blower fan is on cannot shut off unit and can't turn system on!

Thanks for the feedback Sarah; we work hard to provide researched unbiased data, so I'm really happy when a reader finds that effort useful.

Daniel

Thank you so much for posting this article! I was able to troubleshoot and fix without calling a repairman.

Marci

If the fan stops when you disconnect the thermostat but otherwise runs constantly regardless of any thermostat switch settings, I suspect that the thermostat is damaged OR there are shorted or mis-connected thermostat wires.

Now what do I do for that

The fan on my heating and cooling system won't shut off unless I take the thermostat off I even tried shutting the whole thing off from thermostat

Hershel

Click on this article: FAN LIMIT SWITCH and you'll see photos of the control that give its typical location.
Because the limit control switch has to sense the air temperature inside the furnace it will always be mounted on the furnace, typically on or close to the supply air plenum, thus on the upper are of most furnaces (some oil furnaces locate the control lower in the unit).

The switch will usually be under or behind the furnace cover that's removed to give access to the furnace burner and controls,

or

On some furnaces you'll see the fan limit switch mounted on a supply air plenum (chamber) above the burner and heat exchanger section - that is, at the start of duct work that carries warm air into the building occupied space.

My blower motor will not stop running unless I turn thermostat down about 10 degrees below temp reading. Where is motor limit switch located? Could it be a faulty thermostat? Thanks. H. Thomas No, if the fan runs but the burner doesn't ignite then the problem is fuel, burner, or control. The furnace starts i/s cycle but does not start. The fan is on all the time. Is it an issue with my limit switches for my fan That sounds like disconnected air ducts. A blocked or dirty filter might slow air but wouldn't normally stop it completely.
Start by checking in the blower compartment - that the fan is working.
Then follow the ductwork My heater blower is constantly running but no air is coming thru vents Sounds like a loose wire or a failed limit control switch. furnace hets up blower runs after heat is gone blows cold i gently tap manual/auto switch then it shuts off Why does my unit continually run and blow out cold air even after I shut it off at the upstairs control?
If your system is running on backup heat I suspect the backup heater is not working.

Someone asked:
My indoor fan on my hvac unit won't shut off. My ac works but my heater doesn't
hi , i have a goodman PG036100 unit so was working fin until last 2 weeks ago and start having some issues

when i put thermostat on heat on the AC turn on and when i put it on AC the heat works so i leave it on AC on that way i get some heat so now the heat keeps working even the thermostat is off , i thought from the thermostat so i changed it but still the same problem

I have to turn my heater off by the curcuit breaker in my mobile home. The thermostat is set on auto and off but it keeps on running. Can you please help me?
Running the fan for an hour after the burner has shut down means something's wrong. I suspect a bad wire connection or a failing limit control.
The fact that the problem is intermittent also suggests the same diagnosis. If there's no obvious loose wire or loose connection I'd ask for help from a service tech.

My fan sometimes kept running more than one hour after burner has been automatically shutdown, sometimes the fan stopped just a few minutes after the burner is shutdown.
Is this a problem with the fan limit switch which should tell the blower to turn off when the residual heat in the furnace is dropped to below the temperature setting? Or is just malfunctioning?

Does anyone can tell me what is best;continuous 'auto'mode or intermittent ? We have crazy cold winters here and it would start every other 15 mins on ON/OFF mode and no idea if that'd be bad for the the furnace. Thanks most likely the problem is one of those listed in the article above.
Without other details, I'm not sure what else I can suggest. Furnace blower keep running without thermostat turn on The fan runs perfectly in the AC mode and in manual but will not start when the fan control reaches the desired set point. The gas valve stay open until the plenum reaches the high limit set point then shuts off. what would we check on when the fan does not shut off after the heat is reached. We have a lennox whispter heat furnance. We don't know it its in the thermostat or has something to do with the furnace it self. Great article! Couldn't get my hunting camps furnace fan to shut off. The post led me to the fan limit control switch in manual mode. Easy fix with the article and about to call a tech. Thanks!
Even when my thermostat has the heat/cool switch to off and the fan to Auto, the fan occasionally comes on and then shuts off after a few min (maybe total 5-10 times a day). With heat/cool off, I expect the fan would NOT come on at all.
When I completely disconnect the thermostat, the fan does not come on at all. I changed the green and red wires within the same 18/7 thermostat wire, hoping it was just those two that might be the culprit but it still occurring. Furthermore, I changed the thermostat, same issue occurring. Any ideas?

My lg 1.5 split Ac was indoor blower motor capacitor was 2mfd I go changed 2.5mfd comes any problem or not tel sir ( and same problem is 10hr cotune running motor in out of place spearat and will be stop what the reason...and I'll changed two new indoor motor same problem
My lg 1.5 split Ac was indoor blower motor capacitor was 2 I go changed 2.5 comes any problem or not tel sir ( and same problem is 10hr cotune running motor in out of place spearat and will be stop what the reason
David

Take a look at the switches discussed in FAN LIMIT SWITCH where you'll see an article section titled "Which Way to Set the White AUTO / MANUAL Fan Control Switch"
and then look at your thermostat after reading FAN ON AUTO MAN Thermostat Switch as you may also have a FAN ON switch on your thermostat.
Any of those controls can force the fan to run continuously

I need to have the blower run constantly. What can I do? CHeck the thermostat to see if the fan switch is in FAN or FAN ON position.
Then check that there is no manual FAN ON switch set right in the air handler
Then check for shorted thermostat wires by disconnecting the thermostat wires at the air handler
Then check for a bad control board or relay in the air handler
I have a PAYNE model # PFIMNC037 air handler and a totaline thermostat.
My air handler runs 24/7 regardless of thermostat setting (i.e., on off auto)I have even shut unit off at ckt brkr, removed electronic front panel of thermostat and reset ckt brkr and air handler still runs continously

Perhaps an overheating motor
also check for low voltage or a bad bearing or a loose connection or a bad fan-limit switch blower motor is running gud an. after 10 r 15 mins blower stop working. An again working gud. Wat a reason for this problem I have a Model: GPC1342H41AA
Fan motor runs all the time.
Pull thermostat, turned power back on and fan keeps running..
Any ideas why? Thank you. Thanks for the feedback John. Indeed it's easy to accidentally bump or change a control button such as the manual FAN ON switch on a limit control.
Daniel After I bled the oil line. The fan kept running. Turns out. I had switched the control to continuous. Also dirty filter and fan door left open. She runs fine now. Just follow these instructions and be patient. U should find the problem.this page really helped me.! First disconnect the thermostat wires at the furnace side of the thermostat circuit to rule out TT wires shorted together.
Then check for a manual FAN ON switch set at the fan limit switch
If those are OK I suspect a bad control board or relay or a wiring short right in the furnace. there is a mobile home furnace electric furnace the fan will run non stop I took the thermostat off the wall it still runs all the wiring is correct I would just like some information on what to check to make sure I even changed the fan relay Anon:
The blower and furnace should run until the thermostat is satisfied. If the thermostat is not satisfied in aux heat that may be the trouble. My furnace blower stops only when is in emergency heat but won't stops when is in auxyliary heat So helpfull Thanks Dan - that's odd. Typically a reset-button is designed to turn a device OFF in the event that it is not working properly. It's unusual to hear of a reset button that keeps a blower on when it shouldn't.
Anyway, good going. It was a reset button I didn't see on top of unit, I checked the controls board, no bad marks on it, anyway it's good to go, thnx Look for a bad control board. I have an issue with a Coleman HVAC trailer closet unit, blowers runs continuous after power failure in the area, flashes shows open limit switch but both upper,lower switches show continuity , noticed that mercury thermostat does not show spark either way rotated Where did you disconnect the thermostat: if you disconnect it at the furnace end, that's good for eliminating the thermostat as the problem. If you disconnected at the thermostat end the wires could be shorted together anywhere enroute.
I have a goodman gas furnace with a the same problem, the fan will not stop running. The thermostat is completely disconnected,the fan limit switch opens and closes and all the auxiliary limit switches are all good.
Still the fan stays on. When the power (bulk wire) is disconnected and reconnected the inducer motor comes on but goes off after a few seconds but the blower motor stays on.
Circuit board still indicates open fan limit switch but it's good.
I do notice that there is no ground on the circuit coming to the furnace 115v wiring. Could this be the problem!?

My furnace continues to run after the room temperature is higher than the set temperature of thermostat. What might be the problem? Thanks Larry for the good suggestion: a fan control wire or even possibly a thermostat wire shorted to ground (the metal furnace or blower compartment body) should be on our checklist. Pull electric elements out of furnace and make sure none are touching the frame of the furnace. I found this condition on a goodman that had the elements and the fan running all the time .
Fred, if you made your test with the thermostat wires completely disconnected then I agree that the problem is probably a control board or relay.
Just be sure that the manual fan on - off switch is in the off position ... if your unit has that switch.

electric air handler ( carrier ) runs continuously engageing heaters with thermostat off only way to stop running is to knock breaker don't know if it is sequencer or fan control board checked sequencer with power off and it checked good Fan running all the time, and switch off Anon:
Please check the diagnostic suggestions in the article above, then let me know if any of that is unclear, incomplete, or if you have further questions. I'll be glad to respond further then. Fan running all the time Mike
If the blower does not stop even after disconnecting thermostat wires AT THE BLOWER UNIT control, then
a manual FAN ON switch is activated at the blower controls
OR
the blower controls have failed or wires are shorted therein. Turn off the unit for sfaety.
My blower does not shut off even after I disconnected all the wires at the thermostat and the green wire in the furnace. I can't even find the limit switch. I've looked high and low around the furnace including where the blower is located but to no avail.
I can shut off the blower from the emergency switch and turn on as well from there. Heck I can't even shut off the blower from the breaker. I'm so stumped. Any ideas what could be causing this fiasco?

CHeck to see if the manual FAN ON switch is on at the thermostat or at the fan limit switch.
IF those are off then your service tech will check for a shorted thermostat wire or a bad control. Furnace fan won't stop unless I turn it off at the breaker. Replaced thermostat and before I could get past the setup instructions the fan was on again. Our home & unit are only 3 yrs old. What should I look for??? Bernie, I don't understand your system. If we are heating occupied space typically the thermostat that calls for heat is monitoring temperature inside that occupied space. Monitoring outdoor temps is used for some systems to adjust boiler temperature for efficiency reasons but not to turn heat in the building on and off.
The amount of heat generated is predicated on the gauges outside of the building that monitor the temperature.
I had the staff check it this morning and it is functioning properly. We have it set higher than recommended does this sound accurate because when it is below 55 we have not heat

Thanks for the feedaback, Happy, that should help other readers.
In general when a fan won't shut off after a new thermostat is installed I suspect either mis-wiring or thermostat wires that have become shorted together.
On occasion other causes of trouble include those listed in the article above.
We recently purchased a Honeywell thermostat and once installed the furnace fan would not shut off and I checked this website for help.
After a few days of frsutration, my husband took a look at the modular on the furnace that connects to the thermostat and found that the black wire was connected to the green selinoid so he turned off the furnace and installed the Honeywell thermostat so the black wire was connected to the green selinoid and the fan now works as it should.

)I HAVE APACKAGE UNIT THE BLOWER FAN WANT COME ON WHEN THE CONPRESER COMES.ON NEED HELP After disconnecting the thermostat entirely at the fan if it keeps running there is either a fan on switch in the air handler or a bad control board or relay. My fan won't shut off. Replaced thermostat and ran new thermostat wire with the same result. Should I replace the relay board in the air handler first or the limit switch? Thank you We disconnected the thermostat completely, checking the two wires that connect it. They appear fine at the wall.
We left the thermostat off the wall, bare wires, thinking to order a new one and...and the furnace fan came on. Guess we don't need a thermostat. Now what can we check?

Check for thermostat wires shorted together My furnace comes on and runs cool air (we don't have AC) even when I have it in the OFF position of <heat off air> and the auto/ manual fan is in the auto position. I have the temperature set all the way down to 50 degrees. Where do we start looking? Denny
Happily this is not rocket science. If the fan won't stop running I'd look at
1. thermostat settings and switches including a FAN ON switch
2. fan limit switch settings in the air handler - some have a FAN ON switch there
3. disconnect the thermostat wires at the air handler end - if the fan stops then the problem is a thermostat setting or shorted thermostat wires. If the fan keeps running then there is a bad relay or control board in the air handler.
Keep us posted
Our fan has been running continuously for the past 12 months. We have a heat pump & central AC unit.
Goodman 4 ton. We just had the unit replaced and the fan is still running constantly. The heater/AC company will no longer attempt to figure it out an states that it is the way the unit was designed to run.
This is the same unit that we had previous to replacement and up until the last year the fan turned on & off. If I raise/lower the setting by one degree, the fan will shut off until the unit kicks back on. It quickly comes to temp and we had a second guy confirm this was the right size unit. I have come to manually shut it down during the evenings as the fan noise irritates me.
The other night, I didn't have my glasses on and accidentally hit something and the screen went blank. By the time I came back with my glasses, it was back on.
(The heater guy had previously hard reset the thermostat and it didn't help). Since hitting the wrong spot on the digital honeywell thermostat, the fan has been turning on and off as it should.
Do you think it was just a setting that needed to be reset or do you think we need a new thermostat? The thermostat is approx. 8 yrs old. I greatly appreciate anyone's thoughts or suggestions!

Check for a loose wire, especially in the thermostat circuit.
My Furnace turns on and blows heat for few minutes or hours. Don't know it does it randomly where some time goes days with out turning off and some days in hours it turns off. Heat stops blowing warm air...and then only blows cold air.
Even turning off thermostat it still blows cold air..I turn of main switch and reset the saftey switch..and comes back on to go off at some random time next time..what could cause that. it causes the saftey switch to flip blowing only cold air till main power turned off or reset saftey switch..

fan will not shut off when the heat does? Check for shorted thermostat wires. my hvac unit runs when the thermostat is turned off and fan is off. this happens when it seems that the humidity rises. fan motor run . light blinking 6 time Amanda
I am sorry to sound like a timid old maid, but if you understand the risks of giving a homeowner advice about heating safety controls you may appreciate that I'm nervous about this. A mistake in installing a limit switch, or mis-handling the switch - say bending a sensitive spring on the dial for example - can put the switch out of proper order and could make the heating system quite unsafe.
For a bolt-on repair when I don't know the part number, I check the installation and maintenance guide for the heating system; if I don't have that document I note the brand, model, serial number and I give the manufacturer a call to ask for the proper part number. Or I might take the old part to my heating supplier for an in-kind replacement.
I would NOT just replace a button type switch based on measurements alone, as switches may look identical physically but may operate at different temperatures.
In general about fan limit switches, the units that do not have the push-pull button are omitting an extra control that let the owner or service tech set the fan for continuous operation rather than automatic. That's the chief difference.
We just found out that we need to replace our limit switch as the fan is continuously running. I have found one online and will be ordering it, but I have a question about the other limit switch. The small button style one with two wires attached, the high temp limit thermostat.
When looking at the furnace for the source of our problem, I kind of broke the button one free of the built in frame. I'm looking to replace that and am having no luck searching the part number located on it, but I have found one with the correct Limit of 300. The only difference is this one has a manual reset button in the center of it, which our current one does not. Is this really an issue?
Can I use the one with the manual reset in place of one without it? As long as the measurements are the same?

Amanda

Quite right, Ray. That fan run-on interval after the burner shuts off is important to avoid cracking a heat exchanger. Thanks for the input Dan, I have a new switch on order as I type this. and am making sure the fan runs for a bit after the furnace shuts off, in order to cool the heater box down before shutting off. Ray you did a steller job of debugging a fan limit switch problem.
And thanks for the nice comments. But still you should really replace the switch. The switch is particularly sensitive to being forced out of calibration, especially if someone forces or pushes on the rotating dial parts - the result could be unsafe. Sorry but while you did a marvelous repair I'm left ... worried.
After lighting my furnace, the fan kept running and would not stop. After several hours of troubleshooting and following the schematics. I traced it down to my fan limit switch. I removed the switch and found it to be stuck at the on -150 position.
I cycled it by hand a few times and took a wire brush to the base. it had some build up causing it to not release to the off position. After cycling it the switch ended up going back to the off position. I installed it and my furnace now works fine. Great pictures on this site made it possible for me to fix it myself. Thanks!!

Anon, if you turn off the blower fan on a heating furnace the unit's fan limit switch should shut the system down. If it does not,mourn off all power to the equipment and call for a repair tech.
Shutting the system off using normal homeowner controls should never be dangerous.
Ye of course you will impact air circulation in a building if you shut off equipment that i inculcating building air. Selena, set the thermostat to below room temperature. If the heater does not stop after a minute or two, shut off its electrical power and call your heating service tech for repairs. Will it be dangerous if we stop the AC blower fan switch and stop the furnace ? will it effect the air circulation in the house ? What should I do my burners keep burning and my blowers keep blowing? Thank you i have 3 settings on my heater/ air conditioning fan 1on, 2 crc, 3 auto. the fan seems to be on all the time, whether i set it to auto or circ. i don't use the on setting. which will only let the fan on when the heater or air is engaged? I just checked again after leaving it for the night and the dial is still stuck at 150?
Hi.. I just got the oil burner in my garage up and running after not being used for a couple years. The fan will kick In a free warming up and you can see the dial on the limit switch move as it warms but it won't shut off.
Even after 30 minutes or so the dial on the limit switch won't move back down and shut off the fan. If I turn the dial manually it will shut the fan off though. Bad limit switch?

OK Thanks Anon
I'd check for a loose wiring connection first, then if needed, replace the switch. the fan starts ok, but keeps running until I tap the limit switch. Have to do this each time or fan keeps running. Is the limit switch bad? No Woolf,
The push-pull switch on a limit switch used in furnaces is electro mechanical and is an integral part of the control.
I would not modify a limit switch in any manner - even if the snafu risks are small it's just not worth the risk of malfunction that can result in killing the occupants or burning down the building.
I have a standard domestic gas furnace. The remote thermostat has only a 2 wire run back to the furnace.
I wish to run the furnace blower for long periods to circulate cooler air through the house during the summer. I can push the manual over ride button in on the high limit switch, which achieves this.
Is it possible for me to add a second switch in parallel with the over ride button outside the furnace so that I don't need to open up the furnace to operate it? Is this a safe practice?
A complete list of oil and gas fired furnace controls is at FURNACE CONTROLS & SWITCHES
...
Continue reading at FURNACE FAN WONT STOP or select a topic from closely-related articles below, or see our complete INDEX to RELATED ARTICLES below.
Or see FAN LIMIT SWITCH - home
Or see FAN WONT STOP - THERMOSTAT SWITCH - to check switches on the room thermostat itself
Or see these
HVAC Blower Fan Articles
Suggested citation for this web page
FURNACE FAN WONT STOP FAQs at InspectApedia.com - online encyclopedia of building & environmental inspection, testing, diagnosis, repair, & problem prevention advice.
Or use the SEARCH BOX found below to Ask a Question or Search InspectApedia
...
Frequently Asked Questions (FAQs)
Try the search box below or CONTACT US by email if you cannot find the answer you need at InspectApedia.
...
Ask a Question or Search InspectApedia
Use the "Click to Show or Hide FAQs" link just above to see recently-posted questions, comments, replies, try the search box just below, or if you prefer, post a question or comment in the Comments box below and we will respond promptly.
Search the InspectApedia website
Technical Reviewers & References
Click to Show or Hide Citations & References
Books & Articles on Building & Environmental Inspection, Testing, Diagnosis, & Repair
Our recommended books about building & mechanical systems design, inspection, problem diagnosis, and repair, and about indoor environment and IAQ testing, diagnosis, and cleanup are at the InspectAPedia Bookstore. Also see our Book Reviews - InspectAPedia.
...