Asbestos-Ceiling Material FAQs
Questions & Answers about ceilings that may contain asbestos
InspectAPedia tolerates no conflicts of interest. We have no relationship with advertisers, products, or services discussed at this website.
Asbestos-containing ceiling FAQs:
Questions & answers about how to recognize ceiling tiles or other materials that may contain asbestos.
This article series provides photographs and descriptive text of asbestos insulation and other asbestos-containing products to permit identification of definite, probable, or possible asbestos materials in buildings.
Green links show where you are. © Copyright 2017 InspectApedia.com, All Rights Reserved.
Asbestos-containing Ceiling Tile FAQs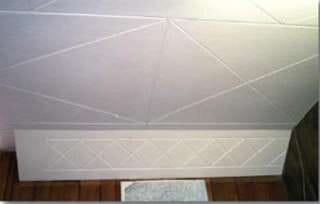 Jim:

Thank you for that information, though it's of course sad and bad news for which you have my sympathy. Cutting ceiling tiles on a table saw indeed is likely to create a lot of airborne dust, still more hazardous if you didn't wear a HEPA -rated mask.

Even though the relationship between anecdotal reports of exposure and the development of mesothelioma decades later is a difficult one (because other factors and exposures are involved), the case you cite is worth noting by other readers as a warning to always use proper methods for material cutting and for dust control and for personal protection.

Back in the 70's many of us worked with dusty and hazardous materials without taking the risk seriously-enough. Signs of pleural mesothelioma may not appear until 2-5 decades after acute exposure to high levels of asbestos-containing dust. And even then symptoms may develop so slowly as to pass recognitiion for a time.

If you have more memories of the nature of your exposure and what protective steps you did not but could have taken, that might help other readers to stay out of trouble in the future.

Thank you for the comments, Jim.
Also see MESOTHELIOMA doctors, organizations, treatment resources, legal advice.
I installed JM 12"X12" ceiling tile in my basement in 1974. I cut the tiles to fit in the area using my Rockwell table saw. I was recently diagnosed with PLUERA Mesothelioma. Were the 16" by 32" ceiling panels from the 1941 home ever tested? If so, what were the findings, I have similar panels in the basement of my grandparent's home.
Is this for Pharma plan? Is it Particle shreding? Will it absorb moisture?
Thanks for the follow-up Anoin-Zach, that will help other readers.
Your lab test confirms what Armstrong reports: that their ceiling tiles didn't contain asbestos.
I agree that small particulate dust is irritating and can be a potential health hazard almost regardless of its composition, and that some small dust particle components that are certainly not asbestos, such as silica or even small mold spores or bacteria-contaminated dust are hazardous.
(mod) - Thanks for the feedback! We eneded up getting a sample of the tile tested by one of the approved labs in the US. Report came back negative for asbestos. It was 80% cellulose, 10% binding matrix, and the remaining percent was a fiberglass and latex paint mixture.
So no asbestos in the Armstrong ceiling tiles at our house, however the cellulose dust (among other dust particles) is still quite hard on your lungs in the short term. Yikes. Warning to everyone else: Wear a mask when demoing ceiling tiles! Thanks!

Zach,

I don't know that specific model number for ceiling tiles.
However at ASBESTOS PRODUCING COMPANIES you will read the following:

Armstrong World Industries, see ARMSTRONG FLOOR TILE IDENTIFICATION

Armstrong ceiling tiles: According to Armstrong Corporation, those attorneys and some home inspectors are mistaken.
Armstrong commented as follows:
Our mineral fibre tiles are made from a combination of the following naturally occurring, processed and recycled materials in varying proportions depending upon the tile type: mineral wool, clay, perlite, cellulose and starch mixed together in a water based process before being cured by heat.
They are then finished with a water based paint, or laminated scrim and paint, decorative facing. All these materials are environmentally safe and our factories comply with ISO 14001.
Asbestos, in any form, is not and never has been used in the manufacture of Armstrong ceiling tiles.[8]

ON an older home it's prudent to treat ceiling tiles of unknown brand as if presumed to contain asbestos, though certainly not all do.

I wouldn't panic about a single small dust fall, but if there's a lot of dust you'll want to have a proper cleanup done, typically by damp-wiping and HEPA vacuuming. Dust in an old ceiling, even without asbestos, is likely to be irritating, as it contains fabric fibers, insect fragments, perhaps mold and pollen and other allergens.

Hi,

Today I was trying to move some ceiling tiles in our basement to fix a ceiling vent. They weren't cooperating so I just pulled them (accidentally breaking them and making some dust). Within a few seconds I was sneezing and coughing from the dust and then I realized I might have made a big mistake.
So I started to get nervous that they might contain Asbestos. Does anyone know if Armstrong 12 x 12 in, off white, Item 225 and 225F, model 0 42369 10650 4, ceiling tiles contain asbestos? I really hope not, but now I am pretty concerned. This house was built in 1967, but I do not know if the tiles were installed then or later. The whole basement has these tiles as the drop ceiling. Thanks! Zach

If the ceiling is from the 60's there's a reasonable chance that it contains asbestos. Search InspectApedia for ASBESTOS TEST LAB to find a list of certified, qualified asbestos test labs - since if there's a dusty mess to clean-up and if there is no asbestos, the job cost will be significantly less.
12" x12" stapled ceiling tiles put up in '60's have fallen down in mother-in-laws house. Only maring on tiles is. Swanboard ansd "made in Sweden". Any thoughts on possible asbestos content likelihood.? I have found no information at all re: Swanboard.. Should I have it tested first?
Well stains don't cause asbestos but it sounds as if you're talking about cats and the landlord answers "No soap, radio" - which makes no sense whatsoever.
First, if the ceiling is not falling, damaged, fraying, releasing debris, the safest course is to leave it alone.
If the leaks are fixed, a landlord with any sense will paint stains with BIN or another lacquer primer sealer, then repaint the ceiling.
IF the ceiling is falling down or needs to be removed, then IF it contains asbestos there is a potential hazard and the removal needs to be done by a qualified removal company AFTER a test sample confirms that the material contains asbestos.
Hi I live in an apartment building and I believe we may have asbestos in our hallway ceiling tiles. My landlord has been NO help. He claims the stains on the tiles are from a leaky roof that he's recently had fixed.
Is there anyway I can tell ? Thanks!
Probably around 73%
I am looking at an older home with accoustic ceiling tile, they are 1 foot squares that interlock on 2 sides, they are stapled to the old ceiling on 2 sides. I believe they were installed in the late 60's or early 70s. What are the chances of these containing asbestos?
Hi , we purchased a 1977 home with an acoustic cieling on one half of the basement and acoustic cieling tiles (I think) on the other half. I have pictures. The tiles are foam, with a very thin layer of acoustic 'paper' -- it's that thin. I can't find any wording on them but they've been moved around over the last few months to run cables to bedrooms above, etc. Now I am nervous!
Tiles may be 2x4 , but sizes all vary as they were cut to fit. The acoustic ceiling (over drywall) is essentially untouched but a small hole where the owner hung a light from. I am in New Jersey. Any guidance would be greatly appreciated.

Celotex ceiling tiles mayfair washable finish 260 class d-fed.spec.ss-a-118b, class 111-76 to 225 by astm e84 stamped 680813 12×12 typee-z. You think you could look it up some where. Does it have aspestas in it.
I Have Some Celotex Now 107 Ceiling Tiles From 1999 Made In L'ance Michigan. Do They Contain Asbestos They Are Trim Edge 16 x 500m x 1500m Nominal... Label #: 000438... Thank You...
John Moore: regarding the ceiling composition, I agree that an asbestos-containing fire-resistant coating is more-likely to have been applied to a ceiling surface, but given the enormous variety of training, skill, experience among people who might be asked to cover ceilings and walls around a boiler, just about anything is possible.
You cannot completely eliminate your asbestos suspicion without a near-complete demolition of the ceiling - something I can't recommend with so little information, but an expert ought to be able to collect test samples from one or a very few strategic locations that could be examined by a certified asbestos test lab (search InspectApedia.com for ASBESTOS TEST LABS to find one).
John,
I had to delete your links as the blazing blinking advertisements were really annoying.
About the ceiling tiles, it looks from your photos as if we're seeing a cellulose product ceiling tile but of course to know for sure if there is asbsestos in the material you'd need to either know the name of the product or to have a test performed by a certified asbestos test lab.
As this is a suspended ceiling it ought to be possible to remove it without creating a hazardous dusty mess in any event.
Jim C said:
I live in a house that was built in 1915. There is one room that had wood paneling and a drop ceiling put in at one point with 2'x4' ceiling pieces. I am planning on removing the drop ceiling but wanted an opinion before I remove them. I have links to a picture of a hole that was drilled into it previously and the top of one of the panels
No, John, it would be un-common (but certainly not impossible) for someone to have installed wood lath and plaster over a previousl layer of asbestos-containing ceiling tiles. The history of use of building materials argues against that sequence.
we have a 3 layer plaster and lath ceiling that was above an old gravity fed octopus. Built in 1920 or 1922. They wouldn't have put any asbestos tiles or any other asbestos product ABOVE the plaster & lathe, would they?
I'm also assuming that there wouldn't have been any loose fill asbestos insulation stuffed between the floor joists above the ceiling either. Is this assumption correct based on the year?
Is it possible to eliminate the suspicion of asbestos in the plaster layers based on the year?
Jon for space and to permit citations I answer your question at JOHNS MANVILLE CEILING & WALL PANELS at http://inspectapedia.com/hazmat/Asbestos_Ceiling_Tiles.php#Mansville in the article above.
If you can send me some sharp photos of the tiles/panels front, back, edge, any markings or stampings, and any packaging I can research more completely and it'd be most helpful. Find my email at the page bottom or top CONTACT link.
Daniel
I truly apologize for the double post,feel free to delete the bottom one:
Hi there, i recently found a 3 stacked pile(5 ft stacks) on my basement of 2x2 suspended ceiling tiles/panels. they look like the everyday ones that have on a office building ceiling. white on the facing(with 2 different sized pinholes and groves),tan on the back. the ONLY info that has stamped (in red ink) is the following:
Johns-manville corp Pat. D-213367
I have tried and tried to find ANY info about them(online)on the chances that they might contain asbestos.some of the tile look tan in the middle ,some look gray. i want to get rid of them,but BEFORE i move them,i want to make sure that they arent ACM. ANY answer will be greatly appreciated.
Al: depending on the brand and product, chances range from very likely to not at all likely.
What are the chances of tiles in a drop ceiling of a home built in the 1950s having asbestos?
Chances are pretty good - unless the ceiling sections are pure cellulose.
in a school built in the early to mid 50s in the midwest,what are the chances of asbestos being in the ceiling tiles? I am certain that the typical green tiles used on the floor contain asbestos. It is the same color of tiles that you see in every school built back in that era.
THANK YOU IN ADVANCE.
Age, appearance, can suggest that the ceiling tiles might contain asbestos, as you'll read in this article series. Actions range from doing nothing, covering-over, or if you have to do a demolition, testing for asbestos as finding it means more care needs to be taken.
Testing costs about $50. U.S. - use a certified asbestos test lab, search InspectApedia for ASBESTOS TESTING LAB to find an official govt. listing

How do I know that my ceiling tiles might contain asbestos and what do you suggest to at a minimal cost? Sure, just ask USA directly. U.
S. Gypsum Corp.
Hi! We received ceiling tiles for our basement (from and office building built in 1984) the number on the back is USG NFII D070496 0045. C070596 0846.
Because the actual office building was built so late we didn't think it would be an issue but is there any way to track these numbers?
Well that very white interior of the acoustic tile used at what looks like a shooting range makes it suspicious I agree. You'd need a lab test to know for sure if it's asbestos. Search InspectAPedia.com for ASBESTOS TEST LABS for a list if you want to do that - typically labs charge about $40. Keep me posted.
Pete said:
Does this look like asbestos containing acoustic tile?
[link deleted]
Does this product contain Asbestos... CELOTEX TEXTURE-TONE (R) SAFETONE(R) CELOTONE (R) LAY-IN PANELS MT 454 24"X 24" X 3/4 CLASS 25 FED SPEC, SS-S-118A
I am about to remove a drop ceiling of 24 x 32 accoustical tiles. On the back of one of them is the following i.d.: RADR A082602 CQ3. Can you tell me whether that helps to identify whether they may have asbestos in them? Thanks.
Recently decided to rewire. The basement has old ceiling tiles that I'm concerned about. They are interlocking and stapled to furrowing strips. They are 12" x 12" and about half an inch thick. Smooth surface. House was built in the 40s but I do not believe these are original. They are completely unmarked. Any ideas? Thank you
Thanks for your help
Sorry no, this is not a brand I recognize.
Thanks. We went through the website but don't see any specific reference for Twintex type E-Z, etc. Do you have any information about whether this specific tile contains asbestos?
Many thanks
Vic. Near the start of this article or by searching inspectapedia.com foe CELOTEX ASBESTOS PRODUCTS you will find more specific information
We found a box of the ceiling tiles that are in a house we are going to remodel and are wondering if they contain asbestos. Do you know anything about the contents of tiles made by Celotex Twintex Type E-Z M-250 Almond White 12x24 Designer modified 3842. Colored designer ceiling. #640 18 2
Many thanks! We are removing some 12"x24" ceiling tile
The first room that we did had tiles that were clearly marked as 2012 however when we started pulling down the tiles in the second room we noticed that they are different.
There are no marks or identifiers anywhere on the tiles except M-CL-1 or M-CL-I not sure which
This building was built in the 1930's but it had renovations done to it in the 1980's, 1990's and 2000's
The building owner claims that they are all less then 10 years old, but he cannot supply us with any proof of this
Any information would be helpful
Thanks
John I can't guess from just the information you provided. If the ceiling tiles are older than the mid 1980's, depending on their composition they might contain asbestos. If it's worth $50. to know, search InspectApedia.com for
ASBESTOS TESTING LAB LIST
to see some suggestions
we have demo a walmart ceiling tiles and i want to know if the tiles were asbestos
Joshua,
One cannot assess an environmental hazard exposure risk from a brief etext, but if you didn't make a dusty mess I suspect that the risk was small.
So the other day idk what dawned on me to do it but i had to cut a few tiles to fit them into place but they were really old ceiling tiles that contained asbestos i did it in my baisment not thinking i cut about 4 or 5 i dont know what to do am i in big danger ????
Leslie, the Sta-Lite cellulose ceiling tile photo that you posted is self-described as a 12" x 24" painted-bevel cellulose product #40-004 - that's wood fibers not asbestos. The image you contributed will be added here to assist other readers. Thank you.
I'd be grateful if you'd take another look at the box for any other labels or markings.
Cellulose is not asbestos but there were asbestos warnings for workers at several Nuwood processing mills.
A detailed, illustrated and referenced reply to your question is posted now at
http://inspectapedia.com/hazmat/Asbestos_Ceiling_Tile_FAQs.php RE-posting from 2015/11/30
I've been poking around the net trying to find out about tiles in a 1960 Maine lake house that fortunately still has the box in the attic Nu-Wood Stay-Lite cellulose fiber ceiling tiles 40-004 class d: ...
...
Continue reading at ASBESTOS CEILING TILES, Asbestos-Containing or select a topic from closely-related articles below, or see our complete INDEX to RELATED ARTICLES below.
Or see ASBESTOS CEILING TILE FAQs
Or see ASBESTOS-FREE CEILING TILES
Or see ASBESTOS-SUSPECT CEILING COVEROVER
Or see ASBESTOS TESTING LAB LIST for access to certified asbestos testing labs
Or see CELOTEX ASBESTOS PRODUCTS
Or see CEILING TILE MATERIALS
Suggested citation for this web page
ASBESTOS CEILING FAQs at InspectApedia.com - online encyclopedia of building & environmental inspection, testing, diagnosis, repair, & problem prevention advice.
Or use the SEARCH BOX found below to Ask a Question or Search InspectApedia
...
Frequently Asked Questions (FAQs)
Ask a Question or Search InspectApedia
Use the "Click to Show or Hide FAQs" link just above to see recently-posted questions, comments, replies, try the search box just below, or if you prefer, post a question or comment in the Comments box below and we will respond promptly.
Search the InspectApedia website
Technical Reviewers & References
Click to Show or Hide Citations & References
Thermafiber, Inc. (now a division of Owens Corning®) at Thermafiber, Inc., 3711 Mill Street, Wabash, IN 46992, Tel: 888-834-2371 (U.S. & Canada) - 260-563-2111 Website: www.thermafiber.com or Thermafiber technical services at 888-834-2371 (U.S. & Canada) ; Phone: 260-569-0801, Fax: 260-563-8979 or Email: technicalservice@owenscorning.com
3/07: thanks to Gary Randolph, Ounce of Prevention Home Inspection, LLC Buffalo, NY, for attentive reading and editing suggestions. Mr. Randolph can be reached in Buffalo, NY, at (716) 636-3865 or email: gary@ouncehome.com
06/07: thanks for photographs of transite asbestos heating ducts, courtesy of Thomas Hauswirth, Managing Member of Beacon Fine Home Inspections, LLC and (in 2007) Vice President, Connecticut Association of Home Inspectors Ph. 860-526-3355 Fax 860-526-2942 beaconinspections@sbcglobal.net
[1] Celotex 1973 Celotex Acoustical Systems catalog, January 1973
[2] Celotex Home Building Materials, 1947 catalog, lists: Cane fiber products: Celotex sheathing, Celotex insulating lath (board), Celotex interior finish, Celo-Siding, Celo-Rok Gypsum products [may contain asbestos]: Celo-Rok anchor lath, Celo-Rock wallboards, Celo-Rok plasters, and Other Products: Celotex rock wool, Celotex roofing, Celotex hard boards, Celotex Cemesta, Celotex Corporation, Chicago IL
[3] Celotex Insulating Cane Board, product catalog
[4] Celotex Building Insulating Materials, 1948 Catalog, listing: Cemesto insulation, Cemesto roof decks, Cemesto exterior wall coverings, Cemesto interior wall coverings [we believe the Cemesto lines refer to cement-asbestos products - ed. ]
[5] Celotex Sound Conditioning, 1948 Catalog, including perforated asbestos board sheets
Celotex ceiling products division was purchased by Ceiling Products & Gypsum Wallboard (BPB) of the U.K. beginning in 1999
Celotex roofing products division was purchased by Certainteed Corporation (Valley Forge PA) beginning in 1999
[6] Certainteed Ceilings, Adagio fiberglass/mineral fiber composite acoustical ceiling product MSDS, web search 11/22/2011, original source: certainteed.com/resources/Adagio_MSDS_2010.pdf
[7] "Board of Education for the School District of the City of Detroit v. Celotex, et al., Circuit Court of Wayne County, Michigan, No. 84-429634-ND"
[8] Armstrong Corporation, web search 6/22/12, original source: http://www.armstrong.rs/commclgeu/eu1/uk/rs/FAQ_other.html, [Copy on file as Armstrong_Ceil_Asbestos.pdf]
[9] Lipsitz & Ponterio, LLC, "Carpenters and Mesothelioma", Lipsitz & Ponterio, LLC, 135 Delaware Ave, 5th Floor, Buffalo, NY 14202-2415 (716) 849-0701. Web search 6/22/12, original source: http://www.mesotheliomacarpenter.com/carpenters-asbestos-exposure/ceiling-tile/ [Copy on file as LiIpsitz_Asbestos.pdf]
[10] INACHI forum discussion about asbestos ceiling tiles, web search 6/22/12, original source: http://www.nachi.org/forum/f18/asbestos-ceiling-tiles-14709/ [Copy on file as Inach_Ceil_Asbestos.pdf]
[11] Celotex [UK] History, Celotex Insulation Specialists, web search 6/30/12, original source: http://www.celotex.co.uk/celotex-history [Copy on file as Celotex_History_UK.pdf ]
[12] Wikipedia provided background information about some topics discussed at this website provided this citation is also found in the same article along with a " retrieved on" date. NOTE: because Wikipedia entries are fluid and can be amended in real time, we cite the retrieval date of Wikipedia citations and we do not assert that the information found there is necessarily authoritative. Web search 6/30/12: "Ceiling Tiles"
[13] Brian Greer, "History of Tin Ceilings", Brian Greer's Tin Ceilings, web search 6/30/12, original source: http://www.tinceiling.com/company/historytin.php
[14] Armstrong Corporation, "Corporate History: a Historical Summary", web search 6/30/12, original source: http://www.armstrong.com/corporate/corporate-history.html
[15] "Ceilings Pressed in Time", Old House Journal, web search 6/30/12, original source: http://www.oldhousejournal.com/ceillings_pressed_in_time/magazine/1070
[16] Steven Mlynarek, Morton Corn, Charles Blake, "Asbestos Exposure of Building Maintenance Personnel", Regulatory Toxicology and Pharmacology, 23, 213–224 (1996) ARTICLE NO. 0045, http://library.certh.gr/libfiles/PDF/GEN-PAPYR-4810-ASBESTOS-by-MLYNAREK
-in-RTAP-VOL-23-ISS-3-PP-213-224-Y-1996.pdf
[17] National Institute of Occupational Safety and Health (NIOSH) (1989). In NIOSH Manual of Analytical Methods (P. M. Eller, Ed.), Method 7400. NIOSH, Washington, DC.
[18] U.S. Environmental Protection Agency (USEPA—Green Book) (1990). In Managing Asbestos in Place: A Building Owners Guide to Operations and Maintenance Programs for Asbestos-Containing
[19] U.S. Department of Labor, Occupational Safety and Health Administration (USDOL) (1994). In Occupational Exposure to Asbestos: Final Rule, FR Vol. 59, No. 153:40964–41162. Materials, Report 2OT-2003. USEPA, Washington, DC.
[20] U.S. Department of Labor, Occupational Safety and Health Administration
(USDOL) (1986). In Occupational Exposure to Asbestos: Tremolite, Anthophyllite, and Actinolite: Final Rule, FR Vol. 51, No. 119:22631–22644.
[21] U.S. Environmental Protection Agency (USEPA) (1990). In Environmental Asbestos Assessment Manual, Superfund Method for the Determination of Asbestos in Ambient Air, Part 2, Technical Background Document, Report EPA/540/2-90/005 b. USEPA, Washington, DC
[22] Ceiling - Frequently Asked Questions, Armstrong Corporation, web search 6/30/12, original source: http://www.armstrong.com/resclgam/na/ceilings/en/us/article17697.html
[23] BPB America Inc., 5301 West Cypress St., Suite 300, Tampa, FL 33607, Tel: 866-427-2872 E-mail: crc@bpb-na.com Web: www.bpb-na.com. Acoustic ceiling tile & accessories.
[24] Affa Tile Company No. 1116/8, Poonamalee High Road, Opposite Hotel Shan Royal, Koyambedu Chennai, Tamil Nadu - 600 107, India, E-Mail: affatiles@gmail.com website: http://www.affatiles.com Tel:044-24757498, 044 - 24757497
[25] Made-in-China.com, online sevice to connect buyers with product suppliers in China, web search 6/30/12
[26] "Directive 2003/18/EC of the European Parliament and of the Council of 27 March 2003 amending Council Directive 83/477/EEC on the protection of workers from the risks related to exposure to asbestos at work". Publications Office of the European Union. 27 March 2003 Web search 6/30/12, original source: http://eur-lex.europa.eu/LexUriServ/LexUriServ.do?uri=CELEX:32003L0018:EN:NOT,
[27] H. M. Murray, testimony before the Departmental Committee on Compensation for Industrial Diseases "Minutes of Evidence, Appendices and Index", 1907. p. 127
[28] D. Auribault, "Note sur l'Hygiène et la Sécurité des Ouvriers dans les Filatures et Tissages d'Amianté (On hygiene and security of the workers in the spinning and weaving of asbestos)" in Le Bulletin de l'Inspection du Travail, 1906, pp 120–132.

[29] Wikipedia entry on Asbestos and various citations from that article, web search 6/30/12, original source: en.wikipedia.org "Asbestos"
Asbestos Identification and Testing References

Asbestos Identification, Walter C.McCrone, McCrone Research Institute, Chicago, IL.1987 ISBN 0-904962-11-3. Dr. McCrone literally "wrote the book" on asbestos identification procedures which formed the basis for current work by asbestos identification laboratories.
Stanton, .F., et al., National Bureau of Standards Special Publication 506: 143-151
Pott, F., Staub-Reinhalf Luft 38, 486-490 (1978) cited by McCrone

Asbestos NESHAP ADEQUATELY WET ASBESTOS GUIDANCE, EPA340/1-90-019, December 1990, U.S. ENVIRONMENTAL PROTECTION AGENCY, Office of Air Quality Planning and Standards, Stationary Source Compliance Division, Washington, DC 20460,original web source: http://www.epa.gov/region04/air/asbestos/awet.htm
Asbestos products and their history and use in various building materials such as asphalt and vinyl flooring includes discussion which draws on ASBESTOS, ITS INDUSTRIAL APPLICATIONS, ROSATO 1959, D.V. Rosato, engineering consultant, Newton, MA, Reinhold Publishing, 1959 Library of Congress Catalog Card No.: 59-12535 (out of print, text and images available at InspectAPedia.com).
"Handling Asbestos-Containing roofing material - an update", Carl Good, NRCA Associate Executive Director, Professional Roofing, February 1992, p. 38-43
EPA Guidance for Controlling Asbestos-Containing Materials in buildings, NIAST, National Institute on Abatement Sciences & Technology, [republishing EPA public documents] 1985 ed., Exposure Evaluation Division, Office of Toxic Substances, Office of Pesticides and Toxic Substances, U.S. Environmental Protection Agency, Washington,D.C. 20460
Books & Articles on Building & Environmental Inspection, Testing, Diagnosis, & Repair
Our recommended books about building & mechanical systems design, inspection, problem diagnosis, and repair, and about indoor environment and IAQ testing, diagnosis, and cleanup are at the InspectAPedia Bookstore. Also see our Book Reviews - InspectAPedia.
...