Air Conditioner Compressor Hard Start FAQs

Q&A on diagnosing, fixing an AC compressor that has trouble starting
InspectAPedia tolerates no conflicts of interest. We have no relationship with advertisers, products, or services discussed at this website.
Q&A on hard-starting HVAC compressor motors:
These questions & answers about hard-starting air conditioner or heat pump compressor motors help diagnose why the motor may hesitage, be slow starting, or may continue to burn out the starting capacitor.
This air conditioning repair article series explains procedures for the diagnosis and repair of hard-starting air conditioning compressors.
Green links show where you are. © Copyright 2017 InspectApedia.com, All Rights Reserved.
FAQs on A/C Compressor Hard Start or Intermittent Run or Stutter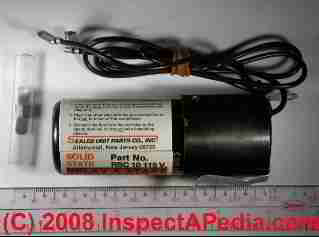 These questions and answers about HVAC compressor motors that have trouble starting were posted originally at HARD STARTING COMPRESSOR MOTORS
Photo: a motor starting capacitor, a common repair effort for hard starting AC compressor motors. [Click to enlarge any image]
Heather,

A service tech changes of the capacitor as an inexpensive effort to get a compressor unit running.

However if the motor has essentially failed it will simply blow out replacement capacitor.

So I suspect that the compressor motor in yr unit is overheating or seizing or otherwise failing.

Your service tech can testing confirm this for example by measuring the current draw in amps when the compressor tries to start.
We have had two repair men out from different companies in less then a month and both changed out the capacitor and then two days ago the unit blows cold air for maybe 2 mins and then stops completely then does it again 15 mins or so later. Any ideas?
THANK YOU
Look first for a bad capillary tube or thermostatic expansion valve.
A Roof Top RV AC DUO THERM unit was given to me.Guess unit is about 25 years old.Used to work when removed from last RV. There are 3 speeds for fan that work. 3 speeds for AC.If switch is put on AC the compressor kicks on runs for about 5 minutes,
Pipes are getting hot and cold then you hear presser building up compressor slow down and stop trying to start fan compressor thumps and jumps around before thermal shut down.
30 seconds go by and fan will run air is cool, but not cold. then it will run for 15 min. before starting agian. I have put a new hard start compasitour on unit.
Justin

I can't say, but I'd start by tracing power to the fan and to the compressor.
All switches are on, right?
It's not an FPE Stab-Lok or Bulldog PUshmatic electrical panel powering the equipment, right?
You didn't short a control board, right?
Inside fan on my240volt air-conditioning went bad. I changed it,n put new plug. now the compressor n fan won't start. What did I do wrong

Ankit,

What are the symptoms? If they are the symptoms described in the article above then that's the best to diagnosis of your compressor problem.
Why My split ac is taking 10 to 15 min to start Plz help
I would try looking for an excessive current draw or an intermittent short such as a winding short when a motor is spinning.
3 ton straight ac,fixed orifice. The unit has blown 4 capacitors in 1 year. Both sides of the dual run capacitor read zero with no leaks or puffing out. I cant see a strart relay and none is indicated by the schematic. The unit runs strong untill it repeatedly blows the capacitor.
James:

Several problems can cause the quick-off A/C compressor problem you describe, such as
- a failing control relay or circuit board
- a seized compressor motor
- a compressor trying to start against high head pressure due to a stuck or failed thermostatic expansion valve TEV or cap tube
Rahul

If this is a new problem that is occurring on a window AC system that's been in service for some time then I suspect the compressor motor is having trouble starting - it may be failing; the unit could be repairable if the problem is only the need for a new start/run capacitor but I'm not optimistic
My ac compressor comes on for like 3 seconds then shuts off ? Any advise will be thankfull
When I start my window AC the voltage of my house gets low
Ted

The unit may have other internal safety controls that shut it down due to overheating, abnormal gas pressures, or another malfunction; your service tech will check those controls.

Try cooling down the system with a garden hose to see if that makes a difference.
A/C Unit: TRANE
MODEL#: BTB 718A 100A1
Manufacture Date: 7/84

Hello:
This hard-working unit is located at our apartment in Albuquerque, NM.
For the second consecutive day, the compressor and fan for this unit simply shut off between 4-5P.
The 2 30-AMP circuit breakers for this unit were NOT tripped. I am able to restart the A/C by resetting the two circuit breakers, which starts up both fan and compressor, which then run normally in accordance to thermostat settings.
These are the first occurrences of this condition since we started renting this unit on November, 2014. In your opinion, what is the probable cause for this unit shutting off in the middle of the afternoon?
sounds like a failing compressor.
Fan outside and I side is blowing put start up capita tor on and still having problems with the compressor kicking on.
When it finally kicks on with the help of the garden hose it will run for hours and then kick off and about 20 minutes later it start the process all 9ver again. By the way it's Lennox. I do here the compressor string to start.
My compressor sounds like it's trying to start but then stops and never comes on fulli?
An over-sized compressor not only wastes energy, but it won't dehumidify the home adequately as it'll cool down too fast.
You bring up the main issue really! Our unit is indeed to big for our home and it has caused us $$$$ over the past 6 years.
When sitting at closing our builder off handedly said, " they delivered the wrong Ac unit to your house...it's bigger and better for the same amount" something to that affect.
How were we to know.
A year later he up sized all the duc work in the house because of issues with the house not cooling...thought all was well but at that point we were on our own.
Many hvac techs later and they all suggest we buy a brand new smaller unit at around 5k....
If the compressor itself is working normally and is the properly-sized unit for the home then indeed what you describe suggests a problem elsewhere. I'd give your service manager a call and ask for diagnostic help from their senior, very experienced technician.

Wacth out: while one-step over-fusing on AC compressor circuits is usually permitted (check the data tag on your unit), upping from 15 to 40A is improper, unsafe, indicates lack of expertise and worst, is just asking for a house fire.

Your tech will probably check the thermostat settings, wiring, controls, and relays in the system. Indeed the suggestion of some of your comments is that the compressor is trying to re-start too soon and is trying to start against a high head pressure: a condition thats a problem for many compressor units.

Something as simple as a sticking TEV (themostatic expansion valve) can cause failure of the head pressure to drop after the compressor shuts off.
Hi,
Long issue time issue with our hvac! Doing the same old thing for 6 years....no solution but told to just buy a new unit$

Had the compressor replaced last year$$$$ (unit is only 6 years old...new house). Same issue that caused the first compressor to fail is still present.
Unit will kick on and cool home just fine. It will reach the desired temp then cycle off. As soon as the house reaches just 1* below temp setting the Ac will kick back on and flip the breaker:/ it does have a 5 min start delay but this doesn't seem to help:/ form the breaker flipping
We had the breaker fused uped to a 40amp from a 25amp last year...but it didn't help.

I have figured out that if I run and set the thermostats up 10* after the Ac kicks off from cooling the house...the Ac doesn't kick on after the 1* and give my Ac time to rest....a few hours it will not trip the breaker.
This method works every time.
This is my life everyday...babysitting the Ac :/
Help
This sounds like a control or wiring problem, possibly a bad sensor or relay. I'd get it fixed lest you damage the compressor.
Hi
we have notice that our air compressor will cut off and start right up and then cut off and start right up. It seems like it does it the longer it runs. We have had coolant added and we have replaced our inside thermostat. However we are still having the same problem . What should we try next?
noisy start up
OM

Click to enlarge any image to see a sharper, bigger version. We use small image files to speed page loads for mobile readers
Bad photo
Good
Nicki,

As I don't have that specific diagram try going right to b the Sunbeam service center at Sunbeam .com as they offer manuals for their products. Let me know how that works for you.
Can i please have a picture of the wire connections to the compressor of a portable aircon. Make is sunbeam. Model nr spa1000. Thanx
Ingrid

Indeed if the compressor does not run the system won't produce cool air. The problem could be a failed compressor motor (expensive) or perhaps a bad control or relay. You'll need to call your A/C service company for diagnosis and repair.

Some diagnostics for an A/.C comporessor that won't start at all are found at

http://inspectapedia.com/aircond/Air_Conditioner_Wont_Start.php AIR CONDITIONER WON'T START
Yes hi, I have a carrier heat pump. When turning on the AC the out side unit fan comes on but the compressor does not. the compressor tries to kick on but then quits. The air blowing out of the vents isnt cold
Perhaps a stuck or failed reed valve in the compressor.
what would cause a water cooled compressor to start and than shut off on high head pressure immediately with no type off water control valve
Sounds like multiple problems:

1. a refrigerant leak that needs to be found and fixed
2. needing a proper refrigerant charge
3. need to repair or replace burned, damaged electrical components: not just wires but possibly relays, control boards, whatever is damaged and leading to overcurrent that burns up the wire.
Just to clarify, the condensing coil did have a leak, the system had zero coolant, and the yellow wire between the relay switch and going into the unit bundle (not yellow between the capacitor and relay) was fried and appeared to have melted the brown wire between the capacitor and unit bundle.
Does this mean there is problem with the capacitor or since its the yellow wire is there possibly an issue with the condenser itself, or even would this have been a result of some other malfunctioning issue with the unit??? Your help is greatly appreciated!
I have an external a/c unit that had lost total cooling function (presumably from a leak in the condensing coil), but on inspection of the outside unit we found a yellow wire that was charred and sparking. It was not directly connected to the capacitor but we are trying to consider what could be the culprit. Any thoughts?
Question: Could Loose Electrical Wiring (or a bad A/C start relay) Explain a Hard-Starting Air Conditioner or Heat Pump Compressor Motor?
I had a tech come out and install a hard-start kit to keep a 4-year-old 3-1/2 ton Carrier compressor from tripping the circuit breaker. The compressor failed this summer. A second tech was suspicious that a compressor less than five years old would be tripping the breaker.
He discovered a loose connection in the cut-out switch. Would the hard-start kit have been necessary had the loose connection been tightened prior to it's installation? I'm wondering if the failure could have been avoided with proper diagnosis by the first tech
In 2009 tech # one had come to respond to my problem of a 4-year-old compressor kicking the circuit breaker. Without even looking at the connections in the shut-off box adjacent to the unit, he went straight into control panel, checked compressor current draw at start-up and installed a hard-start kit
. I thought it odd that a compressor less than five years old would be drawing too much current. Had no problems in 2010 but last month the circuit breaker started kicking off again late in the day.
Tech #one returned, checked coolant pressures and return temp, added some freon and started to pack up. I asked if he wasn't going to check the current draws. He reluctantly removed the control cover, checked draw and voltages and pronounced the unit was running perfectly before leaving with my $168 check.
When the circuit breaker kicked off again the next day, I started to suspect the breaker might be worn out. Called an electrician a few days later.
He replaced the breaker switch, again without checking the connections at the shut-off box, and within eight hours my compressor had died - coils shorted to ground - confirmed by tech # one who quoted me a price to replace the unit.
Now I called a contractor I knew asking if he knew any good AC techs. He referred me to tech # 2 who, in my first call, was immediately suspicious that my original problem may have been in the wiring, not the unit. His reasoning was that a compressor less than 5 years old shouldn't have been giving me problems to begin with.
He came over to confirm my compressor was shorted out. He then did what no other tech had done since I owned the house - popped the cover off the shut-off box and tightened the leads at the terminals - black wire loose, white wire "very loose."
My question is whether that may have been my problem all along and would a hard-start kit have temporarily relieved the symptom -tripped circuit breaker- without curing the problem.
Reply:
Tx Red: you and your second HVACR Tech have come across a useful diagnostic step: check for loose, or even burnt or arced wiring connections. I can't be sure of the answer to your question, as time has passed and we can't know for sure what conditions the first tech saw. A bad relay can cause compressor start problems, and I pose that its possible that arced, burned, or loose connections at the relay could make it misbehave.
Your thesis that a loose wire could have been misdiagnosed as a hard-starting A/C or heat pump compressor motor is reasonable but not, IMHO, absolutely proven by events.
A compressor start relay (or most other switches) that are loosely wired will typically experience arcing at the loose connection (an event that can, by the way, when the circuit is active or the switch closed, draw higher amps than normal due to the resistance at the point of arcing and corrosion.)

Adding a start-capacitor is adding a device that gives a big voltage surge just during motor start-up.
A voltage surge that normally is overcoming inertia in a still motor might also overcome a start relay contactor resistance, caused by damaged or burned connecting points, or by a loose connection that was in effect acting in that same fashion. The start capacitor is delivering voltage and pushing the motor into rotation.

So without being an E.E. but with some experience around this topic, my reply is "could be" but not that we can say for sure.

Also FYI even a brand new A/C compressor could become hard-starting due to other system problems that cause internal damage to the device or even by (perhaps less likely) a manufacturing defect, events at the property, even general power delivery conditions such as abnormally low voltage. To research the topic you'd look for events that can damage the start winding on an electric motor.

Finally, it's not a surprise that the first tech didn't check nor re-check for loose wiring but I agree it would have been a useful step. Often service techs, contractors, and some investigators become habituated to a short cut of trying the "fix" that usually works successfully and fast.

IF the original start relay or contacts that were found to have been loose is still installed, one could investigate further by inspecting that device for evidence of arc burning or damage.
Question: how often to replace the hard start capacitor kit?
(May 24, 2014) Rich said:
How often should Hard Start kit be replaced? What is contained in such a kit? What is an estimated cost of the kit?
Reply:
Rich: in my opinion, once. If the kit is not working then the compressor motor probably needs replacement. An exception might be if a power surge or other electrical or mechanical event damaged the capacitor.
A hard start capacitor kit should not have to be regularly replaced on HVAC equipment. If the capacitor keeps failing I suspect a wiring error or a motor that is failing solid and needs replacement.
Question: how do I fix my AC if I can't afford service
(May 27, 2014) Kevin Bresee said:
Hello,
I have a Rheem 2ton central air unit. My dog months ago ate wires outside and blew the board, thermostat, and some fuses.
I had all fixed accept I just got a new thermostat and checked wiring and my problem is that the heater had worked but now that its hot the AC turns on all systems go but then it keeps shutting off and the new board is suppose to have a diagnostic light but tells me nothing.
Cold air comes out of registers, a little slower, I can see the blower motor spinning in unit/air handler and outside compressor is spinning and staying on even when the blower motor shuts off.
I looked at the only capacitor inside where blower motor is and it is not swollen or anything but unable to check voltage. Please help 98+ temps lately and cant afford service!

Reply:
A homeowner can perform basic maintenance and checks to keep an AC or heat pump system working, such as checking and replacing dirty air filters. A homeowner with more skill can check that power is being delivered to the equipment.
Question: condenser fan keeps running all the time
July 3, 2014) Boyd said:
my condenser fan runs all the time and i noticed it plows cool air, why would my unit not be warming up
Reply:
Boyd:
If you're looking for heat from a heat pump check that the thermostat has been set to heating mode.
If the condenser fan NEVER turns off then I suspect a relay or control board failure.
See
Question: voltage problems with an LG 1.5 5 star AC
24 May 2015 Deepak Kumar said:
I am using LG 1.5 5 star AC from past 6 years recently we are facing some problem related to voltage. AC is working fine.
Whenever I switch on the ac in between 9pm to 11pm the voltage will fluctuate, after 11 pm it will work like charm. fluctuate means the outdoor unit will be running and their is no cool air is coming from ac. I need to restart the ac. Its been 3 months I am facing this issue. If I turn on the ac after 11 PM then their is no problem. Kindly suggest what I can do?
Thanks in advance.
Regards,
deepak
Reply:
Deepak
A problem with an electric motor (such as your AC compressor) might cause high current draw but I would not expect it to affect voltage.
Voltage is determined by your electrical supplier. I suggest starting by asking an electrician to check the incoming voltage at your electrical service, or perhaps to mount a monitoring device there.
Keep us informed and we'll take it from there.

Question: Haier 1.5 ton split ac after switching on it blows cool air for 10 minutes
26 May 2015 podeswar said:
i am having Haier 1.5 ton split ac after switching on it blows cool air for 10 minutes n then it blows hot air the complaint is not retifaing loaded gas changed coil changed condencer but the problem is not rectifaied the compressure is getting over heated
Reply:
Start by checking for cooling coil icing. See COOLING COIL ICING or LEAKS
...
Continue reading at HARD STARTING COMPRESSOR MOTORS or select a topic from closely-related articles below, or see our complete INDEX to RELATED ARTICLES below.
Or see CAPACITORS for HARD STARTING MOTORS
Suggested citation for this web page
HARD STARTING COMPRESSOR MOTOR FAQs at InspectApedia.com - online encyclopedia of building & environmental inspection, testing, diagnosis, repair, & problem prevention advice.
Or use the SEARCH BOX found below to Ask a Question or Search InspectApedia
...
Frequently Asked Questions (FAQs)
Try the search box below or CONTACT US by email if you cannot find the answer you need at InspectApedia.
...
Ask a Question or Search InspectApedia
Use the "Click to Show or Hide FAQs" link just above to see recently-posted questions, comments, replies, try the search box just below, or if you prefer, post a question or comment in the Comments box below and we will respond promptly.
Search the InspectApedia website
Technical Reviewers & References
Click to Show or Hide Citations & References
George Fazio, reader, contributed comments on failed starter capacitor diagnosis by noting the bulged capacitor ends. 09/25/2009
Thanks to reader Skip Wallenburg for discussing repairs to hard-starting and intermittent-shut-down air conditioning compressors, August 2010.
ALUMINUM WIRING HAZARDS - aluminum electrical wiring often burns-up at high-amperage electrical connections such as air conditioner wiring.
Federal Pacific Electric (FPE) FPE Stab-Lok Circuit Breakers can increase the risk of a fire if these breakers are used on air conditioning or heat pump equipment
Zinsco Electrical Circuit Breakers: overheating, failure to trip, burn-ups involving Zinsco and certain Sylvania electrical panel components. These components can also increase the risk of a fire if these breakers are used on air conditioning or heat pump equipment
Books & Articles on Building & Environmental Inspection, Testing, Diagnosis, & Repair
Our recommended books about building & mechanical systems design, inspection, problem diagnosis, and repair, and about indoor environment and IAQ testing, diagnosis, and cleanup are at the InspectAPedia Bookstore. Also see our Book Reviews - InspectAPedia.
Complete List of Air Conditioning & Heat Pump Design, Inspection, Repair Books at the InspectAPedia Bookstore.
Modern Refrigeration and Air Conditioning, A. D. Althouse, C.H. Turnquist, A. Bracciano, Goodheart-Willcox Co., 1982
Principles of Refrigeration, R. Warren Marsh, C. Thomas Olivo, Delmar Publishers, 1979
"Air Conditioning & Refrigeration I & II", BOCES Education, Warren Hilliard (instructor), Poughkeepsie, New York, May - July 1982, [classroom notes from air conditioning and refrigeration maintenance and repair course attended by the website author]
Refrigeration and Air Conditioning Technology, 5th Ed., William C. Whitman, William M. Johnson, John Tomczyk, Cengage Learning, 2005, ISBN 1401837654, 9781401837655 1324 pages
Asbestos HVAC Ducts and Flues field identification photos and guide
Fiberglass: Indoor Air Quality Investigations: Fiberglass in Indoor Air, HVAC ducts, and Building Insulation
...