Guide to Detection & Hazards of Large vs Ultra-small Airborne Fiberglass & Fiberglass Dust Fragments in buildings
InspectAPedia tolerates no conflicts of interest. We have no relationship with advertisers, products, or services discussed at this website.
Detection of airborne fiberglass:
How Airborne particle size effects on air quality testing: This document provides information about the role of particle size and lab procedures in the detection of small particles of fiberglass fragments and indoor air quality fiberglass contamination issues in residential and light-commercial buildings.
This article describes risks of inaccuracies in airborne fiberglass and similar particle studies if the forensic analyst fails to use procedures that can detect very small particles & fragments.
Green links show where you are. © Copyright 2017 InspectApedia.com, All Rights Reserved.
Sources & Detection of Sub-Micron Sized Fiberglass Fragments in Building Air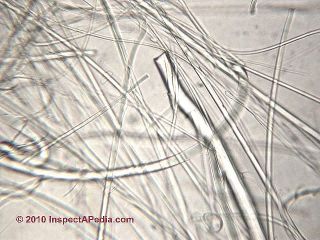 Experienced forensic microscopists will almost certainly agree that it is very common to find fiberglass insulation fragments in indoor dust and air samples. Most often analysts recognize and identify large fiber particles - lengths considerably longer than other indoor dust analytes such as mold or pollen.
Here we will discuss: Large Non-Respirable Fiberglass Insulation Particles. Special problems with very small fiberglass fragment particles down to sub-micron size. Basic Dust Cleanup Advice for Indoor Fiberglass Fragments or other Small Particles. Prudent Avoidance Advice About Fiberglass Insulation Dust.
Large Non-Respirable Fiberglass Insulation Particles
These comparatively large fiberglass particles are typicallyi low enough in frequency and large enough in size that experts will agree that they are unlikely to pose a health risk to building occupants.
Indeed manufacturer MSDS sheets indicate that "There are no known health effects from the long term use or contact with nonrespirable continuous filament fibers.
As manufactured, PPG glass fibers are nonrespirable. Nonrespirable fibers cannot reach the deep lung because they have a diameter of greater than 3.5 micrometers."[2]
Small, Respirable Fiberglass Insulation Particles
But what about the level of ultra-small [and respirable] fiberglass fragments that might be present in some buildings where insulation has been tramped-on, stomped about, or otherwise damaged and abused? It would appear that "if you don't look for it, you won't find it and you won't report it" is a common problem with certain particles that may be present but not tested-for.
About these small fiberglass fragments, one manufacturer explains:
Chopped, crushed or severely mechanically processed fiber glass may contain a very small amount of respirable fibers that could reach the deep lung. The measured airborne concentration of these respirable fibers in areas where severe processing of fiberglass occurred has been shown to be extremely low and well below the TLV.
Repeated or prolonged exposure to respirable glass fibres may cause fibrosis, lung cancer and mesothelioma. PPG fiber glass in the form supplied, [italics ours] does not contain respirable fibers.[2]
And we agree that in proper and normal installations that assumption sounds very reasonable. But having inspected several thousand buildings, we have certainly encountered conditions in which insulation has been installed or damaged in a manner risking an increased level of these small fragments.
DJF Opinion: we frequently find fiberglass fragments in indoor air samples, particularly where fiberglass HVAC duct material are in a building and where fiberglass insulation has been left exposed in a living or occupied area (such as in the ceiling above an unfinished basement being used as an office or family play area)
. If someone has attempted to mechanically "clean" HVAC duct work which was lined with fiberglass insulation, it is likely that I'll find a higher presence of fiberglass fragments in indoor air and in settled dust.
We continue to collect field data as well as occupant complaints in buildings for research purposes. To date our field data suggest that there is more fiberglass in residential building air than is recognized. The skin, eye, and respiratory irritant effects of exposure to fiberglass dust and particles has been widely acknowledged and appears, for example, in the MSDS for various fiberglass products. [1][2][3][4][5]
But in our opinion a there is a growing level of concern regarding these fibers, in particular where ultra-small fragments are present.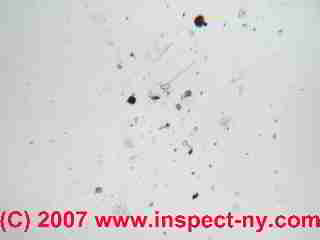 The microscope photo at left shows indoor dust fragments including skin cells (pink) and fiberglass fragments. These particular fiberglass fragments are large enough to see easily.
DJF Opinion: Frequent presence of fiberglass fragments in air and some dust samples, suggests that an HVAC duct system or exposed fiberglass insulation in the building may be contributing unwanted and potentially unsafe levels of these fibers.
What may be the sources of these fiberglass fragments? Here are some examples:
Improperly-cleaned fiberglass-lined HVAC ducts in which mechanical means was used to "scrub" the duct interior -
see FIBERGLASS HVAC DUCTS for details
Foot traffic on old building insulation in an attic
Improper dust control during the blow-in process for a chopped fiberglass insulation retrofit
While the fiberglass industry does not necessarily agree these particles in homes constitute a hazard, independent studies and warnings at US government health-related websites suggest that there may be carcinogenic or respiratory health hazards from exposure to high levels of fiberglass particles in some buildings and/or work environments.
The health risk of small airborne fiberglass particles is likely to depend on the level in the building, the exposure level of the occupants, and other factors.
Basic Dust Cleanup Advice for Indoor Fiberglass Fragments or other Small Particles
If we find frequent presence of fiberglass fibers in air or interior dust samples further investigation, cleaning, and particularly investigation of air handling equipment and duct systems in the building would be appropriate.
If fiberglass HVAC duct work has been installed I very often find significant fiberglass levels in interior air and dust samples.
Because these materials cannot be mechanically cleaned and because I do not recommend encapsulant sprays, replacement could be in order.
We would not expect and do not usually find evidence of movement of significant levels of fiberglass fragments from insulated attics, nor from enclosed (finished) walls, ceilings into living areas under normal conditions.
Prudent Avoidance Advice About Fiberglass Insulation Dust
It is possible that small fiberglass particles in air may constitute a meaningful health risk (obviously depending on the overall exposure level) which has not been explored.
We suggest that that prudent avoidance would be appropriate. Improper cleaning or treatment of fiberglass ducts with biocides may in fact increase rather than decrease indoor air quality problems in a building, particularly if occupants have other respiratory or pulmonary concerns/vulnerabilities.
...
Continue reading at FIBERGLASS FRAGMENT HAZARDS in AIR or DUST or select a topic from closely-related articles below, or see our complete INDEX to RELATED ARTICLES below.
Or see LAB IDENTIFICATION OF FIBERGLASS for forensic lab procedural notes about fiberglass particles.

Or see these
Articles on Fiberglass Hazards in Buildings
Suggested citation for this web page
FIBERGLASS DETECTION in BUILDING AIR & DUST at InspectApedia.com - online encyclopedia of building & environmental inspection, testing, diagnosis, repair, & problem prevention advice.
Or use the SEARCH BOX found below to Ask a Question or Search InspectApedia
...
Frequently Asked Questions (FAQs)
Try the search box below or CONTACT US by email if you cannot find the answer you need at InspectApedia.
Question:
I am preparing to install a HVAC system in my home which has no duct work. One of the contractors wants to use fiberglass duct system. I had already been told by a local energy check business that this would not be wise. Your article has confirmed that advice. Thank you. - Fiona
Reply:
Fiberglass ductwork could be fine for HVAC application provided that it is foil-covered on all sides. What is impossible to clean is ductwork that leaves fiberglass exposed on the duct interior.
Question: where are details about testing & lab procedures for finding fiberglass in building air & dust?
Your headline suggested ways to detect fiberglass particles but the article never touches on it. I'd like to know how to test for it. - Bubba
Bubba, your note was helpful and we've clarified the text in several related fiberglass and dust articles. The article above focuses on the role of particle size in the detection of fiberglass in air and dust samples as well as in hazard research.
See FIBERGLASS FRAGMENT HAZARDS in AIR or DUST for basic hazard information, and see LAB IDENTIFICATION OF FIBERGLASS for forensic lab procedural notes about fiberglass particles.
Question: We see fiberglass in our HVAC ducts and we get itchy
we live in a mobile (manufactured home) 1991 it was built. and we have fiberglass ductwork. You can see the fiberglass when you look into the floor vents. At times we get very itchy and so do our guests. When you look there is nothing you can see on our skin. Could our fiberglass be breaking down? Also, many of out guests expericence allergy symptoms when they come over. Any Ideas?? - Laura Dunne 5/1/2012
Reply:
Laura, I haven't found significant fiberglass fiber release from fiberglass ductwork in buildings except in cases where some fool tried to clean the fiberglass-lined ducts mechanically. Mechanical cleaning or even aggressive brushing and vacuuming can damage the bonded surface of the ducts.

There could be of course many sources of allergy symptoms in a building: mold in the building or its HVAC system, animal dander even from prior animals or pets no longer present, insect fragments, even the introduction of unfiltered outdoor air during a period of pollen release.

A thorough visual inspection of the home including its HVAC system may be useful in the case you describe. Do not rely on testing alone as false results are just too likely.
For completeness, also see MORGELLONS SYNDROME.
Reader Comment: consider HVAC duct coatings to seal exposed fiberglass
My question to you is whether you have looked at coatings, such as http://www.fiberlock.com/mold/hvac.html to seal the fibers in place? Of course, as duct cleaner, we always recommend replacing fiberglass liner with a closed cell product like http://www.armacell.com/WWW/armacell/INETArmacell.nsf/ tandard/D489E388CFD3159EC12576D20065B99E? OpenDocument&Nav= 4111A0A8CA88966C8025774C005B9CCE.
However, when replacement is impossible or impractical, applying sealants/coatings to fiberglass duct board and duct liner is a valid alternative (especially in double-walled perforated duct). I don't believe there are any cleaning methods that can always prevent damage or further deterioration to even new liner. Regardless, wouldn't you agree that coating/sealing is better than nothing? Actually, I think the use of fiberglass in HVAC systems should be stopped. Thanks for your great website, by the way.
Laura Gallagher CVI, ASCS,
VSMR Dusty Ducts, Inc.
1076 Corporate Park Drive Forest,
VA 24551
Office (800) 879-3878 Cell (434) 444-2640

Reply:
Thanks for the discussion Ms Gallagher. We particularly appreciate comments or critique from readers who have expertise in the topic being discussed.
Indeed, I have considered duct coating coating products, have seen some applications of coatings as a "remedy" for damaged HVAC duct interiors and for interior surfaces that are soft, cannot be cleaned, and are contaminated with mold, allergens, even pathogens.
In general I agree with your position that for some cases a coating shoudl be considered, although it's a not completely reliable band-aid approach to a duct problem, a coating may be cost effective or may be suitable as a temporary measure pending a more costly duct replacement.

Concerns that occur to me about duct coatingsd are bases on (limited) field experience and include these:
later the duct coating falls off of the soft, unstable fiberglass surface to which it was applied, and no one knows that the fall-off has occurred; new IAQ hazards recur, worse, are ignored or not properly addressed because occupants think the duct problem was "fixed"
Some applications of spray-in duct sealants I've inspected were very uneven, and incomplete; if the ducts can't be inspected, coatings can be a hit-or-miss proposition that may help but is incomplete
Applications of coatings on in-slab ducts leave hazards of recurrent flooding, vermin, bacteria, pathogens, etc.
Question: airduct cleaning company to clean my HVAC air ducts caused damage - how to seal
(Sept 13, 2014) Lari said:
I have hired an airduct cleaning company to clean my HVAC air ducts. The company cleaned the ducts, but neglected to reseal them. I now have fine particles of fiberglass in the air of my home and on every surface. I have hired a company to reseal and then clean everything. Will this be a good enough fix?
(Oct 7, 2014) dolores vance said:
air duct company cleaned air ducts with brushes and created fiber glass blowing all through my condo. condo was heppa vacuumed but we are still feeling dust in air. poor air quality. we don't know what more to do. need advice
Reply:
Lari:
Indeed using mechanical duct cleaning methods inside fiberglass lined ducts can damage them. Applying a sealant should help and is about the best you can do other than replacing the damaged sections. Without inspecting your system I can't know if tat will be good enough for you or not. If the seal job cost is less than 40% (opinion) of we duct cost, I'd give it a try.
Dolores,
A visual inspection by an expert (see EXPERTS DIRECTORY at page top) can determine how damaged the ducts are, where, to what extent, and how much of the system needs replacement.
Other options in which I have less confidence include spray-application of a surface sealant in side the duct system.

Question: cleaning fiberglass-contaminated clothes, bedding, couches
(Dec 12, 2014) Angela said:
How do you recommend cleaning clothes and household items (bed, couches etc) that have been exposed to fiberglass particles?
Reply:
Laundering, dry cleaning, sometimes 2x if contamination was heavy such as work clothes worn during an insulation job;
HEPA vacuuming furniture and interior areas.
Question: fiberglass hazard from fiberglass duct-board?
December 2014 Deborah asked
[paraphrasing] is there a fiberglass release hazard from fiberglass duct board?
Reply:
Deborah,
Fiberglass duct insulation in normal (and good) condition is coated and fibers bonded or adhered so that you should not see any significant fiberglass release into building air. But if the duct insulation was damaged by mechanical cleaning that might indeed be a concern and may require action.
...
Ask a Question or Search InspectApedia
Use the "Click to Show or Hide FAQs" link just above to see recently-posted questions, comments, replies, try the search box just below, or if you prefer, post a question or comment in the Comments box below and we will respond promptly.
Search the InspectApedia website
Technical Reviewers & References
Click to Show or Hide Citations & References
[1] "Prepared Glass Fiber (Textile and Plastic), PPG Industries, Inc. Raw Material Specification" 06/26/97, rev 11/30/10, Specification Number: CO-1272, R. R. Eustace, Web search 01/03/2011, original source: PPG Technical PPG_Bulletin-Processed Fibers Specs-Revision 7.pdf
[2] "Fiber Glass, Continuous Filament", [including the products listed below]. PPG Material Safety Data Sheet MSDS, 2/27/2004, Web search 01/03/2011, original source: MSDS TAP Chopped Fiberglass.pdf

Chopped strand: ChopVantage®, MaxiChop®, Delta Chop®, Chopped Strands for Nonwovens
Coated Yarn: Hercuflex® Strand HF and HFO lines
Direct Draw: Hybon®, TufRov™, Innofiber™ NTY
Yarn: FiberGlass Yarn, Hybon® RCY, L.E.X.® Yarn, TEXO® Yarn
Mat: MPM 5 Chopped Strand Mat, Needled Mat for AZDEL, MatVantage II, Texo® HTM
Roving: Panel Roving for Continuous Laminating, Roving for Pultrusion/Filament Winding, Roving
for SMC, Hybon® Roving for Spray Up, Hybon® Woven Roving

[3] "Fibrous Glass Material Safety Data Sheet.", GAF Materials Corporation,1361 Alps Road, Wayne, NJ 07470, Tel: 800 – 766 – 3411, MSDS # 1001, MSDS Date: November 2008. Web search 01/03/2011, original source: Fiberglass_MSDS__1001-309-280-v1.pdf
[4] "Insulation Overview", Healthy House Institute, Web search 01/03/2011, original source: Insulation_ Insulation Overview - HealthyHouseInstitute.pdf, website: healthyhouseinstitute.com
[5] "Inspecting Attic Insulation", Washington State University, Extension Energy Program, 2006, Web search 01/03/2011, original source: AHT_Inspection Attic Insulation.pdf
Fiberglass carcinogenicity: "Glass Wool Fibers Expert Panel Report, Part B - Recommendation for Listing Status for Glass Wool Fibers and Scientific Justification for the Recommendation", The Report on Carcinogens (RoC) expert panel for glass wool fibers exposures met at the Sheraton Chapel Hill Hotel, Chapel Hill, North Carolina on June 9-10, 2009, to peer review the draft background document on glass wool fibers exposures and make a recommendation for listing status in the 12th Edition of the RoC. The National Institute of Environmental Health Sciences is one of the National Institutes of Health within the U.S. Department of Health and Human Services. The National Toxicology Program is headquartered on the NIEHS campus in Research Triangle Park, NC. The National Institute of Environmental Health Sciences is one of the National Institutes of Health within the U.S. Department of Health and Human Services. The National Toxicology Program is headquartered on the NIEHS campus in Research Triangle Park, NC.
Following a discussion of the body of knowledge, the expert panel reviewed the RoC listing criteria and made its recommendation. The expert panel recommended by a vote of 8 yes/0 no that glass wool fibers, with the exception of special fibers of concern (characterized physically below), should not be classified either as known to be a human carcinogen or reasonably anticipated to be a human carcinogen. The expert panel also recommended by a vote of 7 yes/0 no/1 abstention, based on sufficient evidence of carcinogenicity in well-conducted animal inhalation studies, that special-purpose glass fibers with the physical characteristics as follows longer, thinner, less soluble fibers (for 1 example, > 15 μm length with a kdis of < 100 ng/cm2/h) are reasonably anticipated to be a human carcinogen for the listing status in the RoC. The major considerations discussed that led the panel to its recommendation include the observations of tumors in multiple species of animals (rats and hamsters). Both inhalation and intraperitoneal routes of exposure produced tumors, although inhalation was considered more relevant for humans.
World Health Organization International Agency for Research on Cancer - IARC Monographs on the Evaluation of Carcinogenic Risks to Humans - VOL 81 Man-Made Vitreous Fibers, 2002, IARCPress, Lyon France, pi-ii-cover-isbn.qxd 06/12/02 14:15 Page i - World Health Organization, 1/21/1998. - Fiberglass insulation is an example of what IARC refers to as man made vitreous fiber - inorganic fibers made primarily from glass, rock, minerals, slag, and processed inorganic oxides. This article provides enormous detail about fiberglass and other vitreous fibers, and includes fiberglass exposure data.
http://monographs.iarc.fr/ENG/Monographs/vol81/mono81.pdf - the article (large PDF over 6MB)
http://monographs.iarc.fr/ENG/Monographs/vol81/mono81-6A.pdf - article details
http://monographs.iarc.fr/ENG/Monographs/vol81/mono81-6C.pdf - studies of cancer in experimental animals in re vitreous fibers such as fiberglass;
http://monographs.iarc.fr/ENG/Monographs/vol81/mono81-6E.pdf - summary of data reported & evaluation
http://monographs.iarc.fr/ENG/Monographs/vol81/mono81-6F.pdf for the article references
To search the IARC monographs on various environmental concerns and carcinogens, use http://monographs.iarc.fr/ENG/Monographs/PDFs/index.php
Books & Articles on Building & Environmental Inspection, Testing, Diagnosis, & Repair
Our recommended books about building & mechanical systems design, inspection, problem diagnosis, and repair, and about indoor environment and IAQ testing, diagnosis, and cleanup are at the InspectAPedia Bookstore. Also see our Book Reviews - InspectAPedia.
Environmental Health & Investigation Bibliography - our technical library on indoor air quality inspection, testing, laboratory procedures, forensic microscopy, etc.
...