Morgellons Disease or Morgellon's Syndrome
MORGELLONS SYNDROME - CONTENTS: What is Morgellon's syndrome or Morgellon's disease? Bugs in the skin ? Fibers in the skin?
POST a QUESTION or READ FAQs about Morgellon's Disease or Morgellon's Syndrome and complaints about unidentified fibers in the indoor environment and in or on people's skin
InspectAPedia tolerates no conflicts of interest. We have no relationship with advertisers, products, or services discussed at this website.
This article describes Morgellon's Syndrome, a collection of complaints that people believe are traced to unidentified fibers or "bugs" on or in skin, secretions, and their environment.
We include descriptions of the complaints, case histories, and references to additional details about the different types of particles commonly found in the indoor environment.
We include authoritative citations and references to relevant medical journal articles and similar expert sources. Our page top photograph shows a lab photo of ordinary human skin cells, along with some animal dander, fabric fibers stained with acid fuchsin. There are no unusual fibers, bugs, nor other anomalies in this example.
Green links show where you are. © Copyright 2017 InspectApedia.com, All Rights Reserved.
Morgellon's Disease or Morgellon's Syndrome: health complaints believed to originate in fibers, skin irritation, lesions
What is Morgellon's syndrome or Morgellon's disease?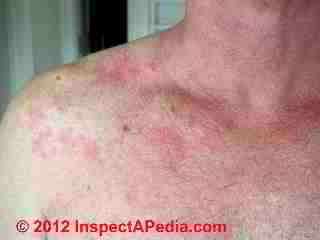 Our photo of an acute skin rash (left) provided by a client was diagnosed as contact dermatitis, not Morgellon's Syndrome.
Discussed here: Mayo Clinic and expert physician provide authoritative comments on Morgellon's Syndrome and psychocutaneous disease. List of Common Symptoms & Complaints that People Associate With Morgellon's Syndrome.
Technical Notes about the contents of house dust. How we compare & identify fiberglass fragments & fabric fibers. Fiberglass Insulation Dust Exposure & Skin Irritation. Lab Experience With the Presence or Absence of Fibers in Skin Samples.
According to the Mayo Clinic Staff,
Morgellons disease is a mysterious skin disorder characterized by disfiguring sores and crawling sensations on and under the skin. Although Morgellons disease isn't widely recognized as a medical diagnosis, experts from the Centers for Disease Control and Prevention (CDC) are investigating reports of the condition, which they refer to as unexplained dermopathy.
... Morgellons disease shares characteristics with various recognized conditions, including Lyme disease, liver or kidney disease, schizophrenia, drug or alcohol abuse, and a mental illness involving false beliefs about infestation by parasites (delusional parasitosis - Mayo Clinic [3]
Koblenze r[5] has written extensively about psychocutaneous disease, and has described the history and uniqueness of Morgellon's Syndrome named by Sir Thomas Browne in 1674:
Less well understood are other sensations that patients may describe to us, such as crawling, biting, stinging, pricking, burning, shooting, and so forth. These sensations may be focal or generalized, and while some patients may present to us with no visible change in the skin—those with brachioradial pruritus, for example—others, reporting that the discomfort is relieved only by picking, squeezing, or pulling hair, present with neurotic excoriations, prurigo nodularis, or trichotillomania.
A separate group of patients are those unfortunate few who have an inherent need to ''know'' and to understand what is going on with their skin. These patients, made very anxious by the vacuum in their knowledge, and perhaps also by their inability to attain relief from professionals will, with great ingenuity, ''create'' a ''cause'' for their symptoms, which makes logical sense to them, and with which they can be comfortable. Because of the nature of the sensation, many of these patients believe themselves to have an infection or infestation, and we are of course all familiar with the syndrome of delusions of parasitosis, or Ekbom's disease, as is described in the two letters.
What is remarkable in Sir Thomas Browne's description, in the literature references over the past 75 years, and in the complaints of our patients today, is the extraordinary similarities that they all describe—in the quality of the sensory changes experienced, in the level of the patient's distress, in the various and ingenious interpretations of what may be happening in the skin, and in the ongoing and desperate search for relief. The patients are virtual carbon copies, one of the other.
The clinical picture is unmistakable. The patient is intensely anxious, is obsessively focused on his or her symptoms, brings ''specimens'' of the offending agent, or agents, and is unshakable in his or her belief as to the cause. Usually there will be a logical explanation of exactly how the infection or infestation was contracted, and the patient will have resorted to the most extreme measures both to eradicate it and to prevent contagion. [5]
List of Common Symptoms & Complaints that People Associate With Morgellon's Syndrome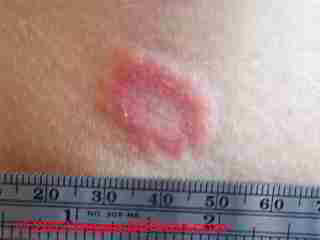 We have received quite a few complaints from people who trace a variety of irritations and health concerns to unidentified fibers or dust in their environment and who are confident that that material is causing in turn a variety of unusual health and indoor air quality complaints.
Our photo of a skin lesion (shown at left) is not associated with Morgellon's Syndrome and in fact was traced to an acute exposure to airborne Stachybotrys chartarum.
People who are suffering from Morgellon's Syndrome-like complaints (or for that matter any other medical complaint) should not hesitate to seek expert advice, starting with their own physician who knows their medical history &c., and pursuing their complaint with experts in appropriate fields as needed. Most often your own doctor can give the best advice on seeking treatment or further consultation with suitable experts.
Typical Moregellons'-like complaints we have heard from building inspection clients and readers are summarized below, followed by some case histories and reader comments that may be helpful.
I have unexplained itching in various areas
There are fibers in my nasal secretions
There are fibers coming out of my skin, I see blue, black or red fibers and granules under my skin and coming out of it
There are fibers entering my skin
I keep finding fibers in scalp particles or scrapings
I have spontaneous skin lesions or skin eruptions
I had the bugs in my skin; or I feel a sensation of crawling or biting under my skin
I had a fungus in my skin that shows up as fibers
I suffer from fatigue, memory loss, obsessive compulsive disorder, impaired brain functioning, depression and it is coming from these skin problems
Technical Notes about the Usual Contents of House Dust
The common constituents of house dust are fabric fibers and skin cells, with a lower proportion of incidental pollen, mold, dust mite fecals, and where pets are or have been present, animal dander and hair. Other common but lower frequency particles include starch granules, soil particles, and depending on the building and its mechanicals, soot.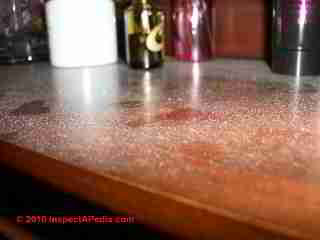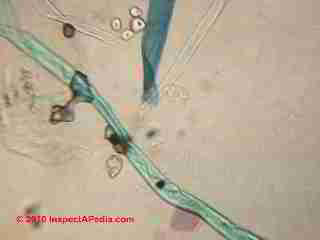 Above (left) a client photo shows a heavy and rapid dust accumulation on building surfaces. At above right our lab photo shows that the prime contents of the dust were fabric fibers and starch granules, not building insulation in this case. - DF & WW 6/2010
It is also common to find some fiberglass particles in most buildings, usually traced to building insulation. Carpets in buildings are often a significant source of indoor dust (fabric fibers) as may be other fabrics in environments that use heavy curtains and lots of upholstered furniture.
Readers should note that the level of indoor dust varies widely in buildings building environments. See the following articles for details about building dust:
Comparing fiberglass and fabric fibers
Our lab photos (below) compare fiberglass fragments with fabric fibers.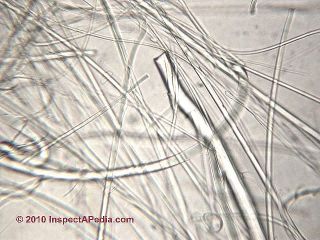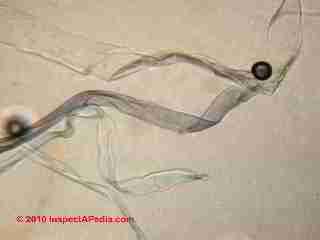 Fiberglass Insulation Dust Exposure & Skin Irritation
OPINION-DF: various indoor environmental contaminants may in some cases be associated with skin irritation complaints, including exposure of insulation workers to high levels of contact with fiberglass insulation. In our experience skin irritation from fiberglass insulation generally diminishes rapidly and stops within 24-48 hours of bathing and thorough washing of dusty clothing.
Where we most experience as well as receive complaints of skin irritation traced to fiberglass exposure it is by people installing, demolishing, or stomping around on fiberglass building insulation, particularly in older buildings where foot traffic (in an attic without complete flooring for example) or other activities have damaged the insulation, increasing the proportion of small fiberglass fragments.
See
FIBERGLASS PARTICLE CONTAMINATION TEST
Lab Experience With the Presence or Absence of Fibers in Skin Samples
In the indoor environmental samples and even some tape samples of skin surfaces where readers or clients have expressed concern or confidence that unidentified fibers are both cause and symptom, using light microscopy and polarized light microscopy to 1200x magnification we have never found identifiable fibers other than incidental house or clothing dust and fabric fibers at normal levels.
In other words, a careful cross-sectional examination of superficial skin samples in using transmitted light microscopy for the samples we have studied showed without exception that fibers in the sample were adhered to the skin's exposed or outer surface; they were not found growing in or through the skin nor originating from inside the body.
Watch out: it is common (and normal) for to find in lab samples collected of from human skin surfaces some fibers such as those coming from from carpeting, clothing, etc., and on occasion other types of fibers, both natural and manmade both on skin and "apparently" embedded in skin samples.
This is particularly true if a surface sample is collected from a sore or lesion as such skin surfaces are typically more sticky than other skin areas.
Such samples can be collected from individuals who have no Morgellon's syndrome complaint as well as people who do. In some cases that we have researched we could identify the probable fiber source by careful comparison of sample fibers to fiber sources in the building such as carpeting or furnishings.
Readers should therefore view with caution photographs published at some websites purporting to provide hard evidence that Morgellon's sufferers indeed have unusual or pathogenic fibers erupting from their skin.
The suggestion of our limited observations is that sufferers from Morgellon's Disease should consult carefully with their physician and if the physician agrees that it is appropriate, ask for a referral to a specialist in environmental medicine.
Notice: the authors & reviewers are not physicians and do not offer medical diagnostic advice. Here we describe common observations & complaints described by some who might be described as suffering from Morgellon's Syndrome. (Also research delusional parasitosis, Ekbom's syndrome)
We have field and laboratory experience in investigation of the indoor environment and building related health complaints and we report here on the experience of a wide readership base, some of whom report undiagnosed skin irritations that the sufferers are confident are traced to unidentified fibers in their environment. Technical review, critique, comments, content suggestions are invited. Please use the Comments Box found at the end of this article. - DF
Itching Conditions in Humans: Recent Research
For skin-related itch and fiber complaints see your doctor.
In February 2014 The New York Times reported on research into conditions that cause itching using an M.R.I. Scanner, giving new insight into why people itch and why scratching relieves itching. Of interest to people suffering from skin complaints described as itching and diagnosed as Morgellon's disease, a subject person of the Times article was noted to suffer from having been mis-diagnosed as having a mental issue treated by antidepressants when in fact the individual had a rare disease causing itching.
Bautista, Diana M., Sarah R. Wilson, and Mark A. Hoon. "Why we scratch an itch: the molecules, cells and circuits of itch." Nature neuroscience 17, no. 2 (2014): 175-182.
Bautista, Diana M., Maurizio Pellegrino, and Makoto Tsunozaki. "TRPA1: A gatekeeper for Inflammation." Annual Review of Physiology 75 (2013): 181-200.
Chiang, Herbert C., Victor Huang, and Lynn A. Cornelius. "Cancer and itch." In Seminars in cutaneous medicine and surgery, vol. 30, no. 2, pp. 107-112. WB Saunders, 2011.
[Dr. Lynn Cornelius, an author in this article, is cited in the NY Times Article listed below.]
Denise Grady, "Itching: More Than Skin Deep, With new science, a new look at a condition that causes lasting misery for many", The New York Times, 18 February 2014, P. D1, D5.
Downs, Anthony MR, and Cameron TC Kennedy. "Successful treatment of intractable palmoplantar pruritus with ondansetron." Archives of dermatology 134, no. 8 (1998): 925-926.
The, Lydia, Sarah Wilson, Katherine Beattie, Maurizio Pellegrino, Lyn Batia, George Katibah, Daniel Estandian, and Diana Bautista. "A NEW SIGNALING PATHWAY BETWEEN EPITHELIAL CELLS AND NEURONS TRIGGERS ITCH VIA THE ATOPIC DERMATITIS CYTOKINE TSLP." In ACTA DERMATO-VENEREOLOGICA, vol. 93, no. 5, pp. 606-606. 2013.
Wilson, Sarah R., Kristin A. Gerhold, Amber Bifolck-Fisher, Qin Liu, Kush N. Patel, Xinzhong Dong, and Diana M. Bautista. "TRPA1 is required for histamine-independent, Mas-related G protein-coupled receptor-mediated itch." Nature neuroscience 14, no. 5 (2011): 595-602.
[Dr. Diana Bautista, an author in the article above is cited in the New York Times article also cited earlier]
Wilson, Sarah R., Aislyn M. Nelson, Lyn Batia, Takeshi Morita, Daniel Estandian, David M. Owens, Ellen A. Lumpkin, and Diana M. Bautista. "The ion channel TRPA1 is required for chronic itch." The Journal of Neuroscience 33, no. 22 (2013): 9283-9294.
Wilson, Sarah, and Diana Bautista. "Itching for relief." Nature neuroscience 16, no. 7 (2013): 775-777.
Zhao, Zhong-Qiu, Fu-Quan Huo, Joseph Jeffry, Lori Hampton, Shadmehr Demehri, Seungil Kim, Xian-Yu Liu et al. "Chronic itch development in sensory neurons requires BRAF signaling pathways." The Journal of clinical investigation 123, no. 11 (2013): 4769.
...
Continue reading at ITCHY FABRICS, FURNITURE or select a topic from closely-related articles below, or see our complete INDEX to RELATED ARTICLES below.
Or see FIBER & HAIR IDENTIFICATION
Or see FIBERGLASS HAZARDS
Or see MOLD / ENVIRONMENTAL EXPERT, HIRE ? and also see DOCTORS - ENVIRONMENTAL MEDICINE
Suggested citation for this web page
MORGELLONS SYNDROME at InspectApedia.com - online encyclopedia of building & environmental inspection, testing, diagnosis, repair, & problem prevention advice.
Or use the SEARCH BOX found below to Ask a Question or Search InspectApedia
...
Frequently Asked Questions (FAQs)
Try the search box below or CONTACT US by email if you cannot find the answer you need at InspectApedia.
Question: Question on Morgellons and fiber identification from a Morgellon's Sufferer
I am a Morgellons Sufferer, how would you feel about analyzing my fibers? [I am attaching a ] slide show of 3 different samples, at least you can see the "hair" inside the bag. I have [uploaded] a video on youtube. I took the images with a hand held QX5 Microscope.
All images are the "things" that came out of my skin.
I had the bugs in my skin, but I didn't have a microscope then. I've heard of some 20 pathogens involved in Morgellons.
Fungus is believed to be one of them. - G.P.
Follow-up: G.P. from Melbourne writing. I hope you don't mind me contacting you again. You may recall I mentioned I am a Morgellons Sufferer, how would you feel about analyzing my fibers? See slide show of 3 different samples, sorry the photos are so poor, best I could do. At least you can see the "hair" inside the bag. I have a video on youtube; I took the images with a hand held QX5 Microscope. All images are the "things" that came out of my skin. I had the bugs in my skin, but I didn't have a microscope then. I've heard of some 20 pathogens involved in Morgellons. Fungus is believed to be one of them.
Reply: ordinary house dust, hairs, etc.
I took a look at your photos, but I cannot identify anything that is diagnostic or useful from those images other than to comment that I saw what appear to be hairs (and possibly other fibers) stored in plastic bags.
Your QX5 microscope, while useful for general fiber examination at up to 200x, is unlikely to be adequate to the task of both fiber and small particle identification both because of limitations of the equipment and because training and experience in particle identification are important. To examine and identify fibers or small particles, including fungal spores, insect fragments, or non-fungal debris, requires both proper forensic training in the type of particles being examined and training in microscopy, including the use of high powered light and polarized light microscopy, typically from 400x to 1200x.

Unfortunately examining hairs or fibers at low power is probably not reliable nor diagnostic. You should of course discuss your symptoms and concerns with a physician who is expert in environmental medicine. And if the physician obtains medical samples from skin surface or sub-surface areas and that need identification, in addition to medical lab examination, a particle or forensic lab might then be of service. - DF
GP there are not pathogens (including fungus) reported by medical experts to be at the root explanation of Morgellon's Syndrome. But indeed people suffering from these complaints need to find an experienced, expert dermatologist or similarly qualified physician who is familiar with the complaints, literature on the subject, and methods of treatment.
Question: Help me find someone to fix what is coming out of my carpet and entering my skin and coming out of my face; my skin hangs
Please help me find someone. what ever is coming from my 35 year old carpet has entered me and coming out of my face and has cause my entire skin to hang. i filed a violation of health and safety with the attorney general against the owner. all my property is ruined and she has never come to see the sludge when i called her in august. her reply to them said nothing related to any charges just rambled on me needing help. my social worker confronted her and said the carpet is a health hazard and needs to be replaced.
The owner tore into her with outrageous lies and will not replace the carpet. I was told by the assistant attorney "that was foolish to tell your social worker-that's your best witness". i can't even look at myself. the hair on my face doesn't grow now. I'm 67 and she want's me out and constantly using my disability report against me. I have doctors letters negating her slander remarks which were filed also filed. it has become so aggressive and i'm scared. the health departments are worthless. thank you. - Jason 5/17/2012
Question: fine dust, powder, green mold in our home wipes off of my furniture and my skin
l am having some serious mold issues I think and it is creating problems between me and my husband. We had a roof leak that went on for quite awhile it came through my textured ceiling and my husband just knocked down the big lump it made on the ceiling and patched the roof but the mold itself was never cleaned. I then started finding these little black specks on my clothes. My husband said it was just lint. I started breaking out with sores all over my body wherever my clothes touched. I ended up getting a bacterial staph infection. Well I was told that was what I had.
I keep finding lots of dust build up and a fine powder substance on the furniture and when I wipe it it is green. I also was cleaning my skin and was exfoliating and the stuff coming off me was green.
Could this be mold on my body? When I put on my clothing if there is any black specks on it my body will immediately start itching and burning wherever the black specks are touching. I am getting clothe out of my dresser drawer and they are covered in these black specks. we do not have any bugs have already been checked out for that. My wood paneling in my living room is turning black in places and then it will rot through in some places.
Could mold be causing all these things. Also the things I find on my clothes I have to pull them off with tweezers . Its almost like they are deeply imbedded in the clothing. It has eaten holes through my clothes. And the fine powder substance was all over my duffle bag and had 4 holes all the way through it. I need someone to explain this to me so I can explain it to my husband. He refuses to believe we have a mold problem. If you could let me know something as soon as possible it would be greatly appreciated I am concerned for me and my children's health. - A.D.
Question: disturbances, shimmying type of sensation, dizziness, sleep deprived
I am writing to you because I have been experiencing disturbances of a, as of yet, un-determined source. These disturbances wake me from sleep at night, sometimes with a shimmying type of sensation, though nothing around me is obviously moving. Sometimes I have difficulty falling asleep and feel uneasy (NOTE: this does not happen to me when I sleep elsewhere, other than my apartment. And, I am a good sleeper, usually falling asleep when my head hits the pillow. And, I can sleep through construction.) Over time I become dizzy and or disorientated, not to mention sleep deprived. My heart rate seems sometimes affected. My ears can hurt, and once almost felt as if the eardrum would rupture. The nature of these disturbances do not include any obvious "sound". And, might not be normally detected if one weren't trying to sleep or rest. I wonder if these are electrical type charges, or of a sound nature that is outside the normally audible ranges. - RLT - 6/16/11
Reply: for the above and similar sufferers: consult your personal doctor, ask for a referral to a suitable expert physician
For most of these sufferers and similar readers, you want to find an experienced, expert dermatologist or similarly qualified physician who is familiar with the complaints, literature on the subject, and methods of treatment. In my experience the best place to start is with your own physician who knows you and your medical history. Ask him/or her for an appropriate referral.
Question: big problem with heavy dust fibers and fragments, maybe insulation; scratching sores
Fragments of something,and a large amount of dust keeps flying around in our house. Please we need some kind of help.
The problems we are having are getting worse,and we could really use some help. Could you tell us who you think may be able to help us. The biggest problem we have is,all this extra heavy dust fibers,and other fragments of possibly some kind of insulation, being on the inside of our house. We don't really know for sure what it is, or what is causing it.We have had a few people look at it,one of the contractors thought that the heating and cooling system may be starved for air,with not enough air returns going into the system. We had one additional air return temporarily put in to see if it would help. At first that did help,but now over time of a few weeks,it's getting bad.and continues to get worse each day the way it seems.
I have sores all over me.Soon as I get one healed up,another takes it's place.Our inside dog is also getting sore spots on her,and she constantly scratching at her feet,and bottom side. We have always put Frontline on her and never had any problems in the past with any kind of fleas,or other bugs. I have kept some of the fragments that I have found on myself,and on furniture in our house,and off some of our clothing. If we could get someone to check this stuff out,and tell us what it is,it may help us in finding out where it is coming from,and how to fix our problem. - K.G. 8/2/12
We sure do need some kind of help. We are at the end of our rope and don't know what to do . We have been having this problem for way over a year. There is some kind of fragments of insulation possibly and other kinds of fragments that are floating around in our house and we don't know what it is, and we don't know for sure where it is coming from. We keep finding these fragments and a large amount of dust is always on everything.
My self have sores all over my body from this stuff, and our dog is always scratching, and licking her legs, and, feet, her back end. My husband is a farmer he isn't in the house very much. Therefore he doesn't have all the sores like I do. I am disabled from a car wreck that I had back in 1981. I have had over 15 back operations, and I am in the house all the time. My dog is also in the house all the time. We are both in this stuff all the time.
We have a extra large amount of a whitish dust, and other small fragments of stuff that we don't know what it is. We have had our ducts looked at, and they said they looked good. We also have had a house inspector come to the house to check it out. He said he didn't know what it was, or how it is getting in the house. We have had several contractors come and inspect the house. They also didn't know what this stuff is for sure, or where this stuff is coming from. It almost has to be connected to our heating, and cooling system. We have had some problems in the past with this new system we had put in back in around 2003.
We had 3 tornados hit us last spring , and it seems the problems started getting a lot worse after that .Some of the contractors that we had in to look at the house .They thought that the heating and cooling system he have may need some more return air registers put in. They hooked up one additional return air register to see if that would help. That did seem to help some, but we still had stuff floating around in the house.
After about 2 weeks it started getting worse again. It is now bad, and seems to be getting worse. We don't know what to do anymore. I'm at the end of my rope. We were going to try to send some samples of this stuff in but, we don't know how much it will cost us for each sample we send in . We would appreciate any help you can give us. - K.G. 8/9/12
Reply:
From your note it seems that what might be helpful would be a more careful site inspection and perhaps a few dust samples that are examined to help you confirm that there are abnormal dust or particle levels, identify harmful or irritating materials that might be present, and track down the source of the material - since cleaning without fixing the source is just a short term Band-Aid.
To that end you might try contacting some of the inspection professionals in your immediate area, or take a look at
MOLD & ENVIRONMENTAL INSPECTORS is a directory of mold consultants, mold inspectors, people who perform mold testing, and who can prepare a mold remediation plan - a mold cleanup plan to guide the mold remediation contractor
MOLD CLEANUP COMPANIES is a directory of mold remediation (mold cleanup companies) who might, IF APPROPRIATE, do some extra high level cleaning in your home
As for mailing settled dust samples, an easy way to collect a sample of settled dust for lab characterization is to use the procedure at TEST KITS for DUST, MOLD, PARTICLE TESTS. Choose a horizontal surface that has a week or two of settled dust on it, located in a room where you spend a lot of time. One sample of representative dust, or a sample of settled dust along with a second of the material you suspect of being a problem should be enough for a competent forensic laboratory to determine if there are unusual particles in the sample as well as what the dominant particles are.
In some cases we will accept and process up to four dust samples at no fee (pro bono) for people in your situation but our lab is on assignment out of the country for several months, so you'll need to use a different forensic laboratory.
I do not recommend spending significant amounts on "testing" nor on inspections of the home before you have consulted with your doctor and perhaps also have had a referral to a suitable medical expert.
Question/Comment: disagrees about emergence of fibers through skin in Morgellon's Syndrome
I have just read an entry under 'Morgellons Disease or Morgellon's Syndrome'
It certainly reflect the views of psychiatrists and doctors who never went much further than what they learned at medical school. It totally fails to give a balanced picture of the issue. Indeed, in the bibliography used to illustrate the item, all listings refer to psychiatric sources!
Whilst some who claim to suffer from this disease are actually suffering delusional parasitosis (the whole thrust of the entry), there are hundreds of thousands who have very real clinical conditions. In this respect the article is highly incorrect especially about the emergence of the fibres. It claims they are from clothing or the environment. It simply is not true. There is plenty of clinical evidence showing fibres emerging from beneath the skin. They have also been analyzed, completely disproving support for comments in the article.
I am not a doctor but a sufferer who has met and spoken to researchers and medics working at the cutting edge in this field. I am also a journalist with a scientific background. I do hope you will amend the entry as it is not only misleading and highly biased but could lead to people being unable to seek real treatment that would alleviate their symptoms. Such items also serve to inhibit funding for vital research too.
I would be delighted to help you with any further information. - B.R. 12/26/2012
Reply:
Thank you for your article critique and remarks about Morgellon's syndrome - it helps us realize where we need to work on making our text more clear or more complete. That said, here are some things to consider:

We have examined both environments (air, dust, materials, HVAC, mechanicals, IAQ etc) in buildings where an occupant has complaints that resemble those associated with Morgellon's Syndrome as well as examining in our forensic laboratory samples from skin, hair, even some bodily secretions, to check for the presence of the fibers and particles described by complainants. In no case have we been able to detect fiberglass nor other fibers (nor biological creatures such as bugs) actually erupting from within body tissues as sufferers describe. We have detected clothing and other fibers stuck to the exterior surface of both skin and skin lesions in areas of scratching, scabs, etc. A cross-sectional analysis of those samples we've examined did not find evidence of a source of fibers emanating from the body interior.

We also have some experience with neurologically-induced itching and skin complaints and have in some cases observed skin irritations, even severe lesions that resulted from an individual whose discomfort led to repeated scratching. Itching reactions can also be drug induced, such as as a side effect of some pain-killers and narcotics.

Given our combination of direct (if limited) experience, forensic investigation experience, lab results, and literature review, we are compelled to refer our readers to the most authoritative sources we can find, and have done so for Morgellon's Syndrome as well as other topics discussed at InspectApedia.
We understand with sympathy the frustration that arises when dealing with a frightening or troublesome complaint that lacks a clear explanation as to its root cause, and thus can understand the ensuing temptation to assign a particular cause regardless of the research and expert opinions to the contrary.
In our OPINION, people should indeed seek expert diagnosis & appropriate treatment when suffering from any complaint, but at the same time we should be cautious about over-confidence in our own self-diagnosis or in explanations which cannot be verified by empirical evidence and good science.

So on that point we absolutely agree: people who are suffering from Morgellon's Syndrome-like complaints (or for that matter any other medical complaint) should not hesitate to seek expert advice, starting with their own physician who knows their medical history &c., and pursuing their complaint with experts in appropriate fields as needed.

Our own editorial guidelines prefer the most un-biased and most-expert sources we can find. If you can provide test results, physician statements, competent lab test results, or citations to authoritative and unbiased research on Morgellon's Syndrome that we have missed, that we will review and as appropriate add to those citations as we certainly welcome such contributions.
InspectAPedia is an independent publisher of building, environmental, and forensic inspection, diagnosis, and repair information provided free to the public - we have no business nor financial connection with any manufacturer or service provider discussed at our website.
We are dedicated to making our information as accurate, complete, useful, and unbiased as possible: we very much welcome critique, questions, or content suggestions for our web articles. Working together and exchanging information makes us better informed than any individual can be working alone.
Question: worried about hidden mold repairs
(June 9, 2014) r. potter said:
I am permanetly disabled from living in a rental from 81 to jan 92. the miscarriage and asthmay-so bad there were many ER trips and must use a machine to breathe began at that house. every sense in my body and husband's was destroyed from vision, dental, hair permanently falling out, balance, my MRI has at least 15 leisions in it. We are in constant pain 24/7. I have daily constant migrainesfrom this place there's tons more. 35+ dr.s took my money but did nothing to help me. I was in mid 20's & didn't want to ruin their wallpaper when we moved in to get the white stuff off the walls. Chronic fatigue set in after we moved. I lost my job and any hope of owning my own home. am on ss disability and must be tested. the last 22 years have been wasted in my bed 'cause I can't get up to shoer when I wake up till perhaps 6pm if its a good day. I have 5 good ones a year, maybe. How can I sue for this damage. I was a High school athlete with much promise in life. Now am 59 an suffer so. my email is rlhpotter@gmail.com I don't know if they still own it but they had insurance when they rented us a house they said was safe. Can I find out if there have been mold repairs there. I have proof I lived there when I say I did. There was somthing black outide of the wall with the white stuff . A young actress names Brittany Murphy & her husband died from this. So many times I wish I had too but I believe in justice and for the last 9 years have been trying to find out what made me so sich . Many drs "experimented on me" by giving me things I didn't need. I'm now off them and can think more clearly. A month ago it all just clicked. I had been a professional person and now don't have energy to do my laundry. MY husband has most the same complaints as I such as numb hands that are p0ainful. He has no insurnace he can't afford it. I know the pain. The strongest pain pills do nothing. can I sue? I', so injured and its their fault. please respond. Tress is a big key and we never have enough food. We aren't the type to take handouts. justic
(June 9, 2014) r. potter said:
I don't have money to even find out the level of toxins in my body. There is no one who can help us with money. I'm someone who really needs help from some one I can trust and won't let me down. I missed the best years of my life, when my children were growing up because I was in bed crying from pain. My life was ruined. My last vacation out of yown was 30 years ago for 4 days. There are 5 grandchildren who've never met me. I hate living in so. cal. because now I'm tempreture sensitive and long to live in santa cruz or a place so much colder. I smell the exhaust frome every car in O.C. because my smell has been affect. I can't cook one meal or be around it cooking or I throw up. I need to live where I can just smell air and see a couple hills and trees. I know no one in Oregon but would gladly move there but no money to move. I hate living but don't believe in taking my life.I / we suffer so much. please can you help me? I really need compassion, I never get it. rlhpotter@gmail.com
...
Ask a Question or Search InspectApedia
Use the "Click to Show or Hide FAQs" link just above to see recently-posted questions, comments, replies, try the search box just below, or if you prefer, post a question or comment in the Comments box below and we will respond promptly.
Search the InspectApedia website
Technical Reviewers & References
Click to Show or Hide Citations & References
Books & Articles on Building & Environmental Inspection, Testing, Diagnosis, & Repair
[1] "Damp house linked to kids' risk of nasal allergies", New York Times, 1 Aug 2010 (Reuters Health). The New York Times reported that "Children who live in damp, water-damaged homes may be more likely than other kids to develop nasal allergies, a new study suggests." The Finnish study of 1,900 children over a six year period found that 16 percent of damp-home children were diagnosed with allergic rhinitis over the next 6 years compared with just under 12 percent of children whose parents reported no dampness problems. [NOTE: our field and lab experience indicate that homeowners are not accurate in reporting the presence of mold and dampness problems except when conditions are sufficiently severe that there is ample visible or odor evidence of mold or other contaminant s-.DF]
[2] "Home Dampness and Molds as Determinants of Allergic Rhinitis in Childhood: A 6-Year, Population-based Cohort Study", Jouni J. K. Jaakkola*, Bing-Fang Hwang and Maritta S. Jaakkola, * Correspondence to Dr. Jouni J. K. Jaakkola, Institute of Health Sciences, Aapistie 1, P.O. Box 5000, 90014 Oulu, Finland (e-mail: jouni.jaakkola@oulu.fi), Accepted for publication April 8, 2010.,
The authors assessed the relation between exposure to dampness and molds in dwellings and the development of allergic rhinitis in childhood in a 6-year, population-based prospective cohort study of 1,863 children aged 1–7 years at baseline in 1991 (follow-up rate, 77%) from Espoo, Finland. The studied exposures were history of water damage, presence of moisture and visible mold, and perceived mold odor in the home, based on parent-administered questionnaire. A total of 246 (13.2%) children developed physician-diagnosed allergic rhinitis during the study period, resulting in an incidence rate of 440 cases per 10,000 person-years (95% confidence interval (CI): 387, 499). In logistic regression adjusting for confounding, any mold or dampness exposure indicator at baseline (adjusted odds ratio = 1.55, 95% CI: 1.10, 2.18), at follow-up (adjusted odds ratio = 1.62, 95% CI: 1.21, 2.18), or both (adjusted odds ratio = 1.96, 95% CI: 1.29, 2.98) was an important independent determinant of the risk of allergic rhinitis. Of the individual indicators, water damage and moisture on the surfaces were consistent determinants of allergic rhinitis. The results of this cohort study, which assessed exposure before the onset of allergic rhinitis, strengthen considerably the evidence of the role of indoor dampness problems as determinants of allergic rhinitis in children.
Keywords: air pollution, indoor; fungi; housing; rhinitis, allergic, perennial
American Journal of Epidemiology Advance Access published online on July 16, 2010
American Journal of Epidemiology, doi:10.1093/aje/kwq110
Oxford University Press
The American Journal of Epidemiology is the premier epidemiological journal devoted to the publication of empirical research findings, methodological developments in the field of epidemiological research and opinion pieces. It is aimed at both fellow epidemiologists and those who use epidemiological data, including public health workers and clinicians. ISSN: 1476-6256
[3] "Morgellons disease: managing a mysterious skin condition", The Mayo Clinic, web search 02/27/2011, original source: http://www.mayoclinic.com/health/morgellons-disease/sn00043
[4] P.I. "Onsite Mold Investigation including sick individuals, sick pets, skin rashes, death of one pe", Daniel Friedman, 6/1/2004, private investigation report, lab work, site photos, on file.
[5] Koblenzer CS. The challenge of Morgellons disease. J Am Acad Dermatol 2006: 55: 920–922., retrieved 8/10/12, source: http://www.physics.smu.edu/scalise/P3333sp08/MorgellonsCommentary.pdf [copy on file as [MorgellonsCommentary.pdf]
Also see

Koblenzer CS. Cutaneous manifestations of psychiatric disease that commonly present to the dermatologist – diagnosis and treatment. Int J Psychiatry Med 1992: 22: 47–63.
Gupta MA, Gupta AK, Ellis CN, Koblenzer CS. Psychiatric evaluation of the dermatology patient. Dermatol Clin 2005: 23: 591–599
Koblenzer CS. Neurotic excoriations and dermatitis artefacta. Dermatol Clin 1996: 14: 447–455.

NOTE: Citations [6] - [15] below are selected from Koblenzer [5] above.

[6] Koblenzer CS. Psychotropic drugs in dermatology. In: James WD, Cockerell CJ, Dzubow LM, Paller AS, Yancey KB, editors.
Advances in dermatology (vol 15). St Louis: Mosby, Inc; 2000. pp. 183-201.
[7] Koblenzer CS. Psychocutaneous disease. New York: Grune and Stratton, Inc; 1987. pp. 108-30.
[8] Koblenzer CS. Neurotic excoriations and dermatitis artefacta. Dermatol Clin 1996;14:447-55.
[9] Greaves MW, Khalifa N. Itch: more than skin deep. Int Arch Allergy Immunol 2004;135:166-72.
[10] Ward JR, Bernhard JD. Willan's itch and other causes of pruritus in the elderly. Int J Dermatol 2005;44:267-73.
[11] Schmeltz M, Handwerker HO. Neurophysiologic basis of itch. In: Yosipovitch G, Greaves MW, Fleischer AB, McGlone F, editors. Itch: basic mechanisms and therapy. New York: Marcel Dekker, Inc; 2004. pp. 5-12.
[12] Stander S, Steinhoff M, Luger TA. Pathophysiology of pruritus. In: Bieber T, Leung DYM, editors. Atopic dermatitis. New York:
Marcel Dekker, Inc; 2002. pp. 183-216.
[13] Musalek M. Delusional parasitosis. In: Koo JYM, Lee CS, editors. Psychocutaneous medicine. New York: Marcel Dekker, Inc;
2002. pp. 143-52.
[14] Munro A. Delusional disorder. Cambridge: Cambridge University Press; 1999. pp. 78-93.
[15] Arnold LM. Psychocutaneous disorders. In: Sadock BJ, Sadock VA, editors. Kaplan and Sadock's comprehensive textbook of
psychiatry. 7th ed. Philadelphia: Lippincott, Williams and Wilkins; 2000. pp. 1823-7.
[16] Gil Yosipovitch1, Lena S Samuel, "Neuropathic and psychogenic itch" Dermatologic Therapy Volume 21, Issue 1, pages 32–41, January 2008, retrieved 8/10/12, source: http://onlinelibrary.wiley.com/doi/10.1111/j.1529-8019.2008.00167.x/full
Abstract:  Neuropathic and psychogenic itch are two entities that have not been well studied. Neuropathic itch is related to pathology located at any point along the afferent pathway of the nervous system. It could be related to damage to the peripheral nervous system, such as in postherpetic neuropathy, brachioradial pruritus, notalgia paresthetica, and in central nervous system damage as a result of spinal cord tumors and demyelinization diseases such as multiple sclerosis. It has many clinical features similar to neuropathic pain. Patients complain of itch, which coincides with burning sensation, aching, and stinging. Psychogenic itch is related to psychologic abnormalities e.g., itch in obsessive compulsive disorders, depression, and delusions of parasitosis. Although no controlled studies have been conducted for treatment of neuropathic and psychogenic itch, medications that are part of the treatment armentarium for neuropathic pain, depression, and anxiety seem to be effective.
Conclusion: Neuropathic and psychogenic itches remain challenging diagnostic and therapeutic conditions. They require in many cases the help of neurologist, pain specialist, and psychiatrists. Future studies in this field and in particular therapeutic controlled trials will enable us to provide better treatment to these tormenting types of itch. [copy on file as Yosiipovitch_Itch.pdf]
Identifying Filamentous Fungi, A Clinical Laboratory Handbook, Guy St-Germain, Richard Summerbell, Star Publishing, 1996, ISBN 0-89863-177-7 (English)
Fundamentals of Diagnostic Mycology, Fran Fisher, Norma B. Cook, W.B. Saunders Co. 1998, ISBN 0-7216-5006-6
Atlas of Clinical Fungi, 2nd Ed., GS deHoog, J Guarro, J Gene, & MJ Figueras, Centraalbureau voor Schimmelcultures, Universitat Rovira I Virgili, 2000, ISBN 90-70351-43-9 (you can buy this book at Amazon) - The Atlas of Clinical Fungi is also available on CD ROM
Adkins and Adkins Dictionary of Roman Religion discusses Robigus, the Roman god of crop protection and the legendary progenitor of wheat rust fungus.
Kansas State University, department of plant pathology, extension plant pathology web page on wheat rust fungus: see http://www.oznet.ksu.edu/path-ext/factSheets/Wheat/Wheat%20Leaf%20Rust.asp
"A Brief Guide to Mold, Moisture, and Your Home", U.S. Environmental Protection Agency US EPA - includes basic advice for building owners, occupants, and mold cleanup operations. See http://www.epa.gov/mold/moldguide.htm
US EPA - Mold Remediation in Schools and Commercial Building [Copy on file at /sickhouse/EPA_Mold_Remediation_in_Schools.pdf ] - US EPA
US EPA - Una Breva Guia a Moho - Hongo [Copy on file as /sickhouse/EPA_Moho_Guia_sp.pdf - en Espanol
"A Brief Guide to Mold, Moisture, and Your Home", U.S. Environmental Protection Agency US EPA - includes basic advice for building owners, occupants, and mold cleanup operations. See http://www.epa.gov/mold/moldguide.htm
"Disease Prevention Program for Certain Vegetable Crops," David B. Langston, Jr., Extension Plant Pathologist - Vegetables, University of Georgia (PDF document) original source: www.reeis.usda.gov/web/crisprojectpages/209797.html
"Disease Prevention in Home Vegetable Gardens," Patricia Donald, Department of Plant Microbiology and Pathology, Lewis Jett
Department of Horticulture, University of Missouri Extension - extension.missouri.edu/publications/DisplayPub.aspx?P=G6202
"Management of Powdery Mildew, Leveillula taurica, in Greenhouse Peppers," Ministry of Agriculture and Lands, British Columbia - Original source: www.agf.gov.bc.ca/cropprot/peppermildew.htm
Fifth Kingdom, Bryce Kendrick, ISBN13: 9781585100224, is available from the InspectAPedia online bookstore - we recommend the CD-ROM version of this book. This 3rd/edition is a compact but comprehensive encyclopedia of all things mycological. Every aspect of the fungi, from aflatoxin to zppspores, with an accessible blend of verve and wit. The 24 chapters are filled with up-to-date information of classification, yeast, lichens, spore dispersal, allergies, ecology, genetics, plant pathology, predatory fungi, biological control, mutualistic symbioses with animals and plants, fungi as food, food spoilage and mycotoxins.
US EPA: Mold Remediation in Schools and Commercial Building [Copy on file at /sickhouse/EPA_Mold_Remediation_in_Schools.pdf ] - US EPA
Mycology, Fundamentals of Diagnostic, Fran Fisher, Norma B. Cook, W.B. Saunders Co. 1998, ISBN 0-7216-5006-6 (buy this book at Amazon)
https://InspectAPedia.com/sickhouse.htm - DJ Friedman's anecdotal reports of client's self-reported complaints
http://www.doctorfungus.org/ online mycology reference http://www.postgradmed.com/issues/2003/06_03/fung.htm
postgraduate medicine online http://www.moldinspector.com/ (informative site, sells books about mold)
http://www.cleanwaterpartners.org/mold/related-illnesses.html (Environmental Law Firm site)
http://www.dhs.ca.gov/ohb/HESIS/molds.pdf California DHS "Molds in Indoor Workplaces"
...
Books & Articles on Building & Environmental Inspection, Testing, Diagnosis, & Repair
Our recommended books about building & mechanical systems design, inspection, problem diagnosis, and repair, and about indoor environment and IAQ testing, diagnosis, and cleanup are at the InspectAPedia Bookstore. Also see our Book Reviews - InspectAPedia.
...