Water Pressure Tank Life Expectancy

Water Tank Replacement Guide & Age De-Coder
POST a QUESTION or READ FAQs about the typical life of a water pressure tank or water storage tank, and about when & how to replace a water tank
InspectAPedia tolerates no conflicts of interest. We have no relationship with advertisers, products, or services discussed at this website.
Water tank life, water tank replacement.
This article explains how long a water tank is expected to last (it varies) and we describe how to decide when a water tank needs to be replaced - advice about what to do when things go wrong, such as finding air and water leaks and the process of deciding to replace a water pressure or water storage tank.
We also discuss where to put the water tank in relation to the pump and pump control switch. And we provide a water tank age decder as well as a Table of water tank brands, warranties, warranty periods. Table of Water Storage Tank Materials, Life, Warranty Period. Steel Water Tank Rust Perforation. Where to Locate the Replacement Water Pressure Tank.
We also provide a MASTER INDEX to this topic, or you can try the page top or bottom SEARCH BOX as a quick way to find information you need.
WHEN TO REPLACE WATER TANKS - When do you need a new water tank?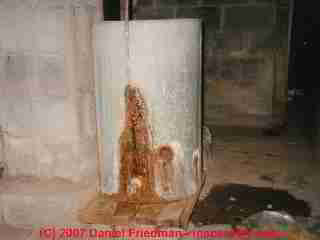 How Long Does a Water Tank Last?
The life expectancy of a water storage tank or water pressure tank depends on at least these variables:
The water tank material: fiberglass, plastic, steel, galvanized steel, epoxy coated or glass coated tank liner. In order of probable life from shortest to longer we'd pose: unlined steel water tank, glass lined or epoxy-lined water storage tank, internal bladder type water tanks that store water inside the bladder, plastic or fiberglass water tanks.
The water tank type: internal bladder holding water separate from air in the tank may have a longer life than a steel water tank
The water tank installation and maintenance: a mistake like connecting galvanized iron fittings to copper fittings (GALVANIC SCALE & METAL CORROSION) reduces tank life as can water tank installation location: in a flooding well pit, in a wet crawl space for example.
The water chemistry: aggressive water, more corrosive
Water temperature: some warranties make clear that handling water temperatures over 180F can void the tank warranty[3]
The amount of water usage: running more water through steel components may reduce their life
Regular maintenance and inspection: to check for and repair minor leaks, assure proper operating pressures
Water tank environment: installing a water tank in a wet crawl space or flooding well pit is surely going to reduce its life due to rust, freeze-risk, etc.
When an older type (non-captive-air) tank needs replacement (for example because it has rusted through and has perforations leaking water or air, or if adding air frequently becomes a hassle, you'll want the newer type of "captive air" or "bladder" tank.
If your tank looks like it has leprosy, if you see water streaming down its side from a "pinhole" leak, it may be possible to make a temporary emergency repair using a rubber washer and screw.
Your hardware store sells special screws for this purpose. This is only a stopgap measure. You need a new tank.
Various types of tanks uses in and around buildings are identified and explained below, including water pressure tanks, water storage tanks, range boilers for hot water, indirect fired hot water tanks, expansion tanks in attics, basements, and on heating boilers, oil storage tanks, rooftop tanks, cisterns, water pressure booster systems. We also discuss when to replace water tanks.
Table of Water Storage Tank Materials, Life, Warranty Period
[in process, suggestions welcome]
Water Pressure Tank Life & Warranty Comparison Summary by Manufacturer & Tank Type

Water Tank Type
Rated Life or Warranty
Comments
Amtrol, Well-X-Trol internal bladder, pre-pressurized
Warranty: 7 years
Product range, multiple sizes [7]
AquaTanks, polyethylene
Warranty: 25 years
New Zealand, export, stackable tanks, 295L to 31,000L, above ground & underground, various colours [9]
Flexcon Well-Rite, Challenger (butyl internal bladder), FlexLite, Flow-Thru, Jet Rite, FLEX 2 PRO and InWell brands
Warranty: 5 years
U.S., Canada, Mexico [10]
Flotec 35-Gallon internal bladder
Warranty: 5 years
# FP7120
Lochinvar glass lined water storage tanks
Warranty: 5 years
Thse [3]
Norwesco plastic aboveground water storage tanks
Warranty: 3 years
From date of manufacture. These tanks are used for chemical storage, not solely for water. Tank life when used for water storage may differ than when storing other chemicals. For water, these tanks meet FDA specifications for storage of potable water [2]
PVI® Storage Tanks (water heaters), glass lined
Warranty: 5-20 years

AquaPLEX® engineered duplex alloy, standard tank warranty is 10 years with a 20-year option.

NICKELSHIELD® nickel-plated tank, standard tank warranty is 10 years with a 20-year option.

POLYSHIELD® polymer-lined tank, standard tank warranty is 5 years with a 15-year option.[4]

Underground plastic water tanks, polyethylene tanks, using some polypropylene or EPDM components
Warranty often extends from date of manufacture, not installation
Selected and installed per instructions does not void warranty for this tank type. Installing under a driveway voids warranty.
Utilitech 86-Gallon vertical, bladder, interior coated
Warranty: 5 years
# LPT-86
Same for smaller models
Water Worker 14GAL Horiz Pressure Tank
Warranty: 5 years
#HT-14HB (Sears)
Wellmate Composite Water Tanks, by Pentair, internal bladder, Residential application
Warranty: 5 years from installation
No steel components. [5]

Notes:

Watch out: in collecting water tank warranty and life expectancy data we found that the variety of tank types and tank uses produces a wide range of data. When comparing tank life expectancy or warranty be sure you are comparing tanks intended for the same application

In our experience internal bladder water pressure tanks last well beyond their warranty period. An OPINION guess woudl be 10-20 years is average for these systems.[1]

In our experience galvanized steel water pressure tanks, nearly all of which contain some sort of internal coatings, last beyond their warranty period. We've seen tanks fail in five years (aggressive water, new modern thinwalled tank, possiblyi with a defective internal coating, and we've seen older, thick-walled, well-coated galvanized steel water pressure tanks last 25 years or longer.

We do not have long term experience with fiberglass or plastic type water storage tanks but in our OPINION expect their life to be 20-25 years or more if protected from UV (for some plastics) and from mechanical damage.

Also see WATER TANK AGE DECODER
Steel Water Tank Rust Perforation & Emergency Tank Repairs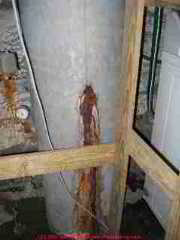 This steel water storage tank is leaking. When you see damage like this on a water tank, the perforation has rusted through from inside the tank. A tank that looks like this needs to be replaced.
Watch out: don't poke at rust like this on a water tank - you are likely to change a slow seep or drip into an immediate catastrophe - the steel around the site of rust perforation is usually quite thin. You still need to replace the water tank but this approach can stop or slow a leak while you wait for the new tank to be installed.
If the rust perforation on a steel, bladderless water pressure tank is very tiny, 1/8" or so, temporary repair can sometimes be made using a special short lag-type threaded screw with a neoprene washer. Leak repair screws are sold for this use.
Details of this rusted leaky water tank leak repair procedure are

at WATER TANK PERFORATION LEAK REPAIR
Where to Locate the Replacement Water Pressure Tank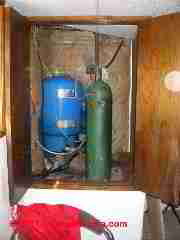 Locate the pressure tank as close as practical to the pump pressure control switch. If the water pressure tank located too far from the pressure control switch, or at a different elevation from the pressure switch, the pressure switch control may not operate properly.
Amtrol™ is quite clear about the proper water pressure tank location:
The Well-X-Trol should be installed as close as possible to the pressure switch.
This will reduce the adverse effects of added friction loss and pressure switch bouncing, and the difference in elevation between WELL-X-TROL and switch.
Water pressure tanks will work rather well if placed located almost anywhere on the piping system on the same level as the pressure control switch.

Water Pressure Control Switch Contact Bounce & Short Cycling Water Pumps
But it's best to follow the Amtrol advice - keep the water tank and pressure switch close together. Incorrect water pressure tank location, too far from the pressure control switch for example, can cause improper pressure control operation or pressure control switch contact "bouncing" turning the water pump on and off too rapidly.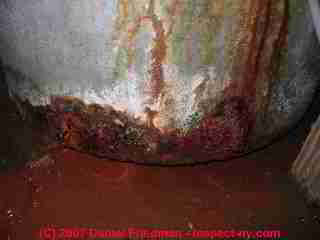 If you have a problem such as the pump pressure control switch bouncing (the switch turning the pump on and off rapidly at the start or end of a pumping cycle) you can relocate the pressure switch to the new larger tank and run a longer wire to the pump or pump control relay.
Other causes of pressure switch bounce and well pump short cycling are explained at WATER PUMP SHORT CYCLING CAUSES.
Our photo (above) shows a water tank located correctly in that the pressure control switch (that gray box between the blue water tank and the green treatment tank) is close to the water tank.
The owners located this water pressure tank in a closet and insulated the closet walls with fiberglass.
The result was condensation that soaked the fiberglass, leading to a local mold contamination problem.
Our photo at above left is another illustration of a leaky water pressure tank that is beyond repair.
Water Storage Tank / Cistern Life
Reader Question: expected life of rainwater harvesting tanks
Unless there are some special effects of the use of a storage tank for harvesting rainwater, I think the tank life will depend on the factors I list below: in short, the tank materials, application, environment, and external influences on it.
I trust the manufacturer to know the minimum life of their product and to reflect that in their warranty, though that's not always the case (see water heater warranties).
Concrete cisterns or concrete and stone cisterns for water storage can have a life of more than 100 years yet may fail quickly if the concrete mix is poor or from cracking or settlement.

See CISTERNS
Fiberglass rooftop water storage tanks, even exposed to the sun in sunny climates (Mexico where my experience derives) regularly serve 15-20 years or more.
Plastic water storage tanks (such as polyethylene tanks) are warranted, you note in the article above, from 5-7 years in most cases with an occasional 25 year warranty.

See PLASTIC CONTAINERS, TANKS, TYPES
Steel water storage tank life varies widely by steel quality, gauge, coating, and exposure to water chemistry as well as by the effects of water usage volume which in turn may effect the life of steel materials similarly but probably less significantly than the scouring effects of water flow rate and volume through metal water piping systems.
Wooden water tank life: In the U.S. wooden water storage tanks have been in use for more than 150 years.

New York City rooftop water tanks made of wood are expected to last 20-25 years but some have endured well over 50 years, a few much longer. Maintenance has been cited as making as much as a 30% difference in the life of rooftop water tanks. (Johnson 1998).

See ROOFTOP WATER TANKS
If I were concerned for water storage tank life I'd be at least as interested in the factors that affect tank life as I would in the tank material. Sun exposure, exposure to mechanical damage, water chemistry, in some cases water volume use installation details.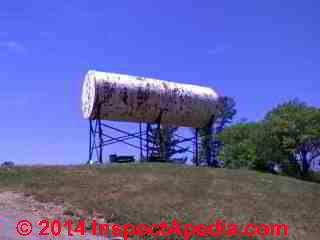 Here is some scholarly research reporting on water tank life in particular applications:
Ardente, Fulvio, Giorgio Beccali, Maurizio Cellura, and Valerio Lo Brano. "Life cycle assessment of a solar thermal collector." Renewable Energy 30, no. 7 (2005): 1031-1054.
Bakelli, Yahia, Amar Hadj Arab, and Boubekeur Azoui. "Optimal sizing of photovoltaic pumping system with water tank storage using LPSP concept." Solar Energy 85, no. 2 (2011): 288-294.
Johnson, Eric, "Rooftop Water Tanks, Proper Maintenance is Essential", The Cooperator, Dec/Jan 1998, retrieved 30 Jul 2015, original source: http://cooperator.com/article/rooftop-water-tanks
Excerpt:

David Hochauser, president of Manhattan-based Isseks Brothers, a water tank manufacturing, installation and maintenance company that has been in business for generations, agrees with this assessment.

He says, Wood water tanks are an effective means of delivering clean and sanitary water to a building. And the water tastes good. However, the tank will not do its job, and it will not last, if it is not maintained.

An exposed wood tank should last about 20 to 25 years, but it will last even longer if it was well-constructed, if it was properly installed, and, most important of all, if it undergoes routine maintenance. Hochauser points out that, with proper care, the life expectancy of a wood tank can be increased by as much as 30 percent.
The MACRS Asset Life table is derived from Revenue Procedure 87-56 1987-2 CB 674 does not appear to include an asset life for rainwater harvesting tanks nor other water storage systems. - See http://www.irs.gov/Businesses/Cost-Segregation-ATG-Chapter-6-3-Depreciation-Overview
Rivera, Frank, Frank G. Runyeon, Russ Buettner, "Inside City's Water Tanks, Layers of Neglect", The New York Times, 27 Jan. 2014, original source: http://www.nytimes.com/2014/01/27/nyregion/inside-citys-water-tanks-layers-of-neglect.html
Kalogirou, Soteris. "Thermal performance, economic and environmental life cycle analysis of thermosiphon solar water heaters." Solar Energy 83, no. 1 (2009): 39-48.
Takeuchi, Hikaru, Sachiro Taketomi, Shinya Samukawa, and Antonio Nanni. "Renovation of concrete water tank in Chiba Prefecture, Japan." Practice Periodical on Structural Design and Construction 9, no. 4 (2004): 237-241.
Water Tank Age Decoder

Reader Question: how old is my WellMate water tank?
I have a WellMate pressure tank with the serial number 26106275 Model WM-6
Can you tell me how old this tank is?
Water Tank Age Decoding from Data Tags
Yes Rita
Some water tanks including some Pentair water pressure tanks include a date of manufacture right on the tank's data label as we show in our illustration from Pentair (cited below).
For some other water tank products such as WellMate, the date of manufacture is coded in the serial number as follows:
WellMate Water Tank Age Decoder
For WellMate pressure tanks, the five digits at the beginning of the serial number encode the date of manufacture as follows
dddYYnnnnn
Where ddd is the sequential day of the year beginning with 001 and ending at 365, and YY is the 2 digits of year of manufacture.
Your WellMate water tank was made on day 261 of year 2006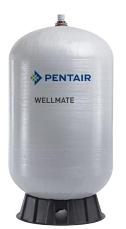 Using an online calculator (http://mistupid.com/calendar/dayofyear.htm) we find that day 261 of 2006 is 18 September 2006
WATER TANK AGE DECODING GUIDE [PDF] Pentair - Brookfield 13845 Bishops Drive, Suite 200 Brookfield, WI 53005 USA Tel: 262-238-4400 Pentair has offices world wide, Website: http://waterpurification.pentair.com/b , retrieved 2018/02/27, original source: Pentair, http://waterpurification.pentair.com/Files/ KnowledgeBase/ItemDownload/en/ 002608-pro-channel-limited-warranty-faqs.pdf

Autotrol, Pro Elite, AvantaPure, Modular Pro, RO, PRF-RO, Aquamatic, Everpure Cartridges, Homespring, Pentair Tanks, Petek, American Plumber, Wellmate Pressure Tanks

PENTAIR WELLMATE PRESSURE TANK CATALOG [PDF], op. cit., retrieved 2018/02/28

PENTAIR WELLMATE PRESSURE TANK INSTALLATION MANUAL [PDF], op. cit., retrieved 2018/02/28
WELL-X-TROL (AMTROL) WATER TANK INSTALLATION MANUAL [PDF] AMTROL Email: warranty@amtrol.com, Tel: 800-426-8765, AMTROL INC. Warranty Claim Department, 1400 Division Road, West Warwick, RI 02893 USA, retrieved 2018/02/28, original source: https://www.amtrol.com/wp-content/uploads/ 2017/05/9016868_MC10185_09_16_WXT_IO.pdf
WELL-X-TROL WELL TANK SPECIFICATIONS [PDF] data submittal sheet from Amtrol
...
Continue reading at WATER TANK SAFETY or select a topic from closely-related articles below, or see our complete INDEX to RELATED ARTICLES below.
Or see AIR VOLUME CONTROLS, WATER TANK used on bladderless water pressure tanks
Or see WATER TANK AIR, HOW TO ADD and also see WATER TANK AIR HOW MUCH TO ADD
Or see WATER TANK BLADDERS & CAPTIVE AIR
Or see WATER TANK DIAGNOSIS & REPAIR - home
For the age of water heaters, calorifiers, geysers, see WATER HEATER AGE & MANUALS
Suggested citation for this web page
WATER TANK REPLACEMENT at InspectApedia.com - online encyclopedia of building & environmental inspection, testing, diagnosis, repair, & problem prevention advice.
Or use the SEARCH BOX found below to Ask a Question or Search InspectApedia
...
Frequently Asked Questions (FAQs)
Try the search box below or CONTACT US by email if you cannot find the answer you need at InspectApedia.
Question: which way to turn plumbing fittings to unscrew or loosen them
(Nov 9, 2012) Clockwise / Counterclockwise? said:
Okay - basic question here. I'm trying to remove a water well tank from my basement. The couplings that connect to the actual tank are very tight. Before I make them worse, could someone tell me the direction that I should be turning? I know some of these things aren't counter clockwise to loosen. Thanks for any help!
Reply:
Clock
I think you'll find that for standard pipe fittings, leftie loosie, rightie tightie works.
Question: water tank pressure relief valve location
(May 23, 2014) Andy said:
Since water is an in-compressible liquid what is the difference if the pressure switch is located on foot or fifty feet from the pressure tank?
Reply:
Andy, in principle the valve would work at a more remote spot but there are some variables and safety worries including
Distant locations for the pressure relief valve risks someone later installing a shutoff valve between the protected tank and the protecting valve
Distant locations for the water tank pressure relief valve risk a discharge or leak going unnoticed - that in turn can become dangerous
Manufacturers recommend installing the water tank pressure relief valve at the tank tee right at the bottom of the water tank. We'd be smart to follow the manufacturer's recommendations both because they know the best and safest installation details for their product and because doing otherwise may be a technical building code violation
Question: white filament stuff in water lines clog the water filter
(Oct 2, 2014) Mike said:
we have a well with sumersible pump , a pressure tank i basement. Our water lines are collecting a white filament looking material that is clogging the filters, especially in washing machine. A local hardware man suggested it could be fiberglass, is this possible? We are having to clean them weekly and sometimes more.

Reply:
Mike
I've seen white debris clogging faucet strainers and shower heads when a plastic dip tube in the water heater was disintegrating.
See
inspectapedia.com/plumbing/Hot_Water_Tank_Debris_Flush.htm
for details.
Question: when changing from a bladderless to internal bladder type tank can I just swap the tanks?
(Feb 14, 2015) Anonymous said:
I am replacing my moms old 89 gal galvanize well tank. her old tank is about 60 years old and has a lot of rust on the outside of her tank. I am going to replace it want a new 120 gal galvanize . Is there any thing I need to do beside of just changing out the tank. I do know to cut the power off and to turn the water vale off also but should I do anything to the tank as I'm filling the new tank back up with water ?
Reply: there may be other important steps to perform
IF your pump is a submersible one in the well you may have to remove a snifter valve in the well piping - check with your plumber.
Question: does replacing the tank affect the water pump?
(Mar 21, 2015) Teche said:
Need to replace pipes to bladder tank so I figured I would replace tank and pipes. Do I have to worry about my submersible pump? When completing this?
Reply:
Not normally.
...
Ask a Question or Search InspectApedia
Try the search box just below, or if you prefer, post a question or comment in the Comments box below and we will respond promptly.
Search the InspectApedia website
Technical Reviewers & References
Click to Show or Hide Citations & References
Eric Galow, Galow Homes, Lagrangeville, NY. Mr. Galow can be reached by email: ericgalow@gmail.com or by telephone: 914-474-6613. Mr. Galow specializes in residential construction including both new homes and repairs, renovations, and additions.
Mark Cramer Inspection Services Mark Cramer, Tampa Florida, Mr. Cramer is a past president of ASHI, the American Society of Home Inspectors and is a Florida home inspector and home inspection educator. Contact Mark Cramer at: 727-595-4211 mark@BestTampaInspector.com 11/06
Roger Hankey is principal of Hankey and Brown home inspectors, Eden Prairie, MN. Mr. Hankey is a past chairman of the ASHI Standards Committee. Mr. Hankey has served in other ASHI professional and leadership roles. Contact Roger Hankey at: 952 829-0044 - rhankey@hankeyandbrown.com. Mr. Hankey is a frequent contributor to InspectAPedia.com.
Arlene Puentes, an ASHI member and a licensed home inspector in Kingston, NY, and has served on ASHI national committees as well as HVASHI Chapter President. Ms. Puentes can be contacted at ap@octoberhome.com
Wikipedia provided background information about some topics discussed at this website provided this citation is also found in the same article along with a " retrieved on" date. NOTE: because Wikipedia entries are fluid and can be amended in real time, we cite the retrieval date of Wikipedia citations and we do not assert that the information found there is necessarily authoritative.
...
Books & Articles on Building & Environmental Inspection, Testing, Diagnosis, & Repair
Our recommended books about building & mechanical systems design, inspection, problem diagnosis, and repair, and about indoor environment and IAQ testing, diagnosis, and cleanup are at the InspectAPedia Bookstore. Also see our Book Reviews - InspectAPedia.
...