InspectAPedia tolerates no conflicts of interest. We have no relationship with advertisers, products, or services discussed at this website.
What to do in response to a septic or sewer backup into a building or in response to building flooding: this article explains how to respond to septic system or sewer backups in a building. Yes the photo of a toilet backing up at page top is disgusting. It's also unsanitary and can be a serious health hazard in a building.
Here we explain the inspection, cleanup and other steps necessary to sanitize a building that has suffered flooding or sewage-contaminated backups as well as steps to return the building drain, waste, vent system to operation. This article also explains how to stop a toilet from overflowing and it offers some first aid for toilet backups and other plumbing drain or sewer piping backup conditions.
Green links show where you are. © Copyright 2014 InspectApedia.com, All Rights Reserved.
What to do When the Septic or Sewer System Backs Up Into or Enters a Building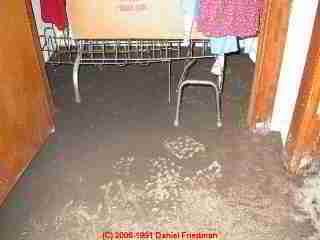 In this article series we explain the causes of & response to sewer or septic backups into buildings, the health hazards, testing, and cleanup of sewage backups, and the cure or prevention of future sewage or septic backup problems.
[Click any image for an enlarged, detailed version]
Just below in this article we give the first-response priorities & steps in a sewage spill or leak response.
Watch out: sewage spills contain contaminants that can cause serious illness or disease. Disease causing agents in raw sewage include bacteria, fungi, parasites, and viruses and can cause serious illnesses including Hepatitis A. (SEWAGE & SEPTIC CONTAMINANTS)

Step 1: Is the sewage-spill contaminated building safe to enter?
If a building has been flooded by sewage or wastewater there may be unsafe electrical wiring, bacterial and pathogen hazards, mold hazards, even unsafe mechanical systems.
Turn off electrical power in the area that has been flooded if there is any chance of electrical wires, extension cords, or electrical appliances or fixtures coming in contact with standing water or wet materials
Vacate sewage-contaminated areas right away. Areas of sewage spill should not be occupied by people who are not wearing appropriate protective equipment as they are dangerous:
Watch out: sewage spills contain contaminants that can cause serious illness or disease. Disease causing agents in raw sewage include bacteria, fungi, parasites, and viruses and can cause serious illnesses including bacterial infections, Tetanus, Hepatitis A, Leptospirosis, infections by Cryptosporidium & Giardia and gastrointestinal diseases. (SEWAGE & SEPTIC CONTAMINANTS)

You should assume that any surface or material touched by sewage is contaminated.

Watch out: Unless you are wearing appropriate safety gear, do not enter confined spaces that have been contaminated with sewage, as toxic, flammable or asphyxiating or even explosive gases including methane and hydrogen sulfide as well as airborne pathogens may be present.

Keep children & pets out of the sewage-spill area

At BUILDING ENTRY for DAMAGE ASSESSMENT we discuss safety procedures for people considering entering a building following a disaster including flooding or possibly sewage backups.

For sewage backups in tight spaces such as crawl areas, see CRAWL SPACE SAFETY ADVICE. Presuming that the building is safe to enter, go to step 2.
Step 2: damage control for sewage backups & spills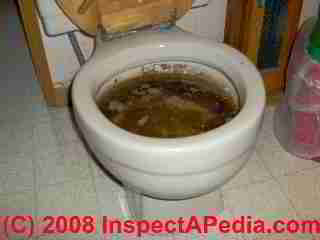 If there are measures that can be taken to stop continued sewage entry or water spread through the building, such as stopping a TOILET OVERFLOW or even opening a door or window for fresh air or to reduce wastewater spread, do that.
Stop flushing toilets
Turn off running water that is sending water into the drain system (clothes washer, sinks etc)
If the sewage or wastewater are being spread by water from a burst plumbing supply or hot water heating pipe, turn off the water to the building and if needed for safety or to stop further you may also need to turn off the (hot water or steam) heating system.

Items that have been soaked and are not salvageable may best be placed outdoors. By removing wet and contaminated materials from the building it may be easier to inspect, repair leaks, and clean the building itself.

Watch out: do not handle sewage-contaminated materials without proper personal safety protection: there are bacterial, pathogenic, respiratory and infection hazards.

Remove sewage-contaminated contents: carpeting, upholstered furniture, curtains, wet books and similar items should be discarded.

It may be possible to salvage valuable area carpets by professional cleaning and disinfection. Be sure to inform the carpet cleaning service that the area carpet was sewage-flooded. But wall to wall carpets and carpet padding that have been contaminated with sewage should be discarded.


Protect nearby dry, un-contaminated building contents from sewage contamination by moving them to clean dry areas outside the threat-area.
Watch out: generally we do not move already-contaminated building contents into a clean building area - doing so will simply expand the necessary scope and cost of building cleaning and disinfection. But where temporarily moving items outdoors is not practical, it may make sense to move wet or contaminated items that are to be salvaged into a concrete or tiled floor garage or similar area. Items there can be later removed for cleaning and the clean-up of a hard-surfaced floor will be less troublesome than other surfaces.

If necessary get help from your local emergency authorities such as fire department and health department both for emergency response (such as pumping a flooded basement) or further building safety assessment.

See FLOOD DAMAGE REPAIR PRIORITIES. If the building water supply is by private well that was covered by floodwaters, also see WELL CHLORINATION & SHOCKING.
Open windows or doors, open curtains, lift blinds; if weather permits, opening windows and screened doors can help reduce indoor humidity. And sunlight as well as speeding the dry-out of materials can slow bacterial growth and mold formation.

Watch out: do not run central air conditioning or warm air heating systems in flooded areas if mold is visible or suspected or if sewage-contaminated dust and water droplets can enter the system. Doing so will contaminate the HVAC system and thus increase the cost to clean and disinfect the building. Seal off supply and return air registers in the affected area (masking tape and plastic are fine) to prevent contaminants from entering the duct system.

If you run portable air conditioners or window units those devices may also become contaminated and may need to be replaced.
Call a septic tank service company if your septic system appears to have backed up into the building.

Watch out: while pumping a septic tank can give temporary emergency relief and permit use of toilets if the sewage backup was caused by a septic tank or drainfield failure, this step is not a long-term repair. More accurate diagnosis of the cause of septic tank or drainfield failure and thus a plan for proper repairs is necessary.

Step 3: sewage backup or spill cleanup
Act promptly.

Watch out: The longer that sewage waters remain in a building or on its contents the greater the chance of spreading illness or disease and the greater the chance of causing a costly mold contamination problem in addition to the sewage problem. High indoor moisture caused by standing water can cause mold contamination to form on other building surfaces even if they were not directly wet by the sewage spill.

Don't panic: while prompt action is needed as we just explained, don't be in such a rush that you do something dangerous. Also, if you sound terrified when calling a contractor for assistance the result may be the imposition of inappropriate or costly steps.
Call a professional water damage restoration authority - For other than a trivial spill on a tiled bathroom floor you may need help from a professional water damage or restoration company. At the sewage cleanup procedural details article cited just below we give further help in deciding if you need to call a professional.
Notify your insurance company that there has been a sewage spill in the building
Notify your municipal authority or sewer department if your home is connected to a public sewer
Contact your local health department for advice if your home is connected to a private septic system
Sewage cleanup procedure details: including do-it-yourself advice are at SEWAGE CLEANUP STANDARDS we describe in more detail the steps in removing sewage & disinfecting & cleaning a building interior after a sewage backup or spill, and for a better understanding of what a competent professional will do to clean up sewage spill contamination in a building we list articles [PDF format] that give detailed standards and procedures for sewage cleanup in or even outside of buildings.
Crawlspaces & basements: at CRAWL SPACE SEWAGE CLEANUP we describe procedures for cleaning up a sewage spill inside or around buildings (not just for crawl spaces).
Flooded buildings: for extensive building flooding, at FLOOD DAMAGE CLEANUP & REPAIR GUIDE we list the steps needed for repairing a flooded home.
Sewage contamination testing: at SEWAGE BACKUP TEST & CLEANUP we discuss how to test for bacterial or other pathogens in a building - tests that may be useful after a sewage spill cleanup in order to assure that the building is acceptably clean. Also see SEWAGE & SEPTIC CONTAMINANTS
Step 4: prevent a sewage backup recurrence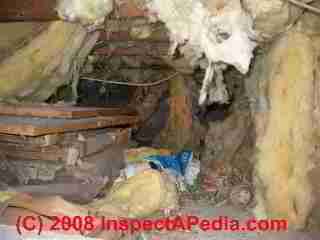 Disturbing as it may sound, we find that some buildings suffer chronic flooding, leaks, sewage backups and spills. It makes sense to do more than just clean-up a sewage spill: one needs to identify and repair the underlying problem that caused the sewage overflow, spill or backup.
Call a professional / licensed plumber if you need help with drain de-clogging or broken drain repair

Watch out: for homes using older ABS plastic drain piping, as we discuss at ABS PLASTIC PIPE, field investigations of leak stains (as in our photo) as well as investigations of sewer gas odors (SEWER GAS ODORS) have traced these problems to failure to properly clean, prime, and glue the pipe joints during construction.


Maintain the septic system: Watch out: for homes connected to a private septic system, proper septic tank maintenance, particularly pumping the septic tank on schedule is a key step in preventing septic system failure & backups.
Diagnose the cause of the sewage backup
The root cause of a sewage backup may be a simple single-event toilet overflow, a chronic drain clog (CLOGGED DRAIN DIAGNOSIS & REPAIR) or private septic system failure problem (SEPTIC DRAINFIELD FAILURE DIAGNOSIS), or even a natural disaster or area flooding.
If your building has had a septic or sewage system backup into the structure you will want to review this article and DRAIN & SEWER PIPING - where we discuss sewer line leaks, and also SEWAGE BACKUP PREVENTION.
Separately, at SEWAGE BACKUP TEST & CLEANUP we discuss how to test for bacterial or other pathogens in a building - tests that may be useful after a sewage spill cleanup in order to assure that the building is acceptably clean.
If the event that caused the sewage or septic backup into the building has also left the building drain system clogged (likely if the entire system was flooded), see BLOCKED DRAIN REPAIR METHODS to try clearing your blocked drain before going to more drastic measures. If you have had sewage back up and spill out of toilets into the building, cleanup is needed and you may face bacterial hazards.
The inspection for an underlying cause of chronic drain backups, toilet overflows, and sewage spills may need to include these less-direct causes:
Emergency Toilet Overflow Rescue Procedure - how to stop a toilet from overflowing
This topic has been moved to a separate article: please see TOILET OVERFLOW EMERGENCY
Continue reading at SEWAGE CLEANUP STANDARDS - where we describe in more detail the steps in removing sewage & disinfecting & cleaning a building interior after a sewage backup or spill and where we provide documents with still more detail from experts on sewage spill remediation.
Suggested citation for this web page
SEWAGE BACKUP, WHAT TO DO at InspectApedia.com - online encyclopedia of building & environmental inspection, testing, diagnosis, repair, & problem prevention advice.
More Reading
Green link shows where you are in this article series.
...
Frequently Asked Questions (FAQs)
What Makes Septic or Sewer Backup Wastewater Appear on Different Building Floors?
Question: can sewage or septic backups appear on upper building floors due to a bad drain line?
If you have a septic and the line is back pitched from the house to the tanks:
Is it possible for the backup to overflow the basement toilet and the 1st floor toilet? Or is it impossible for the backup to reach the main floor after the basement toilet overflows.
Is it possible for the main floor toilet to overflow and not the basement ?
Thanks in advance for your help, M.L.
Reply: Possible causes of septic or sewage backup
A competent onsite inspection by an expert who is familiar with septic and sewer systems usually finds additional clues that help accurately diagnose a problem with septic piping, backups, failures and overflows into the building. That said, here are some things to consider:
A septic system or a clogged sewer line, or a flooded sewer or septic system can certainly back up into a basement, crawl space, or other lowest floor of a building
A septic system (or even a sewer) draining out at basement level from a muilti-story house would not be expected to back up onto upper floors because it would find exit points first in the basement at toilets or other fixtures, and because it would be unlikely to develop enough pressure to force sewage out onto upper floors.
An exception to the point above would be the case of a building whose main drain is lower than a sewer or septic piping system. Such buildings use a pumping chamber to push wastewater to its destination.
If the septic or sewer pumping system failed and if the necessary check valves were not in place or were defective, sewage could back up to higher levels in the building What would more likely cause both sewage backup into a basement and onto upper floors in a building would be blocked system drains.
Follow-up from reader:
Just further clarification if you don't mind: i had a belly in my pipes and had a back up 3 times, 2 times for sure in the walkout basement and 1 time I believe it went to the floor above the walkout basement. I just wanted to know if that might have been the cause of the other floor or was it just coincidence that this happened during the same time as the other problem. Is it possible that this was the result of the belly in the pipes or just a random occurence ?
Reply: a belly or sag in sewer piping can cause partial and eventual complete drain blockage and sewer backups
Sewer backups may seem to be a random occurrence but in fact if we knew exactly what was going on with the drain, waste, vent system and the local sewer or septic system, there would be no backups attributed to just "chance".
A sag in a drain pipe can, over time, collect sediment, corrosion, and sewage that can lead to an eventual clog and backup. That's why plumbing codes specify that building drain piping should slope continuously with "horizontal" runs sloping at 1/8" to 1/4" per foot.
What can happen is that a partial blockage of a drain line accumulates more and more debris and becomes more and more solidified until a combination of a particularly large "dose" of solid waste, say feces and toilet paper, has trouble making it past the slow or partly blocked area. That in turn can lead to an actual sewer backup.
Question: Testing for illnesses related to sewage backups or sewage contamination: Leptospirosis, Typhoid Fever or Yersiniosis
Approximately 2 months ago I moved into a new house, and 1 week in there was a sewage leak into the backyard. All of the piping needs to be replaced but only a small section has been, so although it is not spilling onto the surface of the yard anymore, I believe it is still leaking into the ground under the surface.
My dog has been very ill since living here (vomiting, diarrhea, and is now developing skin lesions). The tests come up negative for Giardia, but he gets better when on antibiotics. As soon as he is off the antibiotics he relapses and it finally occurred to me this may be due to the fact that the incoming water is contaminated.
He has not been specifically tested for Leptospirosis, Typhoid Fever or Yersiniosis, which I plan on having done today. Is there anything else you feel I should have him tested for?
In regards to the water testing, do you know of a laboratory in the Sacramento, CA area? If so, I would greatly appreciate you providing me with their contact information. Would the Total Coliform test be sufficient, or is there further testing you would recommend?
Thank you in advance for your help. - Best, L.S.
Reply:
L.S. these are questions to ask your veterinarian and your doctor. Having some experience with Typhoid fever I can mention that our doctor advised that it was very important to be sure that any treatment for Typhoid be continued until the doctor is sure that the treatment has been effective, and thence it is important to avoid re infection. An incomplete treatment for Typhoid, such as failure to complete an effective course of antibiotics, risks leaving behind a antibiotic-resistant strain that could make future treatment still more difficult.
While the physician with whom we consulted, [S.R. SmDA, Nov 2011] is convinced that the only vector for Typhoid fever is from eating [Typhoid strain of salmonella-] contaminated food, we have also read that a secondary vector might be possible via mosquitoes or flies in contact with sewage.
...
Ask a Question or Search InspectApedia
Use the "Click to Show or Hide FAQs" link just above to see recently-posted questions, comments, replies, try the search box just below, or if you prefer, post a question or comment in the Comments box below and we will respond promptly.
Search the InspectApedia website
Technical Reviewers & References
Publisher's Google+ Page by Daniel Friedman
Click to Show or Hide Citations & References
Books & Articles on Building & Environmental Inspection, Testing, Diagnosis, & Repair
The Home Reference Book - the Encyclopedia of Homes, Carson Dunlop & Associates, Toronto, Ontario, 25th Ed., 2012, is a bound volume of more than 450 illustrated pages that assist home inspectors and home owners in the inspection and detection of problems on buildings. The text is intended as a reference guide to help building owners operate and maintain their home effectively. Field inspection worksheets are included at the back of the volume. Special Offer: For a 10% discount on any number of copies of the Home Reference Book purchased as a single order. Enter INSPECTAHRB in the order payment page "Promo/Redemption" space. InspectAPedia.com editor Daniel Friedman is a contributing author.

Or choose the The Home Reference eBook for PCs, Macs, Kindle, iPad, iPhone, or Android Smart Phones. Special Offer: For a 5% discount on any number of copies of the Home Reference eBook purchased as a single order. Enter INSPECTAEHRB in the order payment page "Promo/Redemption" space.