Priority Response to Sewage Backup, FAQs
Q&A on What to Do for Septic or Sewer Backup
SEWAGE BACKUP RESPONSE FAQs - CONTENTS: Frequently-asked questions & answers on what to do first When the Septic or Sewer System Backs Up Into or Enters a Building.
POST a QUESTION or READ FAQs about how to stop an overflowing toilet, how to clean up a septic or sewage backup
InspectAPedia tolerates no conflicts of interest. We have no relationship with advertisers, products, or services discussed at this website.
Sewage or septic system backup response Q&A:
Answers to frequently-asked questions about what to do if your home or building has had a sewage spill or septic system backup into, below, or around the structure.
This article series explains just what to do in response to a septic or sewer backup into or even outside and around a building or in response to building flooding: this article explains how to respond to septic system or sewer backups in a building.
We explain the inspection, cleanup and other steps necessary to sanitize a building that has suffered flooding or sewage-contaminated backups as well as steps to return the building drain, waste, vent system to operation.
Green links show where you are. © Copyright 2017 InspectApedia.com, All Rights Reserved.
What to do When the Septic or Sewer System Backs Up At or In a Building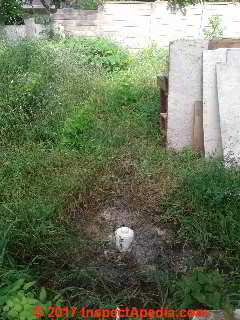 Questions & answers posted originally at this article SEWAGE BACKUP, WHAT TO DO
[Click any image for an enlarged, detailed version]
Watch out: sewage spills contain contaminants that can cause serious illness or disease. Disease causing agents in raw sewage include bacteria, fungi, parasites, and viruses and can cause serious illnesses including Hepatitis A.
Brenda:

A broken sewer pipe or a failed septic system that is backing-up are likely causes. You mom needs help from a plumber.

Keep in mind that sewage under a home is a health hazard. Following the repair and basic cleanup some sanitizing and then perhaps putting down of a 6 mil plastic barrier might help.
My mom lives in an older house she has grey water coming up underneath of it her house is starting to stink on the inside terribly what could be the problem
James you asked and we replied at CRAWL SPACE SAFETY ADVICE
Landlord is evicting my family and I do too that sewage spill in the crawl space they said that it is in habitable and unsafe and that we have to leave
Are sewer line broke in the crawl space under the house and sewage leak under the house. Do we have to move out for cleanup to be completed or can we stay in the home
Possibly your sewer main or septic tank is backing up into your building.
When the building main sewer line is blocked or when a septic tank or system is blocked, and when an upstairs plumbing fixture is run, that water enters the upper portions of the building drain system. When the main drain is blocked and wastewater cannot exit the building the waste from above creates a pressure in the drain system that will force wastewater or sewage out of any opening that is below the upper floor toilet, sink or other fixture.
That means that flushing a second floor toilet into a blocked drain may cause sewage to pour out of a lower floor toilet or enter a tub or shower through its drain.
My badement flooded with sewage. It appears that it all exploded out of the downstairs toilet and out into the downstairs kitchen and laundry area.

We did not use enough water the last 48 hours to cause that much water(sewage) to spill out everywhere .

What could have caused this ?

Also everything over flowed in the middle of the night , I found it all like this in the morning
have a clogged toilet and had it snaked out 3 days in a row by a plumber, after a day of usage it clogs again, could this be my septic field, no other drains are clogged

I recently had a sewer leak where my drains all were leaked under the house. It smells strong of sewage if I turn on the heart or account unit, and the landlord wants to pour 5 gallons of bleach under the house to "kill ne mold". There is a pool of blackwater there I feel this is not a safe way to cleanup the spill. What do I do?
Interesting question, anon. I don't know. If plastic sewer pipes were overheated and melted or collapsed by fire that could certainly give a backup condition; that combined with water entering the system from fire fighting or from rainfall might combine to push sewage back into the building.

I suggest exploring the sewer piping, perhaps by a sewer line camera, to find where it's blocked or damaged.
My vacation house was in a recent forest fire. Minimal fire damage to house but complete burn up of trees and all ground cover. We find septic system contents backed up full in the toilet, but not overflowed it. We were at the house 2 weeks before the fire and had no problems with the toilet flushing etc. Was it the heat that caused this to happen ?
T

Search InspectApedia for SANITIZE the WATER HEATER or SANITIZE the WATER SOFTENER to see general approaches and concentration of bleach; typically you can mix a proper solution, run it through the system, let it sit 24 hours, flush it out.
How do you get the smell out of the pipes of a septic tank in a 5tb wheel trailer that we use daily? We have tried all the cleaning items you get at an RV store and its not helping! Any suggestions ?
K

I'm assuming you're talking about the condensate drain for your A/C system? If so, only if the A/C drain was under sewage would it be particuarly worrisome.

If you are asking if there was airborne bacterial contamination in the HVAC system, that's possible; you might want to swab test your air handler and duct system for bacterial contaminants.
I had a sewer main break in the street. Sewage was backing up in my slop sink for weeks and slowly draining.
It never overflowed into my basement. Is there a possibility that my central AC unit was compromised since it is across from my slop sink? Possible mold contamination?
In the article text above you'll find live links for key articles are CAPITALIZED for example use the InspectApedia search box to find these articles:

at SEWAGE CLEANUP STANDARDS we describe in more detail the steps in removing sewage & disinfecting & cleaning a building interior after a sewage backup or spill, and for a better understanding of what a competent professional will do to clean up sewage spill contamination in a building we list articles [PDF format] that give detailed standards and procedures for sewage cleanup in or even outside of buildings.
Crawlspaces & basements:
at CRAWL SPACE SEWAGE CLEANUP we describe procedures for cleaning up a sewage spill inside or around buildings (not just for crawl spaces).
Flooded buildings: for extensive building flooding,
at FLOOD DAMAGE CLEANUP & REPAIR GUIDE we list the steps needed for repairing a flooded home.
How do you get the smell out of your house after a sewer back up

Anon: so sorry but I don't understand the question as you've just posted it. It sounds to me as if you had a sewage backup that needs clean-up including disinfection of all of the affected areas including your HVAC ducts. If the ducts contain interior insulation, it will probably be less expensive to replace them entirely than to try to remove insulation, clean the duct interior and then re-insulate it.
Did not answer my question. The sewage back up from the wash machine area and into the bathroom and then into the air ducks that was on the floor. Floor vents that go to the air conditioner.

Mona:

you'd need professional cleanup if there was an extensive sewer smell througout the floor of your home.

The cause of sewer backup may be a blockage in your own drain or on public sewer there could be a system problem. I don't have enough data about your home to guess.
Is there a home remedy?

Sewer water is coming out of the washing machine drain pipe and garbage disposal
Toni

Something is rotten in Denmark: a toilet flush is "blackwater" or sewage; if flushing a toilet is causing anything to happen at a separate "graywater" sytsem then the system is not in fact "separate".

And no sanitary code allows us to dump sewage NOR graywater to the surface.

Yes I'd ask for help from a plumber to sort out what is connected to what and then help from your septic contractor to find out why you're discharging to the surface. I suspect there is a blocked line or a failed septic system.
Had septic emptied but grey water tank seeping through soil leaving huge puddle of water. When toilet is flushed the pipes gurgle and water comes out of the vent outside and spills over leaving it very wet. Should I get a plumber out before or after grey water tank is pumped?

How to get rid of sewer smell after toilet overflow?
What Makes Septic or Sewer Backup Wastewater Appear on Different Building Floors?
Question: can sewage or septic backups appear on upper building floors due to a bad drain line?
If you have a septic and the line is back pitched from the house to the tanks:
Is it possible for the backup to overflow the basement toilet and the 1st floor toilet? Or is it impossible for the backup to reach the main floor after the basement toilet overflows.
Is it possible for the main floor toilet to overflow and not the basement ?
Thanks in advance for your help, M.L.
Reply: Possible causes of septic or sewage backup
A competent onsite inspection by an expert who is familiar with septic and sewer systems usually finds additional clues that help accurately diagnose a problem with septic piping, backups, failures and overflows into the building. That said, here are some things to consider:
A septic system or a clogged sewer line, or a flooded sewer or septic system can certainly back up into a basement, crawl space, or other lowest floor of a building
A septic system (or even a sewer) draining out at basement level from a muilti-story house would not be expected to back up onto upper floors because it would find exit points first in the basement at toilets or other fixtures, and because it would be unlikely to develop enough pressure to force sewage out onto upper floors.
An exception to the point above would be the case of a building whose main drain is lower than a sewer or septic piping system. Such buildings use a pumping chamber to push wastewater to its destination.
If the septic or sewer pumping system failed and if the necessary check valves were not in place or were defective, sewage could back up to higher levels in the building What would more likely cause both sewage backup into a basement and onto upper floors in a building would be blocked system drains.
Follow-up from reader:
Just further clarification if you don't mind: i had a belly in my pipes and had a back up 3 times, 2 times for sure in the walkout basement and 1 time I believe it went to the floor above the walkout basement. I just wanted to know if that might have been the cause of the other floor or was it just coincidence that this happened during the same time as the other problem. Is it possible that this was the result of the belly in the pipes or just a random occurence ?
Reply: a belly or sag in sewer piping can cause partial and eventual complete drain blockage and sewer backups
Sewer backups may seem to be a random occurrence but in fact if we knew exactly what was going on with the drain, waste, vent system and the local sewer or septic system, there would be no backups attributed to just "chance".
A sag in a drain pipe can, over time, collect sediment, corrosion, and sewage that can lead to an eventual clog and backup. That's why plumbing codes specify that building drain piping should slope continuously with "horizontal" runs sloping at 1/8" to 1/4" per foot.
What can happen is that a partial blockage of a drain line accumulates more and more debris and becomes more and more solidified until a combination of a particularly large "dose" of solid waste, say feces and toilet paper, has trouble making it past the slow or partly blocked area. That in turn can lead to an actual sewer backup.
Question: Testing for illnesses related to sewage backups or sewage contamination: Leptospirosis, Typhoid Fever or Yersiniosis
Approximately 2 months ago I moved into a new house, and 1 week in there was a sewage leak into the backyard. All of the piping needs to be replaced but only a small section has been, so although it is not spilling onto the surface of the yard anymore, I believe it is still leaking into the ground under the surface.
My dog has been very ill since living here (vomiting, diarrhea, and is now developing skin lesions). The tests come up negative for Giardia, but he gets better when on antibiotics. As soon as he is off the antibiotics he relapses and it finally occurred to me this may be due to the fact that the incoming water is contaminated.
He has not been specifically tested for Leptospirosis, Typhoid Fever or Yersiniosis, which I plan on having done today. Is there anything else you feel I should have him tested for?
In regards to the water testing, do you know of a laboratory in the Sacramento, CA area? If so, I would greatly appreciate you providing me with their contact information. Would the Total Coliform test be sufficient, or is there further testing you would recommend?
Thank you in advance for your help. - Best, L.S.
Reply:
L.S. these are questions to ask your veterinarian and your doctor. Having some experience with Typhoid fever I can mention that our doctor advised that it was very important to be sure that any treatment for Typhoid be continued until the doctor is sure that the treatment has been effective, and thence it is important to avoid re infection. An incomplete treatment for Typhoid, such as failure to complete an effective course of antibiotics, risks leaving behind a antibiotic-resistant strain that could make future treatment still more difficult.
While the physician with whom we consulted, [S.R. SmDA, Nov 2011] is convinced that the only vector for Typhoid fever is from eating [Typhoid strain of salmonella-] contaminated food, we have also read that a secondary vector might be possible via mosquitoes or flies in contact with sewage.
Question: Could an upstairs bathtub drain problem cause a basement septic system to back-up?
(May 7, 2012) Sara Young said:
Could an upstairs convoluted bathtub drain cause a basement septic system to back-up? We had a camera put into our basement vent stack drain line. We then inserted a water hose and all water flowed without any back-ups towards and exiting into our septic system.
Reply:
Yes Sara or conversely, a blocked sewer line may show up as slow fixture drains in the building.
Question: clog in a septic supply line causes tubs and commodes to overflow?
(Oct 4, 2012) Rie said:
Can a clog in a septic supply line cause tubs and commodes to overflow?
Reply:
Yes Rie
Question:
11/30/2014 Anonymous said:
terrible gas odour in bath room and in back hall behind bathroom. plumber put new adaptor and seal in toilet....smell still there. house is 30 years old. any suggestions please.I'd appreciate your advice, thanks Mary
Reply:
Anon Perhaps there is a break or leak in the plumbing vent system. Ask your plumber if s/he can test for that. OR there was a sewage leak into the floor/ceiling below the toilet and sewage remains there.

...
Continue reading at SEWAGE BACKUP, WHAT TO DO or select a topic from closely-related articles below, or see our complete INDEX to RELATED ARTICLES below.
Or see SEWAGE CLEANUP STANDARDS - where we describe in more detail the steps in removing sewage & disinfecting & cleaning a building interior after a sewage backup or spill and where we provide documents with still more detail from experts on sewage spill remediation
Or see CLOGGED DRAIN DIAGNOSIS & REPAIR if drains in the building are slow or backing up
Or see CLOGGED DRAIN vs SEPTIC PROBLEM if you think your house drains are not blocked
Or see SEPTIC FAILURE CRITERIA for help in determining if in fact the septic system has failed
Or see these
Septic or Sewer Backup Articles
Suggested citation for this web page
SEWAGE BACKUP RESPONSE FAQs at InspectApedia.com - online encyclopedia of building & environmental inspection, testing, diagnosis, repair, & problem prevention advice.
Or use the SEARCH BOX found below to Ask a Question or Search InspectApedia
...
Frequently Asked Questions (FAQs)
Try the search box below or CONTACT US by email if you cannot find the answer you need at InspectApedia.
...
Ask a Question or Search InspectApedia
Use the "Click to Show or Hide FAQs" link just above to see recently-posted questions, comments, replies, try the search box just below, or if you prefer, post a question or comment in the Comments box below and we will respond promptly.
Search the InspectApedia website
Technical Reviewers & References
Click to Show or Hide Citations & References
New York State Department of Health, "Appendix 75-A Wastewater Treatment Standards - Individual Household Systems", [PDF] New York State Department of Health, 3 February 2010, retrieved 3/1/2010, original source: https://www.health.ny.gov/regulations/nycrr/title_10/part_75/appendix_75-a.htm
[1] "Remediation of Sewage Contaminated Crawlspaces", Byjim Holland, CR, "Cleaning and Restoration," July 1999, pp 22-24, original source: restcon.com/links/articles/Remediating%20Contaminated%20Crawlspaces.pdf
Benson, A., ed. (1990) Control of Communicable Diseases in Humans, American Public Health Association, Washington, DC.
Berry, M.A. (1993) Protecting the Built Environment: Cleaning for Health, Tricomm 21st press, Chapel Hill, NC, p. 185.
Block, S.S. (1991) Disinfection, Sterilization, and Preservation, Lea & Febiger, Philadelphia, PA.
Rogers, S.A. (1991) Indoor fungi as part of the cause of recalcitrant symptoms of the tight building syndrome. Env. International. 17:271-275.
Clark, C.S. (1987) Potential and actual biological related health risks of waste water industry employment. J. Water Pollution Control. Fed. 59:12999-1008.
Cole, E.C. (1989) Remedial measures for biological pollutants in the home. Workshop on Biological Pollutants in the Home. U.S. Consumer Product Safety Commission, American Lung Association.
Cole, E.C. (1987) The application of disinfection and sterilization to infectious waste management. In: Tulis, J.J. and W. R. Thomann (eds.), Proceedings of strategies for improved chemical and biological waste management for hospitals and clinical laboratories. Duke University, University of North Carolina, North Carolina Pollution Pays Program.
Cutter Information Corp. (1991) Indoor Air Quality Update, Arlington, VA.
Foarde, K.K.; D. Bush; J. Chang; E.C. Cole; D. Franke; and D. Van Osdell. (1992) Characterization of environmental chambers for evaluating microbial growth on building materials. IAQ 92, ASHRAE, San Francisco.
International Institute of Carpet and Upholstery Certification. (1991) Carpet Cleaning Standard. S001-1991, International Institute of Carpet and Upholstery Certification, Vancouver, WA, 1991.
Patterson, R.; J.N. Fink; W.B. Miles. (1981) Hypersensitivity lung disease presumptively due to cephalosporium in homes contaminated by sewage flooding or humidifier water. J. Allergy Clin. Immunol. 68(2):128-132.
Robertson, K.A.; T.K. Ghosh; A.L. Hines; S.K. Loyalka; D. Novosel; R.C. Warder, Jr. (1990) Airborne microorganisms: their occurrence and removal. Indoor Air '90, Toronto.
Rogers, S.A. (1991) Indoor fungi as part of the cause of recalcitrant symptoms of the tight building syndrome. Env. International. 17:271-275.
Rutala, W.A.; E.C. Cole; and N.S. Wannamaker. (1991) Inactivation of Mycobacterium tuberculosis and Mycobacterium bovis by 14 Hospital Disinfectants. Amer J. Med. 91:2675-2715.
Rutala, W.A. (1987) Disinfection, sterilization and waste disposal. In: Wenzel, R.P., Prevention and control of nosocomial infections. Williams and Wilkins, Baltimore.
Escherichia coliO157:H7- US CDC
Demistifying Ecoli - Federation of Ontario Cottagers
Microbiology home page - US EPA
[9] Amahmid, O., Asmama, S., & Bouhoum, K. (1999). The effect of waste water reuse in irrigation on the contamination level of food crops by Giardia cysts and Ascaris eggs. International Journal of Food Microbiology, 49(1-2), 19-26.
[10] Barak, J.D., Whitehand, L.C., & Charkowski, A.O. (2002). Differences in attachment of Salmonella enterica serovars and Escherichia coli O157:H7 to alfalfa sprouts. Applied and Environmental Microbiology, 68(10), 4758-4763.
[11] Beuchat, L.R. (1996). Pathogenic microorganisms associated with fresh produce. Journal of Food Protection, 59(2), 204-216.
[12] Breuer, T., Benkel, D.H., Shapiro, R.L., Hall, W.N., Winnett, M.M., Linn, M.J., Timothy, J.N., Barrett, J., Dietrich, S., Downes, F.P., Toney, D.M., Pearson, J.L., Rolka, H., Slutsker. L., & Griffin, P.M. (2001). A multi-state outbreak of Escherichia coli O157:H7 infections linked to alfalfa sprouts grown from contaminated seeds. Emerging Infectious Diseases, 7(6), 977-982.
[13] Castro-Rosas, J., & Escartin, E.F. (2000). Survival and growth of Vibrio cholerae O1, Salmonella typhi, and Escherichia coli O157:H7 in alfalfa sprouts. Journal of Food Science, 65(1), 162-165.
[14] Charkowski, A.O., Barak, J.D., Sarreal, C.Z., & Mandrell, R.E. (2002). Growth and colonization patterns of Salmonella enterica and Escherichia coli O157:H7 on alfalfa sprouts and the effects of sprouting temperature, i

inoculum

 /in·oc·u·lum/ (

-ok´u-lum

) pl. inoc´ula   material used in inoculation.
[15] Evans, M.R., Ribeiro, C.D., & Salmon, R.L. (2003). Hazards of healthy living: Bottled water and salad vegetables as risk factors for Campylobacter infection. Emerging Infectious Disease, 9(10), 1219-1225.
[16] Frost, J.A., McEvoy, M.B., Bentley, C.A., Andersson, Y., & Rowe, B. (1995). An outbreak of Shigella sonnei infection associated with consumption of iceberg. Emerging Infectious Disease, 1(1), 26-28.
[17] Guo, X., Chen, J., Brackett, R.E., & Beuchat, L.R. (2001). Survival of Salmonellae on and in tomato plants from the time of inoculation at flowering and early stages of fruit development through fruit ripening, said of meat. See curing. . Applied and Environmental Microbiology, 67(10), 4760-4764.
[18] Guo, X., Chen, J., Brackett, R.E., & Beuchat, L.R. (2002). Survival of Salmonellae on tomatoes stored at high relative humidity, in soil, and on tomatoes in contact with soil. Journal of Food Protection, 65(2), 274-279.
[19] Guo, X., Iersel, M.W.V., Chen, J., Brackett, R.E., & Beuchat, L.R. (2002). Evidence of association of salmonellae with tomato plants grown hydroponically in inoculated nutrient solution. Applied and Environmental Microbiology, 68(7), 3639-3643.
[20] Itoh, Y., Sugita-Konishi, Y., Kasuga, E, Iwaki, M., Hara-Kudo, Y., Saito, N., Noguchi, Y, Konuma, H., & Kumagai, S. (1998) Enterohemorrhagic Escherichia coli enterohemorrhagic Escherichia EHEC Any of the E coli serotypes–eg O29, O39, O145 that produces shiga-like toxins, causing bloody inflammatory diarrhea, evoking a HUS. See Escherichia coli O157:H7, Hemolytic uremic syndrome.  O157:H7 present in radish sprouts. Applied and Environmental Microbiology, 64(4), 1532-1535.
[21] Madden, J.M. (1992). Microbial pathogens in fresh produce--The regulatory perspective. Journal of Food Protection, 55, 821-823.
McMahon, M.A.S., & Wilson, I.G. (2001). The occurrence of enteric pathogens and Aeromonas species in organic vegetables. International Journal of Food Microbiology, 70(1-2),155-162.
[22] Puohiniemi, R., Heiskanen, T., & Siitonen, A. (1997). Molecular epidemiology of two international sprout-borne Salmonella outbreaks. Journal of Clinical Microbiology . 35(10), 2487-2491.
[23] Shearer, A.E., Strapp, C.M., & Joerger, R.D. (2001). Evaluation of polymerase chain reaction-based system for detection of Salmonella enteritidis, Escherichia coli O157:H7, Listeria spp., and Listeria monocytogenes on fresh fruit and vegetables. Journal of Food Protection, 64(6), 788-795.
[24] Takeuchi, K., Hassan, A.N., & Frank, J.F. (2001). Penetration of Escherichia coli O157:H7 into lettuce as influenced by modified atmosphere and temperature. Journal of Food Protection, 64(11), 1820-1823.
[25] Wright, C., Kominos, S.D., & Yee, R.B. (1976). Enterobacteriaceae and Pseudomonas aeruginosa recovered from vegetable salads. Applied and Environmental Microbiology, 31(3), 453-454.
[26] Thanks to reader Charles Labs at 247inktoner.com Tel: 800-866-8022 (a provider of ink toner, ink cartridges and related supplies) for updating our CDC link on e-Coli 4/19/2013.
Onsite Wastewater Treatment Systems, Bennette D. Burks, Mary Margaret Minnis, Hogarth House 1994 - one of the best septic system books around, suffering a bit from small fonts and a weak index. While it contains some material more technical than needed by homeowners, Burks/Minnis book on onsite wastewater treatment systems a very useful reference for both property owners and septic system designers.
Septic Tank/Soil-Absorption Systems: How to Operate & Maintain [ copy on file as /septic/Septic_Operation_USDA.pdf ] - , Equipment Tips, U.S. Department of Agriculture, 8271 1302, 7100 Engineering, 2300 Recreation, September 1982, web search 08/28/2010, original source: http://www.fs.fed.us/t-d/pubs/pdfimage/82711302.pdf
SEPTIC SOIL & PERC TESTS soil perc testing guide and instructions
Percolation Testing Manual, CNMI Division of Environmental Quality, PO Box 501304, Saipan, MP 96950
Planting Over Septic System Component", Daniel Friedman (author/editor, InspectAPedia.com), The Innovator, Winter/Spring 2008, BCOSSA, British Columbia OnSite Sewage Association, 201-3542 Blansard St., Victoria BC V8X 1W3 Canada
Save the Septic System - Do Not Flush These Items Down the Toilet, Daniel Friedman, InspectAPedia.com - PDF document, printable

Septic System Owner's Manual, Lloyd Kahn, Blair Allen, Julie Jones, Shelter Publications, 2000 $14.95 U.S. - easy to understand, well illustrated, one of the best practical references around on septic design basics including some advanced systems; a little short on safety and maintenance. Both new and used (low priced copies are available, and we think the authors are working on an updated edition--DF. Quoting from one of several Amazon reviews: The basics of septic systems, from underground systems and failures to what the owner can do to promote and maintain a healthy system, is revealed in an excellent guide essential for any who reside on a septic system. Rural residents receive a primer on not only the basics; but how to conduct period inspections and what to do when things go wrong. History also figures into the fine coverage.

US EPA Onsite Wastewater Treatment Systems Manual Top Reference: US EPA's Design Manual for Onsite Wastewater Treatment and Disposal, 1980, available from the US EPA, the US GPO Superintendent of Documents (Pueblo CO), and from the National Small Flows Clearinghouse. Original source http://www.epa.gov/ORD/NRMRL/Pubs/625R00008/625R00008.htm
Water Wells and Septic Systems Handbook, R. Dodge Woodson. This book is in the upper price range, but is worth the cost for serious septic installers and designers. Quoting Amazon: Each year, thousands upon thousands of Americans install water wells and septic systems on their properties. But with a maze of codes governing their use along with a host of design requirements that ensure their functionality where can someone turn for comprehensive, one-stop guidance? Enter the Water Wells and Septic Systems Handbook from McGraw-Hill.
Written in language any property owner can understand yet detailed enough for professionals and technical students this easy-to-use volume delivers the latest techniques and code requirements for designing, building, rehabilitating, and maintaining private water wells and septic systems. Bolstered by a wealth of informative charts, tables, and illustrations, this book delivers:
* Current construction, maintenance, and repair methods
* New International Private Sewage Disposal Code
* Up-to-date standards from the American Water Works Association

Wells and Septic Systems, Alth, Max and Charlet, Rev. by S. Blackwell Duncan, $ 18.95; Tab Books 1992. We have found this text very useful for conventional well and septic systems design and maintenance --DF. Quoting an Amazon description:Here's all the information you need to build a well or septic system yourself - and save a lot of time, money, and frustration. S. Blackwell Duncan has thoroughly revised and updated this second edition of Wells and Septic Systems to conform to current codes and requirements. He also has expanded this national bestseller to include new material on well and septic installation, water storage and distribution, water treatment, ecological considerations, and septic systems for problem building sites.

The NSFC Products List has an excellent list of design manuals/modules available from their website or by telephone 800-624-8301
...
Books & Articles on Building & Environmental Inspection, Testing, Diagnosis, & Repair
Our recommended books about building & mechanical systems design, inspection, problem diagnosis, and repair, and about indoor environment and IAQ testing, diagnosis, and cleanup are at the InspectAPedia Bookstore. Also see our Book Reviews - InspectAPedia.
...