InspectAPedia tolerates no conflicts of interest. We have no relationship with advertisers, products, or services discussed at this website.
This article discusses the decision to use test cuts or demolition to search for problematic mold reservoirs between building finish flooring and the subfloor, giving examples of when such investigation is warranted and when it is not.
Our page top photograph shows heavy mold contamination on floor joists and on the visible under-surface of subflooring? What about mold that may be present between the subfloor and the finish flooring above? Is that a problem that justifies demolition of the subfloor?
Green links show where you are. © Copyright 2014 InspectApedia.com, All Rights Reserved.
A Photo Guide to Inspecting Multiple Layers of Flooring & Subfloors or Wall Studs & Sheathing to Inspect for & Remove Hidden Mold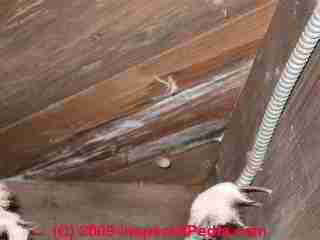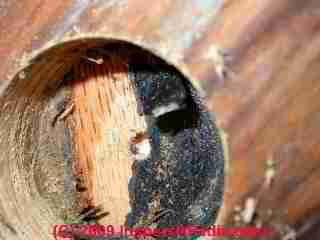 Our two photographs just above demonstrate a procedure we use to inspect for evidence of high levels of mold trapped between layers of flooring and subflooring in a building.
No invasive mold inspection: If inspection of the finish flooring from the room side (above) shows no evidence of water damage to the flooring itself, the probability that a large amount of water entered the space between flooring layers and thus that there is a significant mold reservoir located there is low and further investigation including subfloor test cuts are probably not justified.
Invasive inspection is justified: Where a history of extensive building leaks, water damage, floor damage, and visible mold suggest to the inspector that further investigation is appropriate, inspecting from the area below the suspected floor, select the highest-risk most-likely moldy location by tracing the water leak path, stains, and or visible mold in the building. (Photograph, above left).
Using a hole saw (see more photos below), cut up through the subflooring to expose the under-side of the finish flooring above, in the area of highest risk.
Inspect for mold, studying all of the surfaces exposed by the test cut: the originally-exposed underside of the subflooring where the cut was made, the upper (previously hidden) side of the subflooring now visible on the upper side of the round plug cut out using the hole saw, both sides of kraft paper or building felt used between the subfloor and finish floor, and finally the exposed underside of the finish flooring (photograph, above right).
If mold is visible in this worst-case area, and presuming that tests indicate that the mold is not simply a cosmetic species, additional test cuts to determine the extent or size of the mold reservoir might be justified.
When cutting a test opening to explore a wood floor installed on sleepers over a concrete slab, we use two diameters of hole saws (see photos in the next section.)
First we cut a larger-diameter round hole (say 2.5") through the finish flooring using our hole saw's larger cutting blade. We remove and save the wooden plug created by this step.
Second we cut a smaller-diameter round hole (say 2") through the subflooring to expose the cavity below.
We examine the exposed and inner or hidden surfaces of each plug which is cut, as well as any rosin paper or other material that may be installed between layers of flooring.
Finally, using a flashlight and often a borescope as well, we explore the floor cavity itself for evidence of visible mold, organic mold-friendly debris, insect activity, or evidence of leaks or flooding.
Removing finish flooring, leaving subflooring in place: in cases where the finish flooring was water damaged from building leaks, the flooring will need to be removed as it is nearly impossible to flatten and secure buckled wood flooring in place. Removing the finish flooring exposes the upper side of the building subfloor for inspection.
Of course the under-side of the building subfloor can usually also be inspected from below. If the subflooring is plywood and has become water damaged such that it has delaminated, those areas need to be removed and replaced. If the subflooring is intact and sound, it can be left in place, followed by cleaning or mold removal from all exposed surfaces and if appropriate, treatment with a fungicidal sealant.
Leaving subflooring and flooring in place:
In cases where there is no other justification for removing the finish flooring (such as water damaged, buckled finish flooring), even if small areas of mold are suspected or detected between the finish floor and subfloor, or between the subfloor and the upper side of floor joists, the combination of limited size of the mold reservoir, the low probability of air and particle movement from between flooring layers into the occupied space, the effects of building dryout, cleaning, and sealing of potential openings and pathways, in most cases will add up to justification for leaving these materials in place.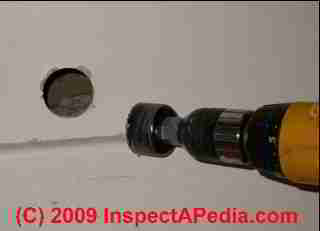 Wall, floor, or subfloor test cuts for mold
The photo at right shows us cutting a round hole in a wall to expose the wall cavity.
We cut high enough above the floor to avoid the sill plate and to give access to the wall cavity itself.
We cut close to but not on top of a wall stud, so that when examining the wall cavity we can examine for hidden mold.
Details of using wall test cuts to inspect for hidden mold in wall cavities can be read at Wall test cuts to spot hidden mold.
How to Make (or not make) Random Test Cuts to Check for Mold in Building Cavities
Random wall test openings: We have little confidence in and are reluctant to simply make random test cuts in buildings. Since water can take peculiar paths through hidden openings, such as wall plate holes drilled for pipes or electrical wiring or between single pairs of studs or ceiling or floor joists, cutting a hole that does not reveal a problem is no assurance at all that no hidden mold problems exist.
When to Make Strip Cuts to Look for Hidden Mold in Building Ceilings or Walls
When there is an ongoing building complaint that makes us suspect hidden leaks or mold, if we strongly suspect a hidden mold problem but have not found its precise location, on occasion it is justified to make a "strip cut" across multiple wall studs or ceiling joists, exposing multiple wall cavities.
What makes a lot of sense sense is to study the building carefully to decide on the building points at most risk of having been wet from leaks due to construction details or other site observations. That's where one would make a test cut.
We frequently add text and photos to this series of articles. (See "What MOld Looks Like" and "Stuff that is Not Mold"links listed at Related Topics ). Readers should also review Mold in Fiberglass Insulation in Buildings at our The Mold Information Center - What to Do About Mold in Buildings
Small amounts of mold can be removed simply by cleaning or removing infected materials, something most homeowners can handle -- but see the Warning Notice at the end of this article. Some mold species can make you sick.
OPM: Some Consultants Spend Other People's Money to Reduce Risk For the Consultants, not for the Clients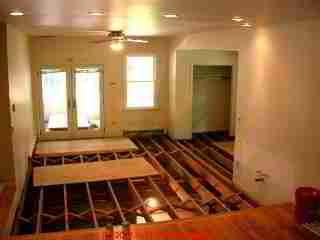 With this as many topics, even smart people but with no actual field test data to support a view, construct mental models of what they think is happening (yet without a single fact nor shred of evidence) and give aggressive cleanup advice accordingly.
This approach is especially dangerous when the advice suffers what we call the "OPM" problem: that is, Ms. X, the consultant give advice that is safest for her (because the client cannot possibly complain in the future that her advice was not aggressive enough), because the safest (for her) advice does not cost her a dime - the client is the one who pays for the sometimes extreme measures that are suggested.
Consultants who offer OPM-based advice simply playing it safe and they are not earning their fee.
Our photograph (above left) shows extensive demolition performed to remove problem mold on floor framing and subflooring in an older home. In this case the combination of multiple layers of moldy subflooring and flooring combined with a cost comparison of alternative approaches indicated that it was actually less costly to remove the subfloor and clean the joists than to leave the subfloor in place. In other buildings and circumstances it is reasonable and more economical to leave the subflooring in place.
Cleaning mold from wood framing, or wood building sheathing and similar wood surfaces is discussed at MOLD CLEANUP - WOOD FRAMING & PLYWOOD. Also see MOLD CLEANUP - WOOD FLOORING where we describe removing mold from wood flooring surfaces.
Readers should also see the general advice at MOLD CLEANUP GUIDE- HOW TO GET RID OF MOLD and finally, see WOOD FLOOR DAMAGE.
Also see TRAPPED MOLD BETWEEN WOOD SURFACES for a discussion of the immobility of mold between wood framing and other surfaces, and see MOLD GROWTH on SURFACES for an index of what mold genera/species are frequently found on various building surfaces and materials.
More Reading
Green link shows where you are in this article series.
...
Frequently Asked Questions (FAQs)
No FAQs have been posted for this page. Try the search box below or CONTACT US by email if you cannot find the answer you need at InspectApedia.
...
Ask a Question or Search InspectApedia
Questions & answers or comments about whether or not we should test for or remove mold trapped between layers of building materials. .
Try the search box just below or if you prefer, post a question or a comment in the Comments box below and we will respond promptly.
Search the InspectApedia website
Technical Reviewers & References
Related Topics, found near the top of this page suggest articles closely related to this one.
Click to Show or Hide Citations & References
Environmental Health & Investigation Bibliography - our technical library on indoor air quality inspection, testing, laboratory procedures, forensic microscopy, etc.
Adkins and Adkins Dictionary of Roman Religion discusses Robigus, the Roman god of crop protection and the legendary progenitor of wheat rust fungus.
Kansas State University, department of plant pathology, extension plant pathology web page on wheat rust fungus: see http://www.oznet.ksu.edu/path-ext/factSheets/Wheat/Wheat%20Leaf%20Rust.asp
"A Brief Guide to Mold, Moisture, and Your Home", U.S. Environmental Protection Agency US EPA - includes basic advice for building owners, occupants, and mold cleanup operations. See http://www.epa.gov/mold/moldguide.htm
US EPA - Mold Remediation in Schools and Commercial Building [Copy on file at /sickhouse/EPA_Mold_Remediation_in_Schools.pdf ] - US EPA
US EPA - Una Breva Guia a Moho - Hongo [Copy on file as /sickhouse/EPA_Moho_Guia_sp.pdf - en Espanol
...
Books & Articles on Building & Environmental Inspection, Testing, Diagnosis, & Repair
The Home Reference Book - the Encyclopedia of Homes, Carson Dunlop & Associates, Toronto, Ontario, 25th Ed., 2012, is a bound volume of more than 450 illustrated pages that assist home inspectors and home owners in the inspection and detection of problems on buildings. The text is intended as a reference guide to help building owners operate and maintain their home effectively. Field inspection worksheets are included at the back of the volume. Special Offer: For a 10% discount on any number of copies of the Home Reference Book purchased as a single order. Enter INSPECTAHRB in the order payment page "Promo/Redemption" space. InspectAPedia.com editor Daniel Friedman is a contributing author.

Or choose the The Home Reference eBook for PCs, Macs, Kindle, iPad, iPhone, or Android Smart Phones. Special Offer: For a 5% discount on any number of copies of the Home Reference eBook purchased as a single order. Enter INSPECTAEHRB in the order payment page "Promo/Redemption" space.