InspectAPedia tolerates no conflicts of interest. We have no relationship with advertisers, products, or services discussed at this website.
Thermostat heat anticipator function & adjustment guide: this article explains what a heat anticipator is on a wall thermostat, where to find it, what it looks like, why we adjust the heat anticipator, how we do so. We list the recommended heat anticipator settings. We explain how to test the heat anticipator on a thermostat, and we describe the conditions necessary for a heat anticipator on a room thermostat to work properly in the first place. We also explain the difference between the job of the thermostat heat anticipator and the differential settings on a heating system aquastat or similar control.
We also discuss when you do or do not need a thermostat that includes a heat anticipator device, modern alternative thermostat controls, and where to buy a thermostat with a heat anticipator feature. Our page top photo illustrates key parts of a traditional room thermostat including the temperature sensing device, thermostat switch, and the heat anticipator assembly.
Green links show where you are. © Copyright 2013 InspectAPedia.com, All Rights Reserved. Author Daniel Friedman.
How & Why to Adjust the Heat Anticipator on a Room Thermostat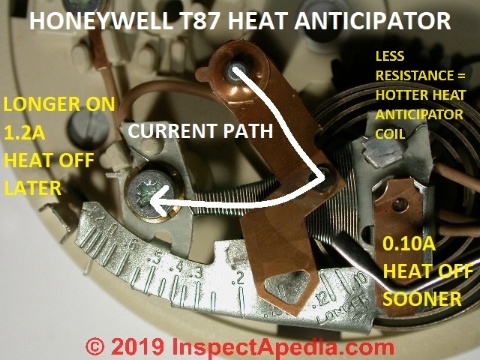 Thermostats may also have a "heat anticipator" adjustment which is tuned to the particular heating system to avoid heater on-off oscillating too close to the thermostat's set point.
What is a thermostat heat anticipator? The purpose of a thermostat heat anticipator is to "de-sensitize" the thermostat so that when actual room temperature is hovering close to the set temperature on the thermostat, the thermostat switch won't keep switching the air conditioner or heating system on and off too often - which can damage the equipment.
In our photo you can see our pointer hovering over fine wires wound around a triangular piece of plastic (forming a variable resistor) and you can see at center of the photo a flat copper arm which can be moved to slide a contact to different positions along the wound variable resistor.
The triangular pointer at the top of the copper arm has an opening which helps read the exact position to which the heat anticipator has been set. Behind the pointer you can see a silver scale with different amp readings which are detailed in the table below. On this heat anticipator setting scale settings range from 0.10 to about 2 Amps.
The heat anticipator scale: If you click to enlarge this photo you can see the amperage level to which this heat anticipator had been set when we took this picture. It is below the lowest setting recommended by Honeywell.
Which Way Do I Move the Heat Anticipator Adjustment?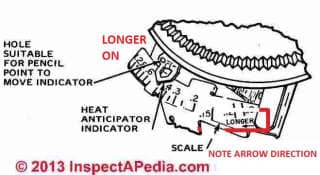 Take another look at the finely-wound and flattened wire coil underneath the movable copper arm in our photo just above and at our adapted Honeywell T87 heat anticipator sketch at left. [Click to enlarge this or any InspectApedia illustration].
The shortest burner-on time will be when the heat anticipator puts out the most heat. This warms up the thermostat's room temperature sensor and therefore tells the thermostat the room is up to set temperature earliest.
The most heat produced by the heat anticipator will be when it is set at the highest heat anticipator amperage - around 1.2A as shown at the left end of the scale in our photos and the sketch.
The longest burner-on time will be when the heat anticipator puts out the least heat, thus does not turn off heat early, thus lets the burner keep running longer, and thus will be at the lowest heat anticipator amperage - around 0.10 A and shown at the right end of the scale in our images.
Watch out: be sure to look at both the direction of the arrow (which can be confusing or even wrong in Honeywell's sketch above) and at the amperage numbers. Higher amps = more resistance = more heat anticipator output = earlier thermostat satisfaction = shorter burner-on time. Depending on your model thermostat and where the heat anticipator is found, left and right or up and down might be reversed from the images here - so it's important to understand the principles involved.
What Should Be the Heat Anticipator Settings on a Room Thermostat?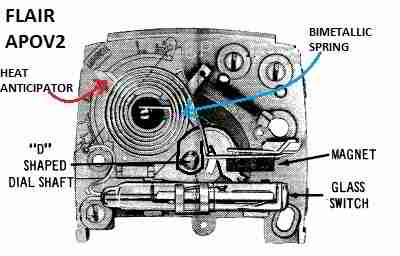 If your heating system seems to be working OK, without excessive burner on-off cycling and without troubling room temperature overshoot, leave the heat anticipator alone.
If however you are an installer and want to precisely set up the heat anticipator on a thermostat (if your thermostat has this feature), there are two approaches:
Use the manufacturer's recommended thermostat heat anticipator settings based on printed control circuit data. Just below we give a table of heat anticipator settings recommended by Honeywell or another manufacturer.
or
Our sketch, above left, adapated from a Flair APVO2 two-wire thermostat whose the heat anticipator level and scale (red arrow) on the left side of the device. Interestingly the company referred to this as a "fixed anticipation" thermostat, but its installation instructins indicated a screw-secured heat anticipator pointer and an amperage scale on the device. This thermostat was designed for use with zone valves or damper actuators..
Table of Thermostat Heat Anticipator Settings - (60 cycle current)

Honeywell Control Part Number
Heat Anticipator Setting in Amps
Honeywell L8124,
Honeywell R8182-D-F,H,J
Honeywell R8184G,K,M
Honeywell R8185E

Honeywell V800A-C
Honeywell V801A-C
Honeywell V810A-C

.2 Amps
Honeywell RA116, RA117
Honeywell RA816
Honeywell RA817A
Honeywell R8184L

Honeywell V8254
Honeywell V8280
Honeywell V8292

.4 Amps
RA817C
.55 Amps
Additional heat anticipator settings and details are usually provided on the thermostat installation pamphlet provided by the manufacturer.
The settings shown here are not likely to be correct for other brands or models of thermostats.
Watch out: as Honeywell warns thermostat installers: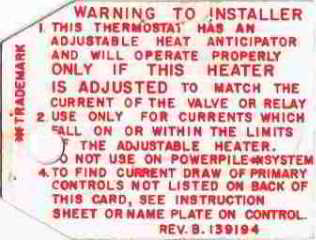 This thermostat has an adjustable heat anticipator and will operate properly only if this [heat anticipator resistor] heater is adjusted to match the current of the valve or relay. See HEAT ANTICIPATOR Mini Ammeter to Check for details.
Set the heat anticipator to the heating boiler or furnace manufacturer's recommendation, or if you don't know that number, you can either leave the heat anticipator at its factory setting (recommended) or you can use a mini-ammeter to actually measure the heating thermostat circuit and to fine tune the heat anticipator setting, as we discuss further at HEAT ANTICIPATOR Mini Ammeter to Check
For the Honeywell T87F the manufacturer's heat anticipator setting instructions are as follows:
If the T87F is used for 3-wire, SPDT, heating only (Series 20 control), set the heat anticipator to 1.2 (far left end of the scale). A 25V open circuit shunt type heat anticipator is provided in the 137421A Wallplate for this application. For other control applications proceed as follows:

Adjust the anticipator to match the current rating of [the] primary control. Rating is usually stamped on the control plate. Move the indicator to the marking that matches this rating. Indicator may be moved with fingers or pencil point, pin, or wire through hole shown [in our photos this is the triangular opening in the pointer -Ed.]. If the current rating is not given, proceed as follows before mounting the thermostat:

Connect an AC ammeter of appropriate range, sensitivity, and accuracy (0 to 2 A VAC between the R and W (standard terminal descriptions) terminals on the wallplate or subbase [NOT in the thermostat as some how to or just-ask fellows recommend elsewhere - Ed.]

Watch out: a suitable ammeter may not be your typical electrician's clamp on ammeter as some fellows recommend - you need a meter that is capable of precision in the 0 - 1.2A VAC range. See HEAT ANTICIPATOR Mini Ammeter to Check for a detailed AMPS measurement example using the proper type of ammeter.

Let the heating system operate for at least 1 minute before reading the ammeter, 5 minutes is better to assure that the system is at normal operating temperatures and consistent behavior.
Move the heat anticipator indicator pointer to match the ammeter reading. For example in our yellow sketch above, our ammeter measured 0.7A so we moved the pointer (shown as a white arrow) to .7 on the heat anticipator scale.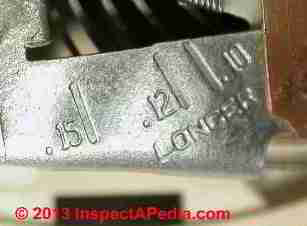 Should you vary the heat anticipator above or below the measured thermostat circuit amps?

Possibly yes. Depending on how your heating system is performing (burner cycle time too short or room temperature has too much overshoot) you might want to adjust the heat anticipator a bit further.

But this EXAMPLE below from instructions packed with an old Honeywell thermostat is incorrect:

A slightly higher setting to obtain longer burner-on times (fewer cycles per hour) may be desirable on some systems. EXAMPLE: if burner-on time is too short with a heater setting of 0.4 adjust to 0.45 setting and check system operation; adjust until the desired burner on time is obtained.

Watch out: the EXAMPLE just above appears to be incorrect. Adjusting the heater setting from 0.4 to 0.45 will mean increased amperage, increased resistance, a hotter heating wire, thus more heat anticipation inside the thermostat and thus it will shorten the burner-on time. On the original T87 thermostat metal scale (my photo at left) you'll see the word "Longer" stamped into the 0.10 end of the scale.
For a detailed explanation of how the thermostat heat anticipator actually works see HEAT ANTICIPATOR Operation.
Set the heat anticipator to a lower number to let the heat run longer or make the room a bit warmer in relation to the set point on the thermostat.
Set the heat anticipator to a higher number to cause the heat anticipator to itself heat up the thermostat, causing the thermostat to be "satisfied" or to turn off the heating system sooner, thus making the room a bit cooler in relation to the set point on the room thermostat.

When we adjust the heat anticipator on a thermostat that has one, we are fine-tuning the amount of heat anticipation that the device is allowing.
Watch out: some "old timer" advice on how to set the thermostat heat anticipator that we've come across is appealing but is not correct and worse, fails to understand how and why one would precisely tune a heat anticipator anyway. Some modern DMMs that include a clamp-on ammeter might measure accurately down into the very few milliamp range that is needed, but most do not. In its instructions for using a mini milli-amp meter (described in detail at HEAT ANTICIPATOR Mini Ammeter to Check) the company makes clear that a precise adjustment of a heat anticipator to a specific individual heating system installation needs to make a precise measurement of the current in the entire thermostat circuit.
Should I Change the Heat Anticipator Settings?
It's probably smartest to leave the heat anticipator alone on your thermostat unless you're having a specific problem controlling room temperature. And then, before attacking the heat anticipator setting, check first for more significant problems such as a bad thermostat location (on a cold exterior wall, or in the direct path of warm air from a forced warm air supply register).
What if my Thermostat Does Not Have a Heat Anticipator? Do I need one?
Well you may not need a heat anticipator. As we discuss in detail immediately below, for many types of heating system distribution, heat source, and heat controls, you don't need a heat anticipator, while for certain types of heating systems (such as those using heavy cast iron radiators) using a heat anticipator can provide important improvements in heating system operation. But first let's define three thermostat heat anticipator categories:
Room thermostats that do not include a heat anticipator function. The majority of both non-programmable and programmable wall thermostats currently for sale do not include a heat anticipator feature. Instead these devices advertise that they are capable of regulating room temperature within a specific range, usually given as +/- 3 deg F. or +/- 1 degF. In many modern homes these thermostats will be perfectly satisfactory, though not in all, as we will explain below.


Room thermostats that include a simplified heat anticipator-like function in the form of micro switches. In these thermostats the installation instructions will refer to the switch or switches using terms like "Set the fan operation switch" or better, "Set Cycle Rate Switches" Instructions will typically give the situations described in the table at THERMOSTAT CYCLE RATE SWITCH. In that article you'll see that some thermostats such as the 3M-22 Filtrete programmable thermostat includes a Swing or Cycle Rate setting that is very similar in function to a traditional heat anticipator setting.
Reasons to Buy A Wall Thermostat that Includes a Heat Anticipator feature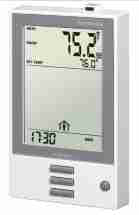 Heating distribution systems that have high thermal mass (cast iron radiators or cast-iron baseboards) tend to continue emitting heat after the boiler shuts down - thus possibly heating the room well past the thermostat's set temperature.
Popularly, this phenomenon is called temperature overshoot. On the other hand, an improperly adjusted or installed thermostat can also cause too-frequent burner on-off cycles, wasting heating fuel. In these cases we can use a heat anticipator-equipped thermostat to advantage.
Other heating systems with thermal mass such as an in-floor radiant heat system, particularly if the floor is a concrete slab or a blockbed solar heat system might also benefit from a room thermostat that has a heat anticipator function.
But we notice that at least some thermostats sold for radiant floor heating, such as the OJ programmable floor thermostats UTN-4991 and the OJ UDG-4999 (shown at left), designed to monitor both floor temperature and air temperature, do not include a heat anticipator.
Types of Heat for Which You Don't Need a Thermostat with a Heat Anticipator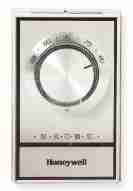 Low thermal mass heating systems: other heating distribution systems that have low thermal mass (copper tubing baseboard) or no thermal mass (warm air heat and ductwork) stop emitting heat quickly (thin wall copper baseboard) or immediately (forced warm air heat) when the boiler or furnace is shut off by the thermostat. Those systems don't need and don't benefit from a heat anticipator.
Fan coil type heating systems are, like forced warm air heaters, an "on-off" type heat with no significant thermal mass. You'll find that thermostats sold for use with fan coil heaters, like PECO's TA180-001 digital programmable thermostat do not include a heat anticipator.
Similarly, electric baseboard heat thermostats or electric floor heating mat thermostats typically won't include heat anticipators, though you can purchase thermostats with varying degrees of room temperature variation such as +/1 1 degF or +/3 3 degF.
Shown at above left is the Honeywell T498B1512 120V wall thermostat used for electric baseboard heat. ($50.) This thermostat is designed to maintain heat within a temperature differential of +/- 3 degrees F. If you need to control electric heat and want a more narrow temperature differential range, check out the Honeywell TL7235A100 non-programmable line voltage digital thermostat or the White Rodgers line voltage snap action room thermostat model 1A65-641 that controls temperatures to +/- 1 degree F. ($40.) or for a programmable electric heat thermostat see the Dayton 1UHG4 line voltage thermostat. Electric heat thermostats are discussed at LINE VOLTAGE THERMOSTATS
Non-bounce thermostats: a second type of improvement in heating thermostat controls may also have obviated the need for heat anticipators. A second reason (besides room temperature overshoot) for the original inclusion of heat anticipators was to allow the installer to widen or narrow the precision of the "on-off" response of the wall thermostat. This prevented a thermostat from bouncing rapidly between on-and off which could happen if the thermostat was both very sensitive to room temperature and the room temperature changed too rapidly. Modern thermostats are quite reliable at holding to a +/1 one degree temperature range.
Homes with stable indoor temperatures: after super-insulating our lab with blown-in foam insulation, we found that its temperature remains very stable - the building is slow to cool down and slow to warm up as outdoor temperatures change. The single largest factor is probably the elimination of uncontrolled air leakage. Many modern homes are better insulated so cool off more slowly so temperature changes more slowly, and in some homes installers have got smart enough in locating the wall thermostat that it's not placed on a cold outside wall nor in direct path of blowing hot or cold air.
What happened to the bimetallic spring and mercury bulb in thermostats? What about the heat anticipator?
Modern digital room thermostats don't use a bimetallic spring to sense room temperature. And for environmental reasons (mercury is highly toxic) manufacturers no longer use a mercury bulb to control the switching of a wall thermostat.
Rather they use a solid state thermistor. A thermistor is a device whose electrical resistance changes in response to temperature. A microprocessor chip in the digital room thermostat converts that change in resistance to a temperature reading.
More Information about Heating System Controls
This article series on room thermostats and heat anticipators continues discussion of the basics of heating or cooling system thermostats, their use, setting, and adjustment. Here we provide A Guide to Finding, Using, and Adjusting Thermostats for Heating & Air Conditioning Furnaces & Boilers, Heat Pumps or Electric Furnaces or Boilers.
This website answers most questions about central heating system troubleshooting, inspection, diagnosis, and repairs. We describe how to inspect, troubleshoot and repair heating and air conditioning systems to inform home owners, buyers, and home inspectors of common heating system defects.
The articles at this website describe the basic components of a home heating system, how to find the rated heating capacity of an heating system by examining various data tags and components, how to recognize common heating system operating or safety defects, and how to save money on home heating costs. We include product safety recall and other heating system hazards.
...
Frequently Asked Questions (FAQs) about thermostat heat anticipators & how to set the heat anticipator in a room thermostat
Question: Helpful Pointers Heat-Anticipators
... [other text relocated to pertinent article]
3. Heat-anticipators are typically only found in mechanical (non-digital) thermostats. Whenever installing or servicing a thermostat with a heat-anticipator, the amperage setting on the heat-anticipator should always be verified as matching the amperage draw on the gas valve or relay that it controls. Otherwise the relay or thermostat may not function properly.
- Helpful Pointers Regarding 24V T 10/27/2012
Reply:
Helpful, thanks so much for the detailed tips on wiring 24-volt room thermostats. I've inserted your remarks into the main article body over at THERMOSTAT WIRE CONNECTIONS - and in that article beginning in a new section at9 THERMOSTAT WIRING TIPS & COLOR CODE CONVENTIONS.
Actually, though, a recent search (2013) found that there are indeed contemporary digital and programmable thermostats that do include a heat anticipator, though I agree that many models do not include that feature. In a later FAQ just below we point out the types of heating systems that do and don't benefit from a heat anticipator function in a room thermostat.
Working together and exchanging information makes us better informed than any individual can be working alone. - Ed.
Question: Where can I buy a room thermostat that has a heat anticipator? Big box stores don't carry thermostats that include a heat anticipator
Stopped at a local big box store and looked at the models on display, called Honeywell while there and was told that typical retail outlets like these DON'T carry thermostats that have anticipator functions or a heat control differential and they are set to stay within +/- 1 degree at all times. The Honeywell tech could not give me part numbers but said that those units are normally only sold to HVAC installers through their distributors. - Mike at Longmeadow MA
Reply: Where to Buy a Room Thermostat with a Heat Anticipator Feature
Thanks for this field report on the availability of room thermostats that include a heat anticipator.
You're sure right. I stopped by a local Home Depot store, checked out a local Radio Shack, and also shopped at the one remaining lumber yard/building supplier in our area who hasn't been driven out by big box store competition. None of them stocked a room thermostat that included a traditional heat anticipator, though some newer room thermostats provide a very similar function in the form of micro-toggle-switches inside the unit.
But it is in fact still easy to find a wall thermostat that includes a heat exchanger by a little careful shopping, as I detail below. I think part of what you heard from the Honeywell tech was less than clear or less than forthcoming. Or maybe s/he was not fully informed about the company's products. Or maybe the tech didn't even know what a heat anticipator is or why they are sometimes used in thermostats.
Following some explanation, just below at I include a list of room thermostats that include a heat anticipator - includin Where to Buy a Room Thermostat with a Heat Anticipator g from Honeywell, Lux, Robertshaw and White-Rodgers. Perhaps you'll want to forward a copy of this article to the Honeywell "tech" with whom you spoke by telephone.
Recap of Thermostat Heat Anticipator Functions
A heat anticipator is basically a tiny heater placed inside of a room thermostat to slightly shorten the heat-on-cycle called for by the thermostat. The heat anticipator in the traditional Honeywell T87 thermostat and older models is a simple electrical resistance heater of very small size, placed close to the bimetallic spring that operated the thermostat.

In case it's not clear, a bimetallic spring - two different metals laminated together and then shaped into a coil - expands or contracts in response to temperature changes, causing the coiled spring to open or close. In the old mercury bulb thermostat shown in the article above (and in some other thermostat designs) moving the spring tipped the bulb that moved the mercury to close (on temperature fall) or open (on temperature rise) the switch that turned the heating system on or off.
The question of whether or not you need or should want a thermostat that includes a heat anticipator feature is discussed in the article above, at Do I need a thermostat with a heat anticipator?.
How & Where to Buy a Room Thermostat with a Heat Anticipator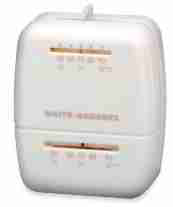 There are definitely modern wall thermostats that still use a heat anticipator, though its physical form has changed from the tiny coil over which a pointer slides to a thin wire mounted on a disc, still encompassing a movable arm that contacts the wire at different points along its length. The operating principle is the same: shorter wire, less resistance, less heating. Here are some room thermostats that include a heat anticipator:
Honeywell Room Thermostat

T87N1000

includes a heat anticipator feature - up to $50.
Honeywell Room Thermostat T87K1007 includes a heat anticipator feature - about $40.
Lux mechanical non-programmable room thermostat, model

LT101141SA-006

- about $27. U.S.
LuxPro PSM40SA Heat & Cool Thermostat - about $25 at big box stores or sold online
Robertshaw 9701i2, Robertshaw 8725i2, and Robertshaw 9801i2 programmable digital thermostats all include a heat anticipation range adjustable between 1-3 degrees F - about $150-200. single stage heating, cooling, or heat pump control. Also see the Robertshaw 9825i2 for 3-stage heat control.
White-Rodgers heat-only Model 1C20-101 - about $20. (shown at left)
The largest selection of room thermostats we find anywhere is at Grainger who has over 250 models in their online catalog. http://www.grainger.com - but beware not every thermostat description necessarily names all features.
...
Ask a Question or Search InspectApedia
Questions & answers or comments about thermostat heat anticipators & how to set the heat anticipator.
Ask a Question or Enter Search Terms in the InspectApedia search box just below.
Technical Reviewers & References
Related Topics, found near the top of this page suggest articles closely related to this one.
[1] Proliphix Corporate Headquarters, 3 LAN Drive Suite #100 Westford, MA 01886 Phone: +1.978.692.3375 Toll Free (U.S.): 866-IP-LIVING (866.475.4846) Fax: +1.978.692.3378 - Sales: sales@proliphix.com Marketing: marketing@proliphix.com Customer support: support@proliphix.com http://www.proliphix.com/ - quoting from the company's website:
All Proliphix Network Thermostats come with our free Uniphy Remote Management Service. This unique offering lets you monitor and control your HVAC systems by simply pointing your Browser to our secure Proliphix Web Site. Enjoy the convenience of programming a thermostat from any location, using a simple graphical interface. No computer equipment or software is required. And since Proliphix takes care of the network configuration for you, you'll be up and running in no time. We'll even proactively monitor your thermostats and send you an immediate email or SMS message when an HVAC problem is detected.

[2] "The Nest Learning Thermostat", Nest Thermostat, 900 Hansen Way Palo Alto, CA 94304, Tel: 855-4MY-NEST, Email: info@nest.com, website http://www.nest.com/, retrieved 1/24/2013.
[3] Honeywell Controls, the company wants you to use their contact form at this web page: http://www51.honeywell.com/honeywell/contact-support/contact-us.html
Honeywell Consumer Products, 39 Old Ridgebury Road Danbury, CT 06810-5110 - (203) 830-7800
World Headquarters, Honeywell International Inc., 101 Columbia Road, Morristown, NJ 07962, Phone: (973) 455-2000, Fax: (973) 455-4807 1-800-328-5111

[4] White Rodgers Thermostats and HVAC controls,
Homeowner information: http://www.emersonclimate.com/en-US/brands/white_rodgers/Pages/wr-homeowner-info.aspx
Contractor information: http://www.emersonclimate.com/en-US/brands/white_rodgers/wr_contractor_info/Pages/white-rodgers-contractor-info.aspx
White Rodgers Product Catalog (don't misspell the company's name as White Rogers Thermostats) -
http://www.emersonclimate.com/Documents/thermostats.pdf - Thermostat Catalog
[5] Domestic Central Heating Wiring Systems and Controls, 2d Ed., Raymond Ward, Newnes, ISBN-10: 0750664363, ISBN-13: 978-0750664363, Quoting from Amazon.com:
This unique A-Z guide to central heating wiring systems provides a comprehensive reference manual for hundreds of items of heating and control equipment, making it an indispensable handbook for electricians and installers across the country. The book provides comprehensive coverage of wiring and technical specifications, and now includes increased coverage of combination boilers, recently developed control features and SEDBUK (Seasonal Efficiency of Domestic Boilers in the UK) boilers ratings, where known.
In addition to providing concise details of nearly 500 different boilers fuelled by electric, gas, oil and solid fuel, and over 400 programmers and time switches, this invaluable resource also features numerous easy-to-understand wiring diagrams with notes on all definitive systems. Brief component descriptions are provided, along with updated contact and website details for most major manufacturers.
[6] "Automatic Oil Burner Controls - Thermostats", Domestic and Commercial Oil Burners, 3rd Ed., Charles H. Burkhardt, McGraw Hill, 1969 (and later editions), ASIN B0000EG4Y8
Hunter Fan 2500 Frisco Ave. Memphis, TN 38114 888-830-1326 www.hunterfan.com
[7] Fuel Oil & Oil Heating Magazine, 3621 Hill Rd., Parsippany, NJ 07054, 973-331-9545
[8] Domestic and Commercial Oil Burners, Charles H. Burkhardt, McGraw Hill Book Company, New York 3rd Ed 1969.
[9] National Fuel Gas Code (Z223.1) $16.00 and National Fuel Gas Code Handbook (Z223.2) $47.00 American Gas Association (A.G.A.), 1515 Wilson Boulevard, Arlington, VA 22209 also available from National Fire Protection Association, Batterymarch Park, Quincy, MA 02269. Fundamentals of Gas Appliance Venting and Ventilation, 1985, American Gas Association Laboratories, Engineering Services Department. American Gas Association, 1515 Wilson Boulevard, Arlington, VA 22209. Catalog #XHO585. Reprinted 1989.
[10] The Steam Book, 1984, Training and Education Department, Fluid Handling Division, ITT [probably out of print, possibly available from several home inspection supply companies] Fuel Oil and Oil Heat Magazine, October 1990, offers an update,
[11] Principles of Steam Heating, $13.25 includes postage. Fuel oil & Oil Heat Magazine, 389 Passaic Ave., Fairfield, NJ 07004.
[12] The Lost Art of Steam Heating, Dan Holohan, 516-579-3046 FAX
Principles of Steam Heating, Dan Holohan, technical editor of Fuel Oil and Oil Heat magazine, 389 Passaic Ave., Fairfield, NJ 07004 ($12.+1.25 postage/handling).
[13] "Residential Steam Heating Systems", Instructional Technologies Institute, Inc., 145 "D" Grassy Plain St., Bethel, CT 06801 800/227-1663 [home inspection training material] 1987
[14] "Residential Hydronic (circulating hot water) Heating Systems", Instructional Technologies Institute, Inc., 145 "D" Grassy Plain St., Bethel, CT 06801 800/227-1663 [home inspection training material] 1987
[15] "Warm Air Heating Systems". Instructional Technologies Institute, Inc., 145 "D" Grassy Plain St., Bethel, CT 06801 800/227-1663 [home inspection training material] 1987
[16] Heating, Ventilating, and Air Conditioning Volume I, Heating Fundamentals,
[17] Boilers, Boiler Conversions, James E. Brumbaugh, ISBN 0-672-23389-4 (v. 1) Volume II, Oil, Gas, and Coal Burners, Controls, Ducts, Piping, Valves, James E. Brumbaugh, ISBN 0-672-23390-7 (v. 2) Volume III, Radiant Heating, Water Heaters, Ventilation, Air Conditioning, Heat Pumps, Air Cleaners, James E. Brumbaugh, ISBN 0-672-23383-5 (v. 3) or ISBN 0-672-23380-0 (set) Special Sales Director, Macmillan Publishing Co., 866 Third Ave., New York, NY 10022. Macmillan Publishing Co., NY
[18] Installation Guide for Residential Hydronic Heating Systems
[19] Installation Guide #200, The Hydronics Institute, 35 Russo Place, Berkeley Heights, NJ 07922
[20] The ABC's of Retention Head Oil Burners, National Association of Oil Heat Service Managers, TM 115, National Old Timers' Association of the Energy Industry, PO Box 168, Mineola, NY 11501. (Excellent tips on spotting problems on oil-fired heating equipment. Booklet.)
[21] Trane TCONT800 Series Touch Screen Programmable Comfort Control Ownes Guide, American Standard, Inc., Troup Highway, Tyler TX 75711, January 2005, Telephone: Customer Service: 1-877-3381, website: www.trane.com
Books & Articles on Building & Environmental Inspection, Testing, Diagnosis, & Repair
The Home Reference Book - the Encyclopedia of Homes, Carson Dunlop & Associates, Toronto, Ontario, 25th Ed., 2012, is a bound volume of more than 450 illustrated pages that assist home inspectors and home owners in the inspection and detection of problems on buildings. The text is intended as a reference guide to help building owners operate and maintain their home effectively. Field inspection worksheets are included at the back of the volume. Special Offer: For a 10% discount on any number of copies of the Home Reference Book purchased as a single order. Enter INSPECTAHRB in the order payment page "Promo/Redemption" space. InspectAPedia.com editor Daniel Friedman is a contributing author.

Or choose the The Home Reference eBook for PCs, Macs, Kindle, iPad, iPhone, or Android Smart Phones. Special Offer: For a 5% discount on any number of copies of the Home Reference eBook purchased as a single order. Enter INSPECTAEHRB in the order payment page "Promo/Redemption" space.
Carson Dunlop, Associates, Toronto, have provided us with (and we recommend) Carson Dunlop Weldon & Associates' Technical Reference Guide to manufacturer's model and serial number information for heating and cooling equipment
Special Offer: Carson Dunlop Associates offers InspectAPedia readers in the U.S.A. a 5% discount on any number of copies of the Technical Reference Guide purchased as a single order. Just enter INSPECTATRG in the order payment page "Promo/Redemption" space.

...