Asbestos Use in Appliances

Asbestos contained in household appliances or appliance components
POST a QUESTION or READ FAQs about what building products and common in-building products, appliances, mechanical components were produced using asbestos materials
InspectAPedia tolerates no conflicts of interest. We have no relationship with advertisers, products, or services discussed at this website.
Asbestos was used in some building & household appliances as gasket material, insulating material, or fire-proofing mateiral.
Asbestos might be found in some household appliances such as clothes dryers, hair dryers, irons, toasters, and even refrigerators, though usually that asbestos is well covered and harmless.
This article series provides a master list of the forms in which asbestos was used, a list of known asbestos-containing materials, and links to detailed articles about individual asbestos-containing products & materials found in buildings and in a wide range of products used in both home and industry.
We also provide a MASTER INDEX to this topic, or you can try the page top or bottom SEARCH BOX as a quick way to find information you need.
Use of Asbestos in Home Appliances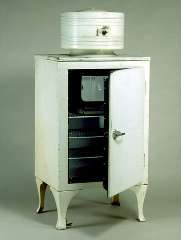 Here we list household appliances that might contain asbestos and we describe the forms in which asbestos might appear in appliances. Asbestos was widely used in many gas & electrical appliances as a heat shield, as a gasket, as insulation, and sometimes as a structural component.
Watch out: Don't panic about possible asbestos in a toaster, iron, or refrigerator. In most instances even when asbestos was used in a friable form it was enclosed within appliance walls or components.
The asbestos hazard from its presence in home appliances is likely to be below the limits of detection unless you disassemble and chop, grind, or saw these materials.
Asbestos may also appear in building or home appliances as a secondary product such as asbestos used in electrical wire insulation in toasters or irons, or in a high-temperature-resistant light bulb.
Illustration: a 1927 GE Monitor Top refrigerator (Museums Victoria) that probably does not contain asbestos. [Click to enlarge any image]
Asbestos was used in these home appliances and possibly others that we will describe on this page: jbroilers, coffee pots, clothes dryers, coffee pots, in cookstoves (Moffatt and others), coolers, cooktops, deep fryers, dishwashers (possibly), ranges, refrigerators, irons & iron rests, toasters, electric heaters, ovens, popcorn poppers, vacuum cleaners, and washing machines.
Other household items used in the kitchen such as pot holders and some ironing board covers used asbestos fabrics.
Asbestos in Coffee Pots
Asbestos was used in electrical wire insulation and insulation in some electric coffee pots.

Asbestos in dryers, clothes dryers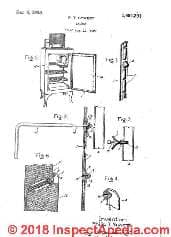 Research DOES confirm that asbestos was used in some older clothes dryers from the 1940's and 1950's and possibly extending in North America at least into the late 1970's .
See ASBESTOS in CLOTHES DRYERS where we discuss asbestos use in clothes dryers and washing machines, including gaskets and clothes dryer belts and in clothes dryer electrical components.
Asbestos in hair dryers: Hair dryers containing asbestos were sold by many companies including Clairol, Conair, General Electric, Gillette, J.C. Penny, Montgomery Ward, Norelco, Shick, Sears Roebuck & Co., Sunbeam

In the U.S., following a U.S. CPSC study finding dangerous amounts of asbestos release from hair dryers from eleven hair dryer manufacturers, those companies issued a voluntary refund and return policy and they stopped manufacturing asbestos-containing hair dryers.
Asbestos is not likely to be found in a hair dryer manufactured after 1980.
Asbestos in portable electric heaters
Asbestos was widely used to carry electric heating elements, in heat-resistant wiring, and possibly in other components in electric heaters manufactured (in the U.S.) up to 1974.
Asbestos in clothing irons & hair curling irons
Asbestos was used as early as 1900 in irons that were heated on stovetops where asbestos formed part of heat-resistant handles on those irons.
Asbestos was also used in electric irons manufactured into the 1950's: asbestos appeared in an iron sold by Sears Roebuck between 1957 and 1958 - source: U.S. Congressional Record, V. 149, Pt. 11, June 20, 2003 to June 19, 2003
Asbestos was used in iron rests such as Craftmade™ iron rests (Norton Accessories Manufacturers, NY) until 1960.

Asbestos was also used in home and commercial pressing pads and in larger ironing machines and manglers.
Asbestos was used in hair curling irons. (Droogenb1965).
We found patents citing use of asbestos in steam irons and clothing irons as late as 1980. (McMullen 1980).
Droogenb, Jean Francois Dit Rog, and Antoon Joseph Johan Iren Camil. "Implement for setting hair." U.S. Patent 3,220,421, issued November 30, 1965.
Excerpts:
In the example illustrated, the element 4 is constituted by a spring having joining convolutions and inside which is housed a cylindrical asbestos wick ...The sheath 2 is provided with one or more rows of ports or perforations 16 located at suitable points so as to allow the outlet of the vapors produced by the liquid contained in the sheath and imbibing the asbestos.
Joseph, D. Alessandro. "Flat-iron provided with a steam ejection device." U.S. Patent 3,184,871, issued May 25, 1965.
Melvin, Gershon. "Press pad." U.S. Patent 2,482,412, issued September 20, 1949.
McMullen, Alan R. "Steam iron with low temperature soleplate." U.S. Patent 4,233,763, issued November 18, 1980.
Oivind, Meidell Birger. "Steam developing device for flatirons." U.S. Patent 1,963,858, issued June 19, 1934.
Asbestos in ironing boards, various manufacturers, using asbestos based cloth, possibly also asbestos based heat insulating padding.

Asbestos used in Refrigerators

Reader Question: Did the old 1927 GE Monitor top refrigerator have asbestos? - Alyssa 2018/03/11
Reply: Asbestos was not found mentioned in patent research for the 1927 GE Monitor Top refrigerator - illustrated above on this page.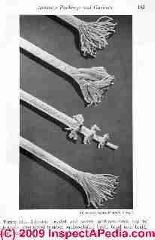 Possibly, but my research did not find any mention of asbestos in the description of the GE monitor-top refrigerators. The GE Monitor Top refrigerator was a major product development for General Electric and was widely sold and is still recognized world-wide.
I searched particularly for refrigerator insulation and for refrigerator gaskets and gasket patents associated with GE from 1925 - 1930 to see if those mentioned use of asbestos and did not find that indicator.
Givens, Albert L. "Refrigerator." U.S. Patent 1,533,646, issued April 14, 1925. Original Assignee General Electric Co
Griffiths, Richard T. "Packing gasket and method of making same." U.S. Patent 1,705,455, issued March 12, 1929.
Sywert, Philip T. "Gasket." U.S. Patent 1,694,291, issued December 4, 1928. (I include an image from this patent)
Asbestos could also have been used as a refrigerator body or door insulating material, though I did not find that either (yet - I'm still researching).
Other patents from the same era such as Carrey (1930) do cite use of asbestos in the refrigerator construction.
Carrey, John O. "Vacuous refrigerator and method of maintaining vacuum therein." U.S. Patent 1,747,969, issued February 18, 1930. Original Assignee C & C Engineering Company Inc.


Excerpt:
A U-shaped strip 24 of heat non-conducting material such as asbestos is placed over the bent edge 20 and a thin sheet 25 of lead is then placed over the U-shaped strip 24 and the whole is then forced into the pocket 23, and the assembled joint has the lead covering 25 bearing against the inner face of rebent edge 21 and the edge from edge 21 by asbestos covering 24.
Also Ballew (1925) describes use of asbestos in the refrigerator doors:
Ballew, Neual W. "Vacuum-insulated container." U.S. Patent 1,561,769, issued November 17, 1925.

Excerpt:
The inner shells each contact with the outer shell only over a small surface at its front end. The doors 4:, where they contact with the outer shell may be lined with a suitable heat insulating material, such as cork or asbestos, not shown.
Asbestos in Toasters & Toaster Covers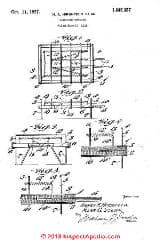 Asbestos was widely used in toasters in several forms including electrical wire insulation, toaster side insulation, and heating element carriers from about 1910 through the 1970's and in some toaster appliances even into the mid 1980's.
Asbestos was also used in toaster covers (Landry 1981).
Butler (1903) patented a hand-held bread toaster (not-electric) that used or might use asbestos as one of the early U.S. patents citing use of asbestos in toasters.
Asbestos was still being used in toaster appliances in 1982 (Zim 1982) and is described in baking and frying appliances in 1984 (Matz 1984).
Anderson, Roy J. "Electric toaster." U.S. Patent 2,548,511, issued April 10, 1951.
Barton, Ruth. "Household technology in Western Australia 1900-1950." Oral History Association of Australia Journal, The 7 (1985): 108.
Excerpt:
In East Fremantle, about 1910, they heated their iron on a flat piece of asbestos laid over the top of a primus stove rather than on ...
Butler, Louis F. "Bread-toaster." U.S. Patent 743,688, issued November 10, 1903.
Excerpt:
This invention relates to the class of breadtoasters in which a wire-netting or analogous open-work metallic sheet is superposed upon a heat-transmitting plate of asbestos or other suitable fireproof material.
Christoph, E.A., "Electric Toaster", U.S. Patent 1,393,427 , issued 10/11/1921

Cites use of asbestos in the supporting board for heating elements in the toaster.
Clark, Newman S. "Toaster." U.S. Patent 888,960, issued May 26, 1908.
Excerpt:
In the preparation of my device, I make a mixture composed of about 50 parts of fire-clay, 25 parts of clean sharp sand, 10 parts of asbestos, and 15 parts of wheat bran. This mixture properly moistened and adherent may be formed in molds into disks or plates of any suitable description.
Hirshfeld, Harry A., and Allan G. Stern. "Electric toaster." U.S. Patent 1,645,327, issued October 11, 1927. [Illustrated here]
Excerpt:
... waste asbestos board may be employed, and these parts shall be hereinafter referred to as asbestos boards or sheets, although not limited to i this material.

The supporting parts for the above described base are formed of wire. each support comprising asingle piece. of wire bent to form a horizontal, laterally extended top part 4

having vertical portions 5, bent at 6 to engage around the strip 3 and thereafter bent downwardly and upwardly to form legs 7

It will be understood that these supports may be detached, for packing purposes, so as to reduce the bulk of the device. Arranged in the same horizontal plane with the top parts 4 of said supports are other horizontally arranged, laterally extended wires 8 having vertical partis 9 and parts 10 bent around the strips 3.V

The end wires and intermediate wires are used to receive, for instance, bread and the like vto be toasted, the edible being supportedqby said wires free of the heating element. The heating element, which 1s designated 12, is supported by hook-like parts 13 of staples 14.

The staples 13 pierce the uppermost asbestos sheet or plate, are extended horizontally thereunder, as at 14', are passed up through said upper sheet of asbestos, and are clamped over the top surface of said upper asbestos sheet.
Hall, T., "Bread or Other Toaster", U.S. Patent 689,182, issued December 17, 1901 - cites use of asbestos in the parts of this non-electric toaster.
Landry, Jean-Guy. "Cover for use on a toaster." U.S. Patent 4,254,695, issued March 10, 1981.
Excerpt:
The cover is preferably made of two layers of metal 26 and 28 and a layer of heat-insulating material 30, such as asbestos, is sandwiched between the two layers 26 and 28 at the top of its embossed portion.
Lemaster, Charles A. "Toaster." U.S. Patent 1,661,294, issued March 6, 1928. - Cites use of asbestos in the supporting board for heating elements in the toaster.
Matz, Samuel A. "Equipment for Frying, Baking, and Drying." In Snack Food Technology, pp. 231-250. Springer, Dordrecht, 1984.
Excerpt:
Sheet material composed essentially of asbestos fibers and binders can be used as both insulation and a structural component. In this case, an outer covering is not necessary … FIG. 18.2. Toaster oven.
Snyder, Paul V. "Electric toaster heating unit." U.S. Patent 3,283,128, issued November 1, 1966.
Excerpt:
In perhaps its simplest form, the heating unit of the invention includes a relatively stiff resistance heating wire formed into a sinous series of loops which are secured at -their ends to an elongated support strip of insulation material such as asbestos.
Zirn, Rudolf F., and Erich Karlsen. "Insulating container for cooking food." U.S. Patent 4,323,167, issued April 6, 1982.
Excerpt: This disc 9 may be made of asbestos, rubber, glass fiber reinforced plastic or like heat-resistant and inexpensive material.
Other Possible Sources of Asbestos Used Within Appliance Components
Our complete list of products and materials that made use of asbestos is found at ASBESTOS LIST of PRODUCTS
Note that asbestos may be present in still other substances and even products, not by its deliberate use or design, but because it occurs naturally, such as asbestos that is found in some talc powders (amphibole asbestos).
CONTACT US to add items and photographs to this list of asbestos containing materials used in or on appliances.
...
Continue reading at ASBESTOS LIST of PRODUCTS - home, or select a topic from closely-related articles below, or see our complete INDEX to RELATED ARTICLES below.
Or see ASBESTOS IDENTIFICATION IN BUILDINGS
Or see ASBESTOS PHOTO GUIDE to MATERIALS - illustrations & photos of asbestos-containing materials
Suggested citation for this web page
ASBESTOS USE in APPLIANCES at InspectApedia.com - online encyclopedia of building & environmental inspection, testing, diagnosis, repair, & problem prevention advice.
Or use the SEARCH BOX found below to Ask a Question or Search InspectApedia
...
Ask a Question or Search InspectApedia
Questions & answers or comments about what building products and common in-building products, appliances, mechanical components were produced using asbestos materials.
Try the search box just below, or if you prefer, post a question or comment in the Comments box below and we will respond promptly.
Search the InspectApedia website
Technical Reviewers & References
Click to Show or Hide Citations & References
16 CFR Chapter 11, Consumer Products Containin Asbestos, Advance Notice of Proposed Rulemaking", [PDF] U.S. Consumer Products Safety Commission, CPSC, U.S. Federal Register, Vol. 44. No 201, 17 October 1979, Proposed Rules, 60057. This document cites a long list of consumer products that contained asbestos.
Archer, S. R., and T. R. Blackwood. Status assessment of toxic chemicals: asbestos. Vol. 1. Environmental Protection Agency, Office of Research and Development, Industrial Environmental Research Laboratory, 1979. In this text, table 4. U.S. Asbestos Uses (3)
This book is available as a free e-book via Google Play. Link:
https://play.google.com/books/reader?id=U57ObCey-wcC&printsec=frontcover&output=reader&hl=en&pg=GBS.PP1
Asbestos, its Industrial Applications, D.V. Roasato, engineering consultant, Newton MA, Reinhold Publishing Co., NY, 1959, Library of Congress Catalog No. 59-12535. We are in process of re-publishing this interesting text. Excerpts & adaptations are found in InspectApedia.com articles on asbestos history, production & visual identification in and on buildings.
Asbestos Asbestos: How to find and recognize asbestos in buildings - visual inspection methods, list of common asbestos-containing materials
Asbestos Asbestos HVAC Ducts and Flues field identification photos and guide
Asbestos Fiberglass: Indoor Air Quality Investigations: Health Concerns About Airborne Fiberglass: Fiberglass in Indoor Air from HVAC ducts, and Building Insulation
Asbestos Enviro-Scare: Electric Power Lines, Electromagnetic Fields, Cancer Risk, & "Enviro-Scare" - The Normal Curve Cycle of Public Fear of Environmental Issues
Asbestos Dust from the World Trade Center collapse following the 9/11/01 attack: the lower floors of this building contained spray-on fire-proofing asbestos materials.
Asbestos Asbestos Information Links: Asbestos Detection, Testing, Recognition, Hazards, Field Photos, and Information Sources, including health-related links such as legal services and information about mesothelioma and other cancers.
"Asbestos in Plastic Compositions", A.B. Cummins, Modern Plastics [un-dated, pre 1952]
"Asbestos in Your Home," Spokane County Air Pollution Control Authority, Spokane WA 509-477-4727 www.scapa.org provides a one-page image, a .pdf file drawing of a house warning of some possible sources of asbestos in the home. The sources are not ranked according to actual risk of releasing hazardous levels of airborne asbestos fibers and the list is useful but incomplete.
Chrysotile [asbestos] and Its Uses, Louis Perron, Minerals and Metals Sector, Canadian Minerals Yearbook, 2002, Natural Resources Canada, web search 03/01/2011, original source: http://www.nrcan-rncan.gc.ca/mms-smm/busi-indu/cmy-amc/content/2002/20.pdf
The US EPA provides a sample list of asbestos containing products epa.gov/earth1r6/6pd/asbestos/asbmatl.htm
Thanks to Susan Kimball, Argus Pacific Corp., Puget Sound, WA, for pointing out that some products are permitted to contain more than 1% asbestos fibers by current standards provided that the fibers are encapsulated in an appropriate binder. Argus Pacific, in Seattle, WA 98119, 206.285.3373, is an industrial hygiene firm who also provide OSHA and DOSH regulated training in Washington State, providing classes in asbestos, lead, mold, hazardous waste, emergency response, and other occupational health, safety, and professional development topics. -- September 2008.
" Work Practice for Window Removal and Window Putty Patching With Less Than Or Equal To 1% Asbestos Window Putty and Caulking" University of Washington, 2002 http://www.washington.edu/admin/asbestos/1putty.html
How do I Manage Asbestos in our House or Apartment Building?, Illinois Department of Environmental Conservation, provides this article at http://www.epa.state.il.us/small-business/asbestos-in-home/
Asbestos in buildings - employee notice, University of Washington dept. of Environmental Safety, http://www.ehs.washington.edu/ohsasbestos/index.shtm
Window putty to be exempted from asbestos removal by State of Maine - http://list.uvm.edu/cgi-bin/wa?A2=SAFETY;wYpdKg;20010307113643-0500A
EPA Region 6 identifies window putty as asbestos containing - http://www.epa.gov/earth1r6/6pd/asbestos/asbmatl.htm
June 1997 - Window Putty - OSHA case cites contractor for asbestos exposure during removal of window putty http://www.osha.gov/pls/oshaweb/owadisp.show_document?p_table=NEWS_RELEASES&p_id=1091
Environmental Health & Investigation Bibliography - our own technical library on indoor air quality inspection, testing, laboratory procedures, forensic microscopy, etc.
ASBESTOS IDENTIFICATION IN BUILDINGS How to find and recognize asbestos in buildings - visual inspection methods, list of common asbestos-containing materials
Asbestos Identification and Testing References

Asbestos Identification, Walter C.McCrone, McCrone Research Institute, Chicago, IL.1987 ISBN 0-904962-11-3. Dr. McCrone literally "wrote the book" on asbestos identification procedures which formed the basis for current work by asbestos identification laboratories.
Stanton, .F., et al., National Bureau of Standards Special Publication 506: 143-151
Pott, F., Staub-Reinhalf Luft 38, 486-490 (1978) cited by McCrone

ASBESTOS IN YOUR HOME U.S. EPA, Exposure Evaluation Division, Office of Toxic Substances, Office of Pesticides and Toxic Substances, U.S. Environmental Protection Agency, Washington,D.C. 20460
Asbestos NESHAP ADEQUATELY WET ASBESTOS GUIDANCE, EPA340/1-90-019, December 1990, U.S. ENVIRONMENTAL PROTECTION AGENCY, Office of Air Quality Planning and Standards, Stationary Source Compliance Division, Washington, DC 20460,original web source: http://www.epa.gov/region04/air/asbestos/awet.htm
Asbestos products and their history and use in various building materials such as asphalt and vinyl flooring includes discussion which draws on ASBESTOS, ITS INDUSTRIAL APPLICATIONS, ROSATO 1959, D.V. Rosato, engineering consultant, Newton, MA, Reinhold Publishing, 1959 Library of Congress Catalog Card No.: 59-12535 (out of print, text and images available at InspectAPedia.com).
Asbestos Information Links: Asbestos Detection, Testing, Recognition, Hazards, Field Photos, and Information Sources, including health-related links such as legal services and information about mesothelioma and other cancers.
"Handling Asbestos-Containing roofing material - an update", Carl Good, NRCA Associate Executive Director, Professional Roofing, February 1992, p. 38-43
EPA Guidance for Controlling Asbestos-Containing Materials in buildings, NIAST, National Institute on Abatement Sciences & Technology, [republishing EPA public documents] 1985 ed., Exposure Evaluation Division, Office of Toxic Substances, Office of Pesticides and Toxic Substances, U.S. Environmental Protection Agency, Washington,D.C. 20460
Books & Articles on Building & Environmental Inspection, Testing, Diagnosis, & Repair
Publisher InspectApedia.com - Daniel Friedman