Duplex Electrical Receptacle Wire Connections
How to wire up an duplex or multiple or gang of wall receptacles in one electrical box or one location
InspectAPedia tolerates no conflicts of interest. We have no relationship with advertisers, products, or services discussed at this website.
How to wire up a duplexed or multiple electrical receptacle:
This article explains how we connect multiple electrical receptacles in one electrical box or at one location in a building. How are the additional receptacles connected together and where are the line in and load out wires connected?
In this article series we illustrate basic connections seen in the field for the black, white neutral or grounded conductor), and ground wire when hooking up an electrical receptacle (wall plug or "outlet").
We describe how to wire an electrical receptacle by making the right connections between individual electrical wires and the proper screw or clamp connectors on the electrical receptacle device itself. We also describe connecting the ground wire between the circuit grounding conductor, receptacle ground screw, and the electrical box (if metal boxes are used).
Watch out: mis-wired electrical receptacles are dangerous. Electrical wiring should be performed by a licensed, trained electrician and should comply with the National Electrical Code and local regulations. This article series describes how to choose, locate, and wire an electrical receptacle in a home.
We also provide a MASTER INDEX to this topic, or you can try the page top or bottom SEARCH BOX as a quick way to find information you need.
How to Wire Multiple Receptacles ("Outlets") at One Electrical Box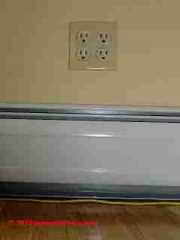 Watch out: Electrical components in a building can easily cause an electrical shock, burn, or even death. Even when a hot line switch is off, one terminal on the switch is still connected to the power source.
Before doing any work on the switch, the power source must be turned off by setting a circuit breaker to OFF or removing a fuse.
Reader Question: how do I wire up a pair of receptacles in one electrical box
I would like to wire 2 single plug ins to one live wire..how do i do that? - Channing
Reply:
Channing, re Hooking up a Pair of Receptacles in One Electrical Box:

If your two plug ins (two electrical receptacles) are located in the same electrical box (we call this a "quad" electrical receptacle installation since each individual receptacle provides connections for two wall plugs), you'll want to wire the hot and neutral to one pair of screws on the first receptacle, and use short black and white jumper wires to connect the the proper terminals on the first receptacle to the second one in the same box.
That's a perfectly acceptable use of the second pair of screw terminals you see on the receptacles.

The ground wire can be continuous, tying the two ground screws on the receptacles together and onwards to the circuit ground.
However a better practice when wiring up a quad-plex of electrical receptacles is to place left and right or upper and lower receptacles on separate electrical circuits - thus reducing the chances of overloading the circuit when many things are connected simultaneously.
There are two approaches: you can wire the left and right duplex receptacles each to different individual electrical circuits, or you can wire the upper and lower half of the pair of duplex receptacles to different electrical circuits.
To wire the upper and lower halfs of a pair of duplex receptacles to two different circuits (that's not what I would do) you'd need to break the connector tab on the receptacles hot and neutral sides so that the upper and lower receptacle halves are no longer common.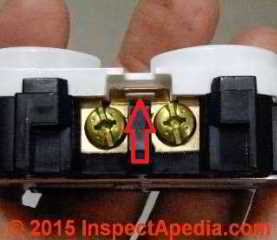 Then you will wire one circuit to the each receptacle upper half and the other circuit (separately fused) to each recepacle's lower half.
Details of this approach are at ELECTRICAL SPLIT RECEPTACLE WIRING.
What I prefer to do in a quad gang box like the one shown here is to wire individual receptacles to individually separate electrical circuits. So within a given receptacle the upper and lower half are on the same circuit.
Use the Same Receptacle Type Together in One Duplex or Larger Installation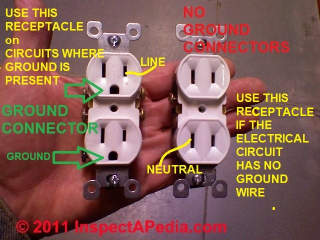 Watch out: do not mix electrical receptacle types in the same box. The receptacle shown at left is a contemporary 15A 240V receptacle (wall plug or "outlet" as some say) that includes a grounding conductor while the receptacle shown at right is for use on un-grounded circuits.
You'd use the right hand receptacle if repairing or replacing a wall receptacle on an ungrounded electrical circuit such as knob and tube systems.
Question: are electrical junction boxes required for wall plugs?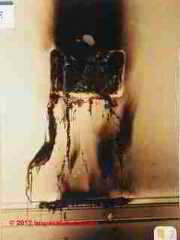 Do I really need an electrical box to put a new wall plug in ? - Thomas
Reply: You betcha.
Yes, Thomas, electrical devices such as switches and receptacles (wall plugs) need to be mounted in a code-approved plastic or metal receptacle (box) for fire safety as well as to assure that the device is mechanically secure. In fact when you purchase a "wall plug" you'll see that its metal mounting ears and screws are spaced and designed to connect to an electrical box.
Watch out: while it's physically possible to install a wall receptacle or "plug" without using an enclosure, doing so is dangerous, risking fire and shock, and of course, it's also illegal in virtually every building code jurisdiction.
Take a look at our photograph above: a fire was contained within this electrical junction box. Had the box been omitted there is a good chance the fire would have spread to the building itself. When we hear a question like this it makes me very afraid for you and for future building occupants - as amateur electrical wiring is dangerous.
Question: how do I install multiple electrical outlets (receptacles) along a wall?
Putting in more than outlet on along a 12ft wall - Mike Tucker
Reply: Tips for using multiple receptacles at one location or along one wall
Mike, if your comment is a question of how to put in more than one outlet along a 12 foot wall, yes it's perfectly permitted to exceed the minimum number of receptacles along a wall.
The wiring system is unchanged except that in some cases I recommend installing two different circuits and alternating which outlet is served by which circuit. That avoids overloading one circuit if you are plugging in lots of devices in one area.
If you are going to install more than a single duplex receptacle in one location I prefer to use the dupelx-receptacle wiring approach described in the article above.
Two or more such receptacles can be ganged together in a box provided wiring, circuit ampacity and connections are properly selected and installed.
A common location where we find duplexed receptacles is at kitchen counters. In those installations best practice is to power each of the pair of receptacles on different electrical circuits.
That permits the user to plug in and use two appliances at one location without overloading the circuit and blowing a fuse or tripping an circuit breaker.
...
Continue reading at ELECTRICAL RECEPTACLE CONNECTION DETAILS or select a topic from closely-related articles below, or see our complete INDEX to RELATED ARTICLES below.
Or see ELECTRICAL OUTLET, HOW TO ADD & WIRE - home - for general wiring procedures, connections & advice for connecting electrical receptacles.
Or see CONNECTION for 2-WIRE RECEPTACLE CIRCUITS - no ground
Or see this
Article Series Contents
If you are wiring a 2-wire electrical circuit that has no ground wire, also see CONNECTION for 2-WIRE RECEPTACLE CIRCUITS for proper wiring details.
Suggested citation for this web page
ELECTRICAL DUPLEX RECEPTACLE WIRING at InspectApedia.com - online encyclopedia of building & environmental inspection, testing, diagnosis, repair, & problem prevention advice.
Or use the SEARCH BOX found below to Ask a Question or Search InspectApedia
...
Frequently Asked Questions (FAQs)
Try the search box below or CONTACT US by email if you cannot find the answer you need at InspectApedia.
Question: can't get an electrical switch to work on a combined receptacle-switch device
(July 30, 2014) Anne said:
I am replacing an outlet that has the top half on a switch and the bottom half always on. The old outlet had stab wire connections for a black, white and RED wire in the top section. I have tried to install the new outlet, using the screws as recommended, rather than the stab connections, and cannot make the top half work on the switch. (I tried with the tabs in place, one tab removed and both tabs removed. Also tried the red & black on the same screw, red on the screw and black in the stab hole and the reverse.) How to I make the switch work?
Reply:
Anne I don't have a full picture of what you're doing but
first: be careful not to electrocute yourself or start a fire - a standard caveat I'd make to anyone not a trained electrician
Now, in general,
1. to power the upper and lower halves of a receptacle separately we have to break the line-in or black wire or power tab. You can break apart the tab on the white wire neutral side but those connections are going to be made common by a splice in the electrical box anyway.
2. The line-in power wire into the receptacle box is split into two feed wires. One goes to the lower "always on" half of the receptacle line in screw while the other connects to a wire leading to the receptacle switch. The return wire from that switch then connects to the line-in or black wire or gold-colored screw on the receptacle.
Question:
(Oct 30, 2014) James said:
I am an apprentice in house wiring I wired a four plate stove like this: I installed 30A circuit breaker in the consumer unit and ran wires to the kitchen where I connected the wires coming from the breaker box to the line (input) an I connected the load to the stove I used 2.5mm. I tested the it and is working but now my question is did I do it right? is the 2.5mm ok for the circuit? Is there a negative impact the wire size will have in future?
Reply:
James you don't identify your country nor voltage levels. Typically an electric stove is wired on a 220V-240V circuit, sometimes depending on stove design, some burners may use always or part time just one 120V leg. I'm not quite clear on what you did. Did the 4-plate electric stove come with wiring instructions and a wiring diagram?
Question: Tom Planer doesn't like photos of electrical wiring details
Tom Planer said:
I would be embarrassed to say I allowed the pictures in this article to be a part of this page.
You really need to take a quick look at NFPA Article 110.3 and 110.4 and do it quick.
Tom
Reply:
Tom, thank you for your comment.
Indeed I expect licensed electricians to know how to make proper electrical connections.
And to be familiar with the national electrical code. We do, however, often include photographs of as-is wiring as important illustrations of what's found in the real world - in the field. Showing what people actually do, right and wrong, can be useful.
While we regret that you might be embarrassed, explicit, technical comment would be more helpful than shame tossed over the electronic-wall.
Your comment to look at NFPA Article 110.3 probably intended to refer to the National Electrical Code NEC 110.3 which gives advice for the examination, installation, and use of [electrical] equipment and includes the expectation that such wiring details are inspected by the local electrical code compliance officer.
NEC 110.4 includes "The voltage rating of electrical equipment shall not be less than the nominal voltage of a circuit to which it is connected. "
Referring readers to a mere paratraph nunmber that points to lengthy electrical code specification without any specifics is not helpful.
Thanks - Moderator.
...
Ask a Question or Search InspectApedia
Try the search box just below, or if you prefer, post a question or comment in the Comments box below and we will respond promptly.
Search the InspectApedia website
Technical Reviewers & References
Click to Show or Hide Citations & References
Timothy Hemm has provided photographs of various electrical defects used at the InspectAPedia TM Website. Mr. Hemm is a professional electrical inspector in Yucala, CA.
Mark Cramer Inspection Services Mark Cramer, Tampa Florida, Mr. Cramer is a past president of ASHI, the American Society of Home Inspectors and is a Florida home inspector and home inspection educator. Mr. Cramer serves on the ASHI Home Inspection Standards. Contact Mark Cramer at: 727-595-4211 mark@BestTampaInspector.com
John Cranor is an ASHI member and a home inspector (The House Whisperer) is located in Glen Allen, VA 23060. He is also a contributor to InspectApedia.com in several technical areas such as plumbing and appliances (dryer vents). Contact Mr. Cranor at 804-747-7747 or by Email: johncranor@verizon.net
[3] NFPA - the National Fire Protection Association can be found online at www.nfpa.org
[4] The 2008 NEC National Electrical Code (ISBN 978-0877657903) Online Access LINK (you'll need to sign in as a professional or as a visitor)
[5] Special thanks to our reader Steve who pointed out prior errors in our illustrations.
[6] Simpson Strong-Tie, "Code Compliant Repair and Protection Guide for the Installation of Utilities in Wood Frame Construction", web search 5/21/12, original source strongtie.com/ftp/fliers/F-REPRPROTECT09.pdf, [copy on file as /Structures/Framing/Simpson_Framing_Protectors.pdf ]. "The information in this guide is a summary of requirements from the 2003, 2006 and 2009 International Residential Code (IRC), International Building Code (IBC), International Plumbing Code (IPC), International Mechanical Code (IMC), 2006 Uniform Plumbing Code (UPC) and the 2005 National Electrical Code."
"Electrical System Inspection Basics," Richard C. Wolcott, ASHI 8th Annual Education Conference, Boston 1985.
"Simplified Electrical Wiring," Sears, Roebuck and Co., 15705 (F5428) Rev. 4-77 1977 [Lots of sketches of older-type service panels.]
"How to plan and install electric wiring for homes, farms, garages, shops," Montgomery Ward Co., 83-850.
"Simplified Electrical Wiring," Sears, Roebuck and Co., 15705 (F5428) Rev. 4-77 1977 [Lots of sketches of older-type service panels.]
"Home Wiring Inspection," Roswell W. Ard, Rodale's New Shelter, July/August, 1985 p. 35-40.
"Evaluating Wiring in Older Minnesota Homes," Agricultural Extension Service, University of Minnesota, St. Paul, Minnesota 55108.
"Electrical Systems," A Training Manual for Home Inspectors, Alfred L. Alk, American Society of Home Inspectors (ASHI), 1987, available from ASHI. [DF NOTE: I do NOT recommend this obsolete publication, though it was cited in the original Journal article as it contains unsafe inaccuracies]
"Basic Housing Inspection," US DHEW, S352.75 U48, p.144, out of print, but is available in most state libraries.
Books & Articles on Building & Environmental Inspection, Testing, Diagnosis, & Repair
Our recommended books about building & mechanical systems design, inspection, problem diagnosis, and repair, and about indoor environment and IAQ testing, diagnosis, and cleanup are at the InspectAPedia Bookstore. Also see our Book Reviews - InspectAPedia.
Recommended books on electrical inspection, electrical wiring, electrical problem diagnosis, and electrical repair can be found in the Electrical Books section of the InspectAPedia Bookstore. (courtesy of Amazon.com)
...
Publisher InspectApedia.com - Daniel Friedman