Chimney Cleanout Door Inspect & Fix

How to repair a damaged, leaky chimney cleanout
CHIMNEY CLEANOUT DOORS - CONTENTS: A guide to chimney cleanout doors and access ports - What to look for at the chimney cleanout door to detect problems with a chimney flue interior; Masonry fragments in the chimney cleanout can indicate flue damage;
POST a QUESTION or READ FAQs about chimney cleanout doors
InspectAPedia tolerates no conflicts of interest. We have no relationship with advertisers, products, or services discussed at this website.
Chimney cleanout doors & openings:
This article describes chimney cleanout access doors or ports. We explain that in addition to using the chimney cleanout as a service port to remove debris that has fallen to the bottom of a masonry chimney, the cleanout door and the type of debris found inside can tell us something about the condition of the chimney flue even though we cannot see most of it.
These articles on chimneys and chimney safety provide detailed suggestions describing how to perform a thorough visual inspection of chimneys for safety and other defects. Chimney inspection methods and chimney repair methods are also discussed.
We also provide a MASTER INDEX to this topic, or you can try the page top or bottom SEARCH BOX as a quick way to find information you need.
Green links show where you are. © Copyright 2017 InspectApedia.com, All Rights Reserved.
Chimney Flue View by Cleanout Door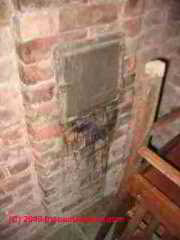 Article Series Contents
Where you can find a chimney cleanout or can remove a flue vent connector to look into a flue, use of a mirror inside the flue to view the flue from below.
[Click to enlarge any image]
This is by no means a thorough and accurate view of all of the chimney flue interior. But if the chimney was constructed as a straight flue up through the building roof, you should see daylight - otherwise the flue has become blocked, perhaps with nesting animals or collapsing debris.
Our photo (left) will provide an easy view into this section of the chimney flue. But even before opening the chimney cleanout door we can see that there has been a history of leaks inside of the chimney flue.
Chimney Cleanout Door Inspection & Hazards
Chimney Cleanouts Are Required
All chimneys must have a cleanout at least 12" below the lowest appliance inlet opening. A fireplace is considered as access for cleaning. Cleanouts must have metal or pre cast concrete doors that can be secured tightly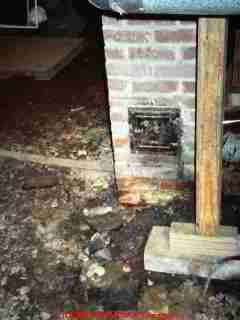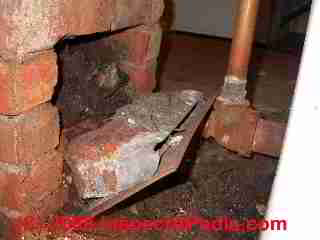 In the photo at above left, the chimney cleanout is easy to find and the door is in place and closed; look inside for clues of flue damage and also for the presence of a flue liner if this is a single-brick wythe flue.
In the photo at above right the home made cleanout door was a metal scrap propped against the chimney. It has fallen open, and we see some masonry debris that has fallen down the flue.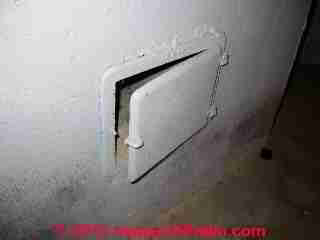 Chimney cleanout door left open
We found this chimney cleanout door (shown above) ajar.
This chimney cleanout access port served a common ash dump below both a fireplace flue and a separate heating appliance chimney flue.
Watch out: Failure to close the chimney cleanout door can result in a fire and will certainly interfere with good draft in the flue. A rusted-out chimney cleanout door and its role in producing potentially dangerous carbon monoxide at the heating equipment is discussed later in this article.
Water leaks through the chimney cleanout port
We found this chimney cleanout pouring water into the building basement during a heavy rainstorm.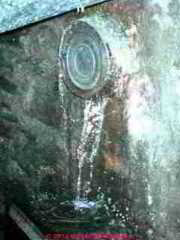 See CHIMNEY CAP & CROWN DEFINITIONS for chimney top sources of water leakage.
But in the case of the water leak shown our photo most likely the water source is from roof spillage onto the ground or surface runoff on the ground around the chimney base.
A combination of in-slope grade around the chimney base and leaks into the chimney can be detected by noticing water or creosote leak stains around the chimney cleanout opening even if you don't have the good luck to catch water in the act of entering the building.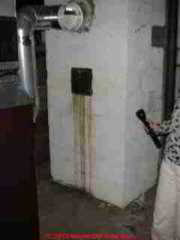 Our photo above illustrates this condition - brown rust and creosote stains below the cleanout access opening. This chimney and its rain cap and cap seal need further inspection as may the flue itself.
Watch out: water damage to a chimney flue may leave the chimney unsafe.
Combustibles Stuffed in Chimney Opening
Using a one-gallon plastic bottle (photo below) as a means of sealing off a chimney cleanout opening (photo at left, Poughkeepsie, NY) is nothing less than stupid.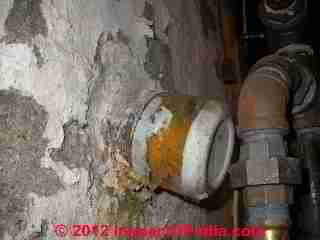 The fire hazard is greater below a fireplace where burning embers may fall into the cleanout pit, but this expedient is not recommended in any case.
Do not use a combustible material in the construction of chimneys or flues.
Masonry Fragments and Debris at the Chimney Cleanout May Indicate an Unsafe Chimney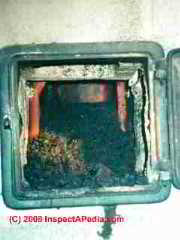 Masonry Flues & Clay Tile Lined Flues: If you open a chimney cleanout-door or pull the flue vent connector from a dead end chimney flue, in either case you are looking at the very bottom of the chimney flue. If you are inspecting a masonry chimney, be alert for discovery of masonry fragments when inspecting or cleaning the bottom of the flue.
If a piece of brick, masonry block, concrete, or clay flue tile liner is pulled out of your chimney, ask "where do you suppose this came from?" If the masonry scrap fell during construction of the chimney it may mean nothing.
But if it fell because the chimney has been damaged, perhaps by water, frost, or during cleaning, then you probably have an unsafe chimney flue - more investigation is in order, promptly.
Certainly if you believe that the masonry scrap found at the bottom of a flue fell during original construction, and if you remove it during cleaning, you should never find another piece in the flue bottom.
If you do, the flue has been damaged anew and it is unsafe
Our photo shows normal chimney creosote and debris at the bottom of a flue. When removing this material be alert for surprises such as fragments of clay flue tile liner.
Chimney Cleanout Door Must be Accessible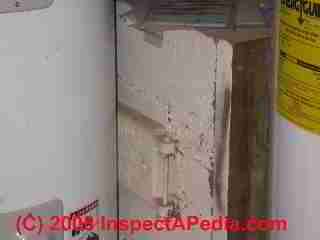 If the chimney cleanout access door is blocked such as by an installed appliance (a water heater in our photo at left) how is someone going to access the flue for inspection or cleanout?
Wait a minute? What's that sitting on the horizontal surface at the top of our photo?
Has an abandoned chimney been partly removed? It is possible that this is an offset access into a common ash pit.
In some constructions multiple chimney flues may terminate in a single large ash pit with one or more individual cleanout doors.
We suspect that this is an improper design, making regulation of draft among the chimneys difficult, since any individual flue that begins to draw may pull air down and into itself from a neighbor
Home made chimney cleanout door closures
If the chimney cleanout door is closed using a permanently-mounted component such as shown in our photo you've got a clue that work was not done by a professional.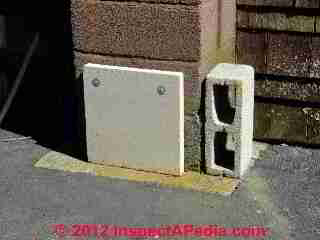 This chimney cleanout closure may be fireproof (really?) and it may stop a draft problem, but it violates the readily-accessible and operable chimney cleanout door requirement.
Chimney Cleanouts on Metal Flues
Cleanout opening on a metal chimney for an oil fired boiler
Even a factory-built insulated metal chimney needs to include a cleanout access port.
Here, shown during installation, you can see that this metal chimney includes a removable cleanout door at the bottom of the tee used to turn from horizontal to vertical in the chimney run. This metal chimney vents an oil fired heating boiler. The horizontal tee connects through the wall to a boiler on the other side.
The bottom cap on this chimney could be removed to give a straight-line vertical access into the metal chimney for cleaning or inspection.
This photo of a metal chimney cleanout port was taken during construction - the required drywall (and an access cover through the drywall if the chimney is enclosed) were not yet installed.

Watch out: opening a cleanout at the bottom of a vertical chimney run like this can spill a horrible mess of ash and debris - be prepared, or better, if the horizontal run to the tee is short, vacuum and clean the chimney first through the horizontal chimney run.
In practice this particular tee-bottom cleanout is never used. The horizontal run through the wall is less than two feet. During oil burner cleaning and service the oil heat technician removes the boiler's flue-vent connector and vacuums out this chimney base through the wall. That avoids spilling soot all over the clothes in the closet.
Cleanout access on a metal chimney for a wood stove
Above in an illustration of a cleanout tee installed in a metal chimney, adapted from information from Metalbestos, the cleanout tee sketch can be confusing so let's elaborate for a wood stove installation.
First you would not install an uninsulated metal chimney or flue vent connector within 36" of a wood frame ceiling (as might be implied in the sketch) though you might be ok with a class A chimney.
Second, which opening is the "cleanout" ?
The black opening gives access to the chimney but I'd prefer to see this tee much lower in the indoor space, right at the woodstove.
Provided there is enough clearance above the floor to access the chimney base, I'd tee the wood stove into the black opening - the horizontal connection, and I'd prefer to use the bottom opening as the cleanout.
Watch out: as I warned above, don't open the bottom cleanout opening on a metal flue without first taking care to control where the falling ash and soot will go.
Also see CLASS A CHIMNEYS, MetalBestos™
Missing Chimney Cleanout Door & Other Chimney Cleanout Opening Hazards
What if there is no cleanout on the woodstove flue?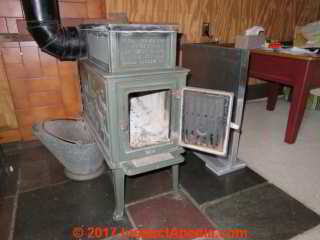 Above, my friend Paul Galow installed this Jotul woodstove - I traded it to him for a Seiko wristwatch - in his New York home.
The black metal flue uses a 90 degree elbow to connect to the vertical riser that's going to pass into an insulated flue that goes through the roof structure.
There is no cleanout door at all. To clean this flue Mr. Galow simply disconnects the elbow from both the wood stove and from the vertical flue section.

Watch out: be sure that the metal chimney is easily accessible for regular inspection and cleaning, either by simple disassembly or through a cleanout opening. Making it inconvenient to inspect and clean a chimney means that this important safety task won't get done. The risk is a fatal building fire.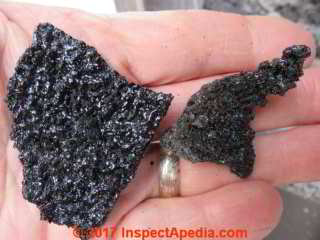 That cleaning this metal flue is a critical safety step is pretty obvious when you see the clots of creosote that we retrieved from the flue. Setting accumulated creosote on fire in a chimney results in a very hot chimney fire that is likely to take down the structure.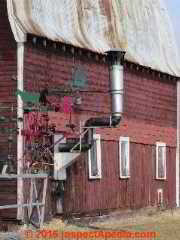 Above: a metal chimney serving a woodstove in an antiques barn along Highway 61, south of Two Harbors, Minnesota. We see three 90's, a rather short flue close top the roof edge, and no cleanout opening.
Paraphrasing Bob Dylan,
Where in hell was that chimney done? God said, "Out on Highway 61"
Openings at the chimney base around the cleanout door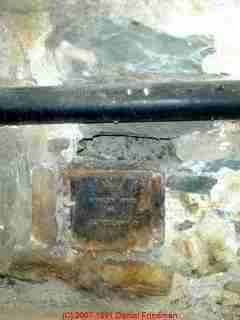 In this photo the chimney cleanout is easy to find but isn't that door missing? No not in the first photo at left of this pair of photographs of chimney cleanout doors.
But look carefully at the next photo given below.
Even though a cleanout door is installed, masonry has fallen out above the door, giving an opening right into the flue.
A missing chimney cleanout door or any other hole in the flue means that there is a fire safety hazard (sparks or ashes falling out onto the basement floor) and also that it is impossible to control the draft in the flue.
Watch out: Where the hole in a chimney is lower than or below the flue vent connector joining the heating appliance to the flue, there is also a serious problem with draft control as well as the risk of sparks or embers falling out of the flue into the interior of the building where they may cause a fire.
Where you can find a chimney cleanout or can remove a flue vent connector to look into a flue, use of a mirror inside the flue to view the flue from below.
This is by no means a thorough and accurate view of all of the chimney flue interior.
But if the chimney was constructed as a straight flue up through the building roof, you should see daylight - otherwise the flue has become blocked, perhaps with nesting animals or collapsing debris.
We have found heating boilers with draft problems and "repair attempts" like removing the boiler's barometric damper, when all the while the root problem of bad chimney draft was that the cleanout door was open or missing.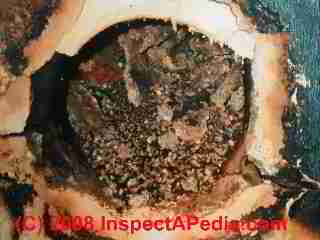 Watch out: Our photo shows a chimney thimble completely blocked by falling debris. If you find this much trash at the bottom of your chimney or at any other chimney opening, you need an expert to evaluate the chimney condition and safety as soon as possible.
The chunks of masonry debris make it likely that the chimney in our photo at left is in very poor condition and is unsafe.
How to Seal a Leaky Chimney Cleanout Door
Reader Question: can I fill in the old chimney to stop drafts?
11/29/2014 Dazy said:
I have a gas insert now in my old fireplace. May I , and how can I fill the old chimney cleanout because I get a lot of cold draft from it?
Reply: Sealing the Cleanout Door on an Abandoned Chimney
Above: an outdoor chimney cleanout door in good condition but sporting a clue (stains at the door bottom) that water has been running down this chimney interior: there is a risk of hidden damage and of an unsafe flue.
Dazy
If there is not already a screened chimney cap over the flue serving the abandoned fireplace, and if there is safe easy access to the rooftop or if you can arrange for service by a chimney sweep, placing a solid cover over the chimney top has the advantage of keeping animals from nesting in the chimney and also protecting it from future rain and water damage.
From inside the fireplace be sure that the fireplace damper is un-damaged (not broken, missing, perforated by rust) and place it in the closed position.
At the chimney cleanout door some readers describe using a high temperature silicone sealant (caulk) or high temperature refractory cement to seal off the door. I appreciate the inclination for that simple approach but worry that some work would be needed in the future should it be necessary to return the old flue to service or to access and clean out the chimney base.
If you do decide to seal around the door, clean the surfaces of loose rust and dirt. Then wipe the surfaces clean of remaining dust before applying your bead of high temperature silicone exterior grade sealant around the edges of the cleanout door. That way the sealant can be easily cut away if future access is needed.
Watch out: be sure that your new gas-fueled fireplace insert is installed according to the manufacturer's specifications, all of them, including provision of combustion air and as required, exhaust. A gas fireplace that is not properly installed can produce dangerous, even fatal carbon monoxide gas. Be sure that you have working CO detectors properly installed.
Seal a Leaky Chimney Cleanout Door where the Flues are In Use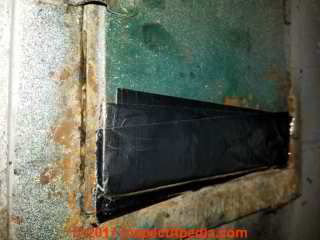 Watch out: before sealing a chimney cleanout door shut, be sure that the door serves only the chimney or flue that is being abandoned. Do not use sealant to caulk-shut the cleanout door of a chimney that is in active use, as you'll need to be able to open the door later to inspect or clean the chimney base.
Some chimneys use a common cleanout area in the base of a chimney that contains multiple flues.
In that case that's another reason that you can't seal the door as it is still needed. But you can improve the cleanout-door's sealing closure by making sure it fits tightly and if necessary adding a thin coating of silicone on the door face and its meeting surface on the door frame. Let the silicone sealant dry on those surfaces before closing the door and returning the chimney to service.
Above: we used multiple layers of metal adhesive-backed tape to seal the bottom of this rust-damaged chimney cleanout door on a home in Two Harbors Minnesota.
Watch out: a previous heating system inspection by a heating service company had condemned the home's cast-iron gas fired heating boiler because the inspector detected a trace of carbon monoxide (CO) gas spillage at the boiler flue draft-hood.
More-happily, working together with another service technician from the same company we found that behind the boiler the cleanout door for the boiler's chimney flue was ajar and that the chimney cleanout door itself was rust-perforated.
Combined with servicing and cleaning the boiler we cleaned out years of soot and crud from the bottom of this flue, repaired the door with multiple layers of metal tape, and closed the cleanout. The carbon monoxide gas hazard completely disappeared and the boiler was saved to heat another day.
...
Continue reading at CHIMNEY CLEANOUT CLEARANCE to COMBUSTIBLES or select a topic from closely-related articles below, or see our complete INDEX to RELATED ARTICLES below.
Or see CHIMNEY CLEANOUT DOOR FAQs - questions & answers posted originally at this article
Or see DRAFT REGULATOR SOOT INSPECTION for another spot where it may be possible to inspect for clues about the condition of a chimney and its safety.
Suggested citation for this web page
CHIMNEY CLEANOUT DOOR at InspectApedia.com - online encyclopedia of building & environmental inspection, testing, diagnosis, repair, & problem prevention advice.
Or use the SEARCH BOX found below to Ask a Question or Search InspectApedia
...
Frequently Asked Questions (FAQs)
Try the search box below or CONTACT US by email if you cannot find the answer you need at InspectApedia.
Questions & answers about chimney cleanouts & cleanout openings originally posted here are now found at CHIMNEY CLEANOUT DOOR FAQs
...
Ask a Question or Search InspectApedia
Use the "Click to Show or Hide FAQs" link just above to see recently-posted questions, comments, replies, try the search box just below, or if you prefer, post a question or comment in the Comments box below and we will respond promptly.
Search the InspectApedia website
Technical Reviewers & References
Click to Show or Hide Citations & References
Mark Cramer Inspection Services Mark Cramer, Tampa Florida, Mr. Cramer is a past president of ASHI, the American Society of Home Inspectors and is a Florida home inspector and home inspection educator. Mr. Cramer serves on the ASHI Home Inspection Standards. Contact Mark Cramer at: 727-595-4211 mark@BestTampaInspector.com
John Cranor is an ASHI member and a home inspector (The House Whisperer) is located in Glen Allen, VA 23060. He is also a contributor to InspectApedia.com in several technical areas such as plumbing and appliances (dryer vents). Contact Mr. Cranor at 804-747-7747 or by Email: johncranor@verizon.net
Thanks to Luke Barnes for suggesting that we add text regarding the hazards of shared chimney flues. USMA - Sept. 2008.
Eric Galow, Galow Homes, Lagrangeville, NY. Mr. Galow can be reached by email: ericgalow@gmail.com or by telephone: 914-474-6613. Mr. Galow specializes in residential construction including both new homes and repairs, renovations, and additions.
Arlene Puentes, an ASHI member and a licensed home inspector in Kingston, NY, and has served on ASHI national committees as well as HVASHI Chapter President. Ms. Puentes can be contacted at ap@octoberhome.com
Roger Hankey is principal of Hankey and Brown home inspectors, Eden Prairie, MN, technical review by Roger Hankey, prior chairman, Standards Committee, American Society of Home Inspectors - ASHI. 952 829-0044 - hankeyandbrown.com
NFPA 211 - Standards for Chimneys & Fireplaces, NFPA 211: Standard for Chimneys, Fireplaces, Vents, and Solid Fuel-Burning Appliances, 2006 Edition (older editions and standards are found at the same bookstore)
NFPA #211-3.1 1988 - Specific to chimneys, fireplaces, vents and solid fuel burning appliances.
NFPA # 54-7.1 1992 - Specific to venting of equipment with fan-assisted combustion systems.
GAMA - Gas Appliance Manufacturers' Association has prepared venting tables for Category I draft hood equipped central furnaces as well as fan-assisted combustion system central furnaces.
National Fuel Gas Code, an American National Standard, 4th ed. 1988 (newer edition is available) Secretariats, American Gas Association (AGA), 1515 Wilson Blvd., Arlington VA22209, and National Fire Protection Association (NFPA), Batterymarch Park, Quincy MA 02269. ANSI Z223.1-1988 - NFPA 54-1988. WARNING: be sure to check clearances and other safety guidelines in the latest edition of these standards.
Fire Inspector Guidebook, A Correlation of Fire Safety Requirements Contained in the 1987 BOCA National Codes, (newer edition available), Building Officials and Code Administrators International, Inc. (BOCA), Country Club HIlls, IL 60478 312-799-2300 4th ed. Note: this document is reissued every four years. Be sure to obtain the latest edition.
Uniform Mechanical Code - UMC 1991, Sec 913 (a.) Masonry Chimneys, refers to Chapters 23, 29, and 37 of the Building Code.
New York 1984 Uniform Fire Prevention and Building Code, Article 10, Heating, Ventilating, and Air Conditioning Requirements
New York 1979 Uniform Fire Prevention & Building Code, The "requirement" for 8" of solid masonry OR for use of a flue liner was listed in the One and Two Family Dwelling Code for New York, in 1979, in Chapter 9, Chimneys and Fireplaces, New York 1979 Building and Fire Prevention Code:
"Top Ten Chimney (and related) Problems Encountered by One Chimney Sweep," Hudson Valley ASHI education seminar, 3 January 2000, contributed by Bob Hansen, ASHI
Chimney Inspection Checklist, Carson Dunlop, Associates, Toronto, Ontario
"Rooftop View Turns to Darkness," Martine Costello, Josh Kovner, New Haven Register, 12 May 1992 p. 11: Catherine Murphy was sunning on a building roof when a chimney collapsed; she fell into and was trapped inside the chimney until rescued by emergency workers.
"Chimneys and Vents," Mark J. Reinmiller, P.E., ASHI Technical Journal, Vol. 1 No. 2 July 1991 p. 34-38.
"Chimney Inspection Procedures & Codes," Donald V. Cohen was to be published in the first volume of the 1994 ASHI Technical Journal by D. Friedman, then editor/publisher of that publication. The production of the ASHI Technical Journal and future editions was cancelled by ASHI President Patrick Porzio. Some of the content of Mr. Cohen's original submission has been included in this more complete chimney inspection article: InspectAPedia.com/chimneys/Chimney_Inspection_Repair.php. Copies of earlier editions of the ASHI Technical Journal are available from ASHI, the American Society of Home Inspectors.
Natural Gas Weekly Update: http://tonto.eia.doe.gov/oog/info/ngw/ngupdate.asp Official Energy Statistics from the U.S. Government
US Energy Administration: Electrical Energy Costs http://www.eia.doe.gov/fuelelectric.html
Books & Articles on Building & Environmental Inspection, Testing, Diagnosis, & Repair
Our recommended books about building & mechanical systems design, inspection, problem diagnosis, and repair, and about indoor environment and IAQ testing, diagnosis, and cleanup are at the InspectAPedia Bookstore. Also see our Book Reviews - InspectAPedia.
Fireplace & Chimney Design, Repair Books - Fireplaces, Chimneys: design, repair
Fireplace & Chimney Inspection Books - Inspecting and diagnosing chimney problems, fireplace problems, chimney & fireplace standards
Ceramic Roofware, Hans Van Lemmen, Shire Library, 2008, ISBN-13: 978-0747805694 - Brick chimneys, chimney-pots and roof and ridge tiles have been a feature of the roofs of a wide range of buildings since the late Middle Ages. In the first instance this ceramic roofware was functional - to make the roof weatherproof and to provide an outlet for smoke - but it could also be very decorative.
The practical and ornamental aspects of ceramic roofware can still be seen throughout Britain, particularly on buildings of the Victorian and Edwardian periods. Not only do these often have ornate chimneys and roof tiles but they may also feature ornamental sculptures or highly decorative gable ends. This book charts the history of ceramic roofware from the Middle Ages to the present day, highlighting both practical and decorative applications, and giving information about manufacturers and on the styles and techniques of production and decoration.
Hans van Lemmen is an established author on the history of tiles and has lectured on the subject in Britain and elsewhere. He is founder member and presently publications editor of the British Tiles and Architectural Ceramics Society. Available at the InspectAPedia Bookstore.
Chimney Inspection Checklist, Carson Dunlop, Associates, Toronto, Ontario
Chimney & Stack Inspection Guidelines, American Society of Civil Engineers, 2003 - These guidelines address the inspection of chimneys and stacks. Each guideline assists owners in determining what level of inspection is appropriate to a particular chimney and provides common criteria so that all parties involved have a clear understanding of the scope of the inspection and the end product required. Each chimney or stack is a unique structure, subject to both aggressive operating and natural environments, and degradation over time. Such degradation may be managed via a prudent inspection program followed by maintenance work on any equipment or structure determined to be in need of attention. Sample inspection report specifications, sample field inspection data forms, and an example of a developed plan of a concrete chimney are included in the guidelines. This book provides a valuable guidance tool for chimney and stack inspections and also offers a set of references for these particular inspections.
Fireplaces, a Practical Design Guide, Jane Gitlin
Fireplaces, Friend or Foe, Robert D. Mayo
NFPA 211 - Standards for Chimneys & Fireplaces, NFPA 211: Standard for Chimneys, Fireplaces, Vents, and Solid Fuel-Burning Appliances, 2006 Edition (older editions and standards are found at the same bookstore)
NFPA 211 - Standards for Chimneys & Fireplaces, NFPA 211: Standard for Chimneys, Fireplaces, Vents, and Solid Fuel-Burning Appliances, 2006 Edition (older editions and standards are found at the same bookstore)
Principles of Home Inspection: Chimneys & Wood Heating (Principles of Home Inspection), Carson Dunlop
NFPA 211 - 3-1.10 - Relining guide for chimneys
NFPA 211 - 3-2 - Construction of Masonry Chimneys
NFPA 211 - 3-3 - Termination Height for chimneys
NFPA 211 - 3-4 - Clearance from Combustible Material
NFPA 54 - 7-1 - Venting of Equipment into chimneys
Brick Institute of America - Flashing Chimneys
Brick Institute of America - Proper Chimney Crowns
Brick Institute of America - Moisture Resistance of Brick
American Gas Association - New Vent Sizing Tables
Chimney Safety Institute of America - Chimney Fires: Causes, Effects, Evaluation
National Chimney Sweep Guild - Yellow Pages of Suppliers
...