How & Why to Open & Inspect Barometric Dampers & Draft Regulators on Oil Fired Heating Equipment
DRAFT REGULATOR SOOT INSPECTION - CONTENTS: How to inspect the oil fired boiler or furnace flue through the barometric damper opening. How to interpret the level of soot or debris inside of oil fired heating equipment chimneys and vents. Draft Regulators & Barometric Dampers: A Guide to Barometric Dampers on Oil Fired Boilers, Furnaces, Water Heaters: inspection, adjustment, cleaning, troubleshooting. Cleaning & maintenance guide for heating systems
POST a QUESTION or READ FAQs about Soot, Rust, Debris Seen in the Heating Flue
InspectAPedia tolerates no conflicts of interest. We have no relationship with advertisers, products, or services discussed at this website.
How to inspect through the heating appliance draft regulator or damper opening and why.
This article explains the procedure for opening and inspecting heating flues through the barometric damper or draft regulator, with particular emphasis on problems of soot & debris accumulation. Inspecting inside the boiler flue by the draft regulator opening gives very important information about the operating condition of oil fired heating equipment.
Green links show where you are. © Copyright 2017 InspectApedia.com, All Rights Reserved.
How to open and inspect a barometric damper for Inspection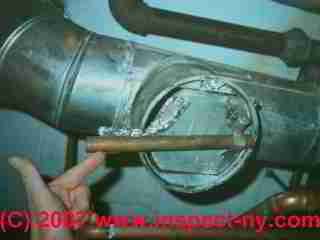 This article discusses the simple but very useful step of just taking a quick look into the flue pipe through the barometric damper opening on oil fired heating equipment.
This article series answers most questions about central heating system troubleshooting, inspection, diagnosis, and repairs.
We describe how to inspect, troubleshoot and repair heating and air conditioning systems to inform home owners, buyers, and home inspectors of common heating system defects.
Details about draft control on oil fired heating systems (such as the oil fired heater shown in the photo above), including furnaces or boilers, are discussed
at DRAFT REGULATOR, DAMPER, BOOSTER on oil fired equipment.
At DRAFT MEASUREMENT, CHIMNEYS & FLUES we explain in detail how and where to actually measure the heating equipment draft in the course of checking on (or adjusting) the draft regulator.
The barometric damper or draft regulating device we are discussing here is normally used only on oil-fired heating equipment, not on gas-fired equipment. Details about draft control for gas fired heating systems, including furnaces or boilers, are discussed
at DRAFT HOOD, GAS HEATER on gas fired equipment.
Barometric dampers are devices used to regulate the draft on oil-fired heating equipment such as furnaces, boilers, or water heaters.
On oil fired equipment the barometric damper, or draft regulator is typically a round Tee inserted in the flue vent connector between the heating appliance and the chimney. The face of the tee contains a round "door" with an adjustable weight.
In our photo you may not be able to open this barometric damper - it is improperly installed (out of level), and has been improperly modified, indicating a draft problem with this heating system or its chimney.
The implications of sealed barometric dampers are explained at DRAFT REGULATOR, DAMPER, BOOSTER for oil fired equipment.
How & Why Should You Open & Inspect the Barometric Damper: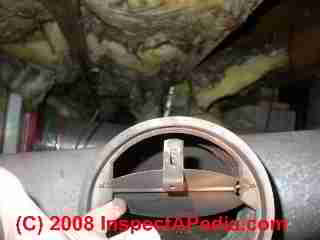 When I, the author (DF) first owned a home with a heating boiler I was so terrified of this rumbling flickering box in my basement that I didn't even walk near it. That was a mistake.
And we wasted lots of money on oil before we learned that just a few simple visual checks can tell a lot about how well our heating equipment is running.
So don't worry: it's easy to perform this step - anyone can do it if a barometric damper is actually installed where it should be. Just gently push the hinged door open with a finger, and shine a good flashlight inside to see what you can see.
Warning: of course if your oil fired appliance has been running recently, these parts are HOT and you could get burned. If the damper door itself is hot you can still look inside - just use a screwdriver or wire to push the door open rather than your finger as shown in our photo at left.
A barometric damper installed on a horizontal flue pipe will give a good view of the cleanliness of the flue interior as well as clues about rust and damage in the flue.
A barometric damper installed on a vertical flue pipe may still give a good view of the top of the heating boiler, furnace, or water heater, where you may see accumulated soot or debris, rust stains, or perhaps better news.
Guide to Interpreting Debris Visible in the Chimney Through the Cleanout or Draft Regulator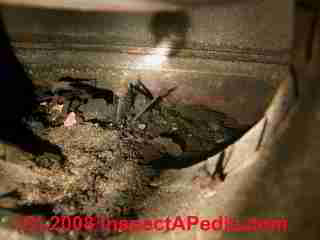 Debris visible in the flue vent connector (stack pipe) visible through the barometric damper draft control opening. If you see soot, rust flakes, and debris in the flue vent connector this means that the heating system needs to be cleaned and serviced.
If the heating system has "just been serviced" this debris means that service was incomplete.
A flue vent connector ((also called the "stack pipe" or "flue pipe") is the metal pipe that connects the oil fired heating appliance to a chimney in order to safely vent combustion gases outdoors.
A proper service procedure for oil fired heating equipment includes removal of the flue vent connector and thorough cleaning of all debris from these components as well as a visual inspection of the condition of the chimney to which the flue vent connector joins to send combustion products outside.
Our photo shows what was probably several years of accumulated soot, rust flakes, and debris in the flue vent connector of an oil-fired horizontal furnace in a wet moldy crawlspace. The owner thought that his system, which was almost impossible to access, had "just been cleaned".
Opening this damper and looking inside meant we literally "hit pay dirt". The dirt meant that the system needed to be cleaned, that the owner was paying for heat, but the heat was going up the chimney, not into the home -- as we explain a bit more below.
A hard to access heating system in a cramped nasty area rarely receives thorough cleaning and service. That was the case for this system.
The Significance of Soot, Rust, Debris Seen in the Heating Flue
Question: What is the significance of those "rusty flakes" in the photo of crud visible at the chimney base or through the barometric damper
When I cleaned our flue exhaust, I found 'chips' in the soot like the ones in the image. What are those? I thought they might be from the flue lining chipping off. Are they? - Jessica
Reply:
The "chips" such as those in our photo are typically soot-coated rust if the flue is metal, or soot-coated flakes of the glazing that was protecting the interior of a clay tile lined chimney flue.
The implications of the chips are that the hard glazed coating is being lost and thus the flue is deteriorating. Just how deteriorated the flue is we can't say from a photo like this one, but it is an indication that a more expert chimney inspection is in order. Use a professional chimney sweep and ask for a complete inspection of the chimney flue interior.
Loss of the chimney tile surface exposes the chimney flue liner to an ever increasing rate of deterioration, especially in climates of harsh or freezing weather. When the chimney liner deteriorates that means that eventually it can become unsafe, risking flue gas leaks, carbon monoxide poisoning, or even sparks and a building fire.
See CHIMNEY CLEANOUT DOORS for more examples of things you may find at the bottom of a chimney when inspecting through the cleanout door, or if it's a "dead end flue" you may find these inspecting through the flue vent connector or, if the flue is without bends and elbows, you may be able to inspect right through the barometric damper such as in our photo above.
When & Why is soot or crud in the oil fired boiler or furnace flue a problem?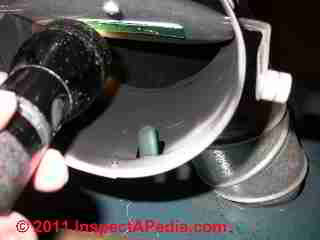 When we look in to the flue close to the heating boiler or furnace, such as at the barometric damper shown at the top of this page, it's normal to see a thin coating of soot on the interior of the metal flue pipe (photo at left and photo at page top). .
But thick soot in the flue, the chimney, or inside of the boiler or furnace heat exchanger is a problem (photo below).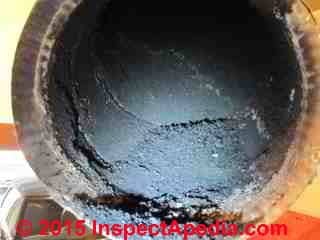 Our photo of a soot problem indicator (left) shows soot accumulating in the oil burner flue of the heating boiler connected to the "too short" chimney discussed at Chimney Height & Clearance.
This boiler has a history of blowing soot out of the boiler room and through the garage of the home it serves. This same soot is, of course, accumulating inside the heating boiler itself.
Because soot acts like an insulating coating, too much soot in a heating system causes both system operating problems problems and increased heating cost for the building.
These soot problems on oil fired heating equipment are discussed in detail at SOOT on OIL FIRED HEATING EQUIPMENT [link given just below]
Article Series Contents
...
Continue reading at SOOT on OIL FIRED HEATING EQUIPMENT or select a topic from the index of chimney articles listed above.
Or see CHIMNEY CLEANOUT DOORS for another spot where it may be possible to inspect for clues about the condition of a chimney and its safety.
Or see DRAFT REGULATOR, DAMPER FAQs
Suggested citation for this web page
DRAFT REGULATOR SOOT INSPECTION at InspectApedia.com - online encyclopedia of building & environmental inspection, testing, diagnosis, repair, & problem prevention advice.
Or use the SEARCH BOX found below to Ask a Question or Search InspectApedia
...
Frequently Asked Questions (FAQs)
Try the search box below or CONTACT US by email if you cannot find the answer you need at InspectApedia.
Question: add a manual damper when an automatic barometric damper is already installed?
(Sept 9, 2011) ken said:
can i put manual damper on oil boiler chimmney drafts too much even with barometric damper
Reply:
Ken I don't understand your question in full, but in general, you would not and should not need to add a manual damper to a flue that has an automatic draft regulator - it should be unnecessary. I suppose that IF the chimney had an unusually strong draft that could not be accommodated by the automatic draft regulator, one might install a manual damper higher on the flue, shut it partially, and then adjust the automatic draft regulator, but I'm worried that the result could be inadequate draft at other times. Why were you thinking of doing this?
If there is an unusual situation that means there will always be excessive draft that a properly sized and installed draft regulator cannot handle other measures may indeed be needed.
Watch out: I'd start by being sure there was good combustion air flow into the room where this equipment is located.
Question:
(Jan 12, 2013) carl said:
when installing a ss liner what numbers are we to go by ? the max BTU input sats 129000 btu and the GPH says 1.10 GPH SO DO WE SAY 144000 + 14000 TO equal 158000 btu? so we need a 5 and 1/2 liner or even a 6"?
Reply:
Use the largest input BTUH rating
Question: preventing soot spread in the basement
(Jan 25, 2013) John said:
As you've suggested, there is a thin coating of soot on the interior of the metal flue pipe in my basement. To prevent the dust that gradually finds its way to other parts of the system in my basement, is there some way a screen may be placed around the flapping door of the calibrated draft control?

Reply:
I find that with a properly cleaned, adjusted, and operating oil burner I don't get soot spreading out of the utility room.
Question: noisy Armstrong Air Ultra 80 oil-fired furnace w/ external SWG power vent: big pile of rust or soot
(Feb 17, 2014) Tom said:
I have an extremely noisy (approx. 20-year old) Armstrong Air Ultra 80 oil-fired furnace that has an external SWG power vent system. The noise has escalated to an almost unbearable level recently due to the vibration of the system. Even more recently I found a rather substantial and growing pile of rust/soot on the basement floor directly beneath the draft control damper. What is causing this and what should I do about it?
Reply:
Hi Tom,
With just the information in your note it feels a bit too dangerous to guess at a diagnosis by text; But the system sounds unsafe: if a power vent stops working most likely the heat would also stop, which would be the safest outcome. Could be rust, corrosion, leaks, failing fan motor, failing control. I'd ask for a heating service call: most likely the power vent needs replacement; but at the same time be sure that your chimney is checked for safety, no leaks, and no blockage - it may need cleaning. That'll be ( usually) a different company - a certified chimney sweep.
(Feb 17, 2014) Tom said:
Thanks. I have a placed a call for a service visit.
(Feb 17, 2014) Mod said:
OK Tom, do let me know what happens - what you report may help other readers; and if a question arises or something sounds odd when the service tech is explaining, just ask. Some very sharp service techs are not necessarily english majors.

...
Ask a Question or Search InspectApedia
Use the "Click to Show or Hide FAQs" link just above to see recently-posted questions, comments, replies, try the search box just below, or if you prefer, post a question or comment in the Comments box below and we will respond promptly.
Search the InspectApedia website
Technical Reviewers & References
Click to Show or Hide Citations & References
Dirk Faegre, Camden, Maine (207) 232-9494 is a certified  BPI  energy auditor and certified Envelope technician who kindly suggested draft regulator and flue vent connector inspection defect additions 6 Sept 09
Thanks to reader Jessica for discussing chimney debris found by inspecting through the draft regulator - November 2010.
Domestic and Commercial Oil Burners, Charles H. Burkhardt, McGraw Hill Book Company, New York 3rd Ed 1969.
National Fuel Gas Code (Z223.1) $16.00 and National Fuel Gas Code Handbook (Z223.2) $47.00 American Gas Association (A.G.A.), 1515 Wilson Boulevard, Arlington, VA 22209 also available from National Fire Protection Association, Batterymarch Park, Quincy, MA 02269. Fundamentals of Gas Appliance Venting and Ventilation, 1985, American Gas Association Laboratories, Engineering Services Department. American Gas Association, 1515 Wilson Boulevard, Arlington, VA 22209. Catalog #XHO585. Reprinted 1989.
The Steam Book, 1984, Training and Education Department, Fluid Handling Division, ITT [probably out of print, possibly available from several home inspection supply companies] Fuel Oil and Oil Heat Magazine, October 1990, offers an update,
Principles of Steam Heating, $13.25 includes postage. Fuel oil & Oil Heat Magazine, 389 Passaic Ave., Fairfield, NJ 07004.
The Lost Art of Steam Heating, Dan Holohan, 516-579-3046 FAX
Principles of Steam Heating, Dan Holohan, technical editor of Fuel Oil and Oil Heat magazine, 389 Passaic Ave., Fairfield, NJ 07004 ($12.+1.25 postage/handling).
"Residential Steam Heating Systems", Instructional Technologies Institute, Inc., 145 "D" Grassy Plain St., Bethel, CT 06801 800/227-1663 [home inspection training material] 1987
"Residential Hydronic (circulating hot water) Heating Systems", Instructional Technologies Institute, Inc., 145 "D" Grassy Plain St., Bethel, CT 06801 800/227-1663 [home inspection training material] 1987
"Warm Air Heating Systems". Instructional Technologies Institute, Inc., 145 "D" Grassy Plain St., Bethel, CT 06801 800/227-1663 [home inspection training material] 1987
Heating, Ventilating, and Air Conditioning Volume I, Heating Fundamentals,
Boilers, Boiler Conversions, James E. Brumbaugh, ISBN 0-672-23389-4 (v. 1) Volume II, Oil, Gas, and Coal Burners, Controls, Ducts, Piping, Valves, James E. Brumbaugh, ISBN 0-672-23390-7 (v. 2) Volume III, Radiant Heating, Water Heaters, Ventilation, Air Conditioning, Heat Pumps, Air Cleaners, James E. Brumbaugh, ISBN 0-672-23383-5 (v. 3) or ISBN 0-672-23380-0 (set) Special Sales Director, Macmillan Publishing Co., 866 Third Ave., New York, NY 10022. Macmillan Publishing Co., NY
Installation Guide for Residential Hydronic Heating Systems
Installation Guide #200, The Hydronics Institute, 35 Russo Place, Berkeley Heights, NJ 07922
The ABC's of Retention Head Oil Burners, National Association of Oil Heat Service Managers, TM 115, National Old Timers' Association of the Energy Industry, PO Box 168, Mineola, NY 11501. (Excellent tips on spotting problems on oil-fired heating equipment. Booklet.)
Books & Articles on Building & Environmental Inspection, Testing, Diagnosis, & Repair
Our recommended books about building & mechanical systems design, inspection, problem diagnosis, and repair, and about indoor environment and IAQ testing, diagnosis, and cleanup are at the InspectAPedia Bookstore. Also see our Book Reviews - InspectAPedia.
Carbon Monoxide Gas Toxicity, exposure limits, poisoning symptoms, and inspecting buildings for CO hazards
DUST, HVAC CONTAMINATION STUDY An Investigation of Indoor Dust Debris Blamed on a Heating/Cooling System Reveals Carpet Dust
Fuel Oil & Oil Heating Magazine, 3621 Hill Rd., Parsippany, NJ 07054, 973-331-9545
Home Heating System Should Be Checked[for proper venting and for CO Carbon Monoxide Hazards - DJF]
Inspection Procedures for Oil-Fired Heating Systems Detailed step by step approaches for inspecting complex systems]
Oil Tanks - The Oil Storage Tank Information Website: Buried or Above Ground Oil Tank Inspection, Testing, Cleanup, Abandonment of Oil Tanks
Oil Tanks Above Ground, UL Standards, guidance for home owners, buyers, and inspectors
...