Inadequate Return Air, HVAC
INCREASING RETURN AIR - CONTENTS: How to increase air conditioning or heating return air flow to improve system performance Return air adequacy on heating and air conditioning duct systems. How to Check or Detect Air Flow at the Return Register Inlets.
POST a QUESTION or READ FAQs about how to improve heating or cooling air supply by improving the return air into the HVAC system
InspectAPedia tolerates no conflicts of interest. We have no relationship with advertisers, products, or services discussed at this website.
HVAC return air improvement guide:
How to increase HVAC system return air to increase heating or cool air output by improving the flow of return air to the air handler. This article describes problems with return air inlet size, location, and ductwork.
Inadequate return air seriously limits both air flow rates and also the degree to which building air is cooled (or heated) by the HVAC system. The photograph above shows a return air inlet grille for a commercial office space after the air conditioning return register and ducts were increased in size as part of improvements in the building cooling system.
We also provide a MASTER INDEX to this topic, or you can try the page top or bottom SEARCH BOX as a quick way to find information you need.
How to Increase Return Air Flow or Supply in Heating or Air Conditioning Duct Systems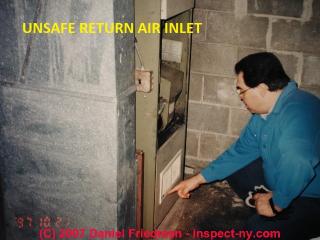 Here you will find a list of "Improvements" to "fix" inadequate return air ducts & airflow for air conditioners and furnaces addressing the blower and supply duct system.
Add More Return Air Inlets & Ducting
Adding additional return air inlets and ducts to increase airflow to the air handler is an effective way to improve air conditioning or or warm air heating system performance, provided that the system is in fact running "air starved".
There are several easy and amateur ways to check for an air conditioning or warm air heating system that is not getting enough return air.
Visual inspection for inadequate return air: if there is only a single air return inlet, where is it located? Is the return isolated from some rooms in the building if the doors to those rooms are closed?

Is the return air inlet size (length x width) smaller than the cross section of the air inlet end of the air handler or blower assembly? A mismatch in return air inlet grille or duct size will reduce the system's effectiveness.
Visual inspection for prior attempts to "improve" return air such as holes cut into an existing return air duct, or worse, openings cut to admit more "makeup" air into the air handler from an un-conditioned space such as an attic or crawl area.

These are discussed at ADDING RETURN AIR at the air handler.
Temporarily or momentarily opening an air handler cover: if by opening the cover on a blower assembly or air handler unit you feel a dramatic increase in the airflow coming out of the building's air supply registers, then the system is probably return[-air starved. We have opened a cover just a few inches and released it to hear it slam with tremendous force against the blower cabinet when the system lacked adequate return air.

Watch out: See our safety warnings just below.
Have the HVAC system examined by a professional: really this is the best approach once you've eliminated very obvious mistakes like those listed

at RETURN DUCT AIR LEAKS.
Watch out: don't leave the cover off of an air handler - it's potentially very dangerous, as we explain at ADDING RETURN AIR at the air handler. Also keep in mind that a properly-working air handler or blower assembly will always be running with negative air pressure in the blower compartment - otherwise it wouldn't be moving any air through the duct system. So a certain amount of "pull" of air rushing into the blower that also wants to re-close the blower compartment door is normal.
Watch out: it may be necessary to temporarily tape or bypass a blower door compartment interlock switch to try this subjective test. Don't leave the door interlock switch bypassed or taped - doing so is dangerous. Details about this switch are at BLOWER DOOR SWITCHES.
How to Check or Detect Air Flow at the Return Register Inlets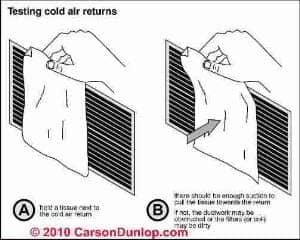 A simple test for air movement at the return air inlet is illustrated in our sketch.
Just hold a tissue or piece of toilet paper near the inlet grille face. If air is moving into the grille the tissue will be pulled against the opening.

Sketch at left courtesy Carson Dunlop Associates.
For true air flow measurements that provide quantitative results such as air flow measured in CFM, see AIR FLOW MEASUREMENT CFM.
In that article at Typical Manufacturer's Air Flow Rate CFM Specifications for HVAC equipment we describe typical HVAC air flow rates measured in CFM.
Adding Return Air at the Air Handler - Sometimes a Dangerous Idea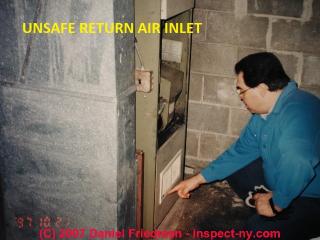 When the cooling ability of an air conditioning system is inadequate, particularly when the volume of air being delivered in the building seems too low, we often see evidence of an attempt to boost heating or cooling air delivery in this "stopgap" manner.
We find extra return air openings having been cut in the return plenum right at the air handler unit at a combination air conditioning and hot air heating furnace or at an attic or basement air conditioning-only air handler.
Indeed this boosts the air coming out of the system if the air handler was "air starved" due to insufficient return ducts in the first place. An example of this poor practice is shown in the photograph.
But this is a very inefficient way to operate the system since a significant portion of the air volume is moving only "one way" from an attic or basement into the cooling unit and out to a remote living area.
This is an expensive way to run an air conditioning system: keep taking "new" air, cool it, and blow it where it's wanted. Proper design re circulates air from the occupied space which permits it to be cooled and filtered.
Watch out: Worse than inefficient, the approach of taking return air from a basement or crawl space utility area where gas or oil fired heating equipment is located can be dangerous, in particular if by the location of the "new" return air opening draws flue gases from a nearby draft hood or barometric damper, or if the heating equipment is located in a small enclosed space where drawing return air can interfere with the provision of adequate combustion air for the heating equipment.
Flue gases: may be drawn into the duct system if these "improvement" openings are cut too close to heating equipment, particularly gas-fired furnaces, boilers, and water heaters. We say more about this at UNSAFE OPENINGS below (see link at left).
Improve Return Air Flow by Fixing These Return Air Flow Defects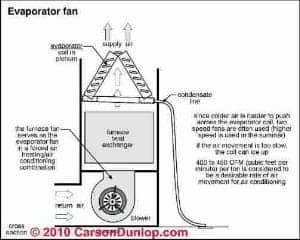 Blower Fan too Slow for Cooling Season
An HVAC system that is simply not capable of moving enough cubic feet of air per minute will not be able to adequately cool or warm the occupied space.
Higher air speeds are needed during the cooling season than during the heating season.
Carson Dunlop Associates' sketch (left) points out that the (typical) desirable rate of cool air flow in an air conditioning system is around 400 to 450 cubic feet per minute.
The illustration also points out that if air flow is too slow across the cooling coil, that component may become ice or frost-blocked.
See FROST BUILD-UP on AIR CONDITIONER COILS for details.
What slows down the air speed in an air conditioning or warm air heating system?
Here we provide a list of causes of inadequate air flow, including conditions that slow the speed of movement of air through the duct system as well as other HVAC duct system defects. For our complete list of HVAC duct system inspection, diagnosis, and repair topics
see DUCT SYSTEM & DUCT DEFECTS.
Air filter or other item that has been sucked into the duct system will block air flow and can risk a fire if drawn into the blower assembly fan, DIRTY AIR FILTER PROBLEMS are perhaps the most common cause of unsatisfactory airflow in an HVAC system.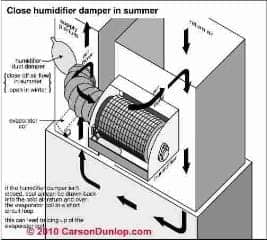 Air leaks from unconditioned space into the air supply system mean that cool air is diluted in summer or warm air is diluted in winter.

The sketch at above left illustrates a common diluting air leak that can reduce the effectiveness of air conditioning during the cooling season: a humidifier intended for winter use that short-circuits return air right over into the supply air duct without passing it through the cooling coil.

Sketch at above left courtesy Carson Dunlop Associates and is used with permission.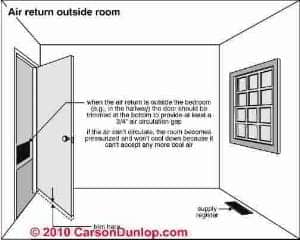 Air Registers Located Outside the Room (return air) mean that if the room door is closed and not under-cut, both heating and cooling capacity in that room will be reduced. (See sketch above)

To understand the effect of a room that has only air supply registers and no return registers when the room door is shut, just imagine the air conditioning or warm air heating system having to blow air into a pressurized space.

Sketch at above left courtesy Carson Dunlop Associates.
Blower Fan: dirty blades on a squirrel cage blower assembly fan significantly reduce the blower fan's ability to move air into the HVAC system from the return-air side as well as reducing its ability to push conditioned air into the occupied space. DIRTY A/C BLOWERS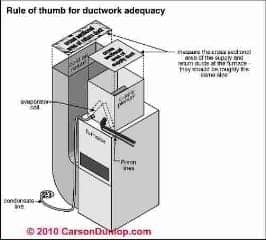 Ductwork too small or duct sizes mismatched between the air handler, supply plenum, return air plenum, blower assembly, cooling coil. See the sketch at above left: the cross sectional areas of the supply ducts and return ducts at the furnace or air handler should be about the same size.

Sketch at left courtesy Carson Dunlop Associates.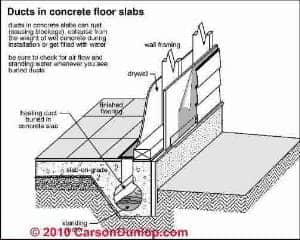 HVAC return air ducts located inside concrete slab floors may have collapsed; and in slab ducts also invite flooding, mold, insects, and where transite - cement asbestos - ductwork was used, asbestos particle contamination or collapsed ductwork. (See sketch above, courtesy Carson Dunlop Associates.)

See SLAB DUCTWORK for details about problems with HVAC air ducts located in slabs

Also
see ASBESTOS DUCTS, Transite Pipe for details about asbestos in transite air ducts
Zone dampers that are stuck partly closed obstruct air supply into that building area, or if stuck "open" when the zone damper should be closed, airflow to other building areas will be reduced.
See ZONE DAMPER CONTROLS

Measurement of Air Conditioner or Heating Duct System Air Flow in Buildings
How do we measure air flow in CFM (cubic feet per minute) in an air conditioner or furnace
How is CFM measured? - Anon.
Reply:
Air flow rates for HVAC systems are expressed as a volume of air being delivered at some rate, typically cubic feet per minute (CFM) or m/sec (meters per second), ft/sec (feet per second), or ft/min (feet per minute).
A nice clear technical answer of how we measure flow rate is provided by Flow Kinetics:
Flow rate is measured by calculating an average velocity for the conduit of interest, and then, multiplying this velocity by the cross sectional area of the duct at the measurement location. The velocity value may estimated using a single reading, or a survey across the duct at a station.[12]
Here's a simplistic example: If I held up a one-foot square sensor in front of an air source (say an air supply register) and the sensor measured air velocity at 12 inches per minute, I'd be measuring 1 CFM of airflow. (One cubic foot = 12 x 12 x 12 inches). Or if we measured an air velocity at an air supply register of one foot per minute and we knew that the duct work was a 12-inch square duct, we'd figure we were seeing one cubic foot per minute of air supply at that location.
Actually here are more than one answer to your question about how airflow is measured in an HVAC system because there is a range of air flow measurement instruments on the market.
The measuring devices vary in price, accuracy, and in operating principle, and there are also of course multiple sources of CFM data: manufacturers specifications, theoretical numbers, and actual measurements. We are most interested in the last category.
For details about how to measure HVAC system air flow see AIR FLOW MEASUREMENT CFM where we also give typical air flow rates for heating and cooling systems.
References for Technical Help in HVAC Return Air & Duct Efficiency Improvements
A Guide to Insulated Air Duct Systems. North American Insulation Manufacturers Association, 44 Canal Center Plaza, Suite 310, Alexandria, Va 22314.
Building Energy Codes Resource Center, "Open Spaces as Return-Air Options - Code Notes", retrieved 2017/11/27, original source: https://www.energycodes.gov/sites/default/files/documents/cn_open_spaces_as_return-air_options.pdf

Excerpts:

Some jurisdictions want every bedroom to have a return-air duct directly back to the HVAC cabinet. Yet field measurements in typical homes indicate that second-floor return-air ducts relying on building cavities for air transport are often so leaky that they returned little air to the HVAC blower.

By code, building cavities used for air return can only convey air from one floor level back to the HVAC blower (2006 and 2009 IRC M1601.1.1 #7).

Above-Ground Duct Systems: Item #7 Stud wall cavities and the spaces between solid floor joists to be utilized as air plenums shall comply with the following conditions:

7.3 Stud wall cavities shall not convey air from more than one floor level.

7.4 Stud wall cavities and joist space plenums shall be isolated from adjacent concealed spaces by tight-fitting fire blocking in accordance with Section R602.8. IRC2009, Section M1601.4.1

The prohibited sources section allows for permanent openings between rooms in order to connect spaces together to meet a return-air location requirement:

Item 4 prohibits return-air sources as follows: "A closet, bathroom, toilet room, kitchen, garage, mechanical room, boiler room, furnace room, unconditioned attic or other dwelling unit."

Item 5 prohibits "A room or space containing a fuel-burning appliance where such a room serves as the sole source of return air." - IECC 2009 Section 403.2.2 Sealing

The 2009 IECC Section 403.2.2 requires that duct systems be pressure tested, or all ducts and air handlers be located in conditioned space. Building cavities used to convey return air located over a crawlspace or next to an unconditioned space would be required to be tested.

As an inexpensive and effective alternative to sealing ducts, the code specifically allows air return by connecting rooms by permanent openings. For example, hallways can be part of the return-air path. Two generic approaches are identified that fit the code.
Duct Design for Residential Winter and Summer Air Conditioning and Equipment Selection (Manual D). Air Conditioning Contractors of America, 1513 16th Street, N.W., Washington, DC 20036.
Energy-Efficient Design of New Low-Rise Residential Buildings. Standard 90.2-1993. American Society of Heating, Refrigerating, and Air Conditioning Engineers, 1791 Tullie Circle, N.E., Atlanta, GA 30329.
Flexible Duct Performance and Installation Standards. Air Diffusion Council, One Illinois Center, Suite 200, 111 East Wacker Drive, Chicago, IL. 60602-5398.
Home Energy Magazine, Special Issue-Ducts, Rediscovered.September/ October 1993. 2124 Kittredge Street, No. 95, Berkeley, CA 94704
IMPROVING the EFFICIENCY of YOUR DUCT SYSTEM, [PDF] U.S. Department of Energy, (1999) copies also available from Energy Efficiency and Renewable Energy Clearinghouse
P.O. Box 3048 Merrifield, VA 22116, retrieved 2017/11/28, original source: https://www1.eere.energy.gov/buildings/publications/pdfs/building_america/27630.pdf
Installation Standards for Residential Heating and Air Conditioning Systems. Sheet Metal and Air Conditioning Contractors' National Association, Inc., 4201 Lafayette Center Drive, Chantilly, VA 22021.
McIlvaine, Janet and Philip Fairey,"Design and Construction of Interior Duct Systems," Florida Solar Energy Center, (FSEC).
Richardson, David, "An Introduction to Static Pressure", RSES Journal (November 2014), Website: www.rsesjournal.com, retrievbed 2017/11/27, original source: https://www.rses.org/assets/rses_journal/1114_Static.pdf
Taylor, Steven, "Return Air Systems" [PDF] ASHRAE Journal (March 2015), Taylor Engineering, LLC., Taylor Engineering, LLC 1080 Marina Village Parkway, Suite 501
Alameda, CA 94501-1142 510-749-9135 (tel) , retrieved 2017/11/28, original source: http://www.taylor-engineering.com/Websites/taylorengineering/articles/ASHRAE_Journal_-_Return_Air_Systems.pdf
Taylor, S. "Making UFAD systems work."[PDF] ASHRAE Journal 58, no. 3 (2016). Retrieved 2017/11/27 original source: http://www.taylor-engineering.com/Websites/taylorengineering/articles/ASHRAE_Journal_-_Making_UFAD_Systems_Work.pdf
This Old House; Heating, Ventilation, and Air Conditioning. Trethwey, Richard. Little, Brown. 1994
...
Continue reading at UNDERSIZED RETURN DUCTS or select a topic from closely-related articles below, or see our complete INDEX to RELATED ARTICLES below.
Or see AIR LEAKS in RETURN DUCTS
Or see AIR FLOW IMPROVEMENT, HVAC
Or see AIR FLOW MEASUREMENT CFM - how to measure HVAC system air flow
Or see BATHROOM VENTILATION CODES SPECS
Or see LEAKY DUCT CONNECTIONS
Or see REGISTER & DUCT LOCATION
Or see RETURN AIR REGISTERS & DUCTS - home
Or see RETURN AIR FAQs
Or see RETURN DUCT & REGISTER FAQs
Or see SLAB DUCTWORK
Suggested citation for this web page
INCREASING RETURN AIR at InspectApedia.com - online encyclopedia of building & environmental inspection, testing, diagnosis, repair, & problem prevention advice.
Or use the SEARCH BOX found below to Ask a Question or Search InspectApedia
...
Frequently Asked Questions (FAQs)
Try the search box below or CONTACT US by email if you cannot find the answer you need at InspectApedia.
See RETURN AIR FAQs for answers to common questions about HVAC return air requirements, ducts, devices.
Beginning at COMPRESSOR / CONDENSER REPAIR see the articles at the "More Reading" links at the bottom of this article for detailed HVAC compressor/condenser troubleshooting and repair procedures.
...
Ask a Question or Search InspectApedia
Use the "Click to Show or Hide FAQs" link just above to see recently-posted questions, comments, replies, try the search box just below, or if you prefer, post a question or comment in the Comments box below and we will respond promptly.
Search the InspectApedia website
Technical Reviewers & References
Click to Show or Hide Citations & References
...
[1] Thanks to Mark Cramer, Tampa Florida, for assistance in technical review of the "Critical Defects" section and for the photograph of the deteriorating gray Owens Corning flex duct in a hot attic. Mr. Cramer is a Florida home inspector and home inspection educator.
[2] Thanks to Jon Bolton, an ASHI, FABI, and otherwise certified Florida home inspector who provided photos of failing Goodman gray flex duct in a hot attic.
[3] Air Diffusion Council, 1901 N. Roselle Road, Suite 800, Schaumburg, Illinois 60195, Tel: (847) 706-6750, Fax: (847) 706-6751 - info@flexibleduct.org - www.flexibleduct.org/ -
"The ADC has produced the 4th Edition of the Flexible Duct Performance & Installation Standards (a 28-page manual) for use and reference by designers, architects, engineers, contractors, installers and users for evaluating, selecting, specifying and properly installing flexible duct in heating and air conditioning systems.
Features covered in depth include: descriptions of typical styles, characteristics and requirements, testing, listing, reporting, certifying, packaging and product marking.
Guidelines for proper installation are treated and illustrated in depth, featuring connections, splices and proper support methods for flexible duct. A single and uniform method of making end connections and splices is graphically presented for both non-metallic and metallic with plain ends."
The printed manual is available in English only. Downloadable PDF is available in English and Spanish. 
[4] Engineering toolbox properties of water - http://www.engineeringtoolbox.com/water-thermal-properties-d_162.html and email: editor.engineeringtoolbox@gmail.com web search 09/16/2010
[5] Owens Corning Duct Solutions - www.owenscorning.com/ductsolutions/ - provides current HVAC ductwork and duct insulating product descriptions and a dealer locator. Owens Corning Insulating Systems, LLC, One Owens Corning Parkway, Toledo, OH 43659 1-800-GET-PINK™
[6] "Flexible Duct Media Fiberglas™ Insulation, Product Data Sheet", Owens Corning - see owenscorning.com/quietzone/pdfs/QZFlexible_DataSheet.pdf
"Owens Corning Flexible Duct Media Insulation is a lightweight, flexible, resilient thermal and acoustical insulation made of inorganic glass fibers bonded with a thermosetting resin."
[7] Modern Refrigeration and Air Conditioning, A. D. Althouse, C.H. Turnquist, A. Bracciano, Goodheart-Willcox Co., 1982
[8] Principles of Refrigeration, R. Warren Marsh, C. Thomas Olivo, Delmar Publishers, 1979
"Air Conditioning & Refrigeration I & II", BOCES Education, Warren Hilliard (instructor), Poughkeepsie, New York, May - July 1982, [classroom notes from air conditioning and refrigeration maintenance and repair course attended by the website author]
[9] Refrigeration and Air Conditioning Technology, 5th Ed., William C. Whitman, William M. Johnson, John Tomczyk, Cengage Learning, 2005, ISBN 1401837654, 9781401837655 1324 pages
[10] Carson Dunlop, Associates, Toronto, have provided us with (and we recommend) Carson Dunlop Weldon & Associates' Technical Reference Guide to manufacturer's model and serial number information for heating and cooling equipment ($69.00 U.S.).
[12] FlowKinetics LLC, 528 Helena Street Bryan, Texas 77801 USA, Tel: (979) 680-0659, Email: inform@flowkinetics.com, Website: www.flowkinetics.com, "FKS 1DP-PBM Multi-Function Meter Pressure, Velocity & Flow User's Manual", web search 07/16/2012, original source: http://www.flowkinetics.com/FKS_1DP_PBM_Manual.pdf [copy on file] and "FKT Series Flow Measurement And Pressure Acquisition System User's Manual" http://www.flowkinetics.com/FKTSeriesManual.pdf [copy on file]
[13] Histoire de l'Académie royale des sciences avec les mémoires de mathématique et de physique tirés des registres de cette Académie: 363–376. Retrieved 2009-06-19.- Pitot Tubes, Henri Pitot (1732)
[14] Wikipedia provided background information about some topics discussed at this website provided this citation is also found in the same article along with a " retrieved on" date. NOTE: because Wikipedia entries are fluid and can be amended in real time, we cite the retrieval date of Wikipedia citations and we do not assert that the information found there is necessarily authoritative.
"Pressure sensor", retrieved 7/16/2012
[18] N Lu, YL Xie, Z Huang, "Air Conditioner Compressor Performance Model", U.S. Department of Energy, August 2008, [copy on file as PNNL-17796.pdf] Available to the public from the National Technical Information Service, U.S. Department of Commerce, 5285 Port Royal Rd., Springfield, VA 22161 ph: (800) 553-6847, fax: (703) 605-6900 email: orders@ntis.fedworld.gov online ordering: http://www.ntis.gov/ordering.htm
Books & Articles on Building & Environmental Inspection, Testing, Diagnosis, & Repair
Our recommended books about building & mechanical systems design, inspection, problem diagnosis, and repair, and about indoor environment and IAQ testing, diagnosis, and cleanup are at the InspectAPedia Bookstore. Also see our Book Reviews - InspectAPedia.
Complete List of Air Conditioning & Heat Pump Design, Inspection, Repair Books at the InspectAPedia Bookstore.Asbestos HVAC Ducts and Flues field identification photos and guide
Fiberglass: Indoor Air Quality Investigations: Fiberglass in Indoor Air, HVAC ducts, and Building Insulation
...