Owl-Flex™ brand Gray Flex Duct Deterioration & Failures
OWL FLEXDUCT - Deterioration of Owl-Flex™ brand Flex Duct in Air Conditioning or Heating Systems. Role of UV light exposure & heat in gray flex duct deterioration in buildings. Defective duct products and materials.
POST a QUESTION or READ FAQs about deteriorated or lost plastic exterior or interior of certain flex-duct hvac duct brands
InspectAPedia tolerates no conflicts of interest. We have no relationship with advertisers, products, or services discussed at this website.
This article explains Owl brand gray flex duct disintegration as an example of defective heating or cooling ductwork materials.
Photo of deteriorated Owl brand gray flex duct and the suggestion of possible UV degradation of flex duct (in addition to heat) are courtesy of Florida home inspector Eric Van De Ven who has reported on several homes with badly-deteriorated flexduct. We include references to product failures by manufacturers of similar flexible duct work products.
Green links show where you are. © Copyright 2017 InspectApedia.com, All Rights Reserved.
OWL FLEX DUCT - Deterioration - Caused by UV Light Exposure?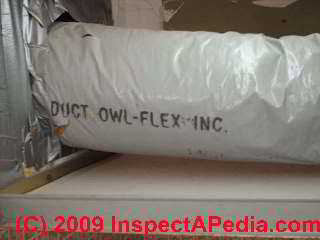 Air conditioning duct system defects include a remarkably wide range of errors, from failure to supply cool air or failure to even circulate air in the building, to health hazards such as use of asbestos material in or on duct work, to very dangerous conditions such as drawing heating equipment combustion gases into the building cooling (or heating) air.
This article explains Owl brand gray plastic-covered flex duct failures that appear as loss of the gray plastic duct covering due to brittleness that appears to be caused by exposure to heat (such as in a hot attic), with references to product failures by several manufacturers of flexible duct work, including ATCO™ Ruber Products, Alloy Systems™, Goodman™ flex duct, Owens Corning™ flex duct, Owl™ flex duct.
We believe that none of these defective flex duct products is currently sold (2013) but both may be found in older homes. Note: not all Owens Corning flex duct products share this defect and disintegration problem.
A Little Owl-Flex Patent History
Owl-Flex gray plastic-covered insulated flex-duct was patented in 1971, US Patent No. 3,606,404, as a "duct to register connection" by John L. McGann and assigned to Intertherm, Inc. in St. Louis MO.
Related patents were cited dating back to 1930. Intertherm, Inc. is a company whose roots date to 1919 (http://www.intertherm.net/). The company today specializes in providing HVAC systems for manufatured homes.
Intertherm can be contacted at Intertherm Heating and Cooling Customer Service, 8000 Phoenix Parkway, O'Fallon, MO 63368 but we doubt that the modern company nor its parent company Nordyne accepts responsibility for Owl-Flex duct system failures. Intertherm Inc. (the modern company) is a subsidiary of Nordyne Corp. (http://www.nordyne.com/) who currently holds an extensive range of name brands in HVAC and other equipment and systems.
How to Identify Owl-Flex Gray Flexduct in buildings
Eric Van De Ven shows in the photos below, Owl-Flex is identified by both text and a logo on the duct exterior.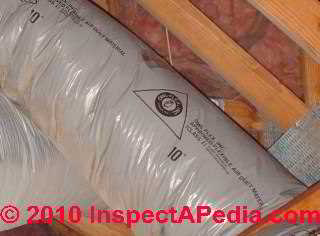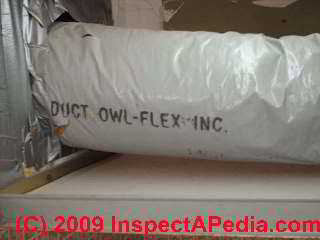 What is the Problem with Owl-Flex and Some Other Flex Duct Insulation Products?
The loss of the protective plastic covering on flex duct poses several concerns including loss of the duct insulation, increased air conditioning system operating costs, and possibly air leaks out (if supply ducts are damaged) or un-wanted attic debris leaks in (if return ducts are damaged), and in-duct condensation in the HVAC system leading to mold and indoor air quality concerns.
Discussing the page top photograph of badly-deteriorated Owl-Flex duct, Mr. Van De Ven had an interesting observation:
I did an inspection yesterday and found some of the Owl-Flex duct work. The interesting thing that the most damaged portions were located near a window, that someone thoughtfully installed in the attic.
Because we argue that if we completely understood any building failure, there would be no coincidences, we speculate that in addition to the role of of high attic temperatures in some gray flex-duct deterioration, the window cited by Mr. Van De Ven may have provided added light and possibly some UV (depending on glass type) and certainly some additional sunlight-generated heat that helped explain why the flex duct was most-deteriorated where light from the window was shining on it.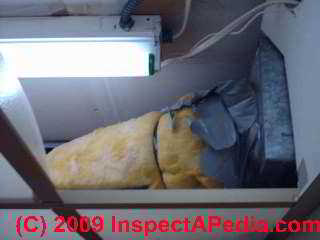 This photo of Owl-flex™ gray plastic-covered, fiberglass insulated duct material shows damaged gray plastic covered flexible ductwork near a fluorescent light bulb.
The photo at above-right, also taken in the same building by Eric Van De Ven shows the brand name on ductwork installed in the building. The photo at above-left identifies the deteriorated duct shown in our page top photo.
Owl-flex flexible ductwork has been the subject of litigation around the sale of a home, including a complaint of "mold" in the air ducts, as shown in this FLEX DUCT LAWSUIT [PDF] document filed in 2009.
As with the Goodman flex-duct problem described at GOODMAN GRAY FLEXDUCT, and also at in hot attic spaces or where exposed to UV light, the Owl-Flex flexible air conditioning duct material disintegrates leaving its fiberglass insulation exposed to also disintegrate, leak, or possibly blow into the building living space.
Does Exposure to a Nearby UV Light Also Cause Gray Flex Duct Damage?
Two common sources of deterioration in plastics are heat and UV light.
UV Light as a Source of Gray Flex Duct Deterioration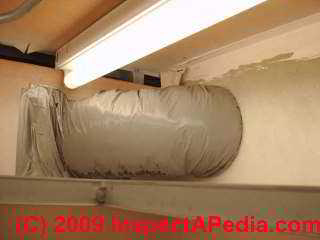 Really? A fluorescent bulb contains low pressure mercury vapor, a gas that produces invisible ultraviolet light (UV radiation) when the gas is excited by electricity. Phosphorescent coating on the inside of the fluorescent light tube absorbs the UV radiation and converts it to visible light.
According to General Electric, a manufacturer of fluorescent light bulbs,
Regular fluorescent light bulbs used in your home and office do not produce a hazardous amount of ultraviolet light (UV).
Most light sources, including fluorescent bulbs, emit a small amount of UV, but the UV produced by fluorescent light bulbs is far less than the amount produced by natural daylight. (Ultraviolet light rays are the light wavelengths that can cause sunburn and skin damage.)
But bringing up the sun does not address the impact of UV on thin plastic covering flexible ductwork.
UV absorption and polymer degradation occurs when polymers such as polypropylene and polyethylene absorb UV light causing weakening of molecular bonds at weak points in the polymer chain. So since many polymers are degraded by exposure to UV light, and therefore many plastics are damaged and made brittle by UV light, the close proximity to the bulb is a very strong suggestion.
Heat as a Source of Deterioration of Gray Plastic Covered Flex Ductwork
Heat is also a factor in plastic degradation, which may explain why more of the Goodman, Owens Corning, Or Owl type gray flex duct deterioration was in (hot) attics. Wikipedia: "Polymers are susceptible to attack by atmospheric oxygen, especially at elevated temperatures encountered during processing to shape."
Presumably also in a hot attic heat is a well understood factor in plastic deterioration such as plastic covering flexduct.
A UV light also gives off some heat, though usually less than a typical incandescent bulb. So heat from a UV light very close to the plastic duct cover may also be a factor in deterioration.
The hypothesis that gray flex duct deterioration close to a fluorescent bulb is strengthened if the damage was less or absent on the same material where it was more distant from or not exposed at all to the UV light from the bulb, but where otherwise it was of the same age in the same general building conditions (such as exposure to temperatures).
When a flex-duct product has lost its exterior plastic covering the effects are these:
The cost of heating or cooling the building is increased due to lost insulation: because the ducts are no longer insulated from the ambient temperature in the attic or crawl space where they are located.

For example, an air conditioning duct passing through a hot attic and missing its insulation will be heated by the ambient attic air, delivering warmer air to the living space than is desired.


The cost of heating or cooling the building is increased due to leaks: because damaged ducts are more likely to leak, cooled or warmed air intended for the occupied space may be lost in the attic or crawl space where the damaged HVAC ducts are located.

In addition we might see these two indirect problems developing:


Increased circulation of fiberglass particles from the duct insulation or from building insulation which may be picked up and blown into the building air supply


Mold growth in the HVAC ducts due to loss of insulation and increased in-duct condensation in some circumstances. See Flexduct Lawsuitat our references below.
Replacement of the heating or air conditioning flexible sections of duct work is required - a significant expense which will be greater if flex-duct needs to be replaced where it passes through inaccessible areas such as finished walls or ceilings.
Notice that not all flex-duct products will fail in this manner and unless you specifically find evidence of this deterioration, replacement of the flex-duct in a building may not be warranted. Where this duct is found in a building it should be replaced.
Below at Technical Reviewers & References we include Flexible Air Duct Installation Manuals, standards, guidelines, and contact information for several flexible air duct manufacturers as well as access to Flexible Duct Performance & Installation Standards provided by the Air Diffusion Council.
List of plastic-covered flexible HVAC duct products that appear to deteriorate in hot spaces like attics
Readers concerned with deteriorating plastic and fiberglass-covered flex duct in buildings should see the duct failure reports listed below.
Rerader Question: Is there or was there a recall or a class action lawsuit against DuPont or Owl Duct?
(July 15, 2015) Anonymous said:
Is there a class action suite against DuPont or Owl Duct? If so how to I participate in it? What does it normally take to replace duct work? Is my house permanently damaged now because of mold? Please help.
I just found out that a house in Florida that I bought in 2013 has Owl Ductwork. There is moisture leaking and the warranty company says it is not covered. The house was built before 1986. My name is Brent Greiner at greinerbgreiner@msn.com
22 July 2015 Mary D said:
Were the Gray Owl Flex duct materials ever recalled? And if so, when? Is there a date/year prior to 2009 when the lawsuit was filed that the industry recommended not to use them?
Reply:
Anon
Lawsuit or litigation around Gray Flex Duct failures such as the Owl Duct you mention are cited in the article above.
We have not found documentation of class action ligitation nor a manufacturer's HVAC duct recall for Owl Flex duct.
The cost to replace ductwork depends on where the duct to be replaced is located. If it is accessible the costs are likely to be a fraction of the cost if one needs to open and then close and repair ceilings or walls.
If you are concerned about mold contamination a visual inspection by a competent mold or environmental inspector (of your home) is most important. Don't rely on"mold tests" alone.
Mary
I've researched the Owl Gray Flex Duct recall question a number of times in various venues and have never found any reference to a recall nor to an industry-given recommendation against the use of this or any of several other gray flex-duct products that failed in application.
I do not know, but I *speculate* that as the problem of deterioration and disintegration of gray plastic covered flex duct occurred across several product brands, perhaps several manufacturers were all obtaining their plastic duct covering from the same supplier, or were using the same (deficient) product specification for that material.
But in sum, readers looking for a class action settlement, someone to sue, or financial relief are unlikely to find it for gray flex duct products such as Owl Flex Duct.

...
Continue reading at GRAY FLEXDUCT FAILURES or select a topic from closely-related articles below, or see our complete INDEX to RELATED ARTICLES below.
Or see DUCT ROUTING & SUPPORT
Suggested citation for this web page
OWL FLEXDUCT at InspectApedia.com - online encyclopedia of building & environmental inspection, testing, diagnosis, repair, & problem prevention advice.
Or use the SEARCH BOX found below to Ask a Question or Search InspectApedia
...
Frequently Asked Questions (FAQs)
Try the search box below or CONTACT US by email if you cannot find the answer you need at InspectApedia.
Question:
The air duct in my house is coming undone, the gray color plastic material has separated form the yellow material . The manufacturer is Owl Flex. I understand that there's a Class action suit against the company and that they should replace at no cost to me. Please,advise. - I.A. 8/13/2013
Reply:
As you may have seen we discuss the Owl Flex duct disintegration problem in the article above. I have searched periodically without finding any indication of a class action lawsuit, litigation, nor settlement for this product.
Question: does Gray Owl Flex Duct need to be replaced?
(June 26, 2011) pete- s.c. homeowner said:
Does the owl flex in my home ,built in '93 Ned to be changed...after my inspection,I found insufficient supports,used duct tape instead of zip tys ..just poor workmanship,do to it being a track house built in the boom...do you recommend a material that will last,don't mind paying more,if its good material..Also hard roof redone,not in color black,now in light color to reflect heat,brought down temps ,quite a bit...any help would be appreciated.
Reply:
Yes Pete, I'd change out any flex duct that has been damaged; the lost insulation means increased heating or cooling costs and if you are in a cooling climate where your A/C has to work hard, there is risk of condensation on or in the uninsulated ductwork that in turn risks water damage or a mold problem.
Question: was there a DuPont class action or DuPont settlement involving Owl Flex Duct?
25 March 2015 Misty said:
I was told that Dupont had a legal settlement in which they replaced the owl flex ducts due to defective material, is this true?
Reply:
Misty
Ask whomever told you that to please give you a citation or reference or source and let me know what you are told.
Using scholarly research tools as well as web search tools I have not found any indication of a DuPont Owl Flex association nor settlement.
As one might imagine for any chemical company, DuPont has been involved in various settlement actions but I have not found any citing Owl Flex ducts.
Question: fiberglass release hazard from deteriorated Gray Flex Duct?
(Mar 31, 2015) Owl Flex said:
We have jsut discovered that the duct work in our home build in 86 is made by Owl Flex.
it is broken down even worse than in your pictures. The black flex pipe inside the insulation
is split and seperated. Is the insulation a fiberglass product that can enter our home?
If so, it is a hazardious material, and should be replaced by the manufacture.
Reply:
Owl
Use the email at our CONTACT link to send me some sharp photos and I can perhaps comment more usefully.
Basically, if the interior of the duct is intact then the effect of break-down is loss of insulation, higher heating and cooling costs. If there is no interior liner then you could be blowing fiberglass fragments into building air.
Fiberglass hazards are argued by sides with opposing interests. But it's reasonable to guess that it's small fragments that are most likely to be most hazardous to occupants. THose are made at higher levels when fiberglass insulation is mechanically damaged.
You should replace the damaged ductwork (you won't find free replacement nor a settlement)
And IF you are concerned about fiberglass dust then you may want to HEPA vac the interior occupied spaces. It's not something to panic about.
See FIBERGLASS HAZARDS at inspectapedia.com/Fiberglass/Fiberglass_Hazards.php
...
Ask a Question or Search InspectApedia
Use the "Click to Show or Hide FAQs" link just above to see recently-posted questions, comments, replies, try the search box just below, or if you prefer, post a question or comment in the Comments box below and we will respond promptly.
Search the InspectApedia website
Technical Reviewers & References
Click to Show or Hide Citations & References
Thanks to AEric Van De Ven, Coconut Creek, Fl 33066, a South Florida home inspector, owner of Magnum Inspections Inc., Phone: (954) 340 6615 e mail: ev@magnuminspections.com for the discovery, reporting, photographs, and reporting of deteriorated Owl™ brand gray flex duct near a fluorescent light fixture and for technical discussion of this topic. Update with more Owl-Flex duct photographs 8/1/2010.
Flexduct lawsuit, Richard T.D. Bethea et als, v. Song Hee Hong, et al, filed may 29, 2009, Jackson Tennessee Court of Appeals, dispute involving the contract for sale of a house. A musty odor was associated with mold contaminated flex duct in the building. The ductwork could not be cleaned because of its fragility - an Owl-flex duct product. Sellers (correctly) asserted that the ductwork could not be cleaned. The court finding includes the statement that "OWL FLEX ductwork was uncleanable". The buyers ability to terminate the sales contract was upheld.
Mark Cramer Inspection Services Mark Cramer, Tampa Florida, Mr. Cramer is a past president of ASHI, the American Society of Home Inspectors and is a Florida home inspector and home inspection educator. Mr. Cramer serves on the ASHI Home Inspection Standards. Contact Mark Cramer at: 727-595-4211 mark@BestTampaInspector.com
John Cranor is an ASHI member and a home inspector (The House Whisperer) is located in Glen Allen, VA 23060. He is also a contributor to InspectApedia.com in several technical areas such as plumbing and appliances (dryer vents). Contact Mr. Cranor at 804-747-7747 or by Email: johncranor@verizon.net
Thanks to Jon Bolton, an ASHI, FABI, and otherwise certified Florida home inspector who provided photos of failing Goodman gray flex duct in a hot attic.
"Design & Installation of Residential Flexible Ductwork Systems", Georgia Department of Community Affairs, 60 Executive Park, NE, Atlanta GA 30329 - (404) 679-4940 - (800) 359-4663 [Also see the installation manuals below at JPL] - original source dca.state.ga.us/development/construction codes/publications/1ONE.pdf
"1. This information is intended to assist contractors, installers and code officials in the proper design and installation of flexible ductwork systems. The information presented in this document comes primarily from sources in the International Mechanical Code including referenced standards and Georgia Amendments.
2. It is recommended as a guide that HVAC system documentation, including owner's manuals, manufacturer's installation instructions and a sketch of the duct system design that details duct size and approximate duct lengths be provided to the building owner or posted on the air handling unit or furnace. (See sample Duct System Design Sketch). Documentation should also include Manual J calculations."
"Flexible Duct Performance & Installation Standards", Air Diffusion Council, 1901 N. Roselle Road, Suite 800, Schaumburg, Illinois 60195, Tel: (847) 706-6750, Fax: (847) 706-6751 - info@flexibleduct.org - www.flexibleduct.org/ -
"The ADC has produced the 4th Edition of the Flexible Duct Performance & Installation Standards (a 28-page manual) for use and reference by designers, architects, engineers, contractors, installers and users for evaluating, selecting, specifying and properly installing flexible duct in heating and air conditioning systems.
Features covered in depth include: descriptions of typical styles, characteristics and requirements, testing, listing, reporting, certifying, packaging and product marking.
Guidelines for proper installation are treated and illustrated in depth, featuring connections, splices and proper support methods for flexible duct. A single and uniform method of making end connections and splices is graphically presented for both non-metallic and metallic with plain ends."
The printed manual is available in English only. Downloadable PDF is available in English and Spanish. 
Flexduct lawsuit, Richard T.D. Bethea et als, v. Song Hee Hong, et al, filed may 29, 2009, Jackson Tennessee Court of Appeals, dispute involving the contract for sale of a house. A musty odor was associated with mold contaminated flex duct in the building. The ductwork could not be cleaned because of its fragility - an Owl-flex duct product. Sellers (correctly) asserted that the ductwork could not be cleaned. The court finding includes the statement that "OWL FLEX ductwork was uncleanable". The buyers ability to terminate the sales contract was upheld.
Owens Corning Duct Solutions - www.owenscorning.com/ductsolutions/ - provides current HVAC ductwork and duct insulating product descriptions and a dealer locator. Owens Corning Insulating Systems, LLC, One Owens Corning Parkway, Toledo, OH 43659 1-800-GET-PINK™
"Flexible Duct Media Fiberglas™ Insulation, Product Data Sheet", Owens Corning - see owenscorning.com/quietzone/pdfs/QZFlexible_DataSheet.pdf
"Owens Corning Flexible Duct Media Insulation is a lightweight, flexible, resilient thermal and acoustical insulation made of inorganic glass fibers bonded with a thermosetting resin."
"Flexible Duct Performance and Installation Standards", (3rd ed.) – Air Diffusion Council, 1901 N. Roselle Road, Suite 800, Schaumburg, Illinois 60195, Tel: (847) 706-6750 - Fax: (847) 706-6751 email: info@flexibleduct.org
HVAC Duct Construction Standards—Metal and Flexible (1995 ed.) – Sheet Metal and Air Conditioning Contractors' National Association, Inc. (SMACNA)
J.P. Lamborn Co., 559-650-2120 / fax 559-650-2112, email: cuserv@jplflex.com - original source for the air duct installation manuals below - http://www.jplflex.com/featured/instructions.asp - note that these FlexDuct installation guides provided by JP Lamborn Co. originate with the Air Diffusion Council - referenced above.
Flexible air duct Installation Instructions for Air Ducts & Connectors without fittings
Flexduct Installation Instructions for Flexible Air Ducts & Connectors with fittings
Flex duct Installation Instructions for Flex Ducts & Connections using mastic
"Originally founded in 1961, JP Lamborn Co. has grown to become one of the largest producers of insulated flexible duct in the country. With 4 state of the art manufacturing plants strategically positioned across the USA in order to serve a growing national distributor base. The company prides itself in delivering quality, service, innovations and competitive pricing to customers it serves."
International Mechanical Code, 2000 Edition, with 2001, 2004 & 2005 Georgia Amendments
Manual D—Residential Duct Systems – Air Conditioning Contractors of America (ACCA)
Mold in the air handler or duct work is discussed at AIR HANDLER / BLOWER UNITS chapter
HOW TO PREVENT MOLD: Correct the Causes of Mold and Prevent Indoor Mold or other indoor environment problems.
OPTIMUM INDOOR AIR QUALITY - Air Filter Choices & Placement for Optimum Indoor Air Quality
The Wiki article on UV degradation is at http://en.wikipedia.org/wiki/UV_degradation
Books & Articles on Building & Environmental Inspection, Testing, Diagnosis, & Repair
Our recommended books about building & mechanical systems design, inspection, problem diagnosis, and repair, and about indoor environment and IAQ testing, diagnosis, and cleanup are at the InspectAPedia Bookstore. Also see our Book Reviews - InspectAPedia.
Complete List of Air Conditioning & Heat Pump Design, Inspection, Repair Books at the InspectAPedia Bookstore.
Modern Refrigeration and Air Conditioning, A. D. Althouse, C.H. Turnquist, A. Bracciano, Goodheart-Willcox Co., 1982
Principles of Refrigeration, R. Warren Marsh, C. Thomas Olivo, Delmar Publishers, 1979
"Air Conditioning & Refrigeration I & II", BOCES Education, Warren Hilliard (instructor), Poughkeepsie, New York, May - July 1982, [classroom notes from air conditioning and refrigeration maintenance and repair course attended by the website author]
Refrigeration and Air Conditioning Technology, 5th Ed., William C. Whitman, William M. Johnson, John Tomczyk, Cengage Learning, 2005, ISBN 1401837654, 9781401837655 1324 pages
Asbestos HVAC Ducts and Flues field identification photos and guide
Fiberglass: Indoor Air Quality Investigations: Fiberglass in Indoor Air, HVAC ducts, and Building Insulation
...