This article is the start of our series on how to diagnose an air conditioner or heat pump that is not cooling: this article explains how to diagnose and correct air conditioning problems like lost or reduced air conditioner cooling capacity, reduced or no cool air flow, reduced or no actual lowering of the air temperaturer, or an air conditioner that won't start.
First try our air conditioner checklist just below - try these steps before calling your HVAC service company.
If not enough cool air is provided by your air conditioner, or if the air temperature is not cool enough, or if you just can't get your A/C unit running, this article helps diagnose and correct the problem with step by step things to check and links to more detailed explanation when you need it.
Green links show where you are. © Copyright 2015 InspectApedia.com, All Rights Reserved.
If your air conditioner or heat pump is a split system or mini split system design (using a wall-mounted cooling or heating unit) our troubleshooting diagnostics are at SPLIT SYSTEM AIR CONDITIONERS & HEAT PUMPS.
Here we explain how to diagnose loss of air conditioning cool air flow or cool air temperature.
Before ordering an expensive air conditioner service call to restore lost cooling capacity, here are a few simple steps to perform. Some of these can be done by any homeowner, others may require a bit more expertise.
Below we provide first a very basic Air Conditioning or Heat Pump Diagnostic Checklist, followed by more detailed descriptions of common problem cooling system topics.
Following the checklist we provide more detailed descriptions, photos, and links to in-depth air conditioning inspection, diagnosis, and repair or improvement advice.
If the air conditioning system is still not working, or if the A/C system is running but cool air is not coming out of the supply registers you probably need to call a service technician, but below are some things to check further yourself.
The basic air conditioning diagnostic checks just below are followed by more detailed investigation of why the air conditioner is not working. But unless you already have a good idea of what's not working, start with these five steps.
If the air conditioning system is still not working, or if the A/C system is running but cool air is not coming out of the supply registers you probably need to call a service technician, but here are some things to check further yourself. Just after these checks we discuss what to do if the air conditioner is running but air flow is too weak (A/C Flow Too Weak) or too warm.
If your air conditioning equipment is running but little or no cool air is coming out of the supply registers, check that your air filter(s) have not become blocked with dirt and debris.
In ceilings, walls, or floors, where cool air is supposed to be delivered to various rooms in the building, be sure that the register is in the "open" position (you will be able to see through it into the ductwork) and be sure you haven't blocked the supply registers with a carpet or furniture.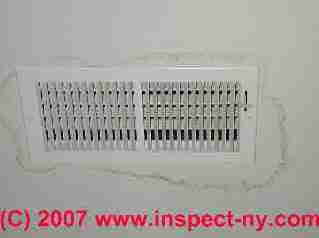 Look for a duct damper or register that has been closed; look for a flex-duct section that has become disconnected, bent, or crimped or squashed. Remember that a duct may have become disconnected in an attic or crawl space.
Look for an air filter that has come loose and blown into the ductwork, clogging it.
At left you can see a ceiling air supply register that has leak stains around its opening - further investigation for a condensate leak or roof leak is needed.
Check for a blower fan that is loose on the motor drive shaft or for a broken or lost blower fan drive belt on pulley-driven blower systems.
Green link shows where you are in this article series.
...
Question: thermostat clicks on but heat pump doesn't start, it hums. Carrier heat pump.
(Jan 15, 2013) Mike said:
When the thermostat clicks on the heater doesn't always come on, the outside unit is running but the inside unit has a humming sound. This is a Carrier heat pump,does it have something to do with the air handler and what can I do?
This question was posted originally at HEATING SYSTEMS
Reply:
Mike
Look for an obstruction blocking a moving part like the blower fan
Look for a frozen fan motor, try a hard start capacitor or replace the motor if that's the problem
See HVAC NOISE group 3 - hiss, huff, hum where we discuss humming sounds coming from the compressor/condenser unit.
Question: Heil A/C works on heat but only cools for half an hour at a time
5/08/14 Laurie said:
I have a Heil model number PH5036AKB4 ac/heat unit my problem is that it will run fine on heat no problems at all but on air it will blow cool air for about 30 mins if I'm lucky and then it just stops blowing and then u have to cut it off and wait for it to want to work again which can take any where from a few hours to two or three days please help it's so hot and I have asthma what can I do to fix it Thanks so much
Reply:
Laurie, I agree that you need an on-site visit from a trained HVAC tech. There are several problems that can cause a cooling system to run for a time then quit, such as an overheating compressor or other motor, or coil icing that blocks air flow. Something like a low refrigerant charge (find and fix the leak) or a defective refrigerant metering device could be at fault.
Question: My A/C unit just stopped working - nothing will come on
Anonymous said:
my a/c united just stop working and nothing will come on
Reply:
non, start by checking the fuse or circuit breaker;
Or at page left choose the diagnostic procedure beginning with the article titled
Question: Rudd Heat Pump AC Unit, too cold, fan unit ices up
(Feb 13, 2014) Mike In Warner Robins,GA, email: mew123055@gmail.com said:
I have a Rudd Heat Pump A/C Unit. Notice yesterday when I set the room thermostat to about 78 degrees a blue Aux Heat lite comes on. The unit runs about 15 minutes and the C/B trips. If I keep it below 78 degrees and the lite does not comes on, the unit will continually run (blowing only warm/cool air). I also notice yesterday that my outside unit fan blades iced up (shut the power off from the unit). This morning I got out and knock the ice off and restarted unit. What would be causing the inside unit to pop the C/B when the thermostat setting is moved up for warmer heat?
Reply:
Mike, sorry that you're probably cold; Though setting a room temp up to 78 is a bit challenging.
Most likely you've already figured out that the problem is with your backup heat system - which kicks in when the heat pump can't extract enough heat from the outdoor air. Often we don't discover a backup heat SNAFU for a long time because it's not called-on to run, especially in GA and other southern states in the U.S.
Search InspectApedia for
Heat Pump Backup Heat
and you'll see our diagnostic articles for that topic.
Question: AC stopped working, now not blowing well
(Feb 14, 2014) Susan said:
During the summer, our AC stopped working. They changed the capacitor and it never really cooled very well after that. It does not seem to be blowing very well. The same unit heats our home. It is not a split unit. When the axillary heat comes on, the house gets warm, but at a cost! We have checked most of the duct work, but some of it is not visible. It is a mobile home . It worked fine until all at once it stopped. Any idea?
Reply:
Not blowing well - sounds like a dirty air filter, dirty fan assembly, or motor damaged and not spinning the fan at full Speed. E.g. A loose fan belt.

Question: A/C expert says call an expert to avoid trouble
(Feb 17, 2014) Northern Beaches Air conditioning said:
Many of us try to fix out the problem ourselves only,so don't try this call an expert for check up otherwise it cause more damage.
Reply:
I agree with the A.C. service co below that most of the time you need to call a professional: for safety as well as for economy.
However it can be helpful to understand a few basics that homeowners should be checking themselves such as
- a dirty air filter
- obvious SNAFUs such as loose, damaged, disconnected ductwork
- condensate handling SNAFUS such as leaks
You'll still need a professional to repair some of these problems but for most able bodied people there's no sense in calling a professional to do a homeowner chore like changing an air filter. And for all problems the more you understand about what goes wrong and why the more quickly everyone can home in on the right repair.
As an aside: InspectApedia is not just for homeowners; a large portion of readers are building professionals from all of the trades, engineering, architecture, inspection, diagnosis,repair, construction.
Question: Heat pump with gas Aux Heat - not giving enough heat
(Feb 21, 2014) Gary said:
I have a heat pump with a gas furnace as my Aux heat. Air handler is 17 years old with a Honeywell digital thermostat. Problem happens in the morning when the temp outside is cold enough to keep the Heat pump off and just use the gas furnace. Thermostat is set at 67 deg at night then called to heat to 70 in the AM it will start normally but only raise temp 1 degree then air handler and furnace shuts off.
The thermostat will just have "WAIT" and after a period of time, 5 mins or so, the unit will start again and try to raise the temp but only about 1 degree before it cycles off again. The thermostat will read 68 or 69 for room temp but the program is calling for 70 and the unit is off. Why do I have this delay? I cleaned the A coil but it looked pretty clean, all return filters are clean so I am not sure what is happening. Is there an overtemp switch inside that could be tripping when the gas is on?
Thanks for any help
Reply:
I don't know,Gary, but often when weather switches a heat pump over to backup heat we find operating defects in the backup system that were there for a long time but never evident because the backup wasn't in use.
Since your backup heat is a gas fired furnace it's being controlled by
- a circuit board in the heat pump that switches over to backup mode
- normal gas furnace controls including a limit switch on the furnace
Try watching the limit switch to see what it's doing. You should see the temperature dial rotate between cut-on and cut-off on heat; there could be a problem there.
let me know what you see
Question: What is the EM HT Switch?
what is the EM HT SWITCH FOR?
Reply:
Ann, no wonnder you're asking - it sounds as if someone didn't realize that EM HT would not be obvious to everyone. I'm guessing it means "Emergency Heat"
Question: how do I probram my thermostat
(Mar 28, 2014) Anonymous said:
I have a carrier programmable thermostat....If I push the mode button to heat...will that keep it in the heat mode...I am not familiar with all the programming ...But just want to heat and cool manually...
Reply:
Anon,
I'm reluctant to give programmable thermostat operating instructions for an unknown model, as the use of buttons and switches varies a bit. If you don't have an installation and operation manual for your thermostat you (or we) ought to be able to find one, at no cost, by seaching for it based on brand and model number.
Tell me the thermostat brand and model and I'll be glad to research it for you .
Question: old unit that will not blow cool/cold air. Running on emergency heat - stuck on
(Apr 30, 2014) Pete said:
I have an old unit that will not blow cool/cold air. I have had a tech out twice and I am trying to see if there are any things that I can check or ask my technician to check. The tech had the unit working properly, after his last visit, until about 2 weeks ago. At that time we had a cold-snap and I had to turn my heat back on. When I turned it back to AC it has not worked properly since. The outside unit (condenser) is running as is the air handler. Plenty of air is blowing out of the registers but it is only about 70-71 degrees.
I do not know anything about fixing ACs but I am pretty handy and I have been researching on the web. Some of the viable options I found are a stuck or bad Reversing Valve, coolant line could be blocked or contaminated or the Thermostatic Expansion Valve could be bad. Does that sound right? Any thoughts? Also, I noticed that the high pressure line (small copper tubing, I think) coming out of the outside condenser is cold to the touch. Should that not be warm/hot? I really would like to get one more season out of the unit. PS: all filters are clean.
...
Found problem. AC was working but the emergency heat strips were stuck on. So the cold air was getting heated. Replaced and is working. Hooray!
Reply:
Thanks for the follow-up. Heat stuck on will sure do the trick. Your note will help other readers and I'll add your finding at our "too warm" article at
Question: a/c is running and blowing cold air and then on its on starts blowing hot air
(May 6, 2014) steve nelson said:
my a/c is running and blowing cold air and then on its on starts blowing hot air and cold air again this is a goodman heat pump.
Reply:
Steve it sounds as if your compressor/condenser is probably working since you see intermittent cool air.
So perhaps there is a thermostat or control problem that is shutting off the compressor, OR the coil is icing up.
But as you can read in Pete's comments above, another explanation for an A/C unit that cycles between blowing cool then warm air can be a contol problem that is switching the emergency backup heat on - IF your system is a heat pump.
Question: repair a capillary tube with epoxy?
(May 13, 2014) Ron said:
Can leaking capillary tubing entering solenoid body of the reversing valve in a R-22 system be repaired with epoxy.
Reply:
Ron,
Interesting question. I'm doubtful that a leaky cap tube can be reliably repaired, in part because I figure that you'll get epoxy in the small orifice of the tube interior and foul up its metering rate. Hell, it's worth a try anyway as if you ruin it you needed a new one anyway. Clean the surface, dry it, and try a patch.
Question: do I increase the capillary tube when changing the tonnage of my condenser?
(May 14, 2014) eric said:
I just down sized unit to 2.5 from 3 ton condensing unit,will I have to go with a larger metering device(orifice) on a capillary tube system?
Reply:
Eric Your system presumably already has a thermal expansion valve TEV installed. You will need to look at the valve brand and model, then review its capacity rating with the manfacturer's specifications for that device.
Some TEVs are adjustable. In that case you may be able to set the valve to perform properly. If not you'll need to change it.
For example, here is an excerpt from Danfoss's description of setting their TEV Setting
The expansion valve is supplied with a factory setting suitable for most applications. If necessary, readjustment can be made using the setting spindle on the valve. Turning the spindle clockwise increases the expansion valve superheat and turning it counterclock-wise reduces it.

For T /TE 2, one turn of the spindle produces a change of approx. 4K (°C) in the superheat at 0°C evaporating temperature.

For TE 5 and following sizes, one turn of the spindle produces a change of approx. 0.5K in the superheat at 0°C evaporating tempera- ture. For TUA and TUB, one turn of the spindle produces a change of approx. 3K in the super- heat at 0°C evaporating temperature
Question: outside fan barely turning
(May 21, 2014) Anonymous said:
My outside unit fan is barely turning. Air is not really cooling. Got a new circuit breaker because it was kicking immediately, now it doesn't kick the breaker but the fan is really slow...please advise.
Thanks,
Denise
Reply:
A bad start capacitor or other relatively inexpensive repair could be all that's needed.
I would shut this system off. To avoid an overheated circuit and possible fire. Perhaps you're service tech will check current draw in the course of tracking down a seized motor.
Question:
4/25/14 Anonymous said:
Turn on air and it will run for a few minutes and blows cold but then cuts off and wont run anymore. Is a central H/A unit and heat works fine. Any ideas?
Reply:
Anon when the A/C unit shuts itself off after a few minutes it sounds as if there is a control problem or a failing motor. Since you have heat that points to the compressor condenser unit. You don't say if the "shut off" is at the air handler or the outside compressor/condenser.
Question: how do I find information about a Goodman Ceiling Mount AC24 A/C system
Goodman ceiling mount unit, Model AC24-10D REV A runs but not sufficiently cool. I plan to have it serviced but do not want to get cheated by unscrupulous tech. Where can I find info on this product. Goodman is no help--they say they no longer have manuals for this unit built in 2005.
Reply:
Anon:
Here is information about the Goodman A/C unit you asked for
This manual is to be used by qualified, professionally trained HVAC technicians only. Goodman does not assume any responsibility for property damage or personal injury for improper service procedures or services performed by an unqualified person. Service Instructions CKL, CLJ, CRT, CLT, TWC, CLQ & HDC Split System Remote Coolers and CPLE, CPLJ, CPRT, CPLT & HDP Split System Remote Heat Pumps with R-22 Refrigerant Blowers, Coils, & Accessories
You will also find some companies selling copies of A/C installation and repair manuals online.
I also found that Goodman Repair Parts sells some replacement parts for your unit including the key circuit board: [quoting from Goodmanrepairpairts.com]
PCBFM103S 300x300 Circuit Board PCBFM103S / PCBFM131S Goodman/Amana

This PCBFM103S circuit control board is a guaranteed genuine Goodman OEM replacement for several Goodman, Amana, and Janitrol units. All of our parts are shipped factory direct, giving you the assurance you need for a quality repair on your furnace, air conditioner, or other Goodman product.
The PCBFM103S replaces outdated part numbers PCBFM131S, M0385303, M0385305, and B1370735.
You can also obtain service information in general from Goodman at:
Consumer Information Line Goodman Manufacturing Company, L.P. Toll Free 1-877-254-4729 (U.S. only)
email us at: customerservice@goodmanmfg.com
fax us at: (731) 856-1821 (Not a technical assistance line for dealers.)
Outside the U.S., call 1-713-861-2500. (
Not a technical assistance line for dealers
Question:
(June 4, 2014) Pat Goodwin said:
I have no air blowing from my registers however a repairman says it is a freon leak that was fixed 3 weeks ago. He says there is a pin hole leak again. That doesn't sound right since no air is blowing at all. Is he yanking my chain?
On the roof, there are 12 SEER 10 AC units for the central air for each unit. The small white compartment box is open and it says UP/DOWN - that you can take the cartridge out to shut the AC unit off. Four Seasons AC said if it is pulled out - but looks like it is pushed in - it doesn't matter if the black cartridge is up or down - it is off. BUT: they said the heat to the Rheem and the furnace fan should still go on even if the roof AC was off. The heat and the fan on the Rheem do not go on.
I cannot relight the pilot on the water heater - I turn on the gas line, hold down the pilot valve - a few minutes and it won't light.
I cannot find a way to turn on the Rheem Criterion II gas/AC unit. What else needs to be turned on? Thermostat (Honeywell) does not ignite the AC or fan or heat - but it could not possibly be the thermostat as the person who shut off the fan switch - also turned off the water heater.

Can anyone tell me how to get back on the furnace/AC in the closet - and did the bully per chance just take out the cartridge to the AC on the roof without worry of electric shock? If it is not pushed in - do people feel it is safe to just push it back in?
Four Seasons AC/Furnace said the AC circuit breakers are connected to the roof AC - and the furnace circuit breaker is connected to the closer furnace/AC.
(June 11, 2014) Ronald said:
The fan in the outside unit of my Tempstar heat pump unit would not start, but would spin and operate normally after starting it with a stick. The capacitor was bad and I replaced it. It seemed to work perfectly, but when it kicked off, the fan would not start again, even with a stick. I turned the unit off and waited a while. when I turned the unit on "cool", it started right up.
Reply:
Ronald, perhaps the new capacitor is misfired, or the fan motor failed.also check the fan relay.
Question:
(June 23, 2014) Robert said:
The temparture inside the house is 82 I set the thermostat to 75 inside temp.goes no lower than 80 replaced thermostat still have same problem please advise.Thanks
Reply:
Robert, best bet may be to run through the diagnostic sequence on the page above to see what is or is not actually running. Check for reduced air flow as well as too-warm air output. I suspect you need a repair tech but it would be embarrassing if we found the trouble were a dirty air filter.
Question:
(June 24, 2014) A/C shuts off after 5 minutes, blows SOME cold air when on... said:
First, let me say that I am a single woman with NO A/C experience. That being said... I took the panel off of the outside unit. I turned the A/C on from my thermostat. It kicked on, and it DOES blow out of my ceiling vents, and the air is cold. It doesn't blow strong, but it does come out... I went back to the outside unit. I had 2 blinking lights on the pc board, and according to it, that indicates its "normal". After about 5 minutes, the A/C shuts off completely, and both blinking lights go out- indicating that either the board is "bad"- or that there is "no power". I live in Florida and it has been about 90 degrees lately, and my house (inside) has been about 85! The filter on the inside handler is clean. What can I do to get my A/C working again. I am on a budget :/
Reply:
A/C
You've done a fine job of checking for the obvious snafus: your system has power and starts normally and delivers cool air at the registers. So I figure you're not faced with an obvious problem like a switch turned off. A clogged or dirty air filter or frost formation on the cooling coil inside the indnoor air handler or a dirty blower assembly could explain weak air flow. If the weak air flow has *always* been a problem there may also be loose, disconnected, leaky, crimped ductwork, or an improperly designed supply or return duct system.
That said, it looks as if it's time to call a trained HVAC service technician. Let us know what you are told or ask again if specific questions arise. What we learn will help other readers.

Question: air conditioner keeps blowing fuses
(June 26, 2014) Anonymous said:
My ac unit keeps blowing fuses don't no what the problem is

Reply:
Anon, when an AC unit keeps blowing fuses you should leave it shut down to avoid risking an electrical fire and call a repair person. I suspect a compressor motor is failing.
Check for a seizing compressor motor or missing or failed start capacitors
Question: Optima plus AC in India cuts out then re-starts
(June 27, 2014) Dr. Chandan said:
I have a carrier ac which is 10 years old Optima plus model. I am from India. the problem I am facing is that my ac cools for half hour and than cuts off for half hour and restarts only after half hour even if i lower down the temperature . I have called many technician but nobody is able to solve the problem . One person came and changed the compressor . technician says that there is no gas leak
Reply:
Chandan,
I suspect an electric motor is overheating, going off on thermal reset, cooling down resetting. Also check for low voltage.
Question: AC runs continuously but never cools
(June 27, 2014) troy said:
AC runs continuously, thermostat is set to 74 and inside temp is 76. AC does not shut off till late at night.. Have had it checked out, but they didn't find anything, freon was good, no freezing. Air is cool coming out of vents, but not cold.
Reply:
To check that the level of cooling of air is reasonable please see AIR CONDITIONER TEMPERATURES

Question: noisy duct when AC running - creaking clicking
2014 - Barb said: when the air conditioning system is running we hear these clicky sounds definitely traced to the ductwork. [paraphrasing - Ed.]
Reply:
Barb,
Possibly the changing temperature is causing thermal movement in metal ductwork
A loose blower fan can wobble and sometimes nick or touch a nearby component also producing a clicking or ticking sound.
Question:
(June 29, 2014) LIZ said:
two things if your Air conditioner is not giving cooling
1; if Gas is not available in the Air conditioner system.
2: if compressor capacitor is out of order
first of all you should check your Ac compressor is running if running then check its gas. If compressor is not working ( and making sound as it is trying to on but fail.) then compressor capacitor should be replaced. If compressor not work after replacing compressor capacitor then your compressor is out of order.
Reply:
x
Question: air starts cool then warms up
(June 30, 2014) bill frame said:
i have a single unit the air starts cool then air warm

Reply:
Bill I think we need an onsite hvac tech to address your complaint.
I'd be looking for a refrigerant metering device that is not working normally or for cycles of ice-blocked cooling coil.
Question: trouble after installing new compressor
(July 10, 2014) Anonymous said:
install a new compressor 5ton did all step for proper install had nitrogen flowing while brazing , check for leaks no leaks found after brazing , pulled vacuum , no vacuum drop. ect. filled compressor with r22 fill till showed 40psi on low side of gauge turn on compressor let it run for like 5minutes filled the to 40 saturation on low side hi side was showing 175 ambient temp 93degrees not cooling in side discharge air 75digrees what else can I do
Reply:
Anon
Could you have a bad TEV or cap tube at the cooling coil?
Question: thermostat calls for colling but AC doesn't start
(July 11, 2014) Anonymous said:
If the themostat is calling for cool,an the condensor motor don,t
Come on what must i check to see why the motor not coming on when the contactor is push in
Reply:
Anon, start at the sequence of things to check at the top of this article and work down - they're in a rough order that should work for you. Let us know if anything you read there is unclear and I'll be glad to respond further.

Question:
(July 13, 2014) tim said:
I am running 410a on a 95degF day with a normal sp hi SH Hi DP and Hi SC. TXV inside
(July 14, 2014) Anonymous said:
Control board or sensor? Cooling compressor will not start with good call for cooling. No low power being delivered to pull in compressor contactor. Manual operation of contactor fires up compressor okay. [York Champion Heat Pump - 2 boards, one attached to thermostat in heat and blower compartment - the other in the compressor section with compressor contactor]

Reply:
The "no low power" presuming the TT is working properly suggests a control board, right? But I'm flying blind here. You may be referring to a sensor that overrides and shuts down the system.
You checked for the obvious like a blower door switch open, right?
Reader follow-up:
Yes, the blower operates fine so it cannot be a blower door sensor. It is only the compressor that does not come on automatically. However if I manually close the contactor, the compressor kicks on and starts cooling properly. Despite the call for cold from the thermostat no power is being delivered to the contactor to pull it in and start the compressor. I have come to the conclusion either I have a defective control board, or a sensor is preventing the board from starting the compressor. How can I test the sensors? Or determine if the board is the problem?

Reply:
I agree with your guesses. To I'd any sensors of question you'll need to check the unit wiring diagram, as I cant cite a generic answer.

...
Use the "Click to Show or Hide FAQs" link just above to see recently-posted questions, comments, replies, try the search box just below, or if you prefer, post a question or comment in the Comments box below and we will respond promptly.