SIPs: Stress-Skin Structural Insulated Panels in Timber Frame, Modular, Panelized, & Cathedral Ceiling Construction
STRESS SKIN INSULATED PANELS - CONTENTS: Stress skin panels (SIPs or structural insulated panels) star in timber-frame construction revival; energy savings and construction properties of foam core panels; Stress Skin Structural Panels, history, current use practices, Stress skin panels & structural panels (SIPs) used to build entire building shells; Definition of SIPs, Structural Insulated Panels or Stress-Skin Panels; Rivalry Among Styrene & Urethane Stress Skin Panel Manufacturers; Fire safety, R-value, & components of stress-skin structural panels; Life Expectancy / Durability of Stress-Skin Insulated Foam Core Panels; Do-it-yourself Home Made Stress Skin Insulated Foam Core Building Panels?
POST a QUESTION or READ FAQs about stress skin panel construction: installation, troubleshooting, repairs
InspectAPedia tolerates no conflicts of interest. We have no relationship with advertisers, products, or services discussed at this website.
Building with stress-skin insulated panels:
This article discusses the use of stress skin insulated structural panels for timber frame and other construction. We describe the history and current uses of stress skin structural panels or SIPs, the properties of SIPs and their fire safety, R-value, and durability or life expectancy. We also give details of how SIPs are constructed, how they are sold, and we list the current manufacturers and sources of stress skin insulated panels (SIPs). Illustration at page top and accompanying text are reprinted/adapted/excerpted with permission from Solar Age Magazine - editor Steven Bliss.
Green links show where you are. © Copyright 2017 InspectApedia.com, All Rights Reserved.
Stress Skin Panel Construction & SIP Properties
The text below paraphrases, quotes-from, updates, and comments an original article from Solar Age Magazine and written by Steven Bliss.
Stress Skin Structural Panels, history, current use practices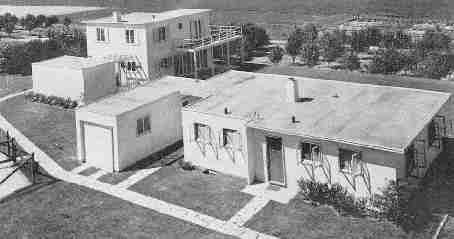 While stressed-skin insulated panels, currently referred to as SIPs or structural insulated panels have been in use in the U.S. since the 1930's, builders continuously call for more pre-manufactured components.
Home buyers and regulators demand greater energy efficiency in new homes. This was true in 1964 when the U.S. FPS studied the durability of stressed skin panels, it was still true in the 1980's when we looked at the use of stress-skin panels in Solar Age Magazine [September 1986] and it remains true today, more than eighty years since the US FPL began studying SIPs.
Photo (above-left) U.S. Forest Products Laboratory Structural Insulated Panel based prefab houses developed in 1937, built for study and evaluation.
Stress-skin panels are used to wrap around structural timber frames, to sheathe the roofs of cathedral ceilings, and even to build the entire building shell. All of the stress-skin panels for residential construction use similar components. They have polystyrene or polyurethane foam cores and are faced on either side with a "skin" - generally plywood, composition board, OSB, or drywall. But standardization ends there. Beyond the basic material options, stress skin panel products take off in a variety of directions that affect cost, performance, and durability.
Article Series Contents
Solar Age Magazine Articles on Renewable Energy, Energy Savings, Construction Practices
Definition of SIPs, Structural Insulated Panels or Stress-Skin Panels
What is an SIP or stressed skin panel or structural insulated panel?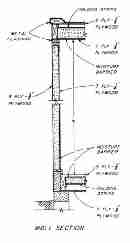 Quoting from the 1960's US FPL study cited later in this article:
Fundamentally, the [stressed skin insulated panel or SIP] system uses panels made of framing members to which plywood sheets or other facing materials are bonded either by glue-nailing or gluing by other types of pressure.
The gluing of these skins causes them and the framing members to act as an integral unit: therefore, under loading, the skins are stressed.
The use of the skins, structurally, allows a reduction in size of the framing material, and the elimination of sheathing and interior finishing materials reduces the weight of the construction considerably.
If it is desirable, the panels may be used only as a structural unit and any type of' exterior or interior finish may be applied.
The sketch of a structural insulated wall panel in cross section shown at left is from the above US FPL study. [Click any image to see an enlarged, detailed version.]
Roof panel SIPs used for roof covering on the 1936 US FPL study homes were nominal 6-Inch thickness units incorporating an air space between the top of the insulation and the underside of the roof deck.
Rivalry Among Styrene & Urethane Stress Skin Panel Manufacturers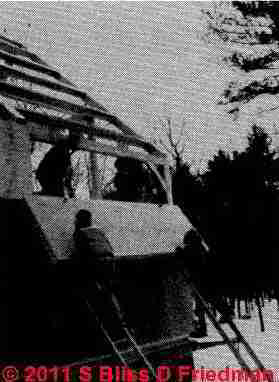 Back in 1986 foam panel user and virtuoso timber-framer Tedd Benson characterized the competition between styrene and urethane foam based stress skin insulated panels: "It's a war out there between the styrene and urethane panel manufacturers!" Not quite a war, but the rivalry was and remains hot. The conflicts between competing types of insulating foam in building products in general have focused mostly on
fire safety of various foam insulating products
aged R-value of different foam insulations
long term durability of foam insulation products
The vast majority of the stress-skin insulated panels use polystyrene - commonly called beadboard - for the simple reason that it is much cheaper than urethane foam.
William Porter of W.H. Porter Company, Holland MI, a producer of both types of panels indicated that in the 1980's beadboard-filled stress skin insulated panels were selling 10 to one over urethane foam based panels. Those who want the urethane, said Porter, are looking for higher R-values, "... but don't want to go to a foot-thick stress-skin panel."
Our photo (above, left) from the original Solar Age stress skin panel article illustrates wrapping the house with stress-skin panels with drywall on the interior and OSB on the exterior. If heavy siding is used or the exterior is shingled, the OSB has to be strapped. [Click any image for an enlarged, detailed view.]
Inch for inch, a urethane foam core stress skin panel may cost twice as much as a beadboard panel. But compared by R-value the differences are small, said Amos Winter of the urethane-panel manufacturing firm Winter Panel Corp. in Brattleboro, Vermont.
An average 5 1/2-inch foam core stress skin panel filled with beadboard cost [1980's prices] from $1.75 to $2.20 per square foot, said Winter, compared with $2.20 for a 3 1/2-inch urethane stress skin foam core panel with comparable R-value. Urethane foam offers R-6 to R-7 per inch (according to most sources) compared with beadboard's R-3.8 per inch. How well either product holds its R-value over time is another bone of contention. [See INSULATION R-VALUES & PROPERTIES and POLYSTYRENE FOAM INSULATION and URETHANE FOAM Deterioration, Outgassing for current details.]
Fire Safety of Types of Stress Skin Insulated Structural Panels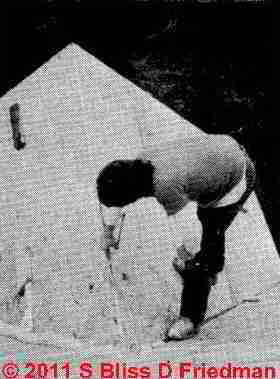 Urethane foam insulated panel loyalists are skeptical of the performance of beadboard insulation in a fire. Said one builder, "I just wouldn't feel safe in a house that would melt in a fire."
The problem, says Amos Winter, "... is that beadboard panels will fail structurally when the foam starts to melt at around 200 degF, whether the panels burn or not." He says that the melted styrene (it flows at around 250 degF) will feed a fire like molten wax from a candle.
Urethane foam burns more like wood, he says. It stays intact until it burns through. Winter believes that a styrene foam insulated panel system is more acceptable if it has fire-stops throughout and full structural supports - for example, a system with full 2-by splines at all panel joints and edges.
Our photo (above, left) from the original Solar Age stress skin panel article illustrates the installer improving the thermal performance of the stress skin panels by filling joints with one-part urethane foam.
Either type of insulated foam panel can be made to comply with the 15-minute thermal-barrier requirement. But the codes were not written [prior to 1986] "... for a system that melts." says Winter.
William Porter, who makes both beadboard and urethane foam core stress skin panels, points out that both will burn at higher temperatures. He feels that the code requirement for 1/2-inch drywall on studs and 1/2-inch wood on ceiling panels is adequate. Using just drywall on a ceiling stress-skin panel is unwise, anyway, says Porter, because the panel could sag if the drywall ever got wet.
Styrene stress-skin foam core panel supporters counter by arguing that melting temperatures [of the foam insulating core] don't occur in walls or roofs under normal conditions or even during small fires. One manufacturer, Enercept in Watertown SD, says that its panel with drywall and waferboard on the interior surface passed the UL "corner test" intact. In that Underwriters Laboratories fire test, a 35-pound wood pile is ignited in a full-scale mock-up building corner. This type of test is challenged by Winter. He says it isn't representative of condition in a real fire because the space is not enclosed.
Longevity / Durability of Stress-Skin Insulated Foam Core Panels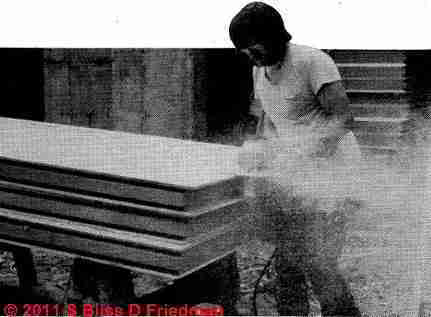 Discussions about long-term performance of stress skin panels are equally contentious. Under moist conditions, says Porter, urethane expands slightly as it ages and styrene beadboard contracts. "Too much of either is not desirable," he says.
In a batch of urethane panels produced early on in the 1980's, the foam shrunk and warped the panels, said Winter, who removed and replaced them.
The foam core panel shrinkage problem was solved, he says, by improving the chemistry of the foam insulation. The message is clear: Urethane foam "needs a good cook" to insure good performance.
Our photo (above, left) from the original Solar Age stress skin panel article shows an employee of Atlas Industries, Ayer MA, preparing stress skin foam insulated panels by routing out space to allow spline inserts where panel edges meet. The company has produced stress skin insulated foam core building panels since the mid 1970's.
More important to the durability of stress skin panels is the longevity of the foam core itself and the bond of the foam insulating core to the facing materials of the panel. Many distrust the life expectancy of 1-pound density styrene beadboard, which has a soft, breakable consistency. To get a good bond, the adhesive must penetrate into the beadboard, says Winter. He prefers urethane adhesive with beadboard cores. Urethane, on the other hand, is difficult to bond to because the cells on the surface are cut open "like cracked egg shells".
US FPL study on the durability of stressed skin panels or SIPs
See Stressed Skin Panel Performance After Twenty-Five Years of Service. Quoting from that document's summary, and recognizing that panels, foam insulation, and adhesives have surely improved since the original 1962 study:
Wall panels used in construction of a prefabricated house, built in 1937, were removed in 1962 to determine their performance characteristics after 25 years' service. The panels were evaluated for stiffness and bending strength, and the glue joints in the plywood and between the plywood and the framing members were evaluated for shear strength. Replacement panels. placed in the prefabricated house in 1962, were evaluated to equivalent design loads of 20 pounds per square foot prior to being placed in the house. Panels of a construction similar to the replacement panels were evaluated to failure.
The panel stiffness evaluations showed that span deflection ratios at design load, both for panels removed after 25 years' service and for recently fabricated panels, exceeded by several times the normal allowable design values for walls. Failing load also exceeded design values by factors of more than 10.
Evaluations of plywood in shear, after the conventional exterior-type boil-dry cycle test, indicated relatively little change in quality of the glue joints after 25 years' service. Results of dry shear tests of the casein-glued joints between plywood and the framing members showed little evidence of deterioration.
The panels were designed and maintained to control moisture effects and the entry of water during the 25 years' service.
Stress Skin Panel Facings & Bonding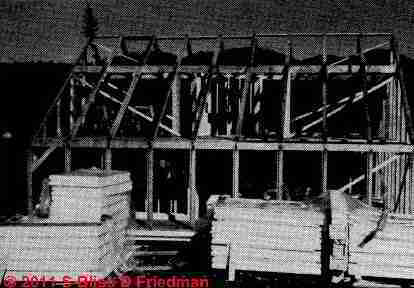 There are as many ways to fashion stress-skin foam core building panels as there are manufacturers. With some foam core panels, the urethane is best foamed in place between the sheets, providing its own integral bond between the cured foam insulation and the panel surfaces. More commonly, the plastic foam insulation core is laminated to the sheets of the panel with a contact adhesive or a pressure-set adhesive.
Our photo (left) from the original Solar Age article shows stress skin panels and timber frame components for a completely pre-cut kit house using polystyrene panels and a simplified timber frame system sold by Northern Energy Homes.
"Laminating [foam core insulated building panels] is tricky", says Porter. "If you haven't made a mistake you haven't been in the business long." At one point, he says, his company used an adhesive with a plasticizer that dried up over time and eroded the bond to the stress skin panel. Most glues are sensitive to air temperature and moisture content. They require industrial-type clamping to get good performance.
If laminating is difficult, foaming stress skin panels in place is even more so, says Winter, a veteran urethane foamer. The process is technically complex, chemically volatile, and as much art as science.
Do-it-yourself Home Made Stress Skin Insulated Foam Core Building Panels?
The manufacturers do seem to agree that it's best to avoid home-grown stress-skin insulated building panels - particularly if the panels will bear structural loads. The bond of foam to facing is what transfers the loads to the panel skin and gives the panels their strength.
Stress Skin Insulated Building Panel Construction Details
Best Skin Material for Stress Skin Panels
As for the best skin material for stress-skin foam core panels, there is little agreement. Timber-framer Benson experimented with plywood on the exterior. He says he had problems with the plies delaminating. By the early 1980's he had switched from waferboard panels to Oriented Strand Board (OSB) because it is stronger and holds nails better than the waferboard.
Stress Skin Panel Strapping for Siding
All panel facing materials have to be strapped, he says, to receive heavy sidings, because there are no studs.
Another timber-framing company, Northern Energy Homes [photo above] tried waferboard panels before switching back to plywood skinned panels. The waferboard had a "negative appeal to clients" and the savings in cost over plywood were marginal.
Interior Facings for Stress Skin Foam Core Panels
On the interior face, Northern Energy Homes uses either 3/4-inch T&G Pine or 1/2-inch drywall. The 1/2-inch drywall is backed by 1/4-inch waferboard - there to keep the panels a uniform thickness and to provide a nailbase for interior trim. With just a drywall skin, hanging finish materials such as kitchen cabinets can present a problem. Tedd Benson has 2x4's custom fitted into the kitchen stress-skin wall panels where wall and base cabinets will attach. For lightweight items, he says, molly bolts into the foam work just fine.
Joints, Grooves & Slots in Stress Skin Building Panels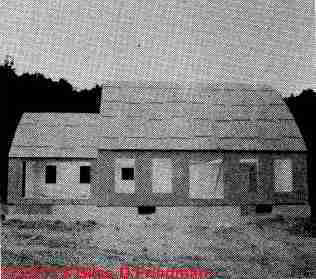 Like most building products, "an insulated stress-skin building panel is only as good as its installation," says Benson. The key is having a good system to attach one panel to another. Most stress-skin panels use some spline system to get continuity between panels.
Our photo (left) from the original Solar Age article illustrates a bowed-roof cape design using structural panels on a home from Winter Panel Corp.
How finicky one must be at the stress skin panel joint is a matter of judgment. A full wood spline - for example, a 2x6 for a nominal 6-inch foam core panel - is the most common treatment at a joint. A full spline nailed through from both faces, and sometimes glued, provides good structural continuity.
But the stress-skin panel joint is a weak link thermally. This will often result in "melt lines" or "frost lines" showing on the roof. Full splines can also lead to cracked drywall joints on the building interior if the wood spline swells during the first winter.
To beef up the stress skin panel joint thermally, many have switched to a double-spline system. This improvement is still vulnerable to thermal, air, and moisture leaks. To bridge the gap thermally, Benson intentionally leaves a 3/8-inch gap in the foam between the splines. The gap is foamed through 1/4-inch holes drilled about every 10 inches from the outside. Northern Energy Homes uses a 1 1/2 x 2-inch foam spline to get thermal continuity. Its panels are slightly beveled, leaving a gap on the outside to be foamed for an airseal.
Special Considerations for Stress-Skin Insulated Panel Roofs
Stress-skin roofs face another nuisance. Sometimes roof shingles refuse to lie flat over the stress-skin panel joints. The cause is attributed to expansion of the waferboard, which buckles the shingles. This problem has also been reported on conventional roofs with waferboard roof sheathing.
One solution, reports Winter, is to seal the waferboard edges with roofing cement and then wet down the roof to "condition" it to its normal moisture content. Some waferboard manufacturers are said to be responding to the problem by preconditioning their panels. Tedd Benson says that his solid foam-to-foam joint seems to prevent this problem, which he blames in part on moisture that escapes and condenses under the shingles.
Stress-Skin Foam Core Building Panel Market Tactics
Stress-skin building panels can't beat the cost of conventional building systems. But they are carving out a niche in the market for low-energy houses. Stress skin should be come more competitive since the costs of labor and materials for conventional buildings are increasing faster. Most would agree that stress-skin panels are used to their best advantage in manufactured and pre-cut panelized housing, where the increased material costs are offset by labor savings and quicker scheduling.
Enercept pre-cuts homes to the customer's plans. The company supplies a complete system through a dealer/contractor network. Enercept's building construction system is frameless with patented wood and metal connectors for wall and roof stress-skin panels. Vertical loads are picked up by thermally broken studs placed in the panels 4-feet on center. Once the foundation is in, an average house shell can be completed in two or three days, says Enercept's Ken Norberg.
Using Stress Skin Insulated Foam Core Panels for Insulated Ceilings
The W.H. Porter Company markets some insulated foam core stress skin panels with a tubular-steel octagonal frame. It's aimed at the recreational and vacation-home market. Most of Porter's panels are sold for roofs of conventional houses, and some for site-built panelized homes. Porter sees great promise for OSB-faced roof stress-skin panels that can san up to 24 feet. "There's no better product," he says, "for cathedral ceiling applications."
Northern Energy Homes supplies completely pre-cut house packages - using styrene core foam panels and a simplified timber frame. "Each piece is pre-engineered and pre-cut for each house," says Northern Energy's Richard Clancy. "This way," he says, "we don't leave our technology up to the contractor." The standard package includes such energy amenities as Heat-Mirror windows, integrated night insulation, and ground water heat pumps.
Other companies garget specialty markets for stress skin insulated building panels. Several pre-fab sunspaces use foam-core stress-skin panels for end-walls and roof sections. Energy Saving Products, a company that specializes in indoor swimming pool equipment, markets stress-skin insulated panels for swimming pool enclosures. The company's Rita Welebob says urethane panels are viewed as a one-step solution to problems caused by rusty nail heads and soggy insulation.
While no figures were available in the 1980's, manufacturers reported rapid growth over the middle of that decade. Enercept's Ken Norberg forecasted growth from 50 to 100 percent per year in stress skin panel use in the mid 1980's.
No one speaks as if stress-skin building panels are panaceas. But arguments and rivalry aside, everyone predicts a bright future for the foam core panel system that can provide structural integrity, exceptional energy performance, and freedom from moisture concerns.

This article is reprinted/adapted/excerpted with permission from Solar Age Magazine - editor Steven Bliss.
In this energy savings article series we include solar energy, solar heating, solar hot water, and related building energy efficiency improvement articles reprinted/adapted/excerpted with permission from Solar Age Magazine - editor Steven Bliss.
Stress Skin Insulated Panel Repairs
Please see STRESS SKIN INSULATED PANEL REPAIR
List of Producers of Stress Skin Panels for Timber Frame & Structural Insulated Panel Homes
CONTACT us to add stress skin and structural insulated panel SIP producers and experts to this list - no fees.
Original article
The link to the original Q&A article in PDF form immediately below is preceded by an expanded/updated online version of this article.
...
Continue reading at STRESS SKIN INSULATED PANEL REPAIR or select a topic from closely-related articles below, or see our complete INDEX to RELATED ARTICLES below.
Or see FRAMING DETAILS for BETTER INSULATION
Or see ENERGY SAVINGS in BUILDINGS - home
Or see FRAMING DAMAGE, INSPECTION, REPAIR - home
Suggested citation for this web page
STRESS SKIN INSULATED PANELS at InspectApedia.com - online encyclopedia of building & environmental inspection, testing, diagnosis, repair, & problem prevention advice.
Or use the SEARCH BOX found below to Ask a Question or Search InspectApedia
Or use the SEARCH BOX found below to Ask a Question or Search InspectApedia
...
Frequently Asked Questions (FAQs)
Try the search box below or CONTACT US by email if you cannot find the answer you need at InspectApedia.
Question: how is foam inserted into the stress skin box to fill it completely?
I understand that urethane foams are made from a two part process. How are they inserted into a stress skin "box" to get to all areas of the box? - wallspalomar@aol.com 2/27/12
Reply:
Walls: there are other approaches, but most often the plastic foam insulation core is laminated to the sheets of the panel with a contact adhesive or a pressure-set adhesive. Using that approach there are no air voids.
...
Ask a Question or Search InspectApedia
Use the "Click to Show or Hide FAQs" link just above to see recently-posted questions, comments, replies, try the search box just below, or if you prefer, post a question or comment in the Comments box below and we will respond promptly.
Search the InspectApedia website
Technical Reviewers & References
Click to Show or Hide Citations & References
Solar Age Magazine was the official publication of the American Solar Energy Society. The contemporary solar energy magazine associated with the Society is Solar Today. "Established in 1954, the nonprofit American Solar Energy Society (ASES) is the nation's leading association of solar professionals & advocates. Our mission is to inspire an era of energy innovation and speed the transition to a sustainable energy economy. We advance education, research and policy. Leading for more than 50 years. ASES leads national efforts to increase the use of solar energy, energy efficiency and other sustainable technologies in the U.S. We publish the award-winning SOLAR TODAY magazine, organize and present the ASES National Solar Conference and lead the ASES National Solar Tour – the largest grassroots solar event in the world."

Steve Bliss's Building Advisor at buildingadvisor.com helps homeowners & contractors plan & complete successful building & remodeling projects: buying land, site work, building design, cost estimating, materials & components, & project management through complete construction. Email: info@buildingadvisor.com
Steven Bliss served as editorial director and co-publisher of The Journal of Light Construction for 16 years and previously as building technology editor for Progressive Builder and Solar Age magazines. He worked in the building trades as a carpenter and design/build contractor for more than ten years and holds a masters degree from the Harvard Graduate School of Education. Excerpts from his recent book, Best Practices Guide to Residential Construction, Wiley (November 18, 2005) ISBN-10: 0471648361, ISBN-13: 978-0471648369, appear throughout this website, with permission and courtesy of Wiley & Sons. Best Practices Guide is available from the publisher, J. Wiley & Sons, and also at Amazon.com
Stressed Skin Panel Performance After Twenty-Five Years of Service, U.S. Department of Agriculture, Forest Service, Forest Products Laboratory, Madison WI, web search 01/22/2011, original source: http://www.fpl.fs.fed.us/documnts/fplrp/fplrp18.pdf
Passive Solar Design Handbook Volume I, the Passive Solar Handbook Introduction to Passive Solar Concepts, in a version used by the U.S. Air Force - online version available at this link and from the USAF also at wbdg.org/ccb/AF/AFH/pshbk_v1.pdf
Passive Solar Design Handbook Volume II, the Passive Solar Handbook Comprehensive Planning Guide, in a version used by the U.S. Air Force - online version available at this link and from the USAF also at wbdg.org/ccb/AF/AFH/pshbk_v2.pdf [This is a large PDF file that can take a while to load]
Passive Solar Handbook Volume III, the Passive Solar Handbook Programming Guide, in a version used by the U.S. Air Force - online version available at this link and from the USAF also at wbdg.org/ccb/AF/AFH/pshbk_v3.pdf
The Passive Solar Design and Construction Handbook, Steven Winter Associates (Author), Michael J. Crosbie (Editor), Wiley & Sons, ISBN 978-047118382 or 0471183083 is available at Amazon.com and via the The Passive Solar Design and Construction Handbook, Steven Winter Associates (Author), Michael J. Crosbie (Editor), Wiley & Sons, ISBN 978-047118382 or 0471183083 is available at Amazon.com and via the InspectAPedia Bookstore
"Passive Solar Home Design", U.S. Department of Energy, describes using a home's windows, walls, and floors to collect and store solar energy for winter heating and also rejecting solar heat in warm weather.
"Solar Water Heaters", U.S. Department of Energy article on solar domestic water heaters to generate domestic hot water in buildings, explains how solar water heaters work. Solar heat for swimming pools is also discussed.
"Heat Exchangers for Solar Water Heating Systems", U.S. DOE describes the types of solar water heater heat exchange methods between the sun and the building's hot water supply
"Heat-Transfer Fluids for Solar Water Heating Systems", U.S. DOE, describes the types of fluids selected to transfer heat between the solar collector and the hot water in storage tanks in a building. These include air, water, water with glycol antifreeze mixtures (needed when using solar hot water systems in freezing climates), hydrocarbon oils, and refrigerants or silicones for heat transfer.
"Solar Water Heating System Freeze Protection", U.S. DOE,using antifreeze mixture in solar water heaters (or other freeze-resistant heat transfer fluids), as well as piping to permit draining the solar collector and piping system.
www.energysavers.gov/your_home/water_heating/index.cfm/mytopic=12850 is the base U.S. DOE website for these articles
"Active Solar Heating Systems", U.S. Department of Energy, including
"Radiant Heating Systems" U.S. DOE
"Absorption Heat Pumps & Coolers", U.S. DOE
"Solar Air Heating" U.S. DOE also referred to as "Ventilation Preheating" in which solar systems use air for absorbing and transferring solar energy or heat to a building
"Solar Liquid Heating" U.S. DOE, systems using liquid (typically water) in flat plate solar collectors to collect solar energy in the form of heat for transfer into a building for space heating or hot water heating. The term "solar liquid" is used for accuracy, rather than "solar water" because the water may contain an antifreeze or other chemicals.
Books & Articles on Building & Environmental Inspection, Testing, Diagnosis, & Repair