The Water Pump Relay Switch on Private Well and Pump Systems
WATER PUMP RELAY SWITCH - CONTENTS: Well pump relay switches: How to Find & Use the Water Pump Relay Switch, will one be installed on your system? if so where is it? what does the pump relay do? Why is it needed? Well pump relay switch diagnosis & repair procedures
POST a QUESTION or READ FAQs about the function, diagnosis, repair or replacement of well pump relay switches & controls
InspectAPedia tolerates no conflicts of interest. We have no relationship with advertisers, products, or services discussed at this website.
Heavy duty switching relays for well pumps:
This article describes how to find, use, diagnose, install and wire-up or repair the a water pump relay switch (well pump relay).
The page top photo shows a typical wall-mounted Goulds ™ relay switch used to power a submersible well pump. The well pump relay switch is used to turn on and off higher horsepower well pumps. The pump pressure control switch operates the pump relay switch that in turn operates the pump.
Green links show where you are. © Copyright 2017 InspectApedia.com, All Rights Reserved.
How to Locate & Use the Water Pump Relay Switch
Where will I find the pressure control switch and where is the pump relay switch?
The water pump pressure control switch (orange arrow in photo at below left) and the pump relay switch (below right) are two different devices. As we explain below, all well pump systems require a pressure control switch to sense the water pressure and turn the pump on and off as needed. But when a higher horsepower submersible pump is used, a separate pump relay (red arrow in photo below right) is used to actually control turning the pump on and off.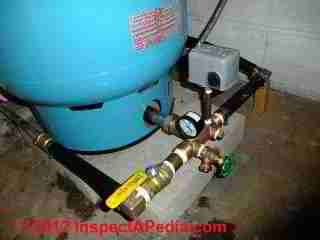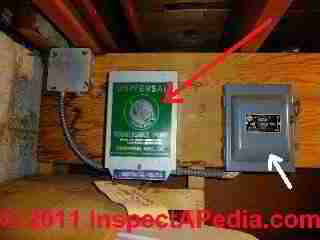 Well Pump electrical power switch: In the photo at above right, you'll note a third control marked by the white arrow. This is the main electrical power shutoff for the well pump. Some pump relay covers, when removed, include a pull-out switch that cuts electrical power to the pump. This is a handy detail to know: if your well pump relay switch is of that type, and if the cover of the switch is not securely installed, your well pump could lose electrical power and the building will have no water.
Watch out: while the pressure control switch is usually easy to find (located on or close to the water pressure tank) the pump relay switch might be found nearby, say on a wall (photo below left) or it might be hidden away in a closet or crawl space (photo above right).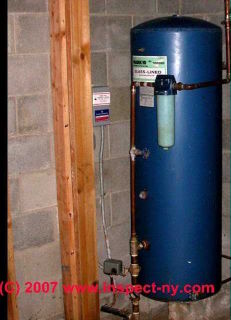 How to Recognize and Locate a Pump Relay Switch
In this photograph a pump relay switch is mounted on the wall to the left of the blue water pressure tank. You'll notice that an electrical conduit can be seen running down the wall below this gray switch box. The relay is usually mounted on a wall near the water pressure tank.
How are Water Pump Relay Switches Wired & Controlled?
Electrical power, either 120V or 240V, is brought into the relay switch from the electrical panel and is connected to one side of an internal relay switch inside the box. Wiring to the water pump, usually a submersible pump located inside the well, is connected to the other side of the relay switch.
A separate pair of wires will run from the relay switch to the pump pressure control switch. (See that little gray box at the lower end of the conduit below the larger, wall-mounted gray pressure switch box?).
When the pump pressure control switch detects that the water pump should turn on, a light-duty switch inside of the water pump pressure control switch senses this pressure drop and turns on the heavy-duty electrical relay switch inside of the wall mounted pump relay.
The wall mounted relay thus is sending power to the water pump.
When do we use a pump relay switch
A pump relay switch such as the relay switches shown in photographs in this article is used to power a water pump when the voltage/amperage combination would be too much to switch on and off by the simple pump pressure switch.
Larger horsepower submersible well pumps draw more than 15A, sufficient amperage that if they were wired through a little pressure control switch at the water tank that switch would burn up pretty quickly.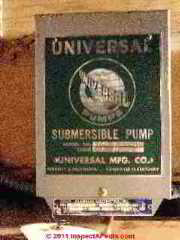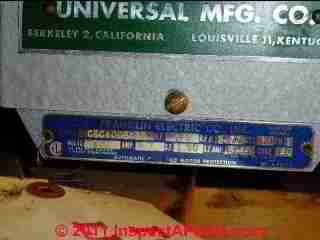 The specifications and load handling capacity of the pump relay switch are found on the switch cover or body, or sometimes on a sticker located inside the switch cover. A closer examination of this data (above right, click to enlarge) indicates the horsepower rating of the pump that the switch is intended to handle - in the case of our photo, it's a 1/2 hp submersible well pump wired for up to 230V (and at 5this voltage drawing just 7.7Amps).
Technical note: if the well pump offers the option of wiring at either 120V or 240V, we prefer to wire for 240V service. If you need help sorting out the definitions of current (amperage or amps), voltage, and watts, see DEFINE AMPS VOLTS WATTS.
When are pump relay switches not used?
Many well pump installations use only the pressure control switch to operate the system, so separate pump relay switches are not installed on every water pump. Separate pump relay switches are usually not found when the water pump is above ground such as when a one line or two line jet pump is installed at or near the water pressure tank and they are generally not used on smaller horsepower submersible well pumps that draw 15A or less of current. For those installations,
a WATER PUMP PRESSURE CONTROL SWITCH is sufficient.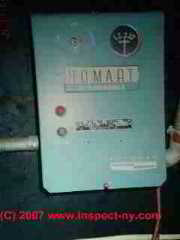 Combined Heavy Duty Pump Relays and Pressure Controls
Some heavy duty submersible pump relays such as the Homat™ switch shown in this photograph combine the pressure control sensor and the heavy duty pump electrical relay switch.
Notice the copper tube entering the pump relay box at the lower right in this photo? Also notice that this switch has a pressure gauge right on the switch box face.
This pump control switch has combined a water pressure sensor and switch with the relay to send power to the water pump.
So inspecting the rest of the water equipment at this building we won't expect to find that ordinary littlegray box which controls pump operation on a lower horsepower water pump.
Where is the "electrical ON-OFF switch" when a wall mounted heavy duty pump relay is installed?
We may not see a separate wall mounted electrical switch by the pump controls when a heavy duty relay such as those discussed here is installed. Rather, on at least some of these switches, pulling off the cover of the relay box will actually disconnect internal components and thus serves as a local electrical switch for the water pump.
Safety warning live voltage is inside of all of these pump switches - and is a shock hazard. When you don't see an ordinary wall switch to turn off the water pump you're probably safer going to the electrical panel where you can turn off power to the water pump by switching off the appropriate circuit breaker or pulling the appropriate fuse.
...
Continue reading at PUMP CONTROL STATUS INDICATORS or select a topic from closely-related articles below, or see our complete INDEX to RELATED ARTICLES below.
Or see CHATTERING RELAY CONTROL SWITCHES
Or see WATER PUMP PRESSURE CONTROL SWITCH
Suggested citation for this web page
WATER PUMP RELAY SWITCH at InspectApedia.com - online encyclopedia of building & environmental inspection, testing, diagnosis, repair, & problem prevention advice.
Or use the SEARCH BOX found below to Ask a Question or Search InspectApedia
...
Frequently Asked Questions (FAQs)
Try the search box below or CONTACT US by email if you cannot find the answer you need at InspectApedia.
Question: Pump motor capacitor blows up
(July 6, 2011) RJ said:
The capacitor in my well head control box for my submersible pump at my home was replaced 2 months ago. Last night the new capacitor blew it's top off. There was an electrical burn mark on the inside of the control box near the lead connections at the capacitor. I purchased and installed a new capacitor this morning. After 3 hours of lawn watering my wife reports that the water is off again. I can only guess it is the capacitor again. What would cause this and how do I repair it?
Reply:
I am SPECULATING that the unit was wired improperly or there is a short in the system;
Also see CAPACITORS for HARD STARTING MOTORS
Question: can the pump relay switch control a well pump that is quite far away?
(June 7, 2012) Shane said:
Should a well pump relay switch be used to control the power supply to the pump when the power supply to the pump is quite far from where the pressure tank and pressure switch are? In our situation, water is supplied from well to pressure tank located in house about 60 meters away.
Power to well pump supplied from garage, which is 10 meters away from well. We want to install relay switch in garage next to electrical panel and run signal wire from pressure switch on pressure tank (in house) to trigger relay switch in garage based upon pressure in tank. Subersible pump is older 240 volt 2 wire (plus ground) variety.
Reply:
Shane, the well pump relay switch is usually located quite close to the pressure control relay switch and is installed for higher horsepower pumps that draw higher current - as a way to extend the life of a pressure control switch not designed to handle heavy switching loads.
The problem of distance among electrical controls, switches, relays, and the well pump itself are handled by choosing the proper wire size or gauge as per tables in the NEC. To avoid overheating an electrical wire when the run is quite long, a larger sized wire may be required.
Question: pump pressure switch keeps burning up
[delete] (June 29, 2012) Mark said:
After reading your page I have the same problem some have. My pressure switch keeps buring up after some us. I need to get a relay switch installed for my above ground water well pump. The water well pump is 120v. Where can I buy a relay switch for the water well pump?
Mark
Reply:
Mark, plumbing suppliers and well equipment suppliers and some electrical supply houses have well pump relay switches. But on a 120V above ground pump - I imagine it's a one line or two line jet pump - I wouldn't expect you to need a separate control - those are used when the pump hp is a high amount.
Check to see if your pump can be rewired to run on 240V - it would run better and easier and draw less current which could save your pressure control switch.
Check for low water or damaged pump impeller or a bad pressure control switch - that means the pump relay switch never turns off.
Reader follow-up
Hi, thanks for the reply to my comments. Yes its a flotec 2 line get pump. Pressure switch draws 14 amps. Breaker is a 20 amp 120v system . Pressure switch burning up especially when pump cycles off /on watering grass etc. Relay switch must help out. Will get electrician to quote converting service to 240v but for now relay switch is what i need, Correct?
Reply:
Mark, not necessarily; short cycling of the pump can burn up switch contacts; I'd be sure that the pressure tank is not waterlogged; And I wouldn't buy a relay switch before I knew what other wiring and voltage changes might be in store.
Question: no water pressure, contacts closed, humming noise
(July 18, 2012) Scott said:
Mark-I have no pressure it is below the cut-in. The contacts on the control switch are closed, when I turn on the breaker there is a hum at the relay switch but no clicking noise. How do I test for a short in the submersible? Or a problem with the relay? thank you
Reply:
Check for electrical power first.
Humming suggests you have power - TURN IT OFF. Something is jammed or burning up, probably a stuck relay or a bad pump motor.
See ELECTRIC MOTOR DIAGNOSTIC GUIDE
Watch out: a submersible pump can be running and you won't know it unless your pump relay includes diagnostic lights or a display. Be sure that there is a pressure relief valve on the water tank lest it burst.
Question: short cycling pump control diagnosis
(July 20, 2012) A.L. clueless said:
chain of events... short cycling, then the pump shut off, hit the button and again short cycling. Lasts for a few days, then no water to the house, red button keeps popping when power is turned on to pump, tank has water (not much) on floor, realizing the tank it totally full, opened pipe and released all water, now no power to pump, relay switch pops within seconds .....suggestions?
Reply:
Perhaps the waterlogged water pressure tank that is causing pump short cycling is also overheating the pump motor?
See WATER PUMP SHORT CYCLING DIAGNOSIS TABLE
Question: does it matter what sort orf pump controller I use?
(Aug 9, 2012) Dropframe said:
I have a 240v pump. Does it matter whose pump controller I use? What voltage is required to turn the pump on and off via the controller? I have a water tower that the pump fills. I want to make it automatic with a new pump controller and auto level sensor in tank.
Reply:
No Drop, I don't think so as long as the ampacity and voltage wiring are all correctly matched you can use any of a variety of pump pressure control switches and relays.
I can't answer your voltage question - it depends on your pump motor and how it's wired: for 120V or 240V.
The pressure control switch from most mfgs can also be wired at either voltage level.
(Aug 12, 2012) Dropframe said:
I guessed that they would have a control voltage, like 12volts that triggers the pump controller to turn the pump on. So if I get an auto level sensor,(which usually gives a low voltage output) you are saying it would need to be connected to an external relay that sends 120v 0r 240v to the pump controller which then turns the pump on. Is the voltage thru this external relay the voltage that actually powers the pump? (My pump is 240v)
Reply:
Drop.
The pressure control (usually 120v tho some can run 240v) on your system as you describe it is used to switch a heavier duty pump relay that in turn powers the pum from a power feed brought into that relay box, not thru the pressure switch.
Bottom line, the discussion indicates that you should ask for onsite wiring by a licensed electrician.
(Aug 18, 2012) Dropframe said:
Two things. A licensed electrician is not something you find in rural Costa Rica. (electricity here is just like the USA 110/60hz normally with 220v for my well pump) My system does not have a pressure switch. It is a gravity feed from a water tower. The pump fills the tower and and gravity supplies the water pressure. According to the way I read your comment, the current to trigger the pump controller could be either 110 or 220. That seems excessive to just trigger a relay. Are you sure?
Reply:
About "licensed electrician" the intent is to find someone with some training so that nobody gets electrocuted.
"Current" is amps not volts. Pump controllers are wired as 110V or 220V depending on the supplying circuit voltage level which in turn is of course matched to the type of pump motor (110 or 120V). Some motors are convertible.
For smaller horsepower well pumps the pressure control switch handles the whole job as the current draw (amps) is not more than the pressure switch can handle. For higher horsepower well pumps the pressure control switch contacts will burn up or the relay will burn up under the high current flow, so the design changes: we use the pressure control switch to operate a heavier-duty separate pump relay switch (the subject of the article above on this page). The pump relay then turns the pump on and off.
Dropframe: in my original reply that I just located I said something similar to the edited reply above:
Typically an above ground well pump is small enough HP and amperage draw that it is switched by a pressure control switch - the switch is operated by water pressure and opens or closes a relay to turn the pump on and off. That switch may be wired for 120V or 240V depending on what the pump calls for.
For higher HP submersible well pumps and for some high horsepower above ground pumps, because the switch I just described is not meant for heavy current loads, the pressure control switch at the water tank is used to operate a separate heavy duty pump relay control like the one at the top of this page - that in turn operates the pump.
Sure you could operate the first pressure control relay in this case with low voltage but the most common switch operates at 120V.
I appreciate that you don't have an expert (licensed) electrician in rural Costa Rica - having spent time there myself. But my caveat had as its underpinning thought, the concern that if you don't know what you're doing you could make a mistake and kill yourself.
Question: pump relay won't switch on
(Sept 6, 2012) Leigh said:
no water so I put in a new pump pressure switch but still no water. The switch is working but the relay switch didn't make it's normal click. My plumber friend says that means the pump is shot, but wouldn't the relay switch on even if the pump was no good?
Reply:
Leigh:
Yes, the pump relay is an independent assembly from the pump itself, and would "click" on (or off) to try to turn a pump on or off regardless of whether or not the pump was operable. However, if a pump motor failed with a dead short, that might ultimately also impact a relay switch.
It's easy and inexpensive to try swapping in a relay switch. But first check the water pressure in the pressure tank and run water to drop the pressure below the cut-in pressure set at the switch so you're sure the switch should be calling for the pump to turn on.
Question: fusing for pump relays
(Feb 10, 2013) Unknown Person said:
Does a pump relay switch have a fuse in them by any chance?
Reply:
The pump relays I'm familiar with are protected by a separate fuse or circuit breaker.
Question: how to test that the pump relay switch is working - how do I test the pump relay?
(Aug 5, 2012) High and Dry said:
How do you test to see if the Pump relay switch is bad vs. the pump being bad? I'm getting full power to the the relay.
And I have full power at the well head, from the relay, feeding the pump wires.....bad pump???
(Feb 10, 2013) Anonymous said:
First off, when the contacts are connected the pump kicks in and when they kick back the pump shuts off right? Assuming that is correct and replacing the pressure switch isolated the problem to either pump relay or pump, should the pump relay make an audible sound as it trys to turn the pump on? Would testing the wires as they come out of the relay box en route to the pump and finding power confirm that the problem is the pump?
Reply:
H&D, sounds as if your pump is not pumping; your well company or plumber will probably use a VOM to check resistance and current draw to see what's going on with the motor.
Anon, you are right: when the pump relay pulls "in" the contacts are "made" the circuit switch is "closed" and current can flow, so the pump motor runs.
Pump relays and their activating little brother, the pressure control switch usually involve a mechanical relay. Typically we hear a little "click" when the relay makes or closes, and if there is no other louder ambient noise we'll hear another little click when the relay opens. Or not. Some switches are a bit quiet.
Some pump relays include indicator lights so that we know when the relay thinks the pump is (or should be) running and some models are much more sophisticated and monitor currrent draw, telling us helpful information such as
The pump is running dry (low current)
The pump is running and pumping (normal current draw)
The pump is in trouble and binding (high current draw or a developing short)
The pump is off (no current draw)
If you know how to use a VOM or DMM safely you can indeed check for current flow on the wires leaving the pump relay and controlling the pump.
Question: chattering pump control switch
4/29.2014 pete said:
My well pressure switch is chattering when the pump is called to turn on why is it doing that ?
Reply:
Pete
Check first for a clogged filter or closed valve blocking water output from the pump causing rapid on off cycling.
If that's not the problem I suspect burned contacts in the relay - time for a new pump switch, though I suppose low voltage or a loose connection could also be at fault.
Question: missing relay switch? Pump not working properly?
(June 3, 2014) Carol said:
I have a neighbot that bought a home in need of a lot of repairs. One of their complaints was very low water pressure. Since we are on a well system too, we offered to take a look at their setup. The previous owner did not or could not tell the current owners where the actual well is located. Upon inspection we could see the wiring from the pump coming into the basement. Black/red/white but no visible ground. Apparently at some point there had been a relay installed but we found it laying aside not connected at all. The wires coming from the pressure switch were straight connected to the pump wiring...again...with no relay installed. The pressure switch was reading about 18. With water turned on in the house the pressure would slowly drop but a cut in point was never reached.
Once the water was turned off the pressure would build back to about 18. One of their relatives had checked the air in the pressure tank but didn't drain it befoe checking. It's our understanding it needs to be empty and set 2 psi below cut-in on pressure switch. Now, we are thinking there are multiple problems, obviously, with this setup. One being that the line going into the pressure tank is connected with a washing machine hose...Oh my Lord!! Anyway, is it possible if we verify the pressure tank psi, after emptying it, and install a new pressure switch that this will raise their water pressure? One of them did order a new capacitor for the relay (that's not installed). The relay has Black, Red, Yellow/Line 2, Line 1 with a red(trip?) button on it. We are not familir with the wiring for this since ours is a 2-wire pump. And the wiring from their pump is, as mentioned before, red/black/white.
Reply:
It sounds as if someone abandoned a relay intended to turn the pump on and off. The relay in turn would have been operated by the reassure switch. Sounds like a 240V pump circuit. If so idnot expect the relay to last long.
Pressure at the tank is indicated by a pressure gauge mounted on the tank tee or nearby.
If you drain the tank completely tats a fair starting point to get hings inning.
The installation sounds such a mess it may be unsafe. I'd prefer to hear that you brought in an experienced professional plumber.
Don't forget to include a pressure relief valve too.
(June 4, 2014) Carol said:

I totally agree this setup is a mess.
Question: If we turn off all power to the pump, drain the pressure tank and check its psi, adjust pressure, install a new pressure switch, that this would possibly provide them with more water pressure until they can afford an experienced plumber?...as they are limited on funds right now. Also, if I understand things correctly, since this is apparently a 3-wire pump, shouldn't there be a relay installed? I was a little confused at your response about the relay not lasting long....please forgive my ignorance on this. I/we wouldn't attempt to install it ourselves for sure as it needs to be like you said an experienced professional plumber.
Question: sparking pressure switch contacts
(Oct 10, 2014) Alison said:
I have a well pump connected to a relay switch, connected to a pressure switch with 2 wires (plus ground).
I recently had to replace the pressure switch because the terminals were sparking (arcing?), usually at cut-off. It wore down the terminals to the point where the switch wouldn't make a connection.
I replaced the switch, checked and recharged the pressure tank to it's pre-charge (38psi - it had fallen to near 0 psi. ? ), and adjusted the pressure switch accordingly to 40/60psi.
Initially things looked good, but after a few cycles, the new pressure switch contacts were sparking. What should I check next?
Thanks in advance,
Alison
Reply:
Dirty contacts, improper voltage, loose connections, or a damaged or loaded well pump drawing high current.
Ask a Question or Search InspectApedia
Questions & answers or comments about the function, diagnosis, repair or replacement of well pump relay switches & controls
Use the "Click to Show or Hide FAQs" link just above to see recently-posted questions, comments, replies, try the search box just below, or if you prefer, post a question or comment in the Comments box below and we will respond promptly.
Search the InspectApedia website
Technical Reviewers & References
Click to Show or Hide Citations & References
Access Water Energy, PO Box 2061, Moorabbin, VIC 3189, Australia, Tel: 1300 797 758, email: sales@accesswater.com.au Moorabbin Office: Kingston Trade Centre, 100 Cochranes Rd, Moorabbin, VIC 3189
Australian supplier of: Greywater systems, Solar power to grid packages, Edwards solar systems, Vulcan compact solar systems, water & solar system pumps & controls, and a wide rage of above ground & under ground water storage tanks: concrete, steel, plastic, modular, and bladder storage tanks.
Smart Tank, Installation Instructions [ copy on file as /water/Smart_Tank_Flexcon.pdf ] - , Flexcon Industries, 300 Pond St., Randolph MA 02368, www.flexconind.com, Tel: 800-527-0030 - web search 07/24/2010, original source: http://www.flexconind.com/pdf/st_install.pdf
Typical Shallow Well One Line Jet Pump Installation [ copy on file as /water/Jet_Pump_Grove_Elect_Jet_Pumps.pdf ] - , Grove Electric, G&G Electric & Plumbing, 1900 NE 78th St., Suite 101, Vancouver WA 98665 www.grovelectric.com - web search -7/15/2010 original source: http://www.groverelectric.com/howto/38_Typical%20Jet%20Pump%20Installation.pdf
Typical Deep Well Two Line Jet Pump Installation [ copy on file as /water/Jet_Pump_Grove_Elect.pdf ] - , Grove Electric, G&G Electric & Plumbing, 1900 NE 78th St., Suite 101, Vancouver WA 98665 www.grovelectric.com - web search -7/15/2010 original source: http://www.groverelectric.com/howto/38_Typical%20Jet%20Pump%20Installation.pdf
Water Fact Sheet #3, Using Low-Yielding Wells [ copy on file as /water/Low_Yield_Wells_Penn_State.pdf ] - , Penn State College of Agricultural Sciences, Cooperative Extension, School of Forest Resources, web search 07/24/2010, original source: http://pubs.cas.psu.edu/FreePubs/pdfs/XH0002.pdf
Crystal Clear Supply provides portable ceramic water filter purifiers and portable reverse osmosis water treatment equipment - see http://www.crystalclearsupply.com/category_s/7.htm
Handbook of Disinfectants and Antiseptics, Joseph M. Ascenzi (Editor), CRC, 1995, ISBN-10: 0824795245 ISBN-13: 978-0824795245 "The evaluation of chemical germicides predates the golden age of microbiology..." -
This well-focused, up-to-date reference details the current medical uses of antiseptics and disinfectants -- particularly in the control of hospital-acquired infections -- presenting methods for evaluating products to obtain regulatory approval and examining chemical, physical, and microbiological properties as well as the toxicology of the most widely used commercial chemicals.
Potable Aqua® emergency drinking water germicidal tablets are produced by the Wisconsin Pharmacal Co., Jackson WI 53037. 800-558-6614 pharmacalway.com
Principles and Practice of Disinfection, Preservation and Sterilization (Hardcover)
by A. D. Russell (Editor), W. B. Hugo (Editor), G. A. J. Ayliffe (Editor), Blackwell Science, 2004. ISBN-10: 1405101997, ISBN-13: 978-1405101998.
"This superb book is the best of its kind available and one that will undoubtedly be useful, if not essential, to workers in a variety of industries. Thirty-one distinguished specialists deal comprehensively with the subject matter indicated by the title ... The book is produced with care, is very readable with useful selected references at the end of each chapter and an excellent index. It is an essential source book for everyone interested in this field. For pharmacy undergraduates, it will complement the excellent text on pharmaceutical microbiology by two of the present editors."
The Pharmaceutical Journal: "This is an excellent book. It deals comprehensively and authoritatively with its subject with contributions from 31 distinguished specialists. There is a great deal to interest all those involved in hospital infection ... This book is exceptionally well laid out. There are well chosen references for each chapter and an excellent index. It is highly recommended." The Journal of Hospital Infection.: "The editors and authors must be congratulated for this excellent treatise on nonantibiotic antimicrobial measures in hospitals and industry ... The publication is highly recommended to hospital and research personnel, especially to clinical microbiologists, infection-control and environmental-safety specialists, pharmacists, and dieticians."
New England Journal of Medicine: City Hospital, Birmingham, UK. Covers the many methods of the elimination or prevention of microbial growth. Provides an historical overview, descriptions of the types of antimicrobial agents, factors affecting efficacy, evaluation methods, and types of resistance. Features sterilization methods, and more. Previous edition: c1999. DNLM: Sterilization--methods.
U.S. Army Field Manual 21-10, Field Hygiene and Sanitation, 1988, web search 07/02/2010, original source: http://www.enlisted.info/field-manuals/fm-21-10-field-hygiene-and-sanitation.shtml
The purpose of this manual is to assist individual soldiers, unit commanders, leaders and field sanitation teams in preventing disease and environmental injuries. The manual provides information on preventive medicine measures (PMM) to the individual soldier as well as essential information for the unit commander, unit leaders, and the unit field sanitation team on applying unit level PMM.
When Technology Fails, Matthew Stein, Chelsea Green Publisher, 2008,493 pages. ISBN-10: 1933392452 ISBN-13: 978-1933392455, "... how to find and sterilize water in the face of utility failure, as well as practical information for dealing with water-quality issues even when the public tap water is still flowing". Mr. Stein's website is www.whentechfails.com/
...
Books & Articles on Building & Environmental Inspection, Testing, Diagnosis, & Repair
Our recommended books about building & mechanical systems design, inspection, problem diagnosis, and repair, and about indoor environment and IAQ testing, diagnosis, and cleanup are at the InspectAPedia Bookstore. Also see our Book Reviews - InspectAPedia.
...