Foundation Crack FAQs
Foundation Crack Definitions, Questions, Answers
FOUNDATION CRACK DEFINITIONS FAQs - CONTENTS: Q&A about the meaning of different patterns & types of cracks that occur in all types of masonry or concrete building foundations & walls, floors, ceilings.
POST a QUESTION or READ FAQs about the cause and repair of all types of building foundation and floor slab cracks.
InspectAPedia tolerates no conflicts of interest. We have no relationship with advertisers, products, or services discussed at this website.
Questions & answers about all types of foundation cracks, movement, damage in buildings:
FAQs help explain how to interpret or diagnose different sorts of cracks that may appear in the masonry foundationa of a building: crack types and causes in brick, stone, concrete foundations, walls, footings, floor slabs.
This article series provides a guide to identifying & evaluating different types of concrete or masonry foundation, wall or floor cracks in buildings: this article series describes how to recognize and diagnose various types of foundation failure or damage, such as foundation cracks, masonry foundation crack patterns, and moving, leaning, bulging, or bowing building foundation walls.
Green links show where you are. © Copyright 2017 InspectApedia.com, All Rights Reserved.
QUA on How to Evaluate Building Foundation Cracks & Movement & Foundation Crack Patterns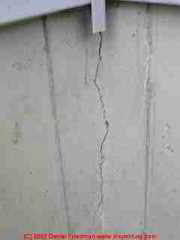 Foundation cracks, which are signs of foundation damage, can mean very different things depending on the material from which a foundation is made, the location, size, and shape of the foundation crack, and other site observations.
The size, shape, pattern, location of foundation cracks on a building, along with correlation with other site and construction conditions helps distinguish among probable causes.
These questions & answers about types of foundation cracks & damage were posted originally at FOUNDATION CRACK DICTIONARY
Brian,

When a slab crack extends into the footings and walls then it is by definition a structural crack (where a slab-only crack might be "non-structural" if the slab doesn't include integral footings as part of the slab).

A crack that's enough to separate finish flooring is not trivial.

But before doing anything by way of repair we really need to know
- the extent of damage that's been caused
- the cause of the cracking
- and thus what additional cracking or movement we might expect (minor initial settlement may be trivial while poor site prep or building over garbage might be quite serious)

I have no idea what "puddy the situation" means - do let me know what the heck that is

You'll want to see
CONCRETE SLAB CRACK EVALUATION http://inspectapedia.com/structure/Concrete_Floor_Cracks.php

SHRINKAGE vs EXPANSION vs SETTLEMENT http://inspectapedia.com/structure/Foundation_Crack_Types.php

to be better armed to understand what you see and what you're told.

I'd be careful not to allow a band-aid repair to close the possibility of future repair work under warranty should that be needed.

Keep me posted.

Closed on a newly constructed home in 2015 that is built on a concert slab. Several months ago noticed that floorboards (wood floor) are separating and lifting in 2 areas. Looked outside our home, and there are visible cracks in the foundation that align with the separating floor boards inside our home.
Floor company came to inspect and told us foundation was cracked and needed to be repaired. Suggested removing floorboards, pouring concert, and putting down new wood boards. Builder came to inspect, told us this is common, that their trade warranty people speak out of turn, and wants to "puddy" the separation.
We requested that the builder have an engineer come out to inspect, they said no. Where do we go from here, our home does have a structural warranty, but builder said they would need to be able to put their hand inside a crack for it to be of concern structurally. As a side note, there have been several homes in our neighborhood that have had the same issue, and have had to be repaired. Your help and direction would be greatly appreciated!

Richard,

At the More Reading links at the end of FOUNDATION CRACK DICTIONARY

this article FOUNDATION DAMAGE SEVERITY

should to be helpful preparation, but perhaps best is for you to get an on-site expert opinion from an experienced Foundation contractor or structural or civil engineer.

I added a new 2-car garage next to my old house. Above the garage is a new bedroom. The project started in July 2016 and finished in April 2017.
A week ago, I noticed two vertical hair-line cracks on the garage concrete footing wall. The cracks are 6 foot apart on the same wall. They cracked across the wall, so they are visible inside and outside the garage. I read that vertical hair-line crack is less of a concern. But I'm worried that there are two cracks only 6 foot apart. Is this common? Should I be worried? Thanks for your advice.

Ghassem

this sounds serious but it's not something that I can understand and evaluate - you need an onsite expert, perhaps a civil engineer or a structural engineer.

IF you see buckling bulging masonry walls in any building that area is dangerous - risking collapse - keep people away.

I have 2 story bulding with a lot in front of it, there are two walls on both side of the bulding with the lot in between there are two vertical cerackes on both sides on walls at the border of bulding where the lot starts. I do not know if the sattlement rate of the bulding is higher or lower than the lot area. but I know that the foundation of the lot area on both side walls at the vertical cerckes have not been joined inittially to the bulding foundation.
These cerackes have also has happened on several buldings belonging to the neibors with the simmilar situation on the same block who have adjusent walls to my lot and bulding exactly on the same place.
All of these buldings have been constructed in series by one person do not know how to repair . The soil in that area is very water sensative and it sattles very fast by even moderate amount of water used for washing the lot .pls advise

Have a 40 year old house and recently I have noticed cracks in the ceiling following what I presume to be the edges of the plaster board, however tile in the bathroom has cracked with a corosponding crack in the mason art under it. Have a ceiling crack that wraps down onto the wall and travels through the plaster to the top of a window inside.
Cracks internally where walls meet and horizontal cracks that run rom top of window cut out to corners of the room about two blocks down from the ceiling. I put a straight edge over the horizontal crack and so far there seems to have been about 3mm of movement. Bath room is on opposite side of the house from these horizontal cracks. Wall construction is 4" blocks with void in the middle that has recently been drilled and pumped with foam ball insulation. Can't see any evidence of any new cracks on outside wall in the general area of these internal wall cracks. How worried should I be?

Sounds like an odd foundation repair job. Inspect the interior of the foundation with care.

I'm considering buying an old house built in 1936. Home has a lot of character. However, I noticed there is is a row of foundation blocks in front of the original foundation throughout the house. This row of concrete blocks seem to have been there a long time because they appear to be acting like the original foundation. Why is that? Was this a way to repair the foundation?

I'm not sure who's tolerance your contractor is considering other than your own for their advice. I wanted your tackle diameter crack in a brick wall occurring over year sounds serious to me. I suggest that you need a separate neutral party expert on site to tell you the cause of the crash and its impact on the structure. Significant repair costs may be involved.

I have a vertical crack in the exterior brick wall that goes from top to bottom of the wall. A few years ago we had the foundation worked on in the front of the house and the crack was pretty much closed up. It has now opened up again and is about an inch wide. The foundation company came out and said the foundation is still within tolerance. We had a leak test done and nothing is leaking under the house. We also had a tree removed that was next to the house and just to the right of the crack. What else can we do to repair the crack and should we have a structural engineer look at it?

How long does it usually take for a home to develop foundation problems. If a house is at least 13 years old and there appear to be no foundation cracks or sliding, is it safe to assume that the foundation is stong and secure?

Warranties are more marketing tools than protection for you. YOu need an onsite expert to determine the size, impact on structure, rate of change, and most important cause of the cracks you see. Shrinkage cracks in a slab or in a concrete wall aren't structurally important but settlement or movement may be important.

Can someone please shed light on this for me. We are about to sign on a new house(new build) in a couple of days. In the basement(full underground basement) middle exposed wall. Has cracks that weren't there not even 2 weeks ago. They are offering a structural warranty. But shouldn't this be fixed by them and me not filing a claim later. The neighborhood we are in has had radon issues.

Thanks Dan, I'm really happy when you find our information useful;

Footing defects are discussed at FOUNDATION MISSING INCOMPLETE http://inspectapedia.com/structure/Foundation_Missing.php
and you'll also want to see
FOOTING & FOUNDATION DRAINS http://inspectapedia.com/Wet_Basements/Foundation_Drain_Specifications.php

I don't like leaving dirt exposed, especially when it gets wet: it pumps moisture up through the building where it can cause surprising trouble even in the attic or roof space.

I would start by addressing roof runoff, gutters, leaders, site slope outdoors before doing anything expensive inside;

More detailed procedures for drying out the space start at BASEMENT LEAKS, INSPECT FOR - http://inspectapedia.com/Wet_Basements/Basement_Water_Entry.php

Indeed if water is flowing under the slab it'd be no surprise that it might find its way out where the slab stops and dirt starts.

If the above procedures don't stop the problem you might need, in rainy Seattle, to install a sump system or battery-backup sump to lower the water level under the slab;

IN any case I'd first look for a reason that the slab was not completed, then provided that answer lets me do so, I'd either continue the slab over the dirt or at the very least install 6 mil poly to stop pumping moisture into the home.

Why was the slab left incomplete?
With nobody to ask you might look at the location of pipes, site slope, drainage, and guess at what might have been the objective: such as a plan to add an interior trench and drain or sump system.

Your site is fantastic. I want to go through and read everything. Thank you!
My questions is specific to foundation footings. I did not see a section on it and had been reading about foundation cracks for reasons I'm sure you can figure out. Our circa 1930 Cellar had a concrete slab poured at the footings. The concrete slab does not join with one side of the foundation wall, an exterior wall, and slopes to the earth, or base of the footing along that side and around one corner. There is slightly damp dirt in the small open space. About once a year in heavy rain (Seattle) the cellar will flood about 4 inches and drain off in a matter of 12 hours.
Is there a reason, ie. Hydrostatic pressure, the floor slab and the footings do not meet/seal? Can you think of a reason this section would have an opening and access for water?

I don't think that can be done by an e-text; you'll need an experienced inspector on-site. But if you search InspectApedia.com for WATER ENTRY you'll find a series of diagnostic and repair articles that might give you some ideas of where to look first.

But how to find the problem area,, nothing is visible, and source of entrence of the water,, it's like mystery for us,, is any special equipment or specialist can deal this matter,, pl suggest

If the pavers direct water towards the foundation wall that's asking for trouble; the paved surface should slope away.

Our house built 10 years ago, so far everything is ok, but recently 6 months ago we did the paving around house with concrete( pavers did the job)., than recently 2 weeks ago we noticed our baseboard and drywall getting wet and peeling off, no leaks in the house, no bathroom or kitchen near by that area, but there is a window, but no cracks or leaks on that window also,
our doubt is ... Is there anything wrong happened while doing the paving job like foundation croak are something else. We don't have any knowledge about this,, pl someone help us to find the problem

I have a lot of cracks in my basement, some of which have been repaired with injection epoxy but most have not. It has been recommended by more than 1 contractor that the foundation should be repaired from the outside.

My question is, if the foundation is repaired from the exterior will the current cracks continue to widen and/new ones appear?

MDC

I do not know what's in your builder's mind, but indeed some cracks are normal, such as concrete shrinkage, and many are harmless. I SPECULATE that your builer meant watch for

- leaning, bulging bowing
- horizontal displacement in the foundation wall - one section moves past another - the surface on the two ides of the crack are not flush with one another.

in my OPINION these are not the only possible faults that could be important. For example, a crack into which you could stick a pencil is large and almost certainly significant even if there is no horizontal displacement
Technically, a foundation engineer might say that *any* crack in a masonry structure is a "failure" of a sort.

My new build has cracks on each wall as well as base of foundation. Builder response is 'normal, but watch for displacement.' What does displacement mean here?

Arlinda

Inspect outside and below the wall such as in the basement or crawl area: first to determine where the movement is occurring and second to see its extent. For example, severe rot and insect damage could explain the movement you describe as could foundation settlement.

Kitchen wall sinking due to water which we found leaking in from the drain. The wall has a large crack , the door and ceiling have on that side have come away from the wall.

I have an attached garage that has cracked from the foundation up both walls and across entire slab, clay base soil, how can I repair and prevent more movement of clay base? Also I live in a cold climate area

An engineer will consider *any* crack a *failure* - but hairline cracks in un-bowed walls do not typically threaten imminent collapse.

Get the water and thus frost away from the wall outside. Check gutters and surface runoff. Then seal and monitor the crack.

in addition there is no other visual evidence going on of any damages

My foundation is block and just noticed a horizontal crack 1/8 inch just below the frost line. The wall is perfectly straight and i put a 6 foot level on it and there are no bows within the wall. is this structural or just a crack which is cosmetic and what is the remedy to fix?

Interesting question, Sister,

The idea that we might bind a column to an existing poured concrete wall that itself would distribute the column's load across a large area is an interesting one. (If that's what you are saying).

but we are missing too much information to give a sure answer to what should be addressed by your architect or engineer. We don't know: the loads involved on the present structure, the purpose of nor loads on the new column (pillar) you are adding, whether or not there is steel re-bar or mesh reinforcement in the existing concrete slab, the conditions of soils below the slab or site drainage that may affect such soils, nor what your local building department will approve.

While low-load columns are sometimes permitted to bear on a 6-inch reinforced steel slab, given how little we know about your situation, a "safe" answer would be to cut open the slab in an area large enough to excavate and install a footing suitable for the soils in your area.

I have a fairly wide crack, larger than 1/4"(happened about 40 years ago when house was being built) right outside my exterior cement poured foundation wall. The crack starts at about 4 feet from the ground and travels slightly diagonal but verical right to the bottom of the first brick. My question is i want to build an interior 1 foot by 1 foot by 7 foot tall sister cement pillar (this pillar being right behind the crack) reinforced with rebar. I will then drill holes from the outside where the crack is to then pin the cracked part into this new cement pillar which is subsequently pinned to an adjacent cement wall that is not cracked and then fill whole crack with epoxy to solidify. This pillar is basically being poured in the corner of a garage. Does the pillar need to go down to the footing or can it just rest on the garage slab which is about 5 to 6 inches thick?

Thanks

PS Does not look like there has been any additional movement since the crack formed

Anon

see POLYURETHANE FOAM INJECTION where we discuss polyurethane foam injection, products, methods, sources

where can one purchase Polyurethene polymer injection material?
Question: cracks caused by power washing the structure?
4/7/14 Becky said:
My question is this: Are hairline cracks (with water staining) that are in line with the mortar in a cinder block wall in a basement considered evidence of "STRUCTURAL COMPROMISE"?
Here's why I ask:
1. From 2002 when my husband bought the house to Feb 2014, we had NO water in the basement (80 yr old house w/ French drain and sump pump).
2. In early Feb 2014, our tenant informed us of a small amount of water coming in through these hairline cracks and sent the picture. He cleaned it up and the water never returned.
3. When we were preparing the house for sale, I had two contractors look at the the water-stained cracks, along with several other items to be addressed -- both said the cracks (now bone-dry, in a bone-dry basement) were "not a big deal" and could be readily addressed with caulking, priming, painting (actually only one mentioned caulking) -- which I've learned is regarded as routine maintenance.
4. The same day the contractor came to work in the basement, I had another service person cleaning windows -- his assistant was power-washing the exterior of the house.
Although I had asked them to avoid that side of the house where the cracks were until we were sure what was going on (the one contractor was concerned about the window above the cracks, turned out not to be a problem),
(A) the seal was not secure between the faucet and hose to the power-washer (spraying water in all directions),
(B) the faucet was about 1.5' from the window/wall in question, and
(C) the power-washer seemed to be going at it full-force 6 hours+ -- a 1100 sq foot house.
(I've since learned this should have taken about 1.5 hours, also that it's not the best idea to do it when the ground is frozen -- we live in Maryland, where we've been hit with a lot of very cold weather, snow, etc.) I called a waterproofing company (with GREAT reviews, A+ BBB rating) who said immediate cause of the damage was the sudden, rapid influx of HUGE amount of water. They also updated our drainage system. Never mentioned structural compromise in that wall.
Reply:
"Structural compromise" is an undefined term.
A structural engineer will typically aver that masonry structures are not supposed to crack, and that any crack is a "failure". But an experienced foundation engineer, mason, or someone with similar expertise will usually make a distinction between cracks and movement that are an urgent threat to the structure, those that need monitoring, and those that need prompt repair to prevent a catastrophe.
And no such prescription would ge complete without understanding the cause.
It is possible that water under, against, and around a foundation combined with freezing would cause cracks; but just "cracks" is far too vague to reach such a conclusion. The size, shape, location, pattern, and site history and other factors need to be understood before one can ascribe a cause to a masonry crack.
...
Continue reading at FOUNDATION CRACK DICTIONARY - types of cracks in foundations, or select a topic from closely-related articles below, or see our complete INDEX to RELATED ARTICLES below.
Or see FOUNDATION FAILURES by TYPE & MATERIAL
Or see FOUNDATION DAMAGE SEVERITY
Suggested citation for this web page
FOUNDATION CRACK DEFINITIONS FAQs at InspectApedia.com - online encyclopedia of building & environmental inspection, testing, diagnosis, repair, & problem prevention advice.
Or use the SEARCH BOX found below to Ask a Question or Search InspectApedia
...
Frequently Asked Questions (FAQs)
Try the search box below or CONTACT US by email if you cannot find the answer you need at InspectApedia.
...
Ask a Question or Search InspectApedia
Questions & answers or comments about the cause and repair of all types of building foundation and floor slab cracks.
Use the "Click to Show or Hide FAQs" link just above to see recently-posted questions, comments, replies, try the search box just below, or if you prefer, post a question or comment in the Comments box below and we will respond promptly.
Search the InspectApedia website
Technical Reviewers & References
Click to Show or Hide Citations & References
Sal Alfano - Editor, Journal of Light Construction*
Thanks to Alan Carson, Carson Dunlop, Associates, Toronto, for technical critique and some of the foundation inspection photographs cited in these articles
Terry Carson - ASHI
Mark Cramer - ASHI
JD Grewell, ASHI
Duncan Hannay - ASHI, P.E. *
Bob Klewitz, M.S.C.E., P.E. - ASHI
Ken Kruger, P.E., AIA - ASHI
Bob Peterson, Magnum Piering - 800-771-7437 - FL*
Arlene Puentes, ASHI, October Home Inspections - (845) 216-7833 - Kingston NY
Greg Robi, Magnum Piering - 800-822-7437 - National*
Dave Rathbun, P.E. - Geotech Engineering - 904-622-2424 FL*
Ed Seaquist, P.E., SIE Assoc. - 301-269-1450 - National
Dave Wickersheimer, P.E. R.A. - IL, professor, school of structures division, UIUC - University of Illinois at Urbana-Champaign School of Architecture. Professor Wickersheimer specializes in structural failure investigation and repair for wood and masonry construction. * Mr. Wickersheimer's engineering consulting service can be contacted at HDC Wickersheimer Engineering Services. (3/2010)
*These reviewers have not returned comment 6/95
Technical Edits, Changes, Amendments to This Document
11/23/2012 revising order, cross referencing types of foundation, damage, repairs
9/23/2006 editing to clarify text and add content; Technical review (partial) by Arlene Puentes.
4/17/2006 editing to clarify text in several sections.
2/6/99 editing updates, soliciting additional reviews
2/3/99 Converted working text file to MSWord97 .doc and .htm files for easier review on Internet
6/26/95 text updates per comments from Al Carson, Terry Carson, Mark Cramer 6/16/95 text updates for Calgary July 1995
cc's sent to reviewers
3/28/95 uploaded to ASHI's Internet site - asfoun01.txt
11/19/93 Ed Seaquist - telecon 11/19/93, likes, will write up one of our sections for my/our target of series of journal articles or a book.
© Dan Friedman 1999, original 1992 All Rights Reserved -- foundation.htm
Books & Articles on Building & Environmental Inspection, Testing, Diagnosis, & Repair
Our recommended books about building & mechanical systems design, inspection, problem diagnosis, and repair, and about indoor environment and IAQ testing, diagnosis, and cleanup are at the InspectAPedia Bookstore. Also see our Book Reviews - InspectAPedia.
Best Practices Guide to Residential Construction, by Steven Bliss. John Wiley & Sons, 2006. ISBN-10: 0471648361, ISBN-13: 978-0471648369, Hardcover: 320 pages, available from Amazon.com and also Wiley.com. See our book review of this publication.
Decks and Porches, the JLC Guide to, Best Practices for Outdoor Spaces, Steve Bliss (Editor), The Journal of Light Construction, Williston VT, 2010 ISBN 10: 1-928580-42-4, ISBN 13: 978-1-928580-42-3, available from Amazon.com
The Journal of Light Construction has generously given reprint permission to InspectAPedia.com for certain articles found at this website. All rights and contents to those materials are ©Journal of Light Construction and may not be reproduced in any form.
Appliances and Home Electronics, - energy savings, U.S. Department of Energy
Avongard foundation crack progress chart for structural crack monitoring
Basement Moisture Control, U.S. Department of Energy
Building Pathology, Deterioration, Diagnostics, and Intervention, Samuel Y. Harris, P.E., AIA, Esq., ISBN 0-471-33172-4, John Wiley & Sons, 2001 [General building science-DF] ISBN-10: 0471331724 ISBN-13: 978-0471331728
Building Pathology: Principles and Practice, David Watt, Wiley-Blackwell; 2 edition (March 7, 2008) ISBN-10: 1405161035 ISBN-13: 978-1405161039
The Circular Staircase, Mary Roberts Rinehart
Construction Drawings and Details, Rosemary Kilmer
Crawl Space Moisture Control, U.S. Department of Energy
Diagnosing & Repairing House Structure Problems, Edgar O. Seaquist, McGraw Hill, 1980 ISBN 0-07-056013-7 (obsolete, incomplete, missing most diagnosis steps, but very good reading; out of print but used copies are available at Amazon.com, and reprints are available from some inspection tool suppliers). Ed Seaquist was among the first speakers invited to a series of educational conferences organized by D Friedman for ASHI, the American Society of Home Inspectors, where the topic of inspecting the in-service condition of building structures was first addressed.
Design of Wood Structures - ASD, Donald E. Breyer, Kenneth Fridley, Kelly Cobeen, David Pollock, McGraw Hill, 2003, ISBN-10: 0071379320, ISBN-13: 978-0071379328
This book is an update of a long-established text dating from at least 1988 (DJF); Quoting:
This book is gives a good grasp of seismic design for wood structures. Many of the examples especially near the end are good practice for the California PE Special Seismic Exam design questions. It gives a good grasp of how seismic forces move through a building and how to calculate those forces at various locations. THE CLASSIC TEXT ON WOOD DESIGN UPDATED TO INCLUDE THE LATEST CODES AND DATA. Reflects the most recent provisions of the 2003 International Building Code and 2001 National Design Specification for Wood Construction. Continuing the sterling standard set by earlier editions, this indispensable reference clearly explains the best wood design techniques for the safe handling of gravity and lateral loads. Carefully revised and updated to include the new 2003 International Building Code, ASCE 7-02 Minimum Design Loads for Buildings and Other Structures, the 2001 National Design Specification for Wood Construction, and the most recent Allowable Stress Design.
Building Failures, Diagnosis & Avoidance, 2d Ed., W.H. Ransom, E.& F. Spon, New York, 1987 ISBN 0-419-14270-3
Domestic Building Surveys, Andrew R. Williams, Kindle book, Amazon.com
Defects and Deterioration in Buildings: A Practical Guide to the Science and Technology of Material Failure, Barry Richardson, Spon Press; 2d Ed (2001), ISBN-10: 041925210X, ISBN-13: 978-0419252108. Quoting:
A professional reference designed to assist surveyors, engineers, architects and contractors in diagnosing existing problems and avoiding them in new buildings. Fully revised and updated, this edition, in new clearer format, covers developments in building defects, and problems such as sick building syndrome. Well liked for its mixture of theory and practice the new edition will complement Hinks and Cook's student textbook on defects at the practitioner level.
Guide to Domestic Building Surveys, Jack Bower, Butterworth Architecture, London, 1988, ISBN 0-408-50000 X
"Avoiding Foundation Failures," Robert Marshall, Journal of Light Construction, July, 1996 (Highly recommend this article-DF)
"A Foundation for Unstable Soils," Harris Hyman, P.E., Journal of Light Construction, May 1995
"Backfilling Basics," Buck Bartley, Journal of Light Construction, October 1994
"Inspecting Block Foundations," Donald V. Cohen, P.E., ASHI Reporter, December 1998. This article in turn cites the Fine Homebuilding article noted below.
"When Block Foundations go Bad," Fine Homebuilding, June/July 1998
Energy Recover Ventilation Systems for Buildings, U.S. Department of Energy
Energy Savings Methods: Whole House Systems Approach, U.S. Department of Energy
Historic Preservation Technology: A Primer, Robert A. Young, Wiley (March 21, 2008) ISBN-10: 0471788368 ISBN-13: 978-0471788362
Log Homes: Minimizing Air Leakage in Log Homes, U.S. Department of Energy
Log Homes: Controlling Moisture in Log Homes, U.S. Department of Energy
Log Homes: Log Home Design, U.S. Department of Energy
Moisture Control in Buildings, U.S. Department of Energy
Moisture Control in Walls, U.S. Department of Energy
Quality Standards for the Professional Remodeling Industry, National Association of Home Builders Remodelers Council, NAHB Research Foundation, 1987.
Quality Standards for the Professional Remodeler, N.U. Ahmed, # Home Builder Pr (February 1991), ISBN-10: 0867183594, ISBN-13: 978-0867183597
Natural Ventilation for Buildings, U.S. Department of Energy
R-Value of Wood, U.S. Department of Energy
Spot Ventilation for houses, U.S. Department of Energy
Slab on Grade Foundation Moisture and Air Leakage, U.S. Department of Energy
Straw Bale Home Design, U.S. Department of Energy provides information on strawbale home construction - original source at http://www.energysavers.gov/your_home/designing_remodeling/index.cfm/mytopic=10350
More Straw Bale Building: A Complete Guide to Designing and Building with Straw (Mother Earth News Wiser Living Series), Chris Magwood, Peter Mack, New Society Publishers (February 1, 2005), ISBN-10: 0865715181 ISBN-13: 978-0865715189 - Quoting:
Straw bale houses are easy to build, affordable, super energy efficient, environmentally friendly, attractive, and can be designed to match the builder's personal space needs, esthetics and budget. Despite mushrooming interest in the technique, however, most straw bale books focus on "selling" the dream of straw bale building, but don't adequately address the most critical issues faced by bale house builders. Moreover, since many developments in this field are recent, few books are completely up to date with the latest techniques.
More Straw Bale Building is designed to fill this gap. A completely rewritten edition of the 20,000-copy best--selling original, it leads the potential builder through the entire process of building a bale structure, tackling all the practical issues: finding and choosing bales; developing sound building plans; roofing; electrical, plumbing, and heating systems; building code compliance; and special concerns for builders in northern climates.
"Vapor Barriers or Vapor Diffusion Retarders", U.S. DOE: how vapor barriers work, types of vapor diffusion barriers, installing vapor barrier
Ventilation for energy efficient buildings, Purpose, Strategies, etc.,
...