How to Repair Foundation Cracks Using Polyurethane Foam Injection

POLYURETHANE FOAM INJECTION - CONTENTS: How to make a foundation crack repaior leakage seal using polyurethane foam. How to Stop Basement or Crawl Space Water Leakage Through Cracks. Guide to sealing foundation cracks using injectable foam. Foundation crack repair products, materials, where-to-buy sources, alternatives. List of Polyurethane Crack Sealants Products, Sources, Brands, Manufacturers
POST a QUESTION or READ FAQs about foundation crack sealing procedures using injectable polyurethane foam
InspectAPedia tolerates no conflicts of interest. We have no relationship with advertisers, products, or services discussed at this website.
Foundation wall or slab crack repair using polyurethane foam injection: this article explains how to use injected polyurethane foam to repair a concrete basement (or crawl area) wall or slab crack in order to stop basement or crawl space water entry or air leakage.
Green links show where you are. © Copyright 2017 InspectApedia.com, All Rights Reserved.
How to Repair a Leaking Basement Foundation Crack by Polyurethane Foam Injection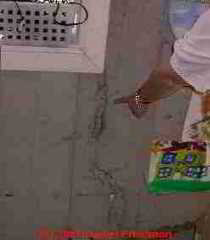 Aaron Kuertz, Applied Technologies
A variety of site conditions can lead to cracks in a concrete or other masonry foundation wall. Speaking generally, foundations may be damaged and cracks may appear from innocent causes unlikely to affect the structure such as shrinkage cracks, initial settlement, or from potentially more serious causes such as ongoing settlement, unusual pressures or loading, or from improper construction.
Before repairing a foundation crack by sealing it against water entry, it is important to diagnose the cause of the crack and its effects on the building structure. If there is an underlying ongoing problem causing foundation movement or damage, that problem should be corrected.
Cracks in concrete walls that are larger than 1/4", cracks which are increasing in size, or cracks which are indicative of foundation movement should be evaluated by a professional.
The diagnosis and evaluation of foundation cracks and structural foundation damage and repair methods are discussed at FOUNDATION REPAIR METHODS
Shrinkage cracks and in some cases other foundation cracks such as those caused by minor initial settlement might not be a structural concern but may still form an opening leading to water leaks into the building. Concrete shrinks as a natural process of it curing. This shrinkage causes the concrete to develop stresses and to relieve it, the basement wall cracks.
Concrete shrinkage cracks are a common condition in a concrete foundation [or also in concrete slabs unless control joints were used in the wall or floor design] and occur when concrete shrinks as it dries and cures.
Shrinkage cracks are easy to recognize and to distinguish from cracks that occur later in the life of a foundation because [usually] the cracks are not continuous and tend to extend in a very irregular line through the concrete (as shown in the photo) range in length from a few inches to the entire height of the concrete wall, extending from wall top to bottom.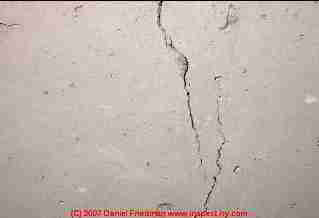 Concrete shrinkage cracks virtually always extend through the full thickness of the foundation wall, which means they can provide a ready path for water entry into the building.
Common areas for a shrinkage concrete crack to develop are under a basement window, above a doorway in the middle of a long wall or where the foundation "steps down." Shrinkage cracks also often occur near the middle of a large poured concrete wall [or floor] if no control joints were used.
Concrete control joints are very often omitted in residential construction. Shrinkage cracks and how to recognize and diagnose them are discussed further at SHRINKAGE vs EXPANSION vs SETTLEMENT.
Once concrete cracks in a basement or crawl space wall or floor slab, it is possible for water to leak into a building through the crack. There are several ways to repair a basement crack leak. An easy, quick, and effective measure to stop basement or crawl space water entry through a foundation crack is to perform an injection of polyurethane foam into the basement crack. [Also be sure to find and fix the sources of water outside.]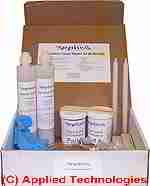 Both commercial and home-owner "do it yourself" kits and equipment are available to seal foundation cracks using this foam method. [Photograph of this foundation crack repair kit, courtesy of Applied Technologies].
Polyurethane foams are injected into the basement crack in a liquid form. This allows a gentle and slow filling process of the basement crack that will completely fill the crack. After a few minutes the polyurethane will begin to react with the water in the crack to begin foaming. Water is actually the catalyst that converts the liquid polyurethane into foam. This foaming action increases the volume of the polyurethane up to 30 times its liquid form.
As the polyurethane foam expands it fills the basement crack from bottom to top and front to back. The finished foam will be a closed cell structure that will not allow water to leak into the basement crack. In fact, if there are any voids in the soil outside of the basement- such as under a rock or if the foundation is backfilled with gravel-the polyurethane foam will expand and extend out into the void.
The polyurethane foam forms a strong bond to the concrete. This bond will be able to withstand the hydrostatic pressure that may develop from high subsurface water levels. High underground or "subsurface" water levels are typically caused by heavy rains and most-often by failure to direct roof runoff or nearby surface runoff away from the building.
This concrete crack repair process using polyurethane injection is likely to be more successful and more durable than other crack patching methods. Surface patching of the crack is just that. Only the inside of the basement wall is covered by a repair. Chiseling out the crack and filling it with hydraulic cement only fills a portion of the crack.
Water can still enter the basement crack and will eventually force out the patch or hydraulic cement. [Forces that tend to cause separation of poorly-bonded concrete surface patches include the molecular action of crystallizing mineral salts left behind as moisture passes through the masonry wall.]
Basement crack injection is a quick repair process that stops water leaks. The technician does not have to drill into the concrete to do it. For this reason the basement crack repair is a clean process. The technician will attach ports to the surface of the basement crack that allow the liquid polyurethane to enter the basement wall and stop the leak.
Once the basement wall crack is completed, water will not be able to leak into the basement. Now the homeowner's possessions will be safe. As will any insulation on the basement walls, the drywall or the framing used to finish the basement.
List of Polyurethane Crack Sealants Products, Sources, Brands, Manufacturers
Applied Technologies polyurethane crack sealant: the foam sealant discussed in the article above as well as other foundation crack repair products are available from Applied Technologies and include a polyurethane foam used to seal leaky basement cracks (this is not a structural repair it's a waterproofing measure).

The company sells other foundation repair products (dowel rod epoxy) as well as foundation and basement waterproofing, drainage, and damp proofing products as well. 1-877-277-5948, 513-939-3767 or Fax: (513) 939-3787. Website: http://www.appliedtechnologies.com
Crack-Pac® Flex-H2O™ Polyurethane Crack Sealer, suitable for sealing cracks from 1/32" to 1/4" in width in concrete and solid masonry.

Quoting: Crack-Pac® Flex-H2O™ is a high solids hydrophobic polyurethane injection resin designed to seal leaking cracks, voids or fractures in concrete or solid masonry. The polyurethane is packaged in the cartridge and an accelerator is packaged in the nozzle. When the two are combined in the cartridge and mixed, the result is a low viscosity, water activated polyurethane. When the resin encounters water as it is injected into the crack, it becomes an expanding foam that provides a flexible seal in leaking and non-leaking cracks.

This product is produced and sold by Simpson StrongTie. Simpson Strong-Tie Company, Inc.,
5956 W. Las Positas Blvd. Pleasanton, CA 94588. Website: http://www.strongtie.com/products/anchorsystems
/adhesives/crackrepair/crack_pac_flex_h20.html
Quickcrete 862018 10-oz Polyurethane Mortar Crack Sealant, Tel: 1-800-282-5828, Website: http://www.quikrete.com/,

Quoting: Mortar repair polyurethane, commercial grade interior/exterior Size Oz=10 Color=Gray High performance, construction grade sealant waterproofs, seals and tuck-points damaged mortar joints. Textured one-component, fast-curing, flexible material providing a durable elastic bond. Adheres to concrete, masonry, stucco, pre-painted metal, glass,plywood, aluminum, steel and many plastics and composites. Can be applied to approximately 12 lineal feet in a 3/8" bead.
QUIKRETE® Polyurethane Concrete Crack Sealant (No. 8620-17) is a high performance, construction grade polyurethane sealant permanently seals and waterproofs cracks in concrete, masonry and stucco surfaces. Contact information shown just above.
Loctite® PL® S10 Polyurethane concrete crack & masonry sealant, Loctite Corporation, Loctite® Brand - Consumer Products Henkel Corporation 26235 First Street Westlake Ohio 44145, Tel: 800-624-7767.

Quoting: Loctite® PL® S10 Polyurethane Concrete Crack & Masonry Sealant is a premium quality, commercial grade sealant developed especially for forming permanent, water and weatherproof seals in all exterior gaps and joints. This sealant is elastic and remains flexible to expand and contract with construction material movement to protect and retain the original seal. Loctite® PL® S10 Polyurethane Concrete Crack & Masonry does not require a primer for concrete, brick, stone or masonry and resists deterioration from weather, stress or movement.
Loctite® PL® S20 Polyurethane self-leveling concrete crack sealant, Loctite Corporation, Loctite® Brand - Consumer Products Henkel Corporation 26235 First Street Westlake Ohio 44145, Tel: 800-624-7767.

Quoting: Loctite® PL® S20 Polyurethane Self-Leveling Concrete Crack Sealant is a professional grade sealant for concrete. It is a one component, polyurethane, self-leveling sealant for contraction / expansion joints and cracks in concrete floors and decks. It cures in place to form a highly resilient and abrasion resistant seal, which resists deterioration caused by weather, stress, movement, traffic and water. Its abrasion and tear resistance makes it ideally suited for applications exposed to pedestrian and vehicular traffic.
Mar-Flex Polyurethane Concrete Crack Repair Kit, Tel: 800-498-1411, Website: www.mar-flex.com

Quoting: Low-pressure injection and repair of approximately 8-10 lineal feet. Contains the following; (1 jar 8oz.) Mar-flex Crack Seal (1 jar 8oz.) Port Adhesive (2) Wooden Sticks (12) Surface Ports and Caps (2 Cartridges) Mar-flex Injection Polyurethane/Epoxy Resin 1:1 (2) 3/8" :24 Mixing Nozzles (1) Injection Hose Assembly with plastic shut-off valve (2 pair) Latex Gloves (1) Plastic Trowel (1) Wire Brush (1) Drop Cloth (1) Complete Instructional DVD. The company also offers low-viscosity creack filler that can be injected into both dry and damp cracks and a "Seal & Peel" crack repair kit.
RadonSeal D-I-Y two-component polyurethane or epoxy crack repair kits. Radon Mitigation & Concrete Waterproofing Co., Novion Inc., 18 L'Hermitage Drive, Shelton, CT 06484 USA. Website: http://www.radonseal.com/,

Quoting: Each D-I-Y kit is able to repair up to 10 linear feet of cracks in poured concrete walls from hairline to 1/2" wide. You can choose to inject either expanding polyurethane or epoxy. Since most cracks are non-structural, we use polyurethane on almost all cracks because it works inside wet cracks.

You also have the choice of the standard epoxy surface sealer when the wall will be framed in or if appearance matters, the Easy-Peel surface sealer which can be easily removed after the repair. If you have more than 20 linear feet of cracks, it is more economical to purchase our Professional Foundation Crack Repair Toolkit. These kits include a professional caulking gun, which makes the job even easier. If it is a smaller project, like filling the voids around pipes or leaking form ties, use our PipeTite Gap Filler Kit.
Sika Corporation, 201 Polito Avenue, Lyndhurst, NJ 07071 USA, Tel: 1-800-933-SIKA Website: http://usa.sika.com/. Sika produces a wide range of adhesive, bonding, reinforcing and sealing products including automotive adhesives, building envelope adhesives, concrete admixtures, flooring and floor covering adhesives, repair & protection products, rofoing products, sealants, adhesives, waterproofing agents.
...
Continue reading at SEAL CONCRETE CRACKS, HOW TO or select a topic from closely-related articles below, or see our complete INDEX to RELATED ARTICLES below.
Or see FOUNDATION REPAIR METHODS for a more extensive discussion of types of foundation damage and how it is repaired. [Photograph of this foundation crack repair process using foam injection, courtesy of Applied Technologies]
Or see CONCRETE SLAB CRACK REPAIR
Orsee these
Concrete, Block, Masonry Foundation or Wall Crack Articles
Suggested citation for this web page
POLYURETHANE FOAM INJECTION at InspectApedia.com - online encyclopedia of building & environmental inspection, testing, diagnosis, repair, & problem prevention advice.
Or use the SEARCH BOX found below to Ask a Question or Search InspectApedia
...
Frequently Asked Questions (FAQs)
Try the search box below or CONTACT US by email if you cannot find the answer you need at InspectApedia.
Question: concrete slab roof leaks repair with polyurethane?
(Apr 22, 2011) judy said:
our roof is made of concrete slab instead of corrugated sheet? there is water leak everytime it rains because of the crack on the floor which results in messing my ceiling. Can this polyuretahne foam injection be applied to the crack to seal the crack on the roof?
Reply:
The manufacturer of polyurethane foam describes the product as useful for sealing against water leaks through cracks in concrete. If the crack is cleaned and dry before applying the sealant you are likely to have a better result.
Watch out: it's always better to fix a roof leak from the outdoor or exposed side. Especially on low slope roofing, water that leaks in at a given point often travels to show up somewhere else in the roof system, making tracking down a leak source tricky. But once sealing the crack where water is presently leaking in you might find that because you never fixed the roof leak, water simply travels further to enter at another crack.
And if you live in a freezing climate, failing to fix the roof leak from outside means you are leaving the roof exposed to continued freeze-thaw cycle damage.

Question: unsuccessful prior crack repairs
(May 25, 2011) Dave said:
My leaks are coming from previously repaired cracks using hydraulic cement and I am going to inject poly foam should i chip out the cement or just put my ports over it. If I chip it I am worried it may open up a much bigger crack! Can someone advise me please?
Reply:
Dave,
The reason we sometimes chip out small cracks prior to repair is to permit a mechanically sound patch - we chip out the crack to form an inverted vee (the crack is wider inside the foundation wall than at the wall surface). But if you are sealing with poly foam injection, this may be less critical than vacuuming and cleaning out the crack. Take a look at what the poly foam crack sealant manufacturer recommends and do what they say - the manufacturer has a great interest in making sure that their product is used successfully.
Question: is water needed for crack repair catalyst
(Aug 30, 2011) Curt said:
What if water is not currently present in the crack you are filling? If water is the catalyst, should the walls be mositened somehow? How much moisture is really needed to craete a good bond? Thanks
Reply:
Curt, in my experience moisture in air is usually enough to act as the needed foam catalyst. That's especially so during a humid summer or fall.
In very dry conditions I have lightly sprayed a water mist on or into cracks or where we were injecting foam. Don't overdo it.
Question: cracks in concrete floor - fill with sand first?
(Oct 11, 2011) Rosalie Willard said:
I have 1/2 inch wide cracks in a concrete floor. The cracks seem to be through the entire slab but are not long. Anything liquid just disappears down the crack. should I try to fill it with sand or something before putting the foam in the cracks?
Reply:
Rosalie, that's a good question. Expanding foams usually expand quickly enough that one does not have to install a base gasket or filler in the crack bottom. But a 1/2" crack is pretty big and you describe what might be a fairly large cavity below it that could waste foam during the injection procedure.
I'd try injecting a few feet of crack, speeding the nozzle along the crack and watching the foam expand to just fill the thickness of the concrete itself. Stop, watch the sealant material. If it does not drop down through the crack and disappear you're ok.
Otherwise you may need to try pouring sand or stuffing a foam backer rod into the bottom of the crack before sealing it.
Finally: if you have a large cavity below a cracking concrete floor, I'm concerned that even after sealing the crack you'll see further cracking and settlement. Some diagnosis of the cause is in order so that we know what to expect.
flag like
Question: nails into block wall made holes that now leak
(Oct 21, 2011) Matt said:
I have had my basement waterproofed but the previous home owner nailed into the blocks so he could finish the basement. Water was coming through the holes and down the walls. I took hydraulic cement and filled the holes a couple of years ago. Now the water is seaping through again. What should I do?
Reply:
Matt:
The best repair would have been to get water away from the building walls outside - that's the place to start - check first roof drainage for clogged spilling gutters, and for surface runoff that is directed against the building foundation walls.
Repairing a leaky foundation wall from the inside sometimes sort of works ... like the little Dutch boy with his finger in the dike. It's the least reliable. A good hydraulic cement patching compound might work, but there is nothing better than relieving the water pressure from outside.
If you try patching again be sure that the surfaces are clean of debris. Even a hydraulic cement patching compound like Thoropatch that will permit application on a wet surface (or swimming pool patching compounds that will permit application even under water) still if the surface is loose, granular, and dirty the patch may have trouble bonding.
Question:
(Dec 1, 2011) Jason said:
Great article. The major home improvement stores do not carry polyurethane foam injection products. I'm trying not to use hydralic cement or caulk due to their often temporary fix. I don't have the resources to pay a professional to do the injection so I'm trying to purchase a poly injection kit. Where can this be purchased for the best price? Thanks
Reply:
Jason if the manufacturer, contacted directly, is not willing to see their product sold directly to a homeowner, a second choice might be to purchase a caulk commonly used to seal cracks against radon entry.
Question: repair pool decking cracked through?
(Dec 26, 2011) Pamela said:
Can this procedure be used to repair cool decking that is cracked all the way through?
Reply:
Pamela, I bet you meant "pool decking" ?? In any case, polurethane foam injection can be effective at sealing cracks in concrete against leakage, but it is by no means a structural repair. If you are talking about concrete walks or "decking" surrounding a swim pool, you'll want to watch out for settlement and trip hazards.
Question: repair cracks from outside?
(July 27, 2012) Brian said:
Thanks for the great information! Your website is extremely helpful for professionals and do it your selfers. If a basement is already drywalled and finished I suppose that excavation and outside filling of the crack would be the best method for this? Would outside filling with poly sealant be recommended over inside filling anyway? Also if I can reach the cracks by excavation outside should I just do the poly sealant, would that be enough to stop a leaking crack, or would some kind of waterproof coating be recommended as well?
thanks again for the help guys!
Reply:
Brian, your supposition makes some sense, but every site and case can be different so the most economical repair choice (and most effective repair) between inside and outside repair also will vary.
Generally it's less expensive to repair a cracked wall from inside the building because of the cost of the excavation necessary outside; and there is risk of added foundation damage if the excavator is not expert.
In general I prefer to fix foundation leaks from outside by addressing roof and surface water and runoff first, but when we move on to digging up the whole foundation and installing drainage, those costs skyrocket -which is why there is a "little dutch boy at the dike" repair approach of fixing leaks from inside the wall.
Properly applied, pressure injection of a crack sealant such as the ones discussed here will flow through the thickenss of the foundation wall all the way to outside the building, fully filling the crack. So it is not necessary to excavate outside just to fill cracks and for that purpose alone I doubt it's cost effective compared even with tearing off inside drywall and then replacing it after the job.
If you are excavating outside a foundation it seems to me that job should include a complete footing drain system, including conducting the water away from the building to an acceptable destination.
At that point, sure, it's fine to coat a foundation wall: coatings reduce moisture movement, they don't guarantee against leaks. To make the basement into a boat - which is not normal construction - requires application of a waterproof plastic or vinyl or similar product sealed entirely around the entire foundation wall, usually combined with a geotextile to keep soil from clogging passages intended to let water outside the wall flow down into the footing drains and away.
Question: high water tables in Florida
(Aug 29, 2012) Simon Randle said:
The water table in Florida is high after Tropical Storms Debby & Isaac. I have a house on a monolithic slab with block walls. After high rain a "small" amount of water seeps through a gap where the wall meets concrete floor. It has obviously happened for years but I only noticed it when carpet became damp after Debby and I removed the baseboard. I am sure water is wicking up through foundation. It will be tough to reach the outsode wall/slab because my pool pump and air conditioner sit right outside wall and a concrete pad.
The inside floor is about 6 inches above grade and ground then slopes away at about 30 degrees. I plan to install gutters and catch basins to reduce swamp condition during summer. My question is will your Polyurethane foam have a chance of preventing the problem in conjunction with my attempt to get water away from the house. I fear involving a Structural Engineer who will sell me a full excavated project! In the worst case the carpets only got damp for say 40 ft3, hardly a flood!
Question:
26 Sept 2014 Denise Pine said:
How can a foundation wall be repaired that was hit by a dumpster when being backed into the driveway.
It made a gouge in the foundation wall which
Doesn't go through the wall.
Reply:
Denise
If it's just a gouge, concrete patching compound should work just fine.
Ask a Question or Search InspectApedia
Questions & answers or comments about foundation crack sealing procedures using injectable polyurethane foam.
Use the "Click to Show or Hide FAQs" link just above to see recently-posted questions, comments, replies, try the search box just below, or if you prefer, post a question or comment in the Comments box below and we will respond promptly.
Search the InspectApedia website
Technical Reviewers & References
Click to Show or Hide Citations & References
Thanks to Aaron Kuertz author and contributor of this article on foundation crack repair using polyurethane foam, and foundation crack repair materials (updated 06/02/2009)
Aaron Kuertz aaronk@appliedtechnologies.com, is with Applied Technologies in Fairfield, Ohio. The foam sealant discussed here as well as other foundation crack repair products are available from Applied Technologies and include a polyurethane foam used to seal leaky basement cracks (this is not a structural repair it's a waterproofing measure). The company sells other foundation repair products (dowel rod epoxy) as well as foundation and basement waterproofing, drainage, and damp proofing products as well. 1-877-277-5948, 513-939-3767 or Fax: (513) 939-3787
Books & Articles on Building & Environmental Inspection, Testing, Diagnosis, & Repair
Our recommended books about building & mechanical systems design, inspection, problem diagnosis, and repair, and about indoor environment and IAQ testing, diagnosis, and cleanup are at the InspectAPedia Bookstore. Also see our Book Reviews - InspectAPedia.
Best Practices Guide to Residential Construction, by Steven Bliss. John Wiley & Sons, 2006. ISBN-10: 0471648361, ISBN-13: 978-0471648369, Hardcover: 320 pages, available from Amazon.com and also Wiley.com. See our book review of this publication.
Decks and Porches, the JLC Guide to, Best Practices for Outdoor Spaces, Steve Bliss (Editor), The Journal of Light Construction, Williston VT, 2010 ISBN 10: 1-928580-42-4, ISBN 13: 978-1-928580-42-3, available from Amazon.com
Building Pathology, Deterioration, Diagnostics, and Intervention, Samuel Y. Harris, P.E., AIA, Esq., ISBN 0-471-33172-4, John Wiley & Sons, 2001 [General building science-DF] ISBN-10: 0471331724 ISBN-13: 978-0471331728
Building Pathology: Principles and Practice, David Watt, Wiley-Blackwell; 2 edition (March 7, 2008) ISBN-10: 1405161035 ISBN-13: 978-1405161039
Diagnosing & Repairing House Structure Problems, Edgar O. Seaquist, McGraw Hill, 1980 ISBN 0-07-056013-7 (obsolete, incomplete, missing most diagnosis steps, but very good reading; out of print but used copies are available at Amazon.com, and reprints are available from some inspection tool suppliers). Ed Seaquist was among the first speakers invited to a series of educational conferences organized by D Friedman for ASHI, the American Society of Home Inspectors, where the topic of inspecting the in-service condition of building structures was first addressed.
Design of Wood Structures - ASD, Donald E. Breyer, Kenneth Fridley, Kelly Cobeen, David Pollock, McGraw Hill, 2003, ISBN-10: 0071379320, ISBN-13: 978-0071379328
This book is an update of a long-established text dating from at least 1988 (DJF); Quoting:
This book is gives a good grasp of seismic design for wood structures. Many of the examples especially near the end are good practice for the California PE Special Seismic Exam design questions. It gives a good grasp of how seismic forces move through a building and how to calculate those forces at various locations. THE CLASSIC TEXT ON WOOD DESIGN UPDATED TO INCLUDE THE LATEST CODES AND DATA. Reflects the most recent provisions of the 2003 International Building Code and 2001 National Design Specification for Wood Construction. Continuing the sterling standard set by earlier editions, this indispensable reference clearly explains the best wood design techniques for the safe handling of gravity and lateral loads. Carefully revised and updated to include the new 2003 International Building Code, ASCE 7-02 Minimum Design Loads for Buildings and Other Structures, the 2001 National Design Specification for Wood Construction, and the most recent Allowable Stress Design.
Building Failures, Diagnosis & Avoidance, 2d Ed., W.H. Ransom, E.& F. Spon, New York, 1987 ISBN 0-419-14270-3
Domestic Building Surveys, Andrew R. Williams, Kindle book, Amazon.com
Defects and Deterioration in Buildings: A Practical Guide to the Science and Technology of Material Failure, Barry Richardson, Spon Press; 2d Ed (2001), ISBN-10: 041925210X, ISBN-13: 978-0419252108. Quoting:
A professional reference designed to assist surveyors, engineers, architects and contractors in diagnosing existing problems and avoiding them in new buildings. Fully revised and updated, this edition, in new clearer format, covers developments in building defects, and problems such as sick building syndrome. Well liked for its mixture of theory and practice the new edition will complement Hinks and Cook's student textbook on defects at the practitioner level.
Guide to Domestic Building Surveys, Jack Bower, Butterworth Architecture, London, 1988, ISBN 0-408-50000 X
"Avoiding Foundation Failures," Robert Marshall, Journal of Light Construction, July, 1996 (Highly recommend this article-DF)
"A Foundation for Unstable Soils," Harris Hyman, P.E., Journal of Light Construction, May 1995
"Backfilling Basics," Buck Bartley, Journal of Light Construction, October 1994
"Inspecting Block Foundations," Donald V. Cohen, P.E., ASHI Reporter, December 1998. This article in turn cites the Fine Homebuilding article noted below.
"When Block Foundations go Bad," Fine Homebuilding, June/July 1998
Historic Preservation Technology: A Primer, Robert A. Young, Wiley (March 21, 2008) ISBN-10: 0471788368 ISBN-13: 978-0471788362
Log Homes: Log Home Design, U.S. Department of Energy
Quality Standards for the Professional Remodeling Industry, National Association of Home Builders Remodelers Council, NAHB Research Foundation, 1987.
Quality Standards for the Professional Remodeler, N.U. Ahmed, # Home Builder Pr (February 1991), ISBN-10: 0867183594, ISBN-13: 978-0867183597
Slab on Grade Foundation Moisture and Air Leakage, U.S. Department of Energy
More Straw Bale Building: A Complete Guide to Designing and Building with Straw (Mother Earth News Wiser Living Series), Chris Magwood, Peter Mack, New Society Publishers (February 1, 2005), ISBN-10: 0865715181 ISBN-13: 978-0865715189 - Quoting:
Straw bale houses are easy to build, affordable, super energy efficient, environmentally friendly, attractive, and can be designed to match the builder's personal space needs, esthetics and budget. Despite mushrooming interest in the technique, however, most straw bale books focus on "selling" the dream of straw bale building, but don't adequately address the most critical issues faced by bale house builders. Moreover, since many developments in this field are recent, few books are completely up to date with the latest techniques.
More Straw Bale Building is designed to fill this gap. A completely rewritten edition of the 20,000-copy best--selling original, it leads the potential builder through the entire process of building a bale structure, tackling all the practical issues: finding and choosing bales; developing sound building plans; roofing; electrical, plumbing, and heating systems; building code compliance; and special concerns for builders in northern climates.
...