Home Buyer's Guide to Septic Dye Testing
PRE-PURCHASE SEPTIC DYE TEST - CONTENTS: What is a septic dye test? When and should it be used? What are the limitations of a septic dye test? An Easy Guide to Inspection & Testing When Buying a Home With a Septic Tank
POST a QUESTION or READ FAQs about How to Inspect & Test Septic Systems When Buying A Home
InspectAPedia tolerates no conflicts of interest. We have no relationship with advertisers, products, or services discussed at this website.
Septic Loading and Dye Test Procedure for home buyers.
This document provides advice for home buyers who are buying a property with a private septic system, that is, a septic tank and a leach field or drainfield or similar soil absorption system. This is 5-3 SEPTIC SYSETM LOADING & DYE TEST, what is a septic dye test, how should it be performed, what are its use and its limitations.
Chapter 5 in answers detail: questions to ask about the septic system, how to perform the visual septic inspection, ordering the loading and septic dye test (the too-obvious results of a dye test at a problem site are in the photo at left), pumping the septic tank, and finding additional information about the septic system. We explain how to be sure your septic inspection and septic test are conducted properly.
We tell you where to get more septic system information about a given property, and we warn of unsanitary or dangerous site conditions.
Green links show where you are. © Copyright 2017 InspectApedia.com, All Rights Reserved.
5-3. LOADING & DYE TEST How to Perform a Home Buyer's Septic Loading & Dye Test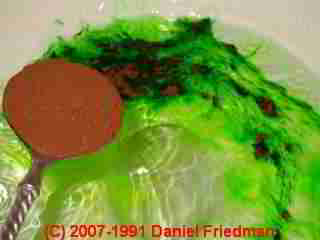 Pre Purchase Septic Testing (A good idea, essential in some circumstances.) Most home sales are contingent upon a home Inspection. But home inspections do not usually include a test of the existing septic system.
Septic Tests are beyond the scope of a professional home inspection but these septic tests are offered as an additional for-fee service by many home inspectors who serve areas where private systems are common.
The photo at above left shows septic dye being measured into a toilet to begin a septic loading and dye test.
Hire your own septic test consultant who has experience with and is familiar with septic loading and dye testing standards, a licensed septic inspector (in states which license this specialty such as MA), or a licensed septic system installer, who performs a great deal of work in the particular town. They can give you advice as to the condition of the soils and septic systems In the area and what might be expected (especially pertaining to costs) if/when you find problems with the existing system.
This photo shows a small property bordering on a river. We were told that a "new septic system" was installed but I could not see where a conventional tank and drainfield could possibly fit except below the driveway.
Because of the nearly overwhelming temptation at such sites to pipe septic effluent directly into the river, we performed a septic loading and dye test to see if the river would turn red. The river did not quickly turn red but after less than 100 gallons of water had been run into the septic system our red septic dye appeared at the basement entry platform at the edge of the driveway, as shown in the photo used at the top of this page.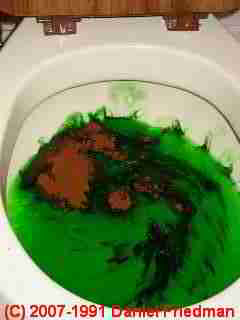 A septic loading and dye test is essential if nothing is known about the septic system, if the system is more than 4 years old, if there is already evidence of a problem such as odors, soggy areas, or a history of frequent pumping.
Your consultant should tell you his or her level of concern and can tell you if the loading/dye test seems like a good idea or an unnecessary expense. If there is no indication of a septic system problem, and if the system is just a few years old, and if the system has received proper maintenance, the risk level is less and you may elect to skip this test.
Warning: even a "new" system may be defective and can fail this test. The photograph shows septic dye being flushed down the toilet to begin the test. Water must be run at fixtures which drain into the septic system to continue this procedure.
Warning:: Unfortunately many of the people performing these tests perform only a perfunctory test such as a low-water volume test (50 gallons is meaningless) or use an insufficient amount of tracer septic dye.
Therefore, the conclusions reached from these tests are often misleading. Be sure your test is performed by an expert and that an adequate volume of water is used. We specify no less than 50 gallons per bedroom or 250 gallons, whichever is greater.
Warning: if you hire a separate consultant only to perform the septic inspection and dye test you're at risk of getting a bad deal. It takes time to get enough water into the system to perform a reasonably aggressive test. It's economical to do this test when it is overlapped with other work at the site (like a home inspection).
But someone coming to the site just to do the septic test is not going to wait around for 2+ hours for water to run into the system - you're likely to get an inadequate test. If you must use a third party just for this test be sure to review the test parameters and agree on them ahead of time.
Warning: Do not pump the septic tank before the loading and dye test. Depending on its size an empty septic tank could require 2-3 days' worth of water to re-fill the tank. An empty tank means that the "loading water" run into the system during the dye test procedure is simply filling the tank rather than testing the ability of the drain field to absorb effluent.
5-3a WHAT'S A DYE TEST? What is a Septic Dye Test?
This procedure puts a test volume of water into the system to look for evidence of a blocked pipe or for breakout of septic effluent at the yard surface - indications of the need for repair. If you are looking at a completely new home and septic system you might omit this test but don't assume that new systems are immune to failures.
Pipes settle and break or systems can be improperly installed. If the tank was pumped immediately before your inspection you should be suspicious, and you might defer the loading and dye test as it may be unable to put enough water into the system to test the drain fields. The dye itself is just a coloring agent to identify water that may appear at the yard surface. It's the test volume of water that's important.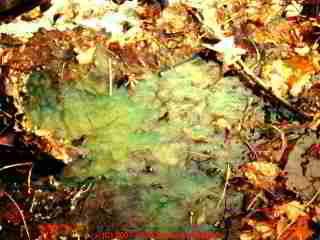 If the septic dye appears on the ground or appears in a brook or catch basin the septic system is in failure. Further investigation will be needed to determine the extent of septic repairs needed, though an informed inspector can often make a reasonable guess about what will be needed: a complete septic field replacement or more limited repairs.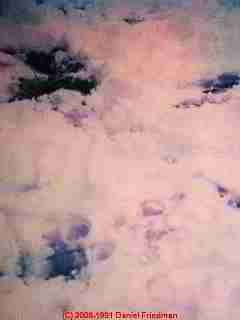 The common septic testing dyes used are green or red depending on the environment. We have seen dye breakout in as little as 15-30 minutes in many instances where there was no pre-existing wet spot but where subsequent excavation confirmed that the system was either damaged or in failure. In unusual cases septic dye may appear at nearby waterways as much as five days after the test has been performed.
The first or left-hand photograph shows green septic dye appearing on a leafy yard surface near the drainfield during a septic loading and dye test. The second photo shows red septic dye appearing up through a modest snow cover during a winter test of a septic system using septic dye. Use of florescent dyes permits detection of even very dilute concentrations of dye, but usually the color and sheen of the dye are unmistakable without requiring UV lighting.
See SEPTIC LOADING & DYE TEST PROCEDURE, for complete details of the septic loading and dye test procedure, test data forms, septic loading test water volumes, septic tracer dye quantities, critical observations.
5-3b TEST LIMITATIONS Septic Dye Test Limitations
Warning: if dyed effluent or water does not break out on the property surface, this does not necessarily mean the system is functioning or will function properly in the future. There are certainly cases in which effluent does not appear at the surface for some time, possibly up to five days, and there are other defects which predict upcoming expensive repair or replacement of the system but which are not detected by loading the drain field.
National data collected among professional home inspectors between 1985 and 1995 indicated that a significant number of inspectors performing dye tests discovered total failure of the septic system within 20 to 30 minutes of beginning testing.
We agree that a dye test is by no means a complete test of a system, that the other measures suggested here are extremely valuable, and that the volume of water used is critical: too little or too much can both be serious mistakes.
If a wet area or soggy area is present, dye has been found to appear in the short time indicated. However beware: NYS DEC has found dye appearing in nearby streams as late as five days following a septic dye test in cases where effluent migrates through considerable ground area before entering a stream.
5-3c FLOODING TESTS What Are Septic "Flooding Tests"?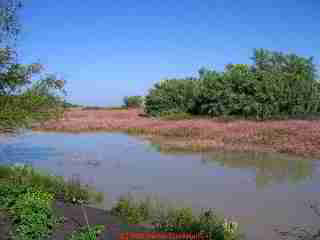 Some authors describe an attempt to "FLOOD" THE SEPTIC SYSTEM WITH 1000 GALLONS OF WATER TO ATTEMPT to force a sign of system failure to manifest itself. A typical home with a private well and pressure tank should be able to deliver 5 gallons per minute.
If this test were performed overlapped with a home inspection (a 2 1/2 to 4 hour procedure) one could obtain this test volume.
Warning this test should not normally be attempted. Placing 1000 gallons of water into a septic system in two hours is likely to exceed its design parameters, and in the case of certain systems, it could actually damage the system.
While all inspections and tests should aggressively seek to protect the interests of the parties involved by being thorough, a test which exceeds system design parameters would be improper.
5-3d PROBE TESTS of Septic Fields & Locating Septic Components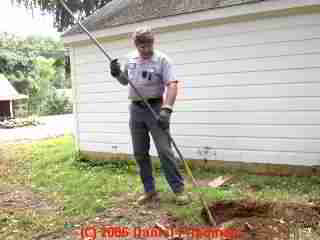 Probing is a procedure whereby the Inspector attempts to locate the "KEY" ELEMENTS OF THE SYSTEM (SEPTIC TANKS AND LEACH FIELDS) and determine if they are experiencing hydraulic distress (meaning the septic tank and fields are flooded).
If a probe in a leach field produces a hole which fills rapidly with water this test indeed indicates a problem with the system. But if a probe does not produce this condition, the test has been unreliable since it may be during a time of dry soils or a day when very little water was used by the homeowner or the home in fact may have been vacant.
This test, if performed, must be done by an expert, with caution, and is inconclusive if it does not detect a problem.
The photo here is not really a probe test, rather our septic pumping contractor is exploring the condition of the septic tank after it has already been located.
WARNING: probing can damage buried equipment such as fiberglass septic tanks or tank covers or plastic septic drain lines. Further, there is little assurance that the probing is done in the area where a problem is present.
Septic System Inspection Methods and Procedures - complete guide to septic system testing.
Septic Failure Causes: How Does Each Septic System Component Fail? - What to Look For During a Septic Inspection - Step by Step Diagnosis
Septic System Testing Basics Articles
...
Continue reading at SEPTIC TEST FINAL OVERVIEW or select a topic from closely-related articles below, or see our complete INDEX to RELATED ARTICLES below.
Or see SEPTIC & CESSPOOL SAFETY
Or see SEPTIC TANK PUMPOUT TIMING ERRORS
Or see TYPES OF SEPTIC SYSTEMS - master list
Suggested citation for this web page
PRE-PURCHASE SEPTIC DYE TEST at InspectApedia.com - online encyclopedia of building & environmental inspection, testing, diagnosis, repair, & problem prevention advice.
Or use the SEARCH BOX found below to Ask a Question or Search InspectApedia
...
Frequently Asked Questions (FAQs)
Use the "Click to Show or Hide FAQs" link just above to see recently-posted questions, comments, replies, try the search box just below, or if you prefer, post a question or comment in the Comments box below and we will respond promptly.
Search the InspectApedia website
Technical Reviewers & References
Click to Show or Hide Citations & References
New York State Department of Health, "Appendix 75-A Wastewater Treatment Standards - Individual Household Systems", [PDF] New York State Department of Health, 3 February 2010, retrieved 3/1/2010, original source: https://www.health.ny.gov/regulations/nycrr/title_10/part_75/appendix_75-a.htm
Portions of the original text were provided by the CT Department of Public Health and Addiction Services. Daniel Friedman (web author) has made extensive edits and content additions to the original file.
More Reading
Sketches of the Septic System Components Private Sewage Disposal Systems - Septic Drawing Library
Septic Systems - an Engineer's View
Septic System, Septic Tank, & Cesspool Safety Warnings for Septic Inspectors, Septic Pumpers, and Homeowners.
CESSPOOLS if you don't know what they are.
TOILETS, DON'T FLUSH LIST these things into a septic system
DRYWELL DESIGN & USES if you don't know what they are.
SEPTIC SYSTEMS ONLINE BOOK Online Book, Inspection, Test, Diagnosis, Repair, & Maintenance: Our Online Septic Book: Septic Testing, Loading & Dye Tests, Septic Tank Pumping, Clearances, details of onsite waste disposal system inspection, testing, repair procedures.
Books & Articles on Building & Environmental Inspection, Testing, Diagnosis, & Repair
Design Manuals for Septic Systems
US EPA Onsite Wastewater Treatment Systems Manual [online copy, free] Top Reference: US EPA's Design Manual for Onsite Wastewater Treatment and Disposal, 1980, available from the US EPA, the US GPO Superintendent of Documents (Pueblo CO), and from the National Small Flows Clearinghouse. Original source http://www.epa.gov/ORD/NRMRL/Pubs/625R00008/625R00008.htm Onsite wastewater treatment and disposal systems, Richard J Otis, published by the US EPA. Although it's more than 20 years old, this book remains a useful reference for septic system designers. U.S. Environmental Protection Agency, Office of Water Program Operations; Office of Research and Development, Municipal Environmental Research Laboratory; (1980)
Eco John® Innovative Toilet Solutions, Global Inventive Industries, Fountain Valley CA, PDF, product brochure
"International Private Sewage Disposal Code," 1995, BOCA-708-799-2300, ICBO-310-699-0541, SBCCI 205-591-1853, available from those code associations.
"Manual of Policy, Procedures, and Guidelines for Onsite Sewage Systems," Ontario Reg. 374/81, Part VII of the Environmental Protection Act (Canada), ISBN 0-7743-7303-2, Ministry of the Environment,135 St. Clair Ave. West, Toronto Ontario M4V 1P5 Canada $24. CDN.
Manual of Septic Tank Practice, US Public Health Service's 1959.

Onsite Wastewater Disposal Books
Onsite Wastewater Disposal, R. J. Perkins; Quoting from Amazon: This practical book, co-published with the National Environmental Health Association, describes the step-by-step procedures needed to avoid common pitfalls in septic system technology. Valuable in matching the septic system to the site-specific conditions, this useful book will help you install a reliable system in both suitable and difficult environments. Septic tank installers, planners, state and local regulators, civil and sanitary engineers, consulting engineers, architects, homeowners, academics, and land developers will find this publication valuable.
Onsite Wastewater Treatment Systems, Bennette D. Burks, Mary Margaret Minnis, Hogarth House 1994 - one of the best septic system books around, suffering a bit from small fonts and a weak index. While it contains some material more technical than needed by homeowners, Burks/Minnis book on onsite wastewater treatment systems a very useful reference for both property owners and septic system designers.
Septic Tank/Soil-Absorption Systems: How to Operate & Maintain [ copy on file as /septic/Septic_Operation_USDA.pdf ] - , Equipment Tips, U.S. Department of Agriculture, 8271 1302, 7100 Engineering, 2300 Recreation, September 1982, web search 08/28/2010, original source: http://www.fs.fed.us/t-d/pubs/pdfimage/82711302.pdf
SEPTIC SOIL & PERC TESTS soil perc testing guide and instructions
Percolation Testing Manual, CNMI Division of Environmental Quality, PO Box 501304, Saipan, MP 96950
Planting Over Septic System Component", Daniel Friedman (author/editor, InspectAPedia.com), The Innovator, Winter/Spring 2008, BCOSSA, British Columbia OnSite Sewage Association, 201-3542 Blansard St., Victoria BC V8X 1W3 Canada
Save the Septic System - Do Not Flush These Items Down the Toilet, Daniel Friedman, InspectAPedia.com - PDF document, printable
Septic System Owner's Manual, Lloyd Kahn, Blair Allen, Julie Jones, Shelter Publications, 2000 $14.95 U.S. - easy to understand, well illustrated, one of the best practical references around on septic design basics including some advanced systems; a little short on safety and maintenance. Both new and used (low priced copies are available, and we think the authors are working on an updated edition--DF. Quoting from one of several Amazon reviews: The basics of septic systems, from underground systems and failures to what the owner can do to promote and maintain a healthy system, is revealed in an excellent guide essential for any who reside on a septic system. Rural residents receive a primer on not only the basics; but how to conduct period inspections and what to do when things go wrong. History also figures into the fine coverage.
Test Pit Preparation for Onsite Sewage Evaluations, State of Oregon Department of Environmental Quality, Portland OR, 800 452-4011. PDF document. We recommend this excellent document that offers detail about soil perc tests, deep hole tests, safety, and septic design. Readers should also see SEPTIC SOIL & PERC TESTS and for testing an existing septic system, also see Dye Tests
Grass is Always Greener Over the Septic Tank, Bombeck, Erma: $ 5.99; FAWCETT; MM; This septic system classic whose title helps avoid intimidating readers new to septic systems, is available new or used at very low prices. It's more entertainment than a serious "how to" book on septic systems design, maintenance, or repair. Not recommended -- DF.

US EPA Onsite Wastewater Treatment Systems Manual Top Reference: US EPA's Design Manual for Onsite Wastewater Treatment and Disposal, 1980, available from the US EPA, the US GPO Superintendent of Documents (Pueblo CO), and from the National Small Flows Clearinghouse. Original source http://www.epa.gov/ORD/NRMRL/Pubs/625R00008/625R00008.htm
Water Wells and Septic Systems Handbook, R. Dodge Woodson. This book is in the upper price range, but is worth the cost for serious septic installers and designers. Quoting Amazon: Each year, thousands upon thousands of Americans install water wells and septic systems on their properties. But with a maze of codes governing their use along with a host of design requirements that ensure their functionality where can someone turn for comprehensive, one-stop guidance? Enter the Water Wells and Septic Systems Handbook from McGraw-Hill.
Written in language any property owner can understand yet detailed enough for professionals and technical students this easy-to-use volume delivers the latest techniques and code requirements for designing, building, rehabilitating, and maintaining private water wells and septic systems. Bolstered by a wealth of informative charts, tables, and illustrations, this book delivers:
* Current construction, maintenance, and repair methods
* New International Private Sewage Disposal Code
* Up-to-date standards from the American Water Works Association

Wells and Septic Systems, Alth, Max and Charlet, Rev. by S. Blackwell Duncan, $ 18.95; Tab Books 1992. We have found this text very useful for conventional well and septic systems design and maintenance --DF. Quoting an Amazon description:Here's all the information you need to build a well or septic system yourself - and save a lot of time, money, and frustration. S. Blackwell Duncan has thoroughly revised and updated this second edition of Wells and Septic Systems to conform to current codes and requirements. He also has expanded this national bestseller to include new material on well and septic installation, water storage and distribution, water treatment, ecological considerations, and septic systems for problem building sites.

The NSFC Products List has an excellent list of design manuals/modules available from their website or by telephone 800-624-8301
Submissions welcome. send us a suggested document link or request an exchange of website links
...