Home Buyer's Basic Guide to Septic Systems
Easy Guide to Inspection & Testing When Buying a Home With a Septic Tank
SEPTIC SYSTEM TEST BASICS - CONTENTS: key things to know & do about private septic systems when buying a home
POST a QUESTION or READ FAQs about buying a home with a septic system: what steps to take to evaluate septic system condition before the purchase of a home
InspectAPedia tolerates no conflicts of interest. We have no relationship with advertisers, products, or services discussed at this website.
Advice for Home Buyers who are buying a property with a private septic system. In order to help buyers obtain Information that addresses these concerns. We have put together this guide to help in making informed decisions regarding the potential problems and costs associated with a property's septic system. This document gives a simple overview of the questions to ask and tests and inspections to order if you are buying a property with a septic system.
If you don't really want to know much about septic systems but you want to know how to inspect and test this costly and buried system when you're buying a property with a septic system, septic tank, septic fields, then read this document.
Green links show where you are. © Copyright 2017 InspectApedia.com, All Rights Reserved.
Basic Advice on Buying a House with a Septic System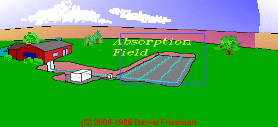 Frequently prospective buyers of a single family home have many questions regarding the septic system serving the dwelling:
What does the existing septic system consist of?
Are the septic system tank, piping, drainfield and other components working property or do I face significant costs or perhaps unsafe or unsanitary conditions that have not yet been disclosed?
What septic inspections and tests should I have performed when I am buying a home?
How long will a septic system last?
If you prefer a complete, detailed guide to how to determine the condition of a septic tank, drainfield, leach field, soakaway bed, piping, etc. before buying or selling a home, see our buyer's guide to septic systems beginning at HOME BUYERS GUIDE to SEPTIC SYSTEMS.
If you need to know still more about septic system components, septic system maintenance (such as tank pumping and septic additives), or details about septic system inspection, diagnosis, repair, and alternative septic designs, Our main septic website page provides in-depth articles about these topics.
Components of a Septic System
In simplest terms, a septic system consists of a holding tank which retains solid waste and grease from household waste water, and an absorption system or "leach field" which disposes of liquid wastewater or "effluent" which leaves the septic tank for absorption below ground into soils at the property.
How to Inspect and Test a Septic System When Buying A Home
Why inspect and test a septic system before buying a home?
The septic system is a relatively expensive and buried system which does not have an infinite life. Eventually drain fields fail and sometimes septic tanks, especially steel ones, rust out and need replacement. Also, old septic tanks, cesspools, and drywells, especially site-built or "home made" systems and systems in certain soils, can collapse, forming a very dangerous site hazard.
While no septic inspection and test can guarantee 100% that all septic defects have been found, properly conducted, these procedures can reduce the chances of a dangerous or costly surprise at your new home.
Septic Inspection and Testing for Home Buyers, Step-by-Step
You can do steps 1 and 2 yourself. If you hire an expert to inspect and test the system (some home inspectors can provide this service), the inspector will also perform step 2 and 3.
Basic Questions:Ask the seller the following questions. Don't worry if the seller says they don't know the answers. "Not knowing" is also important information. These questions are deliberately a bit vague in order to allow people to tell you whatever they know rather than cutting off or suggesting answers. Convey the answers to these questions to your septic test consultant.
How old is the property?
Is the property occupied or vacant? If occupied, for how long and by how many occupants? If vacant, for how long?
How long has the seller owned the property?
Where is the septic system?
What is installed?
What is the service or repair history of the septic system?
When was the tank last pumped? [Warning: if the seller offers to "have the tank pumped for you" ask them not to do you that favor before your inspection as pumping the tank prevents testing the drain field.]
Visual Inspection: Make a visual inspection of the property. Look for wet areas, smelly areas, rocky areas, areas of recent excavation. Also make note of the location of and distance to nearby streams, private wells, ponds, buildings, property lines, and rocky areas, and areas of trees and shrubbery.

[Warning: be very alert for evidence of sink holes or subsidence. Do not walk over anything suspicious as you might step into or fall into a collapsing system.]
Septic Loading & Dye Test: Hire a septic test consultant to perform a septic loading and dye test. This procedure puts a test volume of water into the system to look for evidence of a blocked pipe or for breakout of septic effluent at the yard surface - indications of the need for repair. If you are looking at a completely new home and septic system you might omit this test but don't assume that new systems are immune to failures.

Pipes settle and break or systems can be improperly installed. If the tank was pumped immediately before your inspection you should be suspicious, and you might defer the loading and dye test as it may be unable to put enough water into the system to test the drain fields. The dye itself is just a coloring agent to identify water that may appear at the yard surface. It's the test volume of water that's important.
Pump and inspect the septic tank: this step may or may not be necessary, depending on the age and service history of the system and the results of the visual inspection and loading and dye test. Important additional information, available when the tank is pumped, can tell you if it was past-due for pumping (risking damaging the drain fields) and if it is damaged. You'll also know exactly where the tank is, if it's concrete, steel, fiberglass or home made, if it has been damaged, and if it has a save cover.
Additional steps which are not normally done but which may be performed if there is evidence of system damage or failure are listed next. These steps would ordinarily be performed by a septic contractor who installs or repairs septic systems. Some septic pumping companies also perform septic repairs and field investigations. A septic engineer may be needed if you are expanding a system or if you require design to repair a system on a difficult site.
Find and Open the Distribution Box which connects the pipe from the tank to the network of drainfield lines.
Excavate suspicious areas such as wet areas at in the leach field, subsidence areas.
Perform soil percolation tests or "Perc tests" to evaluate the ability of the soils to absorb effluent. This involves digging a hole, pouring in water, and measuring the time for a given volume of water to be absorbed into a given square foot area of soil.
Soil & Site Research to include determination of the soil quality, the depth of the seasonal high water table in the ground below the leach area, etc. - this work may be needed if a system is to be replaced or relocated, especially at a difficult site.
More Reading about Septic System Inspection and Testing
More basic information about how septic systems work is in this document after this section. More in-depth information about the steps in the procedure outlined above can be read at the following online articles:
For a leaching system to function properly it must:
Provide enough application area. The application area is the amount of surface area of soil within the leaching system where sewage effluent is applied (referred to as "wetted" area). The amount of application area needed for a given house depends on the characteristics of the soils on the property and the daily flows (in gallons) generated from the house.
Be surrounded by natural soil conditions which will be able to dissipate and disperse the discharge without becoming over saturated.
Provide enough capacity to store effluent during periods of unusually heavy use or when rainfall or subsurface flooding reduces the ability of the system to disperse the liquid. Note: Curtain drains or ground water interceptor drains are sometimes installed upgrade of the leaching system to minimize high ground water conditions.
It is important to realize that, once a septic system has been installed, only one of the above factors can be controlled by the homeowner. The homeowner can control how much water is actually being discharged to the system. Since each system has a set maximum capacity, it behooves the homeowner not to exceed that amount.
Signs of Trouble With the Septic System
If a system starts to experience difficulties, what are some of the common symptoms?
Plumbing fixtures may exhibit difficulty in releasing their contents (slow draining, bubbling, backups, etc.). This condition may be system-related but it could also indicate just a clog in the interior piping or sewer line.

You should have the interior piping checked before proceeding with an investigation of the sewage disposal system. [DJF added: See CLOGGED DRAIN DIAGNOSIS & REPAIR]
Large volume discharges (such as, washing machines, dishwashers and bathtubs) cause either a backup, as noted above, or, an overflow of sewage above the septic tank or leaching field. If this condition is usually at its worst during and/or directly following a heavy rain event, then the septic system is indeed suspect.

If backup alone occurs independent of wet weather, you might first check for a partial blockage of the main drain that has occurred some distance from the house. In such cases a small discharge will simply be held by the main waste pipe, draining slowly past the blockage, while a large discharge will cause a backup.
Foul septic odors in storm drainage piping, catch basins, footing drain piping or curtain drain discharges may indicate that sewage from your property or an adjacent one is entering these ground water systems.
Sources of Information about your particular septic system
What can a prospective purchaser of a home do to gather as much information as possible relative to the present condition of a system and about possible future expenses associated with the septic system? Here are a few suggestions:
Obtain Information about the septic system from the present property owner
Ask for any drawings regarding the actual location (an "as-built drawing) of the existing septic system.
Ask for the records regarding maintenance of the system; Has the septic tank been pumped at a frequency of at least 3 to 5 years?; What pumping contractor was used?; If the system contains a pump. how often has it been maintained?; If major repairs have been made, when and to what extent?
Ask about the past performance of the system. Have any of the symptoms described earlier manifested during the life of the system?
Make a Visual Site Inspection of Septic System Condition at the Property
Once the locations of the septic tank and leaching fields are known, walk over the entire area and observe whether there is any evidence of a sewage overflow condition. Greener grass in the leaching area may not necessarily indicate a system problem. If, however the area is completely saturated and odorous you should be very concerned. It most likely indicates an active failure.
Try to get a sense of how natural conditions are effecting the capacity of the property to disperse water. Is the sewage disposal area located In a depression which would have a tendency to collect run-off of rain water? Is the lot flat? Is there a water course of wetland (swamp) near the leaching system? Is the system virtually at the same elevation as nearby wetlands? Are there steep slopes and/or ledge outcrops which reduce the available area for leaching purposes? All of the above factors could indicate that the existing system will experience difficulty or, that there may not be much additional area suitable for sewage disposal on the lot if needed in the future.
[DJF addition: Also see Table of Required Septic & Well Clearances: Distances Between Septic System & Wells, Streams, Trees, etc.]
Go to Town Health Department to Review the Property's Septic System Information File
Ask the town sanitarian to review the file with you. Is there enough information in it for him/her to give you an opinion on how the existing system and/or lot meets present health code requirements?
Ask for the records regarding maintenance of the system; Has the septic tank been pumped at a frequency of at least 3 to 5 years? What pumping contractor was used? If the system contains a pump, how often has it been maintained?; If major repairs have been made, when and to what extent?
Your goal is to, confirm and supplement information received from the property owner.
Obtain guidelines concerning the proper maintenance of a subsurface sewage disposal system.
If you are contemplating an addition to the home or plan on renovating an unfinished basement discuss the possibilities with the sanitarian and determine the procedures you would have to follow to accomplish your plans. In wm cases it will not be possible to "enlarge" an existing home.
Ask about the general neighborhood, the frequency of repairs, ability to install proper size repair systems, average life of systems in the area, etc.
Obtain Additional Information from Outside Sources
The Septic Loading and Dye Test (properly a "septic loading and dye test) is used to trace the movement of septic tank effluent into the leaching system. The theory is that if the dye "surfaces" to the ground or appears in a brook or catch basin the system is in trouble.

Although this is indeed true, the opposite result does not necessarily mean the system is - functioning or will function properly In the future. In order for the dye to appear it must flow through the septic tank and leaching fields prior to arriving at the breakout point. This usually would take a large amount of water and sufficient time to occur, and most home Inspections do not last long enough to fulfill this requirement.

[DJF note: This opinion of the Health Department is not entirely accurate. National data collected among professional home inspectors between 1985 and 1995 indicated that a significant number of inspectors performing dye tests discovered total failure of the septic system within 20 to 30 minutes of beginning testing.

We agree that a dye test is by no means a complete test of a system, that the other measures suggested here are extremely valuable, and that the volume of water used is critical: too little or too much can both be serious mistakes. If a wet area or soggy area is present, dye has been found to appear in the short time indicated.

However beware: NYS DEC has found dye appearing in nearby streams as late as five days following a septic dye test in cases where effluent migrates through considerable ground area before entering a stream.

See SEPTIC LOADING & DYE TEST PROCEDURE - home - How to perform this test (separate document)]

Probe Test is a procedure whereby the Inspector attempts to locate the "key" elements of the system (septic tanks and leach fields) and determine if they are experiencing hydraulic distress (meaning the septic tank and fields are flooded). This test is basically inaccurate since it only takes a single "snapshot the condition of the system. It may be a "good" day for the system (very little water was used by the homeowner that day; the house may have been empty for some time; it may be the middle of the summer when soil conditions are at their best and a judgment is being made with very little long term information.

[DJF notes: WARNING: probing can damage buried equipment such as fiberglass septic tanks or tank covers or plastic septic drain lines. Further, there is little assurance that the probing is done in the area where a problem is present.]

The flooding "test" is actually the process of discharging a vast amount of water into the existing system. Depending on the number of fixtures utilized, an additional 500 to 1,000 gallons of water can enter the ' system during the course of an Inspection.

The inspector then examines the leaching area to observe any signs of an "overflow condition." If none is noted, it is assumed the system is functioning property. This type of test is most disturbing since it can actually do harm to the system by "artificially" flooding the septic tank and fields. This could lead to suspended solids escaping the tank, causing increased clogging to the leaching fields.

Also, the results of such a test can be misleading in that the prior use of the system (both over and under utilization) will have a direct bearing on the outcome of the "test."

[DJF note: the opinion of CT DOH that an inspector injects 500 to 1,000 gallons of water contradicts the earlier DOH opinion that held that it is impossible to inject significant volumes of water into a system during a typical 3 hour home inspection. It is easy to place 200 to 500 gallons into a septic system during a three to four hour home inspection. 1000 gallons would be a bit high.

Even if a high available water flow rate in a building makes it possible to place very large volumes of water into a private septic system, we advise against attempting flooding tests (very large volumes) as in cases where the type of septic system is unknown it is possible to damage or even destroy the system leading to very costly and previously unnecessary repairs.

A test which greatly exceeds the design parameters of the system is a questionable procedure. The Septic Information Website describes appropriate procedures for performing various septic tests based on a national survey of inspection and engineering practices.]
Use of Soil Conservation Service County Soil Maps (through the town sanitarian), try to identify the type of soil most likely present on the site in order to predict the feasibility of future repairs to the existing leaching system.
Talk to neighbors about the general performance of septic systems In the area and specifically the system on the property you're Interested In. However, this is suggested only for those comfortable approaching this subject with strangers and with the realization that the information gathered may not be totally factual for various reasons (devaluation of their own property; not wanting to spoil the sale of a friendly neighbor, etc.)
Hire your own septic test consultant either a professional engineer [who is specifically familiar with septic system design and repair], an inspector who has experience with and is familiar with septic loading and dye testing standards, a licensed septic inspector (in states which license this specialty such as MA), or a licensed septic system installer, who performs a great deal of work in the particular town. They can give you advise as to the condition of the soils and septic systems In the area and what might be expected (especially pertaining to costs) if/when you find problems with the existing system.
[DF addition: After performing the septic loading and dye test and obtaining whatever historical maintenance and repair information you can obtain from the prior owner, depending on the septic system condition and when it was last pumped, you may want a septic contractor to located, open, pump, and inspect the septic tank. More details about this step are at Performinga Septic Loading and Dye Test,Septic System Inspection Methods and Procedures, and
Septic Tank Pumping Guide: When, Why, How to pump the septic tank.]
Obtain water meter readings (if the home is serviced by a municipal water supply) to determine what the present occupants of the home are utilizing. Then compare those results with what your family is presently using. If your family Is using significantly more water than the former occupants you may be asking for trouble if the sewage system is undersized by today's standards.
Additional useful information which may be available from the service company who has pumped the tank recently includes the following:
Type of tank material - old steel tank may be at or end useful life
Tank size - along with usage determines appropriate pumping frequency and system capacity
Evidence of damage to tank components - broken baffles mean the leach fields are probably ruined
Evidence of backflow into the tank during start of pumping - indicates flooded leach field, probably failed
High sludge level and/or excessive floating scum level - indicate high risk of having pushed solids out into the leach field, destroying it
If the system has not been cleaned in several years and if the seller will permit, have the tank pumped to obtain this additional information. Typical pumpout fees are around $100. if excavation is not necessary. If the tank location is unknown extra costs will be involved to locate and excavate it - steps to which a seller is likely to object.
Home Buyers' Guide to Septic Systems - A Final Overview
It is our opinion that when buying a home, especially one that is old and does not have a sewage disposal system that meets today's standards, the fundamental questions that should be answered are:
Is the septic system currently working properly or is there evidence of a failure?
Even if it's working, are there signs suggesting short remaining life of the septic system?
When the existing system fails, how will we repair it and how much will repairs cost?
If accurate soil test data is not available through the local health department the only sure way of answering the question is to actually perform all the deep hole testing and percolation tests required by code.
As you can understand, most sellers would take a dim view of prospective buyers wanting to tear up their property to perform then tests. Therefore the more information a buyer can obtain, the better able he or she will be able to judge the adequacy of the existing system and what will most likely be required to repair the system, when needed. In that way, the buyer will not be caught unaware when that day arrives, since it was part of the financial assessment establishing the value of the property at the time of purchase.
Key Septic Testing Articles
...
Continue reading at HOME BUYERS GUIDE to SEPTIC SYSTEMS or select a topic from closely-related articles below, or see our complete INDEX to RELATED ARTICLES below.
Suggested citation for this web page
SEPTIC SYSTEM TEST BASICS at InspectApedia.com - online encyclopedia of building & environmental inspection, testing, diagnosis, repair, & problem prevention advice.
Or use the SEARCH BOX found below to Ask a Question or Search InspectApedia
...
Frequently Asked Questions (FAQs)
Try the search box below or CONTACT US by email if you cannot find the answer you need at InspectApedia.
...
Ask a Question or Search InspectApedia
Questions & answers or comments about buying a home with a septic system: what steps to take to evaluate septic system condition before the purchase of a home
Use the "Click to Show or Hide FAQs" link just above to see recently-posted questions, comments, replies, try the search box just below, or if you prefer, post a question or comment in the Comments box below and we will respond promptly.
Search the InspectApedia website
Technical Reviewers & References
Click to Show or Hide Citations & References
New York State Department of Health, "Appendix 75-A Wastewater Treatment Standards - Individual Household Systems", [PDF] New York State Department of Health, 3 February 2010, retrieved 3/1/2010, original source: https://www.health.ny.gov/regulations/nycrr/title_10/part_75/appendix_75-a.htm
This text was copied, edited, and supplemented by the website author from a public document provided by the CT State DOH. Their contact information is:
State of Connecticut Department of Health Services
150 Washington St., Hartford CT 06106
203-566-1292 Voice 203-566-2275 Fax
Sketches of the Septic System Components Private Sewage Disposal Systems - Septic Drawing Library
Septic Systems - an Engineer's View
Septic System, Septic Tank, & Cesspool Safety Warnings for Septic Inspectors, Septic Pumpers, and Homeowners.
CESSPOOLS if you don't know what they are.
TOILETS, DON'T FLUSH LIST these things into a septic system
DRYWELL DESIGN & USES if you don't know what they are.
SEPTIC SYSTEMS ONLINE BOOK Online Book, Inspection, Test, Diagnosis, Repair, & Maintenance: Our Online Septic Book: Septic Testing, Loading & Dye Tests, Septic Tank Pumping, Clearances, details of onsite waste disposal system inspection, testing, repair procedures.
Books & Articles on Building & Environmental Inspection, Testing, Diagnosis, & Repair
Design Manuals for Septic Systems
US EPA Onsite Wastewater Treatment Systems Manual [online copy, free] Top Reference: US EPA's Design Manual for Onsite Wastewater Treatment and Disposal, 1980, available from the US EPA, the US GPO Superintendent of Documents (Pueblo CO), and from the National Small Flows Clearinghouse. Original source http://www.epa.gov/ORD/NRMRL/Pubs/625R00008/625R00008.htm Onsite wastewater treatment and disposal systems, Richard J Otis, published by the US EPA. Although it's more than 20 years old, this book remains a useful reference for septic system designers. U.S. Environmental Protection Agency, Office of Water Program Operations; Office of Research and Development, Municipal Environmental Research Laboratory; (1980)
Eco John® Innovative Toilet Solutions, Global Inventive Industries, Fountain Valley CA, PDF, product brochure
"International Private Sewage Disposal Code," 1995, BOCA-708-799-2300, ICBO-310-699-0541, SBCCI 205-591-1853, available from those code associations.
"Manual of Policy, Procedures, and Guidelines for Onsite Sewage Systems," Ontario Reg. 374/81, Part VII of the Environmental Protection Act (Canada), ISBN 0-7743-7303-2, Ministry of the Environment,135 St. Clair Ave. West, Toronto Ontario M4V 1P5 Canada $24. CDN.
Manual of Septic Tank Practice, US Public Health Service's 1959.

Onsite Wastewater Disposal Books
Onsite Wastewater Disposal, R. J. Perkins; Quoting from Amazon: This practical book, co-published with the National Environmental Health Association, describes the step-by-step procedures needed to avoid common pitfalls in septic system technology. Valuable in matching the septic system to the site-specific conditions, this useful book will help you install a reliable system in both suitable and difficult environments. Septic tank installers, planners, state and local regulators, civil and sanitary engineers, consulting engineers, architects, homeowners, academics, and land developers will find this publication valuable.
Onsite Wastewater Treatment Systems, Bennette D. Burks, Mary Margaret Minnis, Hogarth House 1994 - one of the best septic system books around, suffering a bit from small fonts and a weak index. While it contains some material more technical than needed by homeowners, Burks/Minnis book on onsite wastewater treatment systems a very useful reference for both property owners and septic system designers.
Septic Tank/Soil-Absorption Systems: How to Operate & Maintain [ copy on file as /septic/Septic_Operation_USDA.pdf ] - , Equipment Tips, U.S. Department of Agriculture, 8271 1302, 7100 Engineering, 2300 Recreation, September 1982, web search 08/28/2010, original source: http://www.fs.fed.us/t-d/pubs/pdfimage/82711302.pdf
SEPTIC SOIL & PERC TESTS soil perc testing guide and instructions
Percolation Testing Manual, CNMI Division of Environmental Quality, PO Box 501304, Saipan, MP 96950
Planting Over Septic System Component", Daniel Friedman (author/editor, InspectAPedia.com), The Innovator, Winter/Spring 2008, BCOSSA, British Columbia OnSite Sewage Association, 201-3542 Blansard St., Victoria BC V8X 1W3 Canada
Save the Septic System - Do Not Flush These Items Down the Toilet, Daniel Friedman, InspectAPedia.com - PDF document, printable
Septic System Owner's Manual, Lloyd Kahn, Blair Allen, Julie Jones, Shelter Publications, 2000 $14.95 U.S. - easy to understand, well illustrated, one of the best practical references around on septic design basics including some advanced systems; a little short on safety and maintenance. Both new and used (low priced copies are available, and we think the authors are working on an updated edition--DF. Quoting from one of several Amazon reviews: The basics of septic systems, from underground systems and failures to what the owner can do to promote and maintain a healthy system, is revealed in an excellent guide essential for any who reside on a septic system. Rural residents receive a primer on not only the basics; but how to conduct period inspections and what to do when things go wrong. History also figures into the fine coverage.
Test Pit Preparation for Onsite Sewage Evaluations, State of Oregon Department of Environmental Quality, Portland OR, 800 452-4011. PDF document. We recommend this excellent document that offers detail about soil perc tests, deep hole tests, safety, and septic design. Readers should also see SEPTIC SOIL & PERC TESTS and for testing an existing septic system, also see Dye Tests
Grass is Always Greener Over the Septic Tank, Bombeck, Erma: $ 5.99; FAWCETT; MM; This septic system classic whose title helps avoid intimidating readers new to septic systems, is available new or used at very low prices. It's more entertainment than a serious "how to" book on septic systems design, maintenance, or repair. Not recommended -- DF.

US EPA Onsite Wastewater Treatment Systems Manual Top Reference: US EPA's Design Manual for Onsite Wastewater Treatment and Disposal, 1980, available from the US EPA, the US GPO Superintendent of Documents (Pueblo CO), and from the National Small Flows Clearinghouse. Original source http://www.epa.gov/ORD/NRMRL/Pubs/625R00008/625R00008.htm
Water Wells and Septic Systems Handbook, R. Dodge Woodson. This book is in the upper price range, but is worth the cost for serious septic installers and designers. Quoting Amazon: Each year, thousands upon thousands of Americans install water wells and septic systems on their properties. But with a maze of codes governing their use along with a host of design requirements that ensure their functionality where can someone turn for comprehensive, one-stop guidance? Enter the Water Wells and Septic Systems Handbook from McGraw-Hill.
Written in language any property owner can understand yet detailed enough for professionals and technical students this easy-to-use volume delivers the latest techniques and code requirements for designing, building, rehabilitating, and maintaining private water wells and septic systems. Bolstered by a wealth of informative charts, tables, and illustrations, this book delivers:
* Current construction, maintenance, and repair methods
* New International Private Sewage Disposal Code
* Up-to-date standards from the American Water Works Association

Wells and Septic Systems, Alth, Max and Charlet, Rev. by S. Blackwell Duncan, $ 18.95; Tab Books 1992. We have found this text very useful for conventional well and septic systems design and maintenance --DF. Quoting an Amazon description:Here's all the information you need to build a well or septic system yourself - and save a lot of time, money, and frustration. S. Blackwell Duncan has thoroughly revised and updated this second edition of Wells and Septic Systems to conform to current codes and requirements. He also has expanded this national bestseller to include new material on well and septic installation, water storage and distribution, water treatment, ecological considerations, and septic systems for problem building sites.

The NSFC Products List has an excellent list of design manuals/modules available from their website or by telephone 800-624-8301
Submissions welcome. send us a suggested document link or request an exchange of website links
...