HVAC Noise Diagnosis FAQs-2

More Q&A on finding air conditioner or heating system noise sources
InspectAPedia tolerates no conflicts of interest. We have no relationship with advertisers, products, or services discussed at this website.
Air conditioner or heat pump noise diagnosis & cure questions & answers set #2:
MORE FAQs about air conditioner, heat pump, or other refrigeration system noise help track down the noise source and thus tell us how to fix it.
This air conditioning repair article series discusses the diagnosis and repair of air conditioning compressor noises.
Green links show where you are. © Copyright 2017 InspectApedia.com, All Rights Reserved.
A/C & Heat Pump System Noise Diagnosis & Repair Noise FAQs Set#2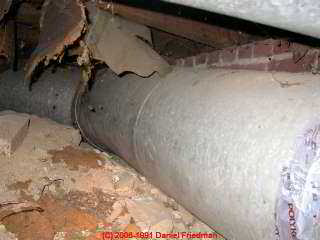 These questions on finding and curing noises traced to heating, ventilation, or air conditioning systems were posted originally at NOISES, HVAC SOUND DESCRIPTIONS
Ralph:
You've done one of the good steps in tracking down the source of an annoying noise by turning things off. Here are some more considerations:
A neighbor's mechanical system or equipment could be running, so more turn-off diagnosis could help
Metal ductwork often makes noises like those you describe as the ducts expand or cool: sheet metal clunks and thumps. Those sounds are usually most noticeable near the start or after the end of an HVAC system turning on or off or its blower fan turning on or off.
If you have not done so be sure to read
CLANKS CLUNKS from air conditioner or heat pump system - found at inspectapedia.com/noise_diagnosis/HVAC_Noise_Descriptions_2.php#Clank
Track down the noise to its source by careful listening, with helpers, in various locations to see where sound is loudest.
Try using our NOISE LOG (search InspectApedia using the search box above) to relate noises to weather, temperature, time of day, etc.
I'm at my wits end over this.... I moved into a 20 year old condo two years ago. I'm on the third floor of a four story building. Intermittently, I hear a clanking noise that sounds like someone throwing a tennis ball against a cement wall.
I hear the noise throughout my entire apartment because the noise is coming out of my A/C vents. I even hear the noise if all my power is turned off.
Cindy, squealing noises at the A.C. unit have several causes and vary in importance. Details are at

inspectapedia.com/noise_diagnosis/HVAC_Noise_Descriptions_5.php
*live in Florida
A.C. Unit making loud squealing noise. So I shut it down. Love in Florida on fixed income .
Sue

That may be a bad start/run capacitor that gets the fan going; search InspectApedia using the box above to find our article on HARD START CAPACITORS for MOTORS
Main fan motor making whirring noise been having difficulty spinning on its own
I'm not sure, Sandra, what "refrigerate mode" is. But if the tech was referring to a defrost mode or any other HVAC equipment mode, that still would not explain excessive vibration. Something is wrong.
I agree that checking for loose parts is a place to start. But now it sounds as if you want to call the service company, talk to the service manager, and ask for help from a more senior, experienced service technician.
Inside Carrier unit in attic sounds like it's gonna vibrate out the roof on occasion. Then the vibration becomes slight? He Ck for lose parts I thought it was falling apart. He said it maybe going thru refrigerate mode? I've had it checked over n over tech can't find anything. It's serviced 2 times yr always.
Anon

I would look again at mechanical systems. It's just not reasonable that wind gusts would occur at regular intervals and be of regular lengths.
Moved into new construction 3 floor SW facing condo and have an intermittent, "fan like" noise which is unpredictable , lasts precisely 12 minutes, is not related to fans being on or off, is located in the ceiling area of the dining room on north side of condo and is heard in next door condo .
Builder says it is caused by "wind gusts" getting in the vents and there is nothing he can do about it. He has never heard the sound. The noise does not necessarily occur when it is very windy , when it is colder and is not heard when the fans are turned on in the condo. What is this?
Gas condensate pump makes a continuous fast clicking noise for a couple of minutes each time the furnace kicks on. Gently pressing the pvc pipe coming out of it stops the sound at that point. But next time it happens again.
My new Hvac makes a "farting" noise when it starts and stops. Any Suggestions?
I suspect your fan or blower assembly has a failing belt or the fan assembly bearings have failed; SHUT OFF the system, call a repair tech, and do let us know what you're told. Daniel
Ac on The inside is making a horrible loud noise like it is clanking and rattleing
Check for an electrostatic air cleaner in your duct system; those make thenoises you describe, even in normal operation, though there are often more snaps, pops, and snips from the electrostatic air cleaner right at the start of a fan-on cycle (or right after I thump dusty ductwork)
I failed to mention that the loud clicking/snapping sound is located in the main vent, just a few inches behind the filter. The filter and the unit are brand new.

Thanks!
I am in a brand new build apartment with a Goodman air conditioning unit. The blower is extremely loud, and there is an extremely loud snapping and clicking that happens whenever the unit kicks in. I have had the guy who installs the units look at it and told me it was the condenser coil making the noise and there is nothing he could do about it. Other apartments have also complained.
The guy across the hall has to sleep with the bedroom door closed. I have not gotten a single night's sleep since I moved in here due to this noise. What can I tell them needs to be done to correct the noise. If I had this installed at my house, I would have had it ripped out the next day.
I haven't read anything yet that seems to be something that I can take to this guy that denies that the noise can be fixed. Thanks in advance for any help you folks can give!!!e
Anon in the live links near the top of NOISES, HVAC SOUND DESCRIPTIONS you might enjoy reading

HVAC NOISE Group 4 - loud start, popping, rattling, roaring, rumbling, running water

where we discuss causes and cures of rattling noises.

What you describe might just be a loose part, or on the other hand, a motor that's vibrating (and on the way out) could be shaking the outdoor unit.
I have a Fujitsu split unit in my garage. Recently it has started making a rattling noise on the wall unit. It will go away while I touch it on the side (actually on a piece of plastic) but when I let go, it makes the same noise. It will eventually go away for a while but then happen again. I don't see anything loose on it. Please help.
Mary,
Start with your local building department about location requirements.

Even direct rooftop mounting does not prohibit sound isolation methods.

Also from your description the equipment may not be working properly and may fail soon.
Above my condo are 3 large condensers that service a restaurant on the ground floor of the building. I can hear 2 of them come on and off. One has a nearly continuous buzz / hummm sound, the other one has more of a motor sound, almost like a small plane that wants to take off. This is summer in Florida, so they are on virtually all of the time. Builder tells me that due to hurricane code they must be mounted directly on the roof. *they are over my bed room! Is there any help for this? thank you ~ Mary
Eric in the article NOISES, HVAC SOUND DESCRIPTIONS you'll find live links in caps at this text

Buzzing sounds (also crackling) at electrical components anywhere, including compressor relay switches, electrical connections at any component, and quite seriously, at circuit breakers can be an indication of arcing and an electrical problem needing prompt attention.
See BUZZING sounds from A/C or heat pump.
Also
see ELECTRICAL SYSTEM NOISES.
what would cause a unit to just make a buzzing sound when turned on
Leave the system off pending repair to avoid an electrical hazard.
After turning unit off inside We straight away turned the unit off at main switch outside as we are going away. Made a loud hissing noise. Tried turning it back on to no avail.
Interesting; check that nothing remains loose.

Indeed refrigerant on the low side, as you know better than I, can at worst ruin a compressor and less bad, might cause ugly noises. Interesting and clever thing to try - slight charge reduction. Thanks for keeping me posted; working together makes us smarter.
Thanks for the response and insight. The unit has quieted down significantly over the last 24 hours of operation with the condenser coil assembly now not having nearly as many moments in movement/vibration. These moments are also now more in synchronization with the enclosure movements.
The only changes I have made so far is in three (3) small refrigerant charge reductions based on superheat readings at the compressor return inlet. I am suspect there was/are possible refrigerant condensation fallout occurring inside the low pressure return line despite the pressure readings being stable with only very small fluctuations indicated in the high side discharge line.
The HS head pressure and LS pressure ratio is well within declared limits stated in the manufacturer's setup specification documentation. I am considering adding a liquid line-trap loop in the low pressure piping near the evaporator outlet to see if it makes any difference in the vibration. I will post my findings. What is your opinion on my thoughts and direction? Thx, Jim
Jim

Look first for loose mounting bolts or screws anywhere on or in the compressor/condenser unit; also look for refrigerant tubing left un-insulated and in contact with a vibrating service. You probably already know those common noise sources and have perhaps more field experience than I do, so let's think and argue about this a bit.

Only a mechanical movement can cause vibration; we can probably exclude outside influences such as wind or nearby mechanicals on other systems;

Is the pad level and secure?
Can you take a mechanic's stethoscope and check components for vibration: seems to me we have either the compressor motor or the fan motor. I don't think that even a bad control such as a relay or TEV would vibrate at such a high frequency as to cause the noise you describe.

I'm speculating you'll trace the noise to the compressor motor itself: perhaps a sticking valve. I did some research on vibration in rotary compressors: you'll want to use Google Scholar to search for and find these articles:

Imaichi, Kensaku, M. Fukushima, S. Muramatsu, and N. Ishii. "Vibration analysis of rotary compressors." (1982). - you can read this directly at http://docs.lib.purdue.edu/cgi/viewcontent.cgi?article=1406&context=icec it's very technical, but the conclusions are worth noting. It makes me want to check the stability of the voltage being delivered to the unit; if that's ok it makes me suspect the motor itself is bad.

Also

Kim, Dae-Kyong, Kwang-Woon Lee, and Byung-Il Kwon. "Commutation torque ripple reduction in a position sensorless brushless DC motor drive." Power Electronics, IEEE Transactions on 21, no. 6 (2006): 1762-1768.

Ishii, Noriaki, M. Fuhushima, K. Sano, and K. Sawai. "A study on dynamic behavior of a scroll compressor." (1986).

Lee, Ho-Jung, and Kwang-Joon Kim. "Multi-dimensional vibration power flow analysis of compressor system mounted in outdoor unit of an air conditioner." Journal of sound and vibration 272, no. 3 (2004): 607-625.

The presence of these and other research papers to me as a non-engineer, suggest that vibration in rotary or scroll HVACR compressors is a known and studied problem.

I have a new Goodman, 14 SEER, R22 scroll-compressor, Split-System HVAC unit that was purchased/installed in 2009 but not put into service and started until today. The unit cools my home very well however the condensing unit is very noisy and has a great deal of vibration in the low side refrigerant line and the condensing coil is physical moving about a lot inside the housing in perfect time with the vibration.
The ambient temperature was/is 105F with the HS press @ 250psi and the LS Press @ 78psi which yields an evaporator coil temperature of around 43F. The pressure readings are stable with no fluctuation what-so-ever. I am a certified tech with over 25 years of experience and I have never seen a unit do this before now. Anyone have any experience with this problem and/or any advice? Thanks a bunch, Jim
Question: copper refrigerant pipe vibration
(Feb 6, 2014) Lee Albro said:
I have two HVAC systems with heat pumps. The copper pipe (heat) that comes out of one unit vibrates alot and causes noises in the house. It is an upstairs unit and I had the vibrating pipe ran up outside the house, into the attic and down to the upstairs unit.
It still vibrates and makes noises. Is there something that can deminish the vibration after it leaves the unit and before it reaches the house?
Reply:
Lee, that vibration doesn't sound good - as it can cause a wear-leak, refrigerant loss, heat loss, or other equipment damage.
You could install foam insulation around the piping (it should be insulated anyway) where it passes through openings or needs buffering, but I'd suggest asking a service tech to diagnose and fix the vibration - hoping to avoid a more costly problem.
Question: problems adding refrigerant in a research lab - liquid flood-back risks
(Apr 21, 2014) PP said:
I work in a research lab and we're using a split system to do some tests. We recently moved out of our lab space and so we had to remove all the refrigerant charge from the system and then charge the system again in the new space. I've charged this unit before (just trimmed the charge 10% to 40%), but I've never had to charge the system from scratch. I've been having some problems with this-
I've added around 70% of the refrigerant charge to the system but I still don't see an increase in the subcooling. The subcooling is -68 C (:-/), the pressures are way way below the normal pressures, the EEV is wide open and there's no bubbling in the sight glass.
The compressor recently started having start up problems. It starts and then stops (Scroll compressor).
Am I looking at liquid floodback in the compressor?
How long do I need to run the unit before I see an increase in the pressure? There's been no increase in the pressure since I first started charging.
Reply:
PP:
If you are in any doubt about liquid flood-back, stop the system immediately. The result of liquid entering the compressor can be its destruction.
Normally we see the system pressures changing immediately as the compressor begins to run, reaching a stable HIGH and LOW side pressure after an interval that may be quite a bit longer: 10 minutes to 20 minutes in my experience, depending on the system size, cooling area addressed, heat losses and gains, ambient temperatures. On commercial refrigeration systems I sometimes left a cooler running overnight to stabilize before checking again the next day.
That arm waving complete, if the system does not include a refrigerant receiver in its design it needs a precisely accurate refrigerant charge to work properly. Even with a refrigerant you need to be close. The actual refrigerant quantity you need depends on not just the equipment as purchased from the manufacturer, but also the lengths and diameters of the refrigerant piping installed too - as that volume has to go into the calculation.
You'll need to get the charge right by adding the required volumes and charges together, starting with the manufacturer's spec. You may know that a refrigerant charge procedure also has to consider the temperatures at the time of charge.
Question: sounds like a sump pump
(July 18, 2014) Marie said:
I have a new 3T 14 SEER gas/electric package unit installed on the roof. When I started the AC for the first time, it doesn't sound like any AC I've ever had before. It sounds like a sump pump and initially blows hot air before the cooler air comes out of the vents. Is this normal?
(July 24, 2014) Adrienne Keen said:
Hi my air conditioner motor ( outside ) is leaking an enormous amount of water when it is first switched of What can be the cause of this Please Help Thank you
Reply:
Sounds as if the AC condensate is not being routed to a drain and properly drained away.
See
inspectapedia.com/aircond/AC_Condensate_Hazards_Leaks.php
for diagnostic help
Question: compressor is not starting properly
8/10/14 PKG said:
Hi , The compressor on my 3 Ton Amana A/C unit starts after 5 minutes of fan start ( there is no delay relay ) .. cold air blows out from top of the unit ..
and looks like compressor tries to start couple of times and finally starts on 3-4 try and then it works normal ..
Any advice will be appreciated.
Reply:
PKG
Sounds like a hard-starting compressor, possibly a failing compressor motor, possibly aided for a time by a hard-start capacitor kit.
Question: put the A/C compressor under ground to suppress HVAC noise?
(June 17, 2015) Andy Gough said:
Would an in ground compressor installation be an effective way to suppress noise?
Reply:
Perhaps it would, Andy, but on the other hand the cost of an underground HVAC compressor installation would be quite high as would be service and maintenance of such an installation.
As the compressor-condenser requires air movement across the condensing coil to operate the design would also still have to have openings to the atmosphere. In all I'm doubtful that such an approach is feasible.
...
Continue reading at NOISES, HVAC SYSTEM DIAGNOSIS - home, or select a topic from closely-related articles below, or see our complete INDEX to RELATED ARTICLES below.
Or see this
Index to Text Descriptions of A/C or heat pump sounds & possible causes / cures
Common HVAC Failures that Cause Noises
Suggested citation for this web page
HVAC SYSTEM NOISE DIAGNOSIS FAQs-2 at InspectApedia.com - online encyclopedia of building & environmental inspection, testing, diagnosis, repair, & problem prevention advice.
Or use the SEARCH BOX found below to Ask a Question or Search InspectApedia
...
Frequently Asked Questions (FAQs)
Try the search box below or CONTACT US by email if you cannot find the answer you need at InspectApedia.
Please see the questions & answers in the article above.
Try the search box below or CONTACT US by email if you cannot find the answer you need at InspectApedia.
...
Ask a Question or Search InspectApedia
Use the "Click to Show or Hide FAQs" link just above to see recently-posted questions, comments, replies, try the search box just below, or if you prefer, post a question or comment in the Comments box below and we will respond promptly.
Search the InspectApedia website
Technical Reviewers & References
Click to Show or Hide Citations & References
Thanks to Mark Cramer, Tampa Florida, for assistance in technical review of the "Critical Defects" section and for the photograph of the deteriorating gray Owens Corning flex duct in a hot attic. Mr. Cramer is a Florida home inspector and home inspection educator.
Thanks to Alan Carson and Bob Dunlop, Carson Dunlop, Associates, Toronto, for permission to use illustrations from their publication, The Illustrated Home which illustrates construction details and building components. Carson Dunlop provides home inspection education, publications, report writing materials, and home inspection services. Alan Carson is a past president of ASHI, the American Society of Home Inspectors.
Thanks to reader Michael Anderson, 8 May 2009, for discussing clicking sounds coming from air conditioning equipment.
Thanks to Diaz, Domingo I. CIV NAVAIR Bldg.2118, rm. 131: domingo.diaz@navy.mil - Ming Diaz, Great Falls, MD for editing help with the text about discharging air conditioning compressor capacitors - 3/07 DF]
Thanks to reader Charles A. Plinton, Norristown, PA, for discussing A/C compressor noise, coil cleaning, and system maintenance - August 2010
[1] Scott Meenen, G&S Mechanical Services, email: ; web search 5/1/11
[2] Carrier 24ANA Infinity™ Series Air Conditioners with Puron® Refrigerant, 2 to 5 Nominal Tons (Sizes 24-60) Installation Instructions, Carrier Corporation, [copy on file as 24ana-6si.pdf]
[3] Troubleshooting Split System A/C or Heat Pump Noises, Fujitsu General America, Inc., 353 Route 46 West, Fairfield, NJ 07004, Tel: (888) 888-3424, Tel-Service hotline: (866) 952-8324, Email: hvac@fujitsugeneral.com, Email service: servicehvac@fujitsugeneral.com , retrieved 8/30/12, original source: http://www.fujitsugeneral.com/troubleshooting.htm [copy on file as Troubleshooting Fujitsu Ductless Mini-Splits.pdf]
Modern Refrigeration and Air Conditioning, A. D. Althouse, C.H. Turnquist, A. Bracciano, Goodheart-Willcox Co., 1982
Principles of Refrigeration, R. Warren Marsh, C. Thomas Olivo, Delmar Publishers, 1979
"Air Conditioning & Refrigeration I & II", BOCES Education, Warren Hilliard (instructor), Poughkeepsie, New York, May - July 1982, [classroom notes from air conditioning and refrigeration maintenance and repair course attended by the website author]
Refrigeration and Air Conditioning Technology, 5th Ed., William C. Whitman, William M. Johnson, John Tomczyk, Cengage Learning, 2005, ISBN 1401837654, 9781401837655 1324 pages
[10] Fujitsu Room Air Conditioner, Wall Mounted Type, Heat & Cool Model (Reverse Cycle) [Heat pump units] Operating Manual, Models: ASU18RLXS ASU24RLXS ASU30RLX (indoor & outdoor units). Fujitsu General America, Inc., 353 Route 46 West, Fairfield, NJ 07004, Tel: (888) 888-3424, Tel-Service hotline: (866) 952-8324, Email: hvac@fujitsugeneral.com, Email service: servicehvac@fujitsugeneral.com , retrieved 8/30/12, original source: http://www.fujitsugeneral.com/PDF_06/OperationManual/%28OM%29ASU18-24RLX-30RLX.pdf [copy on file as FujitsuASU18-24RLX-30RLX.pdf]
...
Books & Articles on Building & Environmental Inspection, Testing, Diagnosis, & Repair
Our recommended books about building & mechanical systems design, inspection, problem diagnosis, and repair, and about indoor environment and IAQ testing, diagnosis, and cleanup are at the InspectAPedia Bookstore. Also see our Book Reviews - InspectAPedia.
...