Pictures of White Mold in the Home
a Photo Library for detection and identification of white mold contamination in buildings
InspectAPedia tolerates no conflicts of interest. We have no relationship with advertisers, products, or services discussed at this website.
White building mold identification photographs: how to recongize white fungal mold growth.
What does white mold look like on building surfaces and how hard is this mold to see? Photos of white, gray, & light-colored mold in buildings - how to find & recognize mold on building surfaces.
These photos of mold on indoor building surfaces may help you recognize mold in buildings, recognize probably-cosmetic mold, and recognize stuff that is not mold and does not need to be tested.
Photographs of light colored mold & other molds of various colors and textures in buildings. Special methods needed to spot white & light colored mold growth indoors
Green links show where you are. © Copyright 2017 InspectApedia.com, All Rights Reserved.
Photographs Help Identify Mold in Buildings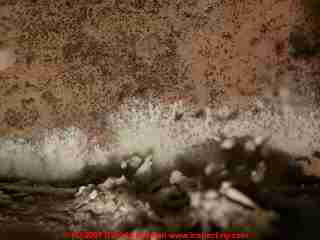 What white or light colored mold looks like in a home or in or on other buildings & building surfaces.
These mold samples and mold spores and their photographs and examples of materials sometimes mistaken for mold have been collected in the U.S., Spain, Mexico, France, as well as in other countries where I've studied bioaerosols.
[Click to enlarge any image]
For photos and an explanation of white fluffy stuff or white crystalline material often found on building walls, especially on masonry surfaces, but that is not mold,
see EFFLORESCENCE SALTS & WHITE DEPOSITS
Also see the white or light colored mold discussed at MILDEW in BUILDINGS ?.
A great many white and light-colored grayish molds can be easily seen on building surfaces, especially on the exposed or inner wall-cavity side of drywall in buildings that have been exposed to wet or flooding. Some of these white or very light gray molds include members of the Aspergillus or Penicillium genera as well as some basidiomycetes.
Our white building mold photo at above-left illustrates that other white molds in found in buildings may be the mycelia (think "root hairs") of many different genera/species of fungi that at their fruiting bodies will be seen in other colors and textures.
But most white building molds cannot be reliably identified to genera/species without microscopic analysis by a qualified aerobiologist/microscopist in a test lab.
Article Contents
Identification Photographs of White & Light-Colored Mold Growth in Buildings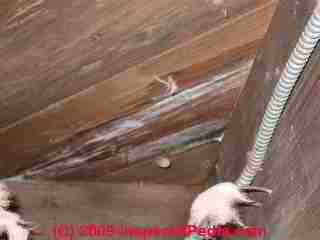 Here are photographs of both obvious white mold & fungal growth in buildings and also more difficult to see white or light gray mold growth on building surfaces. Above we show white mold growth on tongue and groove subflooring in an older home in the northeastern U.S.
Below we see extensive white fungal growth (white mold growth) on OSB subflooring and on a floor joist over a wet crawl space in New York.
When you see a white "fungus" or "mushroom" like structure you're seeing the fruiting body of some mold species. Other white or light colored moulds in buildings appear as tiny white spots, even as white or gray or light-green "dust" as you'll see in our photographs in this article.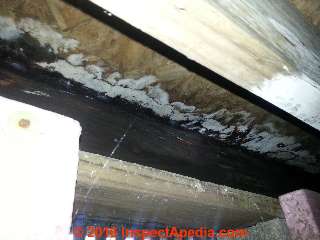 Light colored molds, depending on the genera species, may be more of a health risk than the infamous "toxic black mold" that people look for in buildings.
Fungal groups such as Penicillium sp. and Aspergillus sp. produce species in a wide range of colors, some of which can be quite light in color and difficult to spot on building surfaces, but these molds may produce small, easily-airborne toxic or pathogenic mold spores that present a health risk to building occupants.
White stuff that is not mold: Beware: many people mistake mineral salts or efflorescence for white mold. Efflorescence is a white crystalline salt left on masonry surfaces where water or moisture have been evaporating.
See STUFF THAT IS NOT MOLD for photos of white fluffy material or white crystalline material that is often mistaken for mold.
Above we show white mold on wood subflooring and on OSB subflooring in a wet crawl space. Below we show additional photos of white and light colored molds found in buildings.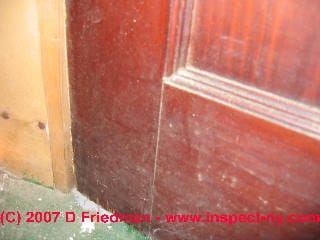 The white mold growing on this basement door was hard to spot without careful use of lighting. It looks almost like white dust, but unlike settled dust, a closer look at the mold-suspect surface will show growth patterns of the fungus and a relationship between the mold location and moisture or water exposure. Dust tends to be more uniform over a specific building surface.
Be sure to review our article on LIGHT AIM FINDS MOLD.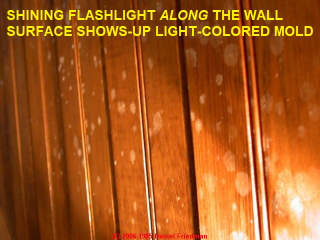 The white mold growing on this basement stairwell paneling was impossible to see until we directed our flashlight across the surface.
Read LIGHT, FLASHLIGHT for MOLD - proper use of a flashlight can help spot mold on paneling and other building surfaces. Also see how LIGHT AIM FINDS MOLD.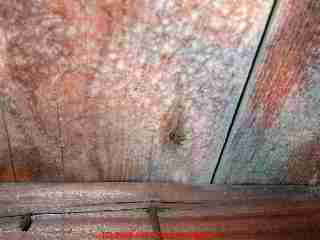 Here is a photograph of white mold that was very easy to see (and possibly some light-green mold) on yellow pine tongue and groove roof sheathing visible in the attic of an older home in the Northeastern United States.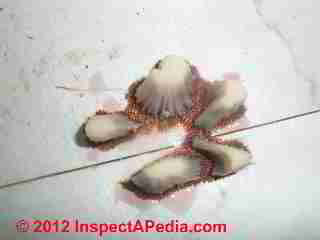 White mold that turns brown: Stemonitis sp.
Here is a photograph of a white fungus found growing on resilient flooring in an Australian bathroom. This fungus was very easy to see but was for a time a bit curious.
Covered and kept moist for just a brief interval, this Stemonitis sp. matured into an easily recognizable form of brown slime mold that we illustrate and discuss at Rental Apartment Mold Safety Advice and also in more detail at BROWN HAIRY BATHROOM MOLD
White Mold Growth on the Interior Surface of Fiberglass-lined HVAC Ducts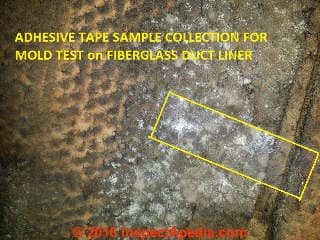 [Click to enlarge any image]
Above: white "growth" found on the interior surface of fiberglass-lined HVAC ducts in a home in Atlanta, GA in 2016. Look closely to see the presence of clear adhesive tape being used to collect a sample from this surface to permit laboratory analyais.
Samples from this fiberglass duct were examined in our InspectApedia.com forensic laboratory.
Below: an example of lab test results included these:
Above first photo, sample 2, Aspergillus sp. conidiophore (photo center) and hyphae at upper left corner of the image. Above second photo sample 2, Cladorporium sp. in dense fungal growth on the surface. Details of this air duct mold contamination study based on clear adhesive tape samples of the mold-suspect surface of the air duct are found at FIBERGLASS AIR DUCT MOLD TEST.
Also see PARTICLE & MOLD LEVELS in DUCTWORK.
White Mushroom-like Fungus Growing In Insulated Crawl Space Wall Cavity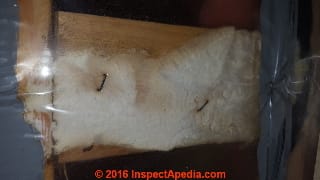 Question: is this white stuff effloresence or mold?
Hi, while cleaning out the 4 foot crawlspace of my split level house I noticed a black patch a foot long on the drywall. Decided to remove it and look behind. Found a white crystal-like substance on all the 2x4s. In one spot it looks like it is growing away from the 2x4 onto the vapor barrier in a oyster shell shape.
This is an outside wall, insulated with fiberglass and covered in drywall. It also is where the water pipe is located for the outside use. The lower right corner has a lot of dark patches on the wood. We've owned 10 years and never had any water leak. Any way I can attach or send a photo? Thank you.
Here [are more photographs] of the white stuff on the 2x4s in my insulated crawlspace. This is a horizontal 2x4 at head height (ceiling of crawlspace which is under floor for the living room on top). It has rather thick white growth as well as branches reaching out making contact with the vapor barrier.
I can see that all 2x4s within a 4ft area have this. Suspect condensation from copper pipe leading through here to exterior has created sustained dampness. House built in 1995.
Thanks for identifying the white stuff, if at all possible. I want to see if it's safe for me to remove all remaining drywall, vapor barrier and insulation in order to find the issue, and clean the area. I'm hesitant to let the white stuff "breathe" out in the air without knowing for sure what it is. The only local mold expert said in 40 yrs never seen white stuff I am describing, so he said no use he comes out. - Anonymous by private email 2016/11/09
This question appeared originally at MOLD APPEARANCE - STUFF THAT IS NOT MOLD
Reply: what to do about mushrooms growing in a building wall
Those photos look like white mushrooms growing in your wall, on wood surfaces. That's not effloresence.
Typically basidiomycetes or wood-rotting fungi grown on wet wood and can appear rather quickly even indoors in wet conditions, so I cannot guess from the white fungus how long this problem has been going on. These fungal fruiting bodies may appear in any of many colours, commonly brown, white, red, even blue or very dark, almost black. More examples of mushrooms growing in or on buildings are
at BROWN MOLD PHOTOS
and
at MOLD on DIRT FLOORS - separate article, includes white mold on dirt in crawl spaces & basements
When you can I'd like to see also a couple of more-distant shots of the wall to see the situation as well as to see photos of the same sides of the building from outdoors.
You should
Investigate further: Expect there to be other mold present, both visually obvious and not. The wet conditions that caused this fungal growth are likely to also have invited other mold genera species that do not produce large white basidiomycete fruiting bodies which is what your photos seem to display. [I'd like to see photos of the material when the plastic is removed.] You should also inspect and probe the wood structure for rot.
More help is at HIDDEN MOLD, HOW TO FIND
Remove the mold and fungal growth: Plan to remove all visibly moldy material such as insulation. You can reduce personal risks by wearing protective clothing, a HEPA respirator, goggles, etc., and you can reduce the chances of blowing moldy dust into the upper, occupied part of your building by creating negative air pressure in the crawl space - a professional would seal off the area and install one or more air handlers or fans blowing "out" of the crawl space.
More help is
at MOLD ACTION GUIDE - WHAT TO DO ABOUT MOLD.

I do not think you need to "test" for mold when a fungus is plainly visible.
Remove other moldy materials that cannot be cleaned: Remove any nearby insulation and any insulation that was wet, to a stud bay or 18" space of clear un-contaminated, dry, clean insulation or material.

Watch out: be alert for discovery of a large area of mold contamination. If you find more than 30 square feet of visibly contiguous mold growth then it's probably time to hire a professional.
See MOLD / ENVIRONMENTAL EXPERT, HIRE ?
Clean and dry the area: Clean the exposed cavity and let it dry before re-insulating and restoring the wall.
Re-Insulate & repair damage: in my opinion, using fiberglass insulation below ground in an area likely to be wet or exposed to high humidity invites mold problems in the future. I'd consider a closed-cell foam insulation as an alternative.
Fix the cause of mold growth: Find and fix the source of water entry so that it doesn't recur. I suspect that there has been water entry into your wall or crawl space.
See CRAWL SPACE DRYOUT
...
Continue reading at MOLD APPEARANCE - WHAT MOLD LOOKS LIKE or select a topic from closely-related articles below, or see our complete INDEX to RELATED ARTICLES below.
Or see EFFLORESCENCE SALTS & WHITE DEPOSITS - for examples of moisture-related white deposits that are not mold.
Or see HUMIDITY CONTROL & TARGETS INDOORS for an example of white mould occurring in a U.K. home with venting & humidity questions.
Or see LIGHT AIM FINDS MOLD - how to use your flashlight successfully
Or see LIGHT COLORED MOLD - more light coloured moulds besides white can be hard to spot
Or see LIGHT, FLASHLIGHT for MOLD - proper lighting shows up hard-to-spot mold
Or see MOLD APPEARANCE - WHAT MOLD LOOKS LIKE - a Photo ID Library for detection and identification of mold allergens on indoor building surfaces.
Or see MOLD APPEARANCE - STUFF THAT IS NOT MOLD
Or see MOLD GROWTH on SURFACES, PHOTOS
Or see WHY DOES MOLD GROW in INSULATION? that includes photos and test results examining suspected mold on the surface of fiberglass-lined HVAC ductwork.
Suggested citation for this web page
WHITE MOLD PHOTOS at InspectApedia.com - online encyclopedia of building & environmental inspection, testing, diagnosis, repair, & problem prevention advice.
Or use the SEARCH BOX found below to Ask a Question or Search InspectApedia
...
Frequently Asked Questions (FAQs)
Try the search box below or CONTACT US by email if you cannot find the answer you need at InspectApedia.
These questions and answers about the visual identification of white or light coloured mold growth on building surfaces, and about how to distinguish light colored mould from other white substances found on building surfaces were posted originally here at WHITE MOLD PHOTOS.
Cheryl,

At http://inspectapedia.com/mold/Mold_Cleanup_Guide.php

You will find step-by-step procedures to remove, clean up, or get rid of mold contamination in your home

How do you get rid of it

Thank you, Anon.

Becky:
regular triangular-shaped somethings with threads hanging out of them - don't sound like mold. But you're welcome to use the page to or bottom CONTACT link to send us some sharp photos for comment.

Yes water leaks into a building floor, ceiling, or wall can stimulate a hidden mold colony.

This site has been the best so far at showing the different kinds of mold and what is dangerous or not

White triangular shapes in paint with thread like coming from it what is it? I see in bathroom and some in other walls of house.
My husband and I are sick with lots of symptoms but don't know where it's coming from. Had a leak under sink but cleaned it up can it be behind wall?

I can't say, from just your e-text, Steve what the white dust might be. Look at the growth patterns of mold shown in the many photos of mold in this article series: mold is a biological substance that does not grow on surfaces as uniformly as would deposits of dust.

In our garage, several beams seem to have a soft white dust on them. Is this likely mold? I thought it was white at first but it's a kind of light grey or light clay color. To the touch it's soft and feels powdery though it is actually not powdery, if that doesn't sound too confusing.

Karen, please search InspectApedia for HOW TO CLEAN MOLD to read cleanup details.
If your insulation is moldy it needs to be removed and disposed-of; then clean the insulation bays or areas before re-insulating. And of course find and fix the leaks that caused the problem.

So how do I clean white downy mold on beams and insulation? I sticks out like mini plants

Holly

Clean hard surfaces that can be cleaned using any household cleaner; soft goods such as drywall need to be removed and thrown away and exposed building cavities cleaned.
Find and fix the cause of the mold growth. That means find and fix leaks or sources of high indoor humidity.

Search inspectApedia.com for HOW to GET RID OF MOLD to read detailed procedures

What's the best way to get rid of white mold?

Reader comment:
(Dec 12, 2014) Anonymous said:
This site was very helpful regarding mold.
Reply:
Thanks, Anon. We also wecome content critique, suggestions, or questions.
...
Ask a Question or Search InspectApedia
Use the "Click to Show or Hide FAQs" link just above to see recently-posted questions, comments, replies, try the search box just below, or if you prefer, post a question or comment in the Comments box below and we will respond promptly.
Search the InspectApedia website
Technical Reviewers & References
Click to Show or Hide Citations & References
Books & Articles on Building & Environmental Inspection, Testing, Diagnosis, & Repair
Our recommended books about building & mechanical systems design, inspection, problem diagnosis, and repair, and about indoor environment and IAQ testing, diagnosis, and cleanup are at the InspectAPedia Bookstore. Also see our Book Reviews - InspectAPedia.
Environmental Health & Investigation Bibliography - our technical library on indoor air quality inspection, testing, laboratory procedures, forensic microscopy, etc.
Adkins and Adkins Dictionary of Roman Religion discusses Robigus, the Roman god of crop protection and the legendary progenitor of wheat rust fungus.
Kansas State University, department of plant pathology, extension plant pathology web page on wheat rust fungus: see http://www.oznet.ksu.edu/path-ext/factSheets/Wheat/Wheat%20Leaf%20Rust.asp
"A Brief Guide to Mold, Moisture, and Your Home", U.S. Environmental Protection Agency US EPA - includes basic advice for building owners, occupants, and mold cleanup operations. See http://www.epa.gov/mold/moldguide.htm
US EPA - Mold Remediation in Schools and Commercial Building [Copy on file at /sickhouse/EPA_Mold_Remediation_in_Schools.pdf ] - US EPA
US EPA - Una Breva Guia a Moho - Hongo [Copy on file as /sickhouse/EPA_Moho_Guia_sp.pdf - en Espanol
Allergies, Allergens, Allergy Testing in Buildings - References & Products
Air Conditioning System Blower Fans & Filters Cascading for Optimum Indoor Air Quality
Allergen Tests in Buildings advice about how to test, what to look for, in evaluating the level of dog, cat, or other animal allergens in a building
"IgG Food Allergy Testing by ELISA/EIA, What do they really tell us?" Sheryl B. Miller, MT (ASCP), PhD, Clinical Laboratory Director, Bastyr University Natural Health Clinic - ELISA testing accuracy: Here is an example of Miller's critique of ELISA http://www.betterhealthusa.com/public/282.cfm - Townsend Letter for Doctors and Patients
The critique included in that article raises compelling questions about IgG testing assays, which prompts our interest in actually screening for the presence of high levels of particles that could carry allergens - dog dander or cat dander in the case at hand.
http://www.tldp.com/issue/174/IgG%20Food%20Allergy.html contains similar criticism in another venue but interestingly by the same author, Sheryl Miller. Sheryl Miller, MT (ASCP), PhD, is an Immunologist and Associate Professor of Basic and Medical Sciences at Bastyr University in Bothell, Washington. She is also the Laboratory Director of the Bastyr Natural Health Clinic Laboratory.
Allergens: Testing for the level of exposure to animal allergens is discussed at http://www.animalhealthchannel.com/animalallergy/diagnosis.shtml (lab animal exposure study is interesting because it involves a higher exposure level in some cases
Allergens: WebMD discusses allergy tests for humans at webmd.com/allergies/allergy-tests
Animal Allergens: Dog, Cat, and Other Animal Dander - Cleanup & Prevention Information for Asthmatics and regarding Indoor Air Quality.
Atlas of Mold Related Illness Symptoms & Complaints - long list of both documented, studied mold related illness, and complaints ascribed to mold contamination or allergens in buildings
Cat Dander: how to inspect and test a building for past or current presence of cats, cat hair, cat dander, and cat allergens
Clinical Atlas of Mold Toxicity - An Online Description of Toxic, Pathogenic, Allergenic Fungi, Fungal Diseases
Fiberglass Insulation Contains Mold© 2005 comments about a field study in process, & more about health hazards from fiberglass insulation
Humidity: What indoor humidity should we maintain in order to avoid a mold problem?
Mold Action Guide detailed guide on finding, removing, and preventing indoor mold contamination
Odors, Odor Detection, Smells, & Gases how to find and identify sources of noxious or toxic odors and gases
Other environmental risks, Our much longer list: Asbestos, carbon monoxide, electromagnetic fields, etc.
Ozone: The Use of Ozone Indoors for Control of Odors and Mold Removal in Buildings: A Summary of Hazards and False Claims.
Pollen Allergens: identification, plant pollen and indoor air quality
Products to Reduce Mold & Allergy Problems to reduce indoor mold or allergen levels: air cleaners, air purifiers, dust mite covers, vacuum cleaners, crawl space vents
Recognizing Allergens: What various indoor allergens look like - identification photos to help identify pollen, dust mites, animal dander, toxic or allergenic mold - Common Mold and other Allergens, Irritants, Remedies & Advice
Rodent control issues, including dander, fecal, and urine contamination of Buildings and Building insulation are discussed at our
Sewage and Septic backup contamination in Buildings: inspection, testing, remediation, & references to expert sources
Action Guide: What to do about mold, mildew, and other indoor allergens
...
Mold Contamination Testing, Cleanup, Prevention: references & products
The Mold Information Center: What to Do About Mold in Buildings, When and How to Inspect for Mold, Clean Up Mold, or Avoid Mold Problems
Aerobiology, Building Science, Microscopy, & Laboratory References, an extensive technical bibliography
Allergens: what they look like in buildings
Associations: Sick House, Sick Building, SBS - Air Quality, Government, Private Associations and Information Resources
Atlas of Clinical Fungi, 2nd Ed., GS deHoog, J Guarro, J Gene, & MJ Figueras, Centraalbureau voor Schimmelcultures, Universitat Rovira I Virgili, 2000, ISBN 90-70351-43-9 (you can buy this book at Amazon) - The Atlas of Clinical Fungi is also available on CD ROM
Atlas of Mold Related Illness: Index of Symptoms and health, physical, neurological, psychological, and other complaint which people suspect may be mold or building-related.
Atlas of Indoor Mold, Online Clinical Mold Atlas, Toxins, Pathogens, Allergens and Other Indoor Particles - Medical Health Effects of Mold (separate online document)
Black Mold that is Harmless Photos of recognizable, usually harmless black mold on wood, bluestain, ceratocystis, ophistoma
Building Floods: quick steps after a building flood or plumbing leak can prevent costly mold contamination
Classes of Mold: what types of cosmetic, allergenic, or toxic mold are a problem? Can mold be cleaned-up successfully?
Clinical Mold References - Detailed bibliography of mold reference texts
"A Brief Guide to Mold, Moisture, and Your Home", U.S. Environmental Protection Agency US EPA - includes basic advice for building owners, occupants, and mold cleanup operations. See http://www.epa.gov/mold/moldguide.htm
"Disease Prevention Program for Certain Vegetable Crops," David B. Langston, Jr., Extension Plant Pathologist - Vegetables, University of Georgia (PDF document) original source: www.reeis.usda.gov/web/crisprojectpages/209797.html
"Disease Prevention in Home Vegetable Gardens," Patricia Donald, Department of Plant Microbiology and Pathology, Lewis Jett
Department of Horticulture, University of Missouri Extension - extension.missouri.edu/publications/DisplayPub.aspx?P=G6202
"Management of Powdery Mildew, Leveillula taurica, in Greenhouse Peppers," Ministry of Agriculture and Lands, British Columbia - Original source: www.agf.gov.bc.ca/cropprot/peppermildew.htm
Environmental Health & Investigation Bibliography - our own technical library on indoor air quality inspection, testing, laboratory procedures, forensic microscopy, etc.
Fiberglass: Mold in Fiberglass Insulation© 2005 comments about a field study in process, & more about health hazards from fiberglass insulation - DJF
Fifth Kingdom, Bryce Kendrick, ISBN13: 9781585100224, is available from the InspectAPedia online bookstore - we recommend the CD-ROM version of this book. This 3rd/edition is a compact but comprehensive encyclopedia of all things mycological. Every aspect of the fungi, from aflatoxin to zppspores, with an accessible blend of verve and wit. The 24 chapters are filled with up-to-date information of classification, yeast, lichens, spore dispersal, allergies, ecology, genetics, plant pathology, predatory fungi, biological control, mutualistic symbioses with animals and plants, fungi as food, food spoilage and mycotoxins.
Fungi, Identifying Filamentous, A Clinical Laboratory Handbook, Guy St-Germain, Richard Summerbell, Star Publishing, 1996, ISBN 0-89863-177-7 (English) (buy at Amazon)
MOLD in BUILDINGS Procedure: what mold is often found where in buildings - simple technical presentation
Meruliporia: the house eating fungus or "poria"
MOLD ACTION GUIDE Step-by-Step Instructions, What to do about mold, mildew, and other indoor allergens
MOLD APPEARANCE - WHAT MOLD LOOKS LIKE Photos of what mold looks like in buildings
MOLD APPEARANCE - STUFF THAT IS NOT MOLD Photos of NOT-mold material that is sometimes mistaken for mold
MOLD ATLAS & PARTICLES INDEX, Pathogens, Allergens and Other Indoor Particles - Medical Health Effects of Mold (separate online document)
MOLD BY MICROSCOPE Mold under the microscope - photo identification of the most common indoor molds found in buildings
Mold FAQs Answers to Most Questions about Indoor Mold, Mold Related Illness, Mold Cleanup, Mold Prevention
US EPA: Mold Remediation in Schools and Commercial Building [Copy on file at /sickhouse/EPA_Mold_Remediation_in_Schools.pdf ] - US EPA
Mold spores in the Home - a Photo ID Library for detection and identification of mold allergens
Mold Test Kits - How to Collect and Send Your Own Mold Sample to our mold testing lab or to any mold lab you wish
Most Common Indoor Molds Found in Buildings, A Table of
Mycology, Fundamentals of Diagnostic, Fran Fisher, Norma B. Cook, W.B. Saunders Co. 1998, ISBN 0-7216-5006-6 (buy this book at Amazon)
Ozone Warnings - Use of Ozone as a "mold" remedy is ineffective and may be dangerous.
Rot concerns in buildings-some building mold such as Meruliporia incrassata "Poria" risks serious rot and hidden structural damage
US EPA: Una Breva Guia a Moho - Hongo [Copy on file as /sickhouse/EPA_Moho_Guia_sp.pdf - en Espanol
...