Moldy Car, Boat, RV

Severely mold-contaminated automobile; vehicle mold contamination cause, photographs, laboratory analysis
CAR MOLD CONTAMINATION - CONTENTS: Car mold contamination case study of a moldy car that was not salvageable. Table of mold samples collected from a very moldy automobile. Studies reporting the effects of mold contamination in boats, moldy cars, mold growth in trucks, mold in recreational vehicles (RVs and Campers), and mold contamination in airplanes. What kinds of mold are typically found in a badly mold-contaminated vehicle?
POST a QUESTION or READ FAQs about mold contamination found on various surfaces and materials used in automobiles and other vehicles
InspectAPedia tolerates no conflicts of interest. We have no relationship with advertisers, products, or services discussed at this website.
Car, boat, truck or RV mold contamination:
This article describes an automobile that was so mold contaminated that it was beyond economical salvage.
To study the types of mold that might be expected to be found on different surfaces and materials used in automobiles and similar vehicles, we inspected the vehicle and collected 30 test samples for processing in our forensic lab. We report here on what lab analysis found in this vehicle.
Green links show where you are. © Copyright 2017 InspectApedia.com, All Rights Reserved.
Car Mold: Photographs and Lab Tests of a Very Moldy Car Identify Many Mold Genera/Species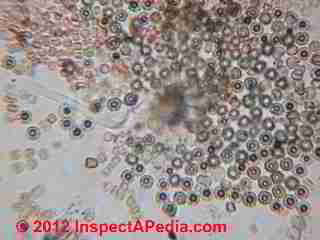 Daniel Friedman, Steve Lewis[1]
We inspected, photographed, and collected test samples from a severely mold-contaminated 1991 Acura that had been stored for approximately six months in a shady spot in New York's Hudson Valley.
On discovery (March 2012) the car was partially covered with a plastic tarp but was basically exposed to the elements.
Mold of various colors and textures was thick on most, but interestingly not all of the vehicle's interior surfaces and contents.
The interior driver's seat, floor carpets, and trunk interior were wet as were contents of door pockets. Lewis had previously observed droplets of water from leakage or condensation soaking the vehicle headliner as well.
Examining these car-mold samples in our forensic lab, we found that the car had become a veritable jungle of mold multiple mold genera growing on different materials for which each genera appears to have a particular affinity.
Automobile interiors make use of vinyls and plastics of various formulations, rubber, synthetic fabrics, and other materials, forming a nice test lab for examining the affinity of different mold genera/species for different automotive materials. Each mold genera/species confirms by its dominant presence an affinity for certain of these automotive materials.
Some of these molds, found in this vehicle in extensive colonies, are particularly irritating or even harmful to humans, including Acremonium sp., Aspergillus niger, Memnoniella echinata and Penicillium sp.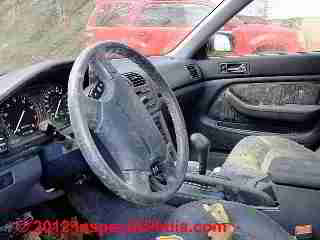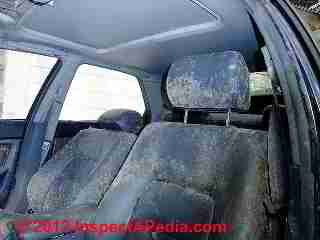 Mold growth of various colors and textures was found on just about every surface inside the vehicle. But our initial visual inspection (before any lab analysis) suggested by color and texture and general appearance, that several different mold genera/species seemed to be occupying different surfaces and materials in the vehicle. Some interior surfaces (listed below) had comparatively little or no visible mold growth.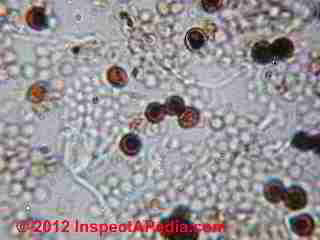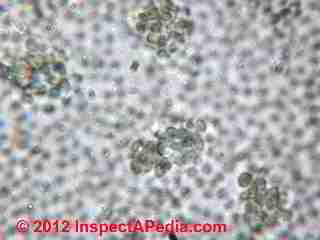 Our lab photo (above left) illustrates the mold genera we found on the steering wheel outer rim (sample #5); at the steering wheel center we found the same fungi but with the addition of Acremonium sp. while the driver's headrest (sample #8) was covered with Trichoderma viride (above right).
Before its storage the vehicle had been owned by members of a single family and had been in constant use between 1991 and 2011 - a period of twenty years of reliable service. Prior to storage there were no mold, odor or related complaints about the vehicle.
Mold Growth on Vinyl, Plastic, & Rubber Surfaces in the Automobile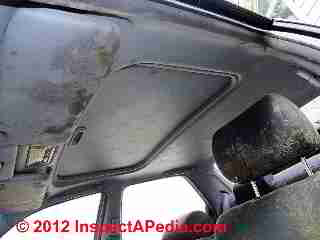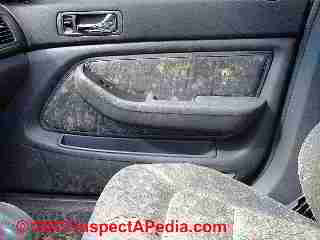 At below left we show the two dominant fungal growths on the sun-visor you can see at above-left, Cladosporium sphaerospermum and Ulocladium sp.-like. At below right we show our lab photos of white mold found on the drivers side door liner shown in the photo at above right - sample #2 in our car mold table. The phialids and spore clusters identify this fungus as Acremonium sp.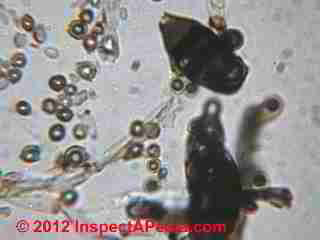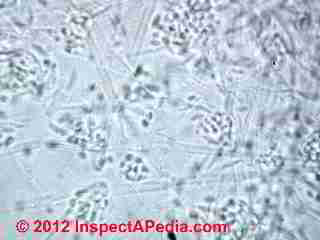 It was interesting to observe that while mold growth was thick on much of the vinyl covering the passenger seats and door liner center panels (above left, right, below left) some sections of vinyl in this vehicle resisted mold growth - such as the back panels of the front passenger seats (photo, below right).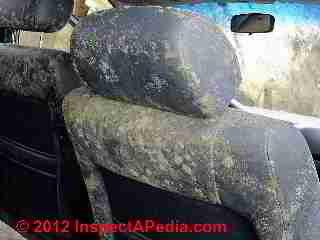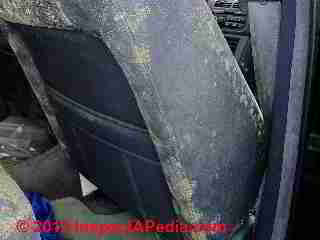 Moldy Automobile Carpeting
At our examination we saw water tracks in several areas, stains indicating leak points at the sun-roof, driver's side door, and trunk lid.
Our inspection and that of the owner suggested that there were multiple leaks that admitted rain and melting snow into the vehicle both in the passenger space and into the vehicle trunk. Indeed, the driver's seat and carpeting on the driver's side (photo below left) were soaking wet as were objects found stored in the trunk.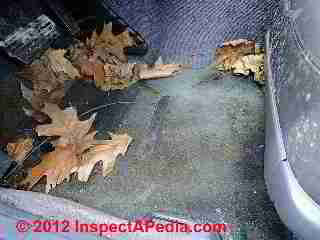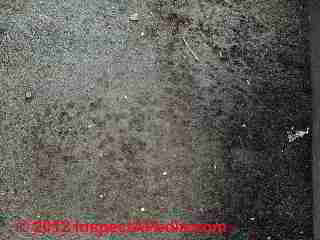 Actually we expected to find more visible mold contamination of the floor carpets in this automobile than was visible (photos above). We don't yet know if the comparatively lower fungal growth (compared to the vinyl surfaces of seats) was due to the chemistry of the carpet, giving it mold resistance, or if it was because of the carpet's very wet condition.
The rubber surface of the car's brake pedal was covered in white mold (photo above left. In the lab we identified this fungus as Acremonium sp.
Moldy Car Contents
It was no surprise that we found heavy mold growth on a range of materials in the automobile's passenger compartment as well as in its trunk, including materials of rubber (boots), paper (currency, maps, etc), and nylon (umbrellas).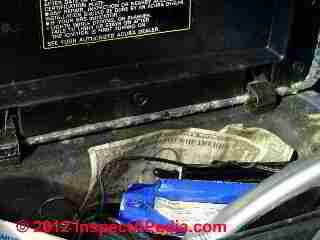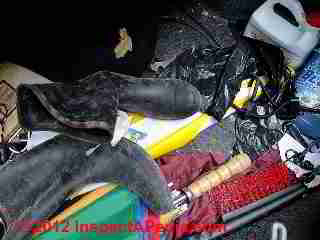 Mold growth identified on moldy dollar bills - U.S. currency mold
As we report in the car mold table below, examining the moldy dollar bills found in this vehicle we identified several dominant mold genera/species: Memnoniella echinata -like spores & conidiophores (photo below left), Chaetomium sp., and what looks like Wallemia serbi. One other colorless smooth large mold spore was common and remained unidentified.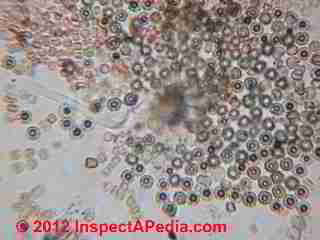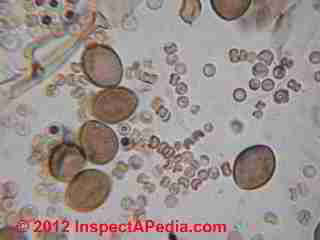 Car Components with Little or No Visible Mold Growth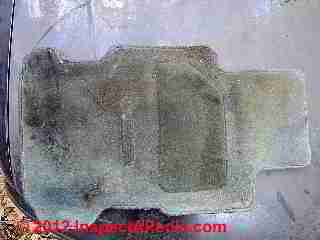 Visible mold contamination was absent or comparatively light on the following interior surfaces of the vehicle:
Glass surfaces, interior of windows
Headliner
Plastic covering instruments in the dashboard
Radio surfaces
Vinyl inset panels on the rear of the front seats
Vinyl panels surrounding the (mold-contaminated vinyl) center panels on the front vehicle doors
Carpeting (was soaking wet)
Trunk liner
Table of Car Mold Test Samples Collected & Identification of Mold Genera/Species found in an automobile
Watch out: In our opinion it is generally not cost justified nor appropriate to test a moldy-smelling vehicle to identify which mold genera/species are present - the owner's money is better spent on cleaning and restoring the vehicle. However for academic reasons such as this study we do perform such tests.
Car Mold Contamination Sampling Methodology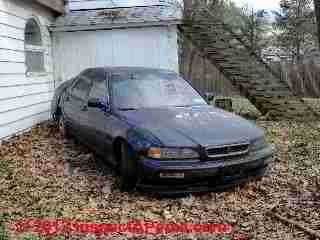 The moldy car interior test samples listed in the table were collected using clear adhesive tape unless otherwise stated. A few samples were collected as bulk (a carpet snip and foam seat cushion snip).
Most of the surfaces in the vehicle were man-made materials, primarily plastics or synthetic fiber carpeting or liners but paper and other materials were present. We also sampled a few materials stored-in but not part of the vehicle itself.
Mold test samples might also have been collected using a vacuum cassette approach (see CARPET MOLD / ODOR TESTS) but as most of the porous car materials such as carpeting and trunk liner were soaking wet we did not consider that a useful approach. We do make use of this approach in studying vehicles that are not wet nor badly contaminated.
A survey might have tested for airborne mold levels in the vehicle but as the vehicle was open to the outdoors (confounding the sample) and as there were readily-available surface samples we did not consider air sampling as a useful step.
See ACCURACY OF VARIOUS MOLD TEST METHODS for our reservations about air sampling to characterize indoor or enclosed environments.
Table of Car Mold Contamination Test Sample Results
Identify Mold Growth in Vehicle

Sample ID
Location

Lab Results
Comments[1]

1
Driver's door liner - black mold
[in process]
2
Driver's door liner - white mold
Acremonium sp. fungal spores & phialids in dense colonization
3
Dashboard left side (abuts door when door is shut)
Cladosporium sp.; tentatively, C sphaerospermum
4
Driver side door rubber gasket (foam rubber-like)
Acremonium sp. fungal spores and hyphae
5
Steering wheel outer surface

Cladosporium sphaerospermum
Penicillium sp.

6
Steering wheel center

Penicillium sp. - dominant
Acremonium sp. fungal spores and hyphae - present

7
Brake pedal upper surface (rubber)
Acremonium sp. fungal spores and hyphae, almost exclusive
8
Driver seat headrest

Penicillium sp. - dominant
Trichoderma viride -like, frequent

9
Driver door window bottom edge interior horizontal gasket (rubber)
Acremonium sp. fungal spores and hyphae,

10
Driver seat cushion, exposed foam (wet - tape sample)
unidentified mitospores,
C. sphaeropsermum-like, along with fabric fibers
11
Driver seat cushion, exposed foam (wet - bulk sample, foam snip)
analysis held
12
Handbrake handle (plastic)
Acremonium-like
13
Driver head-rest side (different colony from #8)
Penicillium sp., dominant
Acremonium-like, present
Cladosporium sp; - incidental
Cladosporium sphaerospermum - incidental
14
Auto registration sticker (paper)
Cladosporium sp. / C. sphaerospermum
15
Driver seat belt (nylon)

Penicillium sp. spores, conidiophores; - dominant
Trichoderma viride spores; - dominant
Aspergillus niger spores - present
unidentified hyaline amerospores

16

Auto contents: U.S. currency, $1. bills, visibly moldy, from center console (bulk sample)

analysis held
17
Auto contents: U.S. currency, $1. bills, visibly moldy, from center console
(tape sample)

Memnoniella echinata-like
Chaetomium sp.
Wallemia serbi-like
Unidentified hyaline smooth mold spores
Incidental mite fecals & Cladosporium sp.

18
Driver seat side (vinyl)

Aspergillus niger spores & conidiophores in dense colonization
Trichoderma viride spores

19
Rear seat surface, olive-colored mold
Aspergillus sp. spores & conidiophores in dense colonization
20
Rear seat surface, green + white mold

Penicillium sp. spores & conidiophores; dominant
Aspergillus niger spores, present

21
Auto contents: blue umbrella, black mold-suspect specks
Aspergillus niger - in dense colonization
Aspergillus sp; present
22
Headliner over driver's seat (plastic-like material)
Cladosporium sphaerospermum
23
Sun roof gasket (rubber/vinyl)
Non-fungal material including insect fragments
Pithomyces chartarum - present
Cladosporium sphaerospermum - present

24
Floor mat (carpet, synthetic, wet)
analysis held
25
Floor mat (carpet, synthetic, wet) (Bulk sample)
analysis held
26
Trunk liner, rigid synthetic fabric
Aspergillus sp., in dense colonization, spores & conidiophores
Cladosporium sphaerospermum - present

27
Door, rear passenger, center liner (soft vinyl)
Cladosporium sp; C. cladoporioides-like;
28
Door, rear passenger, center liner (soft vinyl)
Cladosporium sp.
29
Door, rear passenger, center liner (soft vinyl)
Pen/Asp spores, spore chains,
fungal hyphae; (no conidiophores)
30
Sun visor, driver's side (vinyl)
Ulocladium sp. -like
Cladosporium sphaerospermum


Notes:

[1] lab analysis was completed on 6/30/2012; all samples processed were photo-documented under the microscope, with selections appearing in this report.
...
Continue reading at MOLD CLEANUP GUIDE- HOW TO GET RID OF MOLD or select a topic from closely-related articles below, or see our complete INDEX to RELATED ARTICLES below.
Or see FLOODED CAR DETECTION.
Or see SMELL PATCH TEST to FIND ODOR SOURCE.
Car Mold Articles
Suggested citation for this web page
CAR MOLD CONTAMINATION at InspectApedia.com - online encyclopedia of building & environmental inspection, testing, diagnosis, repair, & problem prevention advice.
Or use the SEARCH BOX found below to Ask a Question or Search InspectApedia
...
Frequently Asked Questions (FAQs)
Try the search box below or CONTACT US by email if you cannot find the answer you need at InspectApedia.
Question / Comment: Everyone should have their vehicle tested for mold ?
A good study overall and confirms my findings as my partner and I have been testing vehicles for several months. Everyone should have their vehicle tested. New or used and should also google the Tim Greene story about hoe Toxic mold almost took his life. - John Gainey, 5/22/12
Reply: we disagree.
Thanks for the comments, John. Indeed a moldy car, because you drive around in a small enclosed space, can significantly affect those who for any reason are sensitive. But it would be improper and unethical to suggest that everyone who owns a vehicle should spend on mold testing for the vehicle, because
only a small percentages of vehicles have mold contamination
an "air test" alone would be completely unreliable as a screen for the presence of problematic mold in a vehicle (car, boat, RV, airplane), in particular if negative results are obtained.
a very moldy car is visibly or often by smell very obviously contaminated - without testing
More useful would be advice that helped people decide when inspection or testing for mold are actually appropriate. At MOLD ACTION GUIDE - WHAT TO DO ABOUT MOLD readers will see an article titled MOLD / ENVIRONMENTAL EXPERT, HIRE ? - that pertains to buildings not cars, but might be helpful in illustrating the type of reasoning that an unbiased expert should offer.
Where car mold expertise can be helpful is in tracking down a musty moldy odor whose source is not visibly obvious. Follow the leaks and see what got wet from water, antifreeze, or other similar problems.
Watch out: while ozone treatments are a common "deodorizing" and "mold killing" service offered by car cleanup companies, overdosing a vehicle with ozone is way too easy - the ozone generator is operating inside of a very small space. Too often the result is oxidation of plastics or vinyls in the vehicle that leave it with a horrible chemical smell that is corrected only by gutting the damaged materials. See OZONE MOLD / ODOR TREATMENT WARNINGS for details.

...
Ask a Question or Search InspectApedia
Use the "Click to Show or Hide FAQs" link just above to see recently-posted questions, comments, replies, try the search box just below, or if you prefer, post a question or comment in the Comments box below and we will respond promptly.
Search the InspectApedia website
Technical Reviewers & References
Click to Show or Hide Citations & References
[1] Stephen Lewis is an architect and computer science teacher who lives and works in New York City.
[2] "Health effects of a mold-contaminated automobile", J. Santilli, W. Rockwell, W. Vaughn, Journal of Allergy and Clinical Immunology, Volume 113, Issue 2, Page S59. Quoting abstract:
Most reactions to indoor mold exposure have been reported from mold-contaminated homes, office buildings or schools. We report a patient who experienced symptoms from exposure to a contaminated air-conditioner in her automobile.
A patient with a two-year history of generalized symptoms that continued despite taking two months off of work was skin tested and administered the Rhinitis Outcome Questionnaire (ROQ) and Cognitive Questionnaire (CQ) to assess her symptoms. Her indoor environments were also tested for mold contamination. Her home was tested using the Allergenco MK-3 Sampler for which we consider normal indoor counts below 1000 spores/M3. The mold counts in the patient's car were tested using an Anderson Sampler for which we consider normal counts less than 200 CFU/M3.
The patient had positive ID testing to Alternaria, Aspergillus, Penicillium and Cladosporium. The indoor mold counts in her home did not indicate indoor mold growth. The ROQ and CQ both gave similar results, showing low, non-allergic symptom scores before exposure, then moderate to severe symptoms at the height of exposure and a return to baseline upon avoidance of exposure. The result of testing her car with the ventilation system running was high: 1,740 CFU/M3, Penicillium (42%) and Aspergillus (58%). Avoidance of the car brought about a marked improvement in symptoms and she was able to return to work.
This case demonstrates that we should be testing work environments, homes and schools for mold contamination and must now add automobiles to our testing regimen where indicated.
[3] "Mold contamination of automobile air conditioner systems", Kumar P, Lopez M, Fan W, Cambre K, Elston RC., Ann Allergy. 1990 Feb; 64(2 Pt 1):174-7. Department of Medicine, Louisiana State University Medical Center, New Orleans. Abstract:
Eight cars belonging to patients who were found to have exacerbation of allergic rhinitis and bronchial asthma after turning on the air conditioner in their cars were examined. Mold concentrations inside the passenger compartment with the a/c turned off and at different climate control settings were lower than concentrations in the outside air. After turning on the air conditioner to "Max", cultures obtained at various intervals revealed that mold concentrations decreased significantly with time. Furthermore, placement of a filter at the portal of entry of outside air significantly reduced the mold concentration in the passenger compartment.
[4] ASTM E2600 - 08 Standard Practice for Assessment of Vapor Intrusion into Structures on Property Involved in Real Estate Transactions is available from the ASTM at astm.org/Standards/E2600.htm

"This practice is intended for use on a voluntary basis by parties who wish to conduct a

VIA

on a parcel of

real estate

, or more specifically conduct a screening evaluation to determine whether or not there is potential for a

VIC

, and if so, identify alternatives for further investigation."

The standard goes on to emphasize the uncertainty in testing any site for gases and vapor intrusion.
"Shaky Seats, Leaky Fluids, Toyota" Scott Sturgis, The New York Times, 01/24/2010, Automobiles section, p. 4.
Thanks to B.L., Poughkeepsie, NY, for discussion of the cause and cure of moldy car smells and permission to take and use photos of the family's moldy car during its mold deodorizing procedure, 2009.
[5] Thanks to M.R. for discussing an ineffective attempt at deodorizing a smelly car - November 2010
[6] Click and Clack the Tappet Brothers, is the nom-de-radio for NPR's Car Talk radio program hosts Tom and Ray Magliozzi, who can also be contacted by telephone at 888-227-8255.

An online discussion of the detection, cause, and cure of smells or mold in cars, reviewing this InspectAPedia article has been opened at Car Talk at http://action.publicbroadcasting.net/cartalk/posts/list/2136105.page
[7] Carpeting odors: diagnose & cure carpet smells due to mold, mildew, pet urine, and carpet stains - thermal tracking, and carpet testing advice
[8] Mold Odors and Moldy or Musty Smells: Here are articles on diagnosing moldy or musty building odors
[9] Ozone Odors & Ozone "deodorizers": The Use of Ozone Generators Indoors for Control of Odors and Mold Removal in Buildings: A Summary of Hazards and False Claims.
Ozone is widely promoted by ozone generating equipment companies and cleaning services for use in indoor building environments to deodorize, disinfect, "kill" mold, and for "general health".
This article explains the effects of using ozone in buildings for these purposes and warns consumers about misapplication of and health risks from ozone in buildings. Because at least some of these claims are based on marketing desire, not good science, and because ozone exposure can be both dangerous and ineffective indoors, we have collected some information and references on this topic.
[10] Ozone generators: The Hazards of Ozone & Ozone Gas Generators. This article gives an overview of the hazards associated with use of ozone indoors as a "mold remedy" or as an "air purifier". Ozone is widely promoted by ozone generating equipment companies and cleaning services for use in indoor building environments to deodorize, disinfect, "kill" mold, and for "general health".
[11] Ozone Toxicity & Ozone Gas Exposure Hazards This article discusses Ozone Toxicity in Buildings - A Summary of Hazards of Indoor Ozone, Ozone Generators, and Use of Ozone for Mold Remediation. While there are some important uses of ozone (such as for medical disinfection under controlled conditions), in general this is an idea which ranges from bad to dangerous in the home. This article explains the effects of using ozone in buildings for these purposes and warns consumers about misapplication of and health risks from ozone in buildings. Because at least some of these claims are based on marketing desire, not good science, and because ozone exposure can be both dangerous and ineffective indoors, we have collected some information and references on this topic.
[12] OZONE GAS EXPOSURE EFFECTS Description
[13] Plastic odors: Plastic Odors, including Siding Odors. This discussion also pertains to other vinyl or plastic materials used in buildings such as diagnosing odors from plastic trim, plastic or vinyl windows, window screens, doors, or similar materials. This article includes a plastic odor diagnosis checklist and it lists common sources of plastic-like smells in buildings.
[14] MVOC Testing Standard: As of 3 March 2009 the ASTM Committee E50 on Environmental Assessment, Risk Management and Corrective Action released ASTM E2600-08 Standard Practice for Assessment of Vapor Intrusion into Structures on Property Involved in Real Estate Transactions.
[15] Siding Odors: Vinyl Siding Failures, Diagnosis, Repair, Proper Installation: Siding, window, screen, & other "plastic" odors: We've investigated a number of reports of strange odors in residential buildings that were ultimately traced to vinyl or plastic which was outgassing. we have observed this phenomenon with vinyl siding, plastic or vinyl window or door screens, and plastic or vinyl windows. A key diagnostic step was the observation that the odors were strongest when the material under investigation was exposed to sunlight or other sources of heat. [This article is under development, September 2007, and we welcome content suggestions or questions].\
[16] SMELL PATCH TEST to FIND ODOR SOURCE - a simple procedure using paper towels and aluminum foil can help track down a building odor to a specific surface indoors.
Books & Articles on Building & Environmental Inspection, Testing, Diagnosis, & Repair
Our recommended books about building & mechanical systems design, inspection, problem diagnosis, and repair, and about indoor environment and IAQ testing, diagnosis, and cleanup are at the InspectAPedia Bookstore. Also see our Book Reviews - InspectAPedia.
Environmental Health & Investigation Bibliography - our technical library on indoor air quality inspection, testing, laboratory procedures, forensic microscopy, etc.
Kansas State University, department of plant pathology, extension plant pathology web page on wheat rust fungus: see http://www.oznet.ksu.edu/path-ext/factSheets/Wheat/Wheat%20Leaf%20Rust.asp
"A Brief Guide to Mold, Moisture, and Your Home", U.S. Environmental Protection Agency US EPA - includes basic advice for building owners, occupants, and mold cleanup operations. See http://www.epa.gov/mold/moldguide.htm
US EPA - Mold Remediation in Schools and Commercial Building [ copy on file as /sickhouse/EPA_Mold_Remediation_in_Schools.pdf ] - US EPA
US EPA - Una Breva Guia a Moho - Hongo [on file as /sickhouse/EPA_Moho_Guia_sp.pdf - - en Espanol
"IgG Food Allergy Testing by ELISA/EIA, What do they really tell us?" Sheryl B. Miller, MT (ASCP), PhD, Clinical Laboratory Director, Bastyr University Natural Health Clinic - ELISA testing accuracy: Here is an example of Miller's critique of ELISA http://www.betterhealthusa.com/public/282.cfm - Townsend Letter for Doctors and Patients
The critique included in that article raises compelling questions about IgG testing assays, which prompts our interest in actually screening for the presence of high levels of particles that could carry allergens - dog dander or cat dander in the case at hand.
http://www.tldp.com/issue/174/IgG%20Food%20Allergy.html contains similar criticism in another venue but interestingly by the same author, Sheryl Miller. Sheryl Miller, MT (ASCP), PhD, is an Immunologist and Associate Professor of Basic and Medical Sciences at Bastyr University in Bothell, Washington. She is also the Laboratory Director of the Bastyr Natural Health Clinic Laboratory.
Allergens: Testing for the level of exposure to animal allergens is discussed at http://www.animalhealthchannel.com/animalallergy/diagnosis.shtml (lab animal exposure study is interesting because it involves a higher exposure level in some cases
Allergens: WebMD discusses allergy tests for humans at webmd.com/allergies/allergy-tests
...