Test for & Remove Mold Contamination in / on Artworks

Cleaning, Light Microscopy & PLM, Research
InspectAPedia tolerates no conflicts of interest. We have no relationship with advertisers, products, or services discussed at this website.
Mold contamination on or paintings or other artworks:
This article describes using transmitted & reflected light microscopy and polarized light microscopy to test for and report on the appearance of mold contamination on works of art (typically in the museum or in-building environment) and a forensic microscopy approach to detecting mold contamination on artworks in order to assist art conservators in both removing mold contamination and in preventing it on these materials.
We include a discussion of distinguishing among mold and other painting contaminants, stains, including extractive bleeding stains, their causes and prevention. Other sources of biodeterioration of works of art such as cave paintings, and algal growth on outdoor materials are discussed elsewhere.
Green links show where you are. © Copyright 2017 InspectApedia.com, All Rights Reserved.
Mold on Art Works, paintings, painting substrates, other artworks or cultural artifacts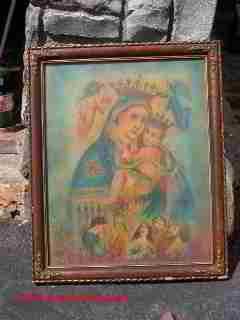 Distinguishing among mold contaminants, other particulate contaminants and other stain sources on or within paintings and other works of art can be an important step in deciding on strategies for both cleaning the artwork and for prevention of future mold, white blooms, effloresence, or other environmental-related damage.
Here we also discuss the distinction of mold contamination from extractive bleeding in art works painted on hardboard products such as Masonite® or Upson Board.
We have assisted several museums & curators with mold diagnosis, cure, & prevention on works of art.
The control of indoor humidity where works of art are displayed or stored indoors is naturally the principal step taken to protect these items from mold damage.
Additional steps to protect artworks depends on the materials used and the value of the items.
No valuable artwork should ever be sprayed or coated with a fungicidal sealant without consulting with an expert art conservator, and where an artwork has become mold damaged, amateur cleaning can damage it further - consult with an expert art conservator for advice.
Inoue has tested a varnish coating supplemented with fungicide to attempt to control mold growth on painting surfaces [16]
Krake et als. have evaluated microbiological contamination of artworks studying both the face and the back side of canvases in a museum. [17]

In some cases it may be possible to frame, enclose, or treat the back surface of some paintings without damaging the work itself nor impinging on its artistic or monetary value.
Take care to distinguish between mold growth and other moisture-damage to artworks.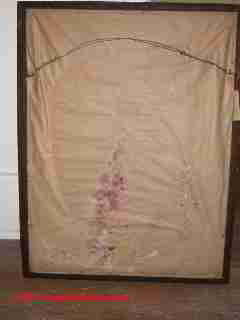 Our photographs above illustrate mold growth on the paper backing of a framed work of art - mold that affects art and artifacts may be hidden on unobserved surfaces but may still be damaging the work.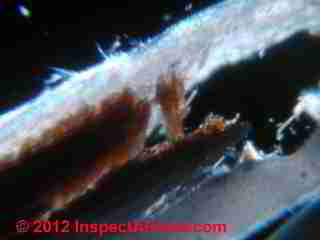 Our page top photograph illustrates a finding of mold growth (Cladosporium sp. and Penicillium sp.) on the surface of an oil painting. At left, other stains that appeared to be mold needed just a little further examination to distinguish between mold growth and hardboard wood fibers.
In performing analysis for oil paintings displayed in a museum in San Juan, Puerto Rico, working with art conservator Ulrik Runeberg ("Staining and Microbiological Infestation of Acrylic Paintings on Hardboard" [3]) we discovered that "brown spots" that looked like mold contamination were in some cases brown oils or extractive-bleeding from Masonite-type hardboard on which the paintings had been executed.
(Pair of photographs shown just below.)
Had the artist first sealed the hardboard surface with a suitable sealant, perhaps a lacquer primer, that staining would have been reduced or prevented entirely.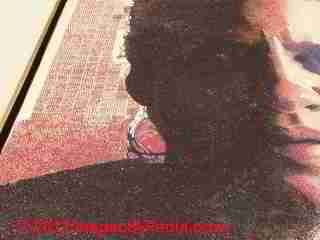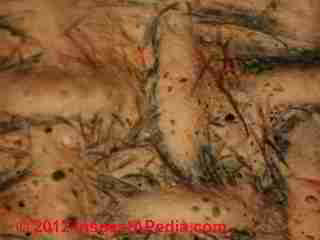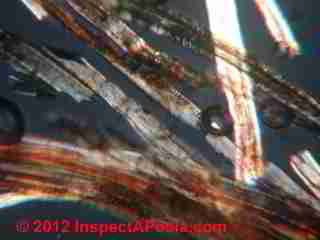 Our photo (left) shows a higher magnification examination of fibers from the art-work above, as we checked for mold spores or a different cause for discoloration found on the painting obverse side.
Other artworks we have examined suffered severe mold damage, including a wide range of media such as paper-based prints and lithographs or etchings and oil paintings on canvas.
While indeed we often can find mold contamination growing on the surfaces of paintings and other art works, we may also find mold contamination within pigments - possibly from the time of creation of the work - changing the conservator's cleaning and maintenance strategy.
We also often find surface or in-media contaminants that were not mold, though they have been mistaken for it.
These other contaminants include insect fragments, soot particles, road dirt and debris particles, fabric fibers, and even ultra-fine spray paint droplets that, unless examined properly, are mistaken for different contaminants, thus risking misleading the art conservator in her planning for art or artifact restoration or maintenance.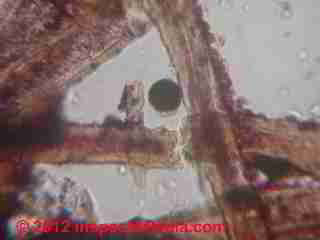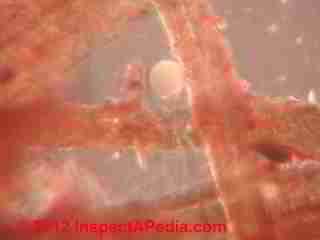 Our photos above illustrate an example of potential confusion. By transmitted light (photo above left) the round particle may look like Nigrospora sp. or another fungal spore. But by reflected oblique top lighting it becomes immediately obvious that we are looking at a fine spray paint droplet, in this case of white-pigmented paint.
When appropriate we provide pro bono or fee-paid forensic investigation services to museums and art conservators.
Mold or White Bloom Contamination Cause & Removal in Modern Works Using Egg Tempera Painting
Question: how to clean mold off of a painting of a New Zealand Tui Bird Prosthemadera novaeseelandiae
I'm an artist living in New Zealand. I have been contacted by the owners of one of my paintings which they purchased five years ago.
A few weeks ago they noticed a white substance they called a mold (which can be seen in the photos attached) on a particular part of the painting.
This particular part of the painting (the bird [a Tui - Ed.]) was done with natural pigments in dispersion mixed with egg yolk. The rest of the painting was done with powered coffee mixed water.
[Click to enlarge any image]
The painting was given to weeks to dry then it was varnished with two coats of Golden's Archival Varnish MSA w/UVLS (gloss) (spray). I have completed three paintings using these materials and only one has had the issue of mold growth on the egg tempera part.
The owners tell me that the conditions on the room where the painting is kept, are dry and stable. Though [the city where the painting is displayed has experienced it's wettest month in 20 years, so I'm wondering if this may have contributed to the growth of mold.
The main reason I'm contacting you is in regards to how can we remove the mold safely and prevent it from returning. Would re-varnishing the painting after removing the mold help?
Many thanks for your advice. - Phillipa Knight, artist, Gisborne, New Zealand, by private email, 2017/07/31

Reply: Procedures for cleaning mold stains or blooms on egg tempera modern art
Phillipa,
While I have some experience with this problem, I'm not an expert painting conservator, any of whom would doubtless have additional and more expert advice.
So before enjoying ourselves with researching and speculating about cleaning egg-tempera paintings by artists of limited means, I'm obligated to say that if you can find a suitable art conservator she could give you the best advice.
You can contact NZCCM, New Zealand Conservators of Cultural Material, Pu Manaaki Kahurangi, Website: http://www.nzccm.org.nz/ where you'll see that Auckland as well as other North Island cities sport art conservators who know about paintings.
The following is based on my own field and lab experience with mold on artwork plus a bit of reading.
In general we need to remove the mold. In the case of a painting we both understand that has to be done with care to avoid damaging the painting.
Step 1: investigate the mold problem on the artwork surface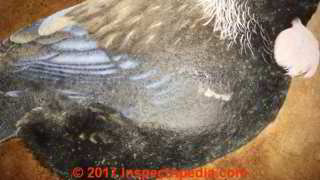 If you can wipe the mold or debris off of the exterior of the varnished surface then we're in fat city, since we're dealing with a more-superficial cleaning job.
It's possible that the white deposit is a species of mold though I wouldn't rule out a surfacing of a mineral or salt from the original composition of the paint - a "bloom" that's not fungal. Still it will want to be removed. 
If you cannot wipe off the mold or debris from the surface of the varnish (say using a dry cotton swab or more aggressive cleaners listed below), then we move on to
Step 2: remove the varnish from the painting in the work area
Typically a conservator addressing a mold growth under the varnish removes the surface varnish, since otherwise any treatment trying to remove mold below that coating will be ineffective and being more aggressive risks damaging the painting. 
The good news is that the Colden Paints Company produce a Golden MSA Solvent that they say can be used to remove the varnish after it is in place on a surface. If you don't have it, here's their contact information
Golden Artist Colors, Inc., 188 Bell Road, New Berlin, NY 13411-9527 USA,  607-847-6154  800-959-6543  Fax: 607-847-6767  help@goldenpaints.com  Website: https://www.goldenpaints.com/products/varnish-top-coat/msa-varnish
Step 3: remove the mold from the exposed painted surface: cleaning solutions for egg tempera on artworks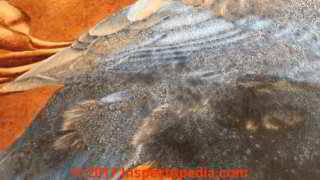 With the varnish removed you might try very gentle methods to remove the mold, or whatever is contaminating the painting surface, starting with cotton moistened with distilled water first, or perhaps a dilute, mild household detergent. 
An aqueous alcohol-water solution made of alcohol and water: specifcially 100% ethanol diluted in distilled water using ethanol/water ratios ranging from 60/40 to 90/10 - the latter, for example, means 90% ethanol/10% distilled water.
Watch out: always start with the mildest-approach to cleaning or conserving any work of art (or building or anything else) so as to avoid unnecessary damage. Hedley (1980) found a 9% ethanol a good cleaning mix, that's even milder than the alcohol solutions tested by Pruteanu (2014).
The cleaning solution is applied gently with 100% cotton wound on a wooden stick, normally testing it first on a small, unobtrusive area.
Some sources warned that this approach may cause the paint to lose adhesion to the surface. I suspect that that problem is uncommon and that when it occurs (most sources said it didn't) the problem may be due to either use of too much and too-strong solvent alcohol, leaving it on the surface too long, wetting too deeply, or possibly due to paint that was already poorly-adhered. 
Pruteanu et als. describe a detailed study of what formed the most-effective cleaning methods for mold or other contaminants on egg tempera painted surfaces. I'll attach their article as a PDF in the references below. They point out tht the most effective traditional cleaner was described thus:
From the alcoholic solutions tested were chosen only the ones with effective cleaning on degraded varnish layer and deposits of dirt, which was alkalized with three drops of 25% ammonia (E6). - (Pruteanu 2014)
They reported that among the traditional alcohol/water cleaners, their best performer was
... aqueous solution obtained by mixing 6.5 mL distilled water with 2.8 mL ethanol and three drops of ammonia
Those researchers found, for their purposes, even better results with some experimental cleaners made from vegetable products including cabbage juice!
In my opinion it is a serious mistake to try to "kill" the mold: doing so won't work, as to kill all of it you'd damage the painting below with the concentration of disinfectant needed. Other killing approaches using high heat or cold have similar risks for artwork. 
I think that the reason you see (what seems to be) mold growth on the egg tempera portions of the painting would be that the particular chemistry of egg-based paint is a bit more mold friendly than the other paints - not that any of them is, without treatment, "mold proof".
Scouring about I found several discussions among artists who use egg tempera in modern paintings, some of whom pointed out that for those who mix oil in with their egg tempera the choice of the particular oil may further invite or retard later mold growth on that work.
Step 4: examine both sides of the painting: clean the back too
Be sure to examine the back of the painting too. I suspect you'll find more, perhaps worse mold there where the local climate and indoor dampness may conspire with the little air circulation at the painting's back to promote mold growth. 
The more difficult situation is when mold originated on the painting back (where no one looks) and then grew through the material and paint to the exposed surface.  Even where indoor humidity is not extremely high, the lack of air circulation on the back of a painting can make for trouble.
It's also a bit difficult in that the paint itself is organic and supports mold growth.  There are (toxic) fungicides that can be added to paint to retard mold growth if you want to try that in the event that you need to touch-up the existing work after cleaning. 
Step 5: Restore the painting & Re-varnish as needed
Once you're satisfied that the painting is cleaned and repaired, yes you'll want to re-varnish it, making darn sure it's totally dry first since as you probably know, varnishing over moisture will produce a white bloom that's the devil to remove. 
Thompson (2012) discusses the importance of varnishing and protecting the surface of paintings. He also warns people using colored earths to build their own earth pigment that you need to wash the sand and clay and organic debris (humus) to make them suitable for pigments.
He mentions, for example, that he found samples of raw sienna that contained enough organic matter to cause them to produce mold growth when used in tempera, also to swell on the panel and ulltimately to "come away". (Thompson 2005 p. 75)
It's also important that the painting be completely dry before varnishing. If you varnish over tempera that's not fully dry a later white bloom under the varnish is likely.
Step 6: Prevent Future Mold Growth on Egg Tempera or Other Artworks
Critical for avoiding mold growth in the future is the correction of the original cause of its appearance.
Treating the the painting: 
Varnish on the front of the painting will, properly applied in dry dust-free conditions, give it some protection against occasional surges of humidity.
It's important to look also at the back of any painting suffering from mold or moisture-related damage.
When you inspect the back of the work, if you see mold it needs to be cleaned, though it is not necessary to completely remove all visual traces of the mold. Once you've cleaned the surface of loose actual growing mold structures, the stains that remain, if kept dry, shouldn't give more trouble, and as I suggested above, removing them involves additional risks. 
You might, however, improve the mold-resistance of the painting  by coating its back surface with a similar sealant, perhaps the same one used on its front. If  on inspection you see a mold reservoir on that side that would support this step (after cleaning as best you can). 
Conditioning the painting's environment
I know the New Zealand area where your paintin is located. Your weather is not just wetter, you're right on the water, where there's plenty of additional humidity as well as warmer temperatures than down the South Island in Christchurch or Dunedin. (Cooler temperatures also retard many mold genera/species).
The owners may think their home is so clean and dry that their environment isn't a factor, but with respect, they are not quite correct. Airborne mold spores are everywhere, all the time. When mold growth appears on a material it's because conditions were friendly for its growth and development. The chief thing we can control to avoid indoor mold on any surface is the level of moisture in the environment. 
My friend Ulrik Runeberg's mold conservation work that we discuss earlier at  ARTWORK MOLD CONTAMINATION worked as a conservator in Puerto Rico on paintings on Masonite - where humidity was causing tannin bleed-through problems, not just mold.
Museums in warm humid climates or in the tropics have a challenge keeping their indoor humidity down. Toledo (2007) reported on another approach to conditioning the whole building: enclosing paintings in glass boxes whose interior was climate-controlled: suitable for museums in the tropics but not for most private collectors buying Kiwi bird paintings.
It's not likely that we can control the environment where your painting will reside, though if they're amenable you could ask your painting-owners to look at their indoor relative humidity and compare it with  HUMIDITY LEVEL TARGET 

I'm sure you, can handle this mold on art problem since as we have often been told about solving just about any problem, a Kiwi could do it. We welcome your further questions, comments, suggestions on this topic and I look forward to seeing photos of your work on the white-mold-suspect bird.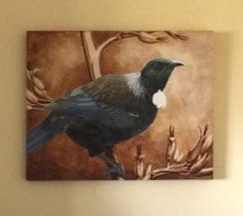 Phillipa Knight, the artist whose painting is discussed here, lives in Gisborne New Zealand. Readers interested in Ms. Knight's work can contact her by email to phil.knight@xtra.co.nz
Readers, particularly conservators, who have suggestions or critique of this article are welcome to comment using the comments box below or to contact us using the page top or bottom CONTACT link.
Research on Cleaning & Preventing Mold & White Effloresence or Bloom in Egg Tempera & Other Painted Artworks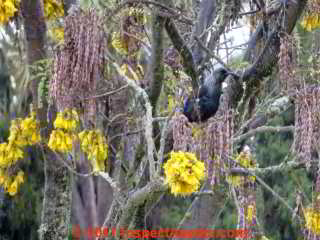 BIRDS of NEW ZEALAND 2014 - photographs of real birds, including Tuis, without mold stains. Artist Phillipa Knight pointed out to us that Tuis have a double voice box to produce that beautiful sound! Our photo of a Tui singing in the rain was taken at Marlborough on Queen Charlotte Sound, South Island, New Zealand in 2014.
Boustead, William. "The conservation of works of art in tropical and sub-tropical zones." Studies in Conservation 6, no. sup1 (1961): 73-78.
Citation excerpt:

Both the paint film and the rear of the canvas must be thoroughly cleaned with a …
Burnstock, A. and White, R. 1990. The Effects of Selected Solvents and Soaps on a Simulated Canvas Painting. In Cleaning, Retouching and Coatings, ed. Mills, J.S., and Smith, P., London: International Institute for Conservation of Historic and
Artistic Works. 111-118.
Caley, T. 1990. Aspects of Varnishes and the Cleaning of Oil Paintings Before 1700. In Cleaning, Retouching and Coatings, ed. Mills, J.S., and Smith, P., London: International Institute for Conservation of Historic and Artistic Works. 70-72.
Colombini, Maria Perla, Roger Fuoco, Ambrogio Giacomelli, and Beatrice Muscatello. "Characterization of proteinaceous binders in wall painting samples by microwave-assisted acid hydrolysis and GC-MS determination of amino acids." Studies in Conservation 43, no. 1 (1998): 33-41.
Excerpt from Google search/citation:

The layers of paint appeared whitened, dusty and corroded by mould and efflorescence, caused above all by the effects of sea air and ... They were there- fore detached again and suitably treated for casein removal. ... Tempera Egg Milk AniJnal glue Glue + egg (1:1) Glue
Golden Artist Colors, Inc., 188 Bell Road, New Berlin, NY 13411-9527 USA Tel: 607-847-6154  800-959-6543 Email:  help@goldenpaints.com Website: www.goldenpaints.com
Cremonesi, P., and Bortolotti, I. 1999. Un approccio più scientifico alla pulitura dei dipinti. Triansol ®: il Triangolo delle solubilità, un software per il restauro. Progetto Restauro, 10: 42–45.
Hedley, Gerry. "Solubility parameters and varnish removal a survey." The conservator 4, no. 1 (1980): 12-18.
Excerpt:

4.75% ethanol removed the varnish slowly and 9% ethanol was a good cleaning mix
NZCCM, New Zealand Conservators of Cultural Material, Pu Manaaki Kahurangi, Website: http://www.nzccm.org.nz/
Ordonez, Eugena, and John Twilley. "Peer Reviewed: Clarifying the Haze: Efflorescence on Works of Art." Analytical chemistry 69, no. 13 (1997): 416A-422A. - discusses the distinction between white mold growth and the formation of effloresence on works of art.
Pruteanu, Silvea, Petronela Spiridon, Viorica Vasilache, and Ion Sandu, "ECOLOGICAL CLEANING SYSTEMS FOR OLD ICONS PAINTED IN TEMPERA" Chemistry Journal of Moldova 2014, 9(2), 26-31

Conclusions To cleaning of the studied icons were used extracts of green plants and vegetables, dried herbs decoction that formed synergistic solutions, noted from S1 to S10 and a reference: the classical solution ethyl alcohol of various concentrations, or slightly alkalized E1 - E6.

From the alcoholic solutions tested were chosen only the ones with effective cleaning on degraded varnish layer and deposits of dirt, which was alkalized with three drops of 25% ammonia (E6).

Using visual analysis and the CIE colorimetric reflectance L*a*b* was observed that the best results were obtained with S6, S3, S4 and S9 systems, which provided: a quick and effective cleaning; paint layer, varnish and age patina were not affected; pigments have not changed color; detachments or flaking didn't occur.
Stavroudis, Chris, Tiarna Doherty, and Richard Wolbers. "A NEW APPROACH to CLEANING i: Using Mixtures of Concentrated Sock Solutions and a database to arrive at an optimal aqueous cleaning system." WAAC newsletter 27, no. 2 (2005): 17-28. retrieved 2017/07/31, original source: http://www.cool.conservation-us.org/waac/wn/wn27/wn27-2/wn27-205.pdf
Sultan, Altoon. Luminous Brush: Painting with Egg Tempera. Altoon Sultan, 1999. Notes the decline of egg tempera in favor of oil painting after 1600.
Thompson, Daniel V. The Practice of Tempera Painting: Materials and Methods. Courier Corporation, Dover Publications, 2012. ISBN-13: 978-0-486-20343-0
Toledo, Franciza, Magali Sehn, Mário Sousa Júnior, Sérgio Brazolin, and Stephen Hackney. "The use of glass boxes to protect modern paintings in warm humid museums." In Museum Microclimates: Contributions to the Copenhagen conference, 19-23 November 2007, pp. 261-266. 2007.

Abstract:
This paper considers the advantages and disadvantages of an enclosure for the display of unvarnished easel paintings, both modern and contemporary, for use in warm, humid museums.

Microclimate analyses of a display box's performance in five museums are presented and correlated with material damage to paintings.

The results are presented of a research project, carried out between 2000 and 2002, to test a sealed glass box at five Brazilian, naturally ventilated museums and to verify its efficacy in protecting paintings, not only to avoid soiling and consequent cleaning of their surfaces but also to reduce biological attack, particularly that caused by fungi.>
Wolbers, Richard, "Cleaning painted surfaces: aqueous methods". Archetype Publications, 2000.
Abstract excerpt:
There is no layer of a painting where we are fully satisfied with our present understanding of its material structure, and its deterioration over time. Most research carried out today into the materials of paintings concentrates on a fuller understanding of properties, to further understanding of the consequences of conservation treatments, both immediate and long-term. This includes an understanding of the effects of earlier treatments.
Humidity & Mold on Art Works
The control of indoor humidity where works of art are displayed or stored indoors is naturally the principal step taken to protect these items from mold damage.
Watch out: While some experts recommend that paintings and murals must be stored at a relative humidity of 60-70%,[38] our opinion is that those humidity levels are considerably too high to be safe because
Many fungi are quite happy at 60-70% RH
Our field measurements show that there is often a significant difference between the humidity at the point of measurement in a building and the humidity on or close to building exterior walls (where the RH may be much higher). Details are
at HUMIDITY LEVEL TARGET
...
Continue reading at BOOK MOLD, CLEANING or select a topic from closely-related articles below, or see our complete INDEX to RELATED ARTICLES below.
Or see
ART CONSERVATION - Cultural Heritage and Aerobiology describes a text that offers some help in controlling mold and other sources of damage to paintings as well as other cultural artifacts.
BIODETERIORATION AGENT & STAIN CATALOG
BLACK LIGHT & UV LIGHT USES including finding mold, animal urine, other biological materials
BLOOD in ART WORKS, TESTING FOR
FOXING STAINS on books & papers - cause and cure
MOLD RESISTANT CONSTRUCTION discusses methods to reduce the risk of mold growth not only on building surfaces but on and in the contents found in buildings, including works of artifacts and works of art such as paintings.
Suggested citation for this web page
ARTWORK MOLD CONTAMINATION at InspectApedia.com - online encyclopedia of building & environmental inspection, testing, diagnosis, repair, & problem prevention advice.
Or use the SEARCH BOX found below to Ask a Question or Search InspectApedia
...
Frequently Asked Questions (FAQs)
Try the search box below or CONTACT US by email if you cannot find the answer you need at InspectApedia.
...
Ask a Question or Search InspectApedia
Use the "Click to Show or Hide FAQs" link just above to see recently-posted questions, comments, replies, try the search box just below, or if you prefer, post a question or comment in the Comments box below and we will respond promptly.
Search the InspectApedia website
Technical Reviewers & References
Click to Show or Hide Citations & References
...
Wikipedia provided background information about some topics discussed at this website provided this citation is also found in the same article along with a " retrieved on" date. Because Wikipedia and other website entries can be amended in real time, we cite the retrieval date of such citations and we do not assert that the information found there is always authoritative.
Books & Articles on Building & Environmental Inspection, Testing, Diagnosis, & Repair
Our recommended books about building & mechanical systems design, inspection, problem diagnosis, and repair, and about indoor environment and IAQ testing, diagnosis, and cleanup are at the InspectAPedia Bookstore. Also see our Book Reviews - InspectAPedia.
...