Well Chlorination Procedure: when and how to shock a drinking water well

InspectAPedia tolerates no conflicts of interest. We have no relationship with advertisers, products, or services discussed at this website.
This article explains how to shock a well, when, why, and exactly how to chlorinate a drinking water well. This is a description of the well shocking procedure using household bleach to sterilize well water and water equipment. The purpose of shock disinfection of a well system is to destroy bacterial contamination present in the well system at the time of disinfection and is not intended to kill bacteria that might be introduced at a later time. Page top sketch illustrating both deep and shallow water well construction and depths is provided courtesy of Carson Dunlop Associates.
Green links show where you are. © Copyright 2013 InspectAPedia.com, All Rights Reserved. Author Daniel Friedman.
When and How to Shock or Chlorinate a Well - Procedure for Shocking a Well to (temporarily or maybe longer) "Correct" Bacterial Contamination in Well Water
This information is from the Dutchess County Health Department's environmental laboratory, with annotations, expansion & annotation, but you'll find that it is consistent with the well shocking or well chlorination procedures recommended by most health authorities.
The purpose of shock disinfection of a well system is to destroy bacterial contamination present in the well system at the time of disinfection and is not intended to kill bacteria that might be introduced at a later time.
Our photo shows an owner who has lifted the loose, poorly-sealed well piping and cap right off of the steel well casing. This well needed repairs and it needed to be sterilized using the well chlorination procedure we discuss here.
Therefore it is vital that the well be constructed so that no new contamination may enter the well following completion of the shock disinfection. In order to achieve a satisfactory disinfection of the system, the bacteria must be brought in contact with a chlorine solution of sufficient strength and remain in contact with that solution for a sufficient time to achieve a complete kill of all bacteria and other microorganisms.
This article series on well water contamination, testing, & cures explains many common water contamination tests for bacteria and other contaminants in water samples. We describe what to do about contaminated water, listing common corrective measures when water test results are unsatisfactory. We include water testing and water correction measures warnings for home owners and especially for home buyers when certain conditions are encountered, with advice about what to do when these circumstances are encountered. Various treatment methods for contaminated water are reviewed and the pros and cons of each are discussed.
Readers concerned with the effects of well shocking on septic systems should see
CHLORINE IN SEPTIC WASTEWATER
.
Chlorine in Wells - Safety Warnings
When working with chlorine, people should be in a well-ventilated place. The powder or strong liquid should not come in contact with skin or clothing. Solutions are best handled in wood or crockery containers because metals are corroded by strong chlorine solutions.
Details of the Well Chlorination Procedure - Exactly How to Shock a Well, Where to Put Chlorine, How Much Chlorine to Use to Shock the Well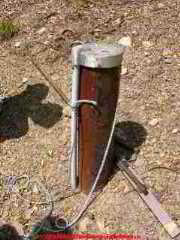 If drinking water has been tested and has not passed standards for safe drinking, or any time the building water supply system has been opened for repairs (such as replacing a submersible well pump or a jet pump foot valve), the well should be disinfected following these procedures, and should be re-tested as described below.
Our photo shows a standard modern 6" steel well casing - it's easy to spot at a property.
If you don't know where the well is located you'll have to find it before this well chlorination procedure can be best performed. See WELLS CISTERNS & SPRINGS for articles that describe different types of water wells, what they look like, where they're found, and their operating characteristics.
It's possible to get chlorine into the well by sending it through the building piping and pump but that step won't sterilize the interior and sides of the well casing - so the procedure below is a better one.
Pour Clorox™ Bleach (or an equivalent brand of household bleach) or hypochlorite granules down into the well. Some people use swimming pool chlorine tablets which have the advantage that they sink to and sterilize water at the well bottom, and the disadvantage that it takes longer to flush out the chlorine.
How much bleach to use when shocking a well: Health department officials can give more precise guidance about the amount of disinfectant needed based on the depth of the well. Common guidelines:

Well depth 100' - 3 cups Clorox or 2 oz. of granules.
Well depth 200' - 6 cups Clorox or 4 oz. of granules.
Well depth 300' - 9 cups Clorox or 6 oz. of granules.
Well depth 400' - 12 cups Clorox or 9 oz. of granules.
Well depth 500' - 1 gallon Clorox or 12 oz. of granules.
NOTE to be accurate in reaching the necessary concentration of chlorine in your well, treat the "depths" listed above as if they were the height of the actual column of water in your well (assuming a standard casing which is 1.5 gallons per foot of height). So if your well is 400 feet deep, but if 100 feet of it is air, your water depth is actually 300 ft.

More about measuring the actual depth of a well is at DEPTH of a WELL, HOW TO MEASURE.

Introduce the chlorine solution into the top of the well. Remove the cap at the upper terminal of the well casing and pour the chlorine solution down the inside of the casing.

If the well casing terminates through the floor of a pump house, then the casing is required to have a well seal at the upper terminal [i.e. at the top of the casing]. This well seal can be loosened and the chlorine solution introduced into the well at that point. In a large diameter well [such as a public supply company's well], the chlorine solution should be poured or splashed around the wall of the well so that all inside surfaces of the well are brought into contact with the strong chlorine solution..
Using a garden hose, spray water down into the well pipe to wash the chlorine solution down to the bottom of the well. Ten gallons of water should be enough. [Running more chlorinated water down the casing sides won't hurt nor risk running the well dry since you're recycling the well water through the plumbing and back to the well.]

This step in the well shock procedure, by recycling chlorinated water out of the building plumbing and back into the well both cleans the well casing, piping, wiring, and also avoids wasting water.

Watch out: shock hazard: if on opening the well casing you see exposed electrical wires or flimsy electrical connections you should have a qualified electrician or repair person make sound, water-tight splices and coverings before attempting to wash down the well casing interior.
Turn on all cold water household taps until you can smell the Clorox coming out of every plumbing fixture water supply, including the faucet farthest from the well.

Watch out: notice that we did not include the water heater system and hot water tank in this step. However you may wish to also turn off and then drain the water heater to eliminate any possibly contaminated water from that tank before restoring your water system to operation. If you elect to shock (sterilize) the water heater tank interior we recommend that that step be performed with the water heater turned off (don't heat a water-bleach mix) and that the heater be left OFF until the tank has been drained and flushed and then re-filled.

Watch out: Also heating water that contains a high level of chlorine might produce potentially dangerous chlorine gas coming out of a hot water faucet.
Turn off the water and do not use it for 8 to 24 hours. Seal the top of the well. Do not run laundry with this chlorinated water or it may bleach clothing unexpectedly.
Flush out the Clorox™ (or other brand) bleach solution: at the end of the standing period, operate the well pump (run the water) water until you can no longer smell the Clorox.

Watch out: Do not run Clorox™ into the septic system - run water outside through an outside faucet or hose. There should be a hose connection at the at the bottom of the water pressure tank.

When you no longer smell chlorine at the hose draining the water pressure tank, close off the drain and open all faucets in the house to flush out house piping for fifteen minutes or until you no longer smell or taste chlorine [whichever is longer].

Watch out: if you do not first drain the water pressure tank of chlorinated water it can take a much longer time to flush the bleach smell out of the water supply. And if you have put chlorinated water into the water heater tank, that tank too will best be flushed out. (Be sure the water heater is turned OFF before draining the heater tank or you can damage that system.]

Watch out: If your well has a limited flow rate or poor recovery rate there is a risk that you may simply run out of water during the flush-out step.

Watch out: if you used a low-odor or "odorless" bleach product to shock the well you may have trouble knowing if you've flushed out all of the bleach product. Leaving bleach in drinking water can be dangerous and of course it could cause some surprises in the laundry too. We recommend using chlorine test strips to check for residual chlorine after flushing bleach out of a well water system. Details are at CHLORINE in WATER, HOW TO TEST FOR
Retest the well water after all the Clorox or chlorine is out of the system and the water has been used for 5-7 days (typical health department guideline) or 7-10 days (my suggestion) after the disinfection.

The longer you wait until the well water retest the more valid will be the results, because you are giving time for a remaining bacterial contaminating colony to reproduce. We elaborate on this point at "When to re-test your well water" below.
Well Chlorination Procedure for Water Filters, Water Softeners, and Water Heaters
Question:
I would like to know when I chlorinate my well should I bypass the water softener and any filter in the line.
Also why does it say to turn on just the cold water? - Jerry Highsmith
Answer: We recommend these added water filter, water softener, and hot water heater details that may be helpful when shocking or chlorinating a well.
Water filters
Take out the water filter cartridge then close up the canister, but do not put it on bypass. Let the chlorinated water run through the canister to sterilize and clean it, then install a new filter after all chlorine-smelling water has been flushed from the system.
Water softeners
Bypass the water softener for the same reason we explain below about water heaters, and with the same exception as below.
Water heaters
Bypass the water heater when chlorinating the well for this reason: if you put chlorine-treated water inside the water heater, because incoming water in the water heater tank keeps mixing with what's already in the tank, it is difficult to flush all of the chlorinated water back out of the water tank without running a very large volume of water through the system.
Watch out: Also heating water that contains a high level of chlorine might produce potentially dangerous chlorine gas coming out of a hot water faucet.
If your water heater piping does not make it easy to bypass the actual water heater while running chlorinated water through both cold and hot water piping, then you might want to just run cold water in the building.
When flushing chlorinated water out of a well, it's fine to run that water through both hot and cold water piping and fixtures if you can bypass your water heater tank itself. That helps sanitize all of the building piping. But if you cannot bypass your water heater, you can have trouble getting all of the chlorinated water out of the water heater tank unless you first run cold water until there is no chlorine or bleach odor, then stop and drain any chlorinated water from the water heater tank.
Exception - When to Chlorinate a Water Softener or Water Heater
You might want to run chlorinated water through a water heater tank or water softener tank if you suspect that those devices have been contaminated, such as by bacteria during area flooding, or in the case of a water heater, by bacteria that can form inside of a hot water tank. In that case, however, it may be easiest to simply drain the heater or softener tank completely, manually, after it has been treated (chlorinated) rather than trying to flush it out by running through the many times its actual water volume that would otherwise be required.
Watch out: be sure your water heater has been turned OFF and has cooled down to at least room temperature before trying to run chlorine through it. Heating water that contains a high level of chlorine might produce potentially dangerous chlorine gas coming out of a hot water faucet.
It won't hurt the water heater or water softener equipment itself for a dilute amount of chlorine in water to remain inside it, (after all this equipment is used in some homes where a chlorine injection system constantly places a small amount of chlorine into the building water supply).
Because chlorine is volatile, eventually it will be dissipated as water is used or left in an open container (for use) in the building. See DRINKING WATER - EMERGENCY PURIFICATION for details.
Watch out: But leaving too much chlorine in any water system can be dangerous: drinking concentrated chlorinated water could be sickening or even fatal, and less seriously, doing laundry with chlorinated water may bleach clothing by accident.
Frequently Asked Questions (FAQs) about how to chlorinate a well or shock a well to sanitize it
Questions and Answers About Shocking a Well
Question: How Long Will It Take for Chlorinated Water in a Shocked Well to Reach the House?
In a well 700ft deep - how long until the chlorine smell will be get to the house? - B.S.
Reply: We Must Calculate How Much Water is in the Well and House Water Pipes, the Pump Rate, the Piping Distance:
A competent onsite inspection by an expert usually finds additional clues that help accurately diagnose a well water problem problem. That said, here is how we figure out how quickly the chlorinated well water should appear in the house:
The answer to your question includes the following factors and the simple calculations we present below.
Provided that you used the proper concentration of bleach or chlorine to get the well water level to contain the proper amount of chlorine (as per the text at WELL CHLORINATION SHOCKING PROCEDURE or per your local health department), the water will definitely smell like "bleach" or "chlorine" at a faucet as soon as well water has run through the well piping, to the building, through building plumbing, and out the mouth of the faucet.
The real answer to your question depends not on the depth of the well (700 feet in your case) so much as the diameter and length of well piping between the well bottom and the water faucet where you are sniffing. We can presume that the chlorine you poured into the well mixes quickly with the water already in the well (the static head), and that the mixing is further agitated if you washed down the well casing sides with chlorinated water as we advise.
A second factor is the water flow rate of your well pump in gallons per minute. For this calculation we will assume your well pump delivers a conservative 10 gallons per minute of water flow through the system piping when the pump is running. (The true answer is more difficult to calculate because when the pump is not running the water pressure in the piping depends on the water pressure tank and is not constant.)
But we can make make some assumptions based on common values to get in the right ballpark of the time needed for chlorine to show up at the tap of a shocked well.
If for simplicity we assume that all of the piping between the well bottom and the faucet has an average diameter of one inch, then the formula for how much water there is in a foot of pipe is the formula for the volume of a cylinder:
The formula for calculating the volume of a cylinder is:
pi * radius2 * height (pi is 3.1416) - [We discuss this calculation in more detail at WATER TANK SIZE & VOLUME.]
In the formula above, the radius (which is half of the pipe diameter) should be squared. That is, divide the diameter in half to obtain the radius, and multiply r x r to obtain r2.
So for a 12" length (one foot), of one-inch inside diameter water pipe the volume of water is (keeping all measurements in inches)
3.1416 x (1/2)2 x 12 = 18.8 cubic inches of water per foot.
We convert cubic inches to gallons by dividing the cubic inches by 231 (a constant) or we can multiply the cubic inches by 0.004329 (another constant).
18.8 / 231 = 0.81385, so 18.8 cubic inches of water is 0.081385 gallons.
So your theoretical one-inch water pipe contains about 0.08 gallons per linear foot.
You didn't say how far the well is from the house nor how many feet of piping are between the house point of water entry and the faucet, so we'll make some assumptions and you can plug in your own numbers.
Assuming 200 feet distance from well bottom to point of entry of water in the home, and another 50 feet of water piping through the home before water gets to the faucet where you've placed your nose [Watch out: don't get chlorinated water in your eye. ] then
250 feet of pipe contains (0.08 gallons per foot x 150) = 20 gallons.
So we have about 20 gallons of water in the 250 feet. Actually your volume will be less because probably piping in your house is smaller in diameter and probably there is less distance of piping between point of water entry in the house and the faucet.
If your well pump is pumping at 10 gallons per minute, it would take about 20 (gallons) / 10 (gallons per minute) = 2 minutes or less for chlorinated water to show up at the faucet [in a simple and perfect world, which it is not.]
It's a little more complicated.
Some of the incoming water from the well may be diverted into the water pressure tank where it is diluted and in that sense "delayed", and if you are running hot water, some of the incoming water is being diverted and run through your hot water tank where it is significantly diluted.
So if you only ran hot water (the worst case) it could take five minutes or even longer for some diluted but still chlorine-smelling water to appear at the hot water faucet. The cold water faucet output should smell like bleach sooner.
Conclusions:
It's reasonable to expect to smell the chlorinated water at a faucet in a typical one family home within 4 to 10 minutes after shocking the well.
If you run the water for 15 or 20 minutes and you still don't smell the bleach, either you need a more careful look at the distance and size of water piping or a closer look at how accurately you calculated the amount of bleach you poured into the well.
Don't forget that when you are running the chlorinated well-shocked water through the building piping and fixtures, you want to run it at every fixture so that everything is being sterilized.
Don't forget to thoroughly flush out the chlorinated water 24 hours later.
CONTACT us with suggestions or comments.
Question/complaint: My well ran out of water during the well-shock and flush-out procedure
you need to WARN people = re water discharge/well shocking. i ran my well out of water and made the situation WORSE. Tell people not to run the water outside only for a half hour or so at a time!!!! NOT until Chlorox smell is gone - can take forever o get rid of Chlorox smell.... well needs to recharge. Now, listening to you folks, I have an even BIGGER problem. - M.P.
Reply: Indeed the well flush-out procedure can disclose another problem with poor well flow rate or poor well recovery rate
Thank you for the note complaining about discovering that your well could run dry during an attempt to flush out the chlorine odor from a bleach-shock of the well. We were of course sorry to read that your well shock process disclosed a second fault - a well with a poor recovery rate.
We have reviewed our well water article on the topic (WELL CHLORINATION SHOCKING PROCEDURE) to be sure that there are warnings about running out of water during well testing or well shocking. In the main article explaining how to shock and flush out a well following a failed bacteria test you will see several WATCH OUT warnings that include discussion about problems that can arise during the bleach flush-out process. Here we'll add some more detailed suggestions that can help address the worry of running out of well water during well shocking and flushing.
Indeed while it has not come up during well shocking this problem has been discovered by building inspectors more than once during a septic loading and dye test to test for septic system failure - as that water test volume is run, typically 250 gallons or so, the inspectors discovered that the well itself was inadequate when the well flow diminished or stopped entirely. It sounds as if you have run into the same problem of a poor or inadequate well flow rate.
Low flow rate wells usually recover but watch out for pump damage
As long as no one makes the mistake of leaving a well pump running when it is dry of water, the system is not damaged, and the well will recover, usually in a few hours; but once discovering that your well has a poor flow rate, indeed you will want to take steps to address the problem, either by adding water storage capacity or by increasing the well yield, or in the worst case, drilling a better well.
Steps to protect from running out of well water during shocking and flushing out a well
Recycle well casing flush-water: One of the steps in shocking a well, using a garden hose connected to the building to use chlorinated water to wash-down the well casing sides during the initial steps in the well shock procedure will reduce the water consumed, but during the flush-out period a low-yield well may still run out.
Empty the water pressure tank (and water heater tank if that was shocked): A second step that may be able to reduce the water wasted trying to flush out the bleach odor from the building water supply after shocking a well (thus also reducing the chances of running out of water) is to completely empty the water pressure tank and the water heater tank, refilling them with fresh water from the well as soon as incoming well water at a close-by tap is low or has no bleach odor.
Install equipment to protect the well pump: A third step to protect a well and pump from "running out of water" is the installation of special low water controls in the well that will recycle water in the pump and reduce or stop well water flowing into the structure should water level in the well drop too low. See WELL PIPING TAIL PIECE for details.
Don't leave water running unattended. On occasion when a well has a limited recovery rate, an inspector, home owner, or water tester may "forget" to keep track of how long water has been run, simply leaving faucets open without watching for a diminished or stopped water flow. Any time you are running water to test or service a building that uses a private pump and well system for its water supply, you should continuously monitor the water running out of one or more fixtures. If you see the water flow rate significantly diminish or stop you should immediately turn off the well pump to protect it from damage. Then try waiting half an hour or more before turning the pump back on. That procedure will also give insight into how quickly a low-flow-rate well will recover.
Increase well yield: There are several approaches to dealing with low-flow wells, including storing more water on site and increasing well yield. See WATER QUANTITY IMPROVEMENT for details.
But in all cases if the well runs "dry" during well flush-out after a well shocking procedure or during a septic loading and dye test, as long as you haven't done something unusual like just leaving water on for hours unattended, you've discovered a double fault if your water well runs dry during well-shock-bleach flushout: contaminated well water and a low yield or low flow-rate well.
Question/Comment: well contaminating bacteria may hide in a slime layer in the draw-down section of the well casing. Attending to water pH is very important when sanitizing a well.
In an earlier response to Mark DanJoeFriedman said (with details added here)::

"Regarding your comment that bacteria hide in the steel well casing, it can be difficult to sanitize a well, but from the well casing, principally if there is actual exfoliating rust inside the well casing - which is not usually the case. Normal surface rust is not a substantive block to disinfectants used in a well. Indeed good well shocking procedure recycles treated sanitizing water from an outdoor hose hook-up to a garden hose (themselves hardly sanitary) used to wash-down the entire well casing interior surface. "
Mark Comments Further:

Actually, one of the best places for bacteria to live is in the static to draw-down area.

I should have also stated that slime-forming bacteria can hide the real nasty stuff (coliform and e-coli). And the slime can inhabit all down the casing, the screens and out in to the aquifer. According to Well folks it can be necessary to brush out a well in order to achieve a good kill on the bacteria.

Again, pH [of the well water] is extremely important! Here, read this (from the great water folks up in Canada) - BC Ministry of Environment, "Water Stewardship Information Series: When Standard Water Well Chlorination Procedures are Ineffective Fact Sheet developed for Well Drillers, Health Authority Staff and others involved in well recovery efforts after a flood"[5] Quoting:
Experience has shown that standard chlorination procedures are not always effective in disinfecting water wells, and well owners can continue to experience unsatisfactory coliform test results following chlorination. There can be several reasons for this:

The groundwater may still be contaminated with flood water or there may be a source of continuing contamination.
The well was infrequently (or never) cleaned prior to the flood, and over time large quantities of mineral scale and biofilm have accumulated in the well. This material can greatly impair attempts to disinfect a well.

It is recommended that a registered water well contractor and/or a registered pump installer be used to carry out the work described in this fact sheet. [5]

If a well owner finds that, following chlorination, they continue to get unsatisfactory coliform test results, they may need to bring in a registered water well driller or registered pump installer to carry out more aggressive cleaning and disinfection of their water well.

To disinfect a water well that has not received regular preventative treatments, it is recommended that the well be thoroughly cleaned using mechanical and chemical procedures and then disinfected using a pH adjusted chlorine solution. [5]
[This article describes the formation of both biofilm and mineral deposits that accumulate inside a water well over time, and argues for using a pH-adjusted chlorine solution to the well to increase the biocidal effectiveness of the disinfectant. - Ed.]
Liquid chlorine or granular chlorine is extremely alkaline, resulting in an increase in pH when mixed with water. As more chlorine is added, the pH rises and the chlorine becomes more oxidative in nature. In a high oxidative state, chlorine can corrode metals, produce chlorine gas, and is slow to kill bacteria. For optimum disinfection it is important to keep the concentration of chlorine below 200 ppm and maintain a fairly neutral pH. [5]
In general, they adjust water in a tank to a pH of 4.5 and THEN add chlorine. I wasn't aware of this procedure until after I mixed up my solution. Now that I have an actual personal experience in this I think that I can comment on it... I mixed up a 200ppm sodium hypochlorite solution (8.25% Clorox) in 275 gallons of pH neutral water (my spring water is nearly dead-on, 6.8 - 7.0 pH). I had ASSUMED, based on all the casual experts comments (in addition to information from various water publications [people that actually should be responsible]), that I shouldn't be too far off pH-wise- WRONG! I'm over 8.4 pH!

If you read the above document you'll find that having a pH value that is much beyond neutral won't be effective as a biocidal. All of this should tell folks why they have difficulties really getting the job done and then have to end up shelling out a lot of money to pay a professional.

I am now trying to adjust the pH down... (don't have a lot of time before I lose the chlorine efficacy). Yes, there IS a reason why the good professional Well folks should earn what they do.
Reply:
Thanks Mark, important details to add both about the algae or bacterial slime that might be present in some well casings, depending on water chemistry, as well as the importance of well water pH.
Ask a Question or Search InspectApedia
Questions & answers or comments about well shocking or well sterilization procedures: how to deal with bacterial contamination in drinking water wells.
Use the search box below to ask a question or to search the InspectApedia.com website.
Ask a Question or Enter Search Terms in the InspectApedia search box just below.
Technical Reviewers & References
Related Topics, found near the top of this page suggest articles closely related to this one.
[1] Drinking Water from Household Wells - PDF, U.S. EPA, Original source last retrieved 2/13/2013, original source: http://www.epa.gov/privatewells/pdfs/household_wells.pdf
[3]Thanks to reader Jerry Highsmith for discussing well shocking procedures where a water filter or water softener are installed - August 2010
[3] "Bacteria in Drinking Water" - "Chlorine," Karen Mancl, water quality specialist, Agricultural Engineering, Ohio State University Extension. Mancl explains factors affecting the effectiveness of chlorine in water as a means to destroy bacteria and other microorganisms. OSU reports as follows:

Chlorine kills bacteria, including disease-causing organisms and the nuisance organism, iron bacteria. However, low levels of chlorine, normally used to disinfect water, are not an effective treatment for giardia cysts. A chlorine level of over 10 mg/1 must be maintained for at least 30 minutes to kill giardia cysts. -- http://ohioline.osu.edu/b795/index.html is the front page of this bulletin.

[5] Canadian BC Ministry of Environment, "Water Stewardship Information Series: When Standard Water Well Chlorination Procedures are Ineffective Fact Sheet developed for Well Drillers, Health Authority Staff and others involved in well recovery efforts after a flood", Agriculture and Agri-Food, Canada, retrieved 4/8/2013 original souirce: http://www.env.gov.bc.ca/wsd/plan_protect_sustain/groundwater/wells/factsheets/PFRA_well_recovery.pdf

[6] Water Wells that last for Generations. Alberta Agriculture, Food and Rural Development; Alberta Environment; Prairie Farm Rehabilitation Administration of Agriculture and Agri-Food Canada
[7] Water Well Management Level 2 Training Module. Prairie Farm Rehabilitation Administration of Agriculture and Agri-Food Canada, Alberta Environment, Alberta Water Well Drilling Association and Alberta Agriculture, Food and Rural Development
[8] Chemical Cleaning, Disinfection and Decontamination of Water Wells. John Schnieders. Published by Johnson Screens Inc. St. Paul, MN

[9] CHLORINE IN DRINKING WATER - Does Chlorine in Drinking Water Harm the Septic Tank? - Septic Tank Cleaning Advice
CHLORINE IN SEPTIC WASTEWATER - Septic Tank Maintenance: Chlorine in Septic Systems - Septic Tank Maintenance Advice
Drinking Water testing, contamination, correction - all topics
Cheating on water tests: Testing Water for Real Estate Transactions - make sure your water test is valid
Drinking Water Contamination and Pollution How to Detect, Test, Correct, and Prevent Well Water Contamination - US EPA - Groundwater
Interpreting Drinking Water Test Results what the results mean and what to do about them
Correcting Unsatisfactory Water what to do, when to do it, treatment alternatives, equipment, filters, etc.
Water Treatment for Contamination, Hardness, Odors, Sediment, Etc: choices of systems, recommendations
Ohio State University article on the concentration of chlorine necessary to act as an effective disinfectant, and the effects of the water's pH and temperature: See http://ohioline.osu.edu/b795/b795_7.html for details.
When and How to Shock or Chlorinate a Well - Procedure for Shocking a Well to (temporarily or maybe longer) "Correct" Bacterial Contamination
Books & Articles on Building & Environmental Inspection, Testing, Diagnosis, & Repair
The Home Reference Book - the Encyclopedia of Homes, Carson Dunlop & Associates, Toronto, Ontario, 25th Ed., 2012, is a bound volume of more than 450 illustrated pages that assist home inspectors and home owners in the inspection and detection of problems on buildings. The text is intended as a reference guide to help building owners operate and maintain their home effectively. Field inspection worksheets are included at the back of the volume. Special Offer: For a 10% discount on any number of copies of the Home Reference Book purchased as a single order. Enter INSPECTAHRB in the order payment page "Promo/Redemption" space. InspectAPedia.com editor Daniel Friedman is a contributing author.

Or choose the The Home Reference eBook for PCs, Macs, Kindle, iPad, iPhone, or Android Smart Phones. Special Offer: For a 5% discount on any number of copies of the Home Reference eBook purchased as a single order. Enter INSPECTAEHRB in the order payment page "Promo/Redemption" space.
Crystal Clear Supply provides portable ceramic water filter purifiers and portable reverse osmosis water treatment equipment - see http://www.crystalclearsupply.com/category_s/7.htm
Handbook of Disinfectants and Antiseptics, Joseph M. Ascenzi (Editor), CRC, 1995, ISBN-10: 0824795245 ISBN-13: 978-0824795245 "The evaluation of chemical germicides predates the golden age of microbiology..." -
This well-focused, up-to-date reference details the current medical uses of antiseptics and disinfectants -- particularly in the control of hospital-acquired infections -- presenting methods for evaluating products to obtain regulatory approval and examining chemical, physical, and microbiological properties as well as the toxicology of the most widely used commercial chemicals.
Potable Aqua® emergency drinking water germicidal tablets are produced by the Wisconsin Pharmacal Co., Jackson WI 53037. 800-558-6614 pharmacalway.com
Principles and Practice of Disinfection, Preservation and Sterilization (Hardcover)
by A. D. Russell (Editor), W. B. Hugo (Editor), G. A. J. Ayliffe (Editor), Blackwell Science, 2004. ISBN-10: 1405101997, ISBN-13: 978-1405101998.
"This superb book is the best of its kind available and one that will undoubtedly be useful, if not essential, to workers in a variety of industries. Thirty-one distinguished specialists deal comprehensively with the subject matter indicated by the title ... The book is produced with care, is very readable with useful selected references at the end of each chapter and an excellent index. It is an essential source book for everyone interested in this field. For pharmacy undergraduates, it will complement the excellent text on pharmaceutical microbiology by two of the present editors."
The Pharmaceutical Journal: "This is an excellent book. It deals comprehensively and authoritatively with its subject with contributions from 31 distinguished specialists. There is a great deal to interest all those involved in hospital infection ... This book is exceptionally well laid out. There are well chosen references for each chapter and an excellent index. It is highly recommended." The Journal of Hospital Infection.: "The editors and authors must be congratulated for this excellent treatise on nonantibiotic antimicrobial measures in hospitals and industry ... The publication is highly recommended to hospital and research personnel, especially to clinical microbiologists, infection-control and environmental-safety specialists, pharmacists, and dieticians."
New England Journal of Medicine: City Hospital, Birmingham, UK. Covers the many methods of the elimination or prevention of microbial growth. Provides an historical overview, descriptions of the types of antimicrobial agents, factors affecting efficacy, evaluation methods, and types of resistance. Features sterilization methods, and more. Previous edition: c1999. DNLM: Sterilization--methods.
...