How to Repair Slate Roofs
SLATE ROOF REPAIRS - CONTENTS: How to repair slate roofs - a guide for roofing contractors or homeowners. How to replace individual roofing slates without having to dismantle the slate roof. Comparing methods to secure individual roofing slates during slate roof repairs.
POST a QUESTION or READ FAQs about methods for removing and replacing broken or damaged roofing slates using either copper tabs or slate hooks to secure the new slate
InspectAPedia tolerates no conflicts of interest. We have no relationship with advertisers, products, or services discussed at this website.
How to repair a leaky slate roof: how to replace missing, cracked, or damaged roofing slates. This article explains how to remove and replace individual slates during repairs to a leaky or damaged slate roof. By using copper tabs or slate hooks it is possible to replace just a single roofing slate where needed.
We describe methods for repairing all sorts of leaks or other problems in slate roofs, and we include a photo guide to repairs in slate roofs. Photographs illustrate how to replace or patch broken, missing, or cracked roofing slates. This slate roofing repair photo library shows various kinds of roofing slate repairs for common defects.
Green links show where you are. © Copyright 2017 InspectApedia.com, All Rights Reserved.
How to Repair Slate Roofs - individual roofing slate replacement
This article series describes describing procedures for evaluating the condition of slate roofing and for repairing leaky or damaged slate roofs. How to inspect, identify defects, and estimate remaining life of slate roofs are addressed.
The abandonment of good slate roofs which should have been repaired is a financial shame and the destruction of a valued asset. At the same time, careless optimism about a bad slate roof which is at the end of its life risks an angry inspection client. This article reviews some slate roof repair tips. We also provide slate sources and where to buy slate roofing materials and slate roofing tools and products.
This text deals with repairs to damaged slate roofs as compared with complete new slate roof installation. A key difficulty is presented by the fact that unlike asphalt shingles, slates are rigid. The repair person cannot easily "lift" adjacent slates to install the fastener for the new replacement slate.
How to Replace Damaged or Lost Roofing Slates using the Copper Tab Method
A proper slate repair involves several steps:
[Click to enlarge any image]
Cut the concealed nails, holding the damaged slate in place. There are usually two nails.
acquire the properly sized replacement slate. If the exposure is ten inches the slates should be twenty-three inches long. A proper slate application uses slates which are twice the exposure plus a three-inch allowance for head lap.
slide the slate into place, use the gap between the sides of the above-course of slates to mark the location of a single holding nail.
the nail hole is punched into the slate from the back, so that the ragged part of the hole is on the front or face of the slate. This will allow the nail to sit flush in the hole. It's a crude form of counter-sinking.
nail the replacement slate into place with a copper nail. Sometimes the edges of the nail head have to be cut off to pass between the sides of the two slates in the covering upper course.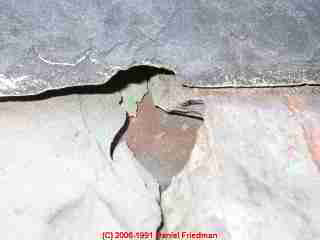 Cover the new nail with a copper "bib" which is slid up under the covering or overlaying slates to cover the nail hole and to extend up below the next upper covering slate whose bottom edge covers the upper portion of the gap through which the nail was placed. the copper bib should have its edges burred, or should be bent slightly so that it will not slide out.

The top of the bib should extend well above the nail and under the slate above. Some roofers slide the bib up under all three of the slates above the repair slate making the copper totally hidden.

The bib is bent slightly arched and burred to stay in place.
How to Replace Damaged or Lost Roofing Slates using the Slate Hook Method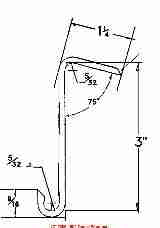 Another method of replacing roofing slates involves Using Slate Hooks for Inserting Replacement Roofing Slates without disturbing the surrounding slates.
This alternative slate roof fix procedure uses 3" stainless steel slate hooks distributed by Vermont Structural Slate (and possibly other companies).
Stainless steel slate hooks offer a more reliable alternative than copper strips for holding replacement slates in place.
The fastener end of the hook is nailed roughly 3" up from what will be the lower edge of the replacement slate.
The slate is slid up over the hook and seated. The illustrations below depict this easy two-step roofing slate replacement procedure.
Slate hooks are available from John Stortz & Son Inc and other suppliers.[5]




Slate hook installation-1, the hook is driven in place where the missing slate is to be installed - nailed into the side butt joint of the lower slate course





Slate hook installation-2, the new slate slides over the hook, is seated, and the hook, pops up into place to hold the new slate securely
Photo Guide to Slate Roof Repairs
Replacing Lost Roofing Slates - How to Secure the New Slate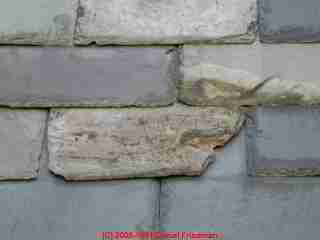 Lost slate replacement, re-using a slate salvaged from elsewhere is a reasonable repair, but if going to the trouble of replacing a roofing slate, let's use a replacement slate that itself is in good condition.
Note the exposed nail hole which would have been covered by the next course in the original placement of this slate used for a repair. It is certainly expedient to keep old, good-condition roofing slates left over from a prior repair or from another source, using them to replace broken or lost slates on an existing roof.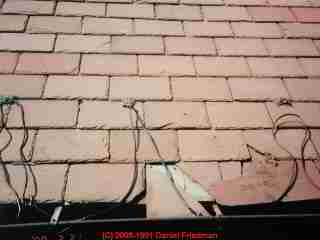 Red slate roof, generally excellent condition is shown in our photo at left.
But with broken damaged slates at eaves, possibly during ice damming or installation of heat tapes. Heat tapes at a roof edge are themselves evidence that the building has experienced a problem with ice dams and leaks at the eaves.
Red roofing slates like this, if observed in the Eastern half of North America, probably came from the NY/VT Granville slate quarry.
Repair of Holes & Nail Pops in Slate Roofs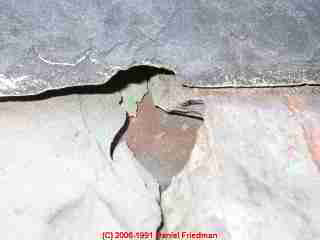 Slate roof hole repair, using copper slid up below perforated slates is illustrated in our photo at left. Copper is a durable repair metal that can provide a long term repair for problems like this one. The slate in the center of the photo is broken by both a hole and a crack.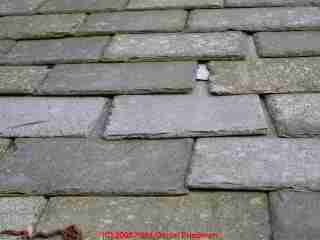 Repair: Slate repair with aluminum, on a slate roof with a coating of lichens
A simple piece of flat aluminum flashing was pushed up under the slates to cover a hole3 observed by the roof Inspector/repairman. Usually simple friction will hold this aluminum (or copper) repair plate in place for decades. Or you can put a slight Vee-bend in the metal flashing before sliding it in place if necessary.
Watch out: we're not sure how durable this particular repair will be because the poor alignment at the lower end of the slate corners between the slates at left and right over the aluminum roof patch suggest that the slate on the right may be sliding down the roof. If it's fastener has corroded away or been lost, that slate will continue to move down until a leaky opening is exposed in the roof. Keep an eye on conditions like this.
Examples of Poor Repair Work on Slate Roofs - Temporary "Fixes" to Slates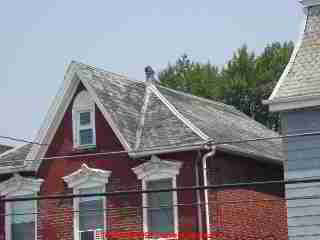 Slate roof coated with roof cement, mostly washed-off. While roof cement or mastic is not a long-term durable repair nor even a proper one for slate roofs, we'd prefer this stopgap measure to seeing someone abandon and destroy a salvageable slate roof.
The complete coating of a slate roof with roof cement or other sealants is an extreme measure and unlikely to have a long life however.
Slate Roofing Articles
...
Continue reading at SLATE ROOF LEAKS, TEMPORARY REPAIR or select a topic from closely-related articles below, or see our complete INDEX to RELATED ARTICLES below.
Suggested citation for this web page
SLATE ROOF REPAIRS at InspectApedia.com - online encyclopedia of building & environmental inspection, testing, diagnosis, repair, & problem prevention advice.
Or use the SEARCH BOX found below to Ask a Question or Search InspectApedia
...
Frequently Asked Questions (FAQs)
Reader comment: (June 24, 2014) Apexroof said: A slate roof is not only a very important part of the safety, security but also a opportunity to improve your home or office's look .
...
Ask a Question or Search InspectApedia
Questions & answers or comments about methods for removing and replacing broken or damaged roofing slates using either copper tabs or slate hooks to secure the new slate
Use the "Click to Show or Hide FAQs" link just above to see recently-posted questions, comments, replies, try the search box just below, or if you prefer, post a question or comment in the Comments box below and we will respond promptly.
Search the InspectApedia website
Technical Reviewers & References
Click to Show or Hide Citations & References
[1]
Slate Roofs, National Slate Association, 1926, reprinted 1977 by Vermont Structural Slate Co., Inc., Fair Haven, VT 05743, 802-265-4933/34. (We recommend this book if you can find it. It has gone in and out of print on occasion.)
[2] The Slate Roof Bible, Joseph Jenkins, www.jenkinsslate.com, 143 Forest Lane, PO Box 607, Grove City, PA 16127 - 866-641-7141 (We recommend this book).
[3] Slate Roofs , Steven Trapasso, presentation to NY Metro ASHI, Inc. chapter seminar, November 1990.
[4] The Old-House Journal , Special Roof Issue , April 1983, The Old-House Journal, PO Box 50214, Boulder, CO 80321-0214
[5] John Stortz & Son Inc, 210 Vine St., Philadelphia, PA 19106. Website: www.stortz.com, Tel: 888-847-3456 or 215-627-3855. Stortz has been producing and selling hand tools since 1953. The company's slate roofing tools include slate cutters, hammers,slate rippers, slaters stakes, slate hooks (see our article on SLATE ROOF REPAIRS), a power slate cutter, and other tools.
[6] A HREF="http://www.nationalslatecenter.org/">National Slate Technology Center courses for architects, builders, etc.
Handbook of Building Crafts in Conservation, Jack Bower, Ed., Van Nostrand Reinhold Company, NY 1981 ISBN 0-442-2135-3 Library of Congress Catalog Card Nr. 81-50643.
[7] Slate Roofing Contractors Association of North America
[8] National Slate Association includes list of slate testing laboratories
If less than 25% of the slates on a roof are damaged or sliding down from worn out nails, slate repairs are in order. Luckily replacement slates are available from a variety of slate quarries, slate suppliers, and slate roofing companies. Slate "look alike" products are also available using cementious materials. If the building owner cannot afford to repair a slate roof where most slates are intact, holding action slate roof repairs should be followed, such as simply sliding metal flashing up under broken or missing slates on the roof.
[9] Vermont Structural Slate Co., PO Box 98 Fair Haven, VT 05743 802/265-4933 802/265-3865 FAX (Green, purple, unfading red, and Spanish imported black.)
[10] Rising & Nelson Slate Co., West Pawlet, VT 05775; 802/645-0150 (all VT colors plus Buckingham Gray from VA and blacks from PA.)
[11] vergreen Slate Co., 68 Potter Ave., Granville, NY 12832; 518/642-2530. Vermont slates in 10 colors.
[12] Hilltop Slate Co., Middle Granville, NY 12849; 518/642-2270 (all VT colors plus imported Spanish Black)
Structural Slate Co., Pen Argyl, PA 18072; 215/863-4145 (PA black)
[13] Buckingham Slate Co., 4110 Fitzhugh Ave., Richmond, VA 23230; 805/355-4351 (VA Buckingham Grey)
In addition to these slate sources there are several slate look-alike substitutes. While the application techniques, flashing and nailing concerns are similar, the wear characteristics of these materials may be quite different and were not evaluated for this paper. This paper is not an endorsement, nor a critique of any of these materials.
[14] Eternit, Inc., rigid fiber reinforced cement roofing slates (and board products. Village Center Drive, Reading, PA 19607 800/233-3155
BritSlateTM are made from 100% quarried slate particles combined with an adhesive (epoxy?) and no fillers with no questionable side effects according to the manufacturer. According to the manufacturer, they can be cut, drilled, etc. and come with a 50-year guarantee. They're less prone to breakage than slate, fireproof, and do not absorb water (like natural slate), and do not encourage organic growth (moss and lichens) because they are not porous. BritSlate North America, Inc., 647 West Boylston St., Worcester, MA 01606 508/852-4888 508/852-7224 FAX 2/90.
[15] Reinforced-cement shingles which "look like slate but are lighter and one-third the cost" are available from Atlas International Building Products, 5600 Hochelaga St., Montreal, Quebec, Canada H1N 1W1. [$180/square loose or $400./sq. installed, 30-year guarantee.]
[16] Supra-Slate "looks like slate and is manufactured in colors of real quarry slate." Tegusol is a double interlocking clay roof tile. Available from: Supradur Manufacturing Corporation, PO Box 908, Rye, NY 10580 800/223-1948 or 914/967-8230. or 122 East 42nd St., NY, NY 10168 212/697-1160
Lifetile(R) Boral Concrete Products, Inc., produces high density extruded concrete roofing tiles meeting Class "A" requirements. Dallas, TX 214/544-2227
How to Inspect & Repair Slate Roofs a detailed article about evaluating the condition of slate roofing and repairing worn or damaged slate roofs.
Slate Roof Photo Library photographs of colors, types, patterns of slate roofs, slate roof wear, slate roof conditions.
Slate References page from the ASHI Technical Journal
Slate Sources, Repairs page from the ASHI Technical Journal
Inspecting and Evaluating Slate Roofs Hudson Valley ASHI seminar content
Choosing a Roofing Contractor How to find and select a roofing contractor - (thanks to Jessie Schrader)
Slate Roofs, National Slate Association, 1926, reprinted 1977 by Vermont Structural Slate Co., Inc., Fair Haven, VT 05743, 802-265-4933/34. (We recommend this book if you can find it. It has gone in and out of print on occasion.)
The Slate Roof Bible, Joseph Jenkins, www.jenkinsslate.com, 143 Forest Lane, PO Box 607, Grove City, PA 16127 - 866-641-7141 (We recommend this book).
Slate Roofs , Steven Trapasso, presentation to NY Metro ASHI, Inc. chapter seminar, November 1990.
The Old-House Journal , Special Roof Issue , April 1983, The Old-House Journal, PO Box 50214, Boulder, CO 80321-0214
National Slate Technology Center courses for architects, builders, etc.
Slate Roofing Contractors Association of North America
National Slate Association includes list of slate testing laboratories
Building Pathology, Deterioration, Diagnostics, and Intervention, Samuel Y. Harris, P.E., AIA, Esq., ISBN 0-471-33172-4, John Wiley & Sons, 2001 [General building science-DF] ISBN-10: 0471331724 ISBN-13: 978-0471331728
Building Pathology: Principles and Practice, David Watt, Wiley-Blackwell; 2 edition (March 7, 2008) ISBN-10: 1405161035 ISBN-13: 978-1405161039
Handbook of Building Crafts in Conservation, Jack Bower, Ed., Van Nostrand Reinhold Company, NY 1981 ISBN 0-442-2135-3 Library of Congress Catalog Card Nr. 81-50643.
Historic Preservation Technology: A Primer, Robert A. Young, Wiley (March 21, 2008) ISBN-10: 0471788368 ISBN-13: 978-0471788362
Historic Slate Roofs : With How-to Info and Specifications, Tina Skinner (Ed), Schiffer Publishing, 2008, ISBN-10: 0764330012 , ISBN-13: 978-0764330018
Problems in Roofing Design, B. Harrison McCampbell, Butterworth Heineman, 1991 ISBN 0-7506-9162-X (available used)
Roofing The Right Way, Steven Bolt, McGraw-Hill Professional; 3rd Ed (1996), ISBN-10: 0070066507, ISBN-13: 978-0070066502
Slate Roofs, National Slate Association, 1926, reprinted 1977 by Vermont Structural Slate Co., Inc., Fair Haven, VT 05743, 802-265-4933/34. (We recommend this book if you can find it. It has gone in and out of print on occasion.)
Roof Tiling & Slating, a Practical Guide, Kevin Taylor, Crowood Press (2008), ISBN 978-1847970237,
If you have never fixed a roof tile or slate before but have wondered how to go about repairing or replacing them, then this is the book for you. Many of the technical books about roof tiling and slating are rather vague and conveniently ignore some of the trickier problems and how they can be resolved. In Roof Tiling and Slating, the author rejects this cautious approach. Kevin Taylor uses both his extensive knowledge of the trade and his ability to explain the subject in easily understandable terms, to demonstrate how to carry out the work safely to a high standard, using tried and tested methods. 
This clay roof tile guide considers the various types of tiles, slates, and roofing materials on the market as well as their uses, how to estimate the required quantities, and where to buy them. It also discusses how to check and assess a roof and how to identify and rectify problems; describes how to efficiently "set out" roofs from small, simple jobs to larger and more complicated projects, thus making the work quicker, simpler, and neater; examines the correct and the incorrect ways of installing background materials such as underlay, battens, and valley liners; explains how to install interlocking tiles, plain tiles, and artificial and natural slates; covers both modern and traditional methods and skills, including cutting materials by hand without the assistance of power tools; and provides invaluable guidance on repairs and maintenance issues, and highlights common mistakes and how they can be avoided. The author, Kevin Taylor, works for the National Federation of Roofing Contractors as a technical manager presenting technical advice and providing education and training for young roofers.
The Slate Roof Bible, Joseph Jenkins, www.jenkinsslate.com, 143 Forest Lane, PO Box 607, Grove City, PA 16127 - 866-641-7141 (We recommend this book).
Slate Roofing in Canada (Studi4es in archaeology, architecture, and history),
Smart Guide: Roofing: Step-by-Step Projects, Creative Homeowner (Ed), 2004, ISBN-10: 1580111491, ISBN-13: 978-1580111492
Books & Articles on Building & Environmental Inspection, Testing, Diagnosis, & Repair