Guide to Stains on Building Roof Surfaces, Cause, Cure, Prevention
Home page for diagnosing, removing, preventing stains on roofs
InspectAPedia tolerates no conflicts of interest. We have no relationship with advertisers, products, or services discussed at this website.
Roof discoloration & stain diagnosis, cure, prevention:
Stains on roofs have a variety of causes, but noticing the stain color, its location, and the relation of he roof stain color and location to roof components such as chimneys, flashings, and the stain relation to roof conditions (pitch, shading, nearby trees, debris, roofing materials) will usually lead to a quick reliable diagnosis of the cause of the staining.
Knowing the cause guides us to knowing the cure for unsightly black, brown, green, red, rust, or other colored stains on building roofs. This document tells readers how to identify & explain the most-common causes of black, brown, red, gray, green, or white stains appearing on roof shingles and on other building surfaces.
Diagnostic Guide to Types of Stains and Staining Materials Found on Roof Surfaces. Causes, cure, and prevention of black stains on roof shingles. How to trim trees and shrubs away from a building roof or walls.
We also provide a MASTER INDEX to this topic, or you can try the page top or bottom SEARCH BOX as a quick way to find information you need.
How to Distinguish Roof Stain by Type of Cause, Color, Source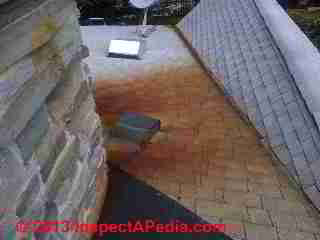 There are many sources of roof staining and they vary in significance, from cosmetic to harmful to the roof. Here we give an index of all sorts of roof stains and what causes them.
Dark black or brown roof shingle stains are often caused by black algae, bleed-through or extractive bleeding of asphalt, dirt, soot, or organic debris. But there are other roof stain colors and causes. The remedies for and means of preventing stains on roof shingles are discussed as well.
[Click to enlarge any image]
The red stains on the roof shown at left are discussed and diagnosed
at RUST STAINS on ROOFS.
In the photo shown at page top, the black stains on the lower roofs are bleed-through or extractive bleeding. The upper roof, shaded by the large tree in the page top photo, was also moss covered.
Notice the streak of "clean" roof shingles that lack the stains on the [page top photo] upper roof near its left edge? Those shingles were installed down-roof from an aluminum attic vent fan cover. The aluminum salts washing off of the fan cover prevented moss, lichens, and algae from growing on those shingles.
As stated in Best Practices Guide to Residential Construction:
Black streaks on shingles caused by algae or fungal growth used to be limited to warm, humid climates, but now this can be seen on houses as far north as Canada. Some experts attribute the spread to the increased use of crushed limestone as a filler material in asphalt shingles.
Limestone is economical and makes a durable shingle, but the calcium carbonate in the limestone supports algae growth. In algae-resistant (AR) shingles, zinc or copper granules are mixed in with the colored stone topping. When the shingles get wet, the zinc or copper is released, inhibiting algae growth.
Warranties for algae resistance are usually for less than 10 years since the protection ends when the mineral washes away. Some shingles have longer lasting protection than others due to a higher percentage of AR granules.
For distinguishing between an algae growing on shingles and a fungus growing on roof shingles, building or environmentally-caused roof staining, or other causes, here are several approaches:
Visual Roof Inspection & Roof Stain Area Context Help Diagnose Cause of Roof Stains
Proximate cause roof shingle stains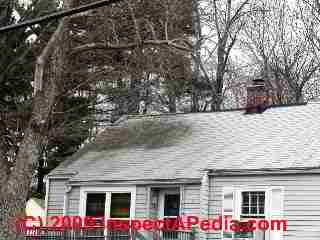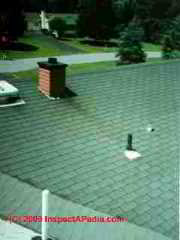 If you see a roof stain that develops only in limited areas of a single roof slope look for a relation between the stained area and a proximate cause such as a sooty chimney top or a tree that shades that section of the roof or drops organic debris onto it.
These include tree shade caused moss, tree-shade caused lichens growth on a roof, or dark stains on roof coverings caused by organic debris such as leaves and sticks that fall onto and collect on the roof surface (photo at left). Our photo at above right shows brown stains below a metal roof chimney.
Probably more important, this chimney has lost its cap, risking damage to and unsafe conditions at the building heating equipment.
See Debris Staining (trees),
see ALGAE STAINS on ROOFS (algae)
and Soot Staining(chimneys).
Roofing material defect / environmentally-caused roof shingle stains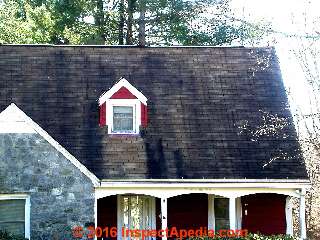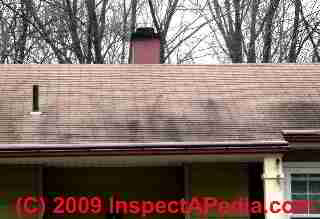 Our stained asphalt roof shingle photo at above lefty show black extractive bleeding stains on roof shingles colored other than white. Even on darker shingles these effects may occur.
See Black Bleed-Through or Extractive Bleeding Black Stains on Asphalt Shingles. Click to enlarge our stained shingles photo at above left and you may also notice vertical cracks running up through shingles to the left of the dormer.
This roof may also have a defective roof product causing splitting shingles. We're not certain about the cause of the staining at above right. It is probably extractive bleeding but a second candidate might be roof algae. We need a closer look.
See CRACKS in FIBERGLASS SHINGLES
If the stain pattern on a roof surface occurs across the entire field of the roof and independent of proximate causes like chimneys or trees, it is more likely due either to the roofing material itself (possibly extractive bleeding), the overall environment (downwind from a chemical plant or incinerator or factory), or due to the slope' orientation (North slope, cooler, East or West roof slope -more sunlight).
See ASPHALT SHINGLE LIFE / WEAR FACTORS for a discussion of sunlight effect on roof life.
While we have not confirmed its presence, some black stains on roofs and roof gutters might be due to black molds or sooty molds, for which the USDA has published
HOW TO RECOGNIZE & CONTROL SOOTY MOLDS.
Black mold growth on leaves, on roof debris that has fallen from a tree overhead, or on an aluminum roof gutter, is not a predictor that any of the species discussed in the USDA article will appear as black "sooty mold" growth on a roof shingle.
The chemistry of roof shingles, their granule coverings, and substrates is quite different from other organic substances that are home to many molds. Further, many newer shingle products include chemicals to retard black algae growth that may also retard mold growth.
Specific mold genera/species like to grow on particular surfaces - it's their food, and while some molds are more choosy than others (for example mildews grow only on living plants), you'll need to look carefully at a roof and the conditions around it (such as trees, and areas of sun or shade) and perhaps even sample the black debris to determine if it is mold and if so what is its species.
The roof cleaning methods to remove black algae will probably work well for black mold growth on a roof as well.
Roofing material defect / installation / structurally-caused roof shingle stains
If you see roof staining or defects that occur on all roof slopes regardless of slope orientation or presence/absence of proximate causes (chimneys, trees) then the condition may be due to roofing material, its installation, or the building itself (inadequate under roof venting).
Forensic sampling of Roof Stain Material
A simple collection of the stained roof surface material using clear adhesive tape followed by a laboratory analysis by an experienced microscopist is conclusive. We don't recommend lab sampling of shingle stains in most cases but if you want to sample a stain material for analysis in our forensic laboratory, instructions are
at
Six Easy Steps to Get and Mail a Mold Test Kit. Don't bother worrying about mildew on your roof. Mildew is an obligate parasite which grows only on living plants. Unless your roof is covered with grapes it is not likely to have much mildew there.
Also see TEST LABS - ROOF SHINGLE for chemical and durability tests on roofing materials.
How to trim trees and shrubs away from a building roof or walls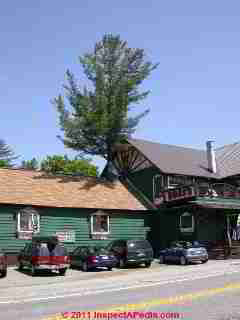 While most home inspectors will agree that we ought to keep shrubs at least 24" off of building walls, and that trees within five feet of a building wall risk damaging the structure by root pressure or impact, we don't think that there is an arbitrary correct distance for trimming trees back around a roof.
Our photo (left) shows the dramatic measures that a building owner followed to avoid removing a tree that was really too close to the building - in this case in Tupper Lake, NY.
For tree trimming advice, it is more useful to explain the objects of trimming trees away from a building so that the homeowner or maintenance worker can determine what is needed to meet those objectives at a particular site.
Here are some objectives to meet when trimming trees that may be close to a building:
Remove or trim large or tall sick trees: We don't want a big tree in poor health to fall or be blown onto the building, say in a storm, so it's important to cut off dead branches entirely and to have an tree expert assess the health of large trees near a building.



Watch out

: some "tree experts" just love to cut everything down.

Consult experienced tree service companies, or an arborist - a real tree expert who knows not only trimming procedures but how to assess tree health. Also trees growing within five feet of a building are more likely to send out roots that can damage the structure - with the risk varying by tree species.
Remove dead branches: We don't want tree branches falling onto a roof where they may cause damage and leaks - see (1) above.
Prevent on-roof debris accumulation: We don't want tree leaves and debris accumulating on a roof because of both cosmetic staining and long term wear and leaks below the debris.
Reduce roof gutter clogging: We sometimes also trim back branches whose pine needles or leaves are falling into and rapidly clogging gutters. So the amount of trimming and safe distance depend on the home, roof slope, roof drainage details, and the height and health and distance of trees near the building.
Reduce moss, algae, and perhaps fungal growth on some roof surfaces by reducing shade on problem areas.
Remove vines from chimneys and from building walls - see VINES & SHRUBS on BUILDING WALLS, CHIMNEYS
Watch out: you should hesitate to remove beautiful, large, old trees at a property. Consult with a tree expert and think twice before drastic cutting or removal of trees.
Below I illustrate cutting away the branches of evergreen trees that were rubbing both the underside of the soffit and the roof surface of this home in Two Harbors Minnesota.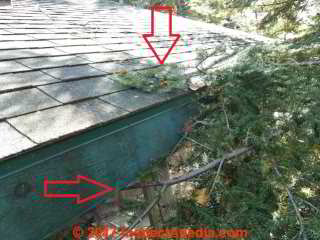 In my photo above you can see the branches in contact with the asphalt shingle surface. Even branches that are a foot or two above the roof, when weighted by snow, will rub on the roof surface.
Below: as well as rubbing on the underside of the soffit - an engraved invitation to squirrels or other animals to invade the roof cavity by providing them an easy highway into the building.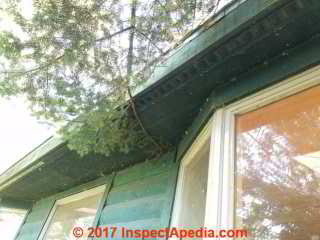 In my third tree trimming photo below you'll see that we cut away branches that were too close to the roof surface as well as too close to the soffit.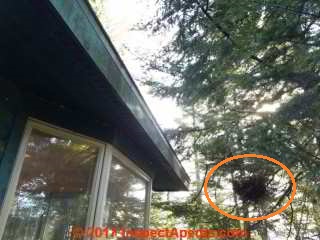 I cut surrounding tree limbs back far enough that when swaying in the wind the tree will still not reach nor rub against the building.
Notice that trimming away branches left a squirrel's nest: good evidence that branches were providing a welcome passage into the soffit of this home. (Not that northern Minnesota squirrels can't jump, but at least let's not leave the door open for them.)
For the diagnosis and cure of other building stains, see STAIN DIAGNOSIS on BUILDING EXTERIORS

and STAIN DIAGNOSIS on BUILDING INTERIORS.
For roofing material testing services and shingle testing see TEST LABS - ROOF SHINGLE.
As we discuss at Power Washing Roofs we do not recommend power-washing asbestos-cement nor any other roofing. See Black Stain Removal & Prevention for advice on diagnosing, cleaning, and preventing stains on roofing.
Also see ALGAE, FUNGUS, LICHENS, MOSS on SHINGLES where we describe not only moss and lichens but black fungal stains on asphalt shingles and other roof types.
Online Guide to Types of Stains on Building Roofs, Surfaces, Walls
In the following guide we list types of stains by stain color & appearance, by building location or material, and by stain cause. We distinguish among the following stuff that may stain or be found growing building roofs, walls, or other surfaces, with extra focus on asphalt shingle roofs as well as other roofing materials such as wood shingles, wood shakes, roll roofing, and even slate or tile roofs.
Some of these types of roof stains or discoloration are only cosmetic in nature, while others may indicate growths that are likely to reduce the roof covering life. A more detailed, illustrated version of the list below is given
at STAIN DIAGNOSIS on BUILDING EXTERIORS.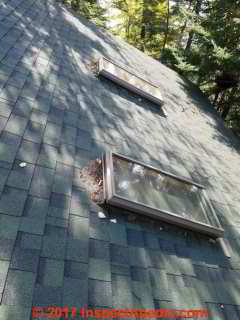 Extractive bleeding stains on asphalt roofs - see EXTRACTIVE BLEEDING on SHINGLES and

see Roofing material defect, and

see Proximate cause roof shingle stains (types of roof stain by color, location, probable cause)
Green roof stains on roof shingles, clay tiles, cement tiles, and asbestos cement roof shingles or newer fiber cement roof shingles are often caused by algae. For details
see ALGAE STAINS ON ASPHALT ROOF SHINGLES.

Moss on roofs is also often green and should be unmistakable in appearance.
See ALGAE, FUNGUS, LICHENS, MOSS on SHINGLES.
Lichens growing on building surfaces - Lichens are not the same growths as moss or algae, and are difficult to remove without damaging the roof surface.
See LICHENS on STONE SURFACES, and also

see Lichens on Roofs for details about how lichens can cause roof damage.

See Methods for Cleaning Stone Surfaces

and ALGAE, FUNGUS, LICHENS, MOSS on SHINGLES for a guide to preventing lichen growth and stains.

Also see ALGAE, FUNGUS, LICHENS, MOSS COMPARED for an explanation of the difference among these.
Mold or fungus growing on roof surfaces or on other building surfaces -
See ALGAE STAINS ON ASPHALT ROOF SHINGLES.

See MOLD in BUILDINGS for a guide to looking for mold contamination in or on buildings, and

see WHAT MOLD LOOKS LIKE for a guide to just what mold looks like on building surfaces.

Be sure also to see Stuff that is Mistaken for Mold to avoid becoming excited about harmless substances that people think are toxic mold. If you know your building has a mold problem,

see ACTION GUIDE - WHAT TO DO ABOUT INDOOR MOLD.

Also see the USDA recommendations at How to Recognize & Control Sooty Molds.
Moss on roofs and other building surfaces:
see ALGAE, FUNGUS, LICHENS, MOSS on SHINGLES,

and Green Stains on Stone. Green or other colored mosses are a bit easier to remove than lichens on roofing surfaces, but both can carry away mineral granules and damage the roof surface. Moss tends to hold more water and moisture on the roof surface. So in our opinion moss is more likely to damage a roof surface than lichens or algae.

Also see ALGAE, FUNGUS, LICHENS, MOSS COMPARED.
Red or Rust Stains on building chimneys, roofs, walls & swarf stains on metal roofs: These red, brown or even black roof stains are often caused by corrosion of on-rooof or above roof metal components but may also be the result of improper combustion of wood, coal, or oil fired, possibly also gas fired heating appliances vented above the roof.

Rust stains on metal roofs, including particularly steel roofs, may be occur at nicks or gouges in the protective coating or they may be swarf stains caused by leaving the products of roof cutting (shards, shanks, nails, rivets, or any discarded steel object) on the roof surface.

Metal roof stains also may be caused by walking on roof surfaces with rough-soled shoes or walking on debris left on the roof surface during or after installation.

Because Swarf Staining is unfamiliar to many homeownes we include these excerpts from the New Zealand Steel Installers Guide:

Swarf is the term given to the steel debris arising from cutting or piercing operations when using friction saws, drills etc., on steel roofing and cladding products.

The use of abrasive discs is not recommended.

Whilst comprising mostly fine steel particles, in this context swarf may also be taken to include any other discarded steel objects such as rivet shanks, nails, screws and nuts, which may come into contact with coated products; ie: COLORSTEEL® prepainted steel, ZINCALUME® coated steel and galvanised steel.

Swarf particles, if left on the surface, will corrode and cause rust stains which will detract from the finished appearance of a project.

These stains are often mistaken for early deterioration of the roofing and cladding itself. Prevention of swarf staining is the responsibility of the installer and it is strongly suggested that the recommendations contained in this brochure be followed.
...
Fresh swarf stains are characterised by small red-brown coloured areas with a central dark spot (the remains of the steel particles). The surface will feel like sandpaper, and the particle may be lifted with a fingernail. An old swarf stain will appear as a localised red-brown stain, the steel particle having corroded away, and the surface will be smoother.
...
The effect of swarf staining itself on COLORSTEEL® prepainted steel products, is generally aesthetic and may not be detrimental to the performance of the product. The product life will, however, be severely affected where attached swarf particles have penetrated the prefinished film and are in contact with the protective metallic coating, although this only occurs in severe cases.
(New Zealand Steel Installers Guide, NZ Steel Co. 2005) - see REFERENCES to obtain a copy of this very helpful document.

See RUST STAINING - Red or Brown Rust Stains (on shingles) discussing rust stains on asphalt roof surfaces.


Soot or Creosote black or brown stains on roof surfaces near or below chimneys - see SOOT STAINING - Black Soot Stains on Roof Shingles Around Chimneys and

see Proximate cause roof shingle stains
Stains on stone or masonry surfaces - see STONE SURFACE CLEANING METHODS for cause, cure, and prevention
Swarf stains on metal roofs - see Red or Rust Stains discussed above in this article.
Tree-caused stains on roofs - see Proximate cause roof shingle stains
White stains on roof surfaces may be from wash-down of pigments in paint on surfaces above the roof such as a gable end or dormer wall; white or less-black roof surfaces may also be found below copper or aluminum flashing whose salts run down the roof surface in wet weather, preventing algae or moss growth and leaving a white area on an otherwise stained roof surface.

Details are at WHITE STAINS on ROOFS.

White stains on roofs may also be a calcium salt or similar mineral deposit left by roof-mounted evaporative coolers or swamp coolers that drain or leak onto the roof surface.
See EVAPORATIVE COOLING SYSTEMS.

Our article
at ALGAE, FUNGUS, LICHENS, MOSS on SHINGLES includes a photograph of this condition on a wood shingle roof.
Roof Stain Research
Bretz, Sarah, Hashem Akbari, and Arthur Rosenfeld. "Practical issues for using solar-reflective materials to mitigate urban heat islands." Atmospheric environment 32, no. 1 (1998): 95-101.
Abstract:
Solar-reflective or high-albedo, alternatives to traditionally absorptive urban surfaces such as rooftops and roadways can reduce cooling energy use and improve urban air quality at almost no cost.

This paper presents information to support programs that mitigate urban heat islands with solar-reflective surfaces: estimates of the achievable increase in albedo for a variety of surfaces, issues related to the selection of materials and costs and benefits of using them.

As an example, we present data for Sacramento, California. In Sacramento, we estimate that 20% of the 96 square mile area is dark roofing and 10% is dark pavement. Based on the change in albedo that is achievable for these surfaces, the overall albedo of Sacramento could be increased by 18%, a change that would produce significant energy savings and increase comfort within the city.

Roofing market data indicate which roofing materials should be targeted for incentive programs. In 1995, asphalt shingle was used for over 65% of residential roofing area in the U.S. and 6% of commercial. Built-up roofing was used for about 5% of residential roofing and about 30% of commercial roofing. Single-ply membranes covered about 9% of the residential roofing area and over 30% of the commercial area.

White, solar-reflective alternatives are presently available for these roofing materials but a low-first-cost, solar-reflective alternative to asphalt shingles is needed to capture the sloped-roof market.

Since incoming solar radiation has a large non-visible component, solar-reflective materials can also be produced in a variety of colors.
Cheng, Meng-Dawn, William Miller, Joshua New, and Paul Berdahl. "Understanding the long-term effects of environmental exposure on roof reflectance in California." Construction and Building Materials 26, no. 1 (2012): 516-526.
Abstract:
Contaminants from cool-pigmented roof samples exposed at seven California sites were analyzed for elements and carbons to identify those that degrade or enhance solar reflectance.

The losses in solar reflectance varied by site and the color of the sample.

The least reflectance drop was observed in the alpine climate, while the largest drop occurred in sites near urban development.

The change of reflectance appears cyclical with the onset of seasons having more rainfall. A deposition model suggests that chromium ranks first, iron second, and elemental carbon third in importance to soil light absorption.
Also see REFERENCES
...
Continue reading at ALGAE STAINS on ROOFS or select a topic from closely-related articles below, or see our complete INDEX to RELATED ARTICLES below.
Or see TREES & SHRUBS, TRIM OFF BUILDING
Or see ROOF COLOR RECOMMENDATIONS
Or see these
Roof Stain Diagnosis, Repair, Prevention Articles
Suggested citation for this web page
STAIN DIAGNOSIS on ROOFS at InspectApedia.com - online encyclopedia of building & environmental inspection, testing, diagnosis, repair, & problem prevention advice.
Or use the SEARCH BOX found below to Ask a Question or Search InspectApedia
...
Frequently Asked Questions (FAQs)
Try the search box below or CONTACT US by email if you cannot find the answer you need at InspectApedia.
Question: white stains on roof
(Aug 15, 2014) Deborah said:
I have a new roof with architectural shingles that has a white discoloration on it for the moment it was installed. The roofer said it was back surfacing mineral and would wash away. It has been months now. It has faded, but not completely. It is most noticeable when the sun goes behind the house in the afternoon. In the morning, ( house faces east) it is barely noticeable. He said it will weather off. Is this true?
Reply:
I don't know, Deborah as I don't know what's on the shingles. Please take a look at WHITE STAINS on ROOFS
Question: roof wear or stains above windows
9/1/14 Hodge said:
We have a 4 yr old roof in great shape except for sign of early wear above two windows. The areas of wear are the same width of the windows and extend up and gradually fade . Any ideas ?
Reply:
Hodge,
If the windows are a source of drafts, temperature variations in the roof above, or moisture sources, or if construction details obstructed roof venting over those areas those might explain variation in roof shingle wear. Use our CONTACT link email to send me some photos and I can comment more usefully.
...
Ask a Question or Search InspectApedia
Try the search box just below, or if you prefer, post a question or comment in the Comments box below and we will respond promptly.
Search the InspectApedia website
Technical Reviewers & References
Click to Show or Hide Citations & References
"New Zealand Steel Installers Guide, COLORSTEEL®, ZINCALUME® steel and GALVSTEEL™ Installer's Guide", [PDF], New Zealand Steel Limited, Private Bag 92 121, Auckland, New Zealand. Tel: 0800 100 523, or 0-9-375 8999 Fax 0-9-375 8213, Website: http://www.nzsteel.co.nz/, Email: info@colorsteel.co.nz - retrieved 2015/12/07, original source: http://www.nzsteel.co.nz/content/media/ 77012/New%20Zealand%20Steel%20Installers%20Guide%20-%20November%202005.pdf - regarding Swarf Staining
Roger Hankey is principal of Hankey and Brown home inspectors, Eden Prairie, MN. Mr. Hankey is a past chairman of the ASHI Technical Committee and the ASHI Standards Committee. Mr. Hankey serves as co-chairman of ASHI legislative committee, and has served in other ASHI professional and leadership roles. Contact: 952 829-0044 - hankeybrown@comcast.net
How to Recognize & Control Sooty Molds, USDA publication on the recognition and control of black sooty molds, including on buildings. This publication is also available in printed form from the U.S. Government Printing Office, 1992 657-152 HT-69 1992. The original article was authored by Kenneth K.Kessler, Jr., Principal Plant Pathologist, U.S. Forest Service, in the Department of Agriculture of the United States. Copies are also available from North Central Distribution Center, Forest Products Laboratory, One Gifford Pinchot Dr., Madison WI 53705-2398.
"Cleaning, preventing algae growth on asphalt shingles", James Kirby, Professional Roofing (NRCA), November 1996, p. 45
NRCA - National Roofing Contractors Association - http://www.nrca.net/, 10255 W. Higgins Road, Suite 600, Rosemont, IL 60018-5607, Tel: (847) 299-9070 Fax: (847) 299-1183
Books & Articles on Building & Environmental Inspection, Testing, Diagnosis, & Repair
Our recommended books about building & mechanical systems design, inspection, problem diagnosis, and repair, and about indoor environment and IAQ testing, diagnosis, and cleanup are at the InspectAPedia Bookstore. Also see our Book Reviews - InspectAPedia.
Best Practices Guide to Residential Construction, by Steven Bliss. John Wiley & Sons, 2006. ISBN-10: 0471648361, ISBN-13: 978-0471648369, Hardcover: 320 pages, available from Amazon.com and also Wiley.com. See our book review of this publication.
Decks and Porches, the JLC Guide to, Best Practices for Outdoor Spaces, Steve Bliss (Editor), The Journal of Light Construction, Williston VT, 2010 ISBN 10: 1-928580-42-4, ISBN 13: 978-1-928580-42-3, available from Amazon.com
The Journal of Light Construction has generously given reprint permission to InspectAPedia.com for this article. All rights and contents are ©Journal of Light Construction and may not be reproduced in any form.
Architectural elements: the technological revolution: Galvanized iron roof plates and corrugated sheets; cast iron facades, columns, door and window caps, ... (American historical catalog collection), Diana S Waite, available used out of Amazon.
Building Pathology, Deterioration, Diagnostics, and Intervention, Samuel Y. Harris, P.E., AIA, Esq., ISBN 0-471-33172-4, John Wiley & Sons, 2001 [General building science-DF] ISBN-10: 0471331724 ISBN-13: 978-0471331728
Building Pathology: Principles and Practice, David Watt, Wiley-Blackwell; 2 edition (March 7, 2008) ISBN-10: 1405161035 ISBN-13: 978-1405161039
Built-Up Roof Systems, Manual, C.W. Griffin, Mcgraw-Hill (Tx); 2nd edition (July 1982), ISBN-10: 0070247838, ISBN-13: 978-0070247833
Concrete Folded Plate Roofs, C. Wilby PhD BSc CEng FICE FIStructE (Author), Butterworth-Heinemann, 1998, ISBN-10: 0340662662, ISBN-13: 978-0340662663
Concrete Shell Roofs, C. Wilby PhD BSc CEng FICE FIStructE (Author),
Concrete Dome Roofs (Longman Concrete Design and Construction Series),
Concrete Roofing Tile, History of the, Batsford, 1959, AISN B000HLLOUC (availble used)
Copper Roofing, by CDA
Copper Roofing, Master specifications for copper roofing and sheet metal work in building construction: Institutional, commercial, industrial, I.E. Anderson, 1961 (hard to find)
Corrugated Iron, Building on the Frontier, Simon Holloway
Green Roof Plants: A Resource and Planting Guide, Edmund C. Snodgrass, Lucie L. Snodgrass, Timber Press, Incorporated, 2006, ISBN-10: 0881927872, ISBN-13: 978-0881927870. The text covers moisture needs, heat tolerance, hardiness, bloom color, foliage characteristics, and height of 350 species and cultivars.
Green Roof Construction and Maintenance, Kelley Luckett, McGraw-Hill Professional, 2009, ISBN-10: 007160880X, ISBN-13: 978-0071608800, quoting: Key questions to ask at each stage of the green building process Tested tips and techniques for successful structural design Construction methods for new and existing buildings Information on insulation, drainage, detailing, irrigation, and plant selection Details on optimal soil formulation Illustrations featuring various stages of construction Best practices for green roof maintenance A survey of environmental benefits, including evapo-transpiration, storm-water management, habitat restoration, and improvement of air quality Tips on the LEED design and certification process Considerations for assessing return on investment Color photographs of successfully installed green roofs Useful checklists, tables, and charts
Handbook of Building Crafts in Conservation, Jack Bower, Ed., Van Nostrand Reinhold Company, NY 1981 ISBN 0-442-2135-3 Library of Congress Catalog Card Nr. 81-50643.
Historic Preservation Technology: A Primer, Robert A. Young, Wiley (March 21, 2008) ISBN-10: 0471788368 ISBN-13: 978-0471788362
Historic Slate Roofs : With How-to Info and Specifications, Tina Skinner (Ed), Schiffer Publishing, 2008, ISBN-10: 0764330012 , ISBN-13: 978-0764330018
Low Slope Roofing, Manual of, 4th Ed., C.W. Griffin, Richard Fricklas, McGraw-Hill Professional; 4 edition, 2006, ISBN-10: 007145828X, ISBN-13: 978-0071458283

Roof failure causes in depth (and specific methods for avoiding them)
Roof design fundamentals and flourishes, based on voluminous industry research and experience
New technologies and materials -- using them safely and correctly
Comprehensive coverage of all major roofing systems pecifications, inspection, and maintenance tools for roofing work

Metal Roofing, an Illustrated Guide, R.A. Knowlton , [metal shingle roofs],
Patio Roofs, how to build, Sunset Books
Problems in Roofing Design, B. Harrison McCampbell, Butterworth Heineman, 1991 ISBN 0-7506-9162-X (available used)
Roofing The Right Way, Steven Bolt, McGraw-Hill Professional; 3rd Ed (1996), ISBN-10: 0070066507, ISBN-13: 978-0070066502
Slate Roofs, National Slate Association, 1926, reprinted 1977 by Vermont Structural Slate Co., Inc., Fair Haven, VT 05743, 802-265-4933/34. (We recommend this book if you can find it. It has gone in and out of print on occasion.)
Roof Tiling & Slating, a Practical Guide, Kevin Taylor, Crowood Press (2008), ISBN 978-1847970237,
If you have never fixed a roof tile or slate before but have wondered how to go about repairing or replacing them, then this is the book for you. Many of the technical books about roof tiling and slating are rather vague and conveniently ignore some of the trickier problems and how they can be resolved. In Roof Tiling and Slating, the author rejects this cautious approach. Kevin Taylor uses both his extensive knowledge of the trade and his ability to explain the subject in easily understandable terms, to demonstrate how to carry out the work safely to a high standard, using tried and tested methods. 
This clay roof tile guide considers the various types of tiles, slates, and roofing materials on the market as well as their uses, how to estimate the required quantities, and where to buy them. It also discusses how to check and assess a roof and how to identify and rectify problems; describes how to efficiently "set out" roofs from small, simple jobs to larger and more complicated projects, thus making the work quicker, simpler, and neater; examines the correct and the incorrect ways of installing background materials such as underlay, battens, and valley liners; explains how to install interlocking tiles, plain tiles, and artificial and natural slates; covers both modern and traditional methods and skills, including cutting materials by hand without the assistance of power tools; and provides invaluable guidance on repairs and maintenance issues, and highlights common mistakes and how they can be avoided. The author, Kevin Taylor, works for the National Federation of Roofing Contractors as a technical manager presenting technical advice and providing education and training for young roofers.
The Slate Roof Bible, Joseph Jenkins, www.jenkinsslate.com, 143 Forest Lane, PO Box 607, Grove City, PA 16127 - 866-641-7141 (We recommend this book).
Slate Roofing in Canada (Studi4es in archaeology, architecture, and history),
Smart Guide: Roofing: Step-by-Step Projects, Creative Homeowner (Ed), 2004, ISBN-10: 1580111491, ISBN-13: 978-1580111492
Solar heating, radiative cooling and thermal movement: Their effects on built-up roofing (United States. National Bureau of Standards. Technical note), William C Cullen, Superintendent of Documents, U.S. Govt. Print. Off (1963), ASIN: B0007FTV2Q
Tile Roofs of Alfred: A Clay Tradition in Alfred NY
"Weather-Resistive Barriers [copy on file as /interiors/Weather_Resistant_Barriers_DOE.pdf ] - ", how to select and install housewrap and other types of weather resistive barriers, U.S. DOE
Wood Shingle Roofs, Care and Maintenance of wood shingle and shake roofs(EC), Stanley S. Niemiec (out of print)
...
Publisher InspectApedia.com - Daniel Friedman