Plumbing cross-connections
Definition of a cross connection & why you should care: unsanitary, unsafe
InspectAPedia tolerates no conflicts of interest. We have no relationship with advertisers, products, or services discussed at this website.
Plumbing cross connections: this article gives a definition of a plumbing system cross connection and explains why plumbing or piping cross connections can be unsanitary or even dangerous.
We also provide a MASTER INDEX to this topic, or you can try the page top or bottom SEARCH BOX as a quick way to find information you need.
Plumbing CROSS CONNECTIONS - Health & Safety Risks from Plumbing Cross Connections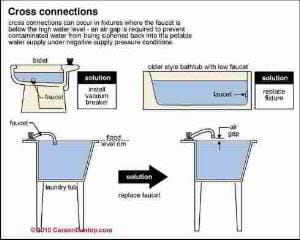 Definition of plumbing cross connection: a plumbing cross-connection is defined as any physical connection or arrangement between potable water and any source of contamination. Examples of cross connections are shown at left.
Plumbing codes define a cross connection as follows:
Any physical connection or arrangement between two otherwise separate piping systems, one of which contains potable water and the other either water of unknown or questionable safety or steam, gas or chemical, whereby there exists the possibility for flow from one system to the other, with the direction offlow depending on the pressure differential between the two systems. - UPC 2006
[Click to enarge any image]
Also see:
A cross connection risks contamination of building water piping or municipal water supply with bacteria. As Carson Dunlop's Home Reference Book points out, a cross connection is a dangerous situation where waste water may enter and contaminate the supply water.
A cross connection can occur in many places. One example is where a laundry tub has a faucet below the top of the laundry tub. If the faucet enters the tub through the wall, it is possible that when the tub is filled, the faucet will be submerged.
If this happens, the waste water in the tub may back up into the drinking water through the faucet if the supply piping is being drained.
The solution to plumbing cross connections is to raise the faucets above the top of a tub or basin, creating an air gap between the faucet and water in the tub. Cross connections are avoided through the use of an overflow.
In bathtubs, for example, where the faucets may enter through the wall of the tub below the top, an overflow provided below the faucets will prevent a cross connection.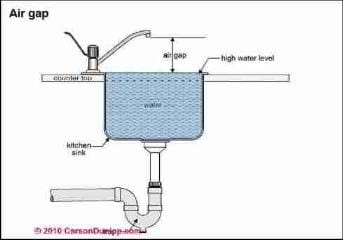 Other examples of cross connections in buildings include water softeners (see HEALTH RISKS & WATER SOFTENERS), washing machines, and dishwashers connected to a building drain without an air gap and water powered backup sump pump systems that use municipal water pressure and a venturi to evacuate water from a building or its sump pit (see Sump Pump Types).
Carson Dunlop's sketch (left) shows how an air gap at a typical sink protects against cross connections.
Bathroom fixture cross connections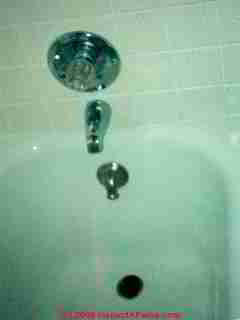 Older bath sinks and bath tubs (photo above) may also form a cross connection if the tub spout is below the flood rim of the fixture.
In our photo at left the original tub spout is below the top edge of the bath tub (the fixture flood rim).
(A newer water spout has been installed through the tile tub surround wall.)
Bidets Cross Connections - Vacuum Breakers
Some plumbing fixtures necessarily create a situation which could lead to a cross connection. A bidet is a good example of this
A bidet has a water supply at the bottom of the bowl. This allows water to be directed up in a spray from the bottom center of the bowl.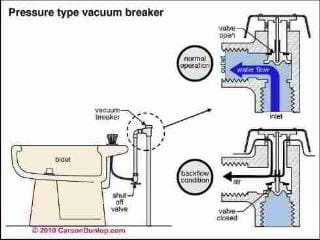 There is, of course, the potential for waste water in the bowl to get into this supply water.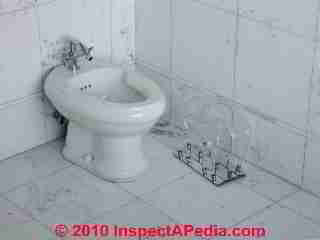 A special device (vacuum breaker) prevents water from flowing back into the supply plumbing.
Dishwasher Cross Connections & Air Gap Devices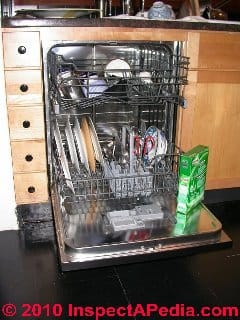 The air gap device shown in the sketch (below-left) demonstrates how we avoid a plumbing cross connection at dishwashers. The dishwasher in our photograph (below right) was installed with no air gap device and forms a potential cross-connection in this home.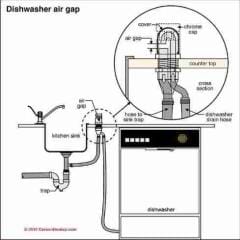 Garden Hose Cross Connections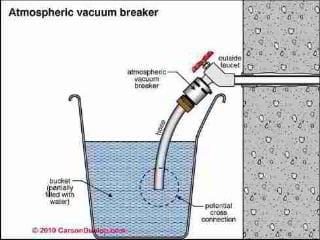 While cross connections are normally avoided during original plumbing work, home handy man changes can create them. Careless use of the house plumbing system can also create a cross connection.
Care should be taken, for example, to avoid placing a garden hose in a position to allow waste water to flow back into the supply plumbing system. For example, if the hose is left in a pail of water, it is possible for the contaminated water to flow back through the hose into the drinking water. This may happen if the house water supply is shut off and partially drained for some reason, while the hose is in the pail. Back-flow preventers (like the atmospheric vacuum breaker in the illustration) on the hose bib can prevent this.
Cross connections by garden-hose plumbing also occur when someone improperly connects a garden hose directly to a sewage waste pipe for any reason (photo, below right). We have found garden hoses connected in this fashion as building piping drains, water softener drains, boiler drains, etc.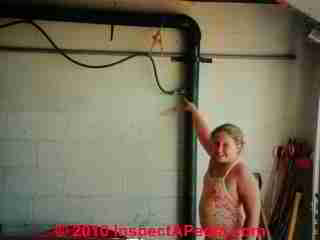 Back-flow preventers (like the atmospheric vacuum breaker in the illustration at above-left) on the hose bib can prevent this. We show an example of a garden hose backflow preventer at FAUCETS, OUTDOOR HOSE BIBBS and another back flow preventer at Plumbing Cross Connections at Heating Boilers
- Adapted with permission from Carson Dunlop's Home Reference Book
Clothes Washer Plumbing Cross Connection leads to Sewage Backup into Washing Machine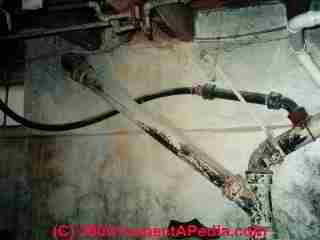 It's not just technical theory. Sewage backups into appliances do occur. One of our clients in Cold Spring NY awoke at 2AM to hear their basement clothes washer running unattended.
A washing machine drain hose in our photo (left) had been connected directly to the sewer line without an air gap. We pointed out the cross connection and risk of sewage backup into the washing machine, potentially providing a path of bacterial contamination back through the washing machine into the house water supply piping.
Our client thought that the risk of sewage backup into the washing machine was not a concern. The new homeowner called us two weeks later with an amazing house noise and sewage backup story.
The home occupants woke at 2: AM, hearing a noise in their basement. Walking downstairs into the basement the occupants found that mysteriously the clothes washing machine had begun to agitate. This was an old washing machine that would start agitating when a sensor determined that the liquid level in the washer had reached a sufficient level.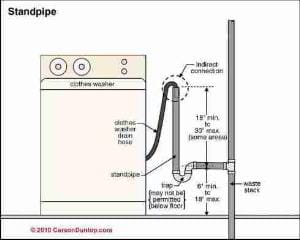 During the night a municipal sewer backup had occurred in the street, forcing raw sewage back into the house sewer line, and upwards into the tightly-connected washing machine hose, filling the washing machine with sewage. The washing machine had been cross-connected by a tight plumbing connection to the building main drain line.
A sewer line backup had pushed waste into the washer where its pressure switch started the agitator. Plumbing cross connections are unsanitary and is a health risk. The clothes washer was merrily agitating away its full load, not of laundry, but of sewage.
Carson Dunlop Associates' sketch (left) shows a proper indirect-connection washing machine drain hookup.
Water Heater Cross Connections
If the temperature & pressure discharge tube of a water heater relief valve (RELIEF VALVE, WATER HEATER) has been connected to a building drain without use of an air gap or similar safety device (TUNDISH used in PLUMBING) the connection is unsafe and unsanitary, forming a cross connection between the water heater TP valve disharge tube piping back through the valve into the water heater tank and thus into the building's potable water supply system.
Watch out: Such installations are both unsanitary and unsafe, risking BLEVE EXPLOSIONS as well as sewage or bacterial contamination.
Water Softener Cross Connections Between Drains and Water Supply Piping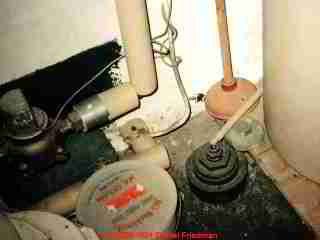 Plumbing cross Connections such as those we show in our water softener backwash/recharge drain tube connections at page top and just at left deserve a mention while we're discussing water softeners. A "cross connection" is a direct physical connection between a building water supply pipe and a drain pipe.
This may sound like an unlikely event in buildings but in fact it is common in a few instances: installers often make a tight connection between the water softener backwash/discharge drain (usually a small diameter plastic tube) and a building drain.
While it is not unique to water softener installations, this plumbing error is often made when these devices are installed. It is unsanitary and is a health risk.
What's the problem? In the unlikely event of a sewer line backup, sewage may be forced backwards up the drain and into the supply fixture, in this case the water softener - a very unsanitary event. There is also a possible bacterial growth path up such drains even when a sewer backup is not occurring.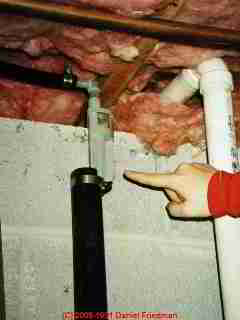 The proper way to make this connection is with a plumbing drain which provides an air gap between the water discharge line and the drain line [photo].
You can review this detail with your plumber or, if installing a new water softener, with the installer. Also see  HEALTH RISKS & WATER SOFTENERS for details.
While they are not unique to water softener installations, cross connections are a plumbing error which is often made when water softeners are installed.
Plumbing Cross Connections at Heating Boilers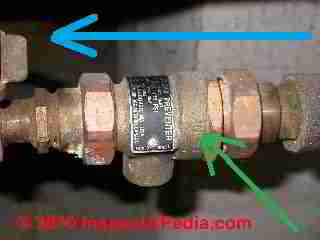 On hot water heating systems, the plumbing is connected to the boiler so that water can be added to the boiler.
Modern hot water boiler and steam boiler installations have a back-flow preventer (BACKFLOW PREVENTER VALVE, HEATING SYS) to prevent the boiler water from coming back into the drinking water supply piping system. This is another potential cross connection. Older systems may not have back-flow preventers to protect against this.
At a heating boiler lacking a backflow preventer the combination of a defective pressure reducing water feed valve or use of a manual water feed valve combined with a drop in building supply pressure can cause unsanitary boiler water to enter the building potable water supply piping system.
In addition a heating boiler itself may become back-contaminated by sewage if its temperature / pressure relief valve (RELIEF VALVE, TP VALVE, BOILER) was connected directly to a building drain without a visible air gap.
Watch out: Such hot water heating boiler or steam heating boiler installations are unsafe, risking BLEVE EXPLOSIONS as well as sewage or bacterial contamination.
Sump Pump Plumbing Cross Connections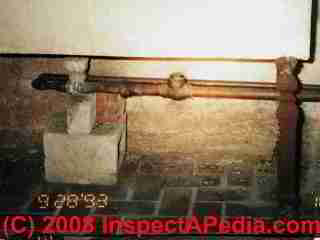 Water powered sump pumps can form an unsanitary cross connection between ground water or basement water leaks and the building municipal water supply piping - and thus are illegal in some plumbing jurisdictions.
See Sump Pump Types for details about water powered sump pumps.
Cross connections are defined with further examples at Home Inspection Definitions & Terms.
- Adapted with permission from Carson Dunlop's Home Reference Book
...
Continue reading at CHECK VALVES, WATER SUPPLY or select a topic from closely-related articles below, or see our complete INDEX to RELATED ARTICLES below.
Or see ODORS, DRAIN & SEWER LINE SOURCES
Suggested citation for this web page
CROSS CONNECTIONS, PLUMBING at InspectApedia.com - online encyclopedia of building & environmental inspection, testing, diagnosis, repair, & problem prevention advice.
Or use the SEARCH BOX found below to Ask a Question or Search InspectApedia
...
Ask a Question or Search InspectApedia
Questions & answers or comments about cross connections in plumbing supply & drain piping, appliances, and plumbing fixtures.
Try the search box just below, or if you prefer, post a question or comment in the Comments box below and we will respond promptly.
Search the InspectApedia website
Technical Reviewers & References
Click to Show or Hide Citations & References
[2] North Dakota Standards for Water Softeners, North Dakota General Authority Law, Chapter 62-04-08, Water Softener Units http://www.legis.nd.gov/information/acdata/pdf/62-04-08.pdf. "The objective of this chapter is to provide a standard of quality, capacity, and performance for water softener units. Water softener performance is to be based upon referee tests procedures described in section 62-04-08-09."
[3] Culligan Mark 10 Water Softener 1994-1998 Installation and Operating Instructions (covering models manufactured after 1995) (1-96) 01881948.pdf available from www.culligan.com
Water Softeners, CMHC, Canadian Mortgage and Housing Corporation, cmhc-schl.gc.ca/en/co/maho/wawa/wawa_005.cfm - October 2008. Canada Mortgage and Housing Corporation acknowledges the contribution of Health Canada to the development of this document. For further questions regarding water treatment and water quality, contact Health Canada at watereau@hc-sc.gc.ca or call 613-957-2991 or 1-866-225-0709.
[4] "Commercial Water Softener Installation and Operating Instructions", IBC Filtration & Water Treatment Products (Australia) for commercial, industrial and residential application www.ibcwater.com.au (07) 3219 2233
[5] "Non electric water softener, Installation and Operating Instructions", IBC Filtration & Water Treatment Products (Australia), op.cit.
[6] "Water Softener Twin Tank Installation and Operating Instructions", IBC Filtration & Water Treatment Products (Australia), op.cit.
[7] Our Water Hardness Table used at originated with but was edited and added to from http://www.bestfish.com/tips/110598.html and also from www.water-research.net/hardness.htm
[8] "Cross Connections", Michigan Department of Environmental Quality Water Bureau, Lansing Operations Division, Tel: 517-241-1300, web search 5/12/12, original source: http://www.a2gov.org/government/publicservices/customerservice
/Documents/customerservice_waterdeqCrossConnBrochure.pdf
Books & Articles on Building & Environmental Inspection, Testing, Diagnosis, & Repair
Our recommended books about building & mechanical systems design, inspection, problem diagnosis, and repair, and about indoor environment and IAQ testing, diagnosis, and cleanup are at the InspectAPedia Bookstore. Also see our Book Reviews - InspectAPedia.
Carbon Monoxide Gas Toxicity, exposure limits, poisoning symptoms, and inspecting buildings for CO hazards
Cheating on water tests: Testing Water for Real Estate Transactions - make sure your water test is valid
TOILETS, DON'T FLUSH LIST these things into a septic system
PLUMBING DRAIN NOISE DIAGNOSIS: may indicate defective or clogged plumbing: how to diagnose and cure drain sounds
HOT WATER HEATERS - a detailed guide to all types of hot water sources, problems, inspection, repair
Lead Testing & Correcting Contamination from Lead Water Supply Lines/Entry Mains - Lead Pipe Problems/Advice
SEPTIC SYSTEM INSPECT DIAGNOSE REPAIR The Septic Systems Information Website
SEWER GAS ODORS in COLD / WET WEATHER - Septic Odors or Sewage Odor Diagnosis & Repair Guide for diagnosing and eliminating cold weather sewer gas odors
SEPTIC TANK LEVELS of SEWAGE - what are normal and abnormal sewage levels in septic tanks and what do they mean about tank condition, leaks, etc.
Sewer Line Replacement diagnosing a clogged drain leads to drain line replacement - step by step photo-illustrated guide to drain replacement
Water Pressure Loss - Diagnosis how to determine why water pressure has been lost or why there is no water at all in a building
Water testing for Pesticides: comprehensive and pesticides-example parameters
CONTAMINANT CLASSES, in WATER & links to home buyer advice about water testing, drinking water, water supply
WELL CHLORINATION & SHOCKING - Procedure for Shocking a Well to (temporarily or maybe longer) "Correct" Bacterial Contamination
Typical Water Tests & Fees this water test fee schedule applies when testing is combined with other onsite building inspection services
WATER PUMP REPAIR GUIDE an specific case offers an example of diagnosis of loss of water pressure, loss of water, and analyzes the actual repair cost
Water pressure tank failures & water pump short cycling diagnosis and repair
...