Test for Mold & Debris Contamination in HVAC Ducts & Air Handlers
InspectAPedia tolerates no conflicts of interest. We have no relationship with advertisers, products, or services discussed at this website.
Tests for mold in HVAC air ducts: this article explains how to assess the level of mold contamination in heating or cooling air ducts, and the aggressiveness of mold testing (do we agitate the ducts) that can form sources of error when testing HVAC systems for mold contamination.
How should I test my heating or cooling duct system for mold contamination?, Levels of Mold in Heating or Cooling Ducts as Sources of Error in Indoor Mold Tests - what causes variation when testing ducts for mold contamination?
This document is a brief tutorial which provides information about the accuracy of and sources of errors in tests for the level of allergenic and toxic mold in residential buildings:Are spore counts valid? Are cultures and swab tests valid?
We also provide a MASTER INDEX to this topic, or you can try the page top or bottom SEARCH BOX as a quick way to find information you need.
How to Test Air Ducts for Mold Contamination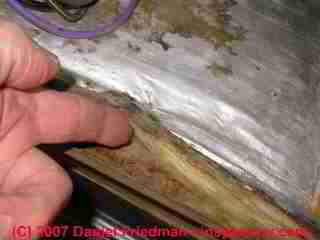 Question: what is the best way to test for mold in the heating/AC system
Thanks for your website - it is truly a public service. My husband and I are both very ill - my husband has recently been diagnosed with metastasizing melanoma in his eye, which has spread to his liver and spine - his prognosis is not good.
[Click to enlarge any image]
I have been sick with sinusitis for over a year now and am known to have severe allergies to mold (causing recurrent bronchitis and sinusitis).
After many scans and tests, my doctors feel the most likely reason not responding to treatment (many courses of antibiotics and sinus irrigations) is because of an environmental allergy.
Because of my husband's illness, we decided we had to move into a more maintenance-free living situation and bought a townhouse a year ago.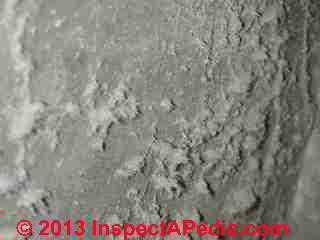 Because of my known allergy, and because of a small area of what looked like black mold (and smelled unbelievably vile) discovered during the renovation, we had two different mold remediation companies as well as an air quality testing company come in.
They felt the black mold was removed completely (under negative pressure and other precautions) and then they did a fair amount of preventive work - since there were a few tiny areas of green mold in the basement and attic. Air quality testing afterwards supposedly showed no mold anywhere.
We recently discovered our front-loading washing machine is one of the brands known to have major mold problems and there are now several class action suits against them.
We had several puzzling episodes of moldy sheets, which weren't recognized until our son came home to visit (my sense of smell has been wiped out by the sinusitis and my husband never had a good sense of smell).
We couldn't figure out how this was happening since we are very careful not to leave wet clothes/linens lying around or in the washer.
According to our son, the mold smell permeated the master bedroom. We then moved to the other bedroom and the same thing happened again, discovered when our son was visiting again, and again the smell permeated the room. The washer is in the master bath.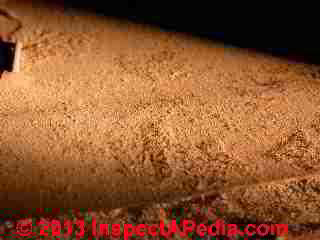 I first got sick in our old house (which was a house that, up until then, had been a very healthy environment for me) after we bought the washing machine. We had a couple of episodes of moldy-smells in our wash in the old house, but I was still able to smell and threw things out right away, but was puzzled as to why they were occurring.
We have replaced the washer, aired out the rooms, bought air filters, have an HEPA filter on the return heating duct, but I am not feeling better (after having rewashed all our clothes and bedding.
We're concerned that mold could be in the heating/AC duct system.
We've thrown out all our linens twice now (after our son discovered the mold) but before we learned about the washer. We're also wondering if we need to throw out everything again.
My basic question is what is the best way to test for mold in the heating/AC system and is there a company/person you could recommend to do this work?
Thanks for your time and any advice you can give us. - K.J., New Jersey
Reply: A combination of Steps can Help Assess Mold Contamination in an HVAC System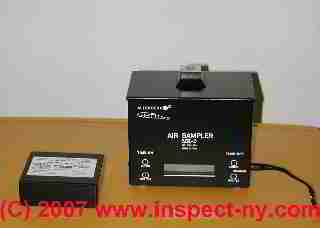 What makes sense to me is to take the following mold inspection and testing steps if you have not already done so:
A visual inspection of the air handler, return and supply plenums, visible areas of ductwork for evidence of leaks, dirt and debris, visible mold, insect debris, etc.

I worry that it's too easy to "decide" that we have a mold problem in one specific place without an adequately thorough inspection and taking of the case history.

The result is the unnecessary expense of having to keep bringing back cleaning or testing people to the property. If we can do so, it's less costly to do it right the first time.
A tape sample test of a clean newly installed air filter after it has been in place for 2 weeks to a month in your HVAC system - a procedure is at TEST KITS for DUST, MOLD, PARTICLE TESTS - you can use any qualified mold test lab (Please don't send us your mold sample.

If you cannot afford mold sample processing, CONTACT us and we'll try to help.) This presumes you have a centralized air filter in your duct system or air handler.
A tape sample of debris accumulated on the central air return register grille and on a dusty supply register grille sample too.
A tape sample of suspected mold growth on the HVAC duct interior: If visible mold is observed inside the ductwork it may be useful to collect a tape sample of that as well, but beware that a modest amount of Cladosporium sp. (several species) is very common where condensate blows around in the duct system, and may be visible, but may by no means be the significant problem in the building.

As we note at BLOWER LEAKS, RUST & MOLD:

While Cladosporium sp. is the most common mold found on earth and while it's just about everywhere, for some people this is an allergenic mold. We don't want it being blown around by our air conditioning system nor its growth improved by mis-handling of HVAC condensate.
See MOLD CONTAMINATION LEVELS and see Mold Atlas & Particles List for a description of the health effects and air quality complaints associated with various kinds of mold.

Don't let the discovery of a very common mold throw you off the track of a more careful and more broad inspection.

Make sure you are finding and focusing on the "right" mold problem.

Attention to "toxic black mold" may have been warranted, and media attention often focuses on "black mold", but be warned that there are plenty of harmful molds of other colors, or even "no color", some of which are smaller and more easily airborne (e.g. Aspergillus sp.) than some of the popular "toxic black molds" (e.g. Stachybotrys chartarum).
A tape sample of settled dust from a room where you spend the most time
Air testing for high levels of mold or other troublesome airborne particles is useful as part of a more broad investigation that includes the items above, but used alone it is very unreliable, in that a negative result could be just wrong, and even a "positive" result (mold was found at high levels) is not diagnostic - it doesn't tell us where to look.
See MOLD TESTING METHOD VALIDITY
Dispose of moldy HVAC ducts that cannot be cleaned: While you shouldn't have to throw away smelly sheets or bed linens nor similar items that can be laundered or dry-cleaned any more than you need to throw away a ceramic dish that can be washed, significantly-contamiated fiberglass-lined HVAC ducts should probably be replaced.



Watch out

: attempts to use mechanical cleaning of fiberglass-constructed or fiberglass-lined HVAC ducts is very likely to destroy them, exposing building occupants to still higher level of both the original contaminants in the duct system and also fiberglass particles. Similarly, thin plastic-lined flex-duct may be destroyed by mechanical duct cleaning methods.

There are also processes using a spray-sealant on HVAC duct interiors as an effort to seal and salvage contaminated fiberglass-constructed or fiberglass-lined ductwork. That process may be suitable for some situations but I would be worried about leaving a large mold reservoir inside of a duct sytstem that cannot be easily and frequently inspected after such treatment.

Metal HVAC ducts can usually be cleaned successfull.

Also see at MOLD GROWTH on SURFACES, TABLE OF
We have sometimes found that thick absorbent furnishings such as carpets, upholstered couches and chairs, and mattresses that suffer prolonged exposure to a moldy environment may be smelly from MVOCs even if there was no observable actual mold spore or mold growth contamination on those items.
I'd like to know more about the clothes washer you had trouble with and what authoritative references you have on that matter.
At MOLD & ENVIRONMENTAL INSPECTORS we list some inspectors/testers specializing in mold and indoor contaminants. But there may be other well qualified people in your area. Talk with anyone you are considering hiring.
Don't tell them the "right answer" (besides they are likely to have other good ideas). But name your concerns and ask how they will approach the job - stay away from superficial experts who dash in, collect a mold sample, charge you, and leave. [InspectAPedia.com has no financial nor business relationship with products or services discussed at our website
Variation in Airborne Particle Levels in Heating and Air Conditioning Ducts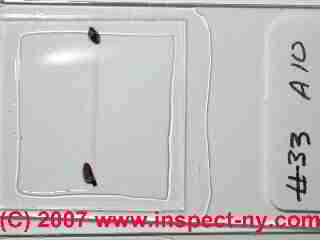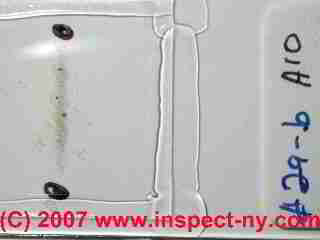 How much variation in airborne mold or dust level do we see inside heating and air conditioning ducts and air handlers?: The left hand photograph shows a one liter airborne particle trace collected inside of a heating furnace return air plenum using a Burkard Personal Air Sampler.
The right hand photograph shows a second particle trace collected in the same location, with the same volume of air, with one difference: we tapped lightly on the side of the air plenum during the sampling process.
Even before counting the number airborne particles of any type per liter of air it is obvious that even modestly aggressive sampling (rapping on the plenum to stir up local dust) can make a large difference in the level of particles seen in the sample result.
We conducted this test during a post mold remediation clearance inspection of a previously mold-contaminated air conditioning system. The remediation contractor vehemently disagreed with the procedure of tapping on the ductwork during testing, informing us that "... his hygienist never did such a thing".
We agree that consistency in test methods is important in order to be able to compare one mold test with another. However if we're looking for the presence or absence of a significant mold or allergenic dust reservoir that should have been removed, a little aggressiveness in sampling can be useful and in fact more accurate as well.
In sum, do not rely on the accuracy of airborne particle counts alone: Since air samples do not capture a representative picture of the indoor environment an indoor air quality investigator should not rely simply on conventional airborne particle quantitative analysis (particle counts per cubic meter).
Readers concerned with mold contamination in heating and air conditioning air handlers and ductwork should see BLOWER LEAKS, RUST & MOLD and PARTICLE & MOLD LEVELS in DUCTWORK where we describe how to test HVAC systems and ductwork for mold.
Mold in HVAC ductwork is also discussed at WHY DOES MOLD GROW in INSULATION?. See SLAB DUCTWORK for the role of in-slab placement of air ducts in the formation of mold contamination in HVAC systems.
These critical mold testing accuracy questions are discussed in this paper.
Readers should also see MOLD LEVEL IN AIR, VALIDITY, and for a more in-depth critique of popular mold testing methods than this tutorial see MOLD TESTING METHOD VALIDITY or select a topic from closely-related articles below, or see our complete INDEX to RELATED ARTICLES below.
Mold on Fiberglass HVAC Duct Interior Surfaces: Tape Sampling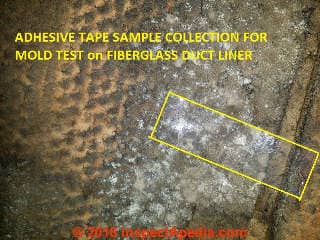 While it is normal to find incidental levels of mold spores, pollen grains, insect fragments, mite fecals, and of course higher levels of fabric fibers and skin cells on the interior of HVAC ductwork, where the duct interior has been wet or has been exposed to high levels of airborne building mold, we may find actual mold growth on the duct interior surface.
Here we show a normally-soiled fiberglass lined HVAC duct, except for those white areas that made the home owner raise a question of the presence of mold contamination.
We were not sure if these white spots in the ductwork were mold or something else until we examined tape samples of the duct surface in our InspectApedia.com lab.
Take a closer look at this photo and you'll see clear adhesive tape (outlined in yellow) applied to the duct interior surface to collect a sample of this white stuff for lab analysis.
[Click to enlarge any image]
I took care to place the tape over what I thought was a representative area of the duct liner where it would collect both the dark debris and the white particles that I suspected might be mold.
You can see that had the tape been placed in the area shown in the left of the photo the sample would not have collected these white particles and it might have missed identifying them.
Our study found Cladosporium sp., Aspergillus sp. and Penicillium sp. in heavy growth in the ductwork.
Details of this air duct mold contamination study based on clear adhesive tape samples of the mold-suspect surface of the air duct are found at FIBERGLASS AIR DUCT MOLD TEST.
See TAPE & BULK SAMPLING & TESTS for MOLD for details of how to use adhesive tape for surface sampling of dust, particles, or suspected mold growth on building surfaces.
Also see WHITE MOLD PHOTOS
...
Continue reading at PARTICLE SIZES & IAQ or select a topic from closely-related articles below, or see our complete INDEX to RELATED ARTICLES below.
Or see BLOWER LEAKS, RUST & MOLD explains causes of leaks & mold in HVAC ducts
Or see DIRTY A/C BLOWERS includes leaks, rodents, & mold in air handler units
Or see DUCT CLEANING ADVICE
Or see FIBERGLASS INSULATION MOLD - home
Or see TEST CHOICES for MOLD in FIBERGLASS
Or see VACUUM TEST INSULATION CONTAMINANTS
Or see WHY DOES MOLD GROW in INSULATION? that includes photos and test results examining suspected mold on the surface of fiberglass-lined HVAC ductwork.
Suggested citation for this web page
PARTICLE & MOLD LEVELS in DUCTWORK at InspectApedia.com - online encyclopedia of building & environmental inspection, testing, diagnosis, repair, & problem prevention advice.
Or use the SEARCH BOX found below to Ask a Question or Search InspectApedia
...
Frequently Asked Questions (FAQs)
Try the search box below or CONTACT US by email if you cannot find the answer you need at InspectApedia.
Question: how can I arrange a test to identify the mold in the flex duct on my HVAC system?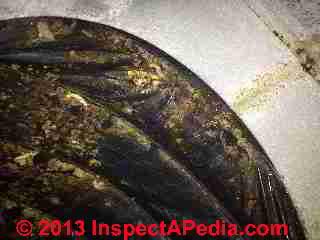 Recently, I discovered mold in the air ducts of my house.
I am hoping you can tell me how to get it tested as I am very concerned.
I will forward pictures as well.
Thanks in advance for your time and help. - A.B. 11/16/2012
Reply: focus on removing the mold (replace the flex duct) and fixing the cause of its growth
A competent onsite inspection by an expert usually finds additional clues that help accurately diagnose a problem - in this case, why the flex duct in your photos is moldy, how much moldy material is present, and thus not just how to correct the problem but how to prevent its recurrence. That said, here are some things to consider:
Testing your HVAC duct mold is easy following the procedure we describe using clear adhesive tape - see MOLD TEST KITS for DIY MOLD TESTS and use any qualified mold test lab or look into the list of labs and experts we provider at InspectApedia.

BUT I'm not sure I would bother in this case. There are sometimes reasons to test mold or dust samples, (see MOLD TEST REASONS ) but in this case you'd be best off spending your money on replacing the moldy ductwork and fixing the cause of its growth in the first place.

First, I'm not confident that one or even two economical tests will detect all of the genera/species present nor even the most problematic one - if you want to try anyway, be sure that your tape samples are representative, at least by visual examination, of the dominant mold present.

Second, while there are some cosmetic molds (on wood framing) I don't find them in ductwork; and while the dominant molds I do find in ductwork are often allergenic, some genera/species are toxic or pathogenic - in all cases, removing the mold is what is in order, not "magic sprays", or "killing mold" nor sealing the flex duct interior.

In sum,

Replace the moldy flex duct, inspect the whole system for cleanliness, clean components that can be cleaned (air handler blowers, metal ductwork interiors), and fix the cause of mold growth.
See MOLD in AIR HANDLERS & DUCT WORK and CONDENSATE HANDLING, HVAC and also see WET CORRODED DUCT WORK for some diagnostic help and cleanup advice when moldy ductwork is a problem.

See MOLD / ENVIRONMENTAL EXPERT, HIRE ? for help in deciding if it's appropriate to bring in an expert.
Question: can you determine by viewing photos of a dark substance on the [outside] of an air handlers' ductwork that there is mold contamination? Can I assume the mold is also inside the ductwork?
Would you be able to determine by viewing the photo DSC 0199 if the dark black substance which appears in two areas of the air handler's adjoining ductwork is a mold which has formed from condensation? If this is a mold can it be assumed to exist inside the duct where air flow would be exposed to the mold? All of the filters were found to have excessive dust and dirt build up which would lend itself to introducing particles into the ductwork which could harbor mold spores. - J.B. 12/31/2013
Reply: No.
A competent onsite inspection by an expert usually finds additional clues that would permit a more accurate, complete, and authoritative answer than we can give by email alone, and for the case you describe I'm certain that an onsite expert would be more useful. You will find additional depth and detail in articles on ductwork mold contamination and leaks into ductwork at our website. That said I offer these comments:

I see in your photos what looks like leaks into and out of a section of ductwork - a condition that indeed invites mold growth.  I also see thick debris in the other photos - but from just the photos, no honest competent investigator could conclude the extent of mold contamination nor hazard.

The minimum steps that make sense to me are to investigate further to

- find and fix the cause of leaks into the ductwork or air handler or both
- look in the areas of leakage for visible mold growth
- change the filters regularly
- if filters clog quickly, look for an unusually high level source of airborne particulate debris
No you cannot assume that because you see mold on the outside of an air handler, plenum, or HVAC duct that mold is growing inside the ductwork, nor could you assume, even if mold were inside the ducts that it is the same genera/species, as the interior materials and debris that might support mold growth may be different and thus may tend to grow different molds.
More to the point, in tracing mold contaminatin in buildings one needs to follow the water. If the leak that made stains on the outside of HVAC equipment and ducts also sent water inside the same system then yes, one might want to look at the extent of cleaning needed inside the duct system. But if the leak did not send water inside of the ducts then it would be unfounded to assume that the same mold contamination was present therein.
Reader follow-up: if it's dark it's mold, right?
I do realize it takes a hands on approach and not just a view of a photo taken to establish any extent of mold intrusion. I assume from your response below we cannot even say with any certainty that the dark substance is mold?  It could be just a discoloration that occurred after the fact from years of operation, however, I cannot imagine what else would cause the discoloration other than mold. 
Reply: No
The dark gray stuff I could make out in the photos could be just house dust.

If you look at some of the photos at InspectApedia of "what mold looks like" you'll see that if mold is actually growing on a surface there are usually recognizable growth patterns, not uniform distribution of debris. On the other hand, if there were a larger mold reservoir in a building, airborne mold spores or other mold debris could be mixed in with dust.
Keep in mind that of the approximately 1.5 million mold genera/species, only a small subset are "dark" or black, and of those, a smaller still subset are particularly likely to grow in or on building materials, and a smaller subset of those that are particularly harmful. I agree that a dark discoloration, when viewed closely, may contain or even be mold, but dirt, house dust, and other debris are also dark.
Generally for detecting mold growth on a surface one first looks closely at the suspect area for the characteristic mold growth patterns - enabling one to assert that mold is present even without knowing its genera and species. Often this is enough, since the cleanup procedure does not depend on the mold genera/species.
However in some cases, particularly where mold-related illness is involved, the physician may want to know what molds are in the patient's environment. And in other cases where large, costly mold remediation projects are required, knowing what mold genera/species were being removed combined with pre-testing of various building areas outside the remediation area can head off problems with poor cleaning or inadequate work area dust containment that may arise later.
Reader follow-up: my concern is if the mold I see is entering the HVAC air flow
Yes, i agree, the filter debris appears to be only dust buildup but after Auto correcting the air handler photo it improves clarity and if you zoom in close it appears to be mold for sure. My concern next is to determine if it is inside the ductwork and allowing the spores to communicate with the air flow.
Reply: agreed - take a look inside the ductwork for evidence of water leakage and mold growth
Agreed; I may not have emphasized it adequately before but to me the red flag was what looked like water leak stains running down the exterior surface of the duct, suggesting the chances of leaks into the duct system as well. If you find mold there and if the duct interior is an insulating mat rather than simple sheet metal, it may be cheapest to simply remove and replace that duct section.
Reader follow-up: I found a website that says ductwork is the most likely place to find building mold
I found another site which appears to mirror the same issue i am having. I would venture to say that the inside of the duct itself has to have some deposits as well. The website states "This is the #1 place that mold is found in your home, outside of roof leaks. This condition is caused by air handler unit that was not maintained properly."
Reply: the quotation is mistaken
The website you quote is interesting but not without conflict of interest and not fully nor accurately informed. While some of the photos are almost certainly show some mold contamination, one cannot always nor necessarily easily distinguish between debris deposits on a fiberglass duct liner and mold contamination. Further, some of these molds are very common (Cladosporium cladosporoioides), sticky, not easily airborne, not found at notable levels in an in-duct air sample, and at worst allergenic, and in small areas not actionable. Other molds less likely to be found but that can appear can be more of a concern (Aspergillus sp./niger for example) as they are easily airborne, small, toxic or pathogenic, inhaled deeply into the lung, may be light colored and difficult to see.

The more reliable approach as a starting point is to track water leakage first, and when looking for what is probably mold contamination look at colors and growth patterns to determine first if there appearst to be mold present at all.

he mold test folks and even some mold labs (not mine) would love it if everybody would keep testing everything quite often to "screen for black toxic mold" which is as I imagine you, more sanguine, understand is inappropriate at best and misleading or worse.

See BLOWER LEAKS, RUST & MOLD and PARTICLE & MOLD LEVELS in DUCTWORK and Causes of mold growth in HVAC ductwork - mold in air ducts

and if you like, also see FIBERGLASS INSULATION MOLD which explains that even clean-looking fiberglass insulation may be mold contaminated.

Photos of what mold looks like on various surfaces are at MOLD APPEARANCE - WHAT MOLD LOOKS LIKE and at MOLD APPEARANCE on VARIOUS SURFACES
Reader follow-up: I still think the air handler ductwork is the most prone are for mold incubation
Your website is the most informative of any I've found to date. I do think though that he is claim about Air handler ductwork just like mine is the most prone area for mold incubation.  I havent found any other ductwork at least from the outside appearance that has the same black color.
Reply: Drywall and wood and perhaps carpeting are the most mold-friendly and largest surfaces areas in buildings likely to product a wide range of mold contamination reservoirs of a wider range of mold genera/species
Regarding your observation that ". I do think though that he is claim about Air handler ductwork just like mine is the most prone area for mold incubation."
That statement is mistaken and cannot be based on building science, mycology, nor broad field observation of buildings. From education in those fields, from literature review of studies of building mold occurrence, and from direct experience in evaluating close to 5000 buildings over more than 30 years, including directy studies of every material and surface in mold-contaminated buildings to map the preference of various building molds for specific building materials and surfaces, it is readily apparent that the claim that ductwork is the most mold-prone "incubation" area in buildings is considerably off the mark.
Enjoying the freedom of un-edited website publication, that statement is an opinion, and it is wrong, and remains unsupported by authoritative citation nor research.
Even the word "incubation" suggests a lack of knowledge of mycology.
The largest mold reservoirs in buildings that have suffered water damage, leaks, or on occasion just high humidity are found on the most mold-friendly materials, particularly the paper surfaces of drywall, and secondarily on exposed wood surfaces such as framing and sheathing.
Unlike ductwork, those surfaces harbor most of the 200 common mold species (MOLD FREQUENCY in BUILDINGS ) as well as occasional occurrences of less common molds and include the more harmful mold genera species regularly found in buildings such as Aspergillus sp., Penicillium sp., Stachybotrys chartarum, Memnoniella echinata, and yeasts.
We do not find those genera / species growing in ductwork in large reservoirs if at all, though we do find them in contaminated dust entering the duct system from an infected building.
The surfaces of HVAC ductwork in buildings are typically of three materials: plastic, metal, or a coated dense fiberglass mat. While we can find mold genera/species that will grow on just about any material, none of those three comes even close to the mold-conducive friendly environment provided by drywall, wood, wallpaper, even carpeting.
Of the approximately 200 mold genera/species most frequently found in buildings, only a very few of them, particularly in the Cladosporium group, are commonly found in HVAC duct systems. I explained the comparative risk levels using two common Cladosporium findings vs. Aspergillus sp. (not commonly found in ductwork) at a gross level in my earlier comments. In short, the most harmful and most easily airborne molds are not commonly found growing inside HVAC ducts. When such molds are found inside HVAC duct systems, in general they have arrived there in air circulated into the duct system from a larger, more dangerous building mold reservoir.
Having disposed of the "bad mold is mostly in ductwork" mistake by pointing out what does and does not grow in ducts, one has but to observe further that the level of mold hazard in a building depends on both the mold genera/species that are found therein, and on the size of the mold reservoir itself.
In a simple comparison of the total indoor building area represented by drywall and wood in most buildings (in North America, Europe, Australia, New Zealand and the U.K. and parts of Asia) with the total area that might be represented by the interior surfaces of HVAC ductwork in that subset of buildings that even have ductwork present makes clear that the potential contribution to building mold contamination by ducts is small compared to the potential contribution to building mold from the significantly larger mold reservoirs of of other materials and the larger range of genera and species of mold that they support.
This is not to say that there is never mold contamination in HVAC systems. It is to emphasize that across a population of mold-contaminated buildings where professional mold cleanup is justified and appropriate, by no means is the ductwork mold reservoir the largest, by no means is it the most conducive to mold growth, and by no means are the mold genera species found growing therein the most harmful.
Question: interpreting mold levels in air ducts
(Feb 23, 2015) Veronica said:
First of all, thank you for all of the incredibly helpful information on this website. I recently had an air quality test completed (I've been having extremely bad allergies and other unexplained health problems since moving into this residence and using the air conditioner.).
The company tested the air quality in our living room and found essentially no mold in that air sample. They also stuck it into one of our air vents and took an air quality sample. The sample from the air vent has Chaetomium (raw ct: 121; spores/m3: 1,600) and Peniccillium (raw ct: 30; spores/m3: 1,600).
Are these numbers concerning? Also, if the ducts are too old to be cleaned and would essentially fall apart, would it be best to replace the air ducts? Thank you in advance for your advice.
Reply:
Veronica
Even relatively low indoor spore counts in air *might* be significant - depending on test conditions and building history. It's not the case that problem mold from even a significant reservoir of mold in a building is always readily observed in building air. Water-related molds such as those you cite are suggestive that something has leaked and that there is or was an indoor mold reservoir. But ultimately the interpretation of your numbers is
1. unreliable as a single measure of mold contamination - a thoughtful inspection of the building and case history are essential
2. need to be interpreted by the person who inseected your building - otherwise the data is not helpful.
...
Ask a Question or Search InspectApedia
Questions & answers or comments about how to measure the level of mold contamination in HVAC air ducts and blower units.
Use the "Click to Show or Hide FAQs" link just above to see recently-posted questions, comments, replies, try the search box just below, or if you prefer, post a question or comment in the Comments box below and we will respond promptly.
Search the InspectApedia website
Technical Reviewers & References
Click to Show or Hide Citations & References
Thanks to Susan Flappan, Flappan Consulting, moldetect.com, Overland Park KS, 913-402-1131, for contributing comments and some suggested text from ACGIH Bioaerosols: Assessment and Remediation 12/2006.
Books & Articles on Building & Environmental Inspection, Testing, Diagnosis, & Repair
Our recommended books about building & mechanical systems design, inspection, problem diagnosis, and repair, and about indoor environment and IAQ testing, diagnosis, and cleanup are at the InspectAPedia Bookstore. Also see our Book Reviews - InspectAPedia.
Environmental Health & Investigation Bibliography - our technical library on indoor air quality inspection, testing, laboratory procedures, forensic microscopy, etc.
Adkins and Adkins Dictionary of Roman Religion discusses Robigus, the Roman god of crop protection and the legendary progenitor of wheat rust fungus.
Kansas State University, department of plant pathology, extension plant pathology web page on wheat rust fungus: see http://www.oznet.ksu.edu/path-ext/factSheets/Wheat/Wheat%20Leaf%20Rust.asp
"A Brief Guide to Mold, Moisture, and Your Home", U.S. Environmental Protection Agency US EPA - includes basic advice for building owners, occupants, and mold cleanup operations. See http://www.epa.gov/mold/moldguide.htm
US EPA - Mold Remediation in Schools and Commercial Building [Copy on file at /sickhouse/EPA_Mold_Remediation_in_Schools.pdf ] - US EPA
US EPA - Una Breva Guia a Moho - Hongo [Copy on file as /sickhouse/EPA_Moho_Guia_sp.pdf - en Espanol
Mold Contamination Testing, Cleanup, Prevention: references & products
The Mold Information Center: What to Do About Mold in Buildings, When and How to Inspect for Mold, Clean Up Mold, or Avoid Mold Problems
Aerobiology, Building Science, Microscopy, & Laboratory References, an extensive technical bibliography
Allergens: what they look like in buildings
Associations: Sick House, Sick Building, SBS - Air Quality, Government, Private Associations and Information Resources
Atlas of Clinical Fungi, 2nd Ed., GS deHoog, J Guarro, J Gene, & MJ Figueras, Centraalbureau voor Schimmelcultures, Universitat Rovira I Virgili, 2000, ISBN 90-70351-43-9 (you can buy this book at Amazon) - The Atlas of Clinical Fungi is also available on CD ROM
"Disease Prevention Program for Certain Vegetable Crops," David B. Langston, Jr., Extension Plant Pathologist - Vegetables, University of Georgia (PDF document) original source: www.reeis.usda.gov/web/crisprojectpages/209797.html
"Disease Prevention in Home Vegetable Gardens," Patricia Donald, Department of Plant Microbiology and Pathology, Lewis Jett
Department of Horticulture, University of Missouri Extension - extension.missouri.edu/publications/DisplayPub.aspx?P=G6202
"Management of Powdery Mildew, Leveillula taurica, in Greenhouse Peppers," Ministry of Agriculture and Lands, British Columbia - Original source: www.agf.gov.bc.ca/cropprot/peppermildew.htm
Environmental Health & Investigation Bibliography - our own technical library on indoor air quality inspection, testing, laboratory procedures, forensic microscopy, etc.
Fiberglass: Mold in Fiberglass Insulation© 2005 comments about a field study in process, & more about health hazards from fiberglass insulation - DJF
Fifth Kingdom, Bryce Kendrick, ISBN13: 9781585100224, is available from the InspectAPedia online bookstore - we recommend the CD-ROM version of this book. This 3rd/edition is a compact but comprehensive encyclopedia of all things mycological. Every aspect of the fungi, from aflatoxin to zppspores, with an accessible blend of verve and wit. The 24 chapters are filled with up-to-date information of classification, yeast, lichens, spore dispersal, allergies, ecology, genetics, plant pathology, predatory fungi, biological control, mutualistic symbioses with animals and plants, fungi as food, food spoilage and mycotoxins.
Fungi, Identifying Filamentous, A Clinical Laboratory Handbook, Guy St-Germain, Richard Summerbell, Star Publishing, 1996, ISBN 0-89863-177-7 (English) (buy at Amazon)
US EPA: Mold Remediation in Schools and Commercial Building [Copy on file at /sickhouse/EPA_Mold_Remediation_in_Schools.pdf ] - US EPA
US EPA: Una Breva Guia a Moho - Hongo [Copy on file as /sickhouse/EPA_Moho_Guia_sp.pdf - en Espanol
...