Thermal Tracking: How to Diagnose Indoor Wall or Ceiling Ghosting Stains
Building Air Leaks & Heat Loss Points

THERMAL TRACKING BRIDGING GHOSTING - CONTENTS: Ghosting Marks: what causes those dark stains on building interior walls & ceilings? Photos & text identify thermal tracking, thermal bridging, air bypass leaks, insulation defects and air movement in buildings. Thermal tracking stains or dark thermal ghosting stains (also called thermal telegraphing stains) indoors indicate building air movement, air leaks, and points of heat loss which increase home heating or cooling cost. How to recognize poorly insulated building walls or ceilings and how to pinpoint building air leaks. A photo-guide to common indoor ceiling and wall stains and what they mean. Why & how thermal tracking and ghosting stains could indicate very dangerous carbon monoxide hazards in a building. Soot from natural gas, LP gas, or oil burners - sooting gas appliances are dangerous. Thermal tracking marks can indicate thermal bridging: locations of building heat loss. Definition of THERMOPHORESIS
AIR LEAK DETECTION TOOLS - separate article
THERMAL IMAGING, THERMOGRAPHY - separate article
THERMAL TRACKING REMEDIES - separate article
POST a QUESTION or READ FAQs about indoor stains and thermal tracking or ghosting on walls and ceilings
InspectAPedia tolerates no conflicts of interest. We have no relationship with advertisers, products, or services discussed at this website.
This article describes & diagnoses the cause of various interior wall and ceiling stains and explains how to recognize thermal tracking, (also called ghosting or ghosting stains or thermal bridging stains), building air leaks, and building insulation defects. Often these stains are mistaken for toxic indoor mold.
Green links show where you are. © Copyright 2014 InspectApedia.com, All Rights Reserved.
What are Thermal Tracking, Ghosting, Sooting, Thermophoresis, Electrostatic Deposition, Plating-Out & How do These Forces Explain Wall & Ceiling Stains in buildings?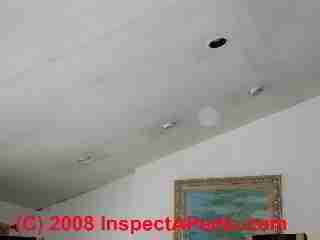 Thermal tracking or "ghosting" is the deposition of house dust and debris onto walls and ceilings in patterns caused by a combination of air movement, interior moisture, and in some cases, a source of high levels of particles.
Other factors that may be at play include electrostatic attraction or thermophoresis, discussed here. Thermal tracking, sooting, bridging, and ghosting are synonyms for the same effect, one which often is exacerbated by defects in the building insulation and ventilation system.
We distinguish between classic "thermal tracking" stains for which there must be a variation in temperature and therefore moisture level across building surfaces, and more uniform stains across building surfaces regardless of variations in surface temperature or moisture.
While most people don't use the terms thermal tracking or ghosting with great precision, it is useful to understand how particular stain patterns are laid down in a building. Understanding the location, shape, size, and intensity of a stain on a building wall or ceiling can help us understand how a building works, its energy efficiency, and the quality of its indoor air.
To track down and fix thermal tracking stains you will need to fix air leaks and provide insulation where it's missing or inadequate.
See AIR LEAK SEALING PROCEDURE for a step by step guide to fixing air leaks at windows and doors. Also see AIR SEALING STRATEGIES and AIR LEAK DETECTION TOOLS as well as AIR LEAK MINIMIZATION.
For photos of snow melt on rooftops that also show points of building heat transfer and loss, see STAIN DIAGNOSIS on BUILDING EXTERIORS.
However beware that on occasion the leaks and moisture in a building that contribute to thermal tracking may have created a mold problem somewhere else than in the black thermal tracking or soot marks you see on walls and ceilings. MOLD EXPERT, WHEN TO HIRE provides assistance in deciding if you should hire a mold investigator.
Because some clients have on occasion sent samples to our mold test lab that really should not have been collected, much less looked-at, we recommend that you review the photographs in these articles to see if the black stains you see are something other than mold. When investigating a building for a mold problem, you can save mold test costs by learning how to recognize Stuff that is Not Mold or is only Harmless Mold but may be mistaken for more serious contamination - save your money.
A Photo-Illustrated Diagnostic Guide to Thermal Tracking & Other Wall or Ceiling Stains: Moisture & Air Movement in buildings
What is Thermal Tracking & Why does Thermal Tracking or Thermal Staining Occur Indoors?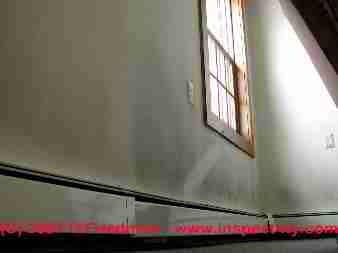 What is thermal tracking or ghosting and what causes it?
Thermal tracking or "soot tracking" such as shown in the photo at left and also in the photograph at the top of this page may be found wherever moisture condenses on cool building surfaces.
Warm moisture-laden air touches the cooler surface of a building wall or ceiling, giving up some of its moisture to the surface as condensation. (See DEW POINT TABLE - CONDENSATION POINT GUIDE for details.) That makes some areas on an indoor surface slightly more damp than others.
As air moves by natural convection through the building, it typically flows up walls and across ceilings.
Airborne debris in the air, particularly soot such as that left by airborne house dust, by a heating system that needs service or by burning candles (scented candles may be more of an IAQ issue), or by cigarette smoking, adheres more to the damp surfaces than to others, leaving black marks or "tracks."
Black thermal tracking stains may appear on interior walls and ceilings, not just on cool exterior building walls. It is also possible that an interior partition wall may be conducting heat out of the building through convective loop heat losses as well. (See Convective Loops & Thermal Bypass Leaks.)
Electrostatic deposition, plating out and thermophoresis of ultra-fine airborne particulate debris also explains black stains, sooting, or ghosting, as has been pointed out by Roger Hankey and Joe Lstiburek and others.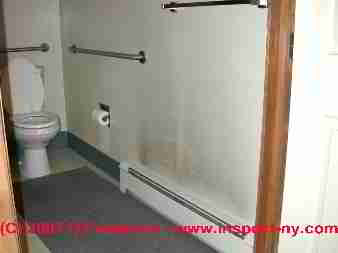 Electrostatic deposition refers to the sticking of particles to a surface due to a difference in electrical charge between the particle and the surface.
We often observe heavy electrostatic deposition of indoor dust and debris on building walls, ceilings, and other surfaces (most visibly on walls and ceilings) in homes where an ion generator is being used in the belief that it is "purifying" indoor air.
A friend in Rhinebeck, NY cranked up her indoor air ionizer to reduce the level of dog dust in her home - she boards as many as 15 dogs at a time in her home.
Indeed over just a few months we observed empirically that there was an increase in the rate of sooting on indoor painted walls and ceilings. Particles were probably sticking to other surfaces as well, but they were less visible.
Watch out: excessive use of indoor air ionizers, especially improperly adjusted, can produce harmful levels of ozone indoors. See OZONE for MOLD OR ODORS.
Brownian motion, or pedesis, describes the random movement of particles, in this case airborne particles, perhaps impelled by energy from heat, light, or ambient air current, possibly plating out by impact collision with building surfaces.
Thermophoresis is a term used by some IH professionals to explain the combined action of particle impact, moisture, and adhesion to surfaces, and is explained below at Thermophoresis as a Factor in ... Indoor Stains
But unlike common thermal tracking, particles that are deposited on building surfaces by electrostatic deposition, brownian motion, or thermophoresis may be expected to occur without the presence of uneven surface moisture, temperature, and thus classic thermal tracking features.
are likely to be more uniform in the areas they cover than particles deposited by thermal tracking
will not specifically map building wall studs, nails, or other cooler or more moist building surfaces
Filtration and Thermal Tracking or Ghosting on Carpeting and Possibly other Fabrics such as wall curtains can indeed explain dark stains on carpeting under doors and at room perimeters where there may be air leaks.
Lstiburek offers a compelling explanation that airborne dust and debris (of all particle sizes) is filtered out by the carpeting or other fabric surface over which air may be passing. So a difference in air pressure between rooms (someone is running an exhaust fan for example), or air leaks at the perimeter of a floor (construction is leaky and cold air is rising from a crawl area or from outdoors into the occupied space of an upper floor,for example) indeed can deposit dark black stains on carpeting.
What Kinds of Particles Make up the Black Stains Found in Thermal Tracking or Electrostatic Deposition
In all three of the mechanisms that cause airborne particles to deposit to form dark stains or "sooting" or "ghosting" on interior building surfaces, the particles that can be expected to make up the stain include
Soot and combustion products produced most often by cigarette smoking (brown wall stains), candles, especially scented candles or incense, soot from poorly-maintained oil fired heating appliances, soot from improperly-operating (and dangerous) gas-fired heating appliances, smoke particles from fireplaces or other indoor combustion activities (burning food on the stove?). Lstiburek opines that pyrolysis of lint in clothes dryers and similar activities may also produce ultra-fine particles plating out on walls as soot or ash. See OIL BURNER SOOT & PUFFBACKS and GAS BURNER Flame & Noise Defects. See PYROLYSIS EXPLAINED.
Skin cells from building occupants (humans, other animals) may also be present, are a common ingredient in house dust
Fabric fibers, in very small fragments may be present as these too are a common ingredient in house dust
What particles are unlikely to make up the black stains associated with thermal tracking or ghosting?
In our forensic lab we have examined surface particles from literally thousands of building samples, including soot stains from dark or dirty surfaces, leading to the opinion about thermal tracking and plating particle makeup. Other indoor particles that may be common in buildings and are cited by some other writers including some building scientists (Lstiburek) are less likely to be found in the black or dark indoor surface stains we describe here, for the reasons we list below. Some of these less-likely sometimes-airborne particles that have been posed as candidates for participating in the thermal tracking or ghosting festival include:
Concrete dust: too heavy, does not remain airborne over long periods, typically gray or white
"Dirt" needs to be defined. Generic "dirt" formed of soil particles or road dust and debris are found at low levels in indoor air samples and are normally too heavy to remain airborne or appear in thermal tracking on walls and ceilings. Dirt will, of course, be present at high levels in carpeting.

Dirt as black smudges on walls may deposited by thermal tracking or by humans or animals in the building - the diagnosis of which black stain or dirt deposition source is at fault: creatures vs. airborne housedust lies in the deposition pattern.
Drywall (gypsum board) or plaster dust: these particles are typically white or gray and are easily identified in the microscope. They do not normally look gray or black on building surfaces.
"Gas smoke" - this is an undefined material; burning LP or natural gas produces carbon dioxide and water vapor, both colorless.

Watch out: If LP or natural gas fuel are producing visible smoke (or black soot) a very dangerous condition exists risking fatal carbon monoxide poisoning - shut off the equipment and consult an expert immediately; if smoke alarms or carbon monoxide alarms are sounding, leave the building.


"Insulation smoke" - is also an undefined term. Fiberglass and similar building insulation particles are rarely found on walls and ceilings in dark stained areas, though insulation particles are regularly found in indoor air and on horizontal surfaces in settled dust. Insulation fragments are too large to be part of the thermal tracking deposition process and are not black.
Lint, properly referred to as fabric fibers, is rarely found in thermal tracking stains (too large, heavy) but is very common in indoor horizontal surface dust.


However very fine lint particles, even without pyrolysis, may join other housedust particles to be deposited on building walls due to the thermal tracking process we describe here. PYROLYSIS EXPLAINED
Mold: mold spores can include particles down around the 1micron level (though most are larger). While we find mold growth on indoor surfaces where there have been leaks or other mold-conducive conditions, we do not normally find high levels of mold spores in surface samples from vertical surfaces (walls) or overhead ceilings in buildings that are not themselves already mold contaminated.

Mold growth on walls may also follow moisture gradients and variations, but typically not in the same pattern and certainly not in the same texture as thermal tracking of dust and soot. Details are at MOLD APPEARANCE - WHAT MOLD LOOKS LIKE
Brownian motion? As building scientist Joe Lstiburek points out, brownian motion also can cause particle adhesion to indoor building surfaces by the simple mechanism of mechanical impact of the particle with a building surface. But particles that remain airborne in Brownian motion are ultra small and thus less likely to include most of the particles listed above.

Why does Thermal Tracking or Ghosting Often Appear in Streaks or Lines?
T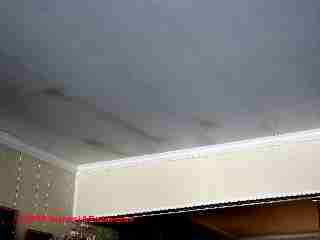 hermal tracking may mark the location of building framing members: In a conventionally-framed wood structure, wall and ceiling framing is typically spaced on 16" or 24" centers, and thermal tracking will tend to cause dust or soot to adhere to the interior surfaces at these locations. You can see this phenomenon in our ceiling stain photo (left).
But thermal tracking or bridging stains may occur on different intervals depending on how the building was constructed, where air is moving, where air leaks are occurring, and where ever building surfaces are cooler or more moist. This interior black wall stain pattern is particularly easy to identify on walls - see Wall Thermal Tracking Stains.
The reason thermal tracking tends to mark the location of building framing members is because the interior wall or ceiling surface will be cooler (during the heating season) where framing members (joists or studs) are located.
The insulating value of wood is pretty low (about R1 per inch) compared with fiberglass insulation or other insulating materials. These points of increased building heat loss, caused by the presence of solid ceiling joists or wall studs separating building insulation are also called points of thermal bridging - points where there is more building heat loss than through the building insulation itself.
The sections of an interior wall or ceiling which are touching wood framing (inside the ceiling or wall cavity where a ceiling joist or wall stud was placed) will conduct heat to the outdoors faster than the "in between" sections of wall where insulation has been placed. In sum, the wall or ceiling interior surface will be cooler where the framing is located than will be the spaces which are not touched by framing and which, perhaps, are insulated.
In sum, if you see black streaks up the building wall in a regular 16" or 24" pattern, particularly on cooler exterior walls but potentially anywhere, it may be thermal tracking.
Interior stains help diagnose building conditions: Since thermal tracking, or soot marking, or "thermal bridging" as a few folks call it usually tells us something about a lack of building insulation or about air leaks in buildings, we can use these marks or stains to learn important facts about a building.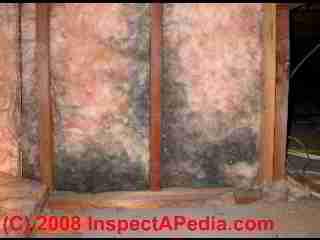 Air bypass leak identification: Thermal tracking may also mark the location of air bypass leaks - often a more significant source of building heat loss than thermal bridging at solid joists or studs. If a building top floor ceiling or exterior wall has many air leaks, even though the building is supposed to be well-insulated, the total of all of these air leaks may in fact add up to the same heat loss as leaving one or more windows or doors open in freezing weather.
Air Bypass Leaks Marks on Insulation (such as our photograph at left) shows how to identify air bypass leaks by the dust marks left on building insulation. These black stains are from building dust deposition; in this case they are not mold.
See MOISTURE PROBLEMS: CAUSE & CURE for an explanation of moisture sources and movement in buildings.
SAFETY WARNING about Thermal Tracking or Ghosting Black Stains Indoors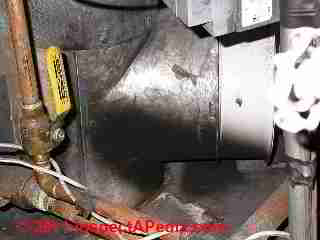 Ghosting or thermal tracking stains are usually house-dust or soot deposition on walls, ceilings, and perhaps floors. But if that dust or soot are coming from an abnormal source such as gas-fired heating equipment (or in some cases oil fired heating equipment) the equipment could be unsafe: the same conditions that produce indoor soot from an oil or gas fired appliance can be producing dangerous, potentially fatal carbon monoxide gas.
Oil fired heating equipment does not produce carbon monoxide gas as easily as an improperly functioning gas fired system, and conventional oil fired equipment often runs (normally) producing a little internal soot or "smoke".
But if your oil heating equipment is producing visible soot indoors or if it's making strange and horrible noises, it's probably not working properly, and it too could be unsafe, risking a "puffback" explosion that can blow soot throughout a building and in severe cases can risk a fire.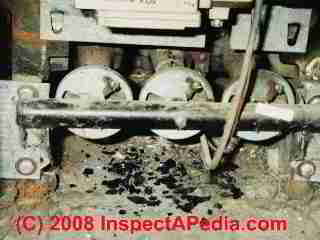 A gas fired heater normally burns quite clean, but if there is a combustion air problem or a flue gas venting problem the gas fired equipment can very quickly shift to producing soot and / or dangerous carbon monoxide gas (CO).
If you see soot coming out of a gas fired heater you should turn it off and call an expert service technician right away.
See Chimney Inspection Checklist and see COMBUSTION AIR for TIGHT buildings.
Make sure that your home has working carbon monoxide detectors and smoke detectors installed in the proper locations before moving on to less urgent concerns with indoor stains or thermal tracking.
Air Leaks or Insulation as Causes of Thermal Tracking or Indoor Ghosting Marks
Insulation leaks & thermal bypass defects: We use thermal tracking marks on an area where insulation is visible to identify and correct air bypass leaks, thus saving energy or reducing home heating or air conditioning costs. Details about air leaks in buildings are discussed at AIR BYPASS LEAKS. Building air leak testing is described at BLOWER DOORS & AIR INFILTRATION and at AIR LEAK DETECTION TOOLS.
Insulation adequacy: Clues that suggest Insulation adequacy can be picked up easily if the observer will use thermal tracking marks on larger areas of interior walls or ceilings to tell us areas of the building that are not insulated, or are not well insulated - areas where we should consider adding or improving insulation to save energy by reducing building heating or cooling costs. (See INSULATION INSPECTION & IMPROVEMENT for more information.)
Usually soot marks, thermal bridging, or thermal tracking stains appear, if at all, in the building interior locations listed just below discussed in the remaining sections of this article.
Humidity as a Factor in the Development of Indoor Stains on Building Surfaces
High indoor humidity: If indoor humidity is excessive (say regularly over 50 or 55% RH) we may be encouraging both staining from soot and house-dust deposition as well as mold growth in a building. Also we may be inviting excessive levels of dust mite activity which in turn increases the level of allergens in the building.
That is because higher humidity indoors provides more moisture to condense on cooler building surfaces whenever the temperature of a building surface reaches the dew point. Stated another way, if a building has low indoor humidity, the amount of moisture available to condense on cool surfaces is less, so the rate of thermal tracking or soot deposition on those surfaces is less - at least due to this factor.
See DEW POINT TABLE - CONDENSATION POINT GUIDE for details about the dew point and how to measure or calculate it for a building area or surface. Also see HUMIDITY CONTROL TO PREVENT MOLD.
Pyrolysis as a Factor in the Development of Dark Indoor Stains on Building Walls, Ceilings, or other Surfaces
Some theorists suggest that some fabric fibers are burned by pyrolysis in clothes dryers. Indeed, pyrolysis is a chemical process that through exposure to heat causes organic material decomposition that in turn lowers the combustion point of a material. And as pyrolysis changes the properties of a material it can indeed release gases, liquids (tar) and char (solid residue) that could be deposited on building surfaces. But also see THERMOPHORESIS discussed just below.
Details are at PYROLYSIS EXPLAINED.
Thermophoresis as a Factor in the Development of Indoor Stains on Building Surfaces
When condensation occurs on a building surface at any level that makes that area more damp (and thus sticker) than its neighbors, the temperature and humidity-related particle deposition described above is almost certainly occurring in any building, and will be more noticeable in a building with high levels of airborne particulates and dust.
But as IAQ consultant Steven Temes, an industrial hygienist and microbial consultant points out, ultrafine carbonaceous particles (such as candle soot) also accumulate on the colder surfaces due to a little known physical phenomenon called thermophoresis.  This has to do with the driving force of the particle motion being its kinetic energy (when not overwhelmed by air currents) and the movement of the particle toward the cold surface, where it "plates out", adhering to the surface.
If the particle has an electrical charge (such as in a home where ozone generators or negative ion generators are in use) this plating-out process will be significantly increased. If you are using an ozone generator as an "air purifier" indoors, be sure to review OZONE AIR PURIFIER WARNINGS and also OZONE HAZARDS.
Indoor Air Particle Level as a Factor in the Development of Indoor Stains on Building Surfaces
Even if the building humidity levels are low, high levels of indoor dust and debris can still lead to indoor stains and thermal tracking marks. Significant sources of soot, such as improperly operating heating equipment, use of candles, fireplaces, woodstoves (if they release smoke into the building interior), some pets such as large dogs, or simply generally poor housekeeping can all increase the indoor air particle level and lead to soot and stain marks.
Usually soot marks, thermal bridging, or thermal tracking stains appear, if at all, in the building interior locations discussed in the remaining sections of this article.
Air Movement Patterns as Factors in the Development of Indoor Stains on Building Surfaces
Specific and non-uniform moment of building air can lead to uneven soot or house dust deposition on building surfaces, and thus will cause stains and dark areas that are non-uniform . Surfaces across which more building air moves are exposed to a greater volume of air and thus a greater volume of dust particles.
Multiple Complex Factors Determine Where Stains Appear in buildings
Conflicting variables are at work in the deposition of soot and debris on building surfaces. Here are some examples:
More dust where more air moves: Building surfaces exposed to more air movement are exposed to more airborne dust and debris - so may become stained.

This phenomenon is most apparent where house dust and debris are deposited on and around air return registers in buildings. Where the air filtration system is not effective or the duct system is dirty, dust and debris are also deposited on and around warm or cool air supply registers. (This dust is most often harmless house dust comprised mostly of skin cells and fabric fibers.)
Less dust where more air moves: Building surfaces exposed to more air movement might, however, also be kept warmer and more dry due to that same movement, so the same areas may become less stained than their neighbors.

This phenomenon is most apparent in a building closet, or on a wall behind a picture or behind drapes, because less air moves over those surfaces, leaving the surface cooler, exposing the surface to higher moisture condensation, and thus causing more house dust (or soot) deposition than in other areas.
Visual Inspection by an Expert can Usually Sort Out the Causes of Building Stains
Conceptually, the deposition of dust, soot, or debris on building surfaces out of moving air in buildings (as opposed to caused by animals or people touching surfaces) is a complex linear equation that is weighing different and conflicting factors.
Luckily, the visual inspection of the stained areas, combined with inspection of the building for moisture problems, insulation and ventilation problems, or for soot and debris sources, can normally identify the dominant effect and can with confidence conclude the cause and thus suggest the cure for these stains.
In the following sections of this article we describe the ways that stains appear in buildings, what causes these stains, what they mean for building condition and safety, and how they can be cleaned, remedied, and prevented in the future.
Building Air Leaks & Thermal Tracking Marks at Interior Ceilings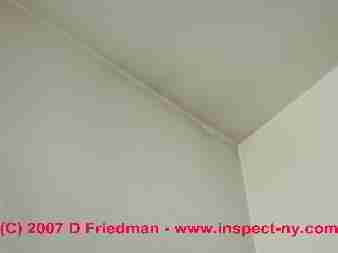 Sooty or dark smudges or stains appearing near the ceiling on the inside of building exterior walls, especially in older homes whose interiors have not been re-painted or cleaned in some time.
Thermal tracking stains may appear at the top of the wall and extend onto the ceiling surface such as shown in this photograph.
Note those dark "stripes" extending along the ceiling and into the room? These ceiling stains probably mark the location of ceiling joists (where the in-room ceiling surface temperature was kept a bit cooler since these locations in the ceiling cavity are occupied by a wood joist rather than by insulation).
See Ceiling Thermal Tracking Marks for details of diagnosing stain patterns on building ceilings and on cathedral ceilings.
Air Leaks Causing Thermal Tracking Stains on Building Walls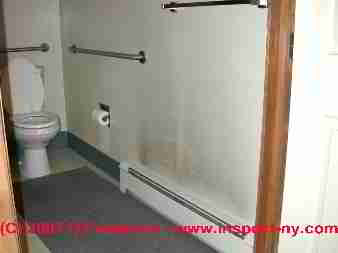 Thermal tracking stains may appear on the building walls themselves, in a pattern of vertical "stripes" which may be roughly 16" or 24" on center, marking the (cooler) location of wall studs or ceiling joists.
Thermal tracking stains may appear as dark black/brown wall stains appearing close to floor level, above heating baseboards mounted on exterior walls are probably due to thermal tracking.
See Wall Thermal Tracking Stains for details of diagnosing stain patterns on building walls and above heat sources.
Heaters can cause other dirt or soot stains on walls: But beware, a baseboard heater itself causes an air convection current up through the heating baseboards and in a dirty home or in a home occupied by pets or smokers similar stains may appear on other building interior walls (such as in this photograph) even if the wall is well insulated. If staining appears vertical and at intervals thermal tracking is probably occurring.
How to Recognize Air Bypass Leaks and Thermal Bridging Marks on Fiberglass Insulation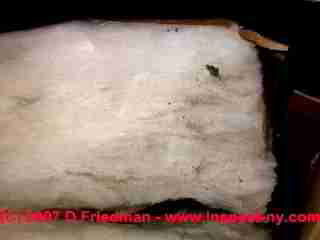 We have frequently observed evidence of air bypass leaks and thermal tracking as dust deposition on attic insulation, a condition some owners have mistaken for mold (and wasted money on mold testing and remediation).
In this photo we've removed a "nearly new" insulation batt that was installed in a cantilevered floor which was leaking air up through the overhanging floor and into the building wall cavity. In just a month of exposure the insulation is already showing dust tracking at its lower right corner, marking the air leak path in this building.
See Air Bypass Leaks Marks on Insulation for details of diagnosing stain patterns on building or on building surfaces where insulation is missing or poorly installed.
How to Use Indoor Stains Like Thermal Tracking to Diagnose Building Air Leaks, Insulation Defects, and Indoor Air Quality Problems
Significance of Other Indoor Stains and Marks for Building Framing Location or Defects in Heating & Cooling System Operation
Since thermal tracking, or soot marking, or "thermal bridging" always tell us about missing or openings in building insulation or about air leaks, we can learn other facts about a building such as those listed here:
Location & spacing of building framing members. Indoor stains can help find the location and spacing of wall studs or ceiling joists: use thermal tracking marks on building interior surfaces to spot the location of wall studs or ceiling joists when we need to find those members (for placing a picture nail, for example). Observing the spacing between these stains can tell us how a building has been framed.
Identify unsafe heating equipment or poorly-functioning fireplaces: use thermal tracking marks on interior building walls and ceilings, particularly where they vary from room to room, to diagnose poorly-vented chimneys such as fireplaces that do not work well (also look for soot stains at the hearth face). Such marks may also indicate poor and even unsafe operation of central heating systems since a poorly maintained oil burner will often leak soot into a building interior, and a dangerously un-vented gas appliance may also produce both soot and potentially fatal carbon monoxide gas.
How "Read" Indoor Stains to Identify Indoor Air Quality Concerns
A careful examination of the location of indoor stains permits the observer to use thermal tracking or soot marks on building walls or ceilings as an indicator of possible excessive (seasonal) interior moisture or other potential indoor air quality concerns.
Dark stains on building interior walls may appear in other patterns and could be from other causes - we provide photographs, description, diagnosis, and advice for many of these indoor stains in this article.
How to Diagnose Stains and Debris at Ceiling and Wall Heating or Cooling Air Supply Registers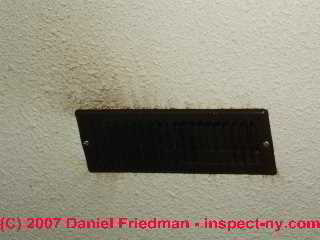 Dirty HVAC duct work, lack of air filter maintenance, or furnace malfunctions can all be indicated by black stains that appear around warm or cool air delivery registers in building ceilings or walls. (This is usually a deposition of house dust, rarely is it mold, and rarely is it related to thermal tracking.
An investigation of what was at first called Killer House Dust from an HVAC system showed that the dust of concern turned out to be cotton and other carpet fibers having nothing to do with the Heating or Cooling equipment was discussed at our Fear of Mold WebLog or "Blog" where we periodically post results of interesting forensic investigations.
How to Recognize Pet Stains on Building Walls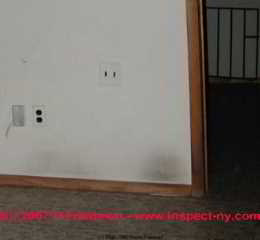 Evidence of pets in buildings: In buildings where pets are or have been housed, smudge marks on walls and at doors and door trim are sometimes mistaken for thermal tracking - they are not, but these marks, along with others (scratches, urine stains) can tell us the history of pet occupancy in a building, information of use when investigating indoor air quality concerns, especially in spaces occupied by asthmatics or people with pet allergies.
Black marks on interior walls such as painted drywall might be just be where the dog lay on the floor against the wall (as shown in this photograph).
How to Recognize Wall Stains from Human Occupants
Black marks on interior walls such as painted drywall might be also be dark wall stains where people rested their heads in bed (as shown in this photo).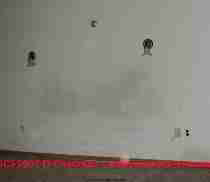 Look at the location of these stains and imagine a bed having been placed with its head against the wall shown in the photograph. Notice the two wall lights.
This is where a bed was almost certainly placed, and we can easily explain these black stains on the drywall. No further testing would be appropriate in normal circumstances.
How to Recognize Wall or Ceiling Stains due to use of Candles, Woodstoves, or Fireplaces
Smokers or scented candle hazards: In buildings where occupants are or have been smokers, or where occupants burn candles, especially scented candles, thermal tracking will often be still more distinctly visible as soot stains in the thermal tracking patterns we've already discussed. Since scented candles can be a source of indoor air quality problems including toxic lead deposition and perfumes which are respiratory irritants to some people.
Thermal tracking on buildings combined with this evidence can also be a clue useful in diagnosing indoor air quality complaints. In these photographs, all of the stains visible appear due to use of candles. Note the absence of framing-interval staining (16" or 24" on center) which would have been characteristic of thermal tracking, even of the candle soot, had the building surfaces been cool due to poor insulation.
Excessive indoor humidity: If indoor humidity is too high we may be encouraging mold growth in a building or we may be inviting excessive levels of dust mite activity which in turn increases the level of allergens in the building.
Other Sources of Dark Stains on Indoor Walls & Ceilings
If you have frequent fireplace fires, cooking, or if you burn scented candles, if people smoke in your home, or if your oil-fired or gas-fired heating system is not working properly, the added soot particle load in the building air is not only a health concern (soot and potentially lead), it also will mark the building surfaces in this characteristic pattern.
We welcome more thermal tracking, soot tracking, air bypass leaks, and similar photos of indoor stains as well as text suggestions to expand this detail and would be glad to credit contributors.
More Reading
Green link shows where you are in this article series.
...
Frequently Asked Questions (FAQs)
No FAQs have been posted for this page. Try the search box below or CONTACT US by email if you cannot find the answer you need at InspectApedia.
...
Ask a Question or Search InspectApedia
Try the search box just below or if you prefer, post a question or a comment in the Comments box below and we will respond promptly.
Search the InspectApedia website
Technical Reviewers & References
Related Topics, found near the top of this page suggest articles closely related to this one.
Click to Show or Hide Citations & References
ASHRAE resource on dew point and wall condensation - see the ASHRAE Fundamentals Handbook, available in many libraries. The following three ASHRAE Handbooks are also available at the InspectAPedia bookstore in the third page of our Insulate-Ventilate section:
Dust from the World Trade Center collapse following the 9/11/01 attack: the lower floors of this building contained spray-on fire-proofing asbestos materials.
Energy Savers: Whole House Systems Approach to Energy Efficient Home Design [copy on file as /interiors/Whole_House_Energy_Efficiency_DOE.pdf ] - U.S. Department of Energy
"Energy Savers: Whole-House Supply Ventilation Systems [copy on file as /interiors/Energy_Savers_Whole-House_Supply_Vent.pdf ] - ", U.S. Department of Energy energysavers.gov/your_home/insulation_airsealing/index.cfm/mytopic=11880?print
"Energy Savers: Whole-House Exhaust Ventilation Systems [copy on file as /interiors/Energy_Savers_Whole-House_Exhaust.pdf ] - ", U.S. Department of Energy energysavers.gov/your_home/insulation_airsealing/index.cfm/mytopic=11870
"Energy Savers: Ventilation [copy on file as /interiors/Energy_Savers_Ventilation.pdf ] - ", U.S. Department of Energy
"Energy Savers: Natural Ventilation [copy on file as /interiors/Energy_Savers_Natural_Ventilation.pdf ] - ", U.S. Department of Energy
"Energy Savers: Energy Recovery Ventilation Systems [copy on file as /interiors/Energy_Savers_Energy_Recovery_Venting.pdf ] - ", U.S. Department of Energy energysavers.gov/your_home/insulation_airsealing/index.cfm/mytopic=11900
"Energy Savers: Detecting Air Leaks [copy on file as /interiors/Energy_Savers_Detect_Air_Leaks.pdf ] - ", U.S. Department of Energy
"Energy Savers: Air Sealing [copy on file as /interiors/Energy_Savers_Air_Sealing_1.pdf ] - ", U.S. Department of Energy
Books & Articles on Building & Environmental Inspection, Testing, Diagnosis, & Repair
The Home Reference Book - the Encyclopedia of Homes, Carson Dunlop & Associates, Toronto, Ontario, 25th Ed., 2012, is a bound volume of more than 450 illustrated pages that assist home inspectors and home owners in the inspection and detection of problems on buildings. The text is intended as a reference guide to help building owners operate and maintain their home effectively. Field inspection worksheets are included at the back of the volume. Special Offer: For a 10% discount on any number of copies of the Home Reference Book purchased as a single order. Enter INSPECTAHRB in the order payment page "Promo/Redemption" space. InspectAPedia.com editor Daniel Friedman is a contributing author.

Or choose the The Home Reference eBook for PCs, Macs, Kindle, iPad, iPhone, or Android Smart Phones. Special Offer: For a 5% discount on any number of copies of the Home Reference eBook purchased as a single order. Enter INSPECTAEHRB in the order payment page "Promo/Redemption" space.