Linoleum Flooring Materials - History, Components, Identification

InspectAPedia tolerates no conflicts of interest. We have no relationship with advertisers, products, or services discussed at this website.
Linoleum Flooring Materials - History, Components, Identification: this article provides information about linoleum flooring: the history of linoleum, linoleum ingredients, and the properties of linoleum resilient or sheet floor coverings.
Green links show where you are. © Copyright 2013 InspectAPedia.com, All Rights Reserved. Author Daniel Friedman.
Linoleum Floor Covering Materials: history, ingredients, uses
Prior to the development of linoleum sheet flooring, floor coverings were made of painted canvas.
Inventor & History of Linoleum Flooring
Linoleum is a term invented in 1860 by Frederick Walton to describe sheet flooring. Original linoleum products were made using linseed oil as an ingredient. According to Rosato, "The original resilient floor coverings were developed during the latter part of the Nineteenth Century by Frederick Walton. The original covering was linoleum for use as a floor decking on British naval ships." The composition of the original products included asphaltic binders to which an asbestos filler was added by mixing on a rubber mill.
We noted at ASBESTOS FLOOR TILE PHOTO ID GUIDE that Linoleum may be used as a generic term for older sheet floorings (sometimes incorrectly). Linoleum was invented as a ship deck, later floor covering in 1860 by Frederick Walton to describe sheet flooring.
"Linoleum" as a name as well as a product was invented by Walton from his observation that his original linoleum products were made using linseed oil as an ingredient (linseed oil forms a thick flexible skin when it dries), often with a jute, burlap or fabric backing (see our photo just below). Descendents of Linoleum include Anaglypta and Lincrusta (many writers spell it "Linocrusta or linacrusta", an embossed patterned covering used on walls and ceilings.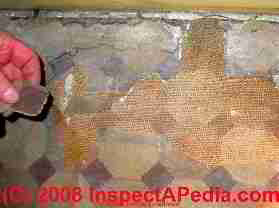 Here is a photograph of an early (pre-vinyl) continuous floor covering, ca 1900, in an 1840 historic Vermont house.
Note the fabric backing of the flooring material.
This article explains various common flooring materials (rough wood, finished wood, parquet, carpeting, linocrusta, sheet vinyl, and other items as they assist in determining The age of a building or other building.
Details about the history of Sheet and Tile Resilient flooring are at FLOOR TILE HISTORY & INGREDIENTS.
According to Armstrong Flooring[1], in Portugal (no coincidence as you'll read below)
Linoleum is the only floor covering offered on the market that is predominantly made of natural renewable raw materials.
Linoleum is still in modern production (we describe the ingredients in linoleum just below), and it is a very durable product. Armstrong Portugal asserts that "Commercial reference projects laid with Armstrong DLW Linoleum are in use up to 90 years". This age, combined with the observation that because of its constituent products linoleum is biodegradable, gives modern linoleum floor coverings a very low life-cycle cost. [1]
Linoleum's ingredients, both historical and modern
Natural resins: linseed oil (original linoleum), also balsam and copal resins or as a substitute dammar resin. Resins form the binder or "glue" that holds the product together. Linseed oil is made from flax seeds.
Jute is used as the flooring backer for strength and dimensional stability. As a kid we called jute "burlap" as it was commonly used also to produce burlap bags. Jute is a natural fabric. We also have found older linoleum floor coverings that used asphalt-impregnated paper ("tar paper" or roofing felt) as a backer.
Color pigments are used to form the patterns in the linoleum surface (see our photos here). Armstrong points out that their Armstrong DLW Linoleum, care was given to choice of pigments to protect the "natural" claim for this flooring material. Quoting:

In the Armstrong DLW Linoleum all the colour pigments are free of lead, cadmium and chrome. The dark colours are produced for the most part with iron oxide pigments, the bright colours with pigments of organic origin. All pigments were examined by a toxicologist and are classified as being physiologically harmless.

Among other requirements Armstrong DLW Linoleum therefore meets the demands of the toy norm EN71 or better and the various legal requirements for the colouring of consumer goods. - [1]
Cork powder is used in Linoleum to give body to the flooring flexible surface. Armstrong uses cork powder waste. Readers familiar with the Iberian peninsula will recognize that cork is a long-standing and important export product from both Spain and Portugal.
Limestone powder is used as a filler in the resilient linoleum floor covering body. [Our GUESS is that some early forms of linoleum could have used asbestos powder as a similar filler material, just as asbestos powder was used as a filler in some floor tiles. See ASBESTOS FLOOR TILE IDENTIFICATION.]
Wood powder (see cork above) is also used as a filler and body component of linoleum.
Armstrong Congoleum - Linoleum and other Resilient Sheet Flooring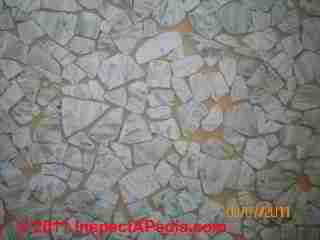 This sheet flooring was identified by a reader in a 1964 home. She found remnants in the bottom of a kitchen cabinet on which was imprinted "Armstrong". Is it linoleum?
A closer look at the product including its backing would be needed. It could be, but this pattern looks more modern to us and is probably a vinyl sheet flooring product. At ASBESTOS FLOOR TILE PHOTO ID GUIDE we include a reader report of lab testing performed on this flooring and confirming that it contained "70% asbestos".
While the reader referred to this as "Armstrong Congoleum sheet flooring", Armstrong and Congoleum are separate individual companies.
This is identified as an Armstrong resilient flooring product.
Don't mix up product names. Armstrong is a separate company from Congoleum-Nairn.
As we discuss at Congoleum Flooring History, Linoleum flooring advertised in 1955, here the Congoleum Gold Seal series, was sold in both sheet and tile forms. At below left is Congoleum Gold Seal Jackstraw pattern, and below right, Congoleum "Square Dance" sheet linoleum sold in a 9" x 9" tile pattern. Congoleum also marketed linoleum sheet flooring in color flecks or scatter such as their Sequin Pattern.
Frequently Asked Questions (FAQs)
...
Ask a Question or Search InspectApedia
Questions & answers or comments about linoleum floor coverings, age, history, safety, materials, contents.
Ask a Question or Enter Search Terms in the InspectApedia search box just below.
Technical Reviewers & References
Related Topics, found near the top of this page suggest articles closely related to this one.
[1] Armstrong, Portugal: Ingredients of Linoleum, web search 03/31/2011, original source: http://www.armstrong.pt/commflreu/es-pt/ingredients.html
America's Favorite Homes, mail-order catalogues as a guide to popular early 20th-century houses, Robert Schweitzer, Michael W.R. Davis, 1990, Wayne State University Press ISBN 0814320066 (may be available from Wayne State University Press)
American Plywood Association, APA, "Portland Manufacturing Company, No. 1, a series of monographs on the history of plywood manufacturing",Plywood Pioneers Association, 31 March, 1967, www.apawood.org
Armstrong ® Residential Flooring - Website 05/15/2010 http://www.armstrong.com/ lists current flooring products provided by the Armstrong Corporation, including Armstrong's current vinyl floor tile products at http://www.armstrong.com/flooring/products/vinyl-floors
Armstrong Corporation, Corporate History - http://www.armstrong.com/corporate/corporate-history.html - Web Search 05/19/2010
Armstrong vinyl asbestos floor tiles: photos of asbestos floor tiles as catalog pages (PDF form) are at www.asbestosresource.com/asbestos/tile.html
Asbestos products and their history and use in various building materials such as asphalt and vinyl flooring includes discussion which draws on Asbestos, Its Industrial Applications, D.V. Rosato, engineering consultant, Newton, MA, Reinhold Publishing, 1959 Library of Congress Catalog Card No.: 59-12535 (out of print).
Thanks to reader Robin DiNunzio for contributing samples of cork flooring from a 1949 home M1y 2010
Books & Articles on Building & Environmental Inspection, Testing, Diagnosis, & Repair
The Home Reference Book - the Encyclopedia of Homes, Carson Dunlop & Associates, Toronto, Ontario, 25th Ed., 2012, is a bound volume of more than 450 illustrated pages that assist home inspectors and home owners in the inspection and detection of problems on buildings. The text is intended as a reference guide to help building owners operate and maintain their home effectively. Field inspection worksheets are included at the back of the volume. Special Offer: For a 10% discount on any number of copies of the Home Reference Book purchased as a single order. Enter INSPECTAHRB in the order payment page "Promo/Redemption" space. InspectAPedia.com editor Daniel Friedman is a contributing author.

Or choose the The Home Reference eBook for PCs, Macs, Kindle, iPad, iPhone, or Android Smart Phones. Special Offer: For a 5% discount on any number of copies of the Home Reference eBook purchased as a single order. Enter INSPECTAEHRB in the order payment page "Promo/Redemption" space.