InspectAPedia tolerates no conflicts of interest. We have no relationship with advertisers, products, or services discussed at this website.
Here we explain the use of Tankless Coils on heating boilers: a guide to tankless coils for domestic hot water supply: capacity, safety, clogging, adjustment, cleaning, & Repair Guide
Green links show where you are. © Copyright 2013 InspectAPedia.com, All Rights Reserved.
A Guide to Tankless Coils for Domestic Hot Water Production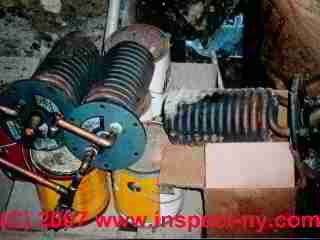 This article series answers most questions about Heating System Boiler Controls on central heating systems to aid in troubleshooting, inspection, diagnosis, and repairs. Contact us to suggest text changes and additions and, if you wish, to receive online listing and credit for that contribution.
Tankless coils used on heating boilers: This device, basically a coil of finned copper tubing which is inserted into the heating boiler, is used to provide domestic hot water to some buildings. Watch out for leaks at piping fittings or more seriously the coil mounting plate which bolts the coil to the boiler (leaks at this location can destroy a steel boiler).
Watch out for missing a mixing/tempering valve which mixes cold in with the outgoing hot water to avoid scalding temperatures at nearby taps. Some building jurisdictions require a separate temperature/pressure relief valve on hot water piping at the boiler.
The photo shows a pile of tankless coils found in a building basement next to the heating boiler. We suspected that high mineral content in the building's water supply was causing frequent coil clogging.


Hot Water Temperature Control with Tankless Coil Heating Systems
The heating boiler, hot water or steam, will include a temperature limit control switch dedicated to maintaining temperature in the heater's interior for purpose of heating the coils of the tankless coil.
As the illustration at left shows, domestic hot water is heated by passing cold water through a finned copper coil which is in turn immersed in hot water inside of a heating boiler.
Drawing of a tankless coil for heating water shown here, courtesy of Carson Dunlop Associates.
How much hot water can a tankless coil provide?
The temperature and effective quantity of domestic hot water received at a fixture in the building for washing and bathing is set, affected, or controlled by these things:
The water temperature inside the boiler and in contact with the tankless coil
The volume of hot water inside the boiler in contact with the tankless coil - larger boiler or larger volume of hot water in the boiler means that there is more heat to transfer into the coil
The thermal mass of the boiler itself - steel boilers have less thermal mass than cast iron boilers of the same size
The rate at which incoming water passes through the tankless coil - faster flowing water absorbs less heat from the boiler. HOT WATER DELIVERY SPEED UP can speed up the water flow, at the cost of drawing heat out of the boiler faster, thus possibly reducing the time duration over which hot water is provided.
Considering these factors, you can understand that converting a large old cast iron home heating boiler with a tankless coil to a new small high-efficiency steel heating boiler that also includes a tankless coil may result in a new heating system which is more efficient and economical, but it may provide less total domestic hot water than the old system.
Use of a Single Function Boiler Temperature Limit switch and Anti Scald Valves with Tankless Coils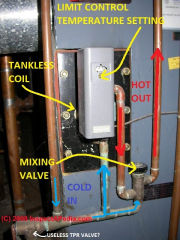 Here is a photo of a more traditional single-function heating boiler limit controls. In this example the limit switch is being used on a tankless coil, and in the enlarged version of the photo you'll see that the temperature limit on the control is set to about 140 degF.
When a heating boiler uses a tankless coil to produce domestic hot water, a third single-function control may be installed for that purpose. In this photo a Honeywell limit control switch is being used to monitor hot water temperature at the tankless coil which is in turn mounted on a steam boiler of an older home in Portland, Maine. You can see the black-handled mixing valve in the lower right of this photo.
Cold water from the building is entering the tankless coil via the bottom pipe (green corrosion) and hot water, heated by the coil is leaving at the upper part of the tankless coil, where it turns downwards to enter the left side of the mixing valve.
Additional cold water is permitted to enter the bottom of the mixing valve, and tempered (non-scalding) hot water then leaves at the right side of the mixing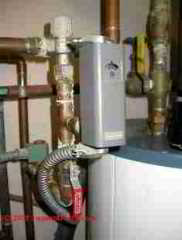 Anti-scald valve used with water heater limit switch: In this photograph a single function limit switch is in use on a water heater, not on a heating boiler. Here too you will notice that there is also a mixing valve installed to prevent scalding - the gray-handled device to the right of the control (and leaking we might add).
The use of a mixing valve or anti-scald valve permits us to set the Honeywell 6006 limit control switch to a higher number, keeping the water in the heater at a higher temperature.
The mixing valve in this photo adds cold to the outgoing hot water to avoid scalding, and at the same time we have more total domestic hot water for washing and bathing than if we omitted this pair of controls.
MIXING / ANTI-SCALD VALVES provides a detailed explanation of how anti-scald valves work and how to use them.
Diagnosis & Repair Articles for Tankless Coils used to Produce Residential Hot Water
How to get more hot water pressure and more hot water quantity from a tankless coil
See Tankless Coil Hot Water Increase and HOT WATER IMPROVEMENT for a detailed guide to improving hot water quantity and flow when a tankless coil is installed as well as using other methods of hot water heating
How to avoid being scalded by hot water from a tankless coil
See MIXING / ANTI-SCALD VALVES for details about mixing valves on boilers and tankless coil systems and for an explanation of how an anti-scald or tempering valve can increase the volume of hot water available from a tankless coil hot water system.
How to deal with clogged hot water piping that reduces hot water pressure and flow
See Clogged Tankless Coil & Hot Water Flow and Water pipe clog repair guide for a discussion of loss of water pressure due to clogged piping or clogged tankless coils.
What to do about leaks at the tankless coil
Please see Tankless Coil Leaks for a detailed discussion of how to recognize, evaluate, and repair boiler leaks on or around the tankless coil.
Also see BOILER LEAKS CORROSION STAINS for a discussion of leaks on heating boilers.
Frequently Asked Questions (FAQs) about making domestic hot water using a tankless coil or side arm coil: installation, inspection, troubleshooting, repair guide
Question: how do I get the furnace to stop heating my tankless coil after I switch to a separate hot water heater?
Hey I'm installing an electric water heater in my new home, I have a Weil mclein furnace and it heated my water to the showers and faucets and it's costing me a fortune in oil so I'm switching how do I get it so the furnace doesn't heat the water anymore just heat the house? Would I have to remove the coil and
off the water supply going to it and coming out ? - Justin 5/1/12
Reply:
Justin,

good question; you can simply turn down the LOW LIMIT in your boiler aquastat to its lowest setting (leave the HI alone) and the DIFF to its highest setting; But to understand what you're doing, and also because there is another option that will turn off hot water maintenance in the boiler completely in summertime, see the article titled

AQUASTAT CONTROL Functions

links at Related Topics or page top
Question: is it normal for the boiler to turn on when the thermostat is not calling for heat and no hot water is being used?
I'm renting my first house have baseboard heat. a coil in my furnace. Is it usual for the burner to come on when your baseboard thermostats are off and there is no hot water being used? It seems to fire up hours after someone has taken ashower or washed dishes/hands. all summer this has happend - Smokey G 10/3/12
Reply:
SmokeyG

Yes it is common for the oil or gas burner to come on occasionally when there is no call for heat and you are using NO hot water - especially if there has been no call for heat in some time, when the boiler temperature drops below the LO limit set on the boiler's aquastat control, the burner will turn on and re-heat the water in the boiler itself; that function is provided to be sure that the tankless coil that makes your domestic hot water will in fact be able to deliver hot water when you open a hot water faucet. IN other words, it's keeping the boiler hot.
Question: do we need a temperature & pressure relief valve on the output side of a tankless coil?
Should there be a TPR valve on the DHW "hot",i.e., "out" side of a combination boiler coil? - Vince 11/2012
Sorry, I see in this article that "Some building jurisdictions require a separate temperature/pressure relief valve on hot water piping at the boiler." I'm just trying to figure out in what scenario a TPR would trigger with such a system. Also, since TPR valve usually have the "melting rod"; it's difficult to install them directly in the pipping. It is possible with a 4" length of 3/4" pipe but that seems to contradict most installation instructions for those valves.
Reply:
Thanks for the comment, Vince.

I'm doubtful that there are many events that actually occur to cause a TP valve on the output side of a tankless coil to actualopen, but should the building water pressure be unusually high, say over 80 psi, heating that water from cold to 120F might be enough of a pressure increase to cause leaks or a burst pipe.

Also, I think we'd need a special TPR valve to install on a water pipe if we wanted it to operate on temperature as well as pressure. Pressure - no problem. Temperature - where does the sensor probe fit. And indeed, installing a short 4" riser or nipple to accomodate such a valve seems to me completely misguided - it's in an unreliable location. I'll research further but I've not seen such a layout in any of the manufacturers' literature I've read.

Can you give me a code citation to research further?

Because the top temperature we'd see on a boiler (before its own TP valve opened) would be around 200F, the hot water supply pipe scenario has nothing whatsoever to do with the much more serious hazard that can occur if we heat water in a closed container (such as a boiler itself or a water heater tank) - there a BLEVE can occur, resulting in a catastrophic explosion. Search InspectAPedia for BLEVE EXPLOSION to read details.
Question: I have to turn our room heating thermostat and wait before we can get hot water out of the tankless coil
My wife and I just bought a house with an oil boiler for heat/hot water. For showers I have to crank the heat to 80, wait 8-10 minutes for the boiler to kick on, turn heat back down, wait a few more minutes, then take a quick 2 minute shower that starts at 150 degrees and ends at about 70. The heat seems fine but just takes a few minutes from thermostat change to boiler kicking on. The water, however, goes from lukewarm to ice cold in 20 seconds if I don't go through the routine. What should I check for to remedy this?
Unfortunately we'll have to live with the boiler for a little while. Electric panel is all used up so no electric water heater and with enough asbestos to fill a small dumpster on the pipes, switching to gas is also not going to be an option right away. - John 11/20/12
Reply:
John, I don't have a clear picture of all the equipment you have installed, but it sounds as if your boiler controls may not be set properly; The LO and DIFF are what keep the boiler hot to provide hot water beween calls for heat.

Try setting the HI to just under 200, and the LO 20 degrees below where the HI is set, and the DIFF as we describe in our article on AQUASTAT SETTINGS
Reader follow-up:
Thank you. I checked and it looks like there is only one control which is set at 155 degrees? I had a plumbing emergency and while he was there the plumber checked and said it was fine at that temp. We still have no hot water unless the boiler is running, which must be manipulated by cranking the heat up.

Can we have a gas line run to install a hot water water heater and then just use the boiler for heat? We got a quote for $10K for a gas furnace so it'll be a while before we can afford that.
Reply:
John, it would be unusual to use a tankless coil on a heating boiler with a boiler primary control aquastat that was designed ONLY for heating - that is, that did not include a LO and DIFF control to provide hot water when there was no call for room heating. I suspect the unit doesn't have the proper type of aquastat.
x
Ask a Question or Search InspectApedia
Questions & answers or comments about tankess coils for making domestic hot water: installation, diagnosis, repair, & adjustment of temperatures & hot water capacity, clogging, & coil cleaning procedures
Ask a Question or Enter Search Terms in the InspectApedia search box just below.
Technical Reviewers & References
Related Topics, found near the top of this page suggest articles closely related to this one.
Click to Show or Hide Citations & References
Books & Articles on Building & Environmental Inspection, Testing, Diagnosis, & Repair
The Home Reference Book - the Encyclopedia of Homes, Carson Dunlop & Associates, Toronto, Ontario, 25th Ed., 2012, is a bound volume of more than 450 illustrated pages that assist home inspectors and home owners in the inspection and detection of problems on buildings. The text is intended as a reference guide to help building owners operate and maintain their home effectively. Field inspection worksheets are included at the back of the volume. Special Offer: For a 10% discount on any number of copies of the Home Reference Book purchased as a single order. Enter INSPECTAHRB in the order payment page "Promo/Redemption" space. InspectAPedia.com editor Daniel Friedman is a contributing author.

Or choose the The Home Reference eBook for PCs, Macs, Kindle, iPad, iPhone, or Android Smart Phones. Special Offer: For a 5% discount on any number of copies of the Home Reference eBook purchased as a single order. Enter INSPECTAEHRB in the order payment page "Promo/Redemption" space.
Carbon Monoxide Gas Toxicity, exposure limits, poisoning symptoms, and inspecting buildings for CO hazards
Fuel Oil & Oil Heating Magazine, 3621 Hill Rd., Parsippany, NJ 07054, 973-331-9545
Inspection Procedures for Oil-Fired Heating Systems Detailed step by step approaches for inspecting complex systems]
Oil Tanks - The Oil Storage Tank Information Website: Buried or Above Ground Oil Tank Inspection, Testing, Cleanup, Abandonment of Oil Tanks
Oil Tanks Above Ground, UL Standards, guidance for home owners, buyers, and inspectors
Domestic and Commercial Oil Burners, Charles H. Burkhardt, McGraw Hill Book Company, New York 3rd Ed 1969.
National Fuel Gas Code (Z223.1) $16.00 and National Fuel Gas Code Handbook (Z223.2) $47.00 American Gas Association (A.G.A.), 1515 Wilson Boulevard, Arlington, VA 22209 also available from National Fire Protection Association, Batterymarch Park, Quincy, MA 02269. Fundamentals of Gas Appliance Venting and Ventilation, 1985, American Gas Association Laboratories, Engineering Services Department. American Gas Association, 1515 Wilson Boulevard, Arlington, VA 22209. Catalog #XHO585. Reprinted 1989.
...