How to Recognize, Test, & Diagnose Heating Appliance Combustion Air Problems

InspectAPedia tolerates no conflicts of interest. We have no relationship with advertisers, products, or services discussed at this website.
Combustion air defects & hazards: this article explains how to recognize and fix combustion air defects on heating appliances such as boilers, furnaces, and water heaters. Lack of adequate combustion air causes improper heater operation, increased maintenance cost, and risks dangerous production of carbon monoxide gas. This article series explains how to recognize & diagnose problems with residential heating boilers, including loss of heat, heating boiler noises, leaks, odors, or smoke, and high heating costs. This website answers most questions about central hot water heating system troubleshooting, inspection, diagnosis, and repairs. Also see Combustion Air Defects where we list symptoms of lack of adequate combustion air for oil fired heating equipment.
Green links show where you are. © Copyright 2013 InspectAPedia.com, All Rights Reserved.
How to Recognize & Diagnose Inadequate Combustion Air, Sooting, or Burn Marks at Oil-Fired or Gas-Fired Heating Systems
If you have no heat and need help diagnosing the cause, see HEATING LOSS DIAGNOSIS-BOILERS or HEATING LOSS DIAGNOSIS-FURNACES. Our photo at page top shows an oil fired furnace installed in a closet with an airtight door; there was no outside combustion air supply. The heating system could not work properly nor safely in this home.
Watch out: inadequate combustion air supply to a gas burner (and less often to an oil burner) is very dangerous and can produce potentially fatal carbon monoxide. If you suspect unsafe heating system operation or a carbon monoxide problem be sure everyone leaves the building immediately and then call your local fire department for assistance.
COMBUSTION AIR for TIGHT buildings explains how to provide outside combustion air for tight buildings. See COMBUSTION GASES & PARTICLE HAZARDS for an explanation of the dangers of inadequate combustion air. See COMBUSTION PRODUCTS & IAQ for the relationship between fuel burning appliances and building indoor air quality. More about carbon monoxide - CO - is at CARBON MONOXIDE - CO and at CARBON MONOXIDE WARNING. Also see the safety warnings at BACKDRAFTING HEATING EQUIPMENT.
The photograph shows a heating furnace with soot blow-back around the oil burner probably means there is backpressure in the combustion chamber - an improper operating condition that may be unsafe. Contact us to suggest text changes and additions and, if you wish, to receive online listing and credit for that contribution.
List of Clues Indicating Possible Lack of Combustion Air & Related Safety Hazards
Lack of adequate combustion air can be indicated by or can result in these heating system operating and safety worries: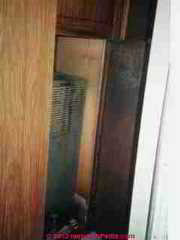 Watch out: Gas burner sooting or odors: SAFETY WARNING: Small amounts of soot or flame marks right at the gas burner also indicate an operating problem but may not be producing carbon monoxide. But soot produced at a gas fired appliance such as chunks of soot found around a gas flue vent or draft hood is a RED DANGER FLAG as dangerous carbon monoxide may be produced and a chimney may be blocked. Turn off the equipment and contact your heating service company or utility company immediately. See CARBON MONOXIDE WARNING and see SPILL SWITCHES
Improper oil burner system operation such as noises, rumbling, etc. discussed at OIL BURNER NOISE SMOKE ODORS
Oil burner sooting or dirty operation (the photo at above-left)
Burn marks on the boiler (photo at above right), furnace, or water heater, (these conditions may be caused by a blocked exhaust flue and inadequate venting).

Watch out: burn marks on a heating boiler or furnace (shown in our page top photo) can also be due to collapse or damage to the combustion chamber liner - a serious fire hazard needing immediate attention. Notice that in our photo at right, the brown burn marks around the oil boiler combustion chamber inspection port (that rusty round door above the oil burner) have been cleaned-off.

The presence of these burn marks does not necessarily mean that the oil burner backpressure problem remains - in this case the system has been cleaned and adjusted, but no one has re-painted the front of the boiler. But if you see fresh peeling paint or soot in such an area further investigation is needed.

That's why we recommend that after repairing a back-pressure problem at heating equipment the service technician should clean the boiler or furnace exterior - to remove confusing debris and to make it easier to see if the problem recurs.
Heating equipment located in a small utility room with no provision for combustion air intake. When the service technician adjusts the system she probably worked with the utility room door open, but when the service tech left the job he may have closed the door - completely changing the availability of combustion air for the equipment. We need about one square inch of un-louvered (unobstructed) combustion air intake per 1000 btuh of the oil fired heating boiler, furnace, or water heater.
Increased heating system operating cost, spending more on heating oil than necessary
Damage to oil burner components (backpressure heat can destroy an ignition transformer),
Higher and more frequent heating service calls & costs
Loss of heat, the heating system goes off on safety reset
Noises in the heating equipment or chimney when the boiler, furnace, or water heater starts, is operating, or is shutting down
Smoke or soot indoors,coming out of the heating equipment or its draft regulator
Carbon monoxide or CO alarms: Potentially, the production of carbon monoxide or other flue or combustion gases which escape into the building - potentially dangerous or even fatal. It is harder to produce with oil heat than with gas heat, but not impossible.
Also see Unsafe Air Conditioning or Heating Duct Openings which describes the risks of reduced combustion air on hot air heating systems when certain return air duct defects are present, and also see CARBON MONOXIDE - CO and CHIMNEY INSPECTION DIAGNOSIS REPAIR

Guide to a Simple Combustion Air Safety Check for Gas Fired Heating Appliances
Thanks to Tjernlund Products who recommended this procedure, we describe a simple combustion air safety check that can be performed by a homeowner or by a heating service technician.
This procedure is only intended for buildings where LP gas or natural gas heating appliances (heating boiler, warm air furnace, water heater) are installed AND where a flue gas spillage safety switch such as a Tjernlund UC1 Universal Control, MAC1E or MAC4E auxiliary controls for gas fired equipment or Field Controls Gas Spillage Sensing Kit Model GSK-3, GSK-4, GSK-250M switches are installed on those appliances. (Similar products are provided by other manufacturers.)
Close all doors and windows of the building. If the gas fired heating appliance is installed in a utility room or closet, close the entry door to that room. Close all fireplace dampers. Turn on the clothes dryer (if installed) and all exhaust fans such as range hoods, bathroom exhaust vent fans, whole house fans, and radon mitigation fans, running all fans at their maximum speed.
Turn on and place in operation the gas fired heating appliance on which the flue gas spillage sensor switch to be tested has been installed. Set the appliance thermostat for continuous operation. If other gas fired appliances are installed in the same building run those appliances at the same time.
Allow the fans turned on in step 1 to operate for fifteen minutes.
If the flue gas sensor spill switch trips during the fifteen minute test period this means that an unsafe condition exists. Check all of the appliances for a venting malfunction and check for adequate combustion air. (The occurrence of the flue gas spillage safety switch tripping may indicate inadequate combustion air but it could also indicate an unsafe chimney or some other unsafe condition.) Also see CHIMNEY INSPECTION DIAGNOSIS REPAIR.
TURN OFF FUEL SUPPLY to the gas fired appliance that caused the safety switch to trip.
DO NOT OPERATE THE GAS APPLIANCES UNTIL THE UNSAFE VENTING CONDITION HAS BEEN INVESTIGATED BY A PROFESSIONAL CONTRACTOR or GAS UTILITY COMPANY SERVICE PERSONNEL. See CARBON MONOXIDE WARNING.
Return all windows, doors, fans, to their previous conditions of use.
SAFETY WARNING: If AT ANY TIME your gas fired equipment has shut down in SAFETY OFF position it may be due to a resettable flue gas spill sensor switch. Check with your heating service company - you might think you can avoid a costly heating service call, BUT BEWARE: because flue gas spillage is very dangerous, including the production of potentially fatal carbon monoxide gas, don't simply reset the system without finding out what caused the problem in the first place.
MORE SAFETY WARNINGS: in addition to our safety warning above, Tjernlund explains that flue gas safety switches are intended to alert the building occupants to a potentially dangerous condition.
But flue gas spillage safety switches are not a substitute for a regular chimney safety inspection nor do they replace regular heating appliance inspection and maintenance by a trained technician. Those steps must be taken as well.
What causes flue gas spillage:
Please see SPILL SWITCHES for a discussion of the causes of flue gas spillage in buildings and for a description that contrasts inadequate combustion air with other causes of dangerous flue gas leakage into buildings.
Bachrach Corporation, a manufacturer of heating system test equipment opines that gas fired equipment is more likely to have flue gas spillage from a blocked chimney than from building depressurization due to inadequate combustion air supply. We're not sure what data supports that view.
Certainly home inspectors find many heating appliances installed in tiny closets with no outside combustion air and a door that, when shut, blocks off air to the appliance. We have also observed that gas fired heating equipment operated just fine in a building until a new owner installed a whole house ventilation fan system.
Combustion Air Defects & Safety Hazards at Mobile Home Heating System
Below our photographs illustrate several unsafe conditions at a house trailer's heating system. There are no return air flow from the conditioned (occupied) space to the furnace warm air intake, questions about adequate combustion air, and dirt blocked air flow passages.
No return air from occupied space to the furnace: Above we notice that when the door to the "furnace closet" in this mobile home is shut, there is no return air movement from the home's heated interior to the furnace - creating the most-expensive possible way to operate the furnace. We call this a "one way" heating system: scrounge some air from a cold outdoor or crawl space source, heat it, and blow it into the living space.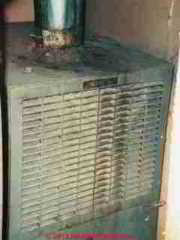 In addition to the absence of return air to the heating furnace we notice that
Dirt blockage of air flow: the return air inlet grille is partly blocked by dust and debris, further reducing air flow, increasing heating cost, and ...
Watch out: there is an increased risk of potentially fatal carbon monoxide poisoning if the system lacks adequate combustion air


Blocked air filter: if an air filter is installed (remains to be discovered), given how dirty is the exterior of this furnace the air filter may be equally dirty and airflow blocked
The leak stains and corrosion on and below the heating flue indicate that the chimney and flue are leaking, risking hidden damage, leaks, holes, water or rust damage to the furnace heat exchanger: all further pointers to an unsafe heating system
On some of these installations combustion air is provided from outdoors through wall or floor openings in the furnace closet, increasing safety but ignoring operating cost
Unsafe chimney outside: incomplete, leaks, missing cap, too short, bad draft - are illustrated by our outdoor heating flue/chimney photos earlier on this page.
Combustion Air for Woodstoves - How is It Provided?
The link to the original Q&A article in PDF form immediately below is followed by an expanded/updated online version of this article.
Q&A on Outside Combustion Air for Woodstoves- PDF version, use your browser's back button to return to this page. Original article, Solar Age Magazine, November, 1985, adapted and updated for InspectAPedia.com December 2010.
The question-and-answer article below paraphrases, quotes-from, updates, and comments an original article from Solar Age Magazine and written by Steven Bliss.
Question: how do I provide combustion air for a woodstove?
I've often read about the necessity of providing combustion air to a woodstove, but there's usually not much explanation of how it's done. Is it just a pipe that ends near the stove inlet? - Chris Rich, New Castle VA
Answer: hard-ducted outside combustion air required for some woodstoves - in manufactured housing
Many wood-stove manufacturers provide a special line of stoves intended for manufactured housing. These woodstoves must have an external combustion-air inlet hard-ducted directly into the stove.
Often the combustion air supply duct comes up through the floor under the woodstove (or coal stove or airtight wood-burning fireplace), making it almost invisible from inside the room where the woodstove is located.
This makes it attractive for the homeowner, and easy for the builder to install.
A Guide to Combustion-Air-Related Heating Equipment Malfunctions & Their Implications
Noises & soot buildup can lead to a potentially dangerous puffback which can damage the heating equipment and blow soot and smoke throughout the building.
Lack of adequate combustion air can result in improper system operation, sooting, loss of heat, noises, smoke, and potentially, the production of carbon monoxide or other flue or combustion gases which escape into the building - potentially dangerous
Leaky oil at an oil burner ignition transformer: watch for back pressure in combustion chamber--watch out for blocked heating flue or blocked chimney - these would be unsafe, or the heater may be unreliable. An unreliable heater can lead to frozen burst pipes and costly building damage. A blocked chimney could lead to a potentially fatal carbon monoxide hazard.
Odors: while carbon monoxide is odorless and colorless, when it is being produced by heating equipment it may be mixed with flue gases that indeed have a distinctive odor. If you smell oil, gas, or other unidentified odors in a building, be sure that the safety of all heating equipment and chimneys is included in your investigation.
Unusual interior moisture conditions, noises, smoke, or odors during heating season--watch for blocked chimney or poor flue vent connections
Equipment recalls: Specific heating system problem brands Repco, Blueray etc.
[Do not confuse Repco™ heating boilers, which had fire chamber and other failures, with other products (REPCO pumps, REPCO controls, REPCO water conditioners, or water treatment that carry the Repco name. Those products are distinct from REPCO heating boilers and are produced/distributed by the R.E. Prescott Company. Further, we are unaware of any remaining warranty or replacement support for failed or antiquated Repco heating boilers.]

BLUE vs YELLOW COMBUSTION FLAMES - the Blueray history and blue flame vs. yellow flame combustion, flame color & combustion efficiency, & how oil competes with gas as a heating fuel.
Blueray Heating Boilers/Furnaces Safety Recall by the US CPSC, with additional history, photos, and technical details; Blue Flame Blue Ray
Carbon Dioxide Gas Toxicity - an explanation of exposure limits and toxicity of this common gas in air
Carbon Monoxide Gas Toxicity, exposure limits, building inspection for CO hazards
Heating System Check Recommended for Carbon Monoxide - CPSC Release 88-92
Home Heating System Should Be Checked [for proper venting and for CO Carbon Monoxide Hazards - DJF]ms]
SPILL SWITCHES - safety switches intended to detect dangerous flue gas spillage, where and how are they installed, how are they reset.
FAQs below discusses field reports of problems & solutions for this topic
Related Topics, found near the top of this page providers a complete list articles closely related to this one.
...
Frequently Asked Questions (FAQs)
No FAQs have been posted for this page. Try the search box below or CONTACT US by email if you cannot find the answer you need at InspectApedia.
Ask a Question or Search InspectApedia
Questions & answers or comments about combustion air requirements and safety hazards for oil and gas fired heating appliances
Ask a Question or Enter Search Terms in the InspectApedia search box just below.
Technical Reviewers & References
Related Topics, found near the top of this page suggest articles closely related to this one.
Click to Show or Hide Citations & References
Field Controls provides instructions for the installation of LP and Natural Gas spill sensor switches, for example for their Gas Spillage Sensing Kit Model GSK-3, GSK-4, GSK-250M switches. Contact your heating service technician directly, or contact Field controls at fieldcontrols.com for more information. These switch models include a manual reset switch. Field Controls, Kingston NC 28504 - Tel 252-522-3031.
Tjernlund Products provides instructions for the installation and use of their controls, including the WHKE Millivolt Interlock Kit for use with their UC1 Universal Control, MAC1E or MAC4E auxiliary controls for gas fired equipment. This document also describes Tjernlund's recommended combustion air safety check which we recommended in this article. Contact Tjernlund Products at tjernlund.com or at 800-255-4208.
Bachrach Corporation, www.bachrach-training.com provides education for HVAC technicians. We found their web pages hanging during loading -01/2009. Readers may want to contact the company directly at: bacharach-inc.com or at 800-736-4666.
R.E. Prescott Company, a producer of other REPCO™ residential and industrial products as well as a provider of design-build engineering services is at 10 Railroad Avenue, Exeter, NH 03833. Tel: 603-722-04321 or 888-786-7482. Trish O'Keefe from Prescott informed us (10/7/2009) that their company had nothing to do with the failed Repco heating boilers discussed at InspectAPedia.com. She wrote:

Our company manufactures & distributes residential water treatment equipment, including our Repco line of conditioners. We have a plumbing & heating supply dept as well. We are mistaken for the Repco Boiler company on a regular basis, most frequently in Oct. and Nov.
Any information you could give me on the other Repco company would be appreciated. We've assumed it is no longer in business, and we'd like to know that for sure. Many callers want to know where to get replacement parts and I would be glad to direct them if I knew...plus there's always a chance they might be interested in a Crown Boiler instead
Books & Articles on Building & Environmental Inspection, Testing, Diagnosis, & Repair
The Home Reference Book - the Encyclopedia of Homes, Carson Dunlop & Associates, Toronto, Ontario, 25th Ed., 2012, is a bound volume of more than 450 illustrated pages that assist home inspectors and home owners in the inspection and detection of problems on buildings. The text is intended as a reference guide to help building owners operate and maintain their home effectively. Field inspection worksheets are included at the back of the volume. Special Offer: For a 10% discount on any number of copies of the Home Reference Book purchased as a single order. Enter INSPECTAHRB in the order payment page "Promo/Redemption" space. InspectAPedia.com editor Daniel Friedman is a contributing author.

Or choose the The Home Reference eBook for PCs, Macs, Kindle, iPad, iPhone, or Android Smart Phones. Special Offer: For a 5% discount on any number of copies of the Home Reference eBook purchased as a single order. Enter INSPECTAEHRB in the order payment page "Promo/Redemption" space.
Carson Dunlop, Associates, Toronto, have provided us with (and we recommend) Carson Dunlop Weldon & Associates' Technical Reference Guide to manufacturer's model and serial number information for heating and cooling equipment
Special Offer: Carson Dunlop Associates offers InspectAPedia readers in the U.S.A. a 5% discount on any number of copies of the Technical Reference Guide purchased as a single order. Just enter INSPECTATRG in the order payment page "Promo/Redemption" space.

Carbon Monoxide Gas Toxicity, exposure limits, poisoning symptoms, and inspecting buildings for CO hazards
DUST, HVAC CONTAMINATION STUDY An Investigation of Indoor Dust Debris Blamed on a Heating/Cooling System Reveals Carpet Dust
Fuel Oil & Oil Heating Magazine, 3621 Hill Rd., Parsippany, NJ 07054, 973-331-9545
Home Heating System Should Be Checked [for proper venting and for CO Carbon Monoxide Hazards - DJF]
Domestic and Commercial Oil Burners, Charles H. Burkhardt, McGraw Hill Book Company, New York 3rd Ed 1969.
National Fuel Gas Code (Z223.1) $16.00 and National Fuel Gas Code Handbook (Z223.2) $47.00 American Gas Association (A.G.A.), 1515 Wilson Boulevard, Arlington, VA 22209 also available from National Fire Protection Association, Batterymarch Park, Quincy, MA 02269. Fundamentals of Gas Appliance Venting and Ventilation, 1985, American Gas Association Laboratories, Engineering Services Department. American Gas Association, 1515 Wilson Boulevard, Arlington, VA 22209. Catalog #XHO585. Reprinted 1989.
The Steam Book, 1984, Training and Education Department, Fluid Handling Division, ITT [probably out of print, possibly available from several home inspection supply companies] Fuel Oil and Oil Heat Magazine, October 1990, offers an update,
Principles of Steam Heating, $13.25 includes postage. Fuel oil & Oil Heat Magazine, 389 Passaic Ave., Fairfield, NJ 07004.
The Lost Art of Steam Heating, Dan Holohan, 516-579-3046 FAX
Principles of Steam Heating, Dan Holohan, technical editor of Fuel Oil and Oil Heat magazine, 389 Passaic Ave., Fairfield, NJ 07004 ($12.+1.25 postage/handling).
"Residential Steam Heating Systems", Instructional Technologies Institute, Inc., 145 "D" Grassy Plain St., Bethel, CT 06801 800/227-1663 [home inspection training material] 1987
"Residential Hydronic (circulating hot water) Heating Systems", Instructional Technologies Institute, Inc., 145 "D" Grassy Plain St., Bethel, CT 06801 800/227-1663 [home inspection training material] 1987
"Warm Air Heating Systems". Instructional Technologies Institute, Inc., 145 "D" Grassy Plain St., Bethel, CT 06801 800/227-1663 [home inspection training material] 1987
Heating, Ventilating, and Air Conditioning Volume I, Heating Fundamentals,
Boilers, Boiler Conversions, James E. Brumbaugh, ISBN 0-672-23389-4 (v. 1) Volume II, Oil, Gas, and Coal Burners, Controls, Ducts, Piping, Valves, James E. Brumbaugh, ISBN 0-672-23390-7 (v. 2) Volume III, Radiant Heating, Water Heaters, Ventilation, Air Conditioning, Heat Pumps, Air Cleaners, James E. Brumbaugh, ISBN 0-672-23383-5 (v. 3) or ISBN 0-672-23380-0 (set) Special Sales Director, Macmillan Publishing Co., 866 Third Ave., New York, NY 10022. Macmillan Publishing Co., NY
Installation Guide for Residential Hydronic Heating Systems
Installation Guide #200, The Hydronics Institute, 35 Russo Place, Berkeley Heights, NJ 07922
The ABC's of Retention Head Oil Burners, National Association of Oil Heat Service Managers, TM 115, National Old Timers' Association of the Energy Industry, PO Box 168, Mineola, NY 11501. (Excellent tips on spotting problems on oil-fired heating equipment. Booklet.)
Links to our list of additional information on heating system inspection, repair, maintenance
...