Non-Asbestos Resilient & Sheet Flooring
How to Identify Resilient Flooring or Sheet Flooring that Does Not Contain Asbestos
InspectAPedia tolerates no conflicts of interest. We have no relationship with advertisers, products, or services discussed at this website.
Non-asbestos sheet flooring or resilient flooring product identification:
How to recognize several sheet flooring or resilient flooring products that do not contain asbestos. This article describes non-asbestos-containing floor coverings including linoleum and some Armstrong and Congoleum sheet flooring products and un-branded asphalt-impregnated paper-backed sheet flooring, asphalt-core sheet flooring, asphalt based sheet flooring, and rubber-backed sheet flooring that usualy does not contain asbestos.
This article series describes sheet flooring products known to contain significant levels of asbestos. We also include photographs for identification of known asbestos-containing resilient sheet flooring as well as unknown flooring submitted for identification. The article gives safety and asbestos testing advice for sheet flooring products.
We also provide a MASTER INDEX to this topic, or you can try the page top or bottom SEARCH BOX as a quick way to find information you need.
Examples of older sheet flooring that Does Not or is Unlikely to Contain Asbestos
Article Contents:
[Click to enlarge any image]
Shown at above / left, jute-backed antique sheet flooring from a pre-1900 historic home. This floor covering does not contain asbestos.
Armstrong Armalon Sheet Flooring Tested for Asbestos - results here (Australia)
I'm beginning to work on a house with an old linoleum down. I was able to find that it is printed Armstrong Mastic Armollon 1/8 heavy gauge on the back. Have you ever encountered this product, and do you know it to contain or not contain asbestos?
Thank you for any help - Adam 3/4/2014
Reply: reference to contemporary Armstrong Armalong sheet flooring in Australia
If I guess that you mis-spelled the Armstrong flooring product, then I can refer you (and myself) to an Armstrong comme
Here's a link to current Armstrong sheet flooring information for the Armalon line:
http://www.armstrong-aust.com.au/commflrpac/en-au/flooring.asp/armalon-ng/_/N-1z141ra
In Australia one can call 1 800 632 624 or check the company's website armstrongflooring.com.au
As this is a "homogeneous sheet vinyl" contemporary flooring product (solid vinyl thicknesses from 1.5 to 2.5 mm) it would not contain asbestsos.
It would be most helpful and allow further comment if you could send along some sharp photos of the flooring as installed, both wide view and up close and of the back and imprint you describe.
With that I can research further. Depending on your country and the type of flooring yours may be a different product than the commercial-use sheet vinyl Armalon I describe above.
Reader Follow-up: - no asbestos in Armstrong Armalon [ aka: Armstrong Mastic Armollon ]
Hi Daniel
... The lino was an old piece from the 40s-50s? Had it tested. negative for asbestos. 3/7/2014
Reply:
Sounds like it may actually have been a linoleum product. Armstrong, Congoleum, Linoleum sheet flooring is also discussed
Asphalt-Backed Sheet Flooring Products That Do Not Contain Asbestos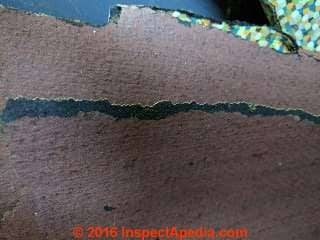 Many sheet flooring products sold in North America as well as other parts of the world beginning perhaps into the 1930's or earlier, and extending into the 1960's were manufactured using an asphalt-impregnated paper backing or were described asphalt-backed sheet flooring or asphlat-based resilient flooring.
These floor products were often advertised as "Linoeum rugs" though as you can read
at LINOLEUM & SHEET FLOORING as asphalt-based products they are not true linoleum.
Also see FELT-PAPER-BACKED FLOOR TILES
Since some asphalt sheet products used in roofing, siding, and flooring contained asbestos as a reinforcing fiber and sometimes as a filler, we're reluctant to declare asphalt-based sheet flooring as always "asbestos free".
But as you'll read below, some readers who have had asphalt-backed sheet flooring products tested were able to confirm that their sheet flooring did not contain asbestos.
Reader comment: Tests showed this red-backed asphalt-core sheet flooring did not contain asbestos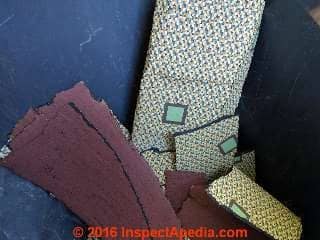 I'm writing to let you know of my vinyl flooring issue, with pics, so you can add it to your website and archive.
I recently removed a large area of vinyl sheet flooring from a bedroom room in my house. The house was built in circa 1745 in Rhode Island. A lot of the house is in original form though sometime between 1935 and 1990 a linoleum like, vinyl floor sheeting was added to the bedrooms upstairs over the antique hardwoods. The sheeting did not cover the entire floor, leaving about 1-2 feet of hardwoods exposed at the edges.
When removing the vinyl flooring it did not appear to be glued down and was only slightly tacking to the floor, likely from settling over the time it was there, with a couple spots being quite stuck to the floor. The flooring tore rather easily and folded over easily.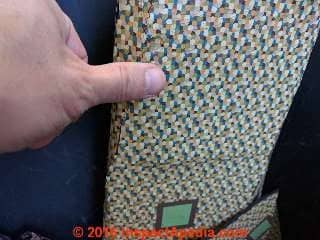 If folded completely (like a seem) it would easily break, especially if folded with the top layer in. The back of the flooring is red, like a burgundy. The top layer looks like carpet with random teal squares (hideous). I could not find any manufacturer markings.
After I completed the removal of the flooring, I began examining one of the pieces and noticed what looked like a black asphalt layer in between the top and backing layers, making up the bulk of the volume. Immediately the asbestos flag went up in my mind (too late though). This is when I found your website.
After reviewing your website I decided to have a PLM test done on a sample of the flooring at RI Analytical Laboratories Inc. I found them on the RI Department of Health website:
http://health.ri.gov/find/asbestos/bytype.php?type=%271019%27,%271020%27,%271021%27,%271023%27&prof=264 under "Analytical Labs".
The test was completed at their lab in RI. Costs were $50 for a 5-7 day delayed report or $100 for a 1 day delayed report. A $7 disposal fee was added. The sample returned a NEGATIVE result stating that no asbestos was found in the sample I supplied.
[Readers should see ASBESTOS TESTING LAB LIST for a list of certified asbestos testing laboratories - Ed. ]
Attached are pictures of the flooring after I removed it. The first pic shows the top pattern and the underside with the torn edges showing the black asphalt like material. The second pic shows the underside of the flooring with a closer, more detailed view of the black material. The third has my thumb against the top pattern to show a rough scale of the pattern.
Thanks for the information and website. I hope these pics and info serves useful. - Anonymous by private email 2016/06/28
Reply:
... thanks for the very helpful photos and test report; as that information will help other readers I will indeed publish it - keeping you anonymous unless you ask otherwise.
The flooring looks to me like an early sheet flooring on an asphalt-impregnated backer, not a true linoleum, but a predecessor to vinyl-based sheet flooring. Some asphalt-based papers used as flooring backing did contain asbestos, so your test is particularly valuable.
Sheet flooring was often referred to as "linoleum" as that was an old and very familiar term, even when the material was not true linoleum.

See LINOLEUM & SHEET FLOORING - definition, components, and history of linoleum flooring and similar products.
Beginning in North America in the 1930's or possibly even earlier, linoleum and similar but asphalt-impregnated-paper-backed sheet flooring were often sold as "rugs" that were inexpensive and easy to clean and, of course, lint free.

See VINYL SHEET FLOORING BACKER TYPES
Were there any stampings or markings on the flooring identifying a manufacturer? I've seen red-backed sheet flooring of this type from both Armstrong and Congoleum and of course it was doubtless produced by many others.
Sheet flooring with a Red Under-side includes other Asphalt-Core Sheet Flooring
Some sheet flooring with a red under-side was based on a rubber substrate while other red-bottomed sheet flooring used a core of asphalt-impregnated paper with a red bottom coating of rubber or other material.
Watch out: research cited in the articles below suggests that some red-backed and rubber-backed flooring might contain asbestos in the backer.
Examples of sheet flooring or resilient flooring whose underside is red in color can be seen below and in more details in the articles listed.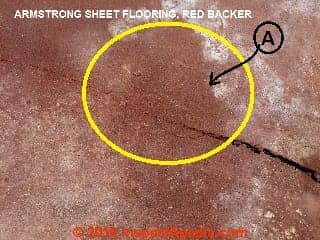 ASPHALT BASED SHEET FLOORING [above in this article]. Note that some tests of red-backed asphalt core vinyl sheet flooring found that the floor did not contain asbestos.

But other asphalt-impregnated felt products and floor backers did contain asbestos, so unless you have had a lab test performed it would be prudent to assume that the material contains asbestos.

See ASBESTOS TESTING LAB LIST if you need asbestos testing services and be sure to only use an asbestos-test-certified testing laboratory.
Below: asphalt core vinyl sheet flooring with a red coating on the floor underside, provided by reader W.T.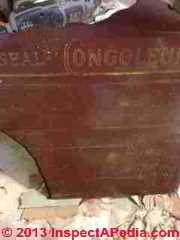 Burlap or Jute Backed Sheet Flooring ca 1899-1920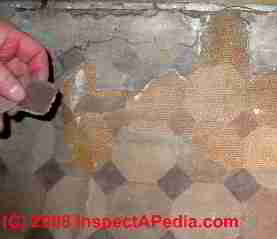 This sheet flooring covering backed with burlap fabric at above left is probably more than a century old. We examined it in an non-public area of the Justin Morrill Homestead, a historic building in Vermont.
The material has not been tested for asbestos fibers. But the backing material appears by visual inspection to be jute or "burlap". This is not an asbestos product.
Linoleum Flooring, Non-Asbestos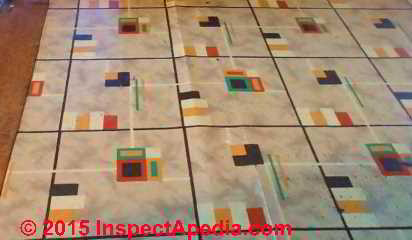 1930: Shown above is an image of 1930's true linoleum flooring contributed by a reader.
Details about this older non-asbestos floor covering material are
See other examples of linoleum and sheet flooring
at CONGOLEUM-NAIRN FLOOR TILES & LINOLEUM and also
Vinyl Sheet Flooring, Non-Asbestos
1954: Armstrong brown/tan rectangle pattern sheet flooring - not asbestos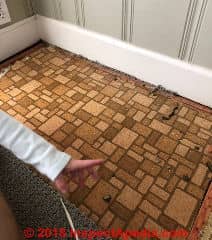 We tested this flooring in our 1954 home: it was found free of asbestos
On Fri, Sep 21, 2018 Anonymouys, by private email wrote:
Hi!
We just purchased a 1954 home and are wondering if our ceiling tiles in 2 rooms and cork floor under carpet in one of the rooms might possibly have asbestos.
We had everything tested and none of it contained asbestos! This was the vinyl above the cork floor.
We had that vinyl, the cork under it, all adhesive/glue and also ceiling tiles tested.

Here is a copy of the ASBESTOS TEST LAB REPORT for the flooring shown in these photos.
Forgot to mention we also tested the drywall and joint compound. We assume the drywall is original from 1954.
Reply: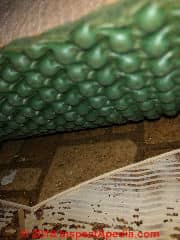 I installed that very sheet flooring pattern in a New York home in the 1970's - at that time the flooring I used contained asbestos; but not all of it does.
To be clear, that floor pattern was sold over many years and it makes perfect sense that some of the production would not be an asbestos containing product.
It would be valuable for us to have the asbestos test lab reports on file - if you're willing to provide that I can remove or blot out your personal information if you prefer.
Cork floor tiles are not an asbestos product - please take a look at CORK FLOORING so that we can be sure we're talking about the same product (real cork, not cork pattern vinyl)
Some ceiling tiles contain asbestos, including ones that on their exposed surface look like yours - others are cellulose- a wood product. At ASBESTOS CEILING TILES we give advice on how to decide if ceiling tiles contain or probably contain asbestos.
Thanks for asking; let me know if either of those articles is unclear.
1970: Armstrong Sage Green Embossed Linoleum #75350 Not Asbestos
The green-rectangular pattern Armstrong sheet flooring shown below was installed in a US home built in 1970.
The flooring was tested by an Inspectapedia reader and found not to contain abestos.
1986: Reader Question: sheet flooring from a 1986 Home in the U.S.
I am a senior and just purchased my retirement home which was built in 1986.
All flooring is original, and I was unable to find the corresponding picture on your website.
The kitchen and dining room is sheet vinyl or linoleum. I have attached 2 pictures and I am concerned, of course, about the damaged portion. Any help you can provide in identifying this will be very greatly appreciated. Thank you! - S.B. 11/5/2013
Reply:
No one can give an absolute answer to the asbestos or other contents of materials based only photographs, but the age of the building that you cite, 1986, is long enough (about ten years) after the discontinuance of popular sales of asbestos-containing flooring that one would certainly not expect the sheet vinyl on your floors to contain asbestos.
But to actually know if the material was asbestos containing you'd need to send a sample to a certified asbestos test lab. In some buildings we might find an asbestos-containing flooring product that was installed a year or so after the sale of asbestos-containing floor coverings stopped, simply because someone inadvertently (or on the cheap) bought and installed "new old stock" of a flooring product. But ten years later? That seems less plausible.
If you wish to be as safe as possible, treat the material as Presumed Asbestos Containing Material (PACM) (see ASBESTOS FLOORING HAZARD REDUCTION) and avoid making a dusty mess.
If demolition or renovations require that the flooring be removed and it cannot simply be rolled up and bagged intact for disposal, that is, if scraping, cutting, or other potentially dusty operations are needed, and thus as significant costs could be involved, you may want to go the route of testing a sample.
Watch out: given the reported age of the building and without a simple, relatively inexpensive sample test result (ASBESTOS TESTING LAB LIST), I would not suggest doing anything expensive (costly demolition) regarding this flooring material without strong reason.
Watch out: as with vinyl based floor tiles, there were some vinyl-based sheet flooring products that did contain asbestos as both a reinforcing fiber and as a filler.
See VINYL-ASBESTOS SHEET FLOORING for details.

Newer Resilient Sheet Flooring - post 1986 Would Not Be Expected to Contain Asbestos
See FLOOR, RESILIENT VINYL or CORK - separate article, non-asbestos
...
Continue reading at SHEET FLOORING INSPECT / TEST or select a topic from closely-related articles below, or see our complete INDEX to RELATED ARTICLES below.
Or see ASBESTOS SHEET FLOORING ID FAQs
Or see SHEET FLOORING NON-ASBESTOS-FAQs
Or see ASBESTOS TESTING LAB LIST for a list of certified asbestos testing laboratories
Or see FLOOR, RESILIENT VINYL or CORK - best installation practices for modern sheet or resilient flooring
Or see LINOLEUM & SHEET FLOORING
Or see this
Article Series Contents
Suggested citation for this web page
SHEET FLOORING NON-ASBESTOS EXAMPLES at InspectApedia.com - online encyclopedia of building & environmental inspection, testing, diagnosis, repair, & problem prevention advice.
Or use the SEARCH BOX found below to Ask a Question or Search InspectApedia
...
Ask a Question or Search InspectApedia
Try the search box just below, or if you prefer, post a question or comment in the Comments box below and we will respond promptly.
Search the InspectApedia website
Technical Reviewers & References
Click to Show or Hide Citations & References
Womble, Charlotte, "EC72-2015 A Resilieint Floor for Every Use, Taste, and Budget", [PDF] North Carolina Agricultural Extension Servcie, Raleighg NC USA, (May 1972), retrieved 2016/06/28 original source: http://digitalcommons.unl.edu/cgi/viewcontent.cgi?article=5436&context=extensionhist
Schmidle, Claude J., Robert P. Conger, and Armen Boranian. "Flooring materials." Encyclopedia Of Polymer Science and Technology (1987).
Abstract: Flooring materials containing polymers include resilient sheet goods and tile, prefinished and acrylic impregnated hardwood, and seamless, monolithic, and troweled surface coatings. The principle area of use is resilient flooring, the largest portion of which is poly(vinyl chloride) (PVC) homopolymer or copolymers containing vinyl acetate. Significant amounts of acrylics, polyurethanes, and butadiene-styrene resins are also used.
Virta, Robert L. Worldwide asbestos supply and consumption trends from 1900 through 2003. Reston, VA: US Geological Survey, 2006.
Richa Wilson, Kathleen Snodgrass, "Early 20th-Century Building Materials: Resilient Flooring" [Very large PDF], Richa Wilson, Intermountain Regional Architectural Historian Kathleen Snodgrass, Project Leader, United States Department of Agriculture Forest Service, Technology & Development Program, August 2007, 7300-0773-2322-MTDC. Contact Kathie Snodgrass at MTDC: Tel: 406–329–3922, Email: ksnodgrass@fs.fed.us or Richa Wilson, author; USDA Forest Service, Intermountain Region, 324 25th Street, Ogden, UT 84401. Phone: 801–625–5704; fax: 801–625–5229: e-mail: rwilson@fs.fed.us
Resilient Floor Covering Institute, 401 East Jefferson Street, Suite 102, Rockville, MD 20850, Tel: 301–340–8580, Website: http://www.rfci.com
Books & Articles on Building & Environmental Inspection, Testing, Diagnosis, & Repair
Our recommended books about building & mechanical systems design, inspection, problem diagnosis, and repair, and about indoor environment and IAQ testing, diagnosis, and cleanup are at the InspectAPedia Bookstore. Also see our Book Reviews - InspectAPedia.
...
Publisher InspectApedia.com - Daniel Friedman