Backup Electrical Generators & Isolation Switches, power sources - basic hookup & safety
Backup or standby electrical generator types, sources, transfer switches, wiring guides, + car power inverters, DC to AC Converters

InspectAPedia tolerates no conflicts of interest. We have no relationship with advertisers, products, or services discussed at this website.
Guide to backup electrical generators & other emergency electrical power sources for residential & light commercial use: this article discusses the use of emergency generators for electrical power backup at residential properties. We explain the need for an isolation switch to avoid dangerous electrical shock or fire hazards & we include other safety warnings where generators are used. We describe grounding and other wiring & control or installation procedures backup electrical generators. We describe several methods for obtaining temporary or emergency electrical power from a car, RV or other 12-V or 24-V vehicle or system. We include a list of manufacturers and sources for backup generators for residential & commercial use and a list of manufacturers of DC - AC power converters, inverters, or transverters that permit using a car or other vehicle to power small electrical devices & tools..
Green links show where you are. © Copyright 2014 InspectApedia.com, All Rights Reserved.
Guide to Installing & Using Emergency & Temporary Electrician Power Generators, Switches, & AC-DC Power Converters
Auxiliary or Backup Electrical Generators & Isolation Switch Requirements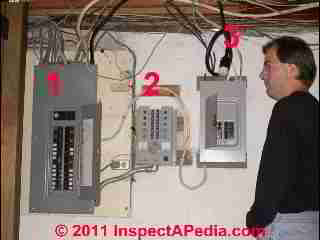 Our page top photo illustrates a Briggs & Stratton portable generator capable of delivering 5000 watts with both 120V and 240V electrical output available; This unit is able to run for 10 hours continuously at 50% load. Photo courtesy of Davies Hardware, Poughkeepsie, NY.[12] Similar models found at building suppliers range in capacity with common sizes in the 10,000 - 12,500 watt range for residential use.
At left we illustrate an electrical transfer switch required for safe connection of a backup generator to a building's electrical system.
Question: Can I Hook Up Two Power Sources to One Electrical Panel?
Is it possible to connect two sources of Electricity to one Sub-Panel? - Muhammad K., Jordan
Reply: Use an isolation switch to avoid simultaneous (and unsafe) electrical power feeds to an electrical panel or sub panel - use backup electrical generator hookups as an example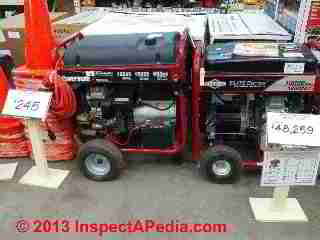 By "possible to connect two sources of Electricity to one Sub-Panel" I presume you don't mean is it physically possible to connect two power sources to a single electrical panel since that would be trivial to accomplish; Rather I presume you mean is it acceptable practice or is it "safe" to connect multiple power sources into a single electrical panel or sub-panel.
The basic answer is no. In general it is very dangerous to have multiple sources of power into a single panel or subpanel because of the possibility of backfeeding and shocking someone who thinks power is off from a given source. So we don't hookup simultaneous live electrical power sources to a single electrical sub panel or main panel.
We do not hook up multiple electrical power sources to a single electrical sub panel without using an isolation switch.
In our photograph of an isolation switch hook-up (above left), the main electrical panel (1) is at left. In the photo center is an isolation switch (2) that allows the homeowner to switch individual circuits from being powered either by the main electrical panel's service entry mains or by an electrical generator (located outdoors) that is connected to the isolation switch by a removable plug shown hanging on the wall (3). You can see the receiving plug receptacle at the bottom center of the isolation switch (2).
The sub panel shown at right (next to our client) was an addition to the original electrical system to support central air conditioning and is not part of this discussion.
How to Connect or Hook up a backup electrical generator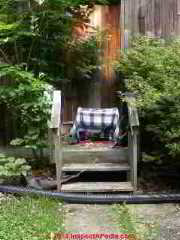 A common exception to the practice of using only a single power source at an electrical sub panel is the provision for backup electrical generator power that feeds an electrical sub panel (or panel) that contains critical electrical circuits for a building (such as heat, refrigeration, communications equipment, medical equipment).
In that case indeed there are two electrical power sources that in a sense "feed" an individual panel or sub panel but only one power source can be connected at a time. Typical instructions for a backup home electrical generator system include variations on the following safety warning:
Watch out: Emergency backup electrical generators produce 120V and 240V which may cause fatal electrical shock if precautions are not followed.

DO NOT under any circumstances connect your electrical generator to any circuit or receptacle that is receiving electrical power (home, office, etc) from any other sources as this is likely to result in a fire and damage all electrical systems and could also shock someone working on the system.

Our auxiliary electric generator photo at left shows a backup "home" generator that the owner had set up to keep a basement sump pump working. Some owners connect an extension cord to the generator's electrical supply receptacle and connect the other cord end to a tool or appliance - which may be safe. But using that same extension cord to "back-feed" a home electrical circuit without an isolation switch is unsafe and should not be done.

Other key safety warnings include the warning that the backup generator should not be operated indoors nor in an enclosed area - there are fire and also potentially fatal carbon monoxide hazard risks. Note that other safety precautions also apply - be sure to see the instructions provided with the generator.
Electric Generator Isolation Switches, Transfer Switches, Double-Throw Switches to Prevent Backfeeds, Fires, Electrical Shock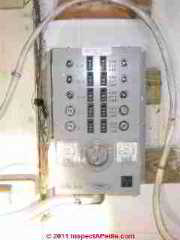 Key in making that a safe installation is the use of an isolation switch that switches to provide an electrical power feed into the panel (or sub panel) from EITHER the electrical service entry from the utility company OR from the backup electrical generator.
An isolation switch, also referred to in many sources as a "transfer switch" is a double-throw switch that changes electrical connections between two alternative sources. This is an "exclusive OR" switch that flips the panel power feed between the two sources but never allows both to be "on" or "connected" to the sub panel simultaneously. The design prevents simultaneous electrical power feed from two sources.
Our photo (left) shows a close-up view of the same isolation switch in our earlier picture. [Click any of our images to see an enlarged, detailed version]. You'll see that each individual electrical circuit is switched between "Generator", "Off", and "Line" voltage.
An isolation switch allows only one electrical power source to be connected to feed a sub panel at a given time. This avoids, for example, the hazard of shocking electrical workers who might be repairing the main electrical service.
As an example of an isolation switch set-up for an auxiliary electrical power generator hookup at a private home, our photo (above left) shows the backup generator hookup that provides limited electrical power for critical building circuits during a power outage from the electrical utility.
Use of Double-throw switches used as transfer switches for electrical generators
As pointed out by various sources including Janet Lewis, Chief Electrical Inspector for Washington State,
Listed double-throw "Enclosed Switches" that have been investigated for switching a common load from a normal supply to an optional standby system are marked "Suitable For Use In Accordance With Article 702 of the National Electrical Code" and acceptable for load transfer use on optional standby systems only. All other approved transfer switches are listed as "Transfer Switches" and marked as suitable for the intended use (such as Service Equipment, Emergency Systems, Optional Standby Systems, Automatic or Non-Automatic Transfer).
Electrical Grounding Requirements for Back-up Electrical Generators
According to ASHI home inspector Bob O'Connor, ... "If there is a ground conductor connected to the grounding electrode from the emergency power source [the generator], there must be a sign identifying the emergency and the normal ground connections posted at that location. "
O'Connor also warns that the generator must be located where exhaust fumes cannot enter the building (a carbon monoxide hazard), and about unsafe storage of fuel containers for the backup generator.
Examples of High Capacity Commercial & Automatic Backup Electrical Generators & Automatic Transfer Switches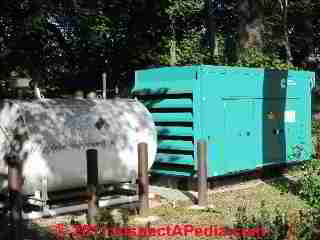 The commercial backup electrical power generator shown at left includes its own fuel storage tank (at left in the photo).
In the event of a power failure the system may start automatically and the necessary isolation switch may also be switched automatically to keep critical equipment in operation.
More information about backup and alternative electrical power systems and how they are connected is at SOLAR ENERGY SYSTEMS and WIND ENERGY SYSTEMS, and at WIND TURBINES & LIGHTNING

True Installation Cost for Backup Electrical Generators Must Include Fuel Storage, Transfer Switches, Electrical Circuits, & Flood or Disaster Protection
Watch out: as we describe at Step 8. Rebuild and Floodproof, locating a backup generator onto upper building floors or the rooftop may not be enough to assure that the system can continue to operate during times of area flooding. The fuel supply and isolation or transfer switches must also be located where they are protected from flood waters. A significant portion of the cost of installing a backup generator sytsem will involve the provision for fuel storage, transfer switches, and the establishment & connection of the system to critical electrical circuits in the building.
How to use a car, RV, truck or its battery as an emergency electrical generator for charging cell phones & operating tools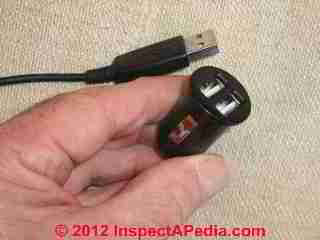 The methods we describe below permit use of a vehicle or just a vehicle 12-volt battery as an emergency power source sufficient to provide emergency cell phone recharging, computer use, lighting, even light power tool operation.
Reasonable uses & wattage requirements for car, boat, truck, RV and similar 12-VDC to 120V AC charging devices and transverters include
Cell phone, PDA, charging & use, typically needing about 10 watts of power, can be attached to car power by their USB cable using a simple and tiny Car-USB adapter like the unit shown at left.
Tablet computer charging & use, typically needing about 10-15 watts of power
Laptop computer charging & use, typically needing about 100 watts of power. At this power level you could probably also operate a 13-inch TV.
Flashlight recharging, typically needing about 10-15 watts of power
Operation of battery rechargers for batteries used to operate small power tools such as drills & saws
Power tools typically need about 400 watts, though you may be able to recharge batteries used in battery-operated power tools using a charger that itself requires lower input wattage
How to use ordinary cars, trucks, vans, etc. as light-use backup emergency electrical power sources - recharging a cellphone or operating a tablet or laptop computer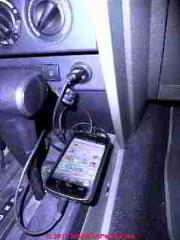 There are several approaches to using the 12-V electrical system in a vehicle for light-duty electrical use, such as re-charging a cellphone, flashlight, or computer, ranging in difficulty from trivial (just plug it in) to suitable for a handy person who has a knife and some small gauge electrical wires at hand.
Connect a 12-volt USB adapter to the vehicle's utility outlet or cigarette lighter socket
Standard cell phone chargers such as the unit provided by Samsung for our example here are intended to connect to a 120-V electrical receptacle or a 240V AC receptacle (most adapters handle both voltages) and to provide an output voltage of 5-Volts DC.
Because the current requirements to re-charge a cellphone is very small, you can do a lot of cellphone re-charging from a car battery without much worry about running down the battery even if the vehicle engine is not running.
At left we illustrate the easiest way to re-charge a cellphone for emergency use when there is no electrical power in nearby buildings. We used a Griffin 12-V car adapter to plug into the 12-V outlet in this Jeep Sahara, then connected our Samsung cell phone's USB adapter cable between the car adapter and the cell phone's charging connector at the phone base.
On Jeeps and some other vehicles there may be two 21-V outlets, one switched by the vehicle's ignition and a second (shown here) that is "always on" provided that the vehicle has a functional battery. The advantage of using the "always-on" circuit is that you don't have to turn on the vehicle's ignition (which in turn operates lights and other systems, reducing vehicle battery life if the engine cannot be run).
If the vehicle does not already have a built-in USB connection, if you've planned ahead you will have already purchased a 12-V adapter that plugs into the cigarette lighter or 12-V utility outlet on your car, truck, boat or other vehicle. Connect the USB-power cord for your cellphone to the adapter or to the USB connector in the vehicle. Depending on individual vehicle's wiring, you may need to also turn on the vehicle's ignition switch. That source provides low-voltage electrical power sufficient to recharge a cellphone and some other appliances that connect via a USB cable such as a tablet computer or iPad.
DC to AC Power Adapter Volts, Amps, Watts Data for Common Small Electrical Devices
Table of Electrical Power Requirements for Small Electrical Devices
Device
120 V Circuit Input
12-V Circuit
Input
Device Adapter Output
Typical Nominal Device Watts1
Comments
Cellphone charger
0.15A @ 120V AC
1A @ 12VDC
1 A @ 5V DC
5 Watts
Most chargers at 100V - 240V, 50 or 60 cycle electrical input
Tablet Computer Charger
0.15A @ 120V AC
1A @ 12VDC
1 A @ 5V DC
5 Watts
Laptop Computer
1.5 A @ 120V AC
15A @ VDC
1.56A @ 32V DC
25 - 100 Watts
Varies by laptop model

Notes:

1. Generally, without considering more accurate & technical power factors, we can use three trivial formulas to convert between amps, volts & watts

Amps = Watts/Volts
Watts = Amps x Volts
Volts = Watts/Amps

also

Volts = Amps * Resistance (Ohms Law)

Details are at DEFINITIONS of ELECTRICAL TERMS; also see AMPS VOLTS DETERMINATION & DMM Digital Multimeter HOW TO USE
How to Connect a 12-volt to 120-volt DC to AC power converter / inverter (a power transverter) to the vehicle's utility outlet
A 12-V power inverter (also called a power transverter, power adapter, or DC to AC power converter) is a small device designed to be connected to a vehicle's 12-V utility outlet (cigarette lighter outlet). The power inverter or "transverter" converts 12-V DC current to 120-V AC current and includes one or more 120-V electrical outlets to which you can connect a 120-V device. However unless you've purchased and installed a high-capacity transverter, most likely the unit can not drive higher-wattage electrical devices, tools, or other appliances that draw high wattage (or high current - amperage).
A "DC to AC" power inverter electronically converts DC power from a car battery to 60 hertz AC power at 120 volts like in your home. These inverters have standard household AC grounded power outlets. [6]
We have successfully used a small 12-V power transverter/adapter to drive and re-charge a laptop computer and to operate the recharging station for battery-operated electrical drills and saws - very useful at a jobsite or in a disaster area where conventional electrical power sources are not available.
Typically a 150-watt rated DC to AC power converter/inverter connects directly to the 12-volt utility outlet or cigarette lighter socket in a vehicle, while more powerful models such as a 325-watt rated DC to AC power converter/inverter connects to the vehicle battery directly using its own cables and battery terminal clips. Still larger DC to AC power converter/inverters connect to a vehicle battery by direct wiring or by using automobile jumper cables.
Watch out: if you over-tax a power converter it will probably shut off, either using an automatic internal overload safety switch or by blowing a fuse. And while power convert/transverter prices vary over a large range, so do their capacities and features, including not only the actual wattage delivered, but the consistency of their power output. A converter that overheats and shuts off or that drops its voltage level too low after 1/2 hour of laptop computer use may make you wish you'd purchased a different model. Wagan provides this interesting technical detail about the sustained power output of typical DC to AC power Inverters.
All Wagan Tech® inverters feature True-rated Power™. That simply means power tested and rated at a period of 24 hours continuous usage under full load. The competition claims "continuous", when in fact, they are often only 30 minutes "continuous". Afterwards, the competition's output wattage will drop down as much as 30% of the claimed wattage. [8]
How to use (& limits of) vehicles with built-in 120-V electrical power outlets as backup electrical generators
In an emergency you can use the 12-volt electrical system, battery, or generator/alternator found in just about any car, truck, boat or other vehicle as a source of low-capacity electrical power suitable for charging a cellphone or even operating light 120 V electrical tools such as a drill, saw, or lighting.
Some vehicles including most recreational vehicles (RVs) and motor homes, and some cars or light trucks (such as our Toyota FJ Cruiser) already include one or more 120-V electrical power outlets. In this case plugging in a small (low amperage draw) tool, light, even appliance is simple. Turn on the 120-V outlet using a rocker switch on the car's dashboard, and plug in the appliance. Some vehicles such as the FJ Cruiser provide two different power levels depending on whether or not the vehicle's engine is operating.
Obviously, running a car or truck motor continuously just to operate its electrical system is not practical for more than a brief use, and in some circumstances operating the vehicle engine may be impossible or even dangerous.
Watch out: do not operate a vehicle in dangerous conditions nor in an enclosed space - doing so risks death by carbon monoxide poisoning just as we warn above when we discuss where to locate a gas or diesel fuel operated backup electrical generator.
Watch out: using the vehicle's built-in 120-V power outlet for protracted intervals will run down the vehicle battery making it impossible to re-start the engine.
How to Salvage a 12-Volt battery from a Car or other Vehicle to use as a temporary power source
A third method can be used to provide 12-V electrical power to operate a USB adapter plug or a 12-V DC to 120-V AC electrical power transverter to make use of the battery from a car or truck even if the vehicle itself is not operable. For example if a vehicle has been flooded so that its engine cannot be operated, you may be able to salvage the vehicle battery.
Remove the 12-V battery from the car, truck, van, boat etc.
Connect the input positive and negative terminals (using any makeshift means) from the USB adapter or the 12V to 120V transverter power cord to the corresponding positive and negative terminals on the battery.
Watch out: connect negative to negative (black to black or - to - ) and positive to positive (red to red or + to +) when hooking up an adapter directly to a car battery. If you reverse polarity you will damage the devices or adapter you are attaching, probably blowing a fuse or burning up the device.
Can You Use a Vehicle 12-Volt System for Emergency Survival Heat?
While a vehicle parked safely outdoors in open air and that has an operable engine can be run for a while (fuel runs out) to heat the engine and thus the vehicle heater, some readers have asked about using the vehicle's electric circuit as an alternative heating source, perhaps thinking that they can run the vehicle as a stationary generator and operate an electric heater in a nearby shelter. This approach is not likely to work and is likely to be dangerous.
Watch out: do not try to operate a conventional 120V electric heater (nor other high-current or high wattage devices) from a typical car cigarette lighter DC to AC adapter: The high wattage used by the electric heater and high current draw (amps) will most likely blow any fuses in the vehicle's wiring system if it does not melt the wiring itself, and there is a real risk that you will overheat the vehicle wiring inviting a short circuit or fire. The maximum electricity usage from a typical car cigarette lighter circuit is about 240 Watts at 12-volts DC, protected usually by a 20Amp 12-V DC fuse. Note that that's 20 Amps at 12-volts, not 20-Amps at 120-volts. Very roughly, because there are other factors, a 12-V 20A electrical circuit in a vehicle has just about one tenth of the wattage capacity of a 120-V 10A circuit in a building.
There are 12-volt operated vehicle seating pads intended to give limited warmth to the driver or occupant (just as some vehicles have electric seats) though that approach means people have to sit in the vehicle and of course run the engine.
Watch out: as we warned earlier, do not operate a car, RV nor other vehicle in dangerous conditions (vehicle was flooded, wiring is unsafe, etc), nor in an enclosed space - doing so risks death by carbon monoxide poisoning just as we warn above when we discuss where to locate a gas or diesel fuel operated backup electrical generator.
Where to Buy 12-volt to 120-volt DC to AC power converters & inverters (power transverters)
Duracell power converters, Duracell Corporation, 1380 Flynn Road Camarillo, CA 93012 USA, Tel: 800.300.1857, Email: info@duracellpower.com, Website: http://www.duracellpower.com
Maplin power converters, a U.K. supplier of power converters of varying capacity, Tel: 0844-557-6000, Website: http://www.maplin.co.uk/
Ring Automotive, a U.K. supplier of power converters of a range of capacities, provides the Ring PowerSource 75-Watt Power Inverter, plugs into the vehicle cigarette lighter, outputs 230V AC power, larger wattage inverter models are also available. The company provides both 12V and 24V power converters. Ring Automotive Limited Gelderd Road, Leeds, LS12 6NA United Kingdom, Tel: +44 (0)113 2132000, Email: autosales@ringautomotive.co.uk, Website: http://www.ringautomotive.co.uk/
Stanley power converters, (distributed at WalMart stores) include the little Stanley 100W inverter that plugs directly into a vehicle cigarette lighter socket and provides a 120V AC electrical receptacle, the larger Stanley XO Vision DC to AC 300W Power Inverter and other higher wattage models.
Sima DC to AC power converter/inverters, distributed widely including online via TheEpicenter.com. Epicenter Supplies, LLC 384 Wallis Street #2, Eugene, OR 97402, Tel: 541-684-0717, Email: info@theepicenter.com Website: http://theepicenter.com/dc_to_ac_power_converters_and_inverters.html
Sumas power inverters provides their Sumas 200 watts Power Inverter with 2 USB charging port - SM-2011US that plugs into the vehicle cigarette lighter. Sumas Media 19575 E. Walnut Dr. South City Of Industry, CA 91748, Tel: 1-877-447-8627, Email: customerservice@sumasmedia.com, Website: http://www.sumasmedia.com/
Wagan DC to AC power converter/inverters, including the tiny Wagan - 2348-6 • Smart AC™ 100 USB Power Inverter that includes both a USB adapter (for your cellphone, tablet computer) and a 120V electrical outlet capable of powering a laptop computer, as well as higher capacity power inverters ranging from 100W to 5000W - distributed widely including online via BestBuy.com. WAGAN Corporation, 31088 San Clemente Street, Hayward, CA 94544, USA, Tel: U.S. & Canada Toll Free: +1.800.231.5806, Email: sales@wagan.com, Website: http://www.wagan.com/
Where to Buy / Manufacturers of Emergency & Temporary-Use Electrical Generators & Typical Backup Generator System Costs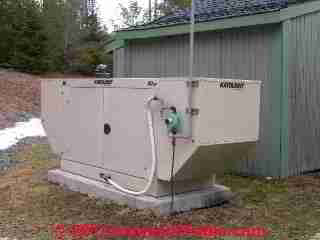 A properly and safely wired & installed backup or standby electrical generator with sufficient wattage output and fuel storage to power a typical residential home for several days in an emergency costs "well over $10,000" [9] though with some care for safety one can power a few critical electrical circuits in a home (heat, refrigerator, a lighting circuit) using a less costly contractor-grade portable electrical generator as well.
The commecial-grade backup generator by Katolight Corporation shown at left is installed at an adult care facility in New York.
Factors driving up the cost of an installed backup electrical generator for the home include
Backup Generator: cost of the electrical generator itself, size varying according to the number and ampacity of electrical circuits to be supported in the building; typically a portable or stationary generator suitable for home backup power use provides 5,000 to 7,000 watts of power.

Portable Electrical Generator - $400. - $2000. [3000 - 90000 Watts capacity]
Stationary Generator: $4500. - $8000. & up [5000 - 20,000 Watts capacity
Backup Generator Electrics: cost of electrical wiring & controls for safe electrical generator use, including an isolation or transfer switch, and possibly building permits. The cost of the transfer or isolation switch system itself can vary significantly depending on whether you expect to be present to turn on the backup or standby generator or if instead you want to the system to turn on automatically even if no one is in attendance. Cost for electrical components is also increased by the battery & controls for electric starting components for the generator.
Transfer Switch: $500. - $1000.
Wiring services from an electrician: $500. - $2500.
Electric start / auto-start features: $500. - $2000.
Heavy duty extension cords: $50. - $150.
Voltage inverter circuitry for smoother power delivery, required for equipment sensitive to voltage variations:

Backup Generator Fuel: cost for fuel storage for the generator or for fuel piping if your stationary unit is to be connected to piped in natural gas or propane. Depending on the disaster for which you are preparing, don't assume that the gas supply will necessarily remain available - for example flooding or an earthquake can put such systems out of commission, leaving a portable unit more versatile if you were able to protect it and its fuel supply.

Fuel storage tanks, piping, controls: [in process]
Watch out: storing gasoline on site as a fuel for backup generators or any other purpose is dangerous, risking fire or explosion, and may also be a local building code violation; in addition, the shelf life of gasoline will mean that it needs to be disposed of or consumed and replaced periodically.

Backup Generator Maintenance: cost for periodic testing & maintenance of the system to assure that it ready, safe, operational condition when needed

[in process, suggestions invited]

Backup Generator shelter or mounting: cost for shelter, mounting pad, or other appurtenances that some generator installations will require

[in process, suggestions invited]
According to a recent article in the New York Times, Generac, the largest manufacturer of electrical generators in the U.S. was working overtime to fill demand for backup electrical generators in the Northeastern U.S. following Hurricane Sandy in 2012. The same article noted that in 2012, about 3 percent of "stand-alone" homes in the U.S. have a standby generator installed. [9] Here are all 41 brands of electrical generator brands & product sources listed by Electric Generators Direct whose list we found was longest: [10].
Asco Electrical Generators, Baldor Electric Generators Briggs & Stratton Electrical Generators, Camco Electrical Generators, Century Electrical Generators, Classic Electrical Generator Accessories, Conntek Electrical Generators, Cummins Onan Electrical Generators, DeWalt Electrical Generators, DynaGen Electrical Generators, Generac Electrical Generators, GenTran Electrical Generators, Gillette Electrical Generators, Honda Electrical Generators, Honeywell Electrical Generators, IMD LLC Electrical Generators, JohnDow Industries Electrical Generators, Katolight Corporation, Protected Home Electrical Generators, Kohler Electrical Generators, PowerBoss Electrical Generators, PowerMate Electrical Generators, Praitiac Electrical Generators, Reliance Electrical Generators, Scepter Electrical Generators, Seafoam Electrical Generators, Slime Electrical Generators, StaBil Electrical Generators, Subaru Electrical Generators, TechMate Electrical Generators, TruFuel Electrical Generators, U.S. Wire & Cable Electrical Generators, Voltmaster Electrical Generators, Wagan Electrical Generators, Winco Power Systems Electrical Generators, Yamaha Electrical Generators
While these backup generator companies can be contacted directly, consumers usually shop at local suppliers or shop online from suppliers
Amazon.com
Electric Generators Direct, distributes nearly all brands of backup generators. Electric Generators Direct 1325 Rodeo Drive Bolingbrook, IL 60490, Tel: 1 (866) 437-7998, Website http://www.electricgeneratorsdirect.com/
Hardware & lumber suppliers, local
Home Depot building supply stores
Loews building supply stores
How Much Backup Generator Capacity do We Need?
The minimum wattage capacity your standby or backup electrical generator needs to provide depends on your building, its occupants, their special needs, etc. Here we list the more critical electrical circuits and devices you should consider powering. Use this list, with additions or deletions to arrive at the total minimum wattage that your backup or standby generator system will need to provide.
Critical Home Electrical Circuits That May Need to be Powered
Electrical Circuit or Device
Watts Required
Comments
Air conditioning, portable or window unit?
1,500W - 2,500W

A/C may be critical in some climates and for some building occupants. Central A/C typically consumes at least 5000W, typically about 8,750W for 24,000 BTUH capacity.

Do not run flooded equipment before it has been dried, cleaned, inspected for safety; do not run warm air heating or air conditioning systems that use ductwork before assuring ducts are clean and safe to use

Emergency medical equipment used in the home
??
?
Emergency lighting
400 W
Sufficient for safe building occupancy, e.g. stairs, entrances
Heat , central boiler, furnace
500 W

Central heating, if functional.

Do not run flooded equipment before it has been dried, cleaned, inspected for safety; do not run warm air heating or air conditioning systems that use ductwork before assuring ducts are clean and safe to use

Heat, portable heater (s)
1,300 W
If central heat not functional, weather dependent. Multiply this figure by the number of electric heaters required.
Microwave
1,600 W - 2,800 W
If you require preparing hot foods or certain other applications;
Refrigerator or Refrigerator / Freezer
600 W - 2,900 W
Sump pump
600 W - 3,200 W
Critical to avoid basement or crawl space flooding during storms, but will be overwhelmed by major disaster flooding in some areas. Multiply this figure by the number of sump pumps installed.
Well Pump
600-900W

Necessary to provide water supply;

Watch out: Do not presume that a private water well can provide safe potable water after area flooding; after floodwaters have subsided from ground surface, contaminants may still be in the aquifer as well as silt, mud, and contaminants in the well itself. See DRINKING WATER - EMERGENCY PURIFICATION

Additional, non-critical electrical components desired for longer building occupancy in a disaster zone

Computer
25-250W
Clothes dryer, Electric
5,000 W
Clothes dryer, Gas
2,500 W
[11]
Dehumidifier
1,450 W
[11]
Electric cook stove
5,000 W
Fan, window 1/8 HP
Fan, window 1/4 HP
Fan, window 1/2 HP

1,000 W
1,850 W
3,500 W
Freezer
2,900 W
[11]
Garage door operator
1,400 W
Useful if the garage door is too heavy for safe manual operation when disconnected from the automatic operator track.
Saw, circular 81/4"
1,400 W
Television
200 W
Vacuum cleaner, wet-dry shop vac
900 W -1,300 W
For shop vacs up to 2.5 hp.
Washing machine
1,200 W - 3,450 W
Water heater, electric
5,000 W

Notes:

Watt requirements numbers: For some of these items we list the watts required based on the total inductive starting watts necessary to get the equipment going. Its running load watts are generally less and will be the lower number where we show pairs of figures. Some of these wattage data were taken from wind generator wattage requirements tables.[11]

Watch out: Do not run flooded or storm-soaked electrical equipment of any kind before it has been dried, cleaned, inspected for safety; do not run warm air heating or air conditioning systems that use ductwork before assuring ducts are clean and safe to use
More Reading
Green link shows where you are in this article series.
...
Frequently Asked Questions (FAQs) about home electrical generators, generator hookups, transfer switches & electrical wiring
Question: Our electrical panel does not have room to connect to the backup electrical generator system
I hope you can give me some practical advice. We have a Cutler-Hammer CH series panel. We are in the process of hooking up an auxiliary generator. Our electrician tells me that our panel is full and to get a panel with at lest 24 circuits. As the house was built in 1971 that is not surprising. So I went to Lowes and picked up a 30 by 30 panel. Now I am told that this panel cannot use the existing breakers as they are CH and it take BR. What can you suggest? Can we get a CH Cutler Hammer panel that is larger then the 20 circuit one we have now? If so where and at what prices? Thank for your help. - P.C., North Hampton NH
Reply: Electric panel expansion options for backup generator hookups
A competent onsite inspection by an expert usually finds additional clues that help accurately diagnose a problem or in this case to make recommendations for what you actually need. That said, here are some things to consider:
Eaton Cutler Hammer provides a range of larger and replacement electrical panel sizes (a common synonym for "electrical panel" as you are using it is "load center") though your local supplier may not stock them.
Eaton Corp., Cutler Hammer Products Adjustable Retrofit Kits, E-CH Load Centers and load center parts can be purchased through any E-CH distributor. Cutler Hammer Contact Points: Telephone: 800-330-6479 Email: FlexCenterLincoln@eaton.com.[5] Or see FPE REPLACEMENT PANELS This article describes Cutler Hammer's replacement options for FPE and other problematic electrical panels and load centers.
But in my OPINION, if your panel is an older one, it would be safer not to re-use the old circuit breakers during a new panel replacement, even if they fit onto the new panel bus. A whole new larger electrical panel with new circuit breakers can often be obtained for economically from your local electrical or building suppliers. Most of the upgrade cost is in the installation labor.
Before you replace your existing panel to expand the existing unit you first have a clear and correct plan for how you're going to hook up your generator to the existing house circuits. If your electrician's concern with the fully populated existing panel is that s/he has no room to add a circuit breaker to back-feed the existing panel from the generator, that would be an unsafe and improper installation - you should not be simply back-feeding your electrical panel from the generator.
Safe hookup of a generator requires an isolation switch that isolates the subset of circuits and original panel from the incoming electrical service mains when you are running the generator - it's got to be an exclusive OR - setup.
Finally, while I prefer to completely replace an older, obsolete, under-sized existing electrical panel, and while I will often upgrade the entire electrical service (incoming mains, main disconnect) at the same time (to be better able to meet contemporary electricity usage and the expanded number of circuits found in modern or upgraded homes) there are other options. For example the electrician might install an additional sub panel, remove a pair of circuits from the existing (full) electrical panel, feed the new sub panel by a 240V
Follow-up: shopping for circuit breakers?
Thank you very much. You have given me rationale that changing the whole panel would be safer, even if I were not configuring for a generator setup. We do have a interlock device for the system.

Do you suggest I shop for the breakers, or just get a list of what I need and get them at the electrical parts distributor where I purchased the panel? In other words do I go to Lowes or Home depot, or Rockingham Electrical Supplies?
Thanks for your complete and quick response.
Reply:
If money's tight it may be worth comparing prices between the electrical supplier and Home Depot. But watch out for third party "lookalike" breakers - the panel manufacturer may object to their use, and indeed some substitute breakers made in China have performed poorly.
Question: service entry cable to hook up a generator
Can I use service the electrical service entry cable (SEC) to hook up a generator ? - Anon
Reply:
Anon, if you mean can you use SEC grade or weight wire, sure, though depending on your generator size (output capacity) and distance from the building it may be overkill in wire size.

If you mean can you connect the generator to the same lugs in the electric panel as the entering SEC wires, absolutely not. You need an isolation switch.
Question: Reader comments on using the Reliance TCA 1006 single load transfer switch to install a generator at an overcrowded electrical panel
I considered installing the standard transfer panel when I got a backup generator, but my main panel was already way too crowded. I installed a Reliance TCA1006 single load transfer switch instead. The transfer switch is fed by a 60amp dual breaker in the main and the transfer switch has a 60amp dual breaker for supplying the sub panel I installed with 8 circuits in it. The Transfer switch also has a 30amp Dual breaker for feeding the new sub when I am using the generator. The TCA1006 is designed so when one breaker is switched "on", the other breaker is switched "off".
This prevents the generator power from feeding the commercial power lines. The only draw back is that I had to physically remove the wiring for 8 circuits from the main panel and move them to the sub panel. I used a couple of junction boxes to accomplish this since some of the wires were too short to reach the sub. Overall, it wasn't too bad of a job. I saved about $100.00 by using the single load transfer switch and my main isn't as crowded now. - Mr. Telco 07/27/2012
Reply:
Thanks for the helpful comment Mr. Telco. Indeed a common solution to wiring a backup generator is to feed a sub panel through an individual transfer switch, then wiring the critical building circuits out of the sub panel.

Quoting from Reliance Controls' product literature adds a few details about this product:

"The Panel/Link TCA offers circuit breaker combinations of 60A - 125A utility and 30A - 125A generator. The interlinked circuit breakers keep the generator isolated from the utility at all times, even with the deadfront removed. The TCA features a heavy-duty copper bus. The TCA is suitable for service entrance and may be used as a main panel for a single load or to feed a sub-panel. Available in indoor and outdoor enclosures, the TCA has no provision for branch circuits breakers."

Contact information for Reliance Controls who sells this product can be found in our reference listing just below. [5]
Ask a Question or Search InspectApedia
Questions & answers or comments about backup electrical generators for home use and backup generators, isolation switches, electrical wiring installation, inspection, diagnosis, & repair.
Check the FAQs just above, try the search box just below, or if you prefer, post a question or comment in the Comments box below and we will respond promptly.
Search the InspectApedia website
Technical Reviewers & References
Related Topics, found near the top of this page suggest articles closely related to this one.
Click to Show or Hide Citations & References
Books & Articles on Building & Environmental Inspection, Testing, Diagnosis, & Repair