Air Conditioning & Heat Pump Refrigerant Leak Repair Procedures

REFRIGERANT LEAK REPAIR - CONTENTS: How to diagnose & repair refrigerant leaks in the air conditioning or heat pump system. Leak repair tips for the HVAC cooling coil or evaporator coil; Causes of leaks in air conditioning or refrigeration equipment; How to find air conditioning leaks; How to fix air conditioning or refrigerator refrigerant gas leaks; Where do leaks occur in refrigeration equipment? Why do leaks occur in refrigeration equipment?
POST a QUESTION or READ FAQs about how to find and fix leaks in air conditioner or heat pump refrigeration piping systems
InspectAPedia tolerates no conflicts of interest. We have no relationship with advertisers, products, or services discussed at this website.
Refrigerant gas or liquid leaks: this article discusses how to repair refrigerant leaks in air conditioning and cooling systems, using as an example, repairing a leaky or damaged air conditioning the cooling coil (evaporator coil) in the air conditioning air handler unit. Our photo at page top shows the cooling coil in the attic air handler component of a central air conditioning system.
Green links show where you are. © Copyright 2015 InspectApedia.com, All Rights Reserved.
How To Repair HVAC Air Conditioner Refrigerant Leaks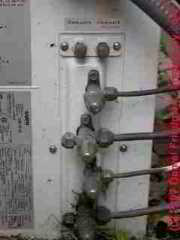 If your air conditioning or heat pump system has lost its cooling capacity or won't start see REPAIR GUIDE for AIR CONDITIONERS.
As we explain in our articles on lost cooling capacity or air conditioning systems or heat pumps that are not working, a refrigerant leak in your air conditioner or heat pump means that eventually it will just not produce cool air (during air conditioning) nor warm air (during heating if it's also a heat pump).
[Click to enlarege any image]
First we need an accurate diagnosis of the air conditioning problem. If your air conditioning or heat pump system has lost cooling (or heating) capacity, there can be various causes besides loss of the refrigerant in the system.
First, see LOST COOLING CAPACITY to diagnose just why the system is not working.
If you know that the refrigerant level is low or zero, don't just re-charge the system. Find and fix the refrigerant leak. See REFRIGERANT LEAK DETECTION. While it's quick (and cheap) to just add refrigerant to a system, we were taught at HVAC school to scorn earning a living by developing a refrigerant gas delivery route.

An air conditioning or heat pump system is normally completely sealed and should never "use" refrigerant. Refrigerant gases are not a substance which is "consumed" in an HVAC system.

In an emergency, such as at a commercial establishment needing time to move frozen food, one might just add refrigerant, but the proper repair is to find and fix the refrigerant leak.
If the refrigerant gas leak is in a valve or access port, such as the service ports to which the HVAC technician connects her gauge set, the valves there may be able to be cleaned and salvaged, or the valves may need to be replaced.

Replacing a refrigerant gas service port valve is a soldering job similar to what we describe just below. In our AC repair career we never had to replace one of these valves but we did have to install them on some systems where they were not already in place.

Our photo at left shows refrigerant gauge access ports on a compressor/condenser unit.
If the refrigerant gas leak is in the air conditioning or heat pump copper tubing a repair should be easy - the damaged line is re-soldered using high silver content solder and a high temperature torch. (We used MAPP gas for silver soldering of copper fittings, some technicians use Acetylene or other gases).

A damaged section of refrigerant line may need to be cut out and replaced. The repair is about the same regardless of whether the leak was in the larger diameter suction line or the smaller diameter high pressure line.

Details about refrigerant piping installation or replacement are at REFRIGERANT PIPING INSTALLATION.
If the refrigerant gas leak is in the condensing coil or in the evaporator coil, repair might be possible, but we're less optimistic that repair is possible, but it might be, as we explain just below.
Use a halogen gas leak detector to pinpoint refrigerant gas leaks and for thorough inspection & testing of the entire refrigerant piping system, including the condensing and evaporating coils. Details are at Using the TIF 5000 Gas Detector.
Should We Just Add Refrigerant Rather Than Finding and Fixing the Leak in our Air Conditioner or Heat Pump?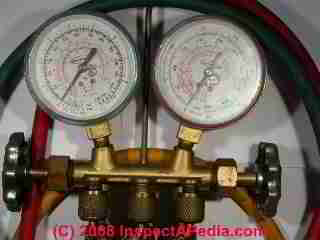 At HVAC school we were taught that some HVAC technicians, in the opinion of the instructor (and our own as well), like the idea of a "delivery route" business, coming around periodically to replace lost refrigerant. In our view in many circumstances this can be a questionable practice.
Air conditioners and heat pumps are designed as a closed, hermetically sealed system - they are not supposed to leak refrigerant, and refrigerant leaks are an abnormal condition. The refrigerant leak can be found and repaired.
If the technician was in a hurry, perhaps given many service call assignments, or if s/he didn't want to be hassled by a customer complaining over an "attempt convert a simple recharge to a costly service call", or if the company just likes to deliver refrigerant (lots of repeat business), or finally, if the system with the refrigerant leak is large, commercial, complex, and old - at end of life, s/he may not have mentioned that refrigerant leak repair is even possible.
If you are faced with a costly service call or repair on an old air conditioning system (such as the need to replace a corroded, leaky evaporator coil) on a system that is at or near end of life, it is understandable that you might just prefer to wait and replace the whole system.
But it is not air conditioner or heat pump system age that makes a refrigerant leak able to be found or not, it is system complexity. Sometimes, especially with large complex commercial systems, because tracing all of the piping and tubing and looking for leaks is time consuming, some people opt to just add refrigerant.
Just adding refrigerant is not the best practice. And with old freon-based cooling or heat pump systems such leaks might be illegal as you are damaging the environment and making a prohibited release of Freon gases to the air.
The refrigerant gauge set photo above is discussed in detail at GAUGE, REFRIGERATION PRESSURE TEST.
Guide to Repairs of an Air Conditioning or Heat Pump Evaporator Coil or Condensing Coil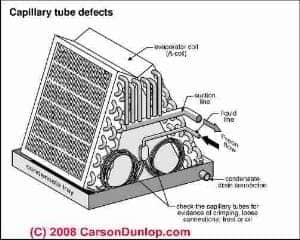 Guide to Evaluating Evaporator Coil or Condensing Coil Refrigerant Leaks and Deciding to Repair or Replace a Coil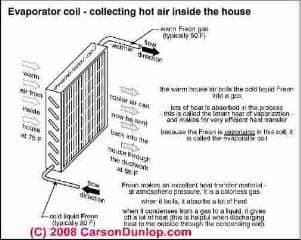 Evaporator coil or cooling leaks or holes: if an evaporator coil is leaking (or also if the condensing coil is leaking) you'll find out pretty quickly as refrigerant will be lost and the cooling system will stop providing cool air.

You'll need expert diagnosis by an HVAC service technician. Sketch at left courtesy of Carson Dunlop Associates.
How easily a cooling system refrigerant leak repair will be depends on where the refrigerant leak has occurred and what caused the leak.

If the cooling coil has a single point leak caused by some mechanical damage (one of our readers accidentally drilled a hole in his coil while trying to drill a drain hole in his air handler), it may be possible to find the hole and repair it using silver solder.
If the refrigerant leak is in copper tubing anywhere in the cooling or heat pump system that is not too close to an evaporator coil or condensing coil, it should be possible to solder a repair, then evacuate and recharge the cooling system.
If the refrigerant leak is in thin copper tubing that just melts when you try to solder it, as suggested by one of our readers, your technician may fabricate a copper sleeve that slips over the damaged tubing and is then soldered in place.
If the refrigerant leak is in copper tubing in or close to the cooling coil (or in a condensing coil) a solder repair is hard to complete because the heat of the soldering process tends to de-solder other nearby connections. It might be possible if the technician is very expert and if s/he knows how to keep nearby surfaces cooled (we've used a wet rag).
If the refrigerant leak is in an aluminum part, soldering aluminum is more tricky and may not be feasible. Ordinary procedures using a torch, for example, just melt the aluminum. Expert welders use inert gas welding methods.
If the refrigerant leak is due to severe corrosion anywhere in an HVAC system we're not optimistic that a solder repair is possible. The conditions that caused a corrosion-related leak are likely to have thinned and weakened other parts. The cost of an attempted repair may be wasted.
Replacement of the cooling coil (or condensing coil) is more often going to be recommended by your HVAC technician because of these difficulties.
Bubbles seen or heard in the liquid refrigerant line?
Clean Dust & Dirt Off of the Condensing Coil - Air conditioning and refrigeration performance &maintenance tip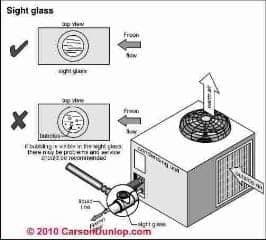 As we also introduce at CONDENSING COIL REPAIR REPLACE, there is a big payoff in cleaning dust, debris, grass clippings off of a dirty refrigeration condensing coil (this includes outdoor condenser/compressor units for air conditioners and heat pumps and also the condensing coil on a home refrigerator or freezer).
Because a refrigeration system works by transferring heat from hot refrigeration gas/liquid to ambient air around the condensing coil, if the condenser coil is blocked by dirt and debris, this can prevent complete cooling of the high temperature refrigerant gas back to a liquid state.
The result is you'll get refrigerant gas bubbles passing through the refrigerant metering valve. On refrigeration systems that include a sight glass you can actually see these gas bubbles passing through the system.
More details are at REFRIGERANT SIGHT GLASS.

Incidentally a second source of bubbling sounds heard in the refrigerant piping suction line near the compressor could be refrigerant oil pooling in that location.
This oil pooling is not usually a consequential problem provided the collection of oil does not block passage of refrigerant in the system. In good HVACR design the refrigerant piping slopes back from the evaporator unit (cooling unit or air handler) towards the compressor/condenser unit so that refrigerant oil in the line finds its way back to the compressor motor.
Recharging the HVAC System after Refrigerant Leak Repair
In case you didn't realize it, in order to solder a repair in an air conditioner or heat pump piping, tubing, evaporator coil/cooling coil, or condensing coil, it will first be necessary to remove all of the refrigerant from the system.
The HVAC technician will connect a pump to pull a vacuum on the system to remove as much air, gas, debris, and moisture as possible. An evacuator pump is needed for this step. [We made our own vacuum pump using a particularly good performing Frigidaire rotary compressor retrieved from an abandoned antique refrigerator.]
The HVAC technician will probably want to install a refrigerant filter/drier (see our photo below) to remove any moisture that leaked into the system while it was open to the atmosphere, and perhaps she will install other filtration equipment on the system at this time. It's a good idea.
See GAUGE, REFRIGERATION PRESSURE TEST for details about the refrigerant charging procedure using a gauge set and charging cylinder or scale.
Installing a Refrigerant Drier / Debris Filter after Piping Work or System Evacuation/Re-charge
Watch out: good practice following work on refrigerant piping systems or system evacuation and recharging withn refrigerant includes the installation of a debris filter and refrigerant drier device.
Details are at REFRIGERANT DRIERS & FILTERS
Decision to Replace an HVAC Cooling Coil or Evaporator Coil & Replacement Costs
If the decision is to replace the cooling coil or the evaporator coil, be sure that the new coil is the proper size and shape to match the condenser or evaporator unit itself.
Reader Question: should I try to fix a leaky refrigeration coil on my air conditioner?
3/27/14 Mike said:
My air conditioner is 8 years old. The system is leaking refridgerant at a slow level and the hole is midway through coil. Should I try to fix the coil or opt for a new unit?
Reply:
Some AC coils can be repaired using epoxy but I am not optimistic about this approach. Here are some considerations:
If the coil leak was caused by an accident, like a mechanical puncture, repairing it might yield a durable remaining life for the system provided we don't contaminate (or contaminate and fail to clean) the refrigerant piping system in the process.
If the AC coil leak was caused by vibration and rubbing or by corrosion I fear that fixing the leak in one place is a band-aid repair that won't give a durable repair since other leaks are coming soon. It's the beginning of the end.
If the HVAC system is relatively new so that it uses modern contemporary refrigerants, then replacing the coil is a plausible repair and the recommended one. The system will have to be evacuated, cleaned, new refrigerant installed along with appropriate refrigerant dryer/filters.
If the HVAC system were old enough (probably not your case) that it still uses R22, repair people either take another band-aid approach by replacing the ruined coil with an R-22-rated coil and R22 refrigerant (no longer a proper repair as this refrigerant has been phased out of use) OR the technician may be tempted to install a new coil rated to use a new refrigerant.
But that last approach leads to more costs: a coil mis-matched to the rest of the equipment will operate very poorly, as demonstrated by www.racca-florida.org/AlabamaStudy.pdf
and when we change refrigerant we may need to change additional controls (TEVs for example) increasing the job cost until it begins to look as if a complete outdoor compressor/condenser unit replacement or even a whole system replacement would have been a smarter change.
For an example of coil replacement costs see our condensing coil replacement discussion at CONDENSING COIL REPAIR REPLACE .
Continue reading at REFRIGERANT PIPING INSTALLATION or select a topic from the More Reading links shown below.
More Reading
Green link shows where you are in this article series.
...
Frequently Asked Questions (FAQs)
Question: recurrent leaks in low pressure side of AC
(July 3, 2011) james said:
My friend in Tucson,Az just lost her ac unit due to low pressure (leak) for the second time. I'm writing this on July 3rd 2011 and it is going to be 115F here today on a holiday weekend and trying to get service is almost impossible. I might ad that her neighbor is having their system charged every year by another company.
I've found that this seems to be the norm in this part of the country and is not specific to the AC industry. I would like to see these incompetent companies held accountable for their practices. I can only imagine the frustration reliable companies must feel. Thankyou for your time and work posting this information.
Best Reguards,jim
Reply:
James:
about recurrent air conditioning refrigerant leaks:
it is very common for a tech to just add refrigerant and leave; it's a quick, profitable, recurrent service call. Good practice is to find and fix the leak. Of course some home or business owners decide on the less costly service call and just keep adding refrigerant but the cost of repeated service calls says to me we ought to find and fix the leak.
Question: is $1700. to replace a coil and add refrigerant a ripoff n a 6 year old unit?
(July 19, 2011) Wilson said:
My A/C has been diagnosed with a coil leak and quoted $1694. to replace and add the 9 lbs of refrigerant. Sound reasonable or a rip off? The unit is only 6 y/o. Of course the 5 year warranty is gone.
Reply:
Wilson, replacing the coil involves more work than just a bolt-on repair: the system has to be emptied (and refrigerant saved for disposal), the old coil cut out, new coil soldered or brazed in place, a vacuum pulled on the system, tested for leaks, probably a drier installed, and then the system recharged; I don't think that quote is weird, but certainly for any repair over $1000 it makes sense to get two estimates from two experts and to make sure that they are bidding on doing the same job so you can make an apples to apples comparison.
Question: $1300 to replace a coil and pan on my 2 year old Air Conditioner
(July 19, 2011) AC Coil leak and drain pan leak said:
I got an estimate today from Airtron in San Antonio $1298 to replace the coil/pan/ and a few other things for my Carrier A/C it's 2 years old and has 5yr warranty. Tehy came out and said i had a coil leak and drain pan leak my freon level was 75 and the norm is 125.
The $1298 i guess is for labor since the other parts should be covered by Carrier warranty. I may try to have someone who works there do it on the side for a smaller fee. It just seems so expensive to fix.
Reply:
Some reasons that an A/C coil leak/replacement and drain pan leak repair is costly (more than $1000) are listed in the Q&A above.
Question: Repeated re-filling of refrigerant - nobody fixes the leak. Should I replace the coil?
(July 25, 2011) Marie said:
We have been out of A/C for a week now and I have a 20 month baby at home and pets. My husband got a window unit so we can live and sleep in the living room keeping the other rooms closed and hot (82). We have to go through AHS. Already the unit had a problem last year and got filled 3 times despite being 'diagnosed' with a leak.
Now because we asked to replace the whole unit, the second opinion experts AHS pay say they have to replace the evaporator coil. But since my unit is old (18y.o) they have to adapt it on it requiring I guess more welding work. I dont know what to ask or say because I think they should have done this last year already and the leak could be from anywhere not just the coil correct? What should I do? I am past over a week now w/o AC and temperatures have been reaching 100 (I live in TN). Should I insist to get a whole new unit or just let them replace the coil and make a 'custom' job?
Reply:
If the leaky component is the evaporator coil it may be so corroded as to be beyond repair. Changing out the coil in an old system runs into lots of trouble including a possible need to change the refrigerant gas type (older R12 and R22 your system could have used are no longer permitted), as well as needing to match the coil size to the air handler.
You're right that there could be more than one leak in the system. What people do is scan all accessible components for evidence of a leak, fix leaks detected, and then pressure test the system before continuing with the repair job.
So if the techs can replace the coil and that fixes your leak problem without a full system replacement, it's worth doing; just ask the results of the pressure test (or vacuum test) that was done before the system was recharged.
Question: Technician used a $500 additive to "fix" aan air conditioner coil leak - guaranteed for a year, lasted 6 weeks!
(Aug 26, 2011) maria holt said:
my technician told us we had a leak in the coil and after he added refrigerant he used something that cost us $465.00 and designed to seal the leak for at least a year. It worked for not even six weeks. Is that ethical? Is the product useful?
Reply:
Maria,
I'd sure like to know what product your technician used as a magic refrigerant leak fix. The methods I'm familiar with all involve soldering or brazing. There may be other products and approaches, and if so they might "work" if applied exactly as the manufacturer instructs.
A repair of a refrigerant leak that works should "stay" sealed and continue to work for the life of the equipment, with these exceptions (HVAC techs may have more to add)
- if the HVACR system piping or coils are corroded then no leak repair will be durable as we're facing ever thinning, fragile materials
- if the leak was caused by vibration or repetitive movement of parts that rubs and wears through then the problem may recur
- if the leak is a a fitting such as a service valve or (used in some areas) a flare fitting, then more likely that valve or fitting needs to be replaced or the connection re-made to seal the leak.
I'm reluctant to judge on ethics without more information, but surely it'd be reasonable for you to expect the technician to return and fix the problem (provided it's the same problem not a new one) given that you were promised a year and didn't make even six weeks of no-leaking. It sounds more as if the guarantee should have been ... "... until my truck reaches the end of your driveway"
Question: what causes frost on the refrigerant high side tubing?
(July 16, 2012) Anonymous said:
frost on high side tubing
Reply:
Anon I've seen this question once before and am sure we don't have all the answers but look for a TEV stuck wide open or a heat pump stuck in heating mode
Shelly think about low refrigerant and pressure equalizing after shutdown
Question: can I re-solder a leaky air conditioner coil that has a tiny leak?
(July 22, 2012) Jim said:
I have a micro leak in the small diameter line from the outside compressor to the inside unit. the hole is at the junction of the tube to the connector, bad weld. I want to try and re solder it but I don't know what would happen to all the freon in the pipes. I doubt that it is flammable but the molecules could break down to something bad. I still have sufficient freon so I don't want it to go to waste.
(July 22, 2012) Richard O'Hara said:
In looking for an a/c leak in a central a/c unit, why not first check for a loose wrench nut fitting? See if any of the nut connections are loose? You didn't even mention that.
Reply:
Richard your suggestion to try to fix a single leak in an AC coil makes sense - though there should be almost no wrench nut fittings except at the very ends of the refrigerant piping - all the rest are more often brazed.
YOu can often spot a leak at a threaded fitting because the leaking refrigerant gas also brings along a bit of lubricating oil that leaves the fitting dark and sticky. The oily surface on the outside of the fitting around the leak also collects dirt and dust.
Watch out: you may have trouble soldering aluminum coil tubing or brazing and thus melting and destroying other thin-walled tubing materials. You may contaminate the refrigerant system with debris that can then cause a cap tube or TEV vailure. If the leak is on the low pressure side perhaps an epoxy repair would work better.
Question: York heat pump keeps tripping the main breaker. Do I need a new unit?
(Mar 17, 2013) Diane said:
I have an 8 year old York heat pump system. It has been tripping the fuse and not producing air or heat for the past few days. I've been told it could be as simple as replacing a part if one canbe found or I will need to purchase a new unit. Thoughts?
Reply:
Diane,
The tripping breaker/fuse suggests an overcurrent that in turn may be due to a failed compressor motor (not at all trivial) or something less costly such as a bad contactor relay. This is a task for a trained service tech not a homeowner. Don't make any expensive repair before the problem has been properly diagnosed.
...
Ask a Question or Search InspectApedia
Questions & answers or comments about how to find and fix leaks in air conditioner or heat pump refrigeration piping systems.
Use the "Click to Show or Hide FAQs" link just above to see recently-posted questions, comments, replies, try the search box just below, or if you prefer, post a question or comment in the Comments box below and we will respond promptly.
Search the InspectApedia website
Technical Reviewers & References
Publisher's Google+ Page by Daniel Friedman
Click to Show or Hide Citations & References
Thanks to Ato Guy Benfante, Chesapeake, VA 8/26/07 for the photograph of an ice-blocked air conditioning system evaporator coil and for his suggestion that we provide an air conditioning system troubleshooting FAQ.
Mark Cramer Inspection Services Mark Cramer, Tampa Florida, Mr. Cramer is a past president of ASHI, the American Society of Home Inspectors and is a Florida home inspector and home inspection educator. Mr. Cramer serves on the ASHI Home Inspection Standards. Contact Mark Cramer at: 727-595-4211 mark@BestTampaInspector.com
John Cranor is an ASHI member and a home inspector (The House Whisperer) is located in Glen Allen, VA 23060. He is also a contributor to InspectApedia.com in several technical areas such as plumbing and appliances (dryer vents). Contact Mr. Cranor at 804-747-7747 or by Email: johncranor@verizon.net
Carson, Dunlop & Associates Ltd., 120 Carlton Street Suite 407, Toronto ON M5A 4K2. (416) 964-9415 1-800-268-7070 info@carsondunlop.com. The firm provides professional home inspection services & home inspection education & publications. Alan Carson is a past president of ASHI, the American Society of Home Inspectors. Thanks to Alan Carson and Bob Dunlop, for permission for InspectAPedia to use text excerpts from The Home Reference Book & illustrations from The Illustrated Home. Carson Dunlop Associates' provides:

Commercial Building Inspection Courses - protocol ASTM Standard E 2018-08 for Property Condition Assessments
Home Inspection Education Courses including home study & live classes at eleven colleges & universities.
Home Inspection Education Home Study Courses - ASHI@Home Training 10-course program.
Special Offer: Carson Dunlop Associates offers InspectAPedia readers in the U.S.A. a 5% discount on these courses: Enter INSPECTAHITP in the order payment page "Promo/Redemption" space. InspectAPedia.com editor Daniel Friedman is a contributing author.
The Home Reference Book, a reference & inspection report product for building owners & inspectors.
Special Offer: For a 10% discount on any number of copies of the Home Reference Book purchased as a single order. Enter INSPECTAHRB in the order payment page "Promo/Redemption" space. InspectAPedia.com editor Daniel Friedman is a contributing author.
The Home Reference eBook, an electronic version for PCs, the iPad, iPhone, & Android smart phones.
Special Offer: For a 5% discount on any number of copies of the Home Reference eBook purchased as a single order. Enter inspectaehrb in the order payment page "Promo/Redemption" space.
The Illustrated Home illustrates construction details and building components, a reference for owners & inspectors.
Special Offer: For a 5% discount on any number of copies of the Illustrated Home purchased as a single order Enter INSPECTAILL in the order payment page "Promo/Redemption" space.
The Horizon Software System manages business operations,scheduling, & inspection report writing using Carson Dunlop's knowledge base & color images. The Horizon system runs on always-available cloud-based software for office computers, laptops, tablets, iPad, Android, & other smartphones.

Carson Dunlop, Associates, Toronto, have provided us with (and we recommend) Carson Dunlop Weldon & Associates' Technical Reference Guide to manufacturer's model and serial number information for heating and cooling equipment
Special Offer: Carson Dunlop Associates offers InspectAPedia readers in the U.S.A. a 5% discount on any number of copies of the Technical Reference Guide purchased as a single order. Just enter INSPECTATRG in the order payment page "Promo/Redemption" space.

Thanks to reader Don Jackson for HVAC refrigerant leak soldering repair tips (Aug-Sept 2008).
[6] Refrigerant Piping Design Guide, Application Guide AG-31-011, McQuay Air Conditioning, Daikin McQuay International Equipment, 13600 Industrial Park Blvd. Minneapolis, Minnesota 55441 800-432-1342 (Toll Free), Website: http://www.daikinmcquay.com/, [Copy on file as http://www.inspectapedia.com/aircond/AC_Guide_McQuay.pdf ]
Wikipedia provided background information about the definition of HEPA and airborne particle interception.
Books & Articles on Building & Environmental Inspection, Testing, Diagnosis, & Repair
The Home Reference Book - the Encyclopedia of Homes, Carson Dunlop & Associates, Toronto, Ontario, 25th Ed., 2012, is a bound volume of more than 450 illustrated pages that assist home inspectors and home owners in the inspection and detection of problems on buildings. The text is intended as a reference guide to help building owners operate and maintain their home effectively. Field inspection worksheets are included at the back of the volume. Special Offer: For a 10% discount on any number of copies of the Home Reference Book purchased as a single order. Enter INSPECTAHRB in the order payment page "Promo/Redemption" space. InspectAPedia.com editor Daniel Friedman is a contributing author.

Or choose the The Home Reference eBook for PCs, Macs, Kindle, iPad, iPhone, or Android Smart Phones. Special Offer: For a 5% discount on any number of copies of the Home Reference eBook purchased as a single order. Enter INSPECTAEHRB in the order payment page "Promo/Redemption" space.
Carson Dunlop, Associates, Toronto, have provided us with (and we recommend) Carson Dunlop Weldon & Associates' Technical Reference Guide to manufacturer's model and serial number information for heating and cooling equipment
Special Offer: Carson Dunlop Associates offers InspectAPedia readers in the U.S.A. a 5% discount on any number of copies of the Technical Reference Guide purchased as a single order. Just enter INSPECTATRG in the order payment page "Promo/Redemption" space.

Complete List of Air Conditioning & Heat Pump Design, Inspection, Repair Books at the InspectAPedia Bookstore.
Modern Refrigeration and Air Conditioning, A. D. Althouse, C.H. Turnquist, A. Bracciano, Goodheart-Willcox Co., 1982
Principles of Refrigeration, R. Warren Marsh, C. Thomas Olivo, Delmar Publishers, 1979
"Air Conditioning & Refrigeration I & II", BOCES Education, Warren Hilliard (instructor), Poughkeepsie, New York, May - July 1982, [classroom notes from air conditioning and refrigeration maintenance and repair course attended by the website author]
Refrigeration and Air Conditioning Technology, 5th Ed., William C. Whitman, William M. Johnson, John Tomczyk, Cengage Learning, 2005, ISBN 1401837654, 9781401837655 1324 pages
Air Conditioning SEER - New DOE Air Conditioner and Heat Pump Efficiency Standard
Asbestos HVAC Ducts and Flues field identification photos and guide
Fiberglass: Indoor Air Quality Investigations: Fiberglass in Indoor Air, HVAC ducts, and Building Insulation
...