Continuous HVAC Blower Fan Operation for Optimum Indoor Air Quality
CONTINUOUS BLOWER FAN OPERATION - CONTENTS: Continuous HVAC Blower Fan Operation: how to improve indoor air quality by continuous blower fan operation in the heating or cooling air handler. Why & how to run the blower fan continuously indoors & warnings about proper blower fan duty cycle and fan speed to avoid blower fan motor failure
POST a QUESTION or READ FAQs about whether or not to run the heating or air conditioning blower fan continuously
InspectAPedia tolerates no conflicts of interest. We have no relationship with advertisers, products, or services discussed at this website.
Continuous blower unit fan operation guide: this article explains how and why to set your air conditioning or heating system blower fan to continuous operation in order to improve indoor air quality by increased and continuous indoor air filtration.
(Naturally if there is an IAQ problem source in the building it is essential to also find and correct that condition. This website answers almost any question you might ask about air filters for heating or air conditioning systems.
We also provide a MASTER INDEX to this topic, or you can try the page top or bottom SEARCH BOX as a quick way to find information you need.
Continuous Blower Fan Operation: Why Run an Air Conditioner or Heating Blower Fan Continuously?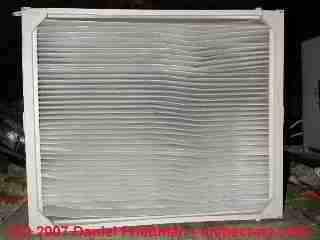 For maximum indoor air qality (IAQ) improvement in buildings: for a new blower installation we selected a fan unit which had both the capability of delivering adequate CFM of air flow and a blower fan motor duty cycle which permits continuous operation if we wish to run the system that way.
[Click to enlarge any image]
Article Contents
Reasons for Keeping the Blower Fan Unit On
Running the blower continuously at low speed resulted in continual air scrubbing in the building. When the heating or cooling needs of the building require, the fan shifts automatically to high speed. Here are the details:
There are reasons to leave the fan in the ON position on a heating or cooling system, but we do not recommend that you do this without first asking for advice from your heating and service technician.
If your air conditioner or heating system fan blower unit was designed to permit the fan to run all of the time that's great and you can consider the benefits of continuous fan operation we list just below.
But if your fan motor was not intended for continuous duty and you run the fan that way, you may find the motor fails prematurely.
Here are some possible advantages of continuous blower fan operation
Improved air filtration, lower indoor dust levels - this is particularly true if you have a good air filter system installed. In our forensic lab when we installed a new gas furnace we asked the installer to include a multi speed fan (the fan chooses the needed speed automatically), a fan rated for continuous duty cycle, and we specified that the air filter system include HEPA filtration as well as an electrostatic air cleaner. We also included a cheap disposable filter at the air returns.

This fan plus filter design permitted us to run the blower fan continuously in our lab, regardless of whether or not the heat was running (we don't need central air). We measured airborne dust levels in the building before and after installation of the new system and found that indoor dust levels improved by at least one order of magnitude.

This system was enormously more effective than the dust filtration capacity of any free-standing "air cleaner" found on the popular consumer product market. That's because a warm air central heating system or central air conditioning system blower and duct work move many more cubic feet of air per minute through the filter system than a free-standing room "air cleaner" or "air purifier" can handle.


Increased building comfort: especially if a multi-speed or variable speed fan motor is included in the system design, the continuous movement of air in the building avoids sudden hot or cold blasts when heating or air conditioning turns on; indoor air temperatures tend to be more even.
Here are some disadvantages of continuous air conditioner or heating system blower fan operation
Energy use: A downside of continuous blower fan operation is higher electrical costs. On the other hand, if we needed to reduce building dust and allergen levels and/or increase comfort levels, this approach might avoid wasting money on other attempts at air cleaning that are expensive and less effective.

More careful study is needed to really evaluate the claim that continuous blower fan operation uses more overall energy. In some cases there may be a net energy savings, depending on how hard the heating or cooling system has to work to satisfy the thermostat (and occupants) during "on" cycles.


Equipment life: if the blower motor is not rated for continuous duty operation, it may need replacement sooner when continuous fan operation is used. In this case be sure the new blower is rated for continuous duty.
How to Put the Air Conditioner or Heat Pump Blower Fan into Continuous-On Operation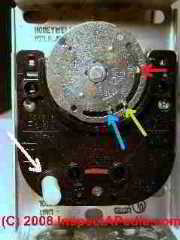 Most heating or cooling systems have one or perhaps two methods for turning the blower fan to continuous "on": at the room wall themostat and (for heating systems) at the fan limit switch - a safety control found inside the heating appliance.
The room thermostat may include a "Fan On" position - though not all versions of this control have this switch. Not all room thermostats include this switch - but most do - see our page top photo. For help finding the furnace fan control switch on your room thermostat
see FAN ON AUTO MAN Thermostat Switch.

Try moving the thermostat fan control to ON or MAN - this should turn the fan in the air handler for continuous operation.
The fan limit switch located in the air handler's blower compartment or near the oil or gas burner for your furnace may include a "Manual Fan" Switch.

If your air handler unit provides both heating and cooling (that is not just air conditioning) then there will be a limit swtich installed inside the air handler blower compartment or burner compartment.

Look for the white push-pull switch such as the one shown in our photo at left. You will see this switch without having to remove the cover from the limit swith itself.

If your limit swith includes this fan switch, try moving the fan switch from "Auto" to "Fan On". You should hear the blower fan turn on and continue running as long as the switch is in this position.
To find the manual furnace or air handler blower fan switch, see the articles, photos, and sketches in these articles
See the white knob at lower left in our fan limit switch photo at left. That's the manual fan-on switch on a limit control. As we note, not all limit controls include this switch. The cover has been removed from the switch in this picture.
...
Continue reading at BLOWER FAN OPERATION & TESTING or select a topic from closely-related articles below, or see our complete INDEX to RELATED ARTICLES below.
Or see FAN WONT STOP - LIMIT SWITCH
Or see FAN WONT STOP - THERMOSTAT SWITCH
Or see AIR HANDLER / BLOWER UNITS - home
Suggested citation for this web page
BLOWER FAN CONTINUOUS OPERATION at InspectApedia.com - online encyclopedia of building & environmental inspection, testing, diagnosis, repair, & problem prevention advice.
Or use the SEARCH BOX found below to Ask a Question or Search InspectApedia
...
Frequently Asked Questions (FAQs)
Try the search box below or CONTACT US by email if you cannot find the answer you need at InspectApedia.
Question: what is the relationship between continuous blower fan operation and indoor humidity where central air is installed? Can condensate in the air handler raise indoor humidity?
Edgardo:
A disadvantage I found running the AC fan continuously in my residence, was a noticeable increase in the humidity in the house. The fan would blow across the wet coils and drain pan while the compressor wasn't running and put the water it had removed from the air during the prior cooling cycle back into the living space. So I stopped doing that. - Edgardo
Reply: from DF
Edgardo, thanks for the comment, it's an opportunity to clear up some confusion.

When your compressor is not running the cooling coil in your air handler is not cool and NO condensate will be produced in the unit. So if you are seeing too much water in the air handler, including as you say, while the compressor is not running, then more likely your condensate drain system is not draining adequately and a reservoir of condensate is remaining in the air handler condensate drip tray.
You should not see standing water there ever. If you do, the drip tray is not draining and the tray or drain system need to be cleared and repaired. Details about condensate handling are in the article titled CONDENSATE HANDLING, HVAC and details about target levels for indoor humidity are at HUMIDITY LEVEL TARGET.
Edgardo:
Hi Dan The pan drains fine, and the backup secondary pan is dry. I am not seeing any unusual amount of water. The problem I mentioned is caused simply by evaporation back into the living space of the residual condensation left on the coils and in the pan when the compressor shuts off. The parts can't be instantly dry when the compressor shuts off. Anyway I do run the fan more continuously in the winter, as between cycles the air will settle in the house and can be close to 50° at the floor when it's 75° 5 feet off the floor. Keeping the fan on keeps the air mixed up and I can run the heat a degree or two lower.
Dan:
Edgardo I'm surprised that the volume of water left on the cooling coil after the A/C system shuts off would provide a measurable quantity of total humidity in the living space. Consider the total volume of water that's resting on the coils (as you explain the drain pan is dry) - it has to be less than a quart. Evaporate a quart of water into the cubic feet of air in even a small home - it just would not be likely to explain an indoor humidity problem.

I agree that running the fan gives much better air distribution and more even temperatures (and RH) throughout the home.

If you are seeing high indoor RH I'd look at whether or not the system is dehumidifying adequately when it's running. Incidentally, as we explain at DEHUMIDIFICATION PROBLEMS, an oversized A/C unit will cool but won't dehumidify the space.

Try making some actual RH measurements throughout the A/C cycle and let us know what you're seeing. See Tools for Measuring Humidity.
Edgardo:
I mentioned before that the main pan drains fine, but it will still be wet until the residual evaporates, and the secondary pan is dry which is there in case the primary pan drain gets clogged. There should never be water in that secondary catch pan otherwise the main drain is clogged. Anyway, all that is normal. I have access to the condensate drain pipe, and yesterday afternoon I put it into a gallon jug and captured almost a half-gallon of condensate water in 1 hour.
Relative humidity in the house right now is 42%. Temperature is 78°. I have a 1953-built frame house that I think cost about $8,000 new when it was built. Needless to say it has lousy insulation and leaks air everywhere, and moisture up from the crawl space. So I think the AC does well all things considered. Oversized system? Don't think so. It can just keep up with the heat load, and cycle off once in a while when it's 100°+ outside. We have some pretty extreme summer weather and humidity conditions in Texas and the system handles it pretty well with reasonably low electricity usage.
Dan:
Edgardo I agree that if your RH is down to 42% that's a suggestion that the A/C is both cooling and dehumidifying and is not oversized. Perhaps taking some RH measurements at regular intervals and when the system is cycling on and off will give a more clear picture of the indoor RH.
It just doesn't seem likely to me that the volume of moisture residual in a wet but otherwise drained condensate pan would explain a measurable variation in indoor RH in the rest of the building. That volume of water evaporated into the volume of air in a building could not explain high indoor RH. It may be more likely that if the home is poorly insulated and more, drafty, indoor relative humidity (RH) climbs along with temperature between cooling cycles.
Also if the RH was coming from the ductwork as a prime source when the system is off, you'd find higher RH at the duct openings as well as evidence of airflow out of the ducts when the cooling system was off. But be sure to measure RH at both the return and supply sides and registers so we're not confused by cycling higher RH house air with moisture coming from other sources or outdoors. Some measurements ought to clear that up.
Please also be sure to take a look at DEHUMIDIFICATION PROBLEMS where we describe some sources of and cures for high indoor humidity in buildings.
Question: HVAC tech recommends leaving the fan ON
(Feb 28, 2014) Gary Balfe said:
My a/c heat tech. recommemded leaving our fan turned On ( at the thermostat control ) instead of on AUTO.

He is the one who installed a new Carrier unit 1 year ago. We had the thermostat set at 68 degrees and within 5 hrs with the fan switched to On the temperature in the house reached 75 degrees . Why would the temp go so high?
Reply:
Gary: I like leaving fans ON as a way to provide more uniform heat and to improve air filtration, though during the heating season there's a risk of blowing cold air on building occupants - an event that would make me turn it off.
I pose two conflicting forces at work: leaving the fan on keeps the supply plenum at the furnace cool, which on a call for heat might mean that the burner or heat source would keep on running constantly.
BUT once the thermostat is satisfied it wants to turn off the heat
So I am guessing that your system is not wired properly; the thermostat wiring is probably the problem.
Question: why does the fan run continuously?
(June 23, 2014) thelma said:
I have my thermostat set to 78 it will come on off during night and early morning after 1130am to 1pm it began to run continuously the system is new and on three different times and three different installer/tech can't find the problem duct and insulation have been rule out.
Reply:
Thelma, it may help you to diagnose the problem by lookning at these two articles for which links are shown above at "More Reading"
FAN WONT STOP - LIMIT SWITCH - separate article
FAN WONT STOP - THERMOSTAT SWITCH - separate article
Question: Landlord says keep fan ON - will this be expensive?
(June 24, 2014) James said:
I live in a house with several friends in the North Carolina area. We have recently experienced warped paint in the house, which is apparently due to HVAC-humidity/condensation issues, as the warps are occurring in the walls surrounding the HVAC duct work. We normally set our HVAC to the AUTO position. Our landlord has now instructed us to change the HVAC from AUTO to the ON position. We are responsible for the electric bill. Will doing this significantly increase our electric bill?
Reply:
James IF you refer to just the fan control, you're simply running the fan 24/7, and the A/C will still cut on and off depending on the room thermostat temperature setting as it compares with the actual room temperature = as before.
So the net added cost is just to run the blower fan motor - giving more even temperatures and improving the effectiveness of the system and probably adding only a small amount compared with the actual cooling costs.
However if the moisture problems are occurring only where HVAC ducts run through the building I suspect that this change is not going to do much to address the problem. I'd be looking for condensation inside the ductwork and duct leaks into the building walls or ceilings.
(June 26, 2014) James said:
Thanks Dan, I appreciate the input
Question: I wired up the furnace blower but there was a loud "POP" and the blower caught fire
(Aug 7, 2014) Sonny Beck said:
The blower went out of my furnace. I replaced it and wired up same as the old blower. The air/heat came on fine but when I went to turn it off - there was a loud pop and then the blower caught fire. This happened twice.
Reply:
Sonny that sounds dangerous. I suspect that either there is a wiring error OR the component that blew the blower motor or control in the first place has not been found and replaced.
Question: installed new thermostat, can't get fan to stay on by itself
9/26/2014 Chris said:
Hi, I installed a new thermostat on a 4 wire system. I need the ability to run my fan only. When I turn the thermostat switch to the "on" position from manual I get nothing. My fan runs in auto when call for heat or cool. I called the manufacturer (Honeywell) after much troubleshooting and they said to return the unit. I did and placed another new one in with the same results. Please help.
Reply:
Chris you want a thermostat (and necessary wires) to support a FAN ON position - or just use the FAN ON switch on the fan limit switch on your furnace (if it has one)
Reader follow-up:
Dan, thanks for the response. I have still been unable to figure this thing out as of my last post. I bought a thermostat with the fan (auto/on) switch. When turned to the on position I get nothing. I installed a stove in my walkout basement and need the ability to move air without heat. As far as I can tell I do not have a FAN ON position on my limit switch at the furnace. Again, this is a 4 wire system and the fan does work when call for heat or cool. I'm at a loss where to go from here.
Reply:
Chris
Not all fan limit switches include a manual FAN ON control. In that case if your thermostat itself provides a FAN ON switch you'd need to wire that switch to operate the fan motor - you may need to add thermostat control wires between the wall thermostat and the fan controller.
(Sept 26, 2014) Chris said:
Okay, I'll give it a try. Thanks.

Question: shorting thermostat wires to keep the fan on
(Dec 20, 2014) Anonymous said:
at thermostat wire green to red.. constant on
Reply:
Yes often shorting low voltage thermostat wires together is the same functionally as if we closed a switch to call for heat or to turn the fan to MAN- or ON.
Question: furnace fan won't shut off
(Jan 29, 2015) Anonymous said:
My furnace fan will not shut off. I can't get a tech out at night. Will it hurt to leave it running all night?
Reply:
You're probably fine as long as you don't have evidence of overheating, smell something burning, have a fire risk.
See FAN WONT STOP - LIMIT SWITCH
Question:
20 May 2015 Martyx said:
My AC unit has leaked the majority of it's freon, and I simply can't afford to get it fixed/replaced (fixed income, don't have thousands of dollars laying around they everyone wants to charge.) Is there any danger to simply running the FAN setting continuously? I understand it won't directly cool the home, but some rooms do get warmer than others and equalizing is better than nothing. A bit at my ropes end here.
Reply:
You can run the fan continuously for some air movement that may be more comfortable. Note that air handler unit fan ratings vary and some are designed to be fully capable of running continuously for weeks or months while others are not designed for that duty cycle and may wear out or fail.
...
Ask a Question or Search InspectApedia
Use the "Click to Show or Hide FAQs" link just above to see recently-posted questions, comments, replies, try the search box just below, or if you prefer, post a question or comment in the Comments box below and we will respond promptly.
Search the InspectApedia website
Technical Reviewers & References
Click to Show or Hide Citations & References
Thanks to Mark Cramer, Tampa Florida, for assistance in technical review of the "Critical Defects" section and for the photograph of the deteriorating gray Owens Corning flex duct in a hot attic. Mr. Cramer is a Florida home inspector and home inspection educator.
Thanks to Jon Bolton, an ASHI, FABI, and otherwise certified Florida home inspector who provided photos of failing Goodman gray flex duct in a hot attic.
Modern Refrigeration and Air Conditioning, A. D. Althouse, C.H. Turnquist, A. Bracciano, Goodheart-Willcox Co., 1982
Principles of Refrigeration, R. Warren Marsh, C. Thomas Olivo, Delmar Publishers, 1979
"Air Conditioning & Refrigeration I & II", BOCES Education, Warren Hilliard (instructor), Poughkeepsie, New York, May - July 1982, [classroom notes from air conditioning and refrigeration maintenance and repair course attended by the website author]
Refrigeration and Air Conditioning Technology, 5th Ed., William C. Whitman, William M. Johnson, John Tomczyk, Cengage Learning, 2005, ISBN 1401837654, 9781401837655 1324 pages
Asbestos HVAC Ducts and Flues field identification photos and guide
Fiberglass: Indoor Air Quality Investigations: Fiberglass in Indoor Air, HVAC ducts, and Building Insulation
Wikipedia provided background information about the definition of HEPA and airborne particle interception.
Books & Articles on Building & Environmental Inspection, Testing, Diagnosis, & Repair