Sinkhole Questions & Answers
FAQs about sinkholes & subsidences
SINKHOLE FAQs - CONTENTS: frequently asked questions & answers about the types & causes of sinkholes & subsidences around the world.
POST a QUESTION or READ FAQs about sinkholes and their effects on buildings
InspectAPedia tolerates no conflicts of interest. We have no relationship with advertisers, products, or services discussed at this website.
Sinkhole FAQs:
Questions & answers such as what is a sinkhole & where do they occur? This article series explains what sinkholes are and why sudden subsidences or sinkholes occur, describes their effects on buildings, and gives building and site inspection advice useful in identifying areas where there is an increased risk of sink holes at properties. What are the various causes of sinkholes, how they can sinkholes spotted, and what to do if you know or suspect that a sinkhole is developing on or close to your property.
Green links show where you are. © Copyright 2017 InspectApedia.com, All Rights Reserved.
Sinkhole & Subsidence FAQs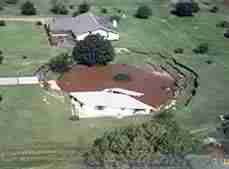 Question: earthquake and subsidence in Virginia
(Oct 12, 2011) T. H. said:

I live in an area where after the earthquake (in virginia) the ground constantly shakes. I live in an apartment complex on the second floor. I find it unusual that the apartment shakes. It starts off as a wombling and then shakes like a wave...then it stops for a brief second and then it starts to tremble followed by a wave. This continues for about 24 hours a day. I placed a glass of water on a table and/or the floor to see if there is a sign of this trembling/wave like movements. Right now, it is faint.
Reply:
T.H. The August 23 2011 Virginia earthquake was 5.8 magnitude. You can read about it at the USGS website. Omori's law (with later updates) defines the rate of aftershocks following an earthquake. If you are still feeling building movement that has not dropped to a background level then aftershocks from your earthquake are indeed continuing. A 3.0 aftershock was reported in Louisa VA just today 12 Oct 2011. So depending on where you live your report may be no surprise, though if it has not already been, it should also be reported to the USGS.
See details at Sinkholes in VIRGINIA
Question: sinkholes around trees during hurricanes
(Aug 1, 2012) William Swieczwski said:
I would like to know if there have ever been sinkholes that develop around a large tree during Hurricanes after the tree was hit by a lighting bolt. and
if so, where might i read more on the subject.
Reply:
William, lightning strikes and sinkholes are pretty independent events.
However we have seen trees or tree roots "explode" when a tree takes a lightning hit - the energy vaporizes sap in the tree or its roots, causing a steam vapor explosion that can not only split a tree but can blow roots and some soil out of the ground.
Lightning strikes send such a huge amount of energy into objects that lots of strange things can occur - we've seen a hit follow tree roots under ground, across a yard, up an iron entry stair rail, over to metal siding - at which point aluminum rivets in the siding corner trim melted and siding parts fell to the ground; at the same property moisture under a garage slab vaporized, sending the slab and automobile up through the garage roof.
A burst water main resulting from a storm can also cause soil subsidence or a local "sinkhole"
But these are not sinkhole events.
See LIGHTNING PROTECTION for TREES
and LIGHTNING PROTECTION SYSTEMS home
Question: sinkhole activity in Southern Maryland
(Sept 12, 2012) Angela Smith said:
who do I contact regarding possible sinkhole activity in Southern Maryland?
(Mar 12, 2013) Annie Eckert said:
Who can I contact to inspect a possible sinkhole in my yard. Live in Reisterstown, MD.
Reply:
Start with your local building department or if there is an obvious sinkhole, your fire and emergency services 911
If your home is being affected you will probably need to hire a local geotechnical engineer.
First check with your building department or if younger actually seeing a sinkhole
Or sudden subsidence, keep away and contact emergency services.
Ultimately you ,ay need a geo-technical engineer
Question: Sink hole and flood control in Live Oak Florida
(Dec 16, 2012) John Chambliss said:
In the City of Live Oak, Florida 46 water surface drain holes for flood control 100 feet to over 1000 feet deep with most about 400 feet deep were installed with grant money and numerous wells installed for water usage in 1.5 square miles. Is this safe?? I perceive this has caused the many sinkholes. Who approved these?? 385-362-2337 or 13577 CR 136 West Live Oak, FL 32050=6367 I am 81 years old and this appears to be just common sense and I would like to explain to our Gov. Rick Scott and the FL Insurance Department.
Reply:
John, thanks for the very interesting question - sorry but it's beyond my expertise; we could research it and will do so if needed, but first, perhaps you can ask to see a copy of the engineering report that your city must have obtained when deciding to dispose of floodwaters using wells. I know that in some areas of Florida there has indeed been an effort to re-inject water into grounds previously drained specifically to try to reduce subsidence and return swamplands to operation. Let me know what you find.
Question: Sinkholes in southwest Florida
(Feb 28, 2016) jmcinfla said:
I live in southwest fla. I have 2 depressions in my yard, 1 in the front that is circular and shows signs of an inward slope. The second is in the back over where the well used to be (we went to city water). I hear alot of "popping" noises at night, like they are coming from the attic. I used to hear water rushing noises at night when i layed in bed and sometimes it sounded like dirt falling under the house and crashing below. This morning i heard what it sounds like the floor cracking. Could my house be on a sinkhole? Im afraid to call the insurance company, that they will drop me (state farm) and i want to sell it very shortly. Thanks
Reply:
Yes, from just your e-text, of course, no one can diagnose something as critical as a sinkhole. But it would be appropriate to contact a local expert such as a geo-technical engineer who can survey your property, make test borings if necessary, evaluate your home for structural damage, tell you if sinkholes are found in your immediate area, and give advice.
meanwhile I would rope off the greater area of anything that looks suspicious to reduce the chances of someone being injured or worse.
Question: 4 foot sinkhole or depression
(Dec 20, 2012) Lisa Macchia said:
I currently have a 4ft in diameter depression in my backyard. It was not there a year ago, and slowly appeared this year from late Summer to Fall. The depression grows thick green grass? I am concerned it could be an under ground spring or mine? Not sure what my first step would be to find out? I live in North East PA. Thank you
Reply:
Ask your local building department for help.
Question: sinkhole versus settling
(Mar 1, 2013) sinkhole vs settling said:
Thank you for the info. I live in karst area with sinkholes confirmed within a mile or two of my home. There's a creek a quarter mile away and the lot slopes fairly sharply. Our 20 y/o home has many of the sinkhole "signs." Excessive cracking in concrete in half the house (driveway, basement floor, garage, front porch.) There's also stair step cracks in the concrete block wall in the basement and a growing half inch separation in one area. Cracks through tile and ceiling in a 2nd floor bathroom, pops and creaking, a strange water spot that appeared but never got worse, can't open our screen porch door, rain leaking in under basement door.
I can't tell online if these things could be "just" settling or a sinkhole. Is there a way to tell? I know the final determination needs to be by an engineer.

Finally, I have felt earthquake-ish "bouncing" occasionally over the past several years on the two upper floors. Is this something that happens with sinkholes?
Reply:
Question: depression never fills up in our yard - is it a sinkhole?
(Feb 17, 2014) Depression that never fills up said:
We have about a 4 ft diameter depression wery near our house that I have been adding dirt to for about 20 years. It always sinks about an inch or so.
Are we candidates for a sinkhole?
Reply:
Possibly; you don't say where you live, how often you've added fill, nor how much: it could be a rotting pile of tree stumps and branches, or it could be something deeper and bigger _ I can't guess.
Depending on the geology of where you live, sinkholes will be more or less common.

Question: sink holes around sand mines in Florida?
(May 31, 2014) Shelly said:
Are sinkholes more common around old sand mine areas? Residences are being built on sand mine areas here in Florida.
Reply:
Shelly,
Certainly sinkholes occur around various types of mining activity for several reasons including removal of soil and disturbance by mining operations.
In Florida it's the underlying karst formations (not sand) that explains most sinkholes.
Question: Sinkholes on Long Island NY after Hurricane Sandy
(July 30, 2014 Mallano shouted
I live on long island. My house was damaged by hurricane sandy but it is now repaired. I did not have structural damage. I am not sure if this has anything to do with sandy . In my rear yard i have concrete. The concrete was put down about 12 years ago. The corner of one slab is sinking down . It is about 6 incehs down so far. Our water level under the concrete is about 10 feet. I am worried that this might be a sinkhole. What do i do? I have no idea who i should call to inspect it. Grg511@aol.Com
Reply:
Indeed this sounds like soil settlement under a slab.
but indeed sinkholes DO occur on Long Island. You'll want to check with your local building department and to keep people away from the suspected area until you have an assessment of its safety.
See
Nolan, Bernard T., Barbara C. Ruddy, Kerie J. Hitt, and Dennis R. Helsel. "Risk of nitrate in groundwaters of the United States a national perspective." Environmental science & technology 31, no. 8 (1997): 2229-2236.
Todd, David K., and Larry W. Mays. Groundwater hydrology edition. Wiley, New Jersey, 2005.
Ritter, W. F. "Pesticide contamination of ground water in the United States‐A review." Journal of Environmental Science & Health Part B 25, no. 1 (1990): 1-29.
Mylroie, John E., James L. Carew, and Audra I. Moore. "Blue holes: definition and genesis." Carbonates and Evaporites 10, no. 2 (1995): 225-233.
Martinez, Joseph D., Kenneth S. Johnson, and James T. Neal. "Sinkholes in Evaporite Rocks: Surface subsidence can develop within a matter of days when highly soluble rocks dissolve because of either natural or human causes." American Scientist (1998): 38-51.
And Long Island NY as well as any developed area can develop man-made sinkholes.
Question: nearby storm pond has a shallow depression in it under the surface near shore but doesn't appear to be growing in size.
(July 2, 2015) Rich Phelps said:
a nearby storm pond has a shallow depression in it under the surface near shore but doesn't appear to be growing in size. The rainwater collected in this pond percolates through the sandy soil much faster than other nearby ponds. I have observed a lot of air bubbles rising out in this depression as well as the nearby sands.
Could this be a sinkhole and about to manifest itself? What is the explanation for the air rising from the pond depression?
Reply:
Rich
You haven't indicated where you are located so we don't know if you are in a known sinkhole prone area or not. Until you have the area examined by a local expert or at least your building department, keep people away to avoid the risk of someone being injured or killed by falling into a hole.

Question: Houston sinkhole concern
(Aug 6, 2015) Anonymous said:
I live in the Houston area zip 77036 and between two bayous (half a mile from each.) Although we have had flooded streets over the 50 year period since the house was built, our home has not flooded. The foundation was repaired about 20 or 30 years ago.
The past three or four years the walls, ceiling and doors show signs of another foundation problem which I cannot afford to fix. I'm concerned Because the area around the perimeter of the house where the prior foundation piles were place the cement and ground have sunken half a foot to a foot. The detached garage floor has salt deposits and is cracked. The patio, criveway and front sidewalk are covered with black mildew...more so than my neighbors.
The back yard is not level. The ground is "bumpy" and hard to walk on even though it is covered with St. Augustune grass. I usually have a lot of ants in the yard and around my garden, but this year I haven't seen a single ant bed or even a single ant crawling ! Houston is going through a drought right now and although I want to water around my foundation base, I hesitate to because it may cause more sinkage. Are these signss of a possible sink hole on my property?
Reply:
Anon:
This sounds serious enough that you need an on-site inspection by an expert, to assess damage to the home, the cause and effects of settlement, the repair costs, and most importantly to obtain an idea of both the safety of the home (risk of collapse) and of the urgency of repair.
I would not arbitrarily water around a foundation before I knew for sure what was going on, as you may make matters worse.
You want help from a geotechincal engineer, or at the least, a foundation repair company who has experience and expertise with foundation damage repair in your immediate area.
Question: Georgia Sinkhole concerns - rectangular depression
(Aug 9, 2015) Joe in SOWEGA said:
I live in Albany GA (Southwest GA) and while sink holes here are not unheard of, you would hear of one opening up in a 4-5 year time period. When I moved in my house in 2000 and there was a small rectangular depression of 4x6 feet in dimension and approx. 2 feet deep in one section. After several years it never got larger and neighbors indicated the previous owner didn't have a small pool that they were aware of. Sometime in 2008 or 09, we placed decorative stone around the depression and filled it in with dirt and made a flower bed. Now, the depression has gotten bigger and deeper the stones are beginning to lean inward. Before I enlarge the flower bed, should I be concerned of a sinkhole or is this something different?
Reply:
Joe
In my opinion it would be odd for a true sinkhole to show up as a regular, rectangular shape. More likely you're looking at a collapsing septic tank or similar structure. Since someone falling into such an opening could die, it still makes sense to keep people away until you've had an excavator explore and if necessary open and then fill the hole.
(Aug 14, 2015) Joe in SOWEGA said:
Thank you for your answer .... I agree with your assessment that it would be odd for a sinkhole to show up in rectangular shape. I don't really thing it is a sink hole, however, if it was a depression from buried debris from 20-30 years ago it most likely wouldn't show up rectangular either. My house was built on virgin ground in the middle of piney woods and is nowhere near a septic tank. Though I prefer not to excavate the area since this has taken several get this big, I wonder if filling with layers of dirt packing it along the way would be a suitable solution.

Moderator reply:
Right. Rectangular depressions are often septic tanks, cisterns, old foundations, and on occasion buried appliances.
Certainly you can add fill; the risk is that adding fill over a rusting, collapsing cover over "something" creates a dangerous condition - more weight and then when someone walks over the area, a collapse, injury, or worse. So if you only want to add fill, I'd also keep people from walking on the area.
Believe me this is not just theory. Through my own brilliance I caused an old abandoned drywell to collapse years ago.
See Sinkholes in GEORGIA for details.
Comment: pictures of signs of sinkholes wanted
Liz O'Brien said:
This is a really helpful list! Definitely thorough. Perhaps you could work on getting some pictures of examples up? So many people miss the signs. Sinkholes can be incredibly dangerous! It is strongly recommended that unless you are experienced that you do not try to repair this yourself. With an unskilled eye, it's not only difficult to predict, but also difficult to correctly remedy. If the hole doesn't seem very large, you can try filling it on your own. Here is Florida, we are especially prone to sinkholes. This is mostly due to the fact that the terrain here is largely composed of limestone.
Reply:
Liz: while we don't permit posting of advertising links such as your company, you are welcome to use our page bottom CONTACT link to send us any technical content contribution, critique, or suggestion - we are please to cite and link to content contributors and reviewers.
Beginning at SINKHOLES & SUBSIDENCES - home we describe signs of sinkholes and incude photos.
Be sure to see SINKHOLE DETECTION, WARNING SIGNS
- Daniel F - editor.

Question: Can earthquake like tremors be an early sign of impending sinkhole?
(Jan 6, 2016) Kelly said:
Can earthquake like tremors be an early sign of impending sinkhole?
Reply:
Yes, see Sinkholes in GEORGIA for details of tectonic plate movement and stretch zones that can include sinkhole formation.
Also see SINKHOLE DETECTION, WARNING SIGNS
Comment:
(Jan 8, 2016) Anonymous said:
I hope I never ever have to live through a sinkhole ever
Reply:
Though better to live through than to not.
Question: whats a warning sign for sinkholes
(Mar 10, 2016) athi said:
whats a warning sign for sinkholes
Reply:
SINKHOLE DETECTION, WARNING SIGNS gives twenty sinkhole warning signs.
Question: two and one half foot sinkhole?
(Apr 4, 2016) Judy said:
We think we may possibly have a sink hole in our back yard. The hole , as of now, 2' deep, 212' long, and 20-24" wide. We live in the middle of town, and have owned the property since 1981. We have noticed, what seems to be, water, and, or air spewing. Can you shed any light on this situation, please.
The hole is not 212' long, it is 2. And. 1/2 ' long.
Reply:
Well that got much smaller - whew! Still I'can only guess what forms a 2.5" diameter 24" deep hole; if it's not straight I'd suspect an animal at work but when you ad water spewing there is most likely a leak in a water main. LEAVE IT ALONE and call your plumber and water department. If you mess around the spew may turn into a geyser.
Question: indentation behind my house and gap between bricks or slabs
(Apr 27, 2016) Anonymous said:
I have a indentation behind my house I just bought? Just noticed a gap between 2 bricks or slabs
Question: reader posts sinkhole comments & discussion
(May 1, 2016) Anonymous said:
13 Comments
Sort by
Oldest
Add a comment...
Simbahan Landas Ng Katarungan
Cagayan de Oro, Philippines
Sink holes can happen any were and any moment,.here is a tip around your property use a long rod or stick that is heavy enough and poke the ground do this every 12 feet of distance, from the frist spot you begin,. as you poke the ground you can tell if there is a weak spot or not if the stick or rod goes inside the ground when you slightly poke it minimum 3 feet then you might be in a risk of a sink hole.
Like · Reply · Mark as spam · 4 · Aug 21, 2013 8:42pm
Roma Young
"Hundreds of thousands of years to form.." That's bunk. They're opening up everywhere all at once, & they're caused by depredations humans are causing by shattering bedrock, exploding atom & hydrogen bombs they buried down in the ground, "fracking" another form of destroying earth's foundation, it's bedrock. Try doing these things under the foundation of your hou· 6 · Aug 22, 2013 8:07pm
Mike Hilsher
System/Database Administrator at Computer Consultant
Different kinds of under ground geology and hydrology lead to entirely different situations. The original article is very very clear about certain sub-surface structures and the type of sink holes that they can result in.
Calling all of that "bunk" and then throwing some pseudo-scientific explanation back based on very little actual knowledge and tons of personal grind stones is neither informative on the subject of sinkholes nor does it do justice to the other topics that you are against.
Misinformation only makes other people who hold informed opinions on those selfsame complaints look like tinfoil hat types and given the deniers more ammo. They have plenty enough already, going off half cocked doesn't help the situation.
Like · Reply · Mark as spam · 7 · Aug 23, 2013 10:42am
Lewis Crise
Baltimore, Maryland
Mike Hilsher, Deniers of what?
Like · Reply · Mark as spam · 2 · Aug 24, 2013 1:29pm
Lynda D. LeBlanc
Mobile, Alabama
Roma Young....im sooo....behind u on what you said. Its happening a whole lot lately. And truthfuly yes some sink holes would happen over time even if humans weren't here. Butttt....its a known fact that humans are doing things that dont help our planet. But its obvious that we all are here on the planet....with no where else to go ....right? So im sure thats why God gave some of us common sense to reconize danger under our feet my friend.Even if some people act like were over reacting. ..ha ha yea right!! Now we know why there will always be idiot's out there making lite of our fears....mocki...See More
Like · Reply · Mark as spam · 1 · Jul 29, 2014 8:38pm
Show 3 more replies in this thread
Victoria Gallo
My house is cracked in several places, my floors are uneven in my hall. The foundation is peeling up from the ground. We've had 2 different companies look and test and still they say there's no sink hole.
Like · Reply · Mark as spam · 1 · Nov 16, 2013 1:12pm
Michele Jonason Wolfe
Art Institute of Fort Lauderdale
This is happening to my friend as well. She has cracks inside her home up the walls, in the foundation, the floors underneath her carpeting, etc, under each window, etc. They also tell her that her home is fine. The separation in her floor was 2.5 inches across (width of crack). They just filled in all the cracks. This is happening to other neighbors in her area as well. Yesterday she said there was a *boom* sound or explosion sound outside. She said it almost sounded like a bomb went off. She asked her neighbors who also heard. Later that day she heard it a few more times not as loud. She checked out her house and inside there are more cracks going up her walls and now her roof is cracking. She called again and they said they would be out on Monday to inspect, but now they are saying there are signs of sinkholes in her zip code region. To me this sounds too dangerous to stay there.
I know the house in Tampa where the house was sucked into the earth with the owner still inside had been told just a month before that there were also no signs of a sinkhole. With all the sinkholes that are happening in Florida now this is pretty scary. This is also in Florida, but on the east coast where you don't generally hear about sinkholes. I'm really worried for my friend and her family and don't feel that these people that test know what they're doing, don't have a way to know for sure, or else they know more than they are telling so they don't have to cover through the homeowners insurance and to not make people aware of what is really going on. I used to live in that area and moved away, as they are more concerned with bringing in more and more people, building constantly and high taxes, etc. It's all about the money and not a care for the people that live there. I fear for my friend and her family's safety. I don't know how much more of this can go on before something traumatic happens. Good luck to you and be safe.
Like · Reply · Mark as spam · 8 · Nov 27, 2013 12:01am · Edited
Michele Jonason Wolfe
Art Institute of Fort Lauderdale
She also told me that anchors in her children's rooms are coming out and exposed. How can they deny that her property is not in danger?? This is not normal in Florida for your house to crack everywhere!
Like · Reply · Mark as spam · 3 · Nov 27, 2013 12:07am
Henry Estes
Donelson High School
They deny it in the name of money just as they did me with my claim last year. I'm still waiting to fall in anytime now.
Like · Reply · Mark as spam · 1 · Feb 6, 2014 7:49pm
Michele Jonason Wolfe
Art Institute of Fort Lauderdale
Henry Estes seriously? She had it inspected 5 yrs ago as well and they wanted to deny there was a problem. Now 5 yrs later there are cracks in every part of the house, inside and outside and a 2 ft deep impression in her back yard. They were then at her house for 2 or 3 days taking measurements, etc. She's still waiting to hear from someone. Did you get an attorney, Henry? I've seen so many people in FL that have lost their homes because of this and can't sell them because they have to list it as having a sinkhole problem. The sinkhole in FL that swallowed up that man while he was sleeping had had his place inspected just a month prior to falling in and they had ALSO told him that there was no sinkhole problem. This is crazy!
Like · Reply · Mark as spam · 2 · Feb 6, 2014 9:41pm
Michele Jonason Wolfe
Art Institute of Fort Lauderdale
Henry Estes good luck to you. Hope something positive happens for you.
Like · Reply · Mark as spam · 2 · Feb 6, 2014 9:44pm
Henry Estes
Donelson High School
Michele Lee thanks for your reply. My garage floor fell and moved away from the wall. The vinyl siding on the front has the bottom plank compressed. I have a new hole in the back yard that has recently opened up and using a 35' tape measure I can't find the bottom. Last Oct the ground exploded outside about 8 times and I went outside only to feel the earth moving sideways. We see quick flashes of light inside my home on occasion
that is totally weird. The utility pole on the street actually sunk and forced rock & dirt to the top. And the kicker is we hear a high pitched buzzing sound 7/24 like water flowing under our home (2 years now for me). With all that said my insurance company sent HSA engineering to test and they say there is nothing wrong here. I forgot to mention the sulfur smells and burnt wood smells here as well. I have no choice but to wait this episode out for I am retired and have lived for for almost 20 years. Thanks
Like · Reply · Mark as spam · 1 · Feb 7, 2014 1:00pm
Michele Jonason Wolfe
Art Institute of Fort Lauderdale
Henry Estes OMG! This is absolutely appalling! You mean to tell me they don't make you get out of there for your safety and help you at all?! That is crazy! I know it's easier said than done, but your safety is more important right now. I would be scared as hell. Have you tried contacting Dateline NBC? How about a sinkhole attorney? They don't collect any money from you unless you get paid. I really feel for you. I can't imagine what you are going through and I h
Question: scared to death in Winder, GA.
Sharon said:
Hi, I'm scared to death in Winder,GA. I live at the site of an inactive (at least at the moment & not since it's last week eruption in the 1800s which killed everyone in a 10 mile radius.) Mud volcano. Our yard is pasture and woods except right up by the house from the foundation out 10 feet is peat moss and lately I've been feeling like the bottom is dropping out from my feetwhile I'm in the house. It's a three story govornors mansion style brick home built in 1967. Almost everything is just how it was back then except the wash down slope to the side that used to lead to a huge lake wehad out back about two football fields behind our house and suddenly about a year and a half ago the damn brokeand the water went somewhere but the lake is now gone not to mention there's black quicksand down around the area outside the crater a little ways which was already there. The Indians called this place the gateway to hell and itused to be a burning swamp. Is this house on top of a sink hole cause I'm really certain that it's not safe but I can't convince anyone to listen inside our home. Help me please
Reply:
We discuss this reader's worry and sinkholes in Georgia at Sinkholes in GEORGIA
...
Sinkhole & Subsidence Articles
...
Continue reading at SINKHOLES & SUBSIDENCES - home, or select a topic from closely-related articles below, or see our complete INDEX to RELATED ARTICLES below.
Or see SINKHOLE DAMAGE REPAIRS
Or see SINKHOLE DETECTION, WARNING SIGNS
Or see SINKHOLES - IMMEDIATE SAFETY ACTIONS
Suggested citation for this web page
SINKHOLE FAQs at InspectApedia.com - online encyclopedia of building & environmental inspection, testing, diagnosis, repair, & problem prevention advice.
Or use the SEARCH BOX found below to Ask a Question or Search InspectApedia
...
Frequently Asked Questions (FAQs)
Try the search box below or CONTACT US by email if you cannot find the answer you need at InspectApedia.
Please see the questions & answers in the article above
Or see SINKHOLES & SUBSIDENCES - home
Try the search box below or CONTACT US by email if you cannot find the answer you need at InspectApedia.
...
Ask a Question or Search InspectApedia
Questions & answers or comments about sinkholes and their effects on buildings.
Use the "Click to Show or Hide FAQs" link just above to see recently-posted questions, comments, replies, try the search box just below, or if you prefer, post a question or comment in the Comments box below and we will respond promptly.
Search the InspectApedia website
Technical Reviewers & References
Click to Show or Hide Citations & References
Burton, Jerry, "Fresh From a Kentucky Sinkhole, Recovered 'Vettes Draw Crowds", The New York Times, 3/23/2014 p. 2
Dinger, James S., and James R. Rebmann. Ordinance for the control of urban development in sinkhole areas in the Blue Grass karst region, Lexington, Kentucky. Kentucky Geological Survey, 1991.
Florea, Lee J., Randall L. Paylor, Larry Simpson, and Jason Gulley. "Karst GIS advances in Kentucky." Journal of Cave and Karst Studies 64, no. 1 (2002): 58-62.
Florea, Lee J. "Using State-wide GIS data to identify the coincidence betwen sinkholes and geologic structure." Journal of Cave and Karst Studies 67, no. 2 (2005): 120-124.
Hess, Jonn W., and William B. White. "Storm response of the karstic carbonate aquifer of southcentral Kentucky." Journal of Hydrology 99, no. 3 (1988): 235-252.
Waltham, Tony, Frederic Gladstone Bell, and M. G. Culshaw. Sinkholes and subsidence [at Amazon.com]. Springer/Praxis, 2005.
White, William B., Richard A. Watson, E. R. Pohl, and Roger Brucker. "The central Kentucky karst." Geographical Review (1970): 88-115.
Henry Fountain, "Ohio Looks at Whether Fracking Led to 2 Quakes", The New York Times, p. A20, 3/12/2014
[1] Thomas V. Cech, Principles of water resources: history, development, management, and policy, John Wiley and Sons 2009 ISBN0470136316, 9780470136317
[2] Opdyke et als, "Origin of the epeirogenic uplift of Pliocene-Pleistocene beach ridges in Florida and development of the Florida karst", N. D. Opdyke1, D. P. Spangler 1, D. L. Smith 1, D. S. Jones 1 and R. C. Lindquist 1, Geology; April 1984; v. 12; no. 4; p. 226-228; DOI: 10.1130/0091-7613(1984)12<226:OOTEUO>2.0.CO;2 © 1984 Geological Society of America
1 Department of Geology, University of Florida, Gainesville, Florida 32611
[3] "Russian Child Disappears Into Pipe After Falling Into a Sinkhole With His Mother", Andrew E. Kramer, The New York Times, 10 January 2012, p. A9.


[4] Buried oil tank collapse, subsidence, in condominium association meeting minutes, private correspondence, DF with attorney. 02/21/2012.


[5] "A City Always on the Watch Against Being Sucked Into the Earth", Andrew E. Kramer, The New York Times, 11 April 2012, p. A10.


[6] "A Little House on the Catastrophically Damaged Prarie", Wes Enzinna, The New York Times Magazine, 20 May 2012, p. 34-39.
Additional reference citations within the above document:
4. http://members.aol.com/caveconser/page1.htm and http://members.aol.com/caveconser/page2.htm
5. http://www.nd.edu/~techrev/Archive/Spring2000/a2.html
6. http://www.swfwmd.state.fl.us/about/isspapers/sinkholes.html
7. http://aquat1.ifas.ufl.edu/guide/sinkholes.html -- Sinkholes in FL, surface characteristics, types, warning signs, what to do, recreation
8. http://kyclim.wku.edu/BRADD/sinkholes/intro.html Sinkhole explanation and warning signs- Kentucky
9. http://fl.water.usgs.gov/Tampa/ -- Center for Coastal and Watershed Studies - Tampa Florida
10. http://fl.water.usgs.gov/Pubs_products/online.html -- bibliography including sinkhole studies
11. http://coastal.er.usgs.gov/publications/ofr/00-180/index.html-- sink hole maps for NE Florida - index page
12. http://gulfsci.usgs.gov/tampabay/index.html - Tampa Bay Study
13. http://www.swfwmd.state.fl.us/emer/sinkhole/sinkpage.htmSW Florida Sinkhole Information
14. http://www.dep.state.fl.us/geology/gisdatamaps/index.htmSink Hole Maps - FL
15. http://www.dep.state.fl.us/geology/gisdatamaps/sinkhole_database.htm - Sink Hole Locations - database for FL (Excel)
16. http://coastal.er.usgs.gov/publications/ofr/00-180/intro/intro.html specific to Florida northeast
17. https://InspectAPedia.com/structure/Foundation_Damage_Repair_Guide.php - Inspecting Foundations for Structural Defects
18. http://216.239.39.104/search?q=cache:ZeYj0XgJ38oJ:www.gamineral.org/_docs/Apr03p7-12.pdf+sinkhole+clues+signs&hl=en&ie=UTF-8
19. http://sjr.state.fl.us
[7] This list compiles clues from multiple sources and references.
[8]
Reference 7:
Geologists have a good idea where sinkholes are likely to form geographically, but it's much more difficult to accurately predict specifically where[and when] sinkholes will occur."
[10]
At a previous ASHI Florida conference slides of a masonry block building repaired by AB Chance Helical Pier Co. showed step cracks at the top of the house front wall which were diagnosed as settlement at the opposite end of the house - structural rigidity caused cracking to telegraph to the front; detectable by noting out-of-plumb mortar joints!
Sinkholes and Sudden Land Subsidence References, Products, Consultants
"A Hole in the Ground Erupts, to Estonia's Delight", New York Times, 9 December 2008 p. 10.
History of water usage in Estonia: (5.7 MB PDF) jaagupi.parnu.ee/freshwater/doc/the_history_of_water_usage_systems_in_estonia.pdf
"Quebec Family Dies as Home Vanishes Into Crater, in Reminder of Hidden Menace", Ian Austen, New York Times, 13 May 2010 p. A8. See http://www.nytimes.com/
"Quick Clay", Wikipedia search 5/13/2010 - http://en.wikipedia.org/wiki/Quick_clay
Florida DEP - Department of Environmental Protection, & Florida Geological survey (http://www.dep.state.fl.us/geology/default.htm) on Florida sinkholes: Effects of Sinkholes on Water Conditions Hernando County, Florida, Brett Buff, GIS in Water Resources, 2008, Dr. David R. Maidment, Photos - Tom Scott, Florida Geographic Survey - Web Search 06/09/2010 - http://www.dep.state.fl.us/geology/geologictopics/jacksonsink.htm
and - http://www.dep.state.fl.us/geology/geologictopics/sinkhole.htm
also see
Lane, Ed, 1986, Karst in Florida: Florida Geological Survey Special Publication 29, 100 p.

Foundation Engineering Problems and Hazards in Karst Terranes, James P. Reger, Maryland Geological Survey, web search 06/05/2010, original source: http://www.mgs.md.gov/esic/fs/fs11.html
Maryland Geological Survey, 2300 St. Paul Street, Baltimore, MD 21218
"Frost Heaving Forces in Leda Clay", Penner, E., Division of Building Research, National Research Council of Canada, Canadian Geotechnical Journal, NRC Research Press, 1970-2, Vol 7, No 1, PP 8-16, National Research Council of Canada, Accession number 1970-023601, Quoting from original source

The frost heaving forces developed under a 1 ft. (30.5 cm) diameter steel plate were measured in the field throughout one winter. The steel plate was fixed at the ground surface with a rock-anchored reaction frame. heave gauges and thermocouples were installed at various depths to determine the position and temperature of the active heaving zone. The general trend was for the surface force to increase as the winter progressed. when the frost line approached the maximum depth the force was in excess of 30,000 lb (13,608 KG). Estimates of the heaving pressure at the frost line ranged from 7 to 12 psi (0.49 to 0.84 KG/cm) square during this period. The variation of surface heaving force was closely associated with weather conditions. Warming trends resulting in a temperature increase of the frozen layer caused the forces to decline.

"Geoscape Ottowa-Gatineau Landslides", Canada Department of Natural Resources, original source http://geoscape.nrcan.gc.ca/ottawa/landslides_e.php - quoting from that source:

Leda clay slopes in the Ottawa valley are vulnerable to catastrophic landslides. More than 250 landslides, historical and ancient, large and small, have been identified within 60 km of Ottawa. Some of these landslides caused deaths, injuries, and property damage, and their impact extended far beyond the site of the original failure. In spectacular flowslides, the sediment underlying large areas of flat land adjacent to unstable slopes liquefies. The debris may flow up to several kilometres, damming rivers and causing flooding, siltation, and water-quality problems or damaging infrastructure. Geologists and geotechnical engineers can identify potential landslide areas, and appropriate land-use zoning and protective engineering works can reduce the risk to property and people.

Deposits of Leda clay, a potentially unstable material, underlie extensive areas of the Ottawa-Gatineau region. Leda clay is composed of clay- and silt-sized particles of bedrock that were finely ground by glaciers and washed into the Champlain Sea. As the particles settled through the salty water, they were attracted to one another and formed loose clusters that fell to the seafloor. The resulting sediment had a loose but strong framework that was capable of retaining a large amount of water. Following the retreat of the sea, the salts that originally contributed to the bonding of the particles were slowly removed (leached) by fresh water filtering through the ground. If sufficiently disturbed, the leached Leda clay, a weak but water-rich sediment, may liquefy and become a 'quick clay'. Trigger disturbances include river erosion, increases in pore-water pressure (especially during periods of high rainfall or rapid snowmelt), earthquakes, and human activities such as excavation and construction.

After an initial failure removes the stiffer, weathered crust, the sensitive clay liquefies and collapses, flowing away from the scar. Failures continue in a domino-like fashion, rapidly eating back into the flat land lying behind the failed slope. The flowing mud may raft intact pieces of the stiffer surface material for great distances.

Kochanov, W. E., 1999, Sinkholes in Pennsylvania: Pennsylvania
Geological Survey, 4th ser., Educational Series 11, 33 p., 3rd printing April 2005, Pennsylvania Department of Conservation and Natural Resources / Bureau of Topographic and Geologic Survey, DCNR Educational Series 11, Pennsylvania Geological Survey, Fourth Series, Harrisburg,
1999 - web search 06/05/2010, original source: http://www.dcnr.state.pa.us/topogeo/hazards/es11.pdf - Quoting from the document introduction:
The first 18 pages of this booklet contain an explanation of how sinkholes develop. In order to tell the sinkhole story, it is important to discuss a number of related geologic disciplines. The words used to describe sinkholes and these disciplines may be a bit unfamiliar. However, general explanations are given throughout the booklet to help clarify their meanings. Key words are printed in bold type for emphasis. The more important ones are defined in a Glossary that begins on page 29. The remaining sections, starting with "Sinkholes in the Urban Environment" (page 18), deal with sinkholes and their impact on our environment. This includes recognition of subsidence features and sinkhole repair.
Thanks to reader Y.Z., Whitestone, NY for discussing a back yard collapse 4/1/2010
[1] Sarah Cervone, [web page] data from the APIRS database, Graphics by Ann Murray, Sara Reinhart and Vic Ramey, Vic Ramey is the editor. DEP review by Jeff Schardt and Judy Ludlow. The web page is a collaboration of the Center for Aquatic and Invasive Plants, University of Florida, and the Bureau of Invasive Plant Management, Florida Department of Environmental Protection contact: varamey@nersp.nerdc.ufl.edu [A primary resource for this article
[2] Center for Cave and Karst Studies or the Kentucky Climate Center, both at Western Kentucky University
Vanity Fair - web search 06/04/2010 http://www.vanityfair.com/online/daily/2010/06/what-caused-the-guatemala-sinkhole-and-why-is-it-so-round.html
Sinkholes, [on file as /vision/Sinkholes_Virginia_DME.pdf ] - , Virginia Division of Mineral Resources,
Virginia Department of Mines, Minerals and Energy, www.dmme.virginia.gov Virginia Department of Mines, Minerals and Energy Division of Mineral Resources 900 Natural Resources Drive, Suite 500 Charlottesville, VA 22903 Sales Office: (434) 951-6341 FAX : (434) 951-6365 Geologic Information: (434) 951-6342 http://www.dmme.virginia.gov/ divisionmineralresources.shtml - Web search 06/09/2010
Wikipedia - web search 06/04/2010 - http://en.wikipedia.org/wiki/Guatemala_City
Sink Hole & Related Engineering References
Newton, J. G., 1987, Development of sinkholes resulting from man's activities in the eastern United States: US Geological Survey Circular 968, 54 p.
Sinclair, W. C., 1982, Sinkhole development resulting from ground-water withdrawal in the Tampa Area, Florida: U.S. Geological Survey Water-Resources Investigations 81-50, 19 p.
White, W. B., 1988, Geomorphology and Hydrology of Karst Terrains: Oxford University Press, New York, 464 p.
Williams, J. H. and Vineyard, J. D., 1976, Geologic indicators of subsidence and collapse in karst terrain in Missouri: Presentation at the 55th Annual Meeting, Transportation Research Board, Washington, D.C.
Barry F. Beck, A. J. (1999). Hydrogeology and Engineering Geology of Sinkholes and Karst. Rotterdam, Netherlands: A. A. Balkema.
Beck, B. F. (2003). Sinkholes and the Engineering and Environmental Impacts of Karst. Huntsville, Alabama: The American Society of Civil Engineers.
Beck, B. F. (2005). Sinkholes and the Engineering and Envrionmental Impacts of Karst. San Antonio, Texas: The American Society of Civil Engineers.
Tony Waltham, F. B. (2005). Sinkholes and Subsidence, Karst and Cavernous Rocks in Engineering and Construction. Chichester, United Kingdom: Praxis Publishing.
Whitman D., G. T. (1999). Spatial Interrelationships Between Lake Elevations, Water Tables, and Sinkhole Occurence in Central Florida: A GIS Approach. Photogrammetric Engineering and Remote Sensing , 1169-1178.
Cited References from this article:
#3. Detecting Sinkholes with Geophysics, Enviroscan, Inc., Lancaster PA 717-396-8922 email@enviroscan.com www.enviroscan.com 2003
...
Books & Articles on Building & Environmental Inspection, Testing, Diagnosis, & Repair
Our recommended books about building & mechanical systems design, inspection, problem diagnosis, and repair, and about indoor environment and IAQ testing, diagnosis, and cleanup are at the InspectAPedia Bookstore. Also see our Book Reviews - InspectAPedia.
Best Practices Guide to Residential Construction, by Steven Bliss. John Wiley & Sons, 2006. ISBN-10: 0471648361, ISBN-13: 978-0471648369, Hardcover: 320 pages, available from Amazon.com and also Wiley.com. See our book review of this publication.
Avongard foundation crack progress chart for structural crack monitoring
Building Pathology, Deterioration, Diagnostics, and Intervention, Samuel Y. Harris, P.E., AIA, Esq., ISBN 0-471-33172-4, John Wiley & Sons, 2001 [General building science-DF] ISBN-10: 0471331724 ISBN-13: 978-0471331728
Building Pathology: Principles and Practice, David Watt, Wiley-Blackwell; 2 edition (March 7, 2008) ISBN-10: 1405161035 ISBN-13: 978-1405161039
Diagnosing & Repairing House Structure Problems, Edgar O. Seaquist, McGraw Hill, 1980 ISBN 0-07-056013-7 (obsolete, incomplete, missing most diagnosis steps, but very good reading; out of print but used copies are available at Amazon.com, and reprints are available from some inspection tool suppliers). Ed Seaquist was among the first speakers invited to a series of educational conferences organized by D Friedman for ASHI, the American Society of Home Inspectors, where the topic of inspecting the in-service condition of building structures was first addressed.
Building Failures, Diagnosis & Avoidance, 2d Ed., W.H. Ransom, E.& F. Spon, New York, 1987 ISBN 0-419-14270-3
"A Foundation for Unstable Soils," Harris Hyman, P.E., Journal of Light Construction, May 1995
"Backfilling Basics," Buck Bartley, Journal of Light Construction, October 1994
"Inspecting Block Foundations," Donald V. Cohen, P.E., ASHI Reporter, December 1998. This article in turn cites the Fine Homebuilding article noted below.
"When Block Foundations go Bad," Fine Homebuilding, June/July 1998
...