Construction Guide for Latrines
LATRINE TYPES & CONSTRUCTION - CONTENTS: Latrine construction guidelines & designs. Types of Latrines & Basics of Latrine Construction. Cat hole latrines, burn out latrines, straddle trenches, deep pit, mound, & pail latrines. Methods of urine disposal at latrine facilties. Latrine designs, sketches, U.S. Army field manual suggestions. Products & books on outhouse & latrine construction & use
POST a QUESTION or READ FAQs about how to build, use, & maintain latrines
InspectAPedia tolerates no conflicts of interest. We have no relationship with advertisers, products, or services discussed at this website.
Latrine types & latrine construction methods.
This article discusses latrine construction & maintenance, odor control, sanitation, safety, and products or alternatives. The military use improvised latrines for human waste disposal during field exercises or missions when chemical latrines are not available.
Green links show where you are. © Copyright 2017 InspectApedia.com, All Rights Reserved.
List of Types of Latrines & Basics of Latrine Construction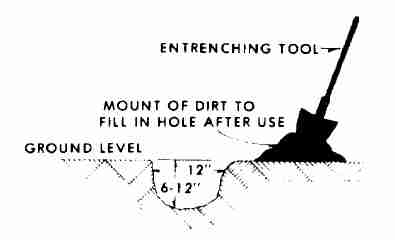 [Click to enlarge any image]
The following information and the sketches are based on U.S. Army Sanitation Field Manual FM 21-10 Appendix A. Note that some of the designs and suggestions may pertain only to military operations.
0. Cat hole latrine or relief bag latrines: a cat hole latrine is a simple one-foot dug hole. The cathole latrine and other temporary latrines are completely covered over and packed down after use.
In general these shallow latrine pits are filled when waste is within one foot of the ground surface.
1. Burn-out Latrine. The burn-out latrine may be provided when the soil is hard, rocky, or frozen, making it difficult to dig a deep pit latrine. It is particularly suitable in areas with high water tables because digging a deep pit is impossible. The burn-out latrine is not used when regulations prohibit open fires or air pollution. Personnel should urinate in a urine disposal facility rather than the burn-out latrine, as more fuel is required to burn out the liquid.
To construct a burn-out latrine, an oil drum is cut in half, and handles are welded to the sides of the half drum for easy carrying. A wooden seat with a fly-proof, self-closing lid is placed on top of the drum.
The latrine is burned out daily by adding sufficient fuel to incinerate the fecal matter. A mixture of 1 quart (1 liter) of gasoline to 4 quarts (4 liters) of diesel oil is effective, but must be used with caution. If possible, have two sets of drums, one set for use while the other set is being burned clean. If the contents are not rendered dry and odorless by one burning, they should be burned again. Any remaining ash should be buried.
Watch out: DANGER Highly volatile fuel such as JP4 (jet propulsion fuel, grade 4) should not be used because of its explosive nature. A burn-out latrine is for military use and is not recommended for civilian applications - OPINION-DF.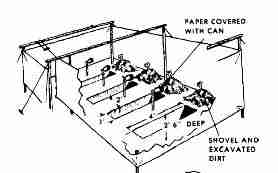 2. Straddle Trench Latrine. The trench is dug 1-foot (30-centimeters) wide, 21/2-feet (75-centimeters) deep, and 4-feet (120-centimeters) long. Two feet (60 centimeters) of length are allowed per person.
These trenches, which are constructed parallel to one another, are spaced at least 2-feet (60-centimeters) apart. Since there are no seats on this type of latrine, boards may be placed along both sides of the trench to provide sure footing.
As the earth is removed, it is piled at one end of the trench, and a shovel or paddle is provided so that each soldier can promptly cover his excreta. Toilet paper is placed on suitable holders and protected from bad weather by a tin can or other covering.
The straddle trench latrine is closed, using the same method described in a(2) above.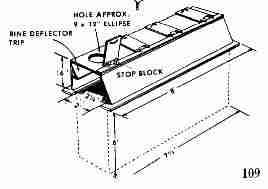 3. Deep Pit Latrine. The deep pit is used with the standard latrine box which is issued to or built by the unit.
The two-seat box is 4-feet (120-centimeters) long, 21/2-feet (75-centimeters) wide at the base, and 18-inches (45-centimeters) high. A four-seat box 8-feet (240-centimeters) long, 21/2-feet (75-centimeters) wide at the base, and 18-inches (45-centimeters) high may be built by the unit using scrap lumber or other material.

The deep pit latrine is dug 2-feet (60-centimeters) wide and either 31/2- or 71/2-feet (105- or 225-centimeters) long, depending upon the size of the latrine box. This allows 3 inches (8 centimeters) of earth on each side of the pit to support the latrine box. The depth of the pit depends on the estimated length of time the latrine will be used.

As a guide, a depth of 1 foot (30 centimeters) is allowed for each week of estimated use, plus 1 foot (30 centimeters) of depth for dirt cover. Generally, it is not desirable to dig the pit more than 6-feet (2-meters) deep because of the danger of the walls caving in. Rocks or high ground water levels may also limit the depth of the pit. In some soils, supports of planking or other material may be necessary to prevent the walls from caving in.
To prevent fly breeding and to reduce odors, the latrine box must be kept clean, the lids closed, and all cracks sealed. If a fly problem exists, they may be controlled by the application of a residual pesticide. Control effects should be based upon fly surveys and pesticides applied in accordance with label directions.

Pit contents should not be sprayed routinely since flies can develop resistance to pesticides (FLIES, REMOVE or REPEL)if used over and over. The latrine boxes and seats are scrubbed daily with soap and water. Using lime in the pit or burning out the pit contents is not effective for fly or odor control; therefore, these methods are not recommended. The deep pit latrine is closed as described in a(2) above.

4. Mound Latrine.
This latrine may be used when a high ground water level or a rock formation near the ground surface prevents digging a deep pit. A dirt mound makes it possible to build a deep pit and still not extend it into the ground water or rock.
A mound of earth with a top at least 6-feet (2-meters) wide and 12-feet (4-meters) long is formed so that a four-seat latrine box may be placed on top of it. It is made high enough to meet the pit

'

s requirement for depth, allowing 1-foot (30-centimeters) from the base of the pit to the level of the ground water or rock level. The mound is formed in approximately 1 foot (30 centimeters) layers.

The surface of each layer is compacted before adding the next layer. When the desired height is reached, the pit is then dug in the mound. Wood or other bracing may be needed to prevent the pit walls from caving in. An alternate method is to construct a latrine pit on top of the ground, using lumber, logs, corrugated sheet metal, or whatever other material is available; to pile dirt around it and up to the brim, thus creating the mound around the latrine pit.

The exact size of the mound base depends upon the type of soil; it should be made large to avoid a steep slope. It may be necessary to provide steps up the slope. The mound latrine is closed as described in a(2) above.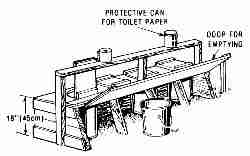 5. Pail Latrine. A pail latrine may be built when conditions (populated areas, rocky soil, and marshes) are such that a latrine of another type cannot be constructed.
A four-seat latrine box may be converted for use as a pail latrine by placing a hinged door on the rear of the box, adding a floor, and placing a pail under each seat. If the box is located in a building, it should, if possible, be fitted into an opening made in the outer wall so that the rear door of the box can be opened from outside the building.
The seats and rear door should be self-closing, and the entire box should be made flyproof. The floor of the box should be made of an impervious material (concrete, if possible) and should slope enough toward the rear to facilitate rapid water drainage used in cleaning the box. A urinal may also be installed in the latrine enclosure with a drainpipe leading to a pail outside. This pail should also be enclosed in a flyproof box.
The waste in pails may be disposed of by burning or by hauling to a suitable area and burying. Emptying and hauling containers of waste must be closely supervised to prevent careless spillage. The use of plastic bag liners for pails reduces the risk of accidental spillage. The filled bags are tied at the top; they then are disposed of by burning or burial.

6. Urine Disposal Facilities. Urine disposal facilities should be provided for the males in the command. Urine should be drained from the urinals into a soakage pit, into a standard deep pit latrine if the urinals are constructed in conjunction with the latrine, or into the chemical latrine. The urine may be drained into a pit latrine through a pipe, hose, or trough. If a soakage pit is used, it should be dug 4-feet (1.2-meters) square and 4-feet (1.2-meters) deep and filled with rocks, flattened tin cans, bricks, broken bottles, or similar nonporous rubble.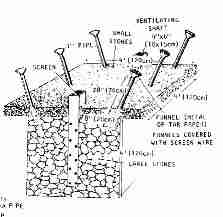 Urinal pipes. Urinal pipes should be at least 1 inch (2.5 centimeters) in diameter and approximately 39-inches (1-meter) long and placed at each corner of the soakage pit and, if needed, on the sides halfway between the corners.

The pipes are inserted at least 8-inches (20-centimeters) below the surface of the pit with the remaining 28 inches (80 centimeters) slanted outward above the surface.

A funnel of tar paper, sheet metal, or similar material is placed in the top of each pipe and covered with a screen.

Urinal trough. A urinal trough, about 10-feet (3.3-meters) long, is provided when material for its construction is more readily available than pipes. The trough is made of sheet metal or wood with either V- or U-shaped ends.

If the trough is made of wood, it is lined with tar paper or metal. The legs supporting the trough are cut slightly shorter on one end where a pipe carries the urine into the soakage pit or latrine pit.

A urinal trough about 12-inches (30-centimeters) long is attached to the inside wall of the chemical latrine. A pipe is connected to the trough to drain urine into the latrine holding tank.
Urine soakage pit. For the urine soakage pit to function properly, soldiers must not urinate on the surface of the pit. The funnels or trough must be cleaned daily with soap and water and the funnels replaced as necessary. Oil and grease must never be poured into the pit, as they will clog it.

When a urine soakage pit is to be abandoned or it becomes clogged, it is sprayed with a residual insecticide and mounded over with a 2-foot (60-centimeter) covering of compacted earth.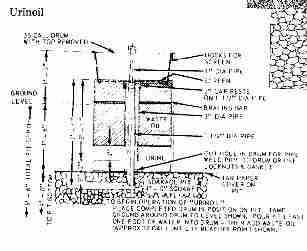 Urinoil. In areas where the ground water level is more than 3-feet (1-meter) below the surface, the urinoil is an acceptable substitute for other types of urine disposal facilities. T

he urinoil is a 55-gallon drum designed to receive and trap urine and to dispose of it into a soakage pit. Urine voided through the screen onto the surface of the oil immediately sinks through the oil to the bottom of the drum.

As urine is added, the level rises within the 3-inch diameter pipe and overflows into the 11/2-inch diameter pipe through the notches cut in the top of this pipe.

The oil acts as an effective seal against odors and against fly entrance. The screen on top of the oil is lifted by supporting hooks and cleaned of debris as necessary.
Basics of Latrine Construction
1. Latrines are so constructed to prevent the contamination of food and water. They are located at least 100 yards (90 meters) downwind (prevailing wind) and down gradient from the unit food service facility and at least 100 feet (30 meters) from any unit ground water source.

They should never be placed above gradient of the unit food service facility. For further protection, latrines are not dug to the ground water level or in places where pit contents may drain into the water source. Usually they are built at least 30 yards (30 meters) from the border of the unit area but within a reasonable distance for easy access.

A drainage ditch is dug around the edges of the latrine enclosure to keep out rainwater and other surface water. A handwashing device is installed outside each latrine enclosure; these devices should be easy to operate and kept full of water. Each individual must wash his hands after he uses the latrine.

2. When a latrine is filled to within 1 foot (30 centimeters) of the ground surface or when it is to be abandoned, it is closed in the following manner. The pit is filled to the ground surface in 3-inch (8-centimeter) layers; each layer is compacted.

This is to prevent fly pupae from hatching and gaining access to the open air. Dirt is then compacted over the pit to form a mound at least 1-foot (30-centimeters) high. A sign is posted with the date and the words "closed latrine," if the tactical situation permits.
The latrine type list and latrine construction information above was derived from web search results for the U.S. Army Field Manual on Latrines and includes information from U.S. Army Field Manual 21-10. Also see "Field Facilities for Human Waste Disposal", Army Study Guide for more details.
...
Continue reading at OUTHOUSES & LATRINES - home, or select a topic from closely-related articles below, or see our complete INDEX to RELATED ARTICLES below.
Or see ALTERNATIVE & WATERLESS TOILETS and also WATERLESS URINALS
Or see CAMPING & EMERGENCY USE TOILETS
Or see CHEMICAL TOILETS
Or see COMPOSTING TOILETS
Or see FLIES, REMOVE or REPEL if you are having a problem with flies in or around the privy.
Suggested citation for this web page
LATRINE TYPES & CONSTRUCTION at InspectApedia.com - online encyclopedia of building & environmental inspection, testing, diagnosis, repair, & problem prevention advice.
Or use the SEARCH BOX found below to Ask a Question or Search InspectApedia
...
Frequently Asked Questions (FAQs)
No FAQs have been posted for this page. Try the search box below or CONTACT US by email if you cannot find the answer you need at InspectApedia.
Ask a Question or Search InspectApedia
Questions & answers or comments about how to build, use, & maintain latrines.
Use the "Click to Show or Hide FAQs" link just above to see recently-posted questions, comments, replies, try the search box just below, or if you prefer, post a question or comment in the Comments box below and we will respond promptly.
Search the InspectApedia website
Technical Reviewers & References
Click to Show or Hide Citations & References
New York State Department of Health, "Appendix 75-A Wastewater Treatment Standards - Individual Household Systems", [PDF] New York State Department of Health, 3 February 2010, retrieved 3/1/2010, original source: https://www.health.ny.gov/regulations/nycrr/title_10/part_75/appendix_75-a.htm
Camp Virginia, PO Box 10, Goshen, Virginia 24439, Email: info@campvirginia.com , Winter Contact Information: Director Emeritus - Betty Pitt, 8122 Greystone Circle East, Richmond, Virginia 23229, 804 282 2339 or Winter Contact Information: Camp Director - Shepherd 'Shep' Lewis, 345 Lexington Road, Richmond, Virginia 23226, 804 513 9236
Quoting from the camp's website:
Camp Virginia was founded in 1928 by Directors Coach and Mrs. Malcolm Pitt of Richmond, Virginia. The spirit they developed has been continuously nurtured by campers, counselors, alumni and the Honor Council. All phases of camp life, from the activities to the cabins, stress integrity, unselfishness, and gratitude, and these values are enhanced by daily devotions and prayers. Here in the midst of these beautiful Allegheny Mountains and the Maury River, the founders' goals of reaching each boy, building character, and developing well-rounded campers will always be pursued.
Camp Virginia has been in the Pitt Family for three generations. Their love and guidance of the Camp Virginia campers and counselors for over eighty years has been their trademark in building a diverse, loving, and extensive Camp Virginia Family.
"Water Efficiency Technology Fact Sheet: Composting Toilets [on file as /septic/EPA_Composting_Toilets.pdf ] - " U.S. EPA, Web Search 07/01/2010, original source: http://www.epa.gov/owm/mtb/comp.pdf )
"Quantification of Methane Emission and Discussion of Nitrous Oxide and Ammonia Emissions from Septic Tanks, Latrines, and Stagnant Open Sewers in the World", US EPA, web search 07/01/2010, original source: http://nepis.epa.gov/Exe/ZyPURL.cgi?Dockey=40001LAG.txt
The Humanure Handbook: A Guide to Composting Human Manure, Joseph C. Jenkins, # Joseph Jenkins, Inc.; 3 edition (September 1, 2005), ISBN-10: 0964425831, ISBN-13: 978-0964425835
The Humanure Handbook: A Guide to Composting Human Manure, 3rd Ed., Joseph C. Jenkins. Quoting part of an Amazon review: The Humanure Handbook provides a wealth of thoroughly researched, hands-on experience and scientific data that demonstrates that after a natural process called "thermophilic" bacterial digestion, which occurs in a compost bin and where all pathogens are killed, excreta is then converted to a valuable nutrient for agriculture and thereby completing a full-circle life cycle. Most importantly, effluent can then be kept out of our drinking water and not treated or referred to as an undesirable "waste product". The information is conveyed in a humorous, folksy, down-to-earth easy to understand style along with drawings, charts, tables, photos and a wealth of resource info for further research. Jenkins' website has a forum for sharing more info, experiences and to answer any and all questions in the process of humanuring and constructed wetland gray water treatment.
Green Latrine, Pro-Planet Industrial Supply, 1615 Monrovia Ave Costa Mesa, CA 92627-4404 map Orange County, CA Metro Area (949) 645-4582 Pro-Planet.com
U.S. Army Field Manual 21-10, Field Hygiene and Sanitation, 1988, web search 07/02/2010, original source: http://www.enlisted.info/field-manuals/fm-21-10-field-hygiene-and-sanitation.shtml
The purpose of this manual is to assist individual soldiers, unit commanders, leaders and field sanitation teams in preventing disease and environmental injuries. The manual provides information on preventive medicine measures (PMM) to the individual soldier as well as essential information for the unit commander, unit leaders, and the unit field sanitation team on applying unit level PMM.
U.S. Army Field Manual FM-8-285-Noxious_Chemicals discusses Ammonia, Carbon Monoxide, Hydrogen Sulfide, Oxides of Nitrogen, Hazards caused by fire,
"Field Facilities for Human Waste Disposal", Army Study Guide, (U.S. Army Field Manuals), web search 07/02/2010, original source: http://www.armystudyguide.com/content/army_board_study_guide_topics
/field_sanitation/field-facilities-for-huma.shtml
The Septic System Information Website home page for this topic
Septic Systems Inspection, Testing, & Maintenance - online textbook. Detailed how to inspect, maintain, repair information
Septic Tank Pumping Guide: When, Why, How to pump the septic tank
Septic Tank Capacity vs Usage in Daily Gallons of Wastewater Flow, calculating required septic tank size, calculating septic tank volume from size measurements
Septic Tank/Soil-Absorption Systems: How to Operate & Maintain [ copy on file as /septic/Septic_Operation_USDA.pdf ] - , Equipment Tips, U.S. Department of Agriculture, 8271 1302, 7100 Engineering, 2300 Recreation, September 1982, web search 08/28/2010, original source: http://www.fs.fed.us/t-d/pubs/pdfimage/82711302.pdf.
How Big Should the Leach Field Be? - table of soil percolation rate vs. field size
Septic System Drainfield Absorption System Biomat Formation - what leads to drain field clogging and expensive drainfield repairs
Table of Required Septic & Well Clearances: Distances Between Septic System & Wells, Streams, Trees, etc.
Ten Steps to Keeping a Septic System Working, suggestions from the U.S. EPA, edits and additions by DJF
Pennsylvania State Fact Sheets relating to domestic wastewater treatment systems include

Pennsylvania State Wastewater Treatment Fact Sheet SW-161, Septic System Failure: Diagnosis and Treatment
Pennsylvania State Wastewater Treatment Fact Sheet SW-162, The Soil Media and the Percolation Test
Pennsylvania State Wastewater Treatment Fact Sheet SW-l64, Mound Systems for Wastewater Treatment
Pennsylvania State Wastewater Treatment Fact Sheet SW-165, Septic Tank-Soil Absorption Systems
Document Sources used for this web page include but are not limited to: Agricultural Fact Sheet #SW-161 "Septic Tank Pumping," by Paul D. Robillard and Kelli S. Martin. Penn State College of Agriculture - Cooperative Extension, edited and annotated by Dan Friedman (Thanks: to Bob Mackey for proofreading the original source material.)

...
Books & Articles on Building & Environmental Inspection, Testing, Diagnosis, & Repair
Design Manuals for Septic Systems
US EPA Onsite Wastewater Treatment Systems Manual [online copy, free] Top Reference: US EPA's Design Manual for Onsite Wastewater Treatment and Disposal, 1980, available from the US EPA, the US GPO Superintendent of Documents (Pueblo CO), and from the National Small Flows Clearinghouse. Original source http://www.epa.gov/ORD/NRMRL/Pubs/625R00008/625R00008.htm Onsite wastewater treatment and disposal systems, Richard J Otis, published by the US EPA. Although it's more than 20 years old, this book remains a useful reference for septic system designers. U.S. Environmental Protection Agency, Office of Water Program Operations; Office of Research and Development, Municipal Environmental Research Laboratory; (1980)
Eco John® Innovative Toilet Solutions, Global Inventive Industries, Fountain Valley CA, PDF, product brochure
"International Private Sewage Disposal Code," 1995, BOCA-708-799-2300, ICBO-310-699-0541, SBCCI 205-591-1853, available from those code associations.
"Manual of Policy, Procedures, and Guidelines for Onsite Sewage Systems," Ontario Reg. 374/81, Part VII of the Environmental Protection Act (Canada), ISBN 0-7743-7303-2, Ministry of the Environment,135 St. Clair Ave. West, Toronto Ontario M4V 1P5 Canada $24. CDN.
Manual of Septic Tank Practice, US Public Health Service's 1959.

Onsite Wastewater Disposal Books
Onsite Wastewater Disposal, R. J. Perkins; Quoting from Amazon: This practical book, co-published with the National Environmental Health Association, describes the step-by-step procedures needed to avoid common pitfalls in septic system technology. Valuable in matching the septic system to the site-specific conditions, this useful book will help you install a reliable system in both suitable and difficult environments. Septic tank installers, planners, state and local regulators, civil and sanitary engineers, consulting engineers, architects, homeowners, academics, and land developers will find this publication valuable.
Onsite Wastewater Treatment Systems, Bennette D. Burks, Mary Margaret Minnis, Hogarth House 1994 - one of the best septic system books around, suffering a bit from small fonts and a weak index. While it contains some material more technical than needed by homeowners, Burks/Minnis book on onsite wastewater treatment systems a very useful reference for both property owners and septic system designers.
Septic Tank/Soil-Absorption Systems: How to Operate & Maintain [ copy on file as /septic/Septic_Operation_USDA.pdf ] - , Equipment Tips, U.S. Department of Agriculture, 8271 1302, 7100 Engineering, 2300 Recreation, September 1982, web search 08/28/2010, original source: http://www.fs.fed.us/t-d/pubs/pdfimage/82711302.pdf
SEPTIC SOIL & PERC TESTS soil perc testing guide and instructions
Percolation Testing Manual, CNMI Division of Environmental Quality, PO Box 501304, Saipan, MP 96950
Planting Over Septic System Component", Daniel Friedman (author/editor, InspectAPedia.com ), The Innovator, Winter/Spring 2008, BCOSSA, British Columbia OnSite Sewage Association, 201-3542 Blansard St., Victoria BC V8X 1W3 Canada
Save the Septic System - Do Not Flush These Items Down the Toilet, Daniel Friedman, InspectAPedia.com - PDF document, printable
Septic System Owner's Manual, Lloyd Kahn, Blair Allen, Julie Jones, Shelter Publications, 2000 $14.95 U.S. - easy to understand, well illustrated, one of the best practical references around on septic design basics including some advanced systems; a little short on safety and maintenance. Both new and used (low priced copies are available, and we think the authors are working on an updated edition--DF. Quoting from one of several Amazon reviews: The basics of septic systems, from underground systems and failures to what the owner can do to promote and maintain a healthy system, is revealed in an excellent guide essential for any who reside on a septic system. Rural residents receive a primer on not only the basics; but how to conduct period inspections and what to do when things go wrong. History also figures into the fine coverage.
Test Pit Preparation for Onsite Sewage Evaluations, State of Oregon Department of Environmental Quality, Portland OR, 800 452-4011. PDF document. We recommend this excellent document that offers detail about soil perc tests, deep hole tests, safety, and septic design. Readers should also see SEPTIC SOIL & PERC TESTS and for testing an existing septic system, also see Dye Tests
Grass is Always Greener Over the Septic Tank, Bombeck, Erma: $ 5.99; FAWCETT; MM; This septic system classic whose title helps avoid intimidating readers new to septic systems, is available new or used at very low prices. It's more entertainment than a serious "how to" book on septic systems design, maintenance, or repair. Not recommended -- DF.

US EPA Onsite Wastewater Treatment Systems Manual Top Reference: US EPA's Design Manual for Onsite Wastewater Treatment and Disposal, 1980, available from the US EPA, the US GPO Superintendent of Documents (Pueblo CO), and from the National Small Flows Clearinghouse. Original source http://www.epa.gov/ORD/NRMRL/Pubs/625R00008/625R00008.htm
Water Wells and Septic Systems Handbook, R. Dodge Woodson. This book is in the upper price range, but is worth the cost for serious septic installers and designers. Quoting Amazon: Each year, thousands upon thousands of Americans install water wells and septic systems on their properties. But with a maze of codes governing their use along with a host of design requirements that ensure their functionality where can someone turn for comprehensive, one-stop guidance? Enter the Water Wells and Septic Systems Handbook from McGraw-Hill.
Written in language any property owner can understand yet detailed enough for professionals and technical students this easy-to-use volume delivers the latest techniques and code requirements for designing, building, rehabilitating, and maintaining private water wells and septic systems. Bolstered by a wealth of informative charts, tables, and illustrations, this book delivers:
* Current construction, maintenance, and repair methods
* New International Private Sewage Disposal Code
* Up-to-date standards from the American Water Works Association

Wells and Septic Systems, Alth, Max and Charlet, Rev. by S. Blackwell Duncan, $ 18.95; Tab Books 1992. We have found this text very useful for conventional well and septic systems design and maintenance --DF. Quoting an Amazon description: Here's all the information you need to build a well or septic system yourself - and save a lot of time, money, and frustration. S. Blackwell Duncan has thoroughly revised and updated this second edition of Wells and Septic Systems to conform to current codes and requirements. He also has expanded this national bestseller to include new material on well and septic installation, water storage and distribution, water treatment, ecological considerations, and septic systems for problem building sites.

The NSFC Products List has an excellent list of design manuals/modules available from their website or by telephone 800-624-8301
...