Roof Underlayment Requirement FAQs
InspectAPedia tolerates no conflicts of interest. We have no relationship with advertisers, products, or services discussed at this website.
Roofing underlayment - roofing felt requirement questions & answers:
Frequently-asked questions about the need for felt underlayment below asphalt shingles or other roof coverings.
This article series discusses roofing felt, specifically addressing the roofing code or roofing manufacturer's requirements for use of an underlayment, such as roofing felt, tarpaper, or other underlayment products beneath asphalt shingles and other roofing materials.
Green links show where you are. © Copyright 2017 InspectApedia.com, All Rights Reserved.
Roofing Felt / Underlayment Requirement FAQs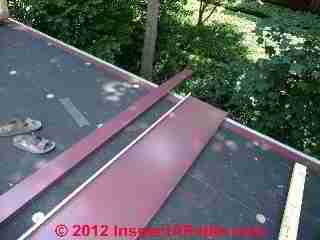 [Click to enlarge any image]
Our photo (page top) shows felt underlayment in good condition as a worn out roof was being stripped. It looks as if the installer of asphalt roof shingles (still visible at below right but now worn out) may have placed roofing felt on top of a still older wood-shingle roof.
Questions & answers about the requirements for roofing underlayment posted originally at ROOFING FELT UNDERLAYMENT REQUIREMENTS

I would start by focusing on identifying what needs to be fixed on the roof and having those problems corrected as quickly as possible in order to avoid expensive damage to the building.
In the experts directory at the top of any of our Pages you may find a home inspector who is able to help you.

New roof installed, an have had nothing but leaks, no drip edge either...water is wicking up into the roof!! Were can l get an inspector or do l need a lawyer too?
Tom,

A detailed answer to your question about determining whether or not the roofer used single or double felt underlayment is given at

UNDERLAYMENT DOUBLE vs SINGLE

I have a doublewide mobile (low slope) that the contractor says he put double felt on. I was not on site that day. Roof is now coverded in 30 year composite shingle. The city inspector says it's single layer of felt.
With flashing all around the edge of the roof I'm wondering where he's looking? Contractor is standing by his statement. How do I tell?

Steve,

It depends. If the roofer simply installed felt, sure it's possible to see some leaks: the felt is not a waterproof roof covering since it is punctured by nails all over the place.

Where ice and water shield is installed, such as is often used at roof eaves and at valleys or other flashed locations, that membrane should seal around nails and shouldn't leak.

New home construction. The roofing felt paper was just applied and I noticed several leaks after a rain storm around the valleys and one or two other locations. Is it common for leaks prior to the shingles being installed?

Pretty good post. I just stumbled upon your blog and wanted to say that I have really enyed reading your blog posts. Any way I'll be subscribing to your feed and I hope you post again soon

Thanks for the information.

Sure, Keith; if there is a solid roof deck below most roofing products, the roofing manufacturer wants underlayment installed; you're not just protecting against leaks - I infer you're suggesting it doesn't matter if a gazebo roof leaks onto the lovers trysting below - it's also protecting the roof decking and framing against water damage, rot, insect damage that would ensue.

Does roofing felt serve any purpose on an open structure like a gazebo or pavilion?

Aug

Depending on the roof covering material, climate, and other factors, Local codes may specify 30# felt underlayment, though 15# is common too. You'll want to find the roofing code for the country, state, province where you live.

Un-stated is what's the issue here? If the roof is leaking the issue isn't the underlayment.

We are in a dispute and NEED your HELP!!! We were taught that on a roof that is 7/12 or greater...that 30# felt or a really good synthetic passes code requirements??? Could you please verify and advise...
Thanx you,

Robert Perdomo

Roof underlayment is not a useful place to even think about disposing of old clothes.

Typically volunteer organizations such as the Salvation Army or Red Cross accept clothes donations and sort through them. Items that are not suitable for use by others are then baled and sold as rag-scrap to raise a little money for the association. Or you can take that route directly.

looking for place to get rid of old clothes and rags this is from a mission to help buy food for food pantry

Paul,

I can't quite offer an authoritative citation as I don't know where your property is located, what codes apply nor exactly what sort of tile roof is installed.

"Meets code" is a mis-used and mis-applied claim and approach to good building practices. Building codes are a minimum standard. At the end of the day, your roof needs to meet the roofing manufacturer's installation specifications. If you insist on relying on "meets code" as basis for an argument, then you need to find, in your local, state, or provincial building codes, the code section that says (as most codes do) that the product must be installed following the maunfacturer's specifications.

Some tile roofs absolutely rely on the underlayment to prevent leaks, where the tiles themselves offer only sun protection for the underlayment and of course an aesthetic roof topping. Such roofs are common in the South and Southwestern U.S. (for example).

Other tile roof systems rely on the tile design and installation to shed water effectively, using the underlayment as a surface padding, as leak protection during installation. Such roofs are found in Norway, northern Europe, and in the Northern U.S. such as in Minnesota. You'll find photos of all of those tile roof examples here at InspectApedia.com

If you know the specific roofing tile product, we (or you) can find its manufacturer, then find the manufacturer's roofing tile installation specifications. That will put an end to the arguing and finger-pointing.

Paul, also see our excerpt from Best Construction Practices (Bliss) at CLAY TILE ROOF SLOPE, DECK & UNDERLAY - http://inspectapedia.com/BestPractices/Clay_Tile_Roof_Slope_Deck_Underlayment.php

where we will re-post your question, our detailed reply, and any further references we can dig up.

Two weeks ago I had a large fir tree branch fall and break (13) tiles on my roof. The roof let water fall all of the way to our Hardwood.
When we asked the contractor about installing under all the tiles, to meet code. They said they only had to put tar paper around where the tiles were broken. Is the contractor right?
When the hole was open we could see that none of the tiles had no underlayment. We could see the sky!! Please call me @623-249-3549 or send an e-mail. Please refer me if you can not provide the answer Thanks

J

If the roof is installed this is a dispute you don't want to have since the cost of re-roofing over a dispute over felt details is costly for both parties and unlikely to be satisfying. To re-roof over again to fix felt is prohibitive in most views.
Look at the roof shingle life warranted by the manufacturer. Detail exactly what felt installation defects are present. Ask the manufacturer for advice on accepting or correcting that or ask how those defects affect the shingle warranty.

Let me know what you're told.

I understand what Nov 28 Anon said. My contractor cut my felt paper short and it does not reach the edges, much less go passed half inch which I wanted. Now what do I do?

Not sure exactly what you mean. Best practice laps the felt over the top of the drip edge, but of felt edge is nor precisely even work the drip edge outer edge - the edge projecting past the lower edge of roof shearhing, that's ok

I had a new roof installed and the Roof Contract states the felt paper does not need to be even with the roof deck edge/drip edge. Is the contract correct?

Question: did omission of felt underlayment contribute to shingle blow-off in windy conditions?
(Aug 18, 2011) mike callahan,lake erie roof&sid said:
I have encountered a roof with absolutely no felt in what way did this contribute to the seal of the roofing if any? Shingles are blowing off constantly! The roof was installed in 1998
Reply:
Mike, the article ROOFING FELT UNDERLAYMENT REQUIREMENTS quotes authoritative sources on why we want felt below asphalt shingles on a roof. But I haven not found any reference to a connection between shingle blow-off and the absence of felt. If shingles are blowing off of a roof it's most likely because
- the self-sealing tabs did not seal
- the shingles were not properly nailed
- the roof is exposed to particularly high winds
On the other hand, the omission of felt underlayment may increase the roof leaks that occur during a storm when shingles blow off of the roof.
Question: using heavier than 15# felt
(Dec 12, 2011) Jon Wright said:
Are there any OSHA, IRC, NRCA or other regulations about using stronger than 15 lb. felt on steeper roofs to protect the installer?
Reply:
15# felt is the minimum recommended felt thickness. Other specifications are in the article ROOFING FELT UNDERLAYMENT REQUIREMENTS
Question:
[delete] (Aug 16, 2012) Anonymous said:
My name is Dennis from Deco roofing systems ltd.
I am looking for a board which is between 10-12mm thick to be used as an under layer material for the Shingles.
Mostly what we use is silvachip board which is a recycled material from tetrapak.
Kindly advice on whether we can get a material which can be nailed on the roof and if possible it should be waterproof.
We are considering importing several containers for our running projects.
Looking forward to hearing from you soon.

Regards
Dennis
+254722588467
Question:
(Oct 12, 2012) Mike said:
can you install new felt over the old felt? what negative effect can it have?
Reply:
Mike -
No particular problem except if you leave a mess or old half-driven nails or old rippled, torn or folded felt you may have a rough surface that punctures new felt and shingles or causes the new roof not to lie flat. One needs to make a field decision based on the on-roof conditions.
Question: hail damage in McAllen TX
(Nov 19, 2012) Maria form Cancun said:
I live in McALlen Tx. In april, we had a historic hail strom. My 2 rental houses' roofs were replaced by a cheating Roofing Company. Contract said: 25 Owens Corning, but he installed Tamko 20year; and all wrinkled.
Now he wants to offer me what the original contract said: Ownes Corning 25 years. My question is: 1500 shingles x 5 nails each one = 7500 extra holes the plywood will have. I do not like the idea of having a strainer as a roof. I want this cheating roofer to install new plywood as punishment for being a thief.
Pleas,e help me with yor answers. Maria from Cancun
Reply:
Maria,
It is common to install three or even more shingle roofs atop the original roof sheathing without worrying that the sheating has been damaged by prior nails.
Just be sure that the OLD roofing is first removed. Mulit-layered shingles on a roof often have a shorter life. ALso that will allow an actual inspection of the roof decking or sheathing - any rotted or damaged sections should be replaced.
See also HAIL DAMAGED ROOFS
Question: originally a shake roof, now a concrete tile roof.
(Feb 6, 2013) Anonymous said:
I inspected a home today that was originally a shake roof, now a concrete tile roof. The structure is reinforced 2X6 so I am not as concerned about the weight, as I am the underlayment.
I found the roof had metal hat channel screwed to the skip sheathing and a heavy paper, almost cardboard type underlayment between the hat channel and concrete. I saw no battens supporting the tiles and all the fastener at the ridge and valleys were exposed screws. Has anyone seen anything like this? The roof was installed in 2004
Question: We just started manufacturing roofing underlayment in india
(Apr 12, 2014) Jonathan said:
We just started manufacturing roofing underlayment in india and we are trying to find dealers on north America who can market this product.
Please advice or comment over how to go ahead or can some one be bridge between us and end users.
Question: insulating & venting a cathedral ceiling
(July 1, 2014) Anonymous said:
Would it be safe/wise to insulate a cathedral ceiling with, say, styofoam/then sheeting, then asphalt shingles from the outside and how would you vent the heat out of the interior - gable end vents? I'd prefer not to insulate from the inside. I'd like to keep the look of the interior cathedral boarding (3.5" fir).
Reply:
Anon
I've installed a design that placed foam insulating board atop rafters, followed by plywood, then roofing; we left an air space between the plywood deck underside and the top of insulation placed between the rafters in an effort to obtain a very high-R roof.
It seemed to me to have been a waste to place that uppermost layer of foam insulating board. However there has been more recent research on the effects of and benefits of heat transmission through top-insulated roofs.
If you don't want to disturb the interior finished ceiling you indeed have to insulate from above. Some approaches include
- installing insulated strutural panels onto the rafters or over an existing roof deck (after tearing off old roofing) - making either a hot roof design or using insulating panels that inclde a vent path from eaves to ridge vent
- tearing off decking, insulating between rafters - foam or fiberglass - leaving (or not) an air path (hot roof or not)
- Nailing high-R solid foam atop rafters (or existing bare decking) then plywood, then roofing, venting the rafter space from eaves to ridge
See specifications at
Question: who is responsible for step flashing caulking when a new roof has been installed?
(July 8, 2014) greg o said:
hi. who is responsible for step flashing caulking when a new roof has been installed? thanks
Reply:
Greg,
In my opinion the caulking of the upper edge of step flashing, if the design requires that sealant use, is certainly part of installing the step flashing itself, not a separate job. Usually roof flashing installation is part of roof installation, though there could be exceptions such as when a roof penetration is installed *after* the roof has been installed.
Then proper flashing should be part of the installation of whatever that subsequent thing was - a chimney, plumbing vent, etc. If the installer does not know how to install flashing then s/he needs to arrange with a qualified roofer or other person who knows how to install flashing - else the job will leak and thus have been improperly executed.
Question: remove existing flashing to install ice and water shield properly
(Oct 24, 2014) Leslie said:
I am having my roof re-shingled and I am worried about my skylights. I asked the roofer if we should install ice & shield around my skylights but he said it's not necessary as he doesn't think it's a good idea to remove the skylight flashing.
He said the ice & shield goes under the flashing and he's reluctant to replace the current skylight flashing since it is not leaking. Is this true or is he just trying to avoid extra work? Other roofers I received quotes from said I should install ice&shield and new flashing around skylights.
Reply:
He's got a point that it is difficult to install ice and water shield under existing flashing. He' d have to remove and reinstall the flashing to do a good job. That's what I'd prefer.
Question: felt underlayment on concrete tile roofs?
(Mar 29, 2015) Sam S. said:
My house has a concrete tile roof where the tiles were nailed directly to the spaced sawn wood stripping that is nailed to the roof rafters. There was no felt underlayment used and no deck to apply it to. This roof is now 36-years old and has never leaked, at all. Would felt underlayment improve this assembly and how would it be installed?
Reply:
Sam you don't say where you live - as concrete roof tile installation requirements or specs vary by jurisdiction.
At any event, there is no cost-reasonable way to add felt below the existing concrete tile roof. Leave it alone and bring this up again at re-roof time - if we live that long.
Question: is tar paper required by building codes?
(May 9, 2015) Debbie Cleland said:
I need to know if tar paper is a must under the building code...My roof was reshingled in 2008 and this year had a leak...the roofer who fixed leak said there is no tar paper under my shingles..Is this against the code...can the contractor be fined and made to bring my roof up to code? I live in Elliot Lake Ontario canada
Reply:
Roofing manufacturers recommend using roof underlayment. It does not have to be specifically "tar paper" as other products are also available.
If your local building codes require following the manufacturer's installation instructions then underlayment is probably requried where you live.
Question: installing new shingles direct on plywood?
(June 19, 2015) Norma said:
We moved into a home in a newer subdivision (10 yrs. old). When we bought the house 4 years ago that would have made the shingles/roof 6 years old. We, along with several other neighbours are now faced with having to re-shingle our roofs. Some quotes from a variety of roofers are saying we don't need a membrane under the new shingles. We feel the current problem we are all having is because there is NO underlay or membrane on the roofs.
We live in a cold/hot climate in Canada and because of those types of weather conditions (which are sometimes very very severe) we feel the membrane is necessary. Some owners have decided to go ahead and apply new shingles to just the plywood. Is this a good choice?
Reply:
I would
1. follow the shingle manufacturer's recommendations to install underlyament
2. in freezing climates like Canada I'd like to see liberal use of ice and water shield at eaves, valleys, and other leak-prone areas.
...
Continue reading at ROOFING FELT UNDERLAYMENT REQUIREMENTS - home, or select a topic from closely-related articles below, or see our complete INDEX to RELATED ARTICLES below.
Or see BUILDING CODE DOWNLOADS - free downloadable PDF files of building codes & standards
Or see STANDARDS for ROOFING
Or see these
Roofing Underlayment-related Articles
Suggested citation for this web page
ROOFING FELT UNDERLAYMENT REQUIREMENT FAQs at InspectApedia.com - online encyclopedia of building & environmental inspection, testing, diagnosis, repair, & problem prevention advice.
Or use the SEARCH BOX found below to Ask a Question or Search InspectApedia
...
Frequently Asked Questions (FAQs)
Try the search box below or CONTACT US by email if you cannot find the answer you need at InspectApedia.
...
Ask a Question or Search InspectApedia
Use the "Click to Show or Hide FAQs" link just above to see recently-posted questions, comments, replies, try the search box just below, or if you prefer, post a question or comment in the Comments box below and we will respond promptly.
Search the InspectApedia website
Technical Reviewers & References
Click to Show or Hide Citations & References
"The Uses and Performance Requirements of Steep-Slope Roof Underlays in North America and the United Kingdom", Robert J. Booth, Keith Roberts, Proceedings of the North American Conference on Roofing Technology, p. 112-118 - Web Search 07/12/2010. This scholarly article cites 33 research articles on the role of roofing underlayments.
"Unvented Roofs, Hot- Humid Climates, and Asphalt Roofing Shingles Research Report - 0306 Feb-2003 Building Science Corporation", Building Science Corporation, 30 Forest Street, Somerville, MA 02143
Quoting from the article abstract: "When constructing unvented roofs with asphalt shingles in hot-humid climates, a vapor barrier must be installed between the asphalt shingles and the roof deck." - Web Search 5/21/2010
NRCA Roofing & Waterproofing Manual, 5th Edition, National Roofing Contractors Association, 10255 W. Higgins Road Suite 600 Rosemont, IL 60018-5607 Telephone: (847) 299-9070 Toll Free: (866) ASK-NRCA (275-6722), e-mail: info@nrca.net. - http://www.nrca.net/rp/pubstore/details.aspx?id=243&c=9
Asphalt Shingle Roofing [Inspection & Installation Guide], Coon Rapids Minnesota, Coon Rapids City Hall 11155 Robinson Drive Coon Rapids, MN 55433 763-755-2880, - Web search 07/12/2010 City Website - http://www.ci.coon-rapids.mn.us/ Contact the City of Coon Rapids at 763-755-2880
Oakridge Pro30™ shingle installation instructions for Owens Corning Oakridge® PRO 30™ fiber glass-based asphalt shingles - Web Search 07/12/2010
Best Practices Guide to Residential Construction, by Steven Bliss. John Wiley & Sons, 2006. ISBN-10: 0471648361, ISBN-13: 978-0471648369, Hardcover: 320 pages, available from Amazon.com and also Wiley.com. See our book review of this publication
Eric Galow, Galow Homes, Lagrangeville, NY. Mr. Galow can be reached by email: ericgalow@gmail.com or by telephone: 914-474-6613. Mr. Galow specializes in residential construction including both new homes and repairs, renovations, and additions.
Steve Smallman, Raleigh, NC, Email: steve@stevesmallman.com, Website: http://stevesmallman.com/ - Quoting: Steve Smallman Property Inspections (SSPI) inspectors have performed or supervised over 25,000 inspections since we introduced home inspections to the Triangle area in 1980. Mr. Smallman is a contributor to InspectApedia.com and has commented on or provided information on plumbing traps, commercial FPE electrical panels and DIY Tests of FPE equipment,, roofing underlayment, and building exteriors.
Books & Articles on Building & Environmental Inspection, Testing, Diagnosis, & Repair
Our recommended books about building & mechanical systems design, inspection, problem diagnosis, and repair, and about indoor environment and IAQ testing, diagnosis, and cleanup are at the InspectAPedia Bookstore. Also see our Book Reviews - InspectAPedia.
Best Practices Guide to Residential Construction, by Steven Bliss. John Wiley & Sons, 2006. ISBN-10: 0471648361, ISBN-13: 978-0471648369, Hardcover: 320 pages, available from Amazon.com and also Wiley.com. See our book review of this publication.
Decks and Porches, the JLC Guide to, Best Practices for Outdoor Spaces, Steve Bliss (Editor), The Journal of Light Construction, Williston VT, 2010 ISBN 10: 1-928580-42-4, ISBN 13: 978-1-928580-42-3, available from Amazon.com
The Journal of Light Construction has generously given reprint permission to InspectAPedia.com for this article. All rights and contents are ©Journal of Light Construction and may not be reproduced in any form.
Architectural elements: the technological revolution: Galvanized iron roof plates and corrugated sheets; cast iron facades, columns, door and window caps, ... (American historical catalog collection), Diana S Waite, available used out of Amazon.
Building Pathology, Deterioration, Diagnostics, and Intervention, Samuel Y. Harris, P.E., AIA, Esq., ISBN 0-471-33172-4, John Wiley & Sons, 2001 [General building science-DF] ISBN-10: 0471331724 ISBN-13: 978-0471331728
Building Pathology: Principles and Practice, David Watt, Wiley-Blackwell; 2 edition (March 7, 2008) ISBN-10: 1405161035 ISBN-13: 978-1405161039
Built-Up Roof Systems, Manual, C.W. Griffin, Mcgraw-Hill (Tx); 2nd edition (July 1982), ISBN-10: 0070247838, ISBN-13: 978-0070247833
Concrete Folded Plate Roofs, C. Wilby PhD BSc CEng FICE FIStructE (Author), Butterworth-Heinemann, 1998, ISBN-10: 0340662662, ISBN-13: 978-0340662663
Concrete Shell Roofs, C. Wilby PhD BSc CEng FICE FIStructE (Author),
Concrete Dome Roofs (Longman Concrete Design and Construction Series),
Concrete Roofing Tile, History of the, Batsford, 1959, AISN B000HLLOUC (availble used)
Copper Roofing, by CDA
Copper Roofing, Master specifications for copper roofing and sheet metal work in building construction: Institutional, commercial, industrial, I.E. Anderson, 1961 (hard to find)
Corrugated Iron, Building on the Frontier, Simon Holloway
Green Roof Plants: A Resource and Planting Guide, Edmund C. Snodgrass, Lucie L. Snodgrass, Timber Press, Incorporated, 2006, ISBN-10: 0881927872, ISBN-13: 978-0881927870. The text covers moisture needs, heat tolerance, hardiness, bloom color, foliage characteristics, and height of 350 species and cultivars.
Green Roof Construction and Maintenance, Kelley Luckett, McGraw-Hill Professional, 2009, ISBN-10: 007160880X, ISBN-13: 978-0071608800, quoting: Key questions to ask at each stage of the green building process Tested tips and techniques for successful structural design Construction methods for new and existing buildings Information on insulation, drainage, detailing, irrigation, and plant selection Details on optimal soil formulation Illustrations featuring various stages of construction Best practices for green roof maintenance A survey of environmental benefits, including evapo-transpiration, storm-water management, habitat restoration, and improvement of air quality Tips on the LEED design and certification process Considerations for assessing return on investment Color photographs of successfully installed green roofs Useful checklists, tables, and charts
Handbook of Building Crafts in Conservation, Jack Bower, Ed., Van Nostrand Reinhold Company, NY 1981 ISBN 0-442-2135-3 Library of Congress Catalog Card Nr. 81-50643.
Historic Preservation Technology: A Primer, Robert A. Young, Wiley (March 21, 2008) ISBN-10: 0471788368 ISBN-13: 978-0471788362
Historic Slate Roofs : With How-to Info and Specifications, Tina Skinner (Ed), Schiffer Publishing, 2008, ISBN-10: 0764330012 , ISBN-13: 978-0764330018
Low Slope Roofing, Manual of, 4th Ed., C.W. Griffin, Richard Fricklas, McGraw-Hill Professional; 4 edition, 2006, ISBN-10: 007145828X, ISBN-13: 978-0071458283

Roof failure causes in depth (and specific methods for avoiding them)
Roof design fundamentals and flourishes, based on voluminous industry research and experience
New technologies and materials -- using them safely and correctly
Comprehensive coverage of all major roofing systems pecifications, inspection, and maintenance tools for roofing work

Metal Roofing, an Illustrated Guide, R.A. Knowlton , [metal shingle roofs],
Patio Roofs, how to build, Sunset Books
Problems in Roofing Design, B. Harrison McCampbell, Butterworth Heineman, 1991 ISBN 0-7506-9162-X (available used)
Roofing The Right Way, Steven Bolt, McGraw-Hill Professional; 3rd Ed (1996), ISBN-10: 0070066507, ISBN-13: 978-0070066502
Slate Roofs, National Slate Association, 1926, reprinted 1977 by Vermont Structural Slate Co., Inc., Fair Haven, VT 05743, 802-265-4933/34. (We recommend this book if you can find it. It has gone in and out of print on occasion.)
Roof Tiling & Slating, a Practical Guide, Kevin Taylor, Crowood Press (2008), ISBN 978-1847970237,
If you have never fixed a roof tile or slate before but have wondered how to go about repairing or replacing them, then this is the book for you. Many of the technical books about roof tiling and slating are rather vague and conveniently ignore some of the trickier problems and how they can be resolved. In Roof Tiling and Slating, the author rejects this cautious approach. Kevin Taylor uses both his extensive knowledge of the trade and his ability to explain the subject in easily understandable terms, to demonstrate how to carry out the work safely to a high standard, using tried and tested methods. 
This clay roof tile guide considers the various types of tiles, slates, and roofing materials on the market as well as their uses, how to estimate the required quantities, and where to buy them. It also discusses how to check and assess a roof and how to identify and rectify problems; describes how to efficiently "set out" roofs from small, simple jobs to larger and more complicated projects, thus making the work quicker, simpler, and neater; examines the correct and the incorrect ways of installing background materials such as underlay, battens, and valley liners; explains how to install interlocking tiles, plain tiles, and artificial and natural slates; covers both modern and traditional methods and skills, including cutting materials by hand without the assistance of power tools; and provides invaluable guidance on repairs and maintenance issues, and highlights common mistakes and how they can be avoided. The author, Kevin Taylor, works for the National Federation of Roofing Contractors as a technical manager presenting technical advice and providing education and training for young roofers.
The Slate Roof Bible, Joseph Jenkins, www.jenkinsslate.com, 143 Forest Lane, PO Box 607, Grove City, PA 16127 - 866-641-7141 (We recommend this book).
Slate Roofing in Canada (Studi4es in archaeology, architecture, and history),
Smart Guide: Roofing: Step-by-Step Projects, Creative Homeowner (Ed), 2004, ISBN-10: 1580111491, ISBN-13: 978-1580111492
Solar heating, radiative cooling and thermal movement: Their effects on built-up roofing (United States. National Bureau of Standards. Technical note), William C Cullen, Superintendent of Documents, U.S. Govt. Print. Off (1963), ASIN: B0007FTV2Q
Tile Roofs of Alfred: A Clay Tradition in Alfred NY
"Weather-Resistive Barriers [copy on file as /interiors/Weather_Resistant_Barriers_DOE.pdf ] - ", how to select and install housewrap and other types of weather resistive barriers, U.S. DOE
Wood Shingle Roofs, Care and Maintenance of wood shingle and shake roofs(EC), Stanley S. Niemiec (out of print)
...