Water Softener Plumbing Hook-up Details
Diagnostic FAQs about plumbing connections, supply, drainage & vents for water conditioners & water softeners
InspectAPedia tolerates no conflicts of interest. We have no relationship with advertisers, products, or services discussed at this website.
Water softener plumbing water supply & drainage piping arrangements, specification, & softener plumbing troubleshooting FAQs.
How should the piping for a water softene or water conditioner be routed, spaced, sized, located, & installed? Sequence of equipment installation, piping sizes & distances.
This article series describes procedures for diagnosing and repairing water softener or water conditioner problems including water conditioner control settings and adjustment or repair, brine tank and brine tank float cleaning and repair, and the proper amount of water softening or conditioning that is needed.
Green links show where you are. © Copyright 2017 InspectApedia.com, All Rights Reserved.
Water Softener Plumbing Installation, Location, Problems & Questions

[Click to enlarge any image]
The illustration above, adapted & expanded upon from a Morton® System Saver® water conditioner installation and operation manual, shows the proper sequence of plumbing connections for typical residential water treatment equipment. Water supply brought from a municipal supply or from a private well, pump and tank system feeds through an optional sediment or iron filter and in to the water softener.
A cold water line for outdoor water hose bibbs or other outdoor uses is taken off of the system ahead of all water treatment filters and equipment, but all water entering the building flows first through the water treatment system such as a water softener or if neede a water disinfection system. This sequence reduces the chance of contamination or clogging in the building's water supply piping, water heater, or other equipment.
Typical Water Softener Plumbing Details
Below are typical water conditioner or water softener plumbing recommendations. Be sure to read and follow the installation instructions provided by your water conditioner manufacturer as those may differ.
Water softener distance to water heater: Some manufacturers such as Water Right recommend that the water softener be installed close to (within 10 feet) the water heater to minimize pressure losses and scale formation in the sytsem.
Water softener drain line routing: Keep the water softener drain piping as short and low as possible: less than 30 feet in length and no more than 8 feet above the floor level. The drain line must be of adequate diameter to handle the water conditioner's backwash flow rate. Use a 3/4" diameter pipe if the drain flow is more than 7 gpm. To avoid an unsanitary cross connection such as that shown below (CROSS CONNECTIONS, PLUMBING) never connect the water conditioner drain driectly to a sewer pipe. When draining to a sewer pipe keep the drain line 1 1/2" (or 2 x the pipe diameter) above the floor drain or abover the opening of a drain standpipe or laundry sink flood rim.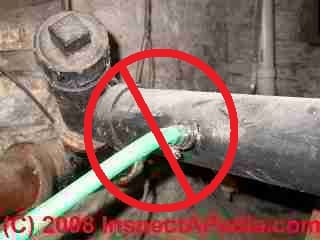 Freeze protection: Protect the water treatment equipment and its piping from freezing.
Shutoff valves: Install a shut-off valve at the water treatment equipment's inlet side.
Manual bypass valve: Optional: install a manual bypass valve or globe valve if the water treatment equipment does not include a bypass valve that can remain in place if the equipment needs to be removed for repair or replacement.
Brine tank location: the brine tank should be located close to the water softener to avoid long tubing runs and it should be placed where readily accessible to add salt or to clean the system.
Brine tank connection to water softener: typically a 3/8" O.D. polyethylene (plastic) tube is connected from the water conditioner's re-fill elbow to the brine tank inlet fitting.
Brine tank overflow drain: Connect a 1/2" I.D. drain line from the brine tank overflow fitting (typically an elbow near the top of the brine tank) to a suitable drain location to prevent flooding of the area around the equipment should the brine tank float valve fail to operate properly. Never route the drain line more than 3" above the bottom of the overflow elbow or the tank may not drain safely. Observe the same air gap as discussed above for the water softener drain line.
Watch out: Vacuum warnings: some manufactuers such as Water Right® warn the following:
Do not subject the tank to any vacuum, as this may cause an "implosion" and could result in leaking. If there is a possibility a vacuum could occur, please make provision for a vacuum breaker in the installation.
Water Softener settings: see the instructions for your water condtioner and also see SOFTENER ADJUSTMENT & CONTROLS

Reader Question: Where should I dispose of water softener drainage?
I am required to put a barrel filled with stone for my softener drain, I will only be 2' from my basement wall (concrete poured wall). Will I have problems with this? What should be a safe distance. The soil is sand. I have absolutely no other place to put it. Thanks for any information. - Joe 11/23/11
Reply:
Joe,
First, a solid barrel filled with stone won't work as a water softener drain destination; once the barrel has filled it'll just overflow. If you mean that you are trying to construct a drywell or seepage pit to accept water softener drainage, that might make sense. But you need to keep the drywell far enough from the foundation wall so that water from it doesn't leak back into the building, nor into the septic system.
While a concrete foundation wall is somewhat leak resistant, cracks, seams at the footing, and even direct moisture penetration mean that putting a drywell right next to your house is asking for an eventual water entry problem. With sandy soil it's an engraved invitation for water entry. If your foundation is a really tight one the water may not appear immediately, but eventually I expect it'll find its way inside. I'm sorry but I am doubtful that this will be a usable long term or even intermediate term solution. You'd be better off finding a more distant location (with sandy soils, 20 feet or more away) even if you have to use a pump to move the wastewater.
Typically the water softener or water treatment drain is taken to a building laundry sink or to a floor drain, keeping the outlet of the drain line 1-2" abover the floor drain to assure an air gap and to prevent back-contamination of the water system.
Question: water pressure now seems worse than before we installed a water softener
We recently installed a water softener in our home. Before we installed it, our water pressure was fine. Now that we have filled it with salt and recharged it, we have very little water pressure. Why is this? If I hit bypass, the water pressure goes back to normal. - Angela 10/16/12
Reply:
Angela

If the water pressure problem has been present since the softener was installed, I suspect an installation error, such as a copper pipe joint partly blocked by solder.

If the problem is not since new but has just occurred, perhaps the bypass valve is not opening fully when in softener mode.

You DID put the salt in the right tank, yes?
Ps in links at page top see our article on the Bypass Valve for repair instructions.
Question: bubbles at toilet when water softener is operating
Commode and kitchen sink gurgles/bubbles and water drains from commode bowl while neutralizer/softener operates.
What is the problem, please? - Linda Kennedy 12/7/12
Reply: building drain waste vent DWV system problems
Linda,
If a kitchen sink drain and toilet are bubbling that suggests that the plumbing vent system that should be serving those appliances is absent, blocked, clogged, missing, or improperly installed;
You may be noticing the noises when the water softener is in backwash/regeneration mode more than at other times because of the added water volume passing down the drain line or because of the point at which water softener drainage is being connected to your plumbing drain system.
Question:
(Sept 5, 2014) Tom Barber said:
I have a GE model GXSF27E water softener. There is water leaking in the rim pan and flowing down the back of the unit. What is the cause and how do I correct the problem?
Reply:
Tom I'm not sure what part you refer to by "rim pan" - that's not a term that GE uses in the Water Softener manual for the Model GXSF27E. You can use our email found at our CONTACT link to send me a photo of where you see the leakage and I can comment further.
Or you can check the References section of this article ("Click to Show or Hide Citation& References" at the bottom of this article) where I include a link to a copy of the Owners Installation and Maintenance Manual for the GE Model GXSF27E Water Softener. There you'll see a parts explosion that may tip you off to which gasket or O-ring needs replacement to stop the leak you cite.
Question:
(Sept 20, 2015) LarryR said:
I have a Kenmore 350 that quit cycling. I can manually recycle and it works fine and I get soft water. I have gone to the diagnostic screen and it shows water flow. Any suggestions?
Reply:
As you are able to make the system work manually it sounds as if the control head or timer need repair or replacement.

Reader Question: water won't drain from the brine tank on my water softener
5 October 2015 dan said:
Water not draining from brine tank?
Reply:
Dan:
Check first for a pinched, clogged or crimped water softener drain line or crimped or clogged tubing between the softener and the brine tank.
Check next for a clogged flow control valve (see the instructions for your specific softener brand and model)
Check next for a plugged injector assembly (see the instructions for your specific softener brand and model)
And check for a sticking brine relief valve (see the instructions for your specific softener brand and model)
If you don't have the manual for your water softener see WATER CONDITIONER / SOFTENER MANUALS
See repair details at BRINE TANK WATER TOO HIGH or see BRINE TANK WATER TOO LOW
...
Continue reading at SOFTENER ADJUSTMENT & CONTROLS or select a topic from closely-related articles below, or see our complete INDEX to RELATED ARTICLES below.
or see DIAGNOSE WATER SOFTENER PROBLEMS
Suggested citation for this web page
SOFTENER PLUMBING PROBLEMS at InspectApedia.com - online encyclopedia of building & environmental inspection, testing, diagnosis, repair, & problem prevention advice.
Or use the SEARCH BOX found below to Ask a Question or Search InspectApedia
...
Frequently Asked Questions (FAQs)
Try the search box below or CONTACT US by email if you cannot find the answer you need at InspectApedia.
Question:
(Feb 11, 2013) Sarg s. said:
The city recently came in and changed our water reader and once they did our water consumption went from 10,500 gallons to 55,500 gallons of water in a 28 day cycle. The only thing running when we were notified was the water softener BUT I do not know for sure if it was in its cycle for the day or if it was the problem. The thing is the city just replaced their head in our basement a day before we started wasting water. WHat gives, if anything? Is this normal or was it just our luck? Any ideas would be great. Thanks
Question:
(Feb 15, 2013) Shannon - in New Castle said:
I'm new to having a water softener.. I don't know how to use this thing, don't know how to adjust it, and can't get it to cycle. How often should it cycle for 2 people living in the house? There are NO stickers or labels on it anywhere to tell me what make/model/mnfctr it is either. I'm pretty sure the dern thing hasn't run in over a week now, the water is starting to smell really strong... HALP!
Reply:
x
Question:
(Feb 8, 2014) kawika said:
Similar to the question "discolored water after water softener regen cycle". I cleaned the brine tank but I still get discolored water afar regeneration. We have only noticed the discoloration in the 2nd bath toilet and tub, nowhere else. it clears up after 3 flushes.
Reply:
Kawika, I'm just guessing, but it seems to me that if water looks different colors at different fixtures in the building I'd think the root source is not the softner (that all water passes through) but perhaps the piping or some other contaminant, or iron, or debris source.
If you see it mostly at a toilet it could be worth cleaning debris out of the toilet tank too.
Reader says:
he discoloration is only present immediately after a regeneration cycle. Why only in the toilet/tub is unknown. If it were the piping or other source it should be present at all times.
Reply:
K
I agree with your reasoning, more or less; sometimes a fixture that runs water faster (like a tub) will stir up and show debris that slower running fixtures don't. A toilet would offer the opposite explanation: debris often accumulates in the toilet tank - in part because the relatively slow fill rate doesn't stir it up enough to flush out when the toilet is flushed.
Start (because it's easy) by taking a look in the toilet tank; look for deposits on the tank walls or crud on the tank bottom; that may point to a water supply debris problem; if there are yellow stains but no deposits more often that points to iron in the water;
With that simple look out of the way and assuming we want to pursue the water softener, I'd check the softner brine tank - in these articles we describe cleaning and disinfecting the brine tank. It's tempting to also run a disinfectant cycle through the water softner itself but I would not do that without knowing the brand and model and then checking the manufacturer's cleaning instructions.
Summarizing: try:
1. checking and cleaning the brine tank
2. running the softener through an extra regen cycle
Reader says:
Toilet tank is clean. Cleaned brine tank, manually ran two regenerations…next scheduled regeneration had no water discoloration…latest regeneration (Today) had the discoloration back in toilet (cleared after 4 flushes).
Reply:
K
are we certain that the incoming water from the source is not the origin of the discoloration you're seeing? Have you tested that water - ahead of any treatment equipment?
Question: white residue in dishwasher
(Feb 16, 2014) stanley costello said:
i get a light powder like residue on my dishes after a dishwashing cycle
Reply:
Stanley,
I've seen this deposit in more than one circumstance: using too much dishwasher detergent, very hard water supply, and on occasion, debris that needs to be cleaned from the dishwasher bottom.
Question:
(June 7, 2014) Ann said:
Just set up new digital water softener. finished settings and run regeneration cycle. It carried out regeneration adn then started cycle all over again ? what is wrong pleaase - what should I do?
Question: replace algae-contaminated water softener?
(June 9, 2014) David Williams said:
have well water system. had a bad algae bloom. water co. said softener had to be replaced. could it have been cleaned, repaired instead?
Reply:
David
I'm unclear why a dirty water softener would need replacement; someone is giving expensive advice that's safe for them and costly for you. Instead I would follow the water softener cleaning and disinfection procedure in your water softener's instruction manual or see our water softener cleaning procedure article at
inspectapedia.com/plumbing/Water_Softener_Cleaning.php
Question: cleaned water softener, lost prime
(June 29, 2014) Dave said:
I cleaned my water softner tank and now I can't get the prime back. Please help!
Reply:
Dave,
If you mean your well pump has lost prime just search inspectApedia for "LOST WELL PRIME" or "HOW TO PRIME THE PUMP" to see procedural details.
If you mean the water softener is not filling the brine tank you will want to check for disconnected tubing, a clogged check valve, or a clogged or improperly set (e.g. on bypass) control valve.
...
Ask a Question or Search InspectApedia
Use the "Click to Show or Hide FAQs" link just above to see recently-posted questions, comments, replies, try the search box just below, or if you prefer, post a question or comment in the Comments box below and we will respond promptly.
Search the InspectApedia website
Technical Reviewers & References
Click to Show or Hide Citations & References
GE Water Softener GXSF27E / GXSF31E Owners Manual & Installation Instructions, Sistema Suavizante de Agua, Manual del Propietario e Instrucciones de Instalación, Modelos GXSF27E, GXSF31E, 7247182 215C1044P021
49-50083-1 04-02 JR, General Electric Company, Louisville, KY 40225,

USA GE Water Softener Warranty Service: All warranty service provided by our SmartWater ™ Authorized Servicer Network. To schedule service, on-line, 24 hours a day, visit us at GEAppliances.com, or call 800.GE.CARES (800.432.2737) (U.S), or 866.777.7627 (Canada),
Canada GE Water Softener Warranty Service: provided by GE Canada Factory Service Centers or an authorized technician. CAMCO Inc., Tel: 1.866.777.7627
Todos los servicios de garantía son proporcionados por nuestra red de proveedores de servicios autorizados SmartWater. ™ Para programar un servicio, por Internet, las 24 horas al día, visítenos en GEAppliances.com o llame al 800.GE.CARES (800.432.2737).

[1] North Dakota Standards for Water Softeners, North Dakota General Authority Law, Chapter 62-04-08, Water Softener Units http://www.legis.nd.gov/information/acdata/pdf/62-04-08.pdf. "The objective of this chapter is to provide a standard of quality, capacity, and performance for water softener units. Water softener performance is to be based upon referee tests procedures described in section 62-04-08-09."
[2] Culligan Mark 10 Water Softener 1994-1998 Installation and Operating Instructions (covering models manufactured after 1995) (1-96) 01881948.pdf available from www.culligan.com
[3] Water Softeners, CMHC, Canadian Mortgage and Housing Corporation, cmhc-schl.gc.ca/en/co/maho/wawa/wawa_005.cfm - October 2008. Canada Mortgage and Housing Corporation acknowledges the contribution of Health Canada to the development of this document. For further questions regarding water treatment and water quality, contact Health Canada at watereau@hc-sc.gc.ca or call 613-957-2991 or 1-866-225-0709.
[4] "Commercial Water Softener Installation and Operating Instructions", IBC Filtration & Water Treatment Products (Australia) for commercial, industrial and residential application www.ibcwater.com.au (07) 3219 2233
[5] "Non electric water softener, Installation and Operating Instructions", IBC Filtration & Water Treatment Products (Australia), op.cit.
[6] "Water Softener Twin Tank Installation and Operating Instructions", IBC Filtration & Water Treatment Products (Australia), op.cit.
[7] Our Water Hardness Table used at originated with but was edited and added to from http://www.bestfish.com/tips/110598.html and also from http://www.water-research.net/hardness.htm
[8] Thanks to reader Gail Sanchez for discussing water softener backups and floods after an electrical outage - August 2010
[9] Water Right, 1900 Prospect Court Appleton, Wisconsin 54914, Tel: 920-739-9401, Website: http://www.water-right.com/ and their water softener manuals are available online at http://www.water-right.com/library/literature/literature_manuals.html
[10] General Electric Corporation, Operation Manual, 740/760 [Water Conditioner or Water Softener] Control, 255 and Performa Series Valves, (268, 268 FA), General Electric Corp. 2007
[11] Ecodyne Industrial, 1270 Frontenac Road, Naperville, IL 60563 Tel: 1 800-228-9326 (USA Only) Tel: +1 630-961-5043 Fax: 1 800-671-8846, Customer Service: 1 800-228-9326, Email: customers@ecodyneind.com, Website: http://www.ecodyneind.com/
Books & Articles on Building & Environmental Inspection, Testing, Diagnosis, & Repair
Our recommended books about building & mechanical systems design, inspection, problem diagnosis, and repair, and about indoor environment and IAQ testing, diagnosis, and cleanup are at the InspectAPedia Bookstore. Also see our Book Reviews - InspectAPedia.
...