Steam bath Generator Outdoor Location
Install a steam generator in a protected area outdoors?
InspectAPedia tolerates no conflicts of interest. We have no relationship with advertisers, products, or services discussed at this website.
Installation details protecting an electric steam shower or steambath steam generator when locating it outdoors.
Construction of a weather-tight cover that yet provides air circulation and working space might permit an outdoor location of a steam generator in some climates. However the manufacturer of this equipment does NOT recommend outdoor installations.
This article series describes in more detail the installation of a residential steam generator in the shower of an existing home. We report what went well, how successfully the steam generator operated after installation.
We continue by describing repair of a new but failed steambath steam generator installation: what went wrong, what trouble it caused, and how steam generator problems with small residential steam generators might be diagnosed and repaired.
Green links show where you are. © Copyright 2017 InspectApedia.com, All Rights Reserved.
Installing an Electric Steam Generator Outdoors: weather protection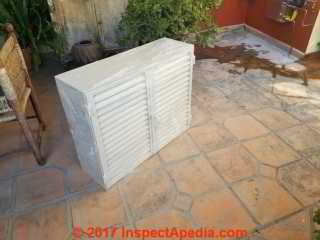 The manufacturer of this equipment expects you to install it in a clean, dry, location protected from the weather. Outdoor installation is not advised in most cases: for the Mr. Steam steambath generator like the MS90E described in this article series, the company warns:
DO NOT install steambath generator outdoors or wherever environmental conditions may result in a shock hazard or affect performance of the generator.
After considering the usually dry climate of central Mexico the owners and their installer speculated that a steam generator might be installed outdoors successfully if in a dry climate and if it were adequately protected from rain, including blowing wet windy rain. In central Mexico the risk of freezing pipes was not a concern.
Watch out: the manufacturer warns that exposure of an electrical steam generator to the weather, particularly rain or to freezing conditions is likely to damage the electronic controls in the unit and could cause damage to components containing water if water in the system freezes.
It is also possible that any installation that violates the manufacturer's recommendations can void the equipment warranty.
The steam generator was kept indoors in a clean dry area until the outdoor installation and weather protection were ready.
A weather-tight but ventilated steel box was constructed by the prime-contractor's metalworker, as we illustrate here. The bottom of the enclosure was left completely open.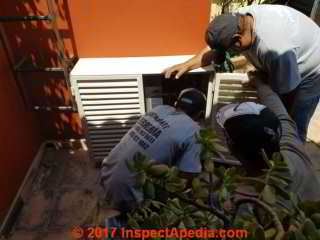 The top and sides were made of solid steel while louvered access doors were designed to resist wind-blown rain but still to permit ventilation. We included locking handles so that a security padlock can be installed if needed to prevent tampering with the unit.
Watch out: in a damp or humid climate or in a climate exposed to salty sea air or to wind-blown rain, an outdoor installation, even with a weather-protective cover is likely to result in damaged equipment. Before trying such an installation, discuss your plans with the manufacturer of your steam generator.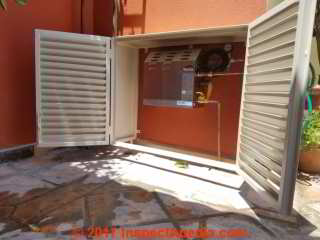 The size of the steam generator outdoor enclosure was specified to give ample working space to remove the steam generator cover, to access its control valves, and to permit its complete removal if necessary.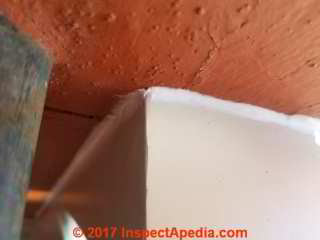 When the enclosure was installed it was also sealed against the building wall using silicone caulk. Below you can see the completed Mr. Steam steambath generator outdoor installation.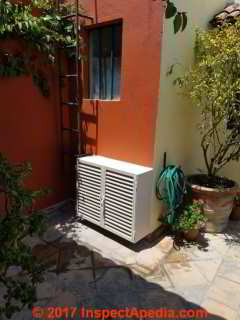 After six months of monitoring including through a wet rainy season we were able to confirm that the equipment was never wet from rain nor from condensation.

Watch out: however, one of the screws used to mount the outdoor cover pierced a control wire and damaged the steam generator, rendering it inoperative. The process of diagnosing and fixing the unit is described at Mr.STEAM MS90E TROUBLESHOOTING.
...
Continue reading at Mr.STEAM MS90E TROUBLESHOOTING or select a topic from closely-related articles below, or see our complete INDEX to RELATED ARTICLES below.
Or see SPAS WHIRLPOOLS SOAKING & JETTED TUBS
Or see this
Article Series Contents
Suggested citation for this web page
STEAM GENERATOR OUTDOOR INSTALLATION at InspectApedia.com - online encyclopedia of building & environmental inspection, testing, diagnosis, repair, & problem prevention advice.
Or use the SEARCH BOX found below to Ask a Question or Search InspectApedia
...
Frequently Asked Questions (FAQs)
Try the search box below or CONTACT US by email if you cannot find the answer you need at InspectApedia.
Question: proper setting for a Honeywell PA-404-A 1099 Presstrol on a steam boiler
DOEs ANYONE KNOW THE PROPER SETTING FOR A HONEYWELL PA-404-A 1009 PRESTROL CONTROL FOR A WEIL-MCLANE STEAM BOILER - Rick 9/11/11
Reply:
Rick the exact pressure needed varies by installation but in a low pressure residential steam system the pressure range is usually between 0.2 and 0.4 psi.
Question: steam pipe configuration question at the boiler
what's the term they call the 2 steam pipes that form an H above a steam boiler. in other words the pipes from both sides of the burner connected together?THANKS,Walter - 9/25/11
Reply: steam pipe header
Walter: sorry we couldn't give an instant reply; sometimes the volume of reader questions is considerable and takes some time to get thorough.

I am guessing you are referring to the steam header or manifold piping that allows steam to enter more than one steam supply line or riser.

A second piping configuration that will be along side, not above, the boiler is the Hartford loop - a loop of piping sort of like an upside down trap that prevents water from siphoning out of the boiler should there be a leak in the condensate return line.
Question: steam boiler parts identification
Wow, what a great web site. I am trying to identify a vessel on the side of an old National steam boiler/furnace. It is about 12-18" tall, about 8" diameter and is attached to a manifold in the side that is about 12" off the floor. It is heavily rusted. The boiler is an old coal fired converted to oil. Can I send you photos? Thanks, Stephen strentsch@yahoo.com or strentsch 10/4/11
Reply:
sure Mr. Strentsch,

use the CONTACT link found at page top, left, or bottom to see our email and send along some sharp photos and we'll be glad to take a look
Question: My steam boiler seems to be taking more water than usual
I blow the system down regularly and then make up the water in the sight glass. However I seem to be using significantly more water then years past whereas I'd top the sight glass every couple of weeks in the past compared to every other day now. What do you think the problem is? - Tom C 10.27.11
Reply:
Tom C: a common reason for increased water consumption in a steam heating system is one or more radiator steam vents that are not closing properly. Check also for a leak in the condensate return line.
Question: I need to prepare for a steam boiler license and want book recommendations
I'm happy to have found this website. I'm getting back into heating and cooling and need to prepare for higher license. Question: Is there a DVD collection you recommended as an additional studying tool? I see that Harold J. Frost, Frederick M. Steingress, Daryl R. Walker's collection is close to 600.00 which is very steep for my pocket. Would you happen to know of a website or cheap place I can buy such DVD or a CD? If not these guys than another author is ok. Thanks for the feedback. Kym 11/23/11
Reply:
Kym if you are looking specifically for information on steam heating I'd pick up any of Dan Holihan's books on steam heat. He's the best.
Question:
The HomeServ tech just left after installing a new auto water feeder, and the PSI gauge on my steam heater is off the chart, over 30 PSI. I shut it down and called HomeServ and they said leave it on and they'll come in the morning. How do I lower the PSI myself so I can leave it on tonight and my little kids (two with strep) don't freeze? Thanks! 2/22/2012
Reply:
Watch out: If the PSI gauge is showing abnormal pressure and the gauge itself is working properly the system is unsafe and should be shut down. Call someone else and fire that tech - from your description the system sounds unsafe
Question: water drips out of the air valve at the bottom of the tank
I HAVE AN OIL BURNER HOT WATER SYSTEM MY EXPANSION IS DRIPPING WATER OUT THE AIR VALVE STEM AT THE BOTTOM OF THE TANK SHOULD I REPAIR OR REPLACE - Mike S 10/12/12
Reply:
Mike, an air valve stem is replaceable, I would tr that first. Check also for abnormal system pressure ( an unsafe condition). But if the internal bladder of the tank has burst - another explanation for finding water at the air pressure adjustment valve, then most likely you need to replace the tank. You'll know this condition because the tank will become waterlogged, heavy, and ultimately the boiler TP valve will drip (another unsafe condition).
Question: radiator banging noise repair procedure
I have a one pipe steam system. My dining room radiator air vent was just replaced because the old one was leaking profusely (damaged my floors). The porch radiator air vent was also replaced because of too much steam condensation in the room, but now the open/close valve is leaking at the base. The radiator upstairs in middle bedroom is banging and clanking. The pipe that runs along the basement ceiling (finished basement) also bangs when the heat is coming on. My plumber cannot really give me an answer. Any suggestions would be appreciated. Thanks p Rita 11/21/12
Reply:
Rita,

If you search InspectApedia for

BANGING STEAM PIPES

you can read about the diagnosis & cure of this problem

About the leaking valve - unfortunately that means you need another service call.
Question: relief valve is leaking
cleaned on a vav [?] system is leaking close the cilanod [solenoid ? -Ed] valve need to be replaced
- Anon 11/23/12
Reply:
See RELIEF VALVE LEAKS for procedures to diagnose and fix leaky TP relief valves.
Question: too-high steam pressure traced to a blocked sensor on steam pressure control
Pressure on gas steam boiler was rising far too high, so high that the pressure relief valve released twice when it hit 15 psi (as it was supposed to do). Good buddy who really knows his stuff checked everything from pressure valve to pressuretrol. Nothing . He then checked "pigtail" and found blockage .Problem solved!! - Ken 11/24/12
Reply:
Thanks for this note it may help other readers
Question: trouble controlling level of steam heat - can I close off the radiator
My building uses steam heaters. I have no control over the heat in my unit because the thermostat is controlled by my landlord/owner who lives above me. However I have a small 1 bedroom with two heating units so even with all of the windows open, it can still get very hot. Is it okay for me to completely close the "open/close" black knob valves on my units or will that cause problems for the whole system? My landlord had previously told me not to touch the valves... Emily 12/10/12
Reply:
Yes if the radiator control knob is not jammed or frozen you can try closing it partly or fully; radiator control knobs are intended to be a homeowner-resident-operator control. But if the knob is not easy to turn, don't force it as you might end up with a leak.
Question: hissing boiler
I have 2 yr. Boiler. It hisses like venting steam off and on loudly. Seems like when heat comes on venting starts until off. -Mr. Ed 12/28/12
Reply:
Steam boilers include steam valves that hiss; we need more details.
Question: leaky relief valve
I am having a pressure problem and it looks like one of my relief valve is leaking or letting the pressure out would this keep my boiler from running. It seems to be shutting off and I need to set the pressure all the time. is it as simple as changing the valve and resetting the Pressure? Rick 1/3/2013
Reply:
See RELIEF VALVE LEAKS for procedures to diagnose and fix leaky TP relief valves.
Question: 28 psi and water coming out of my return on my American Standard boiler
II have a pressure of 28 psi and water is coming out of my return how can i lower the water pressure from my steam American standard boiler - Ronald 1/13/2013
Reply: 28 psi on residential steam heat is very unusual, probably unsafe - shut the system off
Ronald,
Watch out: If your heater is a residential steam heating system it is operating at an abnormally high temperature and is unsafe. Turn the system off immediately and call your heating service company.
If your heater were a residential hot water heating boiler (hydronic heat) its pressure might be close to the upper end of normal operating pressure - and the leak at the valve could be due to a valve problem or to any of quite a few other causes. See RELIEF VALVE LEAKS for procedures to diagnose and fix leaky TP relief valves. See the links just below for information on how the steam heating system pressure is controlled and set.
Question:
(Mar 23, 2013) home able said:
Oil-fired steam boiler was functioning properly upto two weeks ago, now doesn't fully run to designated temperature on thermostat (digital). It will stop a degree or 2 short of desired setting even though thermostat says boiler is running. Why?
Reply:
Home able,
I'm not sure what's happening with your system. IN general the gauges are not lab grade precise. It's possible that your gauge or its sensor port are debris clogged. Try tapping gently on the gauge to see if the needle moves. Also watch the gauge to see its reading throughout the operating cycle.
Question: steam boiler keeps flooding - high water in the sight glass
(Apr 1, 2013) Luis said:
I have a gas bolier which continues to overflow. The sight glass floods even some pipes that run though the floor ang o up the wall with a steam trap a gauges at the to of the pipes. I called a company but they have not been able to find the problem.
Reply:
Luis if the steam boiler keeps overflowing, or flooding, most likely the water feeder is out of order.
Question:
(june 19, 2014) anonymous said:
I have hot water baseboard system boiler in my crawlspace (.Basement) im thinking about replacing the boiler with a horizontal warm air furnace adams furnace. I keep getting freeze ups and they are very difficult to repair. The furnace adams make is supposed to be 95 percent efficient. Plus the fact there are no pipes to freeze is the warm air furnace the way to go? Thanks paul
Reply:
Paul,
You're commenting about hot water and hot air heat on a steam heat article - so this may be a bit confusing to other readers, but in general, conversion to another heating method is fine if you can bear the expense; each heating type has its pros and cons so IMO there is not a single "right" answer. Keep in mind that when you change from steam heat or hot water heat to forced warm air heat, your costs are much greater than just the heater itself as you have to install a heat delivery system : air ducts and registers. That can be convenient in some building designs and quite costly in others.
Question:
(Oct 16, 2014) Antonio said:
I just installed a 299 MBH gas fired steam boiler and connected to an existing system serving the second floor of an office building, approx floor area is 2,600 sq ft.
Existing EDR calculated as approx 900 sq. ft. The boiler started up successfully yesterday and I have been testing it ever since. Everything seems to be working fine. My question is what would be the right pressuretrol settings: I am using 1 psi cut-in and 1 psi differential and everything seems all right, but I may be missing something, maybe the boiler could work more efficiently with a lower or higher cut in pressure.
(Dec 15, 2014) Kevin M said:
I have a gas-fired steam boiler that has worked flawlessly since its installation six years ago. Suddenly it is overfilling. I let out several extra gallons a day to reduce the level in the sight glass. Should I replace the automatic feed? It is attached to the hot water heater, unlike previous installation I have had in other houses where it is connected to the cold water line. I sit possible that excess pressure from the expansion in the hot water supply line is forcing water past the automatic feed? What could cause this condition?
Reply:
Kevin
Over-filling of a heating boiler is indeed usually a problem with the automatic water feeder, more rarely leaks into the boiler from a tankless coil.
Question: bothered by banging pipes
(Feb 15, 2015) Beverly Streeter said:
I live in a 16 unit apt complex. What make the heat clan and banging?
Reply:
See the banging pipe diagnostic and repair suggestions at BANGING HEATING PIPES RADIATORS
Question: steam boiler won't keep running
(Apr 9, 2015) george said:
steam boiler heater runs for about 15 minutes then it cuts out
Reply:
George I'm stuck on this one with no onsite data; could be related to heating of components, clogging of a filter, I dunno. It's time for an onsite heating service tech.
DO NOT keep pushing a re-set button. That's unsafe.
...
Ask a Question or Search InspectApedia
Use the "Click to Show or Hide FAQs" link just above to see recently-posted questions, comments, replies, try the search box just below, or if you prefer, post a question or comment in the Comments box below and we will respond promptly.
Search the InspectApedia website
Technical Reviewers & References
Click to Show or Hide Citations & References
Gordon, John Steele, "A Steam-Powered Proof of Concept" [Essay], Barrons, 28 March 2016 p. 29
Steam Boiler Inspection, Diagnosis, Repair books at the InspectAPedia bookstore - Amazon.com
The Steam Book, 1984, Training and Education Department, Fluid Handling Division, ITT [probably out of print, possibly available from several home inspection supply companies] Fuel Oil and Oil Heat Magazine, October 1990, offers an update, (see next item in this list). ITT Fluid Technology, 1133 Westchester Avenue
White Plains, NY 10604, tel +1 914 304 1700 fax +1 914 696 2950 www.ittfluidbusiness.com
Principles of Steam Heating, $13.25 includes postage. Fuel oil & Oil Heat Magazine, 389 Passaic Ave., Fairfield, NJ 07004.
The Lost Art of Steam Heating, Dan Holohan, 516-579-3046 FAX
Principles of Steam Heating, Dan Holohan, technical editor of Fuel Oil and Oil Heat magazine, 389 Passaic Ave., Fairfield, NJ 07004 ($12.+1.25 postage/handling).
The Heat Efficiency of Steam Boilers, Bryan Donkin
Steam Boiler Operation, Principles & Practice, James J. Jackson
The Steam Book, 1984, Training and Education Department, Fluid Handling Division, ITT [probably out of print, possibly available from several home inspection supply companies] Fuel Oil and Oil Heat Magazine, October 1990, offers an update,
Principles of Steam Heating, $13.25 includes postage. Fuel oil & Oil Heat Magazine, 389 Passaic Ave., Fairfield, NJ 07004.
The Lost Art of Steam Heating, Dan Holohan, 516-579-3046 FAX
Principles of Steam Heating, Dan Holohan, technical editor of Fuel Oil and Oil Heat magazine, 389 Passaic Ave., Fairfield, NJ 07004 ($12.+1.25 postage/handling).
"Residential Steam Heating Systems", Instructional Technologies Institute, Inc., 145 "D" Grassy Plain St., Bethel, CT 06801 800/227-1663 [home inspection training material] 1987
Boilers, Boiler Conversions, James E. Brumbaugh, ISBN 0-672-23389-4 (v. 1) Volume II, Oil, Gas, and Coal Burners, Controls, Ducts, Piping, Valves, James E. Brumbaugh, ISBN 0-672-23390-7 (v. 2) Volume III, Radiant Heating, Water Heaters, Ventilation, Air Conditioning, Heat Pumps, Air Cleaners, James E. Brumbaugh, ISBN 0-672-23383-5 (v. 3) or ISBN 0-672-23380-0 (set) Special Sales Director, Macmillan Publishing Co., 866 Third Ave., New York, NY 10022. Macmillan Publishing Co., NY
McDonnell & Miller Controls - XYLEM Global Headquarters, 1133 Westchester Avenue, White Plains, NY 10604, Tel: +1-914-323-5700, Fax: +1-914-323-5800
...
Books & Articles on Building & Environmental Inspection, Testing, Diagnosis, & Repair
Our recommended books about building & mechanical systems design, inspection, problem diagnosis, and repair, and about indoor environment and IAQ testing, diagnosis, and cleanup are at the InspectAPedia Bookstore. Also see our Book Reviews - InspectAPedia.
...