How to Test for & Trace Sewer Gas Smells and Septic Tank Odors in a Building
TEST FOR INDOOR SEWER GAS - CONTENTS: Sewer gas & odor testing: how to use the TIF 8800 or similar combustible gas analyzers to test for and trace the source of sewer gas or septic gas or methane gas leaks in buildings. Detailed procedure and recommendations for using the TIF8800 to check for sewer or septic gases & similar odors in buildings
POST a QUESTION or READ FAQs about how to track down sewer gas or septic odors in buildings
InspectAPedia tolerates no conflicts of interest. We have no relationship with advertisers, products, or services discussed at this website.
Sewer gas leak or contamination test procedures:
This article describes how to How to Test for & Trace Sewer Gas Smells and Septic Tank Odors in a Building or how we might trace "gas odors" in buildings with a focus on homes with a private onsite septic tank or for owners whose home is connected to a public sewer system as well. What makes the smell in sewer gas? Sewer gases are more than an obnoxious odor.
Green links show where you are. © Copyright 2017 InspectApedia.com, All Rights Reserved.
Tests for Indoor Sewer Gas & Septic Odors - Indoor Gas Leaks using the TIF 8800 Combustible Gas Analyzer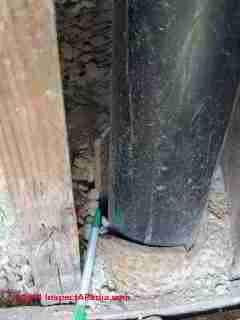 Watch out: Because sewer gas contains methane gas (CH4) there is a risk of an explosion hazard or even fatal asphyxiation. Sewer gases also probably contain hydrogen sulfide gas (H2S)
In addition some writers opine that there are possible health hazards from sewer gas exposure, such as a bacterial infection of the sinuses (which can occur due to any sinus irritation). Depending on the sewer gas source and other factors such as humidity and building and weather conditions, mold spores may also be present in sewer gases.
[Click to enlarge any image]
Tests for sewer gas or septic odor gas leaks: When looking for gas leaks and tracking gas smells, one method to get more precise is to use an instrument sensitive to a broad range of combustible organic gases.We use a TIF 8800 combustible gas analyzer set at its most sensitive setting to sniff for gas leaks.
Our photo at above left illustrates a type of hidden and subtle source of sewer gas odors in buildings: defects in the building drain, waste, or vent piping that are hidden in wall or ceiling cavities.
This particular leak is discussed at DRAIN PIPING & SEWER ODORS .

This instrument will respond to a very wide range of volatile organics, including pipe dope on a plumbing joint, so be careful.The TIF8800 will also respond a little to the gases found at almost any plumbing drain since the trap is often producing some organic gases.

But if you find that there is one drain that responds unusually strongly, or if you find a leak in a fuel gas line, you've found a problem to correct before going further.Many home inspectors have this tool and can be hired to apply it carefully in your home, or it may be less costly (than hiring an inspector) to just buy the tool itself.
Here are some ways we use the TIF 8800 to screen for and trace sewer gases in a building
Turn on the instrument outside (not near a busy highway or running vehicle) and enter the building to screen for the detection of any combustible gas;
Enter each building area with the instrument freshly-set to outdoor ambient air conditions
Don't forget to try the sensor tip at different heights indoors - warm air rising can carry flue gases or other combustibles to unanticipated areas higher than the gas source
Adjust the instrument to its most sensitive setting, using its response sound to move towards stronger sources of any gas that has been detected.
Remember to check not only plumbing drains but gas fittings
Remember that the presence of organic solvents in some pipe joint compounds may make the instrument respond even though no leak may be present
Confirm that the instrument is responding to gases by testing it such as in or near a (not too hot) heating flue, gas source, or preferably, using the sensing tip calibrating vial provided by the manufacturer.
Also see TIF 8800 GAS DETECTOR for a detailed procedure of how this instrument is employed and for a list of gases to which it will respond.
Watch out: The use of most test instruments gives only an instantaneous indicator of a substance that is present at the time of the test and in the location tested. Tests for individual substance or even individual classes of substances are never a complete assurance of building conditions, as other substances not within the scope of the test may be present.
And instrument tests are never a sure indicator that hazardous substances are not present or have not been present at other times or under different building conditions. Never rely only on the results of test instruments when examining a building for unsafe conditions such as gas leaks.
Expert visual inspection of the building exterior, interior, and mechanical systems as well as an understanding of the building's damage, leak, and repair history and of the vulnerability of particular construction designs and materials are all important considerations when evaluating the condition of a structure.
Other Tests for Methane Gas (besides the TIF 8800)
Certainly there are quite a few (often more expensive) instruments that can test for combustible gases, and there are gas-specific tests that address methane-only. For general use a broad-spectrum test instrument such as the TIF8800 discussed here offer the advantage of sensitivity to a wide range of gases, increasing the chance of detecting a concern when the instrument is used, and also increasing the chance of confusion about just what gas is present.
At TIF 8800 GAS DETECTOR we provide details about the use of the instrument described in the article above.
At Drager GAS DETECTORS we describe a simple pump instrument that can, by selecting the proper detector tube, test for a very large range of individual gases at various concentrations.
Other types of gas detection instruments are discussed at GAS DETECTION INSTRUMENTS
For readers interested in monitoring specifically for methane gas, perhaps as an indicator of sewer gas leaks, take a look at the Xintex Methane Gas Detector S2B-M-X, described by its manufacturer as follows:
The Xintex® Methane Gas Detector / Monitor, Model S2B-M-X-Display-D, constantly monitors the level of highly explosive methane and goes into alarm prior to a dangerous situation occurring. This advanced micro-processor, state of the art, Methane Gas Detector is incorporated into the design and re-design of vehicles using CNG or LNG as a fuel.
The company offers other methane gas detection systems as well, including sensors designed to react to specific elevated levels of methane and natural gas.
Watch out: when buying any gas detection instrument be sure to compare the detection and reporting range of the instrument with the level of concern that you need to address. Otherwise dangerous conditions may exist without detection.
Fireboy®- Xintex® Inc P.O. Box 152 · Grand Rapids, Michigan USA 49501-0152 O-379 Lake Michigan Dr NW · Grand Rapids, MI USA 49534 Phone: 616-735-9380 Fax: 616-735-9381 Toll-free: 866-350-9500 Website: http://www.fireboy-xintex.com/
European inquiries: Fireboy- Xintex, LTD Unit 10 Holton Road · Holton Heath Industrial Estate · Poole, Dorset · BH16 6LT · UK Phone: +44 (0) 845 389 9462 Fax: +44 (0) 1202 625376 Email Registration No. 05789560 England Reg. Office 14 New Street, London EC2M 4HE, United Kingdom
Question: How do you measure sewer gas concentrations?
(May 14, 2016) Anonymous said:
How do you detect and measure concentrations of sewer gas?

Reply:
Anon:
Because of the significant variation in the rate, density, concentration and composition of sewer gas that might be leaking into a building, concentration is not measured by the typical investigator. Rather she uses a broad-spectrum combustible gas detection instrument such as the TIF8800 discussed in these pages (TIF 8800 GAS DETECTOR) - with the caveat that that sort of instrument will respond to a wide range of combustible gases. It's the use of the tool in proper context that makes it a reliable and appropriate method.
If for technical reasons you needed to know the concentration of sewer gases, or perhaps of just methane - a primary component - there are more costly and sophisticated electronic instruments that can do that.
Similarly, some natural gas service companies use a quantitative measurement rather than mere detection.
Sewer Gas Detection Research
Barsky, J. B., SS Que Hee, and C. S. Clark. "An evaluation of the response of some portable, direct-reading 10.2 eV and 11.8 eV photoionization detectors, and a flame ionization gas chromatograph for organic vapors in high humidity atmospheres." The American Industrial Hygiene Association Journal 46, no. 1 (1985): 9-14.
Beardsley, C. W., N. J. Krotinger, and J. H. Rigdon. "Removal of sewer odors by scrubbing with alkaline solutions." Sewage and Industrial Wastes (1958): 220-225.
Dincer, Faruk, and Aysen Muezzinoglu. "Odor determination at wastewater collection systems: Olfactometry versus H2S analyses." CLEAN–Soil, Air, Water 35, no. 6 (2007): 565-570.
Fan, Chi-Yuan, Richard Field, William C. Pisano, James Barsanti, James J. Joyce, and Harvey Sorenson. "Sewer and tank flushing for sediment, corrosion, and pollution control." Journal of Water Resources Planning and Management 127, no. 3 (2001): 194-201.
Frechen, Franz-Bernd, and Wulf Köster. "Odour emission capacity of wastewaters—standardization of measurement method and application." Water Science and technology 38, no. 3 (1998): 61-69.
Guisasola, Albert, David de Haas, Jurg Keller, and Zhiguo Yuan. "Methane formation in sewer systems." Water Research 42, no. 6 (2008): 1421-1430.
Hurwitz, L. J., and GwenethI Taylor. "POISONING BY SEWER GAS: WITH UNUSUAL SEQUELÆ." The Lancet 263, no. 6822 (1954): 1110-1112.
Kim, Jihyoung, Jung Soo Lim, Jonathan Friedman, Uichin Lee, Luiz Vieira, Diego Rosso, Mario Gerla, and Mani B. Srivastava. "SewerSnort: A drifting sensor for in-situ sewer gas monitoring." In Sensor, Mesh and Ad Hoc Communications and Networks, 2009. SECON'09. 6th Annual IEEE Communications Society Conference on, pp. 1-9. IEEE, 2009.
Koo, Dae-Hyun, and Samuel T. Ariaratnam. "Innovative method for assessment of underground sewer pipe condition." Automation in Construction 15, no. 4 (2006): 479-488.
LUO, Yong, Xiao-bo MAO, and Jun-jie HUANG. "Development of Infrared Methane Sensor." Instrument Technique and Sensor 8 (2007): 001.
Marrin, Donn L. "Soil‐Gas Sampling and Misinterpretation." Groundwater Monitoring & Remediation 8, no. 2 (1988): 51-54.
Pandey, Sudhir Kumar, Ki-Hyun Kim, and Kea-Tiong Tang. "A review of sensor-based methods for monitoring hydrogen sulfide." TrAC Trends in Analytical Chemistry 32 (2012): 87-99.
Stuart, R. D. "Weil's disease in Glasgow sewer workers." British medical journal 1, no. 4076 (1939): 324.
Watt, Monika M., Stephen J. Watt, and Anthony Seaton. "Episode of toxic gas exposure in sewer workers." Occupational and environmental medicine 54, no. 4 (1997): 277-280
YANG, Jing, Wei-zhen LIANG, and Qing-qiang MENG. "Monitoring Method for the Combustible and Poisonous Gas from Urban Sewer [J]." China Water & Wastewater 1 (2005): 026.
Sewer Gas Odor Articles
...
Continue reading at TIF 8800 GAS DETECTOR or select a topic from closely-related articles below, or see our complete INDEX to RELATED ARTICLES below.
Or see SEWER GAS ODORS - home
Suggested citation for this web page
TEST FOR INDOOR SEWER GAS at InspectApedia.com - online encyclopedia of building & environmental inspection, testing, diagnosis, repair, & problem prevention advice.
More Reading
Or use the SEARCH BOX found below to Ask a Question or Search InspectApedia
...
Frequently Asked Questions (FAQs)
Try the search box below or CONTACT US by email if you cannot find the answer you need at InspectApedia.
Question: foul odor around our house forces us to close the windows
(Oct 3, 2012) Rudy said:
There is a foul odor around our house the main problem finding the source the intermittent occurrence of the odor. This odor does not smell like anything ever smelled by myself or my wife. While windows are open the odor will come from outside through mostly back room windows. When I say odor I mean it knows your socks off, forcing us to close all windows. Sometimes it will last for minutes other times for longer periods. We can only say it happens towards the start of evening or late night. We have had Fire department come by to help but it is not always present and calling them draws valuable resources from the city. Can you help?
Reply:
Rudy,

See if either of these articles will help you track down the smell source:
Or start with our odor diagnosis suggestions found at the home page for this topic ODORS GASES SMELLS, DIAGNOSIS & CURE
Reader follow-up:
After reviewing your site discovered a reference to height requirement of sewer vent pipes. The recommendation states these pipes should be at least 6 to 12 inches high. Decided to head outside and see what mine were and immediately a question popped into mind. Are we talking 6 to 12 inches from installed location or highest point on the roof.
Also I live on a slight hill so my house sits between two others, the higher elevation home is about 10 to 12 feet higher while the lower home is only about 3 feet below our home. I mention this only to see if this would affect the vent sewer pipe height requirement.
Reply
The vent pipe height recommendation refers to height above the roof surface at the point of penetration of the roof deck. I would add that for freezing climates the vent pipe diameter may be quite important too if we are to avoid drain and vent problems due to frost clogging of the vent or covering of vents by deep snow.
Sure on occasion site factors such as nearby buildings or hills or trees can also generate downdrafts that can blow rooftop-vented sewer gases down to ground level, but in my experience the rooftop vent would not be so likley to be the source of very strong odors right at the building exit door, and your note did not make clear that this is a sewer gas or septic system odor anyway.
Have you looked for signs of a dead animal nearby or even in a crawl area?
Question: source of foul smell from air conditioning ducts
(Aug 23, 2012) Kathy Ng said:
What could be the source of foul smell which seem to be coming from the air conditioner ducts and is not prevalent just intermittently?
Kathy,

I have to offer similar advice to the above reply to Rudy, as we've got no information about your building; certainly refrigerant gases are odorless themselves, so more likely your return air intake is picking up smells from some source - or there could be a dead animal in the ductwork; These could be health or safety concerns.
Question: is there some sort of device that can detect sewer gases?
I believe we have a sewer gas problem in our office building. The building owner had a plumber out to investigate and the plumber was useless, saying that it is a dead animal causing the smell and insists that it is not a plumbing problem. Our exterminator, who treats our building on a monthly basis, said that the smell is not a dead animal, not for 4 months. After the plumber investigated, one of our clients, who is an engineer, came into our office for an appointment and as soon as he walked in our lobby, he said "You all have sewage gas leak."
We informed the building owner of his statement. The owner had someone to come out and dig up the sewer main drain line inside our building, more specifically, our downstairs conference room, which is located next to my office. They found 3 very small wet spots on the drain line. They replaced a small section of piping where the 3 tiny wet spots were and capped an old open pipe; however, the smell is still very much present.
Our office staff has been staying sick with sinus infections and headaches for the past several months. The building owner will not call another plumber to get a second opinion. I would like to know if there is some sort of a device that can detect sewer gases. If so, what type of professional would we call to help us. I have been researching this problem for a month. In order, to get the building owner to seek additional action, I must have on hand to show them. Please help me out if you can.
The staff and I are sick of being sick and smelling this rancid smell. I greatly appreciate your time spent reading this email. If for any reason at all you need to contact me, my office contact information is below. Again, thank you for your time. PS: If this info is useful, our building is over 100 years old and is located in the city (city water/sewer). - S.R. 2/19/2014
Reply:
Please review the article above to which I referre you by private email. Also let me re-emphasize that while instruments can be helpful in tracking down the most-likely sources of an odor in a building, I would never rely on an instrument alone: without an expert and thorough inspection and without a thoughtful history-taking of the building's plumbing and leak events, occupant complaints, and other factors, an instrumented test risks missing important hazards or conditions.
For example, in the caseyou describe one would want to know the history of sewage backup or spill, what cleaning was performed, what else may be needed, and also whether or not wet areas created a mold contamination problme, and thirdly whether there is some other irritant source in the building.
Reader Question: (Apr 30, 2012) John Rapciak said: I would like to know where i can buy testing equipment or patches, i believe bad or maybe toxic fumes are coming into my bathroom (fan on or off) from my exhaust fan, possibly from my neighbors apt. through their exhaust fan. Will you help! Thank You, John R. 708-466-7819.
Reply: John, to avoid any possible conflict of interest, InspectAPedia does not sell anything. Your question is a bit too broad an approach - what sort of equipment or "patches" are you thinking about? As there are many possible indoor contaminant sources and tests tend to be rather specific, you may have better results by tracking down the odor to its source first. If you hire an expert to perform testing, do not rely on tests alone - be sure that your expert really is one, and that s/he conducts a thorough inspection of the property and its venting system. Gas testing equipment products, brands, manufacturers and sources are listed in this article series both in the articles and in the article references section.
Question:
Apr 1, 2014) csaba kovacs said:
there is a smell of hydrogen sulfide from am upstairs bathroom. Last nite was really strong. Do I need a plumber...septic tank service or can I test for it my self.Can I get a tester from somewhere?? Perhaps a rentall place ?? 810-772-9176
Reply:
Csaba
For general and highly sensitive testing you can use an instrument like the TIF 8800 GAS DETECTOR - see the link above to an article discussing that instrument, warnings about its sensitivity, and where it can be obtained. Watch out that an instrument in inexperienced hands is not so reliable and could even be dangerous. You might prefer to contact your local health or safety authorities for help.
Question:
(June 23, 2014) bucchiben@yahoo.com said:
Hello, I am renting a older split home in Gulfport, and have been suffering from headaches since moving in a year ago. Recently an AC man came over, and while checking my AC, he stated loudly Sewer Gas leak, which was coming from my bedroom closet where the back of the AC intake was at. There was a hole leading to the ground and pipes which was boxed in by sheetrock, and the AC guy sealed the point where the pieces met, and left. Any advice would be helpful. Thank you
Reply:
Bucc
Certainly you will want to find and fix the leak. Sewer gases are potentially explosive as well as smelly and potentially unsantiary. I'm unclear on what you or your AC guy actually are seeing: an open pipe, a leaky pipe, a blocked drain, or a drain line vent that is leaky or improperly constructed.
Keep in mind that gases leaking near an AC return air vent can be transported throughout a building.
Keep in mind also that even if there is no sewer gas leaks, defective Chinese Drywall outgassing can be mistaken for (and have similar effects as ) a sewer gas leak.
Question:
7/22/14 w barnes said:
My wife is presently in a nursing home with very advanced dementia, the building is a Victorian building and her bathroom constantly smells of drains the internal ceiling fan does not work at the moment and does not have any natural ventilation or windows. I have expressed my concern and the home has put it in their jobs -to do book. their repairs take ages so what I would like to ask is there a gas indicator that could go on the wall that if gas is present the chemical makeup would change colour ,something like litmus paper does for acids
thank you
W BARNES
whf.barnes1@virginmedia.com
Reply:
Mr. Barnes,
At the end of the article above I have added a section on alternative methods for testing for sewer gas.
I have not found a simple test strip or colour changing methane test and it's possible that the instruments we describe may seem costly. An alternative is to ask for a test by an onsite expert who has and knows how to use appropriate equipment.
For monitoring, See our description of the Xintex products above.
...
Ask a Question or Search InspectApedia
Questions & answers or comments about how to test for & track down the source of sewer gases or odors in buildings. .
Use the "Click to Show or Hide FAQs" link just above to see recently-posted questions, comments, replies, try the search box just below, or if you prefer, post a question or comment in the Comments box below and we will respond promptly.
Search the InspectApedia website
Technical Reviewers & References
Click to Show or Hide Citations & References
Mark Cramer Inspection Services Mark Cramer, Tampa Florida, Mr. Cramer is a past president of ASHI, the American Society of Home Inspectors and is a Florida home inspector and home inspection educator. Mr. Cramer serves on the ASHI Home Inspection Standards. Contact Mark Cramer at: 727-595-4211 mark@BestTampaInspector.com
John Cranor is an ASHI member and a home inspector (The House Whisperer) is located in Glen Allen, VA 23060. He is also a contributor to InspectApedia.com in several technical areas such as plumbing and appliances (dryer vents). Contact Mr. Cranor at 804-747-7747 or by Email: johncranor@verizon.net
Thanks to Slade Franklin for the reminder that a leaky wax ring at a toilet can lead to septic odors in bathrooms. 11/2007
Thanks to J.V. (privacy protected) for the reminder to make a detailed inspection of the plumbing vent system when sewer gas odors are present. 07/2008
Thanks to Roger Hankey & Cheryll Brown, www.hankeyandbrown.com, ASHI home inspectors in Minnesota, for the deteriorated transite pipe gas flue vent photograph and comments. Mr. Hankey is a past chairman of the ASHI Technical Committee, serves as co-chairman of ASHI legislative committee, and has served in other ASHI professional and leadership roles. 7/2007.
Cold Weather Septic Odors or Sewage Odor Diagnosis for additional odor tracing and cure advice focused on sewer gas odor tracking in cold or wet weather.
PLUMBING DRAIN NOISE DIAGNOSIS: may indicate defective or clogged plumbing: how to diagnose and cure drain sounds

The Septic System Information Website home page for this topic
Septic Systems Inspection, Testing, & Maintenance - online textbook. Detailed how to inspect, maintain, repair information
Septic Tank Pumping Guide: When, Why, How to pump the septic tank
Septic Tank Capacity vs Usage in Daily Gallons of Wastewater Flow, calculating required septic tank size, calculating septic tank volume from size measurements
How Big Should the Leach Field Be? - table of soil percolation rate vs. field size
Septic System Drainfield Absorption System Biomat Formation - what leads to drain field clogging and expensive drainfield repairs
Table of Required Septic & Well Clearances: Distances Between Septic System & Wells, Streams, Trees, etc.
What is a Septic System An Engineer's View - Types of treatment tanks, adsorption systems, pumps, and other special equipment are discussed in some further detail in this text
Components of a Septic System- the Basic Parts of a Conventional Septic Tank and Leachfield, a chapter in the Home Buyers Guide to Septic Systems
A Toxic Gas Testing Sampling Plan for Residential Indoor Air Investigations
Pennsylvania State Fact Sheets relating to domestic wastewater treatment systems include

Pennsylvania State Wastewater Treatment Fact Sheet SW-161, Septic System Failure: Diagnosis and Treatment
Pennsylvania State Wastewater Treatment Fact Sheet SW-162, The Soil Media and the Percolation Test
Pennsylvania State Wastewater Treatment Fact Sheet SW-l64, Mound Systems for Wastewater Treatment
Pennsylvania State Wastewater Treatment Fact Sheet SW-165, Septic Tank-Soil Absorption Systems
Document Sources used for this web page include but are not limited to: Agricultural Fact Sheet #SW-161 "Septic Tank Pumping," by Paul D. Robillard and Kelli S. Martin. Penn State College of Agriculture - Cooperative Extension, edited and annotated by Dan Friedman (Thanks: to Bob Mackey for proofreading the original source material.)
...
Books & Articles on Building & Environmental Inspection, Testing, Diagnosis, & Repair
Our recommended books about building & mechanical systems design, inspection, problem diagnosis, and repair, and about indoor environment and IAQ testing, diagnosis, and cleanup are at the InspectAPedia Bookstore. Also see our Book Reviews - InspectAPedia.
Carbon Monoxide Gas Toxicity, exposure limits, poisoning symptoms, and inspecting buildings for CO hazards
Cheating on water tests: Testing Water for Real Estate Transactions - make sure your water test is valid
TOILETS, DON'T FLUSH LIST these things into a septic system
PLUMBING DRAIN NOISE DIAGNOSIS: may indicate defective or clogged plumbing: how to diagnose and cure drain sounds
HOT WATER HEATERS - a detailed guide to all types of hot water sources, problems, inspection, repair
Lead Testing & Correcting Contamination from Lead Water Supply Lines/Entry Mains - Lead Pipe Problems/Advice
SEPTIC SYSTEM INSPECT DIAGNOSE REPAIR The Septic Systems Information Website
SEWER GAS ODORS in COLD / WET WEATHER - Septic Odors or Sewage Odor Diagnosis & Repair Guide for diagnosing and eliminating cold weather sewer gas odors
SEPTIC TANK LEVELS of SEWAGE - what are normal and abnormal sewage levels in septic tanks and what do they mean about tank condition, leaks, etc.
Sewer Line Replacement diagnosing a clogged drain leads to drain line replacement - step by step photo-illustrated guide to drain replacement
Water Pressure Loss - Diagnosis how to determine why water pressure has been lost or why there is no water at all in a building
Water testing for Pesticides: comprehensive and pesticides-example parameters
CONTAMINANT CLASSES, in WATER & links to home buyer advice about water testing, drinking water, water supply
WELL CHLORINATION & SHOCKING - Procedure for Shocking a Well to (temporarily or maybe longer) "Correct" Bacterial Contamination
Typical Water Tests & Fees this water test fee schedule applies when testing is combined with other onsite building inspection services
WATER PUMP REPAIR GUIDE an specific case offers an example of diagnosis of loss of water pressure, loss of water, and analyzes the actual repair cost
Water pressure tank failures & water pump short cycling diagnosis and repair
...