How to Test for a Bad Electric Water Heater Heating Element
Diagnose electric heater elements for geysers, water cylinders, electric water heaters
ELECTRIC WATER HEATER ELEMENT TESTS - CONTENTS: Electric Water heater elements: how to inspect, test, adjust, repair a water heater element. Ohm chart of measured resistance of electric water heater heating elements for common rated wattages. How to find & replace an electric water heater heating element that is not working. How to test and repair an electric hot water heater that is producing only tepid hot water or not enough hot water,. Test procedures for electric water heater heating elements. How to replace the heating element on an electric water heater
POST a QUESTION or READ FAQs about how to test the heating elements on an electric water heater
InspectAPedia tolerates no conflicts of interest. We have no relationship with advertisers, products, or services discussed at this website.
Electric water heater element test procedure: this article describes how to test electric hot water heater heating elements, what readings to expect if using an ohmmeter. This article describes the steps in testing electric hot water heater heating elements, followed by a guide to replacing a bad heating element.
This series of articles describes how to inspect, operate, diagnose, and repair electric hot water heaters. The articles at this website will answer most questions about electrical water heaters as well as many other building plumbing system inspection or defect topics. Reproduction of this web page electronically at other websites is prohibited.
Green links show where you are. © Copyright 2017 InspectApedia.com, All Rights Reserved.
How to Test Electric Water Heater Heating Elements
Operating Sequence of Electric Water Heater Elements upper and lower heating elements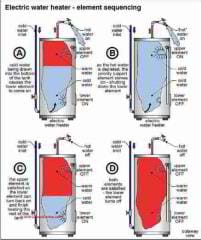 Note: Once you have diagnosed which heating element is bad, also see Electric Water Heater Element Replacement.
Because the electric water heater might be failing to work due to loss of electrical power to the unit, or because of a malfunctioning high-temperature cutoff switch, you should also see the test steps
at How To Test High Temperature Cutoff Switch
Electric water heater drawing (left) showing the sequencing procedure for electric water heater elements is provided courtesy Carson Dunlop Associates, used with permission
Electric water heaters have two heating elements - thick metal loops that get hot when electricity flows through them, similar to the burner on an electric range.
The lower heating element heats cold water as it enters the hot water tank. (Incoming cold water is delivered to the bottom of the tank through the dip tube.)
This element works the hardest, is on the most, and so often is the first to burn out. The upper heating element acts as a "booster" to heat water when there is a high demand. This element heats only the water in the upper portion of the hot water tank.
As we introduced earlier, if there is some hot water but it is limited in quantity or temperature, just one of the heating elements may have failed.
Scale coating a water heater element can also reduce the quantity of hot water (or cause heating element failure) - a topic we review in more detail
at WATER HEATER SCALE DE-LIMING PROCEDURE
and
at WATER HEATER NOISE DIAGNOSIS, CURE
If the electric water heater produces the same old quantity of hot water, but water is only tepid rather than hot, we suspect that the top water heater element has burned out. The bottom element is heating the entire tank but it is not capable of heating the water to the same high temperature as if both elements were working. Long tepid shower - bad top water heater element.
If the electric water heater produces the same old hot water temperature, but the quantity seems drastically reduced, we suspect that the bottom water heater element has burned out. Only the water in the top of the tank is being heated. Cold water enters and remains at the bottom of the water heater. So our hot water is plenty hot but we run out in just a few minutes. Short hot shower - bad bottom water heater element.
As we're about to show in detail, one can test a water heater heating element by a simple procedure using a continuity tester or a volt-ohm meter- a VOM.
See DMM DIGITAL MULTIMETER HOW TO USE
For details on how to use electrical test equipment see DMMs VOMs SAFE USE OF
and see VOLTS / AMPS MEASUREMENT EQUIP
Steps in Testing an Electric Water Heater Heating Element - Good Method
Reader Question: our water won't get hot - electric water heater
Water will not get hot when turn on hot water in house - Claude 11/29/12
Reply:
Claude, you may need to replace your water heater elements. See the test steps given in the article below:
Turn off electrical power to the water heater - you should have done this earlier if you read the instructions above. Turn off power at the water heater circuit at the main electrical panel.
The water in the heater should be lukewarm or colder. If the water heater is hot, run hot water in the building (with the water heater electrical power OFF) until water flows lukewarm or colder.
Disconnect the electrical wires at the heating element terminals. (This is so whether testing upper or lower heating element).
Test for current flow: Use a VOM, DMM, or Ohmmeter or multimeter set to read "resistance" or "ohms" as follows: connect one alligator clip or touch one probe of the VOM to each terminal on the water heater element.

One probe touches one terminal, the other probe touches the other terminal. If the Ohmmeter needle doesn't move (or no reading is given on the DMM) then the electric water heater heating element is defective and needs to be replaced.

If the ohmmeter needle moves or you get some Ohm reading (other than infinity) then the heating element is OK and you are ready to test the other heating element on the heater. In sum, if there is "continuity" through the heating element it is working. If there is no continuity (no electrical current can flow) then the element has failed.
Testing an Electric Water Heating Element for a Short Circuit - Crude Method & OHM Table for Water Heater Elements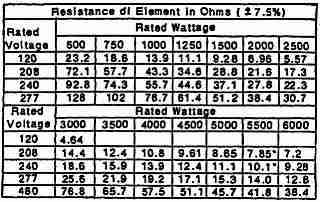 We do not usually make this test but we include it here as it appears in some diagnostic procedures for electric water heaters. The water heater element OHMS chart (left, courtesy A.O. Smith) describes the actual ohm reading you'd expect if testing a factory OEM heater element of the wattage shown.
Even without that level of detail there is a simple test you can perform to see if an electric water heater heating element is in good working order:
Turn off electrical power to the water heater - you should have done this earlier if you read the instructions above. Turn off power at the water heater circuit at the main electrical panel.
Remove the access panel cover and insulation from the top or bottom water heater element (described above)
Connect the alligator clip or test terminal of your continuity tester to one terminal of the heating element. That's the wire and screw right on the heating element itself.
Connect the other probe of the continuity tester (or VOM) to a bolt or bracket that holds the heating element in position.
If the test light goes on, the buzzer sounds, or your VOM (set to Ohms) indicates continuity, there is a short circuit in the heating element and it needs to be replaced.
More water heater element test recommendations are in the Residential Gas and Electric Water Heater Handbook [PDF] provided by A.O. Smith and linked-to at REFERENCES
Causes of Heating Element Failure on Electric Water Heaters
Besides old age and high usage, if your building water supply provides hard water (high in mineral content), scale build-up on water heater elements can lead to their demise.
See WATER HEATER NOISE DIAGNOSIS, CURE for details about removing scale from a water heater.
...
Continue reading at ELECTRIC WATER HEATER ELEMENT REPLACEMENT or select a topic from closely-related articles below, or see our complete INDEX to RELATED ARTICLES below.
Or see DMM DIGITAL MULTIMETER HOW TO USE
Or see ELECTRIC WATER HEATER REPAIR GUIDE - home
Suggested citation for this web page
ELECTRIC WATER HEATER ELEMENT TESTS at InspectApedia.com - online encyclopedia of building & environmental inspection, testing, diagnosis, repair, & problem prevention advice.
Or use the SEARCH BOX found below to Ask a Question or Search InspectApedia
...
Frequently Asked Questions (FAQs)
Try the search box below or CONTACT US by email if you cannot find the answer you need at InspectApedia.
Question: lightning strike damaged the water heater wiring/element
I just replaced the lower element today. The test by continuity to both screws was ok but from one (1) screw to ground was not. Bad element; short circuit. Lightning had struck a large pine tree in the front about 40 yards from heater two days ago. All breakers did their job well by shutting down the power to heater and the breaker in heater shut down also. - Lloyd 3/23/12
Reply:
Tanks Lloyd, that's helpful details.
Question: Keith thinks you cannot use a VOM or DMM to test water heater elements by checking resistance
You cannot ohm the elements, since if open the water will show continuity.
A much simpler, faster , more accurate method is check for voltage 1st, and see if any amp draws going on! if not its bad! - Keith Grayson 12/10/11
Reply:
I don't think you've got it correct, Keith, and too, it's safer to test water heater elements with electricity to the unit OFF.
The standard test of the condition of an electric water heater element is the resistance test described in the article above.
If the heating element is dead shorted out it will show continuity - that is not an OPEN circuit, it's a CLOSED one. Continuity in this case means close to zero resistance - which is not normal for a water heating element and thus would indicate trouble.
An OPEN circuit is one that is not continuous - so we would see infinite resistance. This is a more common mode of electric water heater element - the element just burns up and becomes an open circuit. Of course to avoid confusion these tests are done with electrical wires to the heating elemen t removed.
Take a look at DMM DIGITAL MULTIMETER HOW TO USE for a nice article on how to hook up and use a digital multimeter or a VOM to check for voltage or for circuit continuity or for resistance.
Question: GE water heater flooded by Hurricane Sandy - can we just turn it back on to see if it works?
Our 50 gallon got flooded by about 2 feet of water. The lower elements got wet. is it safe to flip back on the breaker to see if by chance the heater is still working? - GE Hot water heater flooded 11/19/2012
GE hot water heater is electric, with the power coming in from the top of the tank.
Reply:
GE water heater,

Before turning on electricity electrical components need to be dried and inspected, lest you otherwise cause a short circuit that could be dangerous.

Worse, if floodwaters submerging the heater were unsanitary, say with sewage contaminants, the heater insulation icontaminated as well.

With power OFF to the heater so you don't get electrocuted, you or your electrician can remove the access covers to expose, dry, and inspect the wiring and connections. At the very least, start there.
For details on how to get a flooded water heater back into service - if it can be re-used, see FLOOD DAMAGED WATER HEATER REPAIR

It it were mine, I'd replace the unit.
...
Ask a Question or Search InspectApedia
Questions & answers or comments about how to test the heating elements on an electric water heater.
Use the "Click to Show or Hide FAQs" link just above to see recently-posted questions, comments, replies, try the search box just below, or if you prefer, post a question or comment in the Comments box below and we will respond promptly.
Search the InspectApedia website
Technical Reviewers & References
Click to Show or Hide Citations & References
"Residential Gas and Electric Water Heaters: Service Handbook", [PDF], A.O. Smith Water Products Company, 5621 W. 115th St., Alsip IL 60803 USA, Tel: 1-800-433-2545, Website: www.hotwater.com, Email: www.hotwater.com/parts, retrieved 15 March 2015, orginal source: http://www.hotwater.com/lit/training/320991-000.pdf
This handbook provides service information for residential gas water heaters that are atmospherically vented and use a thermocouple as their electrical source and to residential electric water heaters having one or two heating elements and common wiring configurations for these water heater models.
Mark Cramer Inspection Services Mark Cramer, Tampa Florida, Mr. Cramer is a past president of ASHI, the American Society of Home Inspectors and is a Florida home inspector and home inspection educator. Mr. Cramer serves on the ASHI Home Inspection Standards. Contact Mark Cramer at: 727-595-4211 mark@BestTampaInspector.com
John Cranor is an ASHI member and a home inspector (The House Whisperer) is located in Glen Allen, VA 23060. He is also a contributor to InspectApedia.com in several technical areas such as plumbing and appliances (dryer vents). Contact Mr. Cranor at 804-747-7747 or by Email: johncranor@verizon.net
Books & Articles on Building & Environmental Inspection, Testing, Diagnosis, & Repair