Airborne Mold Tests

How Accurate are Air Samples for Mold Testing?
AIR TEST FOR MOLD: ACCURACY - CONTENTS: Accuracy & Validity of Viable and Non-Viable Indoor Fungal Spore Counts & Cultures.
POST a QUESTION or READ FAQs about the accuracy and reliability of mold tests that purport to check a building for mold contamination levels or mold safety
InspectAPedia tolerates no conflicts of interest. We have no relationship with advertisers, products, or services discussed at this website.
Accuracy of air sample tests for mold contamination:
Is your "mold expert" using valid mold testing methods? Does your mold consultant also perform a thorough visual inspection and history-taking? Is your mold test kit worth the bother? How should an environment be inspected and tested to get a reliable estimate of toxic mold levels or mold exposure levels? Importance of visual inspection in mold testing.
This document is a brief tutorial which provides information about the accuracy of and sources of errors in tests for the level of allergenic and toxic mold in residential buildings: Are air tests for mold reliable at all? Are mold spore counts valid? Are cultures and swab tests valid? These critical questions are discussed in this paper.
Green links show where you are. © Copyright 2017 InspectApedia.com, All Rights Reserved.
Accuracy & Validity of Viable and Non-Viable Indoor Fungal Spore Counts & Cultures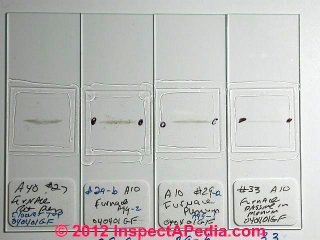 Is it Necessary to Test for Mold?
Here we discuss the following:
Why Use Airborne Mold/Particle Sampling? Visual Inspection and History for Mold. Just how accurate and valid is air sampling for toxic mold testing? What are the sources of variation in the mold level that air tests can detect?
What is the range of variation in air test samples for mold and what does that say about the accuracy of air tests used to state mold exposure? Meaning of comparison of indoor and outdoor mold levels. Accuracy of mold tests using culture plates.
First, should we be testing for mold at all? If you see mold on indoor surfaces, NO mold testing is needed to confirm that mold is present in a this building and that cleanup is needed. But if a large remediation project is planned, tests may be needed for project control - see WHEN to IDENTIFY MOLD.
The photograph (above left) shows microscope slides prepared from four airborne mold trace samples collected inside the same hot air heating furnace plenum. We varied conditions from passive to more aggressive sampling methods during the brief one minute sampling interval.
Even before microscopic examination or counting the spores per cubic meter of air, it is visually obvious that there is very wide variation of particle collection level among these samples. We discuss variation in HVAC duct dust samples in more detail in this article.
Also see Causes of Variation in Airborne Particle Levels.
Field and laboratory data recording and even the most basic examination of the results demonstrate that very significant variability in field conditions and in particle behavior make airborne particle counts extremely inaccurate except under controlled conditions such as in a research chamber.
Similar technical shortcomings raise serious questions about the use of mold cultures, whether by settlement plate, swab, or Andersen sampler, to characterize an indoor mold level.
Thus airborne mold exposure levels based on single-time-interval use of these tools are unlikely to be accurate.
Finally, the almost total absence of recording of site conditions at the time of such measurements adds another almost overwhelming degree of inaccuracy to this approach to characterizing mold exposure risk in buildings.
For example, simply turning on a fan or walking through a room during an air sampling procedure can completely change the results of the measurement. While there is a useful place for these tools, their application as simple tools to make a statement regarding mold exposure levels in buildings appears to be highly questionable. The underlying reasons for this view are discussed in this paper.
How are Air Test for Mold Conducted?
Non-viable air samples are usually collected using a slit-impaction sampling device which employs a calibrated air pump to collect a measured volume of air in the environment being studied. Particles in the sampled volume of air are collected as they impact on to specially prepared microscope slides or inside of patented cassettes placed in the collection device's air path.
The collection device may be any of several air sampling machines (Burkard, Allergenco), or it may be a calibrated air pump, or a vacuum pump (Gilair) used with an Air-O-Cell cassette. Multiple period time-lapse sampling is available to diagnose difficult situations but is not normally employed. In special cases, we may use a separate pump and cassette system to sample surfaces and wall or ceiling cavities, although in general building cavity vacuum samples made through small openings have time and again proven grossly inaccurate.
How are Mold Test Air Samples Examined in the Laboratory?
Mold spore sample slides are prepared in the laboratory and then examined at magnifications from 100x to 1920x to identify the dominant or other indicative particles collected. Particle counting, such as spores/M3 of air, if provided, is performed at 400x, 480x, 720x, 1000x, up to 1920x.
Microphotographs of lab samples are at 400/480x or 1000/1200x up to 1920x. We also use polarized light and darkfield methods and a variety of slide preparation chemicals and stains. "Subjective particle density" photographs (at 100x) may be provided to offer a gross but instructive comparison of air samples from various areas when different sample quantities are identical. Sample culturing is available but is used only in special cases as it is famously unreliable for characterizing indoor air.
What Should Be the Investigation Approach of Your Mold Test or Environmental Test Consultant?
If your indoor building-related environmental question is whether or not there is a mold, chemical, gas, or similar environmental problem present in a building, a superficial "test" is unlikely to give a reliable answer. We recommend that you have a careful conversation with whomever you decide to hire for any environmental investigation. Make certain that your expert has specific experience in the area of your particular concern, and that their approach is thoughtful and thorough, including sufficient detail and scope of onsite inspection, history taking, and pertinent local research.
There is a tendency among some investigators, especially those whose experience has been primarily industrial, to substitute tests alone for a more thorough approach when working in a home or apartment where there is a mold or other environmental concern.
The reliance on tests alone in a residential (as opposed to industrial) setting can be a mistake, as conditions are so variable, levels of contaminants variable, and the actual target, if there is one, is unknown. This is a very different problem solving task than entering an industrial environment, following a known cookbook procedure to check the levels of a specific, known contaminant, particle, or chemical associated with an industrial process, and comparing the test results with a specific industry standard.
See MOLD / ENVIRONMENTAL EXPERT, HIRE ? for a discussion of when it is or is not appropriate, justified, and ethical to hire a mold consultant to inspect, diagnose, and advise about mold contamination in a building.
Also see ACCURACY vs PRECISION of MEASUREMENTS where we argue that measurements should be reported to include their percentage of error or a +/- figure to give a realistic understanding of the actual reliability of the data.
In that article we include a catalog of sources of Errors When Measuring or Counting Airborne Particle or Mold Spore Levels
Reader Question: if the indoor mold level is the same as outdoors, does that say there is no mold problem?
I just had an air quality control test done on my bathroom for mold. They took air samples from in the bathroom and from outside. I'm told that if the [airborne mold spore] count is the same inside as it is outside there should be no mold problem. My questions is to what degree difference is it a problem? In other words is there a rating number or cut off number that says it's safe vs. not safe? Thanks for your reply. - J.C.
Reply: ... sparrows are flying around through the air outside at 1 sparrow per cubic foot, and bats are flying around inside your living room at 1 bat per cubic foot. On that data comparison we conclude that you don't have a bat problem inside your home. Does that make any sense at all?
JC:
While the opinion about counts you state above is not absolutely without any merit, it is basically a mistake. The risk is that we're comparing apples and oranges - you could have an indoor count, even a "low" count of a highly toxic easily airborne mold, say Aspergillus niger spores in spore-chains (indicating a nearby mold colonization), and an outdoor count of harmless basidiomycetes that happened at that moment of testing to be at similar levels.
But the significance of these two molds is completely different. It's potentially as ridiculous as saying leaves are blowing around through the air outside at 100 oak leaves per cubic foot, and rats are running around inside your home at 100 rats per cubic foot, so probably inside you don't have a rat problem. Does that make any sense at all?
Now it's true that very low levels of indoor airborne mold might, in general mean that the test did not find an indication of an indoor mold problem, but
Certain indoor particle levels in certain forms, such as chains of Aspergillus sp. spores found in indoor air, can still indicate an indoor problem even though the absolute count detected in the test was very low. Similarly a high count of a harmful indoor mold compared with a high count of a harmless outdoor mold can hardly be taken to mean there is no indoor problem.
Because indoor and outdoor particle levels vary enormously over minutes of time and small changes in conditions (opening a window or turning on or off a fan, or even exactly where the technician placed her air sampler), a huge portion of the test accuracy in describing the indoor conditions depends on these variables.
There are plenty of other reasons for variation, hidden problems, and other conditions that mean mold or other indoor contaminant problems meriting professional cleaning will not show up on an "air test for mold"
So while a high indoor problematic mold spore count most likely means that there is a problem to be found and corrected, the opposite is not necessarily true: a low indoor mold spore count does not promise that there is no problem, and an indoor airborne mold spore count that simply compares with the outdoor mold spore count is a leaves and rats comparison that to me makes very little sense.
There are many general mold exposure standards (MOLD EXPOSURE STANDARDS) that try to talk about levels of airborne spores, but they are only very vague guidelines. The level of indoor airborne particles varies enormously, by orders of magnitude, from minute to minute and depending on what's going on indoors.
So these indoor and outdoor airborne mold count comparisons and "tests", without being accompanied by
a thorough building inspection indoors and out (to identify likely sources of trouble or even visible mold),
an occupant interview (of health risks, vulnerabilities, observations, complaints), and
a building history (of leaks, sewer backups, construction snafus),
... without those, a "test" is simply unreliable at best and junk science at worst.
Watch out: by no means do I suggest that every mold worry should result in such a thorough building investigation. I can find some mold on surfaces or contents in just about any building anywhere - it is not necessarily a worry at all. If there is mold growth on caulk or grout joints in a tiled bathroom adding up to a few square feet of moldy surface, no report nor concern for leaks into the bathroom walls, floor, ceiling, no occupant complaints, then the right response is clean off the moldy surfaces.
...
Continue reading at AIRBORNE MOLD COUNT VALIDITY or select a topic from closely-related articles below, or see our complete INDEX to RELATED ARTICLES below.
Or see MOLD TEST PROCEDURES
Or see these
Mold Test Accuracy Articles
Suggested citation for this web page
ACCURACY OF VARIOUS MOLD TEST METHODS at InspectApedia.com - online encyclopedia of building & environmental inspection, testing, diagnosis, repair, & problem prevention advice.
Or use the SEARCH BOX found below to Ask a Question or Search InspectApedia
...
Frequently Asked Questions (FAQs)
Try the search box below or CONTACT US by email if you cannot find the answer you need at InspectApedia.
Question: pin prick feeling or a feeling of a fiberglass sting on our skin
(Mar 17, 2014) Anonymous said:
We have been bothered by a pin prick feeling or a feeling of a fiberglass sting on our skin, both on exposed and covered areas of the body for several months. We've had the HVAC vents cleaned, the furnace checked and cleaned. We've been to dermatologists to rule out any medical condition. These pricks leave no mark and do not itch once you've brushed the area where you feel the prick. They leave no mark. What do you suggest we check to find out what's been bothering us. Thank you.
Reply:
Anon
This is not a mold test accuracy problem so much as a problem of properly identifying the likely source of the complaints you describe. A number of indoor particles and even some chemical contaminants as well as health or skin problems can cause the feeling you described.
See FIBERGLASS HAZARDS - home, and MORGELLONS SYNDROME to read about the type of complaints you describe.
Also see ITCHY FABRICS, FURNITURE
...
Ask a Question or Search InspectApedia
Questions & answers or comments about the accuracy and reliability of mold tests that purport to check a building for mold contamination levels or mold safety.
Use the "Click to Show or Hide FAQs" link just above to see recently-posted questions, comments, replies, try the search box just below, or if you prefer, post a question or comment in the Comments box below and we will respond promptly.
Search the InspectApedia website
Technical Reviewers & References
Click to Show or Hide Citations & References
Thanks to Susan Flappan, Flappan Consulting, moldetect.com, Overland Park KS, 913-402-1131, for contributing comments and some suggested text from ACGIH Bioaerosols: Assessment and Remediation 12/2006.
[1] Air-O-Cell® Air Sampling Cassettes are sold to trap airborne particulates for quantitative analysis of airborne mold, pollen, house dust, allergenic particles, insect fragments, fibers, etc. Air-O-Cell® products are produced and sold by Zefon International, Zefon International, Inc., 5350 SW 1st Lane, Ocala, FL 34474, Telephone: 800-282-0073 or by website: http://www.zefon.com/store/
Zefon, at http://www.zefon.com/store/air-o-cell-sampling-cassette.html [web search 06/28/2010], describes the product as follows:
The Air-O-Cell® is a unique air sampling cassette specifically designed for the rapid collection of a wide range of airborne aerosols including mold spores, pollen, insect parts, skin cell fragments, fibers (e.g. asbestos, fiberglass, cellulose, clothing fibers, etc.) and inorganic particulate e.g. ceramic, fly ash, copy toner, etc.). The Air-O-Cell® collects both viable and non-viable sample specimens, providing a much broader overview of potential allergens contaminants than conventional sampling techniques.
The Air-O-Cell® operates upon the principle of inertial impaction. Particulate laden air is accelerated as it is drawn through the cassettes tapered inlet slit and directed towards a small slide containing the collection media, where the particles become impacted, and the air flow continues out the exit orfice. The adhesive nature of the collection media prevents the collected particulate from blurring or being washed off during the laboratory staining process, and eliminates sample loss from vibration during handling and shipment.
After sampling is completed, the cassettes are sent to a laboratory, where the slides are removed and direct microscopic analysis can be immediately performed. The collection media is compatible with a wide range of biological stains and refractive index oils, allowing direct quantitative analysis of organic and inorganic particulate.
The Air-O-Cell® can be used with any standard off-the-shelf area sampling pump capable of drawing 15 LPM open flow. The small compact size makes Air-O-Cell® suitable for use in confined or restrictive spaces.
[2 Air-O-Cell] Air-O-Cell Sampling Guide, EMSL - web search 06/29/2010, original source: http://www.emsltesting.com/air-o-cell_cassette_sampling_g.html
[2 Allergenco] Allergenco-D® Air Sampling Cassettes are distributed by EMS Sales, Telephone: 800-293-3003 or by website
http://www.emssales.net
Here is EMS Sales product brochure for the Allergenco-D® Air Sampling Cassette -
http://www.emssales.net/uploads/allergencodtrifoldcomplete.pdf
[3] Thanks to Dr. James R. Tucker, PhD., COO & VP Technology, EMS Environmental Monitoring Systems, 3864 Leeds Ave., Charleston SC 29405, for technical review and comments - July 2010.
[4] "Analytical Method for Qualitative Microbial Analysis of AllergencoD™ Bioaerosol Sampling Impactors", James R. Tucker, PhD., Environmental Monitoring Systems, Inc., 164 Ashley Ave., Charleston SC 29402, 2005 - Web Search 06/29/2010 original source http://www.emssales.net/uploads/sop%20forallergencod.pdf
[5] ASTM Method D7391-09 Standard Test Method for Categorization and Quantification of Airborne Fungal Structures in an Inertial Impaction Sample by Optical Microscopy
[6] "Particulate Matter Sampling", ATPI 435: Atmospheric Sampling Course, U.S. EPA, retrieved 9/9/12, original source: http://www.epa.gov/apti/Materials/APTI%20435%20student/Student%20Manual/Chapter_4_noTOC-cover_MRpf.pdf [copy on file as Particulate_Matter_Sampling_USEPA.pdf.]
[7] Fifth Kingdom, Bryce Kendrick, ISBN13: 9781585100224, is available from the InspectAPedia online bookstore - we recommend the CD-ROM version of this book. This 3rd/edition is a compact but comprehensive encyclopedia of all things mycological. Every aspect of the fungi, from aflatoxin to zppspores, with an accessible blend of verve and wit. The 24 chapters are filled with up-to-date information of classification, yeast, lichens, spore dispersal, allergies, ecology, genetics, plant pathology, predatory fungi, biological control, mutualistic symbioses with animals and plants, fungi as food, food spoilage and mycotoxins.
[9] US EPA: Mold Remediation in Schools and Commercial Building [Copy on file at /sickhouse/EPA_Mold_Remediation_in_Schools.pdf ] - US EPA
[10] Mycology, Fundamentals of Diagnostic, Fran Fisher, Norma B. Cook, W.B. Saunders Co. 1998, ISBN 0-7216-5006-6 (buy this book at Amazon)
[11] McCrone Research Institute, 2820 South Michigan Avenue, Chicago, IL 60616-3292, Tel: 312-842-7100 Fax 312-842-1078, www.mcri.org
[12] Sergey A.Grinshpun, Atin Adhikari, Seung-Hyun Cho, Ki-Yon Kim, Taekhee Lee, & Tina Reponen, "A small change in the design of a slit bioaerosol impactor significantly improves its collection characteristics",
Sergey A. Grinshpun, J. Environ. Monit., 2007, DOI: 10.1039/b702743e
This study, appearing in the Journal of Environmental Monitoring in 2007 and abstracted in our next citation [below] discusses a review comparing the Allergenco-D and Air-O-Cell impaction sampling cassettes, and describes an improvement in collection efficiency achieved by using an ultra-low jet-to-plate distance in the Allergenco-D sampling cassette. A copy of the complete study (also see the next reference, below) is available from Environmental Monitoring Systems - EMS Sales, Telephone: 800-293-3003 or by the company's website - http://www.emssales.net See http://emssales.net/uploads/ad_peer_reviewed_study.pdf

The study's conclusion and acknowledgements include these comments:

This study revealed that a relatively small change in the bioaerosol impactor design (often regarded as of minor importance) results in a significant improvement of its collection characteristics, decreasing the cut-off size to the extent that the spores of practically all fungal species are efficiently collected on the substrate. With respect to microscopic analysis, the spore enumeration data obtained using the three tested counting methodologies - the entire impaction trace count, 40-field partial count, and 20-traverse partial count - are statistically the same.

The study was partially supported by the Korea Research Foundation (post-doctoral fellowship for Dr. Ki-Youn Kim) and by the Environmental Monitoring Systems Inc. ... Reference to any companies or specific commercial products does not constitute or imply their endorsement, recommendation or favoring by the authors or by the University of Cincinnati.
[13] S.A. Grinshpun1 A. Adhikari1, S.H. Cho1, T. Reponen1, G. Mainelis2, M. Yao2, "Factors affecting the performance of bioaerosol impactors", European Aerosol Conference 2007, Salzburg, Abstract T04A004
1 Center for Health-Related Aerosol Studies, University of Cincinnati, Cincinnati, OH 45267, USA
2 Department of Environmental Sciences, Rutgers University, New Brunswick, NJ 08901 USA
Keywords: bioaerosols, collection efficiency, inertial impactor, cut-off diameter, particle deposition.
Abstract: [Web search 06/29/2010, original source: http://www.gaef.de/EAC2007/EAC2007abstracts/T04Abstractpdf/T04A004.pdf -
While different principles are utilized for sampling biological aerosol particles, impaction appears to be the most common for collecting bacteria and fungi. This method is used for total and culture-based microbial enumeration. For instance, the total number of viable and non-viable airborne spores is conventionally counted under a microscope after collecting them on a slide of a single-stage impactor, e.g., Air-O-Cell sampling cassette (Zefon Analytical Instruments, Inc., USA), the Burkard Personal Volumetric Air Sampler (Burkard Manufacturing Co. Ltd., U.K.) and Allergenco-D (Environmental Monitoring Systems, Inc., USA) to mention a few.
Available bioaerosol impactors are usually equipped with either circular or rectangular (slit) inlets. Some impactors have a single nozzle as an inlet, e.g., Air-O-Cell, while others have hundreds of nozzles, e.g., Millipore Air Tester (Millipore Corp., USA). More importantly, they differ from one another with respect to their ability to efficiently collect bio-particles of specific sizes as well as by the particle deposit uniformity on a substrate (the latter is often critical for applying certain microbial enumeration protocols). The collection efficiency is characterized by the cut-off size, d50 that depends on the flow velocity through the nozzle, nozzle size (W), nozzle shape, non-dimensional jet-to-plate distance (S/W), and other factors. In this study, we have tested the physical performance of eleven bioaerosol impactors.

[14] "Allergenco Air Sampler MK3 Owner's Manual and User's Guide", Allergenco/Blewstone Press, 999 E. Basse Rd. Ste 180, San Antonio TX 78298-1854 [Obs]
[15] "Operating Instructions, Personal Volumetric Air Sampler for Glass Slides", Burkard Manufacturing Co., Ltd., Woodstock Hill Industrial Estate, Rickmansworth Hertfordshire WD3 IP, Great Britain Tel 01923 773134/5
[16] Daniel M. Baxter, "A New Screening Method for the Evaluation of Indoor Bioaerosols & Airborne Dust Contaminants", Environmental Test Associates, 5290 Soledad Rd., San Diego CA 92109 Tel: 619-272-7747, November 1998 (Draft, pre-publication)
[17] Daniel M. Baxter,1 Jimmy L. Perkins,2 Charles R. McGhee,2 and James M. Seltzer3
"A Regional Comparison of Mold Spore Concentrations Outdoors and Inside "Clean" and "Mold Contaminated" Southern California buildings", Journal of Occupational and Environmental Hygiene, 2: 8–18 ISSN: 1545-9624 print / 1545-9632 online Copyright c 2005 JOEH, LLC DOI: 10.1080/15459620590897523
1 Environmental Analysis Associates Inc., and Indoor Analytical Laboratories, Inc., San Diego, California
2 University of Texas Health Science Center at Houston, School of Public Health, Regional Campus at San Antonio, San Antonio, Texas
3 University of California, Irvine College of Medicine, Indoor Environmental Monitoring, Inc., San Diego, California
Web search 06/29/2010 - original source: http://www.ncbi.nlm.nih.gov/pubmed/15764519 and
http://www.jmsmd.net/images/Airborne_Mold_Interp.pdf
Abstract:
A total of 625 buildings and outdoor locations in the San Diego, California, area were monitored using the Allergenco Sampl-Air MK-3 impaction sampler or the Zefon Air-O-Cell slit bioaerosol cassette. Locations were classified by rigid criteria as clean commercial, commercial with mold growth, clean residential, residential with water staining, and residential with mold growth. In addition, coastal and inland outdoor locations were measured. Seven categories (total spores, Ascospores/ Basidiospores, Cladosporium, Smut/Myxomycetes like, Aspergillus/Penicillium (AS/PE), Alternaria, and Unidentified/ Other) were detected frequently enough that maximum likelihood estimate techniques could be used to determine distribution parameters and, thus, treat these as continuous variables. For total counts (no nondetectables) an analysis of variance was used to examine differences in location means. For the other categories Land's confidence limits were generated and visually compared for differences among locations. For 12 other categories (Curvularia, Dreschlera, Epicoccum, Fusarium, Mildew-like, Pithomyces, Rusts, Stachybotrys, Stemphyllium, Torula, Ulocladium, and Zygomycetes-like), detection generally occurred in less than 10% of samples. These genera were treated as dichotomous (detect/nondetect) data, and Chi-square analyses differentiated between locations. For total counts, values were significantly different on the order of clean < outdoor < moldy. There was a large difference between the moldy and other location classes. For AS/PE, moldy location means were clearly higher than those for clean buildings and outdoors, although the clean and outdoor means could not be differentiated. For all other genera the results tend to indicate little or no ability to discriminate location. For example, there were no differences in the probabilities of detecting Stachybotrys among the various locations. In our study only total counts, usually driven by AS/PE concentrations, had value in determining whether a building is mold contaminated employing our set of rigorous location classification criteria. - Keywords mold, comparison, airborne
[18] U.S. EPA, "Systematic Planning: A Case Study of Particulate Matter Ambient Air Monitoring", EPA QA/CS-2, EPA/240/B-07/001, March 2007, retrieved 10/24/2012, original source: http://www.epa.gov/QUALITY/qs-docs/casestudy2-final.pdf [copy on file as EPA_DQO_casestudy2-final.pdf]
[19] U.S. EPA, "Quality Management Tools - Systematic Planning", [summary list of EPA DQO articles & references], retrieved 10/24/2012, original source: http://www.epa.gov/QUALITY/dqos.html [copy on file as EPA Quality System - Systematic Planning.pdf]
[20] U.S. EPA, 'Guidance on Systematic Planning Using the Data Quality Objectives Process EPA QA/G-4", EPA/240/B-06/001, Februray 2006, [copy on file as EPA_DQO_g4-final.pdf]
...
Summary List of Conditions that Cause High Variation in Indoor Airborne Particle Levels
For the full version of this article see Causes of Variation in Airborne Particle Levels
Some of the site conditions that cause this wide variation in the level of airborne particles in a building are listed below. After reviewing indoor air quality reports produced by many investigators, we conclude that almost never does the IAQ investigator or "mold test expert" document much less control these building conditions. When we have no documentation of building conditions we cannot easily interpret the meaning of spore counts or airborne particle level counts in a building. The sources of variation in the level of indoor airborne mold spores or other particles are arranged very roughly in order of increasing effect on mold test results.
Empty rooms where no windows are open, no fans are operating, and no occupants are present will tend to produce lower airborne particle counts than when the same rooms are in normal use.
Culture plates or air samples using settlement plates are inaccurate both by species (only a small percent of molds will grow on culture media so we miss up to 90% of genera/species with this method) and also by quantity (large spores and other particles settle out of air faster than small spores or other particles. For more detail see Air sampling by culture plate, mold swab, or surface testing by swab are questionable
Outdoor mold counts are tricky to compare with indoor mold spore counts because the same genera counted by a lab, say Pen/Asp may both be the same genera (say Aspergillus but the species may be completely different, making comparison of these two numbers meaningless. Yet most mold labs cannot or do not speciate to this level of detail. Further, even a low indoor Pen/Asp mold spore count could be significant if the spores occurred in spore chains rather than individual spores - indicating that a growing mold source reservoir is nearby. For more detail see Indoor airborne particle counts vs. outdoor counts and also review Concentration Bursts of Mold Spores
A room with one individual sitting at a desk quietly reading will produce higher particle counts than an empty room but lower than the conditions listed next.
The genera/species or "type" of mold contamination makes a big difference in what is detected in indoor air: for example, Stachybotrys chartarum is a large (so not easily airborne) mold spore which is sticky (not easily airborne) which evolved to be spread by sticking to a cow's foot as she walked through moldy straw. These spores are not normally found in indoor air even if a large mold reservoir is present, unless the Stachybotrys chartarum is being disturbed, say by incompetent demolition and cleaning, or by carrying moldy cardboard boxes out of a wet moldy basement. By contrast, Aspergillus sp. are usually much smaller mold spores, are often easily made airborne by simple air currents (varying depending on growth stage of the mold and indoor humidity and temperature levels). Air tests tend to find particles that are naturally more easily airborne.
A carpeted room with someone walking across the carpeting will produce a higher particle count than an un-carpeted room, other conditions being equal.
An air sample collected at floor height may vary considerably from a sample collected on a table depending on where mold is growing there could be surprises. For more detail see Variation in Airborne Particle Levels due to Placement Height of Air Sampling Device
The aggressiveness of air sampling methods for mold makes an enormous difference in the level of airborne particles. Waving a notebook at local tabletops, rapping on a hot air duct, and similar acts produce much higher counts than very gentle passive (and unrealistic) mold sampling methods. For more detail see Variation in Airborne Particle Levels in Heating and Air Conditioning Ducts
A room occupied by several people walking about or a bedroom with a child bouncing on a bed will produce higher airborne particle counts than the conditions listed above.
A room with in-use portable heaters, air cleaners, or other devices which stir indoor air may produce higher particle levels than the conditions listed above.
A room located close to a large airborne-type problem mold reservoir will usually show higher spore counts than if the reservoir is more distant. However the simple act of opening or closing building interior doors can completely change this picture. In a mold investigation of a home with a large airborne-type mold reservoir in its basement and crawl space, we found very low indoor airborne mold spore counts in the building's first floor over these mold reservoirs when the basement door was kept shut. But within minutes of opening the basement door we observed a significant rise in the level of indoor mold spores at the same test location. For more detail see Variation in Airborne Particle Levels as Windows or Doors are Open or Closed
A room with windows open in a tall building will have considerably more air movement (due to convection currents in the building) and may have considerably higher airborne particle counts than when the window is shut. For more detail see Variation in Airborne Particle Levels as Windows or Doors are Open or Closed
A room where central air conditioning or hot air heat is operating will produce substantially higher airborne particle levels than the same room when that equipment or its blowers are off.
A room where a ceiling fan or other fans are in use will produce among the highest levels of airborne particle counts, other conditions being equal.
Also see our catalog of sources of Errors When Measuring or Counting Airborne Particle or Mold Spore Levels
Effects of Overall Dust or Mold Level on Mold or Dust Particle Count Variation
What is remarkable about all of these observations is that a large amount of variation in airborne particle level will occur as these conations vary regardless of whether the room is relatively clean or relatively dusty. The absolute numbers will of course be higher in a dusty environment, but the relative numbers will still vary by several orders of magnitude even in a less dusty area.
Indoor Airborne Mold or Particle Counts vs. Outdoor Counts
For the full version of this article see Indoor vs. Outdoor Spore Counts.
The University of Minnesota fungal experts observe that an outdoor-baseline comparison to indoor air is not valid when the outdoor sample was taken during or immediately after precipitation (spore counts plummet outdoors in the rain and might soar right after it), and the comparison is probably not valid in winter when outdoor counts tend to be below indoors.
We agree and add other constraints: snow cover practically eliminates spores from outdoor air. Even in warm weather spore counts vary during the day as weather conditions (humidity, temperature, period after rainfall) affect sporulation and spore movement.
Section 2.4.2.2 of The ACGIH Bioaerosols: Assessment and Remediation offers:
Investigators should bear in mind that samples provide information about a site as it existed at the time tested. However, the findings may not represent conditions at a time in the past or future, even the relatively recent past or near future. Changes in the kinds, concentrations, and proportions of biological agents in the air can be rapid and substantial. -- thanks to S. Flappan for suggesting this citation.
OPINION: There are severe problems in the standard practice comparing indoor and outdoor spore counts to decide if a building has a mold problem.
1. Overall Outdoor Mold Spore Counts: Some mold testing laboratory reports give simply an "overall outdoor spore count" number which is compared with either a specific (genera/species) or an "overall" indoor spore count number of mold spores/M3 of air. This is a silly comparison since that data fails to identify the spore genera/species, thus masking any intelligence about the actual indoor spore risk. For example the outdoor spores at the time of measurement may be dominated by Cladosporium sp. or Basidiomycetes while the indoor spore level at the same number of spores/M3 may be Aspergillus versicolor - which could well indicate a problem but which would not be indicated as a problem by the lab approach I've described.
2. Outdoor Pen/Asp may be Different Species than Indoor: Even when outdoor spores are identified to the genera such as Aspergillus sp. few laboratories take the extra step to speciate indoor and outdoor airborne spore trap sample contents. In fact speciation of many species of airborne spores in a spore trap can be difficult or impossible by conventional means. So an outdoor "Penicillium/Aspergillus" spore count of 3600 spores/M3 of air may be compared with an indoor "Penicillium/Aspergillus" airborne spore level of 3500 spores/M3 of air and reach the completely mistaken conclusion that there is no evidence of an indoor air quality problem. Looking closely at the indoor spores might, however, have disclosed that the indoor "Penicillium/Aspergillus" was a completely different mold species than the outdoor species - making the indoor-outdoor comparison a meaningless "apples and oranges" comparison. Yet that comparison is the common one made by many field investigators. Worse, certain basidiomycetes are difficult to recognize in air samples and are counted by some laboratories as "Pen/Asp" when in fact they may not even be in those genera.
Air samples may miss important particles or may point to the "wrong" particles
High risk of false negative airborne mold test results: Indoor air samples are at high risk of giving a "false negative result" - indicating no problem when a problem is present, either completely missing the presence of the most problematic spores in a building or which indicating as "the problem" the wrong spores in a building simply because they were dominant at the time sampled. Outdoor or indoor "Pen/Asp" spore counts are often compared erroneously in cases where the indoor genera/species is quite different from the indoor genera/species. For example a "low" indoor count that is all Aspergillus niger may indicate a problem, even though it's lower than the outside "Pen/Asp" count if the outdoor count was actually Penicillium sp. or perhaps even basidiomycetes mistaken for Pen/Asp.
Extent of Variation of Airborne Particle Counts
For the full version of this article see Extent of Variation of Airborne Particle Counts.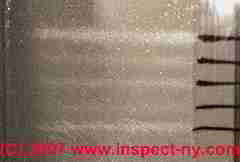 There is normally high variation in the level of airborne particles from moment to moment in buildings, often by several orders of . Actual field data easily demonstrates that particle presence in indoor air varies by orders of magnitude from minute to minute.
Sampling identical quantities of air indoors just a few minutes apart regularly shows up in our data as enormous differences in particle density from interval to interval, as you can see in this photograph of parallel traces of airborne particles captured by an air sampler which collected these samples just minutes apart in the same location in a building.
We always see this phenomenon in buildings, since unless we are measuring airborne particles released at a fixed rate in a controlled test chamber there are quite a few site conditions that agitate airborne debris.
Variation in Airborne Particle Levels due to Placement Height of Air Sampling Device
For the full version of this article see Particle Levels vs Sampler Height.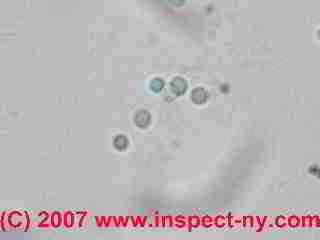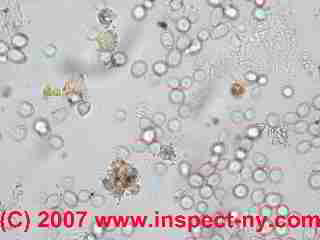 How much difference does it make whether the air sampling machine is placed on top of or underneath a mold-contaminated game table? The photographs above show microphotographs of representative sections of an airborne particle sample trace in the same room in a building, with a single variation: the left hand photograph of a mold spore sample shows just a few fungal spores was collected with our sample placed on top of a basement pool table.
The right hand photo of a mold spore trap sample shows a very high spore concentration in the same room, obtained when we placed our sampler on the floor below the (mold infected) pool table. In both samples we used passive methods. Had we stirred room air (say by turning on a fan or waving a notebook, it is likely that these "under table" mold spores would have been distributed more uniformly in the building's indoor air.
Many IAQ consultants place their air sampler at about chest or head height in a building, presuming that will best represent the particles that will be inhaled by building occupants. This sounds reasonable except that mechanical disturbance of local indoor dust will cause enormous variation in the actual particle level at any given time and will probably make the particle distribution more uniform in the space.
How many mold reports document the details of sampling such as where mold was visible, where the sampler was placed, and what possible variations in airborne particle level might obtain depending on details of how the sample was collected? Almost never is this information considered, gathered, or reported by the hygienist or other mold investigator.
Variation in Airborne Particle Levels as Windows or Doors are Open or Closed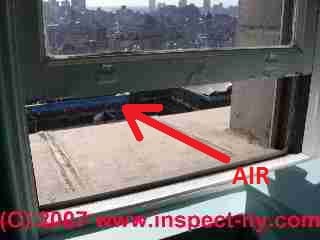 This photograph of an open window in a New York City high rise office building displayed an enormous convection current - notice our low-tech demonstration? The tissue taped to the underside of the window sash is blowing outside in this photo.
When this window was opened the level of indoor airborne particulate debris of all types was increased significantly, and further, any problem particles from lower floors were at risk of being drawn up into and through this office even though there was no problem reservoir in the office itself.
For the full version of this article see Particle Levels vs Windows/Doors.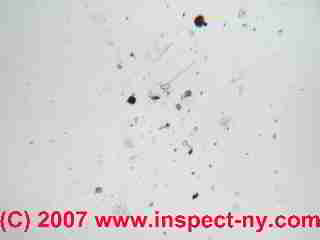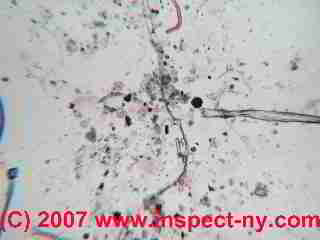 We would expect that opening the windows in a building to "air it out" will result in an indoor airborne particle level which is qualitatively and quantitatively similar to outdoor air. In some cases this is quite true if ventilation is long enough and if there is not an usual indoor mold reservoir in the room where testing is performed.
But opening the windows on the upper floor of a residence and certainly opening the windows in a tall building will usually cause a considerable increase in upwards moving air by convection currents in the building. Warm air rises from lower to higher areas, exiting at the open window on the upper floor.
The two photographs shown here were taken by stereomicroscope examining two sequential airborne mold and other particle traces in air samples collected just minutes apart. The second, very dense particle sample shows what happened when we opened the window in this high rise building in New York City.
Variation in Airborne Particle Levels in Heating and Air Conditioning Ducts
For full details of this topic see PARTICLE & MOLD LEVELS in DUCTWORK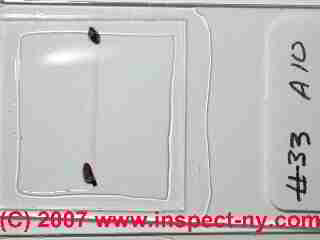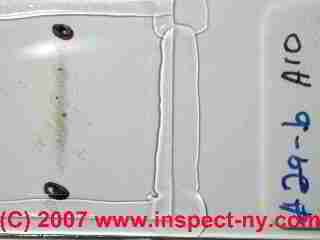 How much variation in airborne mold or dust level do we see inside heating and air conditioning ducts and air handlers?: The left hand photograph shows a one liter airborne particle trace collected inside of a heating furnace return air plenum using a Burkard Personal Air Sampler.
The right hand photograph shows a second particle trace collected in the same location, with the same volume of air, with one difference: we tapped lightly on the side of the air plenum during the sampling process. Even before counting the number airborne particles of any type per liter of air it is obvious that even modestly aggressive sampling (rapping on the plenum to stir up local dust) can make a large difference in the level of particles seen in the sample result.
We conducted this test during a post mold remediation clearance inspection of a previously mold-contaminated air conditioning system. The remediation contractor vehemently disagreed with the procedure of tapping on the ductwork during testing, informing us that "... his hygienist never did such a thing". We agree that consistency in test methods is important in order to be able to compare one mold test with another. However if we're looking for the presence or absence of a significant mold or allergenic dust reservoir that should have been removed, a little aggressiveness in sampling can be useful and in fact more accurate as well.
In sum, do not rely on the accuracy of airborne particle counts: Since air samples do not capture a representative picture of the indoor environment an indoor air quality investigator should not rely simply on conventional airborne particle quantitative analysis (particle counts per cubic meter).
Concentration Bursts of Mold Spores Cause Variation in Indoor or Outdoor Mold Level Counts
ACGIH Bioaerosols: Assessment and Remediation states [section 1.2.3]:
Some organisms and sources release aerosols as 'concentration bursts' which may only rarely be detected by limited grab sampling and may be masked in measurements of long-term average concentrations. Nevertheless, such episodic bioaerosol releases may produce significant health effects. -- thanks to S. Flappan for suggesting this citation.
Spores are not always airborne during sampling: Mold spores may not be in interior air at the time of the sample but may be present in high levels at other times. Particle level in air varies very continuously as a function of temperature, humidity, size, mechanical disturbance, HVAC operation, use of fans and vacuum cleaners, and other factors as simple as foot traffic through a building.
Concentration bursts of mold spores: An example of a concentration burst of Aspergillus sp. spores occurred during our inspection and monitoring of a college library with many moldy books in its basement. Initially, though there was a large area of visible green mold (Aspergillus sp.) on many books on shelves in the library basement, while conditions there were still quite damp (humidity 65-75% RH) the airborne Aspergillus sp. spore levels were rather low. But when the college brought in an "expert" who installed commercial dehumidifiers (without cleaning or removing the mold) the airborne Aspergillus sp. skyrocketed. As the humidity dropped the fungus responded by releasing spores.
High Risk of False Negative Results in Mold Tests
Mold spore counts are questionable in the first place, given the high variability that we discuss in this article. But "low" or "negative" mold spore counts, especially if not accompanied by a thorough visual inspection and collection of the building's leak history and occupant complaint history, are particularly suspect.
Individual samples of particles in air show tremendous variation from minute to minute, making "ok" airborne mold spore test results a thing to view with skepticism. Examples of factors which can cause an exponential difference in particle levels in indoor residential air over short time intervals include: mechanical disturbance (walking across a carpet or moving a moldy cardboard box), operation of hot air heating system or central air conditioning system, operation of other building fans, particularly ceiling fans and vacuum cleaners, turning lights on and off, and opening or closing windows and doors. In situations of particular risk, additional or periodic testing should be considered. Below we list these sources of mold test variation and give photos and mold test examples for specific variation sources.
Our experience is that the variation in the level of small (mold spore sized) indoor airborne particles is so significant that any indoor airborne particle count is likely to be an inaccurate guess at the actual occupant exposure level where indoor problematic molds are present. This means that visual inspection, building history, and occupant complaints or occupant health fragility need far more attention than they receive if the "mold investigator" simply performs a cursory visual inspection or worse yet, simply collects a few air samples in a building.
At Conditions that Cause High Variation in Indoor Airborne Particle Levels this article list some of the chief sources in the short term variation in the level of airborne particle levels. Even if we used a long term sampling method, say 24 hours, or interval sampling over days, these same variations will occur, and worse, without careful study of the actual sources of airborne particle level variation in a specific building, and without a documentation of the typical conditions in the building during the time that it is occupied we cannot describe the occupant exposure level with any accuracy whatsoever.
Risk of false negative mold tests: Experienced mold contamination investigators should have little confidence that a one-time low or "ok" "toxic mold test spore count" is an assurance that problematic particles are not present. The presence of certain spores or fungal particles, even at low levels in air can indicate or confirm an indoor reservoir and amplifier of mold spores in the building, particularly if a careful microscopic examination of the "low level" sample contents shows evidence of nearby active fungal growth such as Aspergillus sp. or Penicillium sp (or certain other genera/species) spore chains. The presence of extensive off-season pollen can also indicate a pollen reservoir in the building - a potential concern for people with pollen allergies or asthma.
Sources of Error in Mold Culture Plate or Settlement Plate Tests
Air sampling by culture plate, mold swab, or surface testing by swab are questionable. For full details see Mold Culture Plate Test Errors.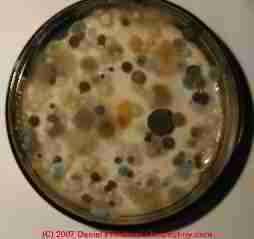 Cultures may grow the "wrong" spore in a building sample: Similarly, tests which rely on culture to identify particles are at severe risk of giving a "false negative" result, missing a serious problem, or of giving a "misleading positive" result by asserting that a particular spore which grew on the culture is the problem in the building. Fungal spores grow at different rates on different culture media.
Spore "A" may "overgrow" spore "B" in a particular test, obscuring the presence of spore "B" which might be the real problem in the building.
Cultures may fail to grow any of a problem mold in a building: some fungal spores (in fact about 90% of all fungal spores) won't grow at all in culture media under any conditions, (non-viable spores and many Ascospores) but may still be present at toxic or allergenic levels in a building. By this measure, a "culture" approach to screening a building for mold is 90% wrong before you even start. Luckily, many problematic indoor molds do grow in cultures, though still exposed to the earlier objection we raised above.
More about mold testing and the validity of air sampling and home test kits for mold:
Comparing counts of spores or fungal colonies treats all molds as if they were equally toxic on a per-spore basis. As a collector of studies, papers, books on this topic, and as someone conducting our own studies, we have seen a very wide range of opinion among experts in the field. Spore allergenicity or toxicity varies widely among fungal genera/species. So does the sensitivity of humans and other animals to fungal spores. So no single number will be absolutely correct. Just as spore toxicity varies by species, so does the physical size of individual spores.
The effect of breathing air contaminated by 5000 Penicillium sp. spores per cubic meter is unlikely to be identical to the effect of breathing 5000 Stachybotrys chartarum spores per cubic meter of air. Not only does their chemistry and toxicity vary, but a typical Pen/Asp spore is about 2 microns in diameter (1/25th the width of a typical human hair) while a typical Stachybotrys chartarum spore might be 8 x 12 microns -- much larger and thus providing more potentially harmful material per individual spore. You can see that writing federal or state standards for permissible fungal spore exposure by "count" or "levels" is difficult.
Even "bad" mold spores may not be toxic in a particular case: adding to the complexity of assessing health impact, individual spore genera, species, and strain within species will not necessarily produce toxins all the time. The toxicity of some molds varies depending on growing conditions such as the substrate upon which the mold is growing. Eat different stuff, if you're a mold, and you may or may not produce toxins. We should still remove or clean up problem molds, but we cannot immediately know their actual toxicity or allergenicity without some more sophisticated (and uncommon) testing that are not normally performed, nor normally cost-justified.
Not only are there many variables to consider, but using currently popular air sampling or culture methods, even a low or "OK" test result cannot guarantee that there is no problem in the building. Fortunately one can become reasonably confident about the level of mold or allergen risk in a building through competent visual inspection, judicious use of various sampling tools and methods, and competent laboratory determination work. Because this expertise is costly and the work time consuming, it should not be ordered without reasonable justification.
Why Perform Airborne Mold/Particle Sampling?
Given these limitations, why do we use air sampling at all? For full details see Why Use Airborne Mold/Particle Sampling?.
As a screening mechanism: if we find significant levels of airborne particles which have not already been found by a visual inspection it may mean that additional, more thorough or invasive building inspection is warranted. But keep in mind that the absence of airborne particles in a screening check is no guarantee that problematic mold is absent in the building.
As a cross-check, in clearance testing, in checking HVAC duct systems for contamination, or in examining deliberately-disturbed dust in an area are examples where this technique has application. A positive air sample result is a useful, but incomplete cross-check on the visual inspection and bulk sampling.
For example If we find high levels of problematic particles in an air sample but do not find them in visual inspection nor in bulk samples, additional, more invasive building investigation would be appropriate.
But we would not recommend relying on this method as the principle test of building conditions. There are just too many variables and too many "false negative results."
Visual Inspection and History Taking during Mold IAQ Investigations
A thorough visual inspection and limited qualitative tape sampling is very critical for accurate building mold-risk characterization. For full details see Visual Inspection and History for Mold.
This reasoning supports a qualitative approach to particle examination and reporting. Presence of high levels of problematic particles, frequent appearance of unusual particles in multiple samples from varied areas, or even lower levels of certain telltale particles (e.g. certain spore chains, conidiophores) are all important in evaluating building conditions.
Bioaerosol and other particles present in samples but which we commonly find as ubiquitous, we do not ordinarily report. But if we see certain particles, even in low frequency but which we consider diagnostic, such as Pen/Asp spore chains in indoor air, we report their presence.
In our lab reports in the "Determination" column, the bold-faced species above are the more dominant and/or probably more problematic aerobiological particles in the building. Other bioaerosols such as mite fecal pellets, skin flakes, bacteria, and starch granules were also identified as well as a usual percentage of unidentified spores and particles. (Numbers in the lab report identify microphotographs in the attachment.)
Now that you know some of the limitations of fungal spore counts (mold counts in air) and cultures, see Mold Levels: how much means a problem?.
...
Adkins and Adkins Dictionary of Roman Religion discusses Robigus, the Roman god of crop protection and the legendary progenitor of wheat rust fungus.
Kansas State University, department of plant pathology, extension plant pathology web page on wheat rust fungus: see http://www.oznet.ksu.edu/path-ext/factSheets/Wheat/Wheat%20Leaf%20Rust.asp
"A Brief Guide to Mold, Moisture, and Your Home", U.S. Environmental Protection Agency US EPA - includes basic advice for building owners, occupants, and mold cleanup operations. See http://www.epa.gov/mold/moldguide.htm
US EPA - Mold Remediation in Schools and Commercial Building [Copy on file at /sickhouse/EPA_Mold_Remediation_in_Schools.pdf ] - US EPA
US EPA - Una Breva Guia a Moho - Hongo [Copy on file as /sickhouse/EPA_Moho_Guia_sp.pdf - en Espanol
"IgG Food Allergy Testing by ELISA/EIA, What do they really tell us?" Sheryl B. Miller, MT (ASCP), PhD, Clinical Laboratory Director, Bastyr University Natural Health Clinic - ELISA testing accuracy: Here is an example of Miller's critique of ELISA http://www.betterhealthusa.com/public/282.cfm - Townsend Letter for Doctors and Patients
The critique included in that article raises compelling questions about IgG testing assays, which prompts our interest in actually screening for the presence of high levels of particles that could carry allergens - dog dander or cat dander in the case at hand.
http://www.tldp.com/issue/174/IgG%20Food%20Allergy.html contains similar criticism in another venue but interestingly by the same author, Sheryl Miller. Sheryl Miller, MT (ASCP), PhD, is an Immunologist and Associate Professor of Basic and Medical Sciences at Bastyr University in Bothell, Washington. She is also the Laboratory Director of the Bastyr Natural Health Clinic Laboratory.
Allergens: Testing for the level of exposure to animal allergens is discussed at http://www.animalhealthchannel.com/animalallergy/diagnosis.shtml (lab animal exposure study is interesting because it involves a higher exposure level in some cases
Allergens: WebMD discusses allergy tests for humans at webmd.com/allergies/allergy-tests
Atlas of Clinical Fungi, 2nd Ed., GS deHoog, J Guarro, J Gene, & MJ Figueras, Centraalbureau voor Schimmelcultures, Universitat Rovira I Virgili, 2000, ISBN 90-70351-43-9 (you can buy this book at Amazon) - The Atlas of Clinical Fungi is also available on CD ROM
"A Brief Guide to Mold, Moisture, and Your Home", U.S. Environmental Protection Agency US EPA - includes basic advice for building owners, occupants, and mold cleanup operations. See http://www.epa.gov/mold/moldguide.htm
"Disease Prevention Program for Certain Vegetable Crops," David B. Langston, Jr., Extension Plant Pathologist - Vegetables, University of Georgia (PDF document) original source: www.reeis.usda.gov/web/crisprojectpages/209797.html
"Disease Prevention in Home Vegetable Gardens," Patricia Donald, Department of Plant Microbiology and Pathology, Lewis Jett
Department of Horticulture, University of Missouri Extension - extension.missouri.edu/publications/DisplayPub.aspx?P=G6202
"Management of Powdery Mildew, Leveillula taurica, in Greenhouse Peppers," Ministry of Agriculture and Lands, British Columbia - Original source: www.agf.gov.bc.ca/cropprot/peppermildew.htm
Environmental Health & Investigation Bibliography - our own technical library on indoor air quality inspection, testing, laboratory procedures, forensic microscopy, etc.
Fiberglass: Mold in Fiberglass Insulation© 2005 comments about a field study in process, & more about health hazards from fiberglass insulation - DJF
Fifth Kingdom, Bryce Kendrick, ISBN13: 9781585100224, is available from the InspectAPedia online bookstore - we recommend the CD-ROM version of this book. This 3rd/edition is a compact but comprehensive encyclopedia of all things mycological. Every aspect of the fungi, from aflatoxin to zppspores, with an accessible blend of verve and wit. The 24 chapters are filled with up-to-date information of classification, yeast, lichens, spore dispersal, allergies, ecology, genetics, plant pathology, predatory fungi, biological control, mutualistic symbioses with animals and plants, fungi as food, food spoilage and mycotoxins.
Fungi, Identifying Filamentous, A Clinical Laboratory Handbook, Guy St-Germain, Richard Summerbell, Star Publishing, 1996, ISBN 0-89863-177-7 (English) (buy at Amazon)
US EPA: Mold Remediation in Schools and Commercial Building [Copy on file at /sickhouse/EPA_Mold_Remediation_in_Schools.pdf ] - US EPA
Mycology, Fundamentals of Diagnostic, Fran Fisher, Norma B. Cook, W.B. Saunders Co. 1998, ISBN 0-7216-5006-6 (buy this book at Amazon)
US EPA: Una Breva Guia a Moho - Hongo [Copy on file as /sickhouse/EPA_Moho_Guia_sp.pdf - en Espanol
Mark Cramer Inspection Services Mark Cramer, Tampa Florida, Mr. Cramer is a past president of ASHI, the American Society of Home Inspectors and is a Florida home inspector and home inspection educator. Contact Mark Cramer at: 727-595-4211 mark@BestTampaInspector.com 11/06
Wikipedia provided background information about some topics discussed at this website provided this citation is also found in the same article along with a " retrieved on" date. NOTE: because Wikipedia entries are fluid and can be amended in real time, we cite the retrieval date of Wikipedia citations and we do not assert that the information found there is necessarily authoritative.
Books & Articles on Building & Environmental Inspection, Testing, Diagnosis, & Repair
Our recommended books about building & mechanical systems design, inspection, problem diagnosis, and repair, and about indoor environment and IAQ testing, diagnosis, and cleanup are at the InspectAPedia Bookstore. Also see our Book Reviews - InspectAPedia.
...